Why is Shame On Wrist Such a Hit?
Delving into the success of the vexatious menace.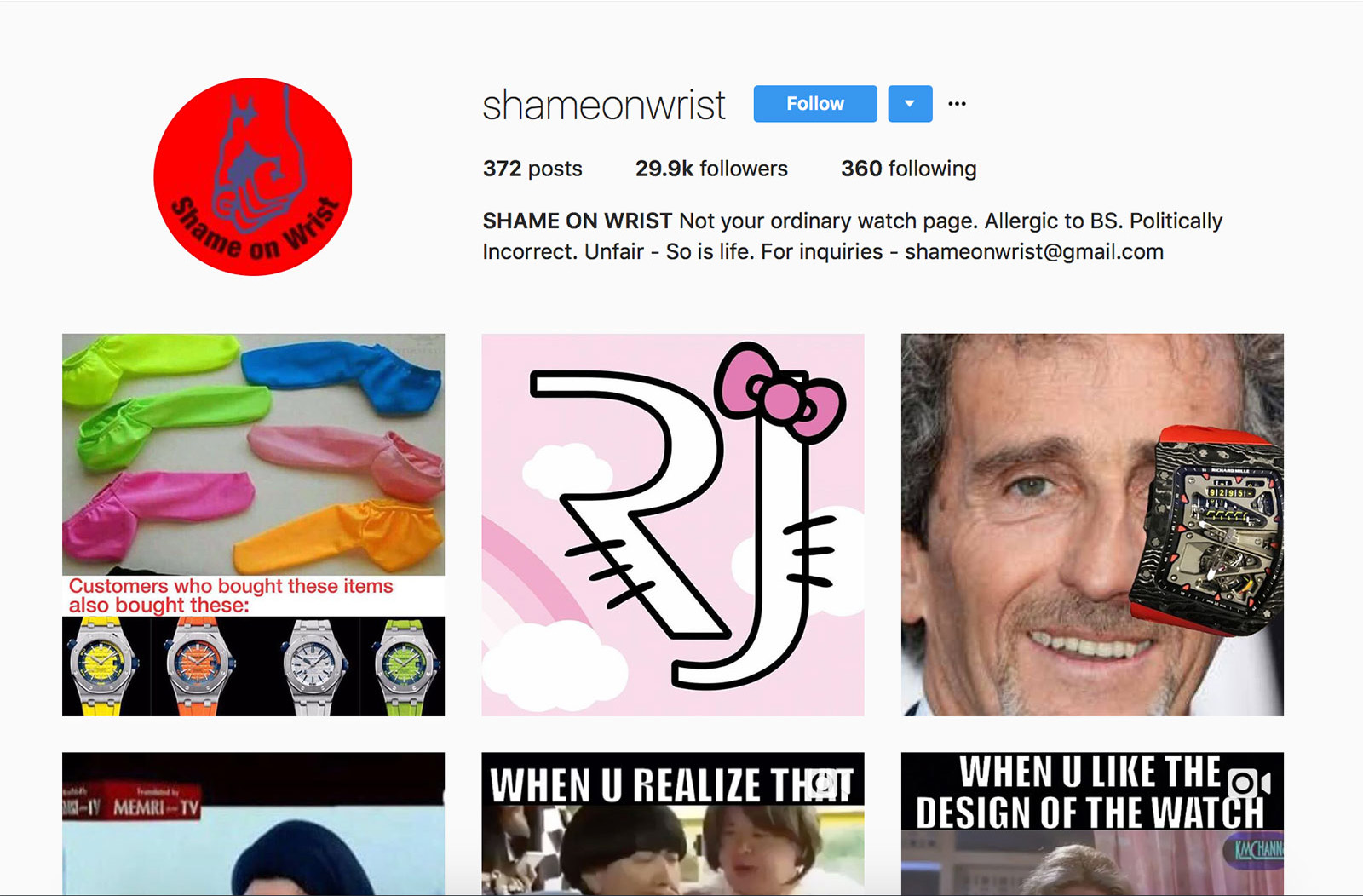 Just over a year ago a new account was set up on Instagram. Titled @shameonwrist, the account proceeded to mercilessly mock, in many a resourceful and amusing manner, all comers to the watch industry, revealing a penchant for trashing Hublot, TAG Heuer and Anil Arjandas, a maker of bejewelled bracelets for men.
In that time Shame On Wrist has accumulated 30,000 followers, no mean feat for an anonymous account posting occasionally. More notable is the following Shame On Wrist has in the watch industry. Employees of the very same watchmakers, blogs and auction houses being ridiculed are also followers of the page. And privately, many industry insiders commend the truth in Shame On Wrist's crass humour, at least until they become the target.
Over the summer your correspondent was in Geneva (for work, as it is a certainty that no one takes a summer vacation in the placid city, except for visitors from the blistering Arabian Gulf), having a coffee at a hipster-esque café on a fine, typically serene Geneva day. At the adjacent table, as it turned out, were a pair of watch brand employees being heavily amused by the latest Shame On Wrist Instagram post.
The question then becomes, why is Shame On Wrist a success?
The answer, in all likelihood, is that the emperor has no clothes. But more importantly, it also reveals truths about the watch media and consumers.
For all the technical brilliance helpfully elevated by marketing puffery, the luxury watch business is one that is burdened by overcapacity, while clinging to the past (or heritage if you're a watchmaker) and suffering from scant fresh talent. For the last decade and a half the watch industry got away with it, because cheerful economic sentiment left allowed consumers to buy without asking too many questions, leaving turnover to grow at double digits every year.
But that is not to say the watch industry is a wasteland. Flashes of brilliance do exist, streaking across the industry like a comet. The business has produced remarkable characters, immense talents who would have succeeded in any other field. Many have already passed on – Gunter Blumlein, Rolf Schnyder, Nicolas Hayek are some of the obvious names.
And many are still with us. Some of the most notable are entrepreneurs, like the charismatic and relentless Jean-Claude Biver, and he of few words but tremendous presence, Philippe Stern, who will one day be remembered by historians as a bona fide titan and remarkably timepiece collector. And amongst the independent watchmakers one finds men like François-Paul Journe and Maximilian Büsser, who manage to be both inventive and savvy at the same time.
But for every Biver and Büsser there are less accomplished brands that churn out less accomplished products, and there are a lot of them. That's exacerbated by the preposterous ambitions of every other watchmaker – every next watch brand wants to produce wristwatches with tourbillon regulators and six figure prices.
And the watch buyer, as well as the watch industry, knows that, explaining the traction of Shame On Wrist.
That's compounded by the fact that no one else tells it like it is. The watch media, which includes this very site it has to be said, is good at delivering news and solid stories, but is nonetheless tame. And the reason for that is simple: it is a business, with wages and rent to cover. Most media outlet depend on advertising revenue, which means keeping watch brands, not necessarily happy, but at least content.
Even for titles like American blog Hodinkee that have built a lucrative business retailing watches and accessories online, advertising is still a significant revenue generator. And almost as important as the dollars is the access to brands, products and personalities. The primary asset of a media platform is its readership, and that readership seeks content. Good content requires access.
And a more fundamental reason for the nature of the watch media that is the fact that watches are, well, watches. Timepieces are simple objects when compared to an automobile, paling in cultural significance when compared to art, and too esoteric to be widely appreciated. And the watch industry moves at a glacial pace, little of note happens day to day, or even week to week. There really isn't that much to say about watches on most days.
Consequently, that leaves many, including industry insiders, desiring for something with more bite, a niche that Shame On Wrist has artfully filled. The success of Shame On Wrist has, inevitably, created copycats, all of which try to do the same, occasionally entertaining but never the original.
Shame On Wrist's success is also horological populism, the watch equivalent of promising no taxes, free healthcare and zero immigration. Its success reflects the limited attention span and middling knowledge of the average reader (apologies to the average reader but I trust those reading here are a cut above).
Shame On Wrist's entertaining memes and one-liners are easily digestible, which is all that is needed since no one really stops to think about it. Some of Shame On Wrist's victims, most notably Jean-Claude Biver, are being unfairly singled out. Biver is a genius who runs two companies, both making bestselling watches (plus one company halfway to recovery).
The passing interest and herd mentality of the internet audience is well illustrated with the recent death of Roger Dubuis. He was widely eulogised online, both on social media and blogs, as a brilliant, even seminal, watchmaker of vast ingenuity.
For all his talents, however, Mr Dubuis was not George Daniels. The truth was Mr Dubuis was most adept at creating a style of watch – essentially 1950s Geneva watchmaking on steroids – that remains beautiful, remarkably beautiful, today. His signature invention, the double retrograde perpetual calendar, was actually developed in collaboration with Agenhor's Jean-Marc Wiederrecht at the behest of Harry Winston in the 1980s. The obituary writers were barking up the wrong tree.
Yet for all its success, the irony is that Shame on Wrist will, or perhaps has already, run into the same wall that bloggers run into – the limited scope of watchmaking. Shame On Wrist will run out of people to poke in the eye.
At the same time, the very topics that have given Shame On Wrist wood for its pyre are slowly changing. Natural selection is gradually weeding out the watch brands that have no future, while crowdfunding and cleverness have led to the rise of a handful of interesting but modestly priced watches. The situation, in other words, is improving, but at the plodding pace that characterises the luxury watch business.
Shame On Wrist, it would appear, will soon run out of steam, because there are only that many paint-splattered watches to poke fun at.
---
Back to top.
---
You may also enjoy these.