EDITORIAL: Why Dubai Watch Week Matters
Dubai Watch Week was a splendid, varied and impartial gathering of the best in watchmaking, particularly the best and brightest in independent watchmaking. If it happens again, and it probably will, the Emirati city will loom large in the watchmaking landscape.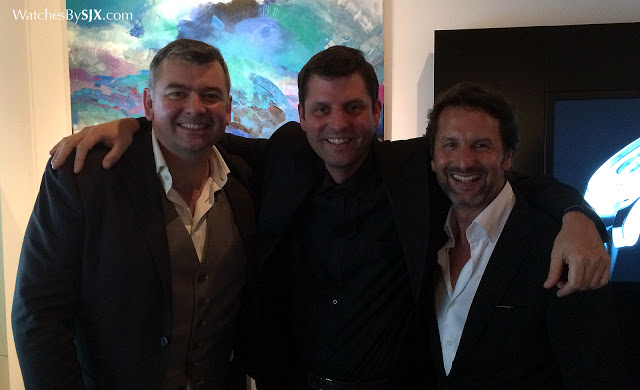 A weeklong salute to independent watchmaking, Dubai Watch Week 2015 (DWW) just closed it doors. Despite taking place in the shiny and glitzy Emirati city, DWW was sincere and personal, essentially an unparalleled gathering of the all-stars of independent watchmaking who were there to educate and enlighten. In a subdued climate for the luxury watch industry, DWW is a landmark event that might just shift the centre of gravity for independent watchmaking to the Arabian Gulf.
Taking place in an inhospitable region populated by hospitable people, DWW was put together by Ahmed Seddiqi & Sons, the largest watch retailer in the Middle East. Comprised of a week's worth of panel discussions, talks and watchmaking classes, DWW was primarily about spreading the gospel of independent watchmaking , but even topics like collecting vintage watches and the impact of social media were part of the line-up.
Over 50 watchmaking luminaries attended DWW – a number unprecedented outside of the Baselworld trade show – ranging from watchmakers like Felix Baumgartner of Urwerk, Guillaume Tetu of Hautlence, Maximilian Büsser of MB&F, Stephen Forsey of Greubel Forsey, and Philippe Dufour.  Even Jean-Claude Biver of both Hublot and TAG Heuer as well as Chopard president Karl-Friedrich Scheufele were participants. And all the candidate watches for the Grand Prix d'Horlogerie de Genève 2015 were also on show.  The last time something like this took place was in 2007, when Tempus happened in Singapore.
A long time ago on an island far away…
A vast and magnificent exhibition celebration of watchmaking, Tempus took place in 2004 and 2007. Including both establishment brands and independents, Tempus was wide-ranging and impressive, especially since it was organised by a single retailer, The Hour Glass.
The brainchild of Michael Tay, the second generation to lead the family-owned watch retailer, Tempus boasted over US$100 million worth of timepieces on show, alongside talks, classes and panels. At the time it was the largest ever watch event outside of the Swiss trade fairs, one that was covered widely by the international press and attended by over 50,000 visitors.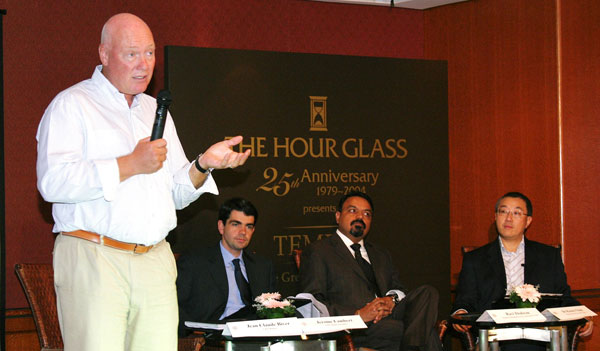 A scene from Tempus in 2004 with Jean-Claude Biver before fusion was fashionable
One of the most enduring effects of Tempus was to crown Singapore the preeminent centre for independent watchmaking. The city state's importance in the realm of independent watchmaking is significant. Many independent watchmakers, Maximilian Büsser of MB&F amongst them, often name Singapore their most important market.
Although Tempus took place nearly a decade ago, Singapore remains the city of choice for independent watchmakers to unveil their latest creations. Virtually all the important independent watchmakers unveil their products for the first time in Singapore. Urwerk recently introduced its first ever ladies watch in Singapore. And MB&F founder Maximilian Büsser comes to Singapore when a new wristwatch is launched, despite the watches being unveiled simultaneously in cities elsewhere.
And today in a fabulously wealthy city
Another Tempus is not likely to take place anytime soon, given Singapore's soft economy – recent newspaper headlines in the city discuss how a "technical recession" was averted. That is why the centre of gravity might shift to Dubai if DWW is repeated. And it looks like DWW will happen again, according to what Abdulhamied Seddiqi, the Vice Chairman of Seddiqi & Sons, revealed to your correspondent.
DWW took place at a seemingly inopportune time for fine watchmaking, given the lacklustre demand for its products.
The poor business climate has hit independent watchmakers notably hard, since most retailers are now taking the safer route and sticking with tried and tested mainstream brands that sell on their own, Rolex and Patek Philippe being two obvious examples.
Seddiqi & Sons, however, took the opposite tack, by focusing exclusively on independents – whose greatest value is perhaps preserving the diversity of watchmaking. DWW was all about proselytising for the cause of independent watchmaking, and not about selling more watches, according to its organisers. It's easy to be sceptical of such a proclamation coming from a watch retailer – your correspondent certainly was – but that was a genuine commitment.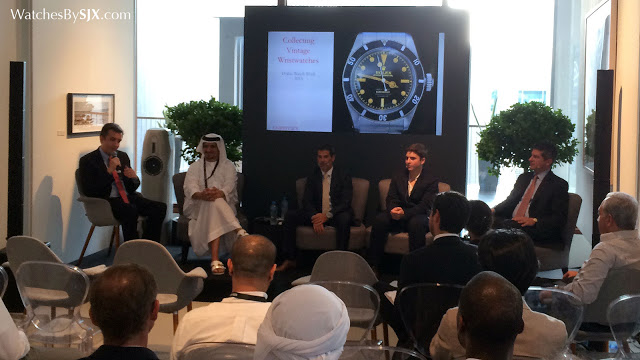 A panel at DWW on collecting vintage watches led by Christie's Eric Wind
While the eight key independent brands with exhibits at DWW are all carried by Seddiqi & Sons, DWW also included brands with no retail presence at all in Dubai. That meant on hand to give watchmaking masterclasses were Marco Lang of Lang & Heyne, Peter Speake-Marin of the eponymous brand, as well as the Christian van der Klaauw. Movement developer Jean-Marc Wiederrecht was also part of a panel discussion, despite not actually having his own watch brand. In fact, the organisers of DWW wanted include talented but less well known independents, but they were unable to attend.
Auctioneer Christie's also got its turn in the spotlight at DWW, with its Dubai watch auction taking place during the week, despite retailers seeing auctioneers as rivals for the same collectors' dollar. Not only did was the auction part of the DWW programme, Christie's watch experts, including head of department John Reardon, were speakers at several sessions.
Put simply, DWW was as impartial and educational as a watch event can possibly be. When DWW happens again it will be the highlight of the horological calendar, and it would behoove any watch enthusiast to attend.
Back to top.
---
You may also enjoy these.