The Newest Chapter in the Saga – Antiquorum USA Leaves Watch Seller Unpaid
The tale of the two faces of Antiquorum.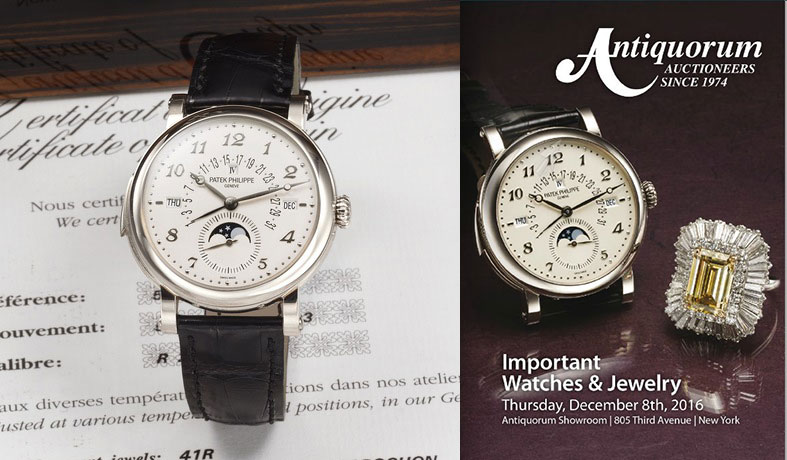 A Florida man who sold a Patek Philippe ref. 5213G at Antiquorum USA for over US$300,000 in November last year is still owed US$100,000, according to the New York Post. The seller, Andrew Woods, sued Antiquorum of New York in June 2017 for the balance, but instead received several watches as collateral – including a Patek Philippe wristwatch once owned by mafioso "Lucky" Luciano – until the outstanding amount was paid. The deadline for the payment has since passed.
Earlier articles in the New York newspaper also cite other lawsuits by clients who are still owned money by the auction house. The stories fail to mention, however, that the American Antiquorum is now completely separately from its Swiss and Hong Kong counterpart of the same name, the result of a drawn-out struggle over what was once the world's leading watch auctioneer, founded in 1970 by Osvaldo Patrizzi, a tall Milan native with swept-back silver hair who invented the thematic watch auction. Just before he lost control of Antiquorum, the watch-obsessed Patrizzi had sold the vast majority of the priciest timepieces ever sold at auction.
The saga began in 2006 when Patrizzi sold half of Antiquorum – then still a single business globally – for some US$30m to Japanese publisher Artist House Holdings. He was ousted by the new shareholder a year after amidst allegations of impropriety on both sides, leading to years of bitter legal wrangling (including a dispute over the ownership of two Patek Philippe Calibre 89 watches) and bizarre financial manoeuvres (Artist House later sold its 50% share for US$30,000 to a Hong Kong shell company in 2008). Some of what transpired was almost comical: Antiquorum SA in Geneva was vengefully renamed Izzi Trip SA, an anagram of "Patrizzi".
Artist House went bust not long after, and Patrizzi documented much of the drama on a personal blog, with entries variously titled "All of this Agony, and For What?" and "Finally, the sword of Damocles has fallen!". Patrizzi tried to stage a comeback in 2008 with Patrizzi & Co., a watch auction house with an ambitious online bidding system and zero buyer's premiums. The venture failed spectacularly and shut down two years later.
Intriguingly, Antiquorum managed to continue selling watches throughout the decade of internecine struggles, and even acquired watch forum timezone.com. That was all the more extraordinary given the revolving door management – American watch dealer Bob Maron was briefly chairman of Antiquorum USA – that eventually left Evan Zimmerman in charge of the American operation, where he remains today.
In October 2015, the situation inched towards resolution when Swiss private equity outfit Fides Business Partner took over Antiquorum Management Ltd., which runs the Geneva and Hong Kong auctions. And just earlier this year the private equity-backed portion of Antiquorum definitively split from the American half, leading to some confusion.
Legally, financially, and reputation-wise the two enterprises are separate, a distinction that continues online;Antiquorum Switzerland and Hong Kong are covered by the antiquorum.swiss website, while antiquorum.com remains with the New York entity. The lawsuits prove that the Geneva and Hong Kong business are perhaps more salubrious.
---
Source: New York Post
Back to top.
---
You may also enjoy these.

The Singapore preview exhibition of Phillips "The Hong Kong Watch Auction: Two" takes place in Singapore this weekend, May 7 and 8.