Hands-On with the HYT Skull Pocket Hand-Engraved Pièce Unique
A titanium pocket watch inlaid with a white gold medallion engraved by Sylvain Bettex.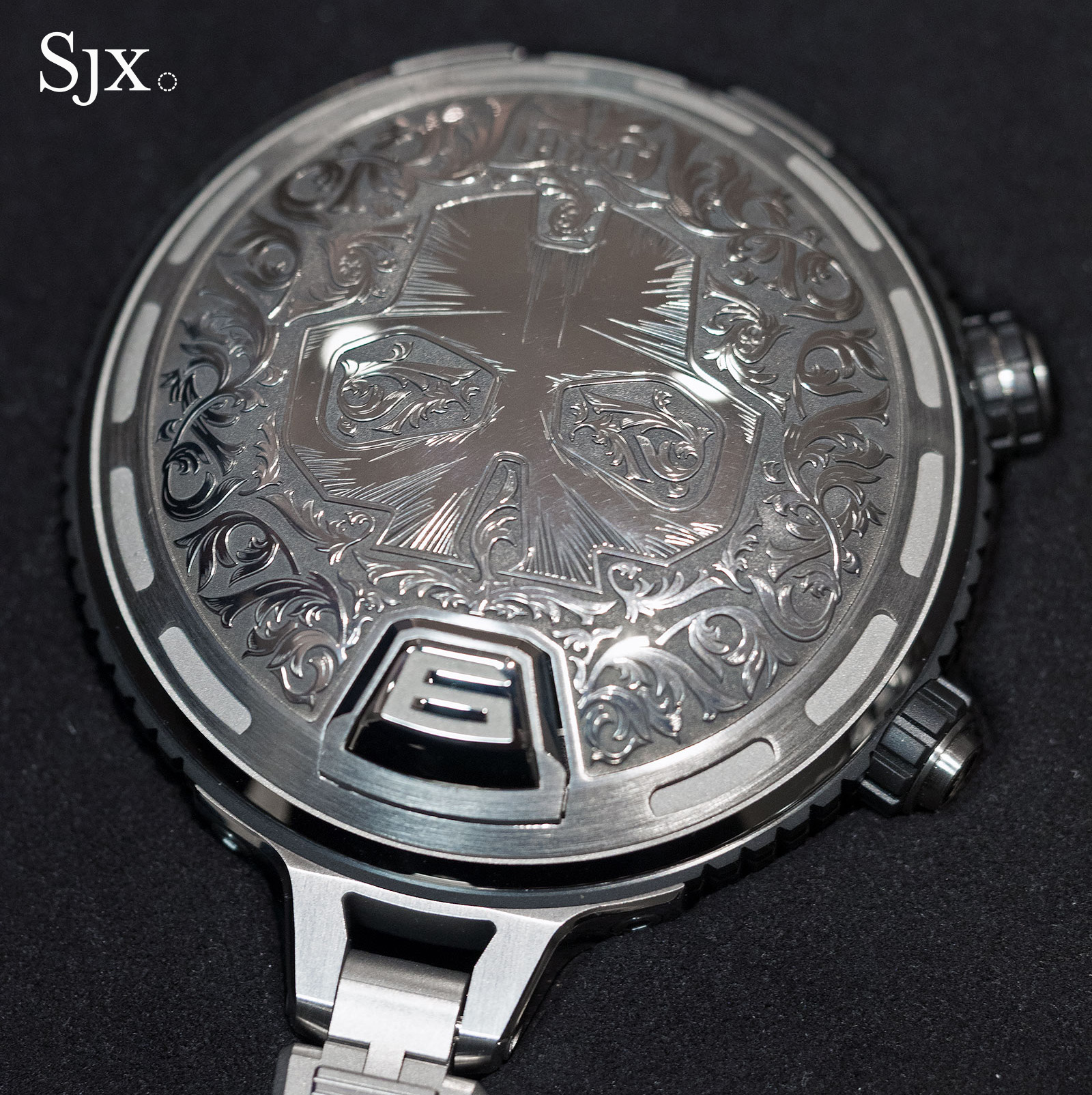 Unveiled just earlier in the year, the HYT Skull Pocket is a hunter pocket watch that indicates the time via fluids in tube, with a tiny dynamo that powers its LED illumination. Using that as a base, the Skull Pocket pièce unique replaces the leather inlay on the hinged lid with an elaborately hand-engraved medallion in 18k white gold.
Executed in bas-relief, the medallion depicts a skull surrounded by acanthus leaves, a motif from Greek architecture that became a recurring theme in traditional engraving. While the standard Skull Pocket is somewhat mechanical looking, the engraving turns the Skull Pocket pièce unique into an extravagant object with significant visual appeal.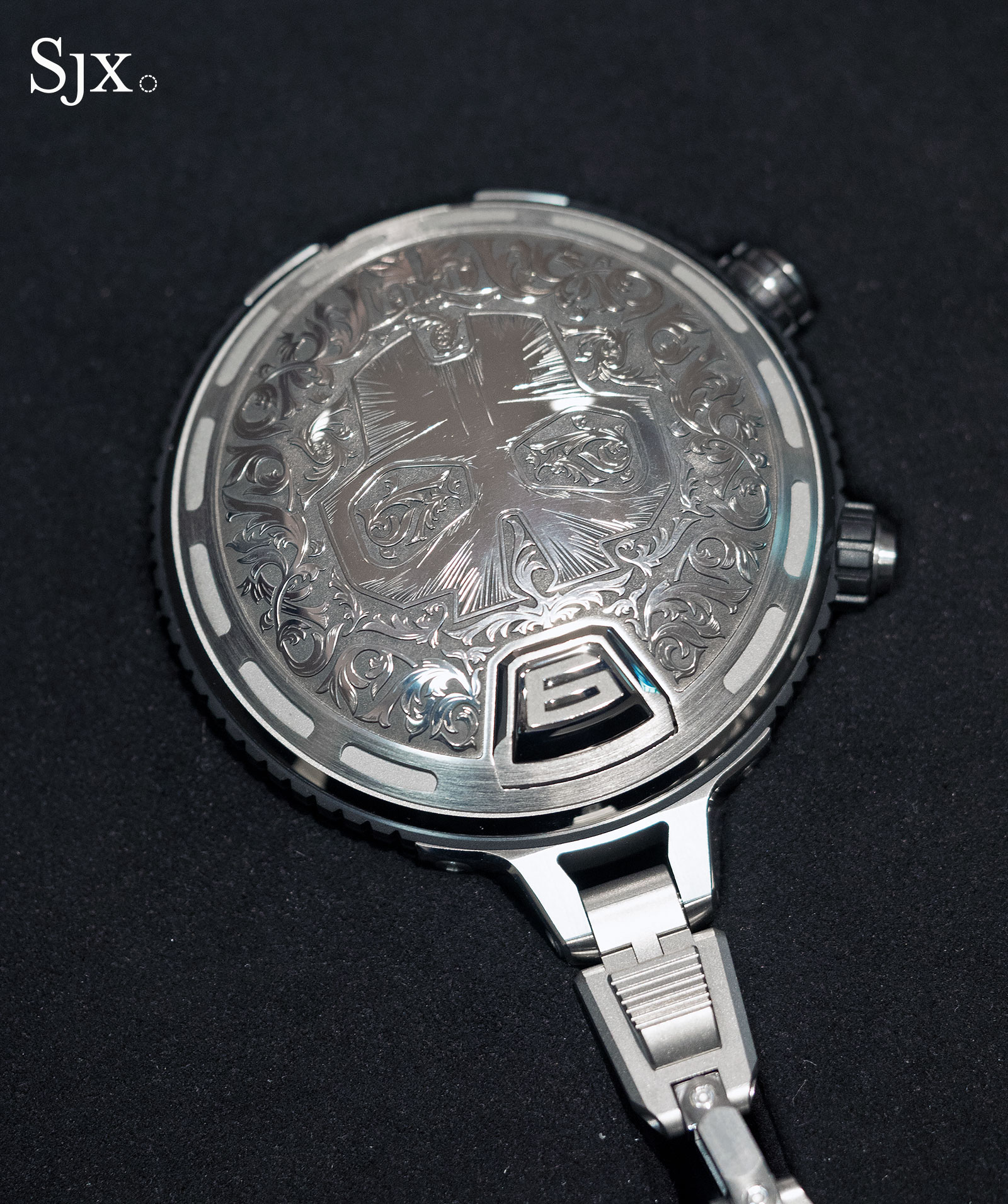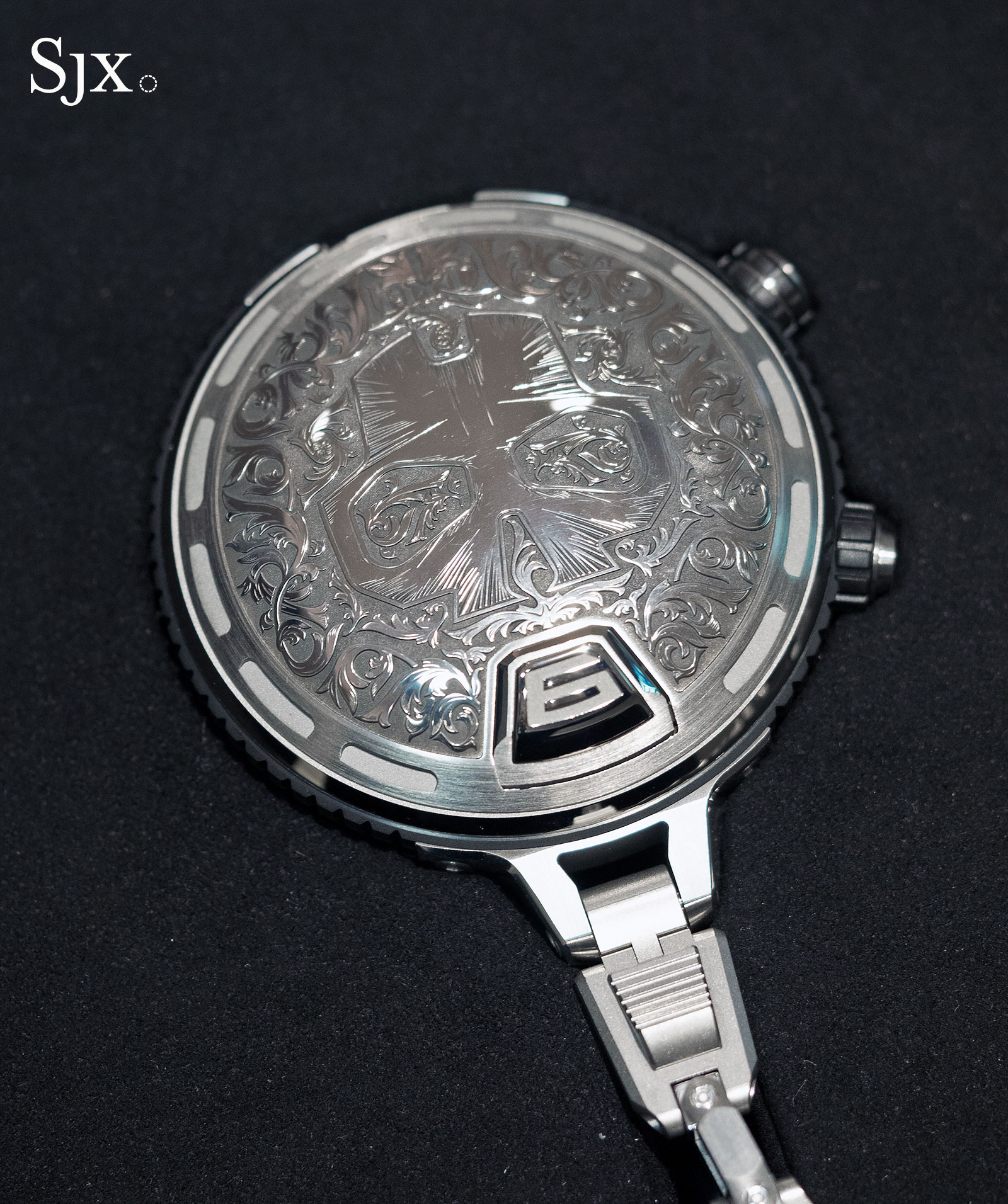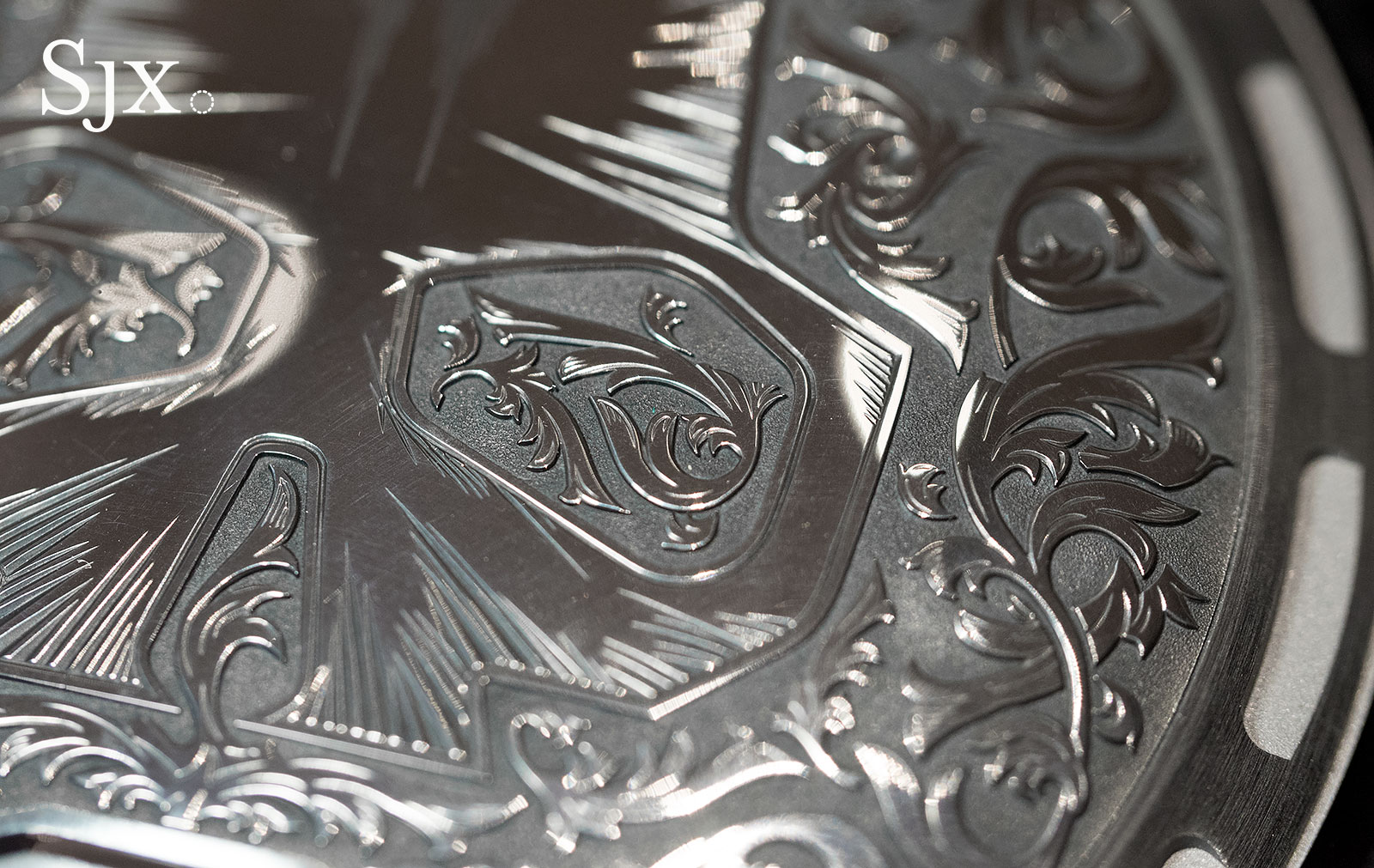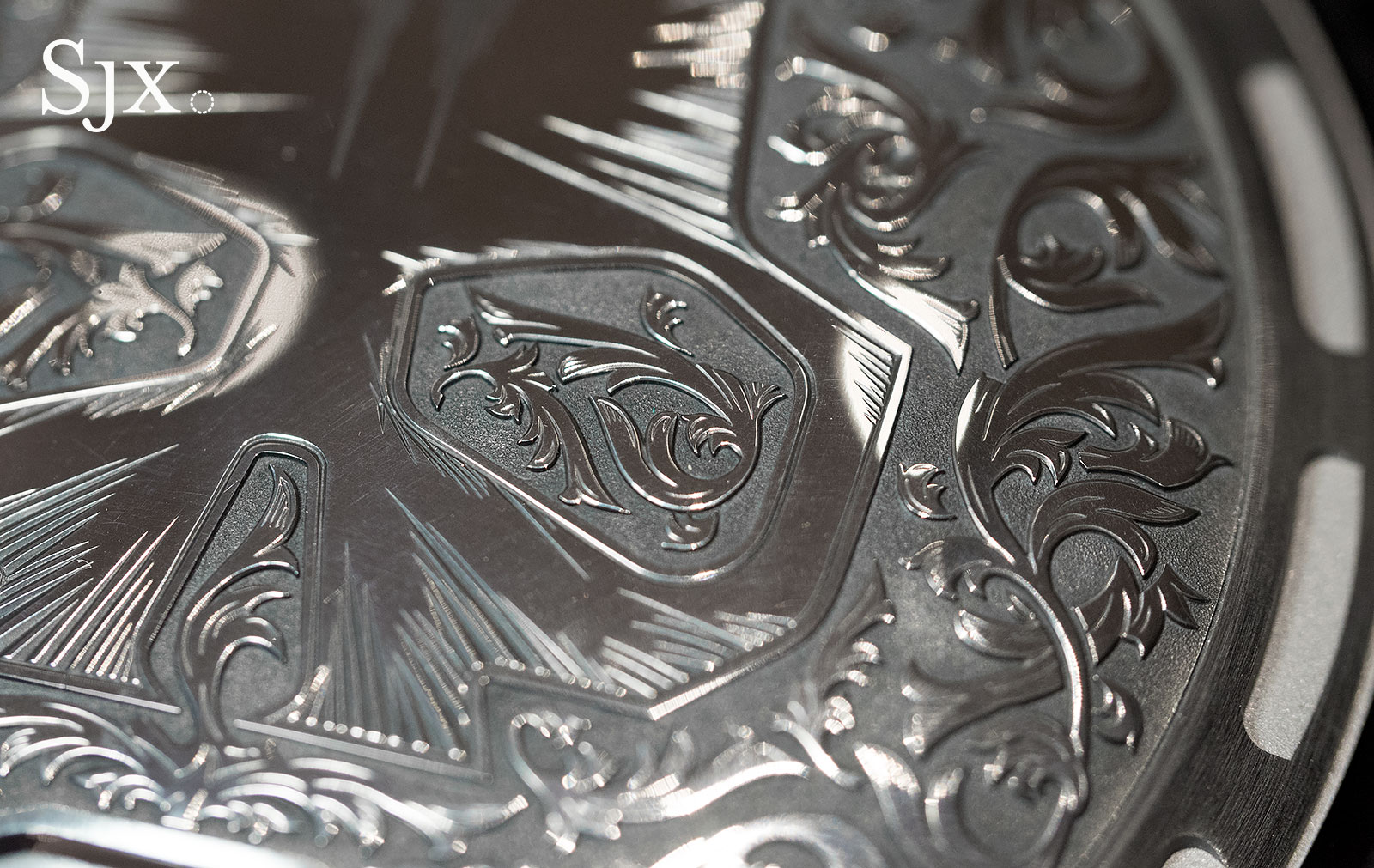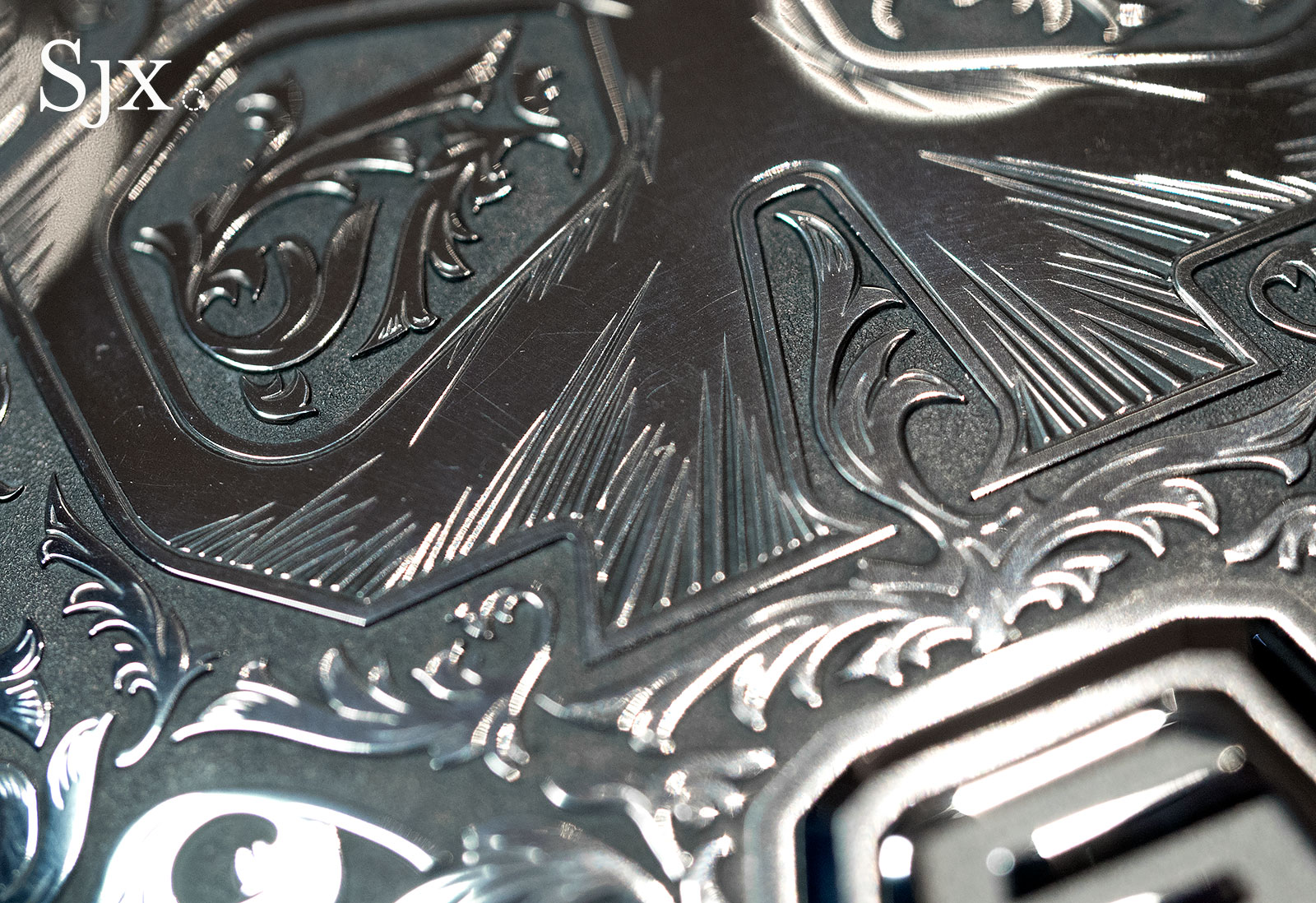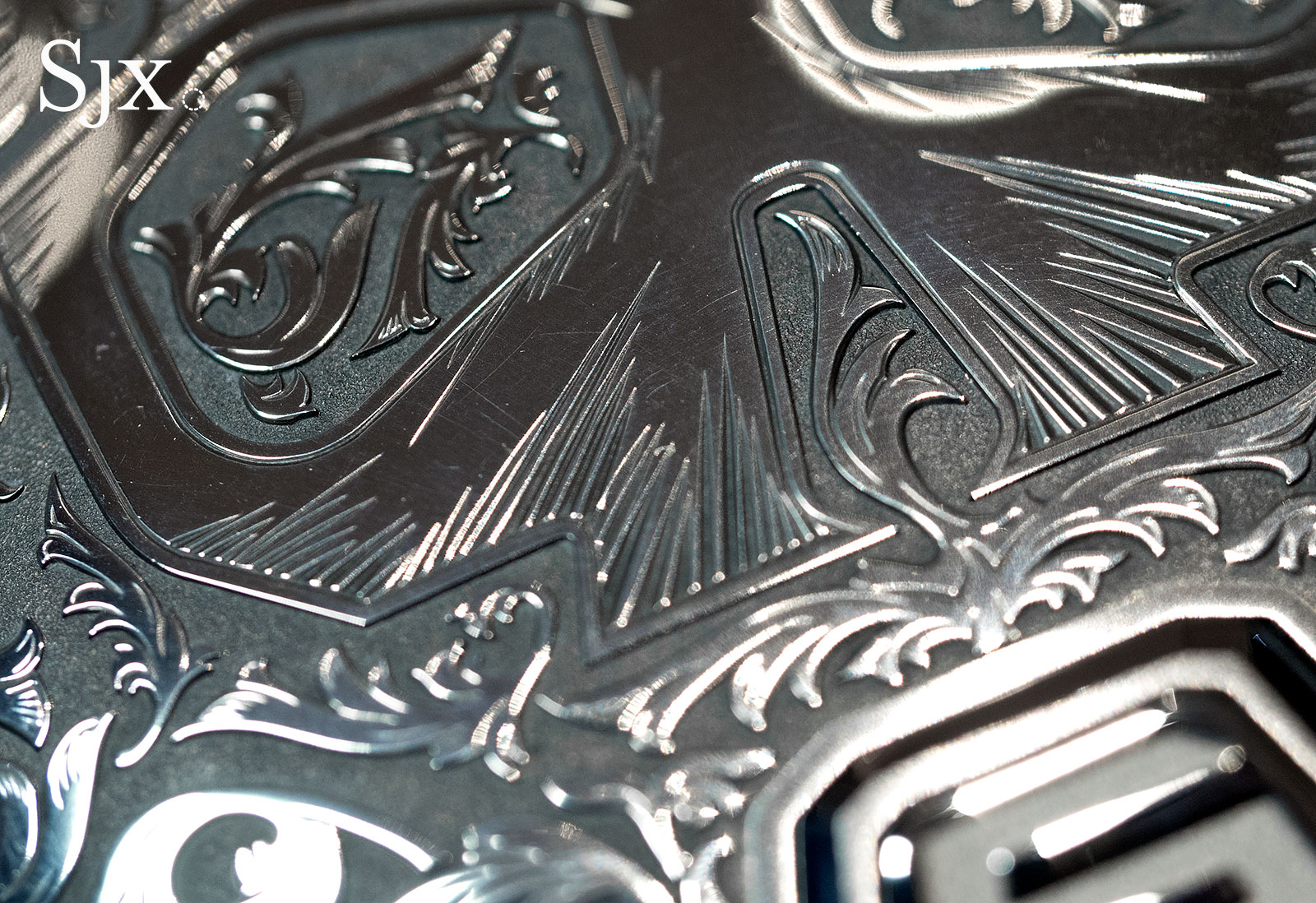 The engraving is the work of Sylvain Bettex of Glypto Sàrl, an engraving specialist based near Le Locle. An expert in hand-engraving, Mr Bettex's list of clients includes Hermès, Parmigiani and MB&F, where he responsible for the engraving on the movements of the Legacy Machine series (from the LM101 to Legacy Machine Perpetual).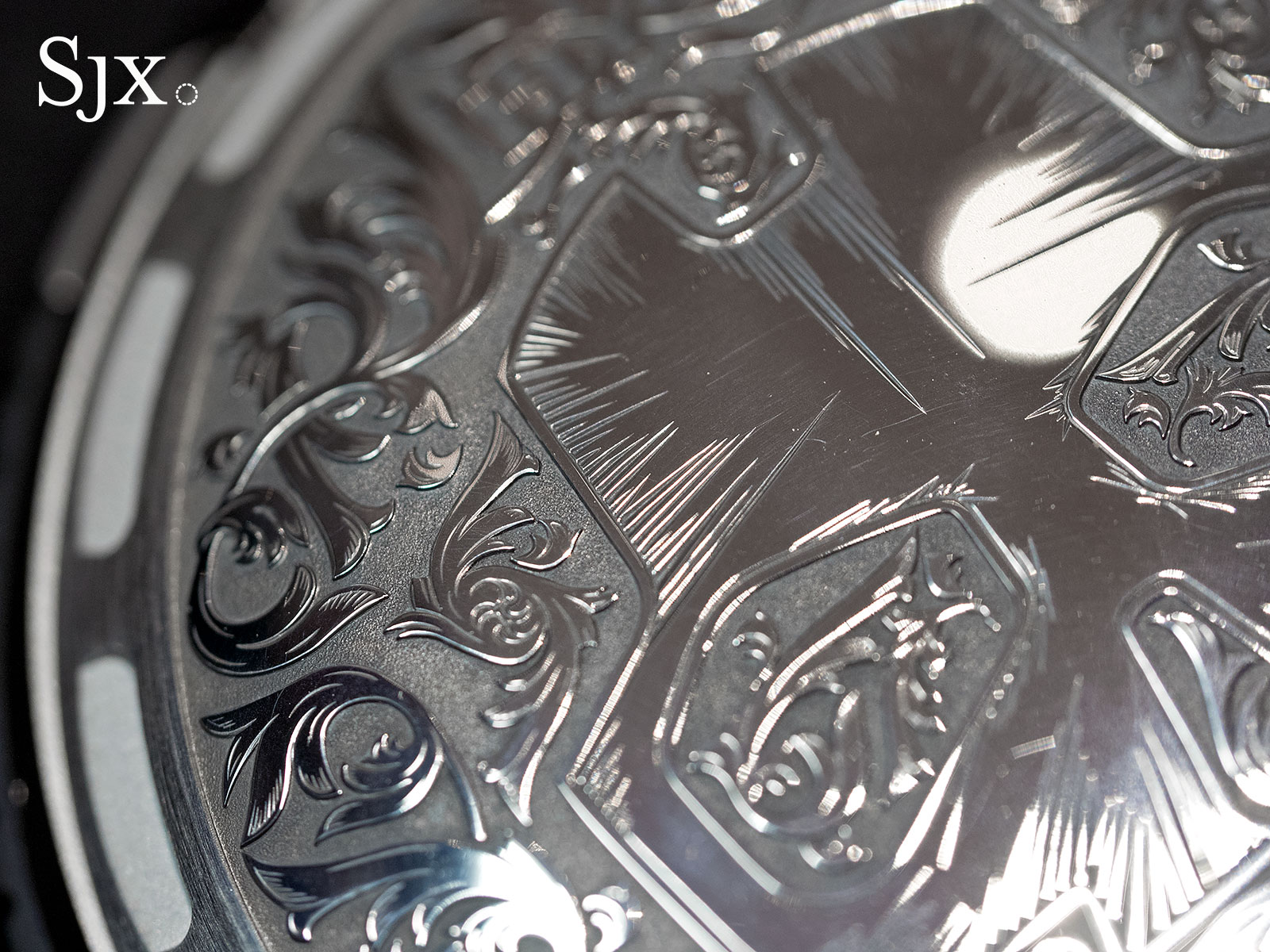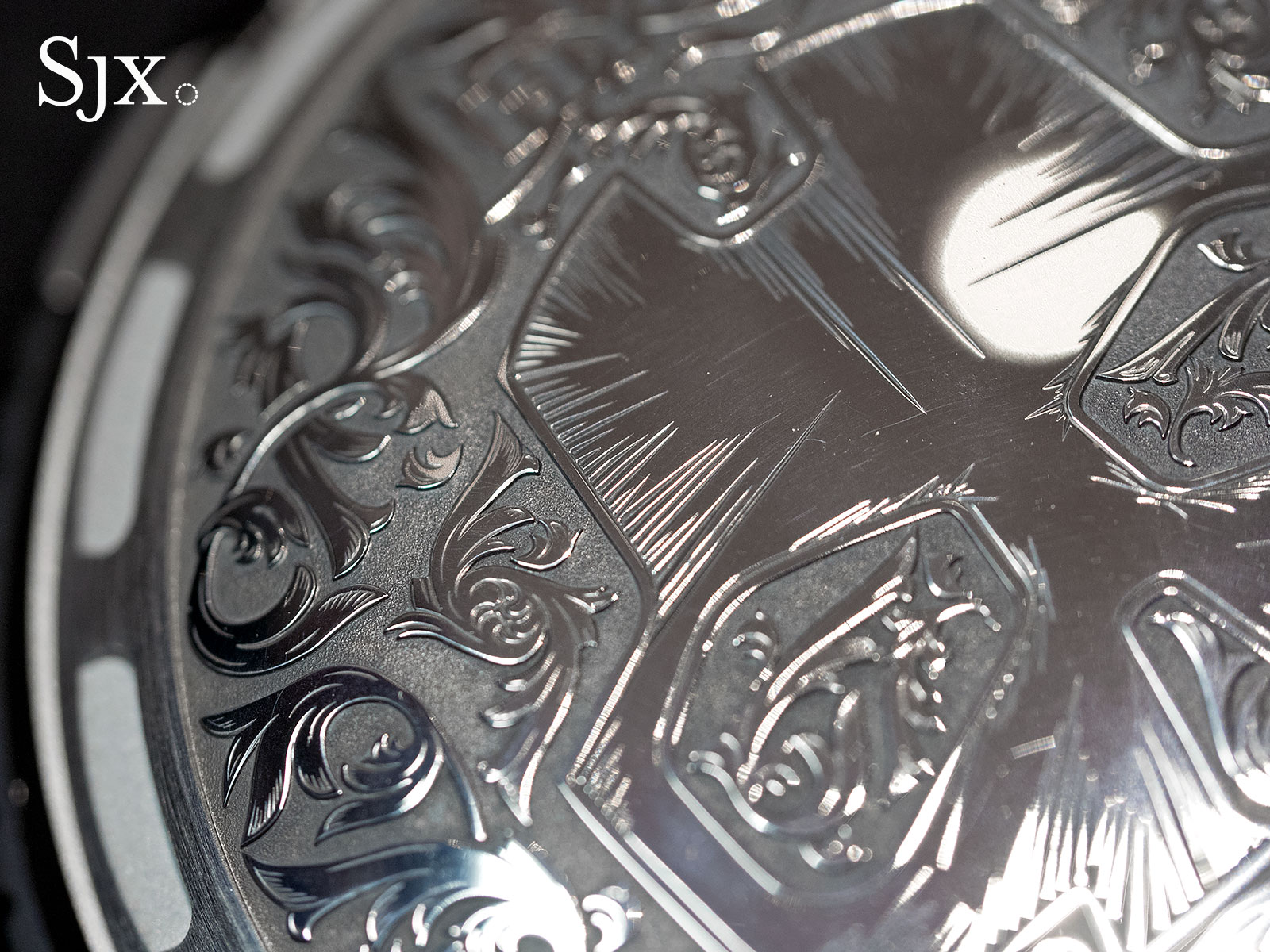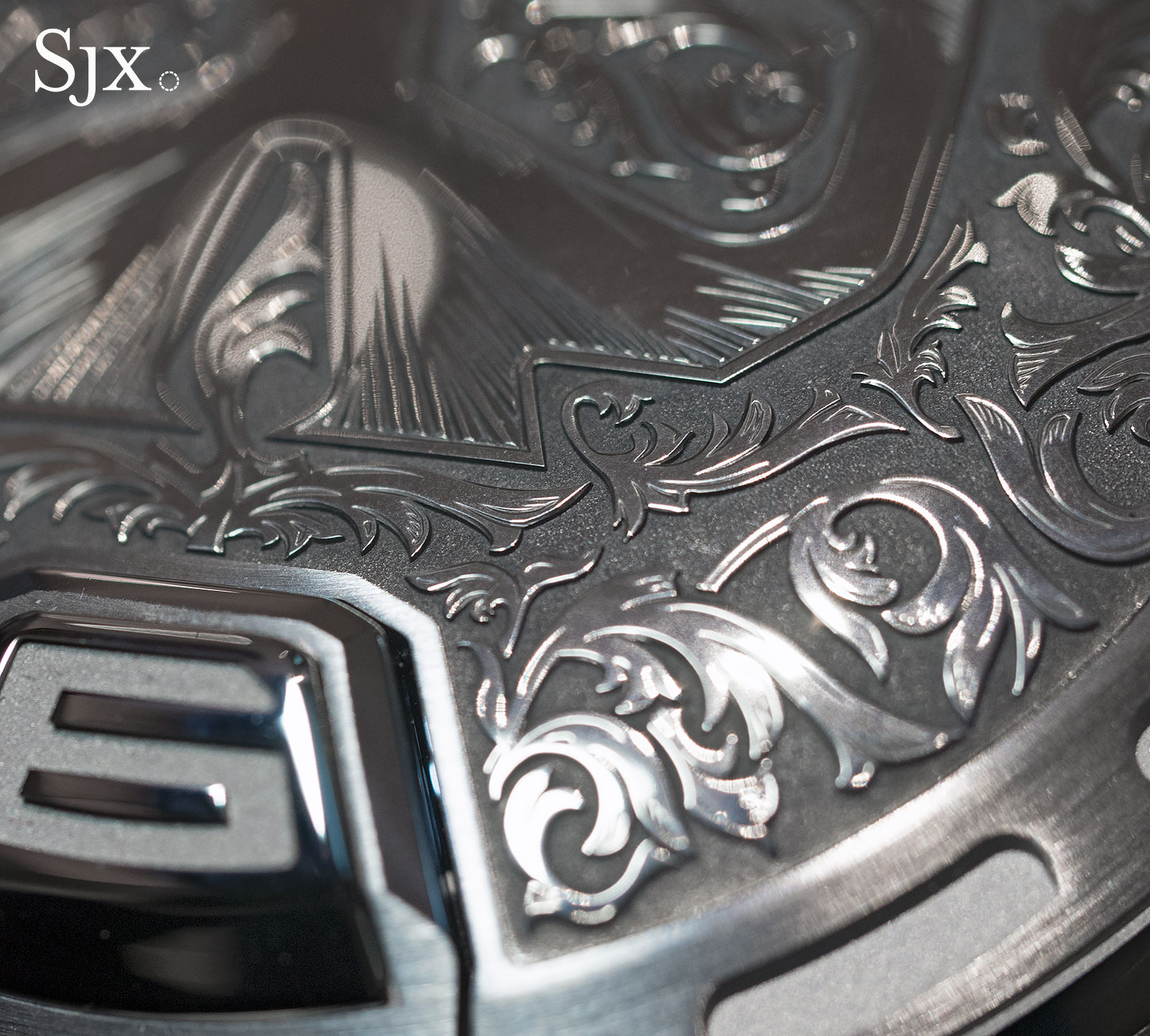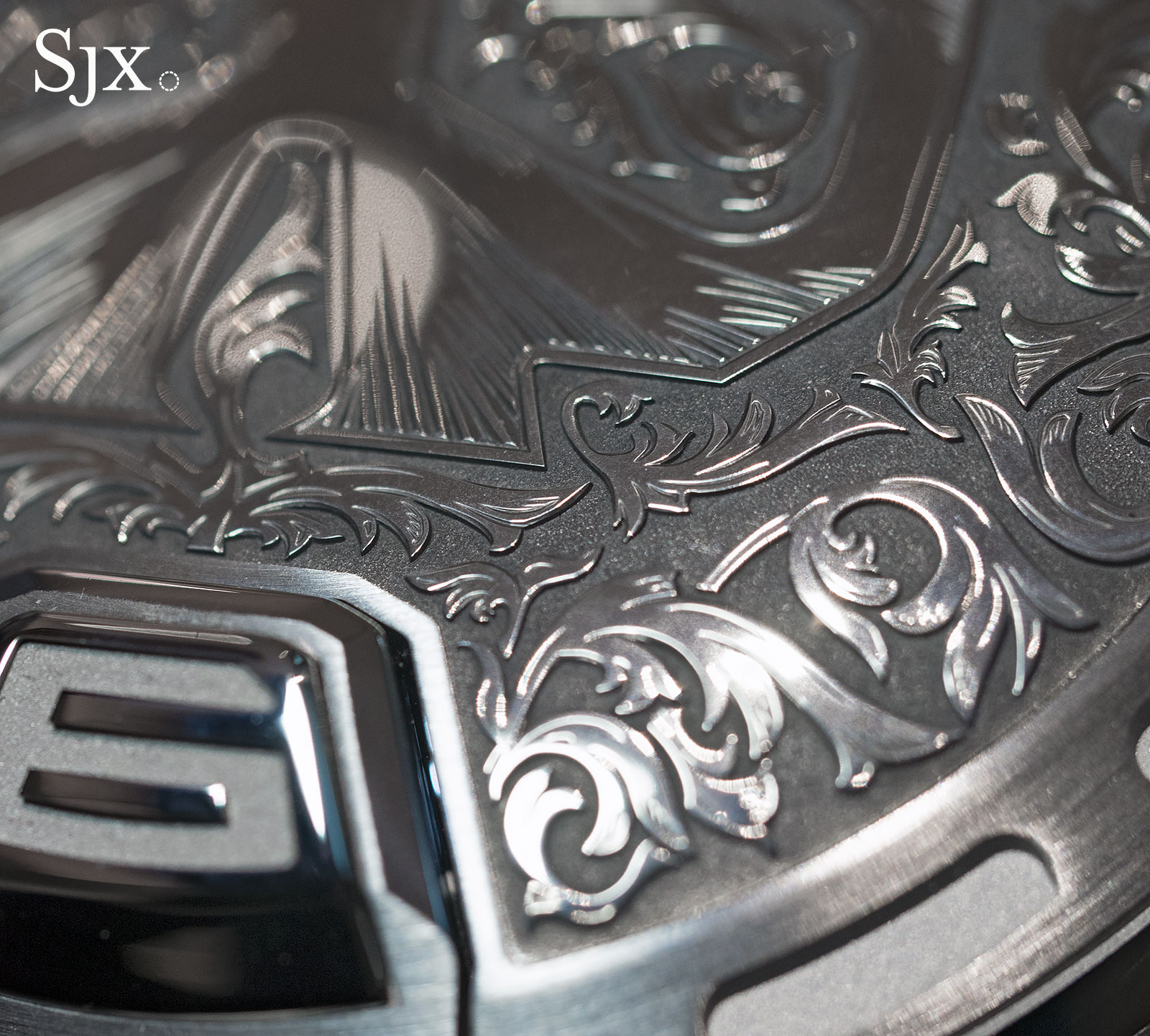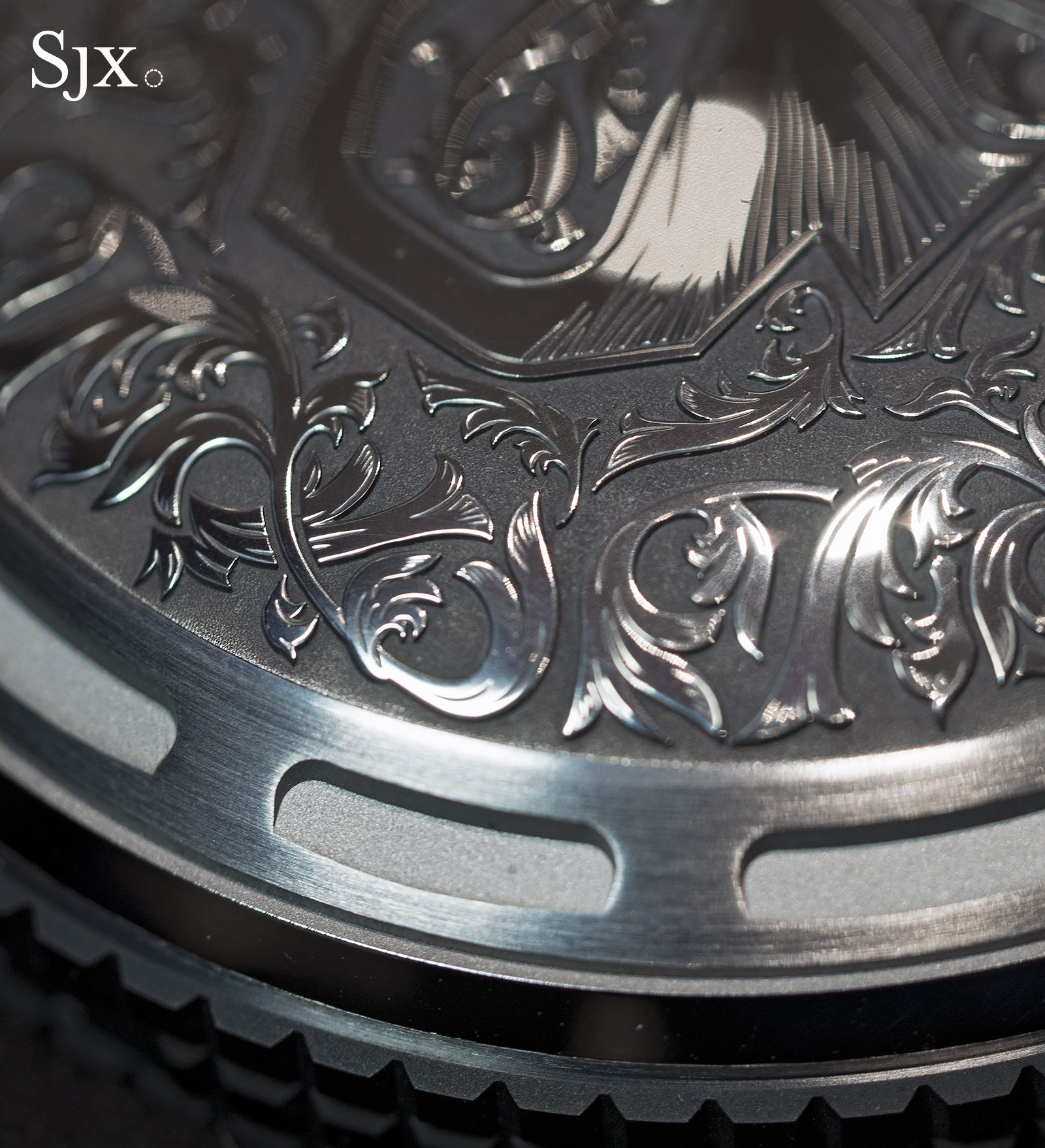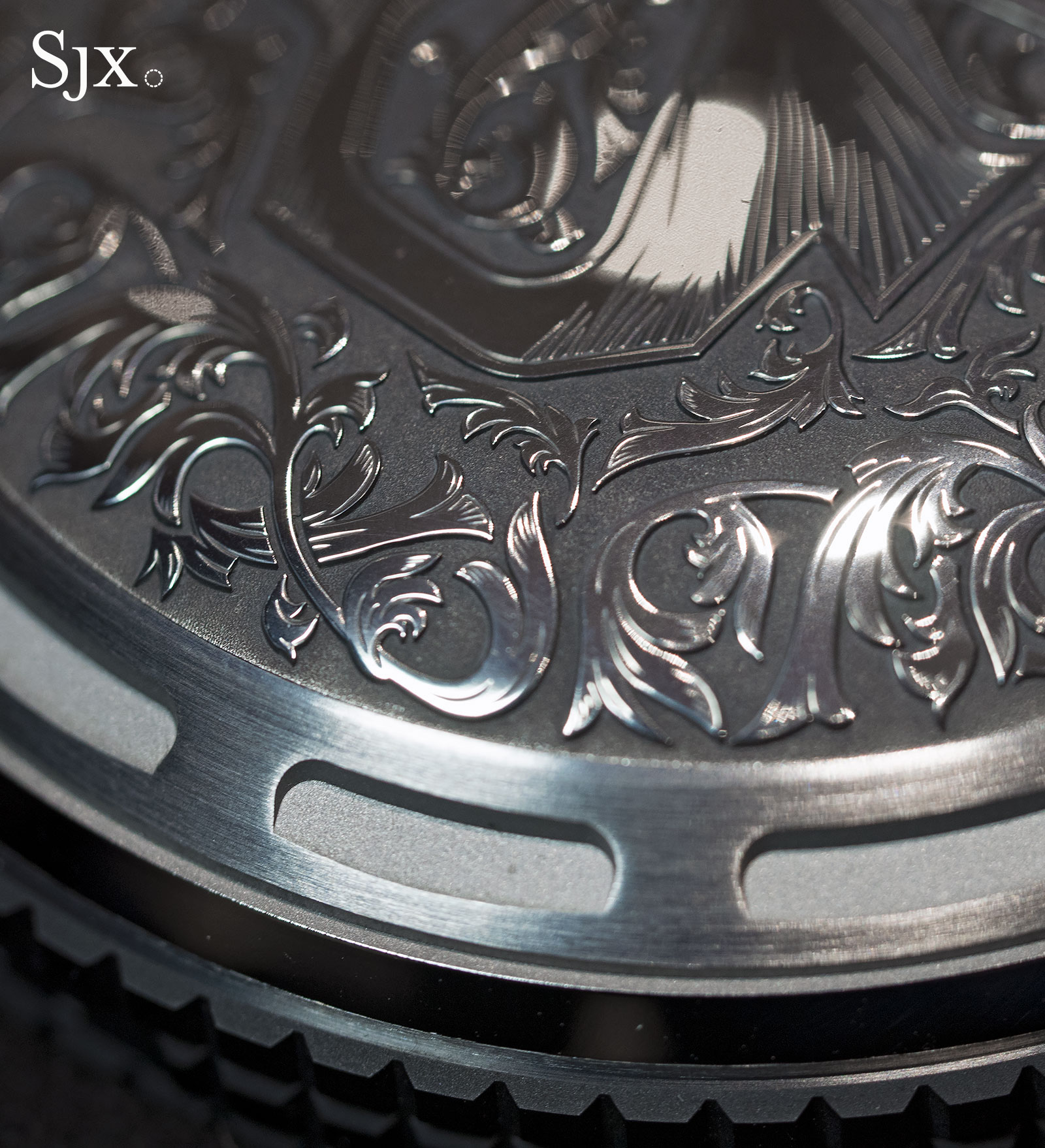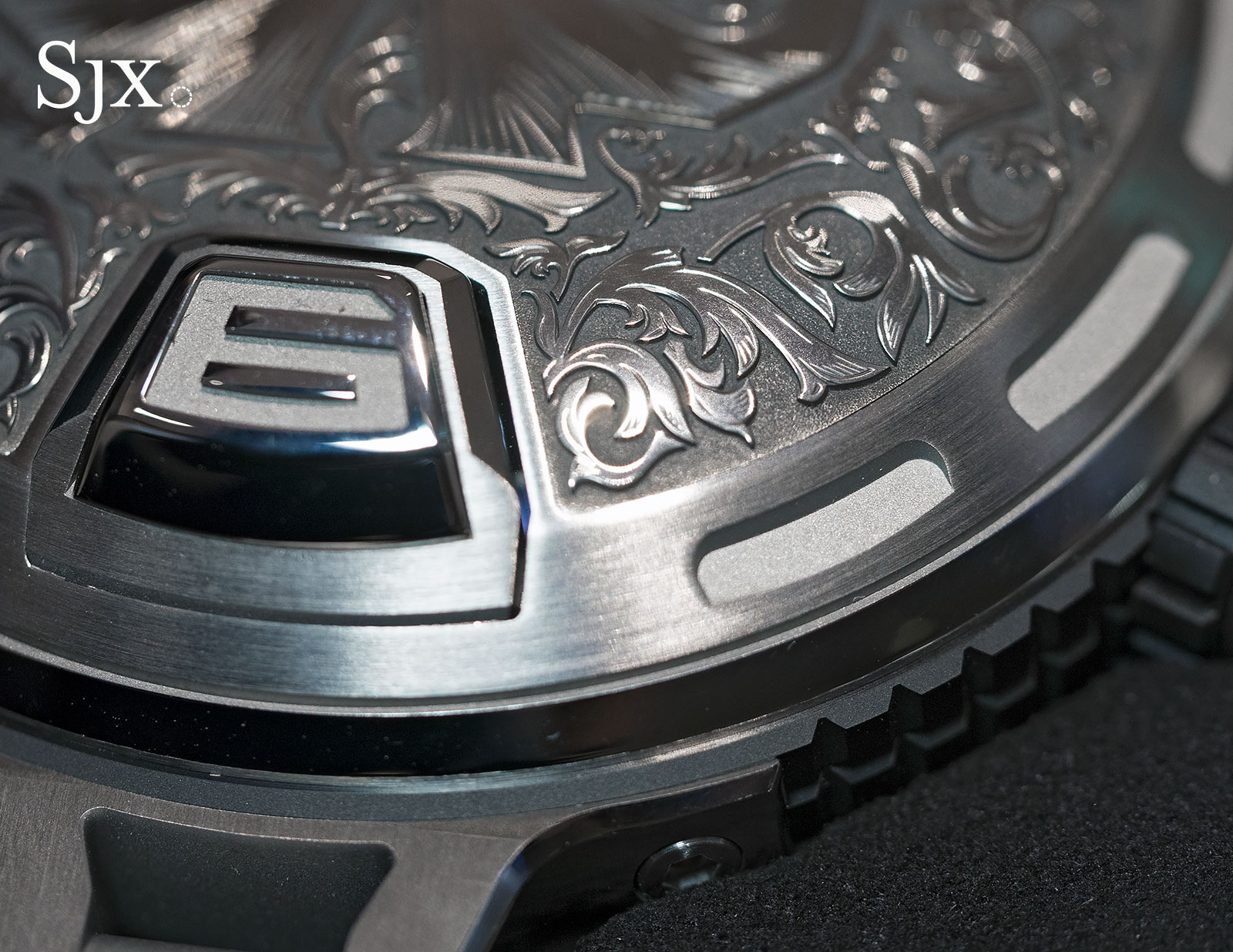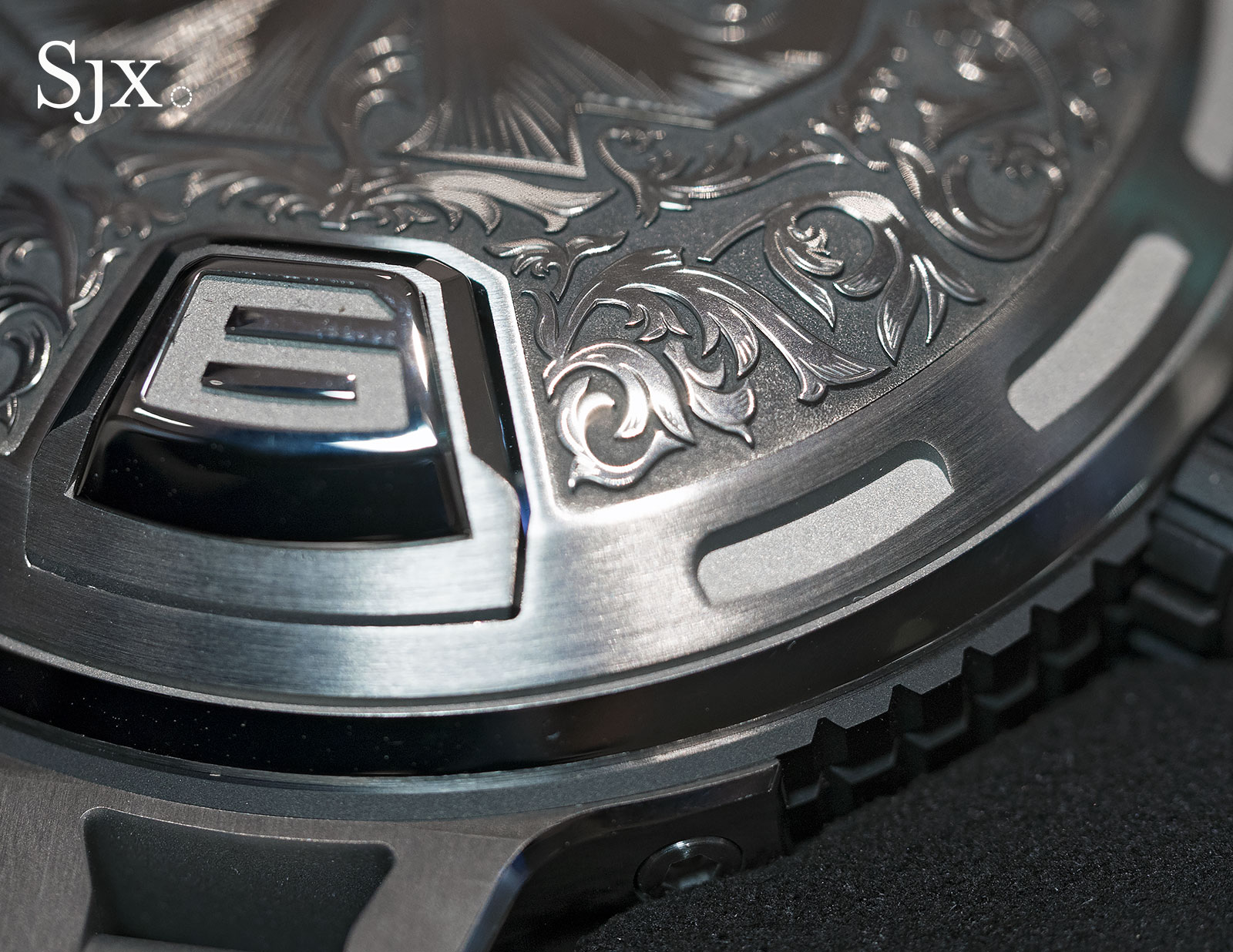 While the engraved medallion is white gold, the rest of the case is titanium, with hobnail rubber inlay on its flanks.
Pressing the tab at six o'clock pops open the sprung lid. Underneath is a dial that's identical to that of the standard Skull Pocket, which is another skull with the time indicated via fluids in a glass tube that traces the outline of the skull.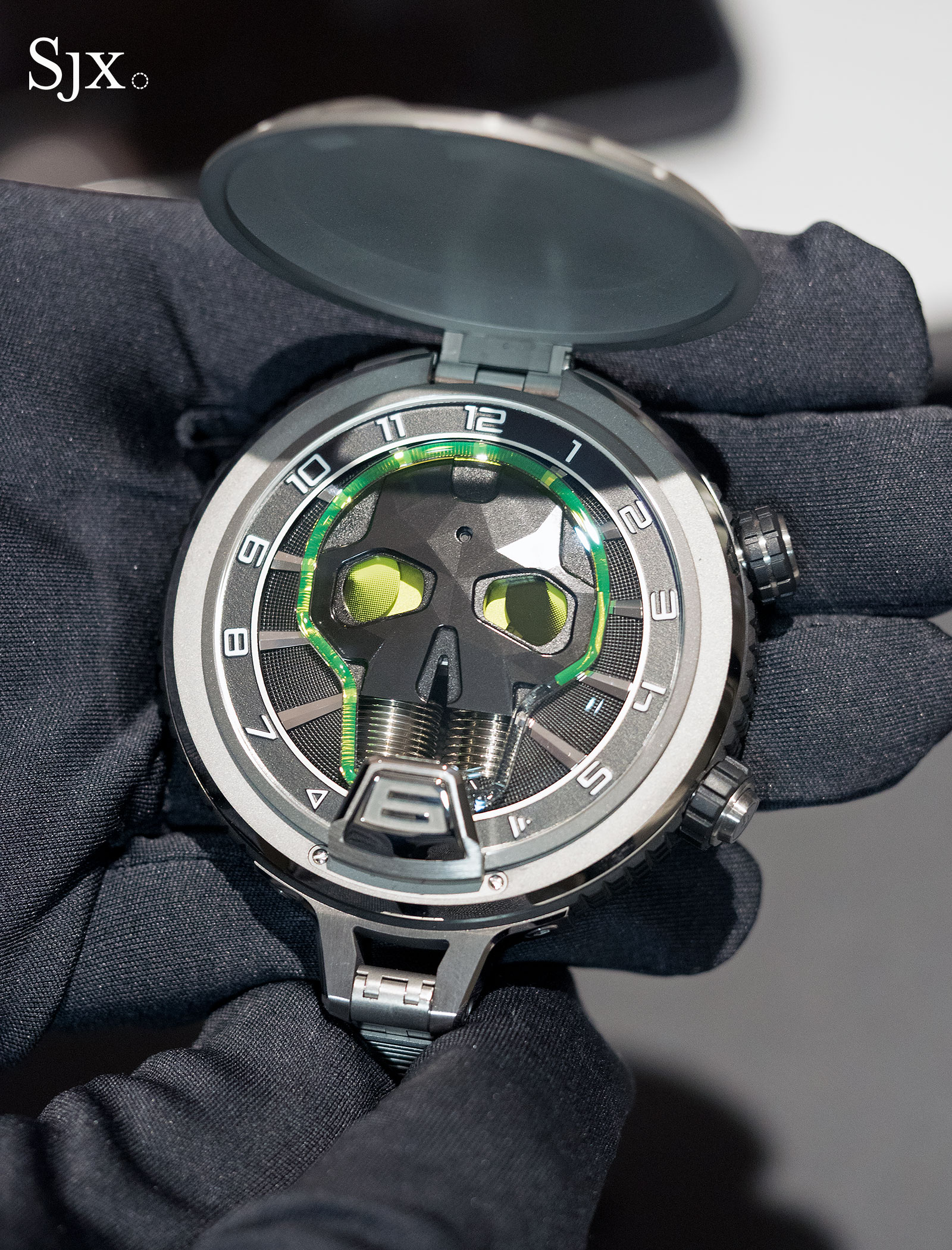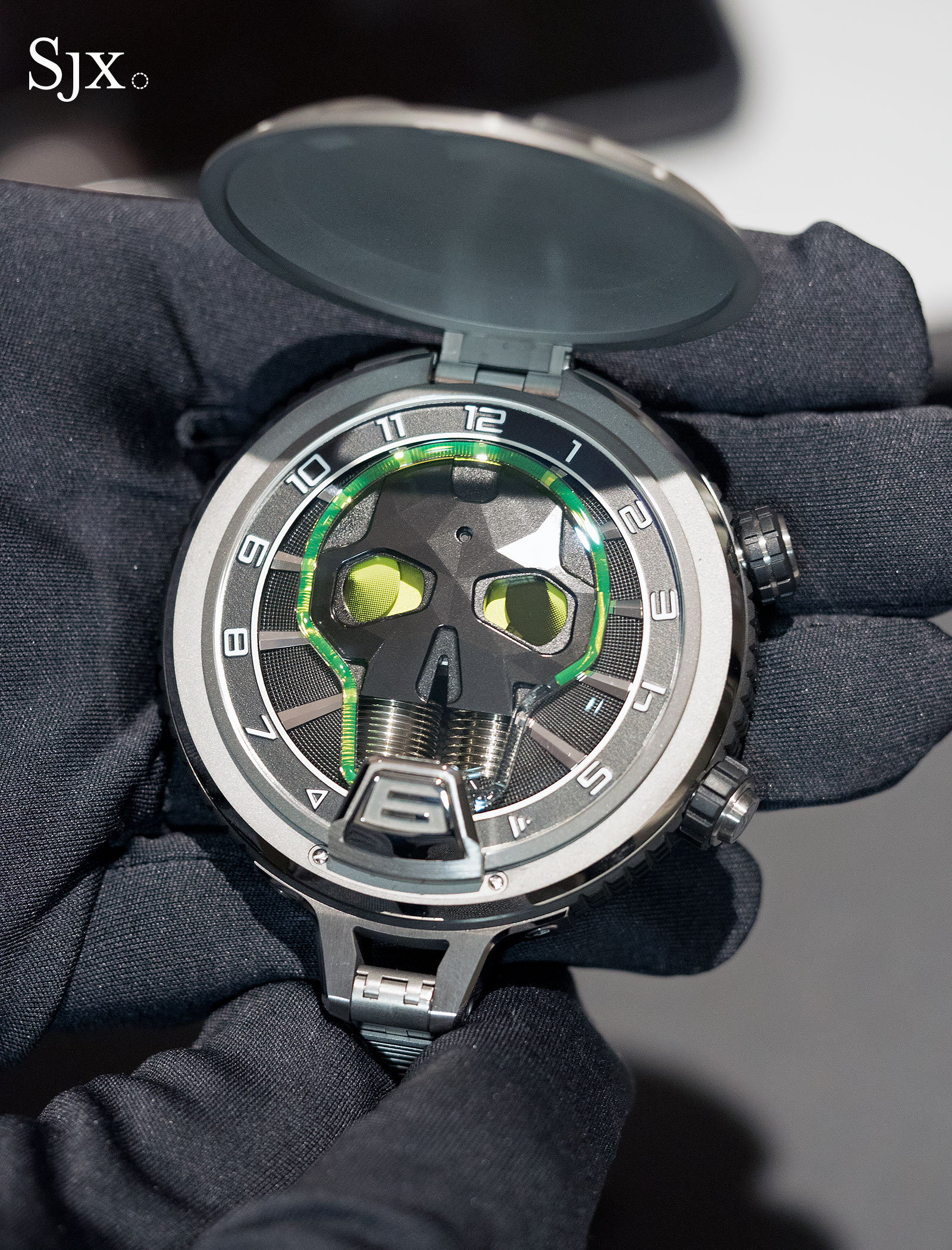 Just like the illuminated H4 Metropolis, the Skull Pocket pièce unique has twin crowns: one at two o'clock to wind and set the watch, with another at four o'clock that activates the light system. Winding that crown powers up a dynamo, and pressing it releases the electrical energy to power a pair of blue LEDs that light up the skull time display.
Inside is the calibre 101, the same movement found in the H1, the first model introduced by HYT. It's a hand-wound calibre that indicates the hours with fluids – a pair of immiscible fluids are pushed through a glass tube, with the meniscus between them pointing to the time. The liquids are moved by two bellows visible on the lower half of the movement; the upper half is made up of the bits that tell the time.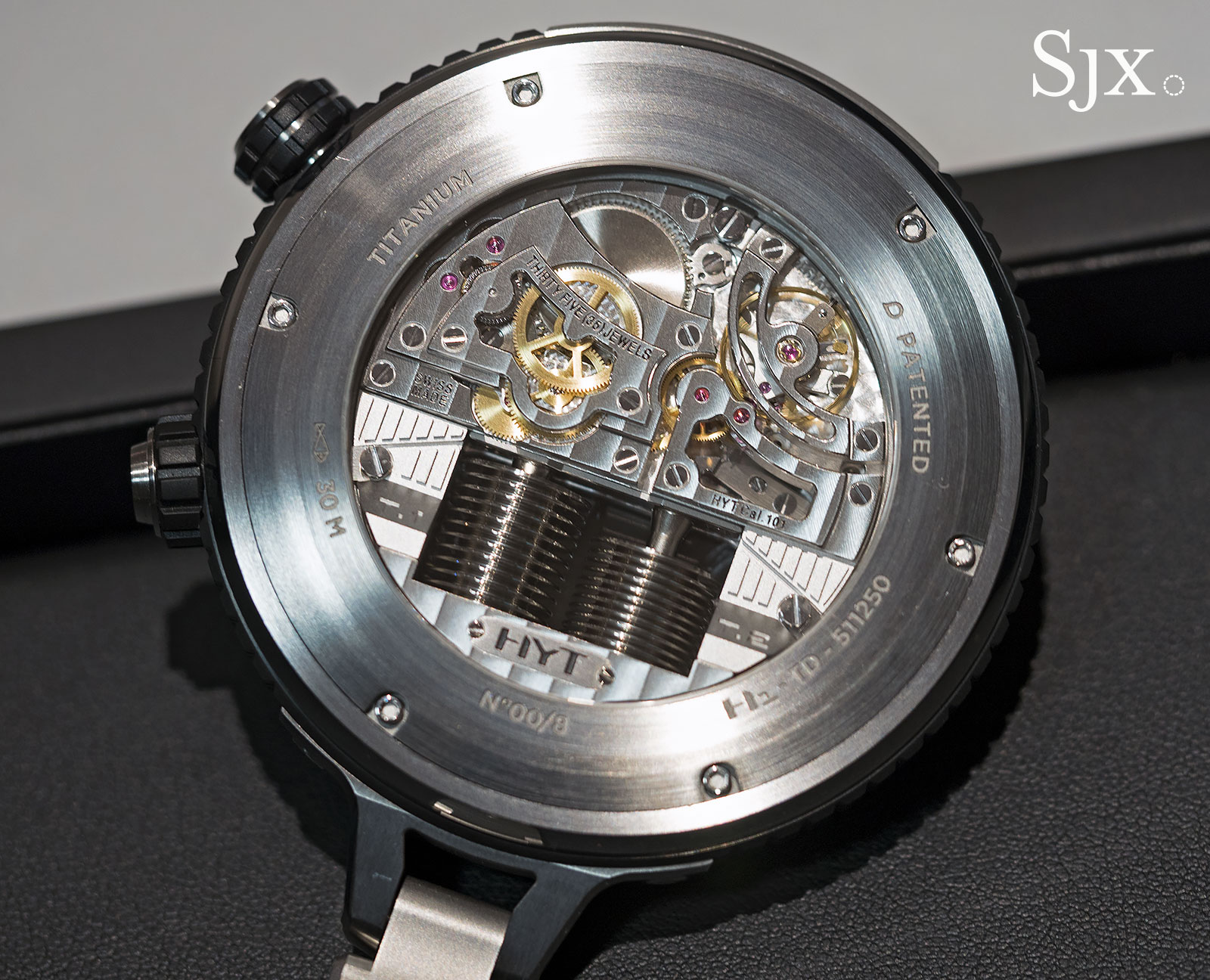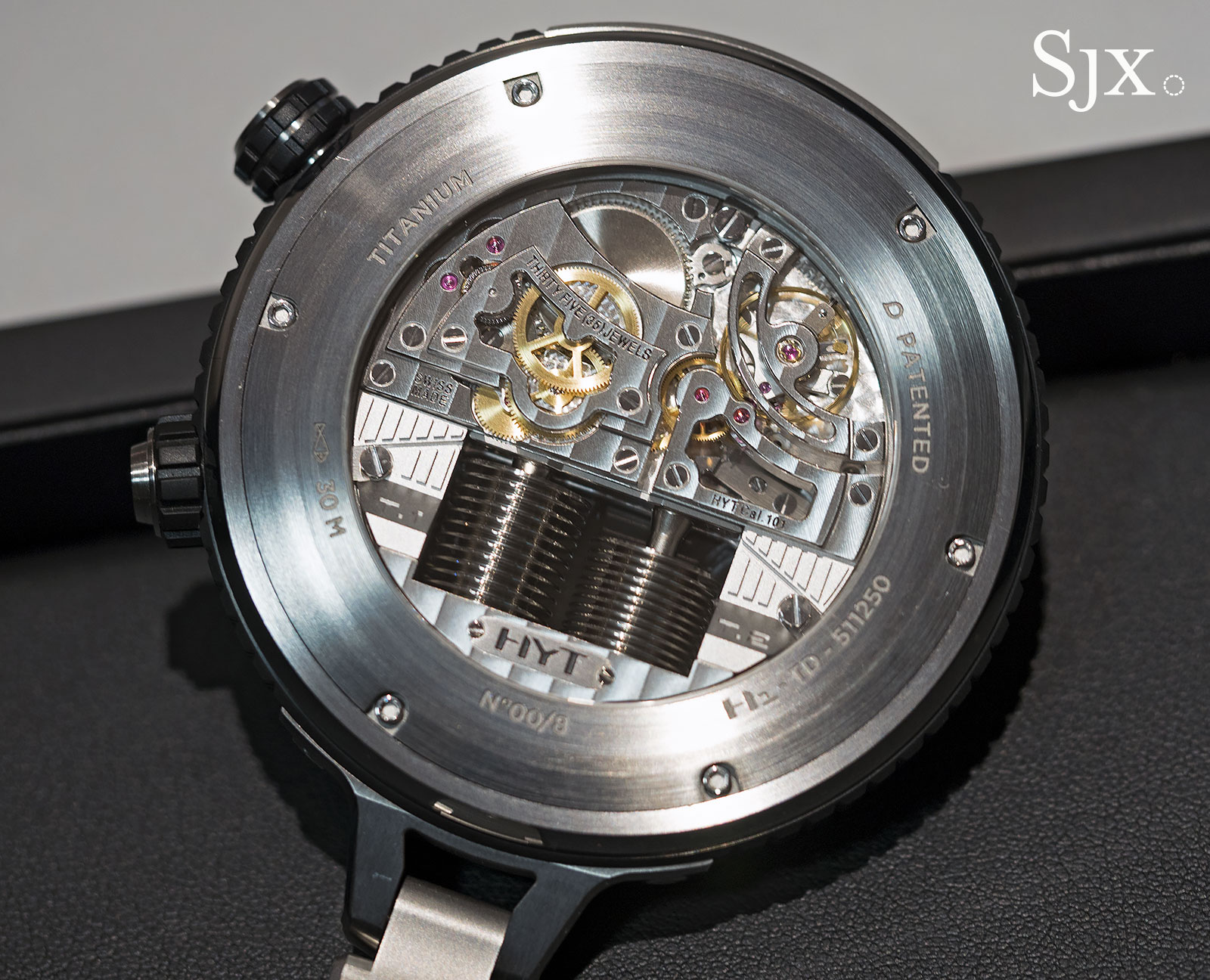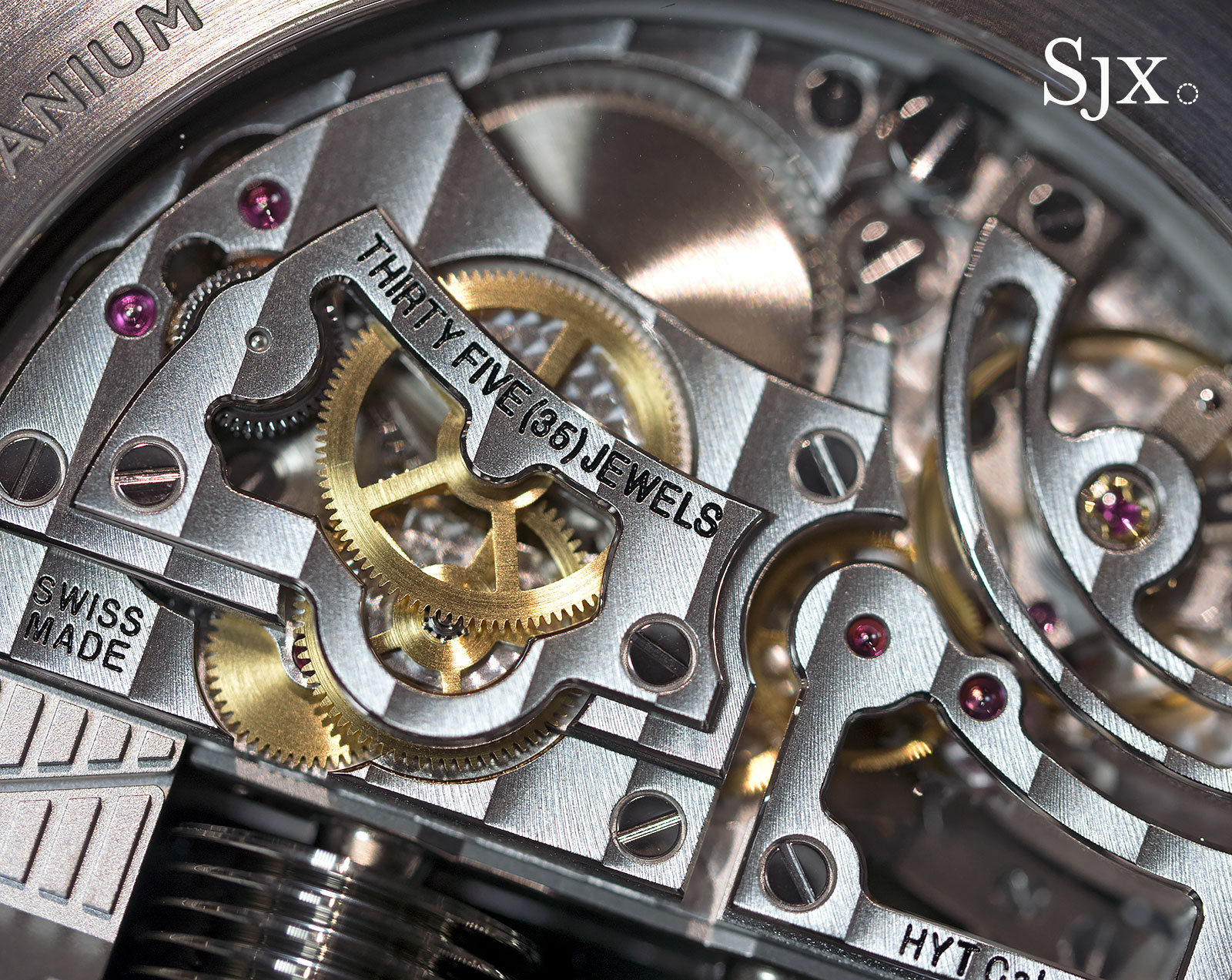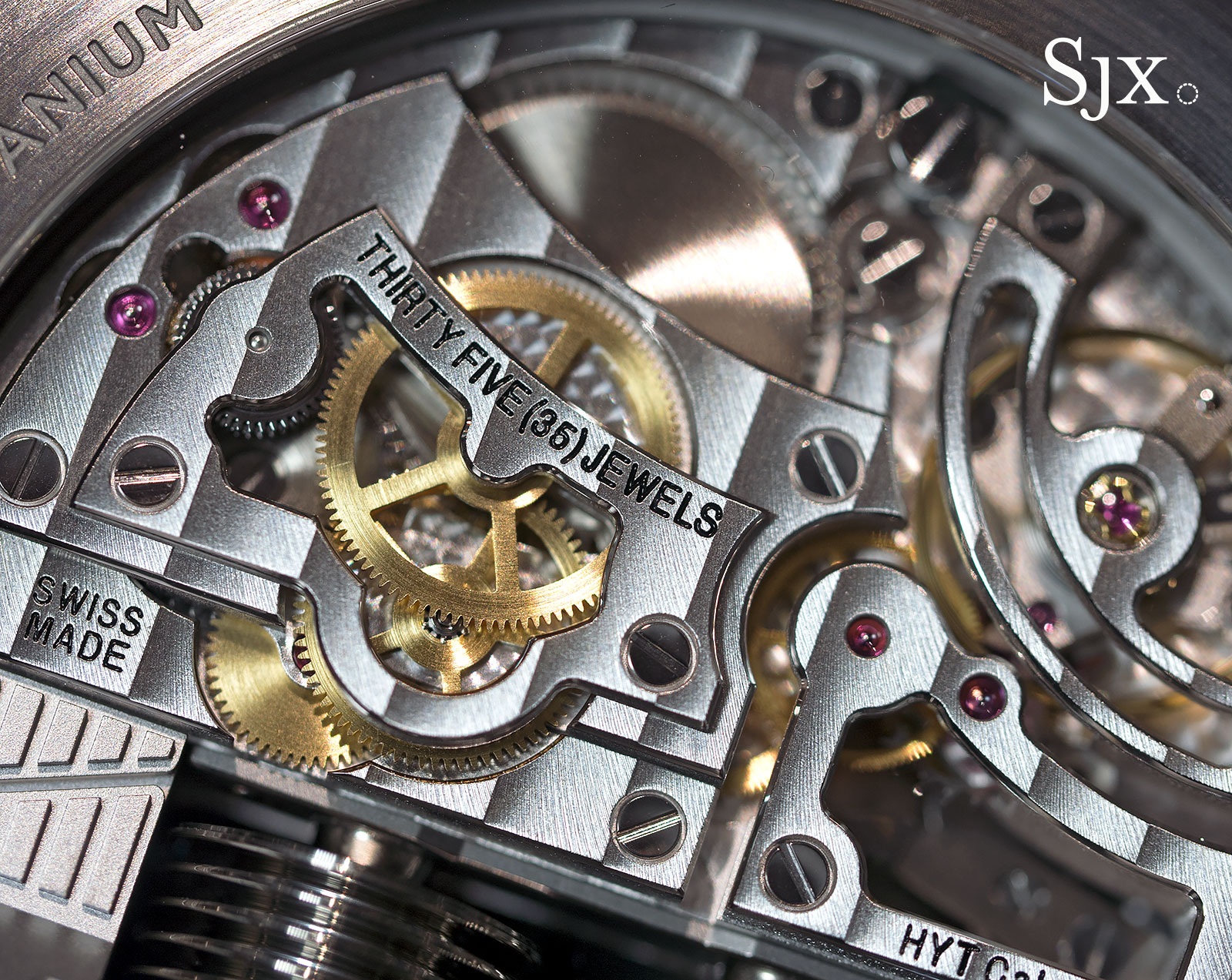 Price and availability 
The Skull Pocket pièce unique is a one of a kind creation, available at Chronopassion in Paris.
---
Back to top.
---
You may also enjoy these.