Hands-On With a One-Of-A-Kind Kari Voutilainen Observatoire Featuring A Hand-Engraved Movement
Equipped with a wonderfully decorated Peseux 260 chronometer calibre, the Observatoire was the first serially produced timepiece from Kari Voutilainen. This particular specimen was made in 2009, and is possibly the only one with an engraved movement.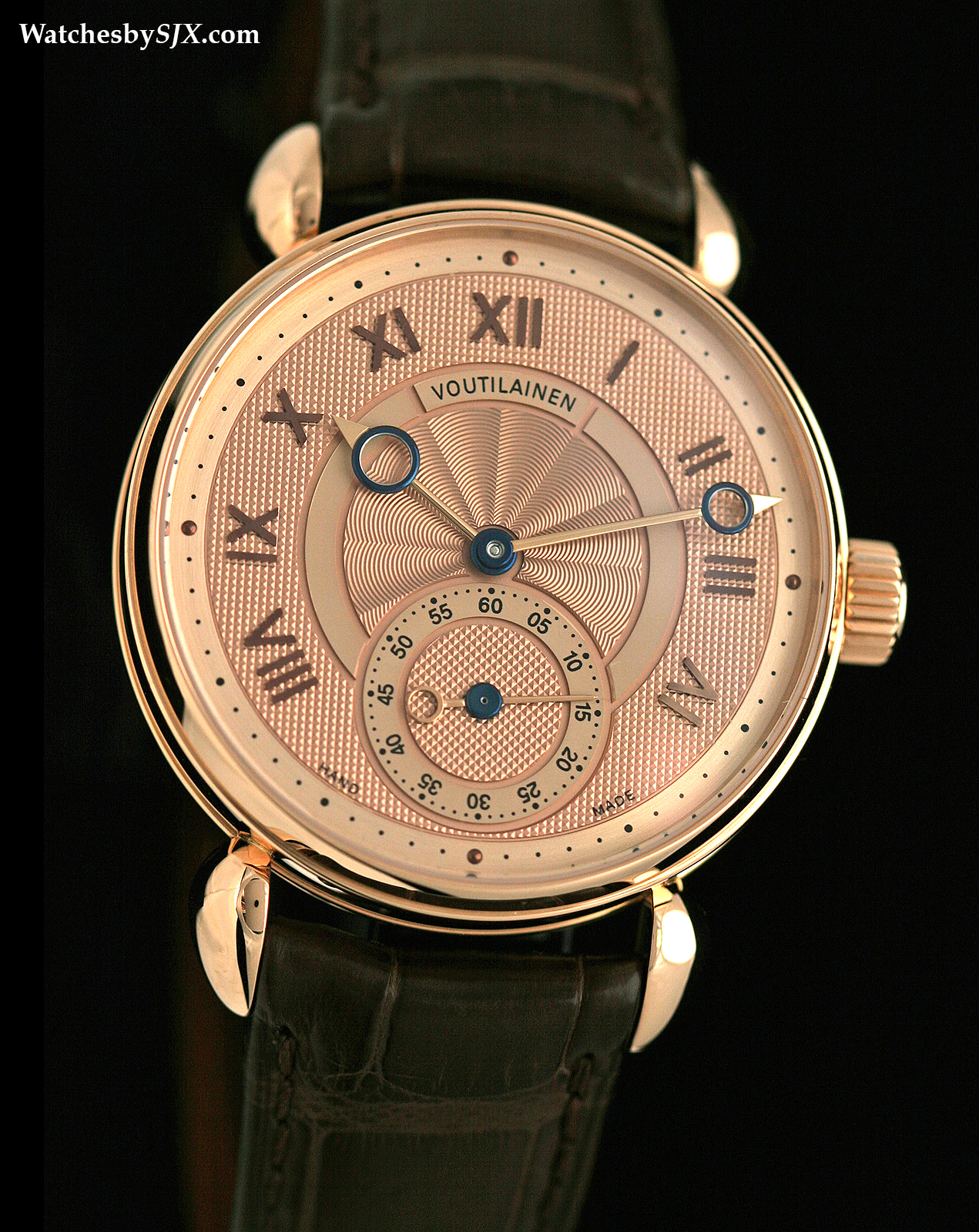 Though Kari Voutilainen had made several minute repeaters using vintage ebauches earlier in his career, it was the Observatoire that made the Finn famous, even bringing about favourable comparisons with Philippe Dufour's Simplicity. Originally conceived as a series or six or 12 timepieces, the Observatoire eventually ended its run with some 50 produced.
In our archive we discovered photos of one particular watch from the series, a unique piece in rose gold with a copper dial and a hand-engraved movement, made for Singapore retailer The Hour Glass back in 2009.  Though almost every Observatoire made was a unique piece, mostly due to minor variations like colour and font, this particular watch has "Unique Piece" engraved on the case back, which makes it, well, unique, since the others are not so engraved.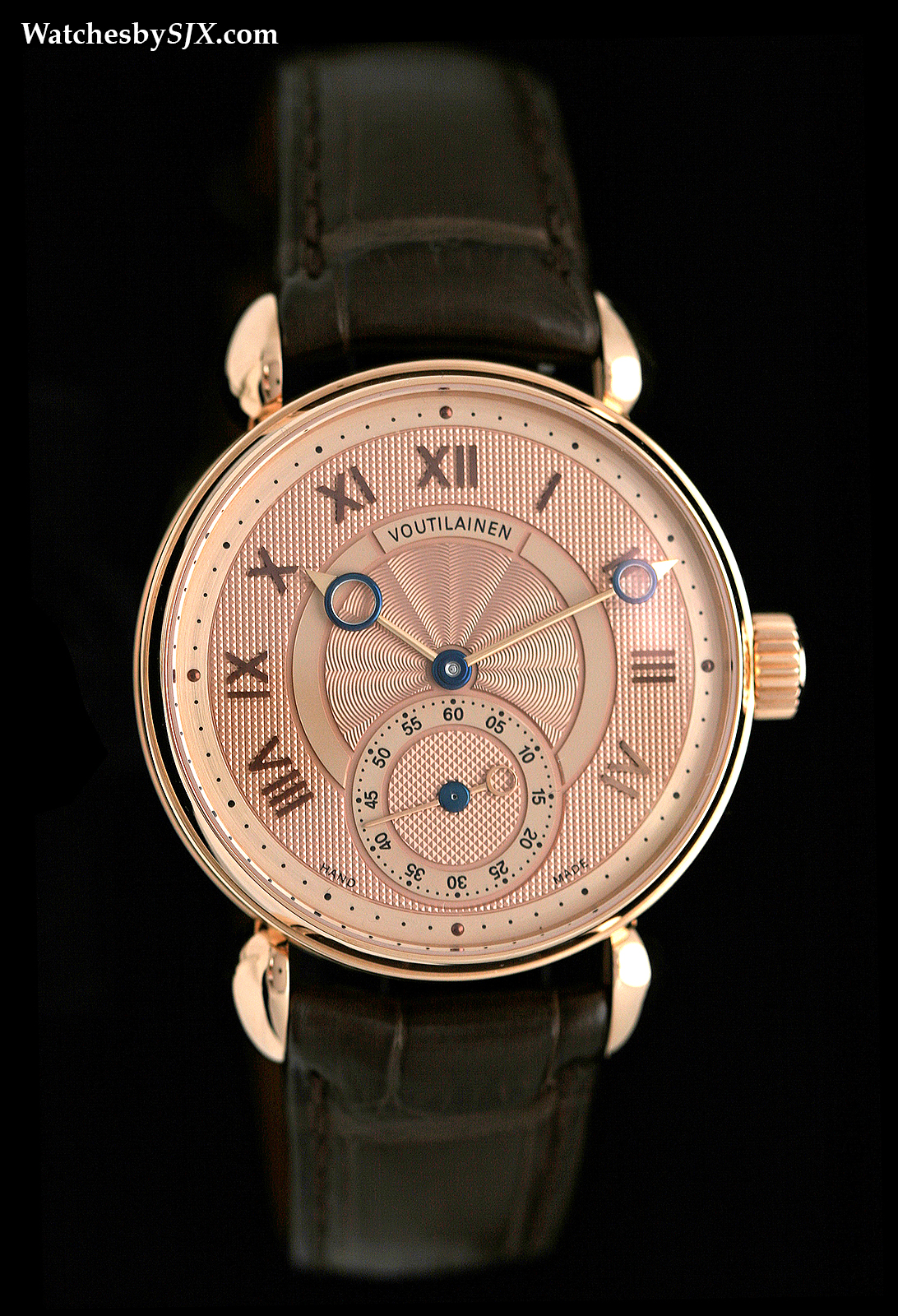 The movement started out as a Peseux 260 ebauche (a movement blank missing several key parts), a remarkably high quality movement made in the fifties and sixties for the chronometer contests conducted by the Geneva and Neuchâtel observatories. It never made it to large scale production, and remained relatively obscure, until Voutilainen created the Observatoire.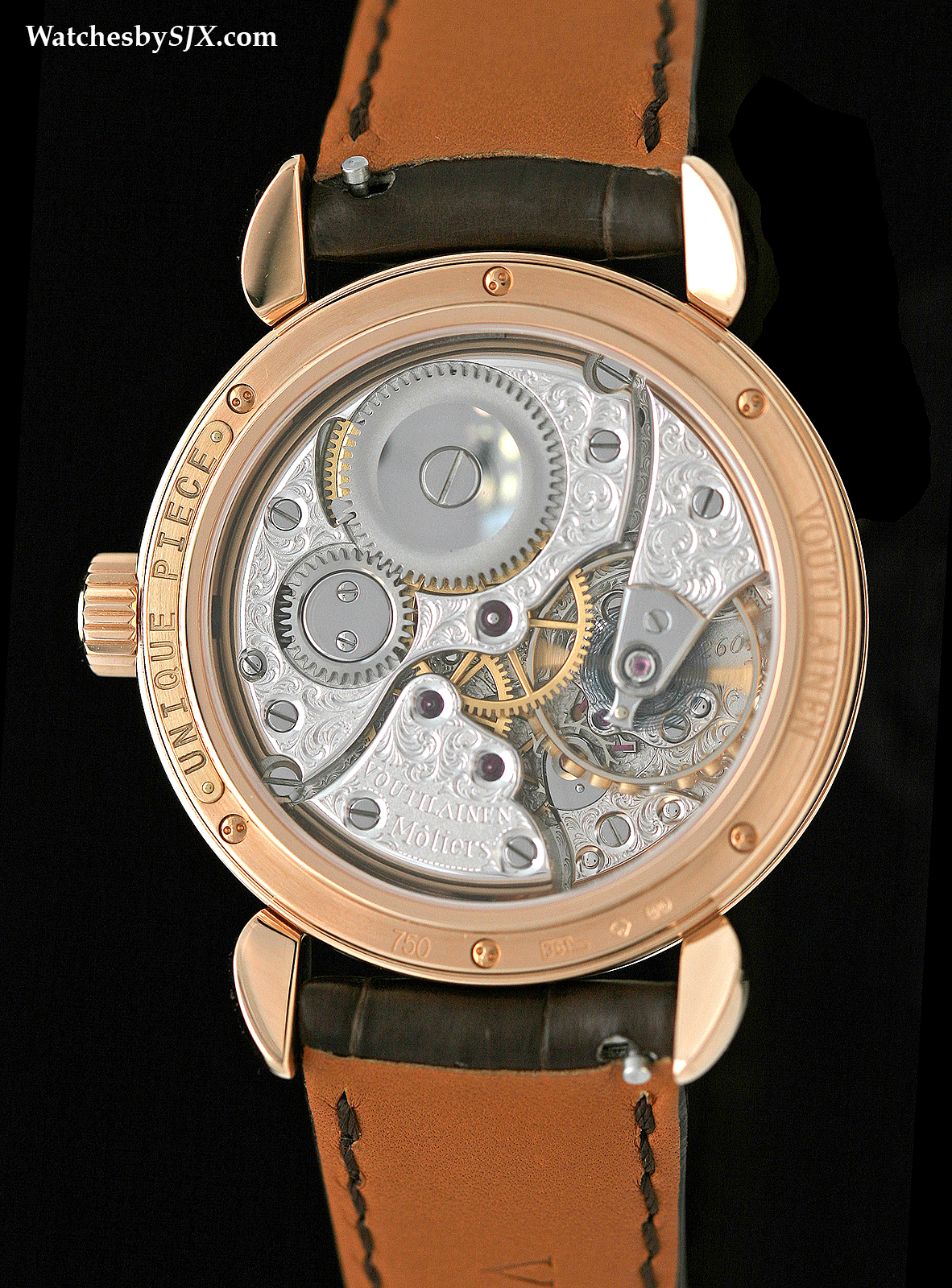 Every Observatoire used the same Peseux base, but with significantly different styles of decoration. In this unique piece the bridges and even the base plate are engraved with a floral motif. The rest of the movement is finished to a high standard, including polished teeth on the ratchet wheels of the barrel, and black polished caps on the escape wheel and balance cocks.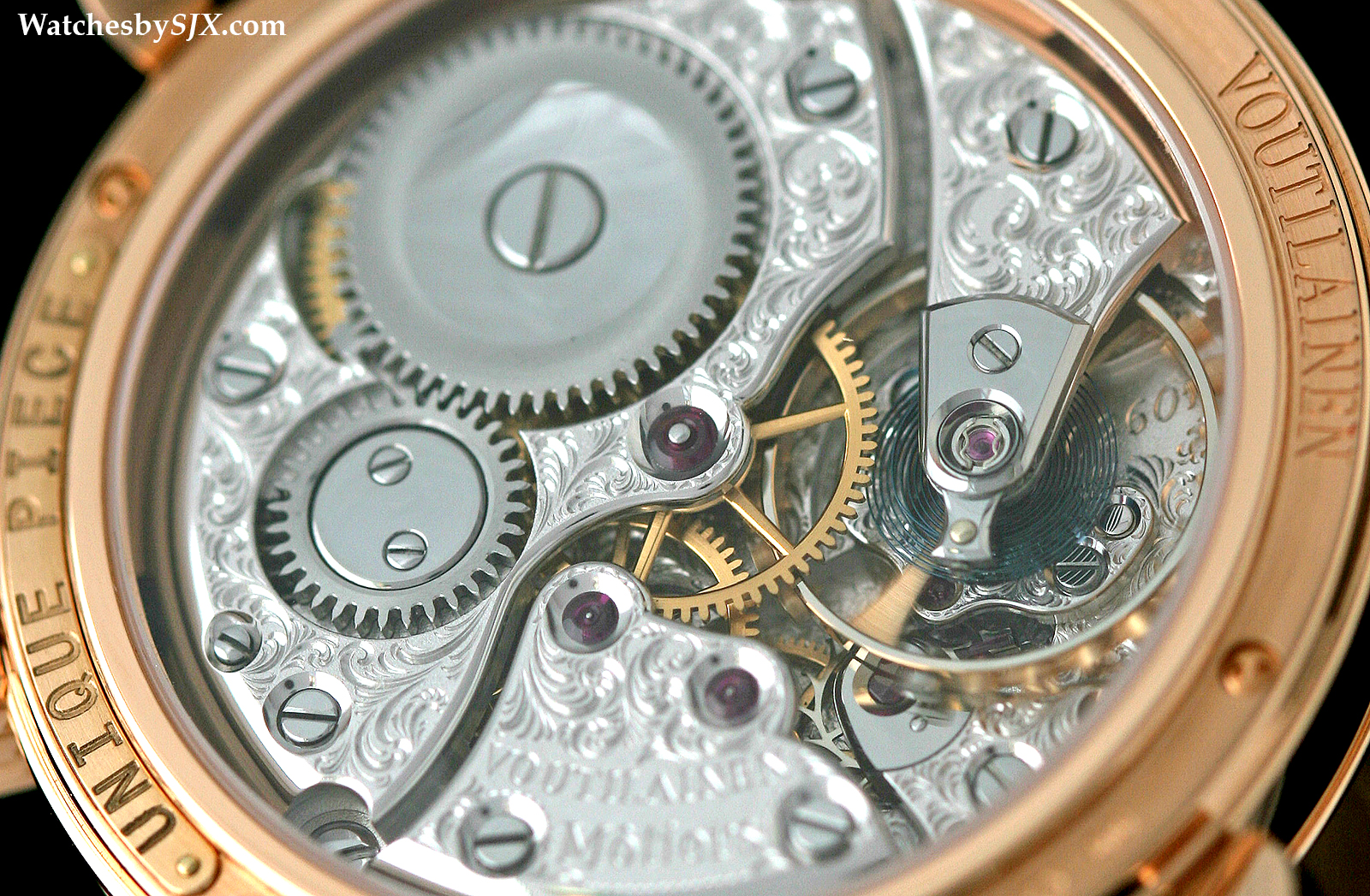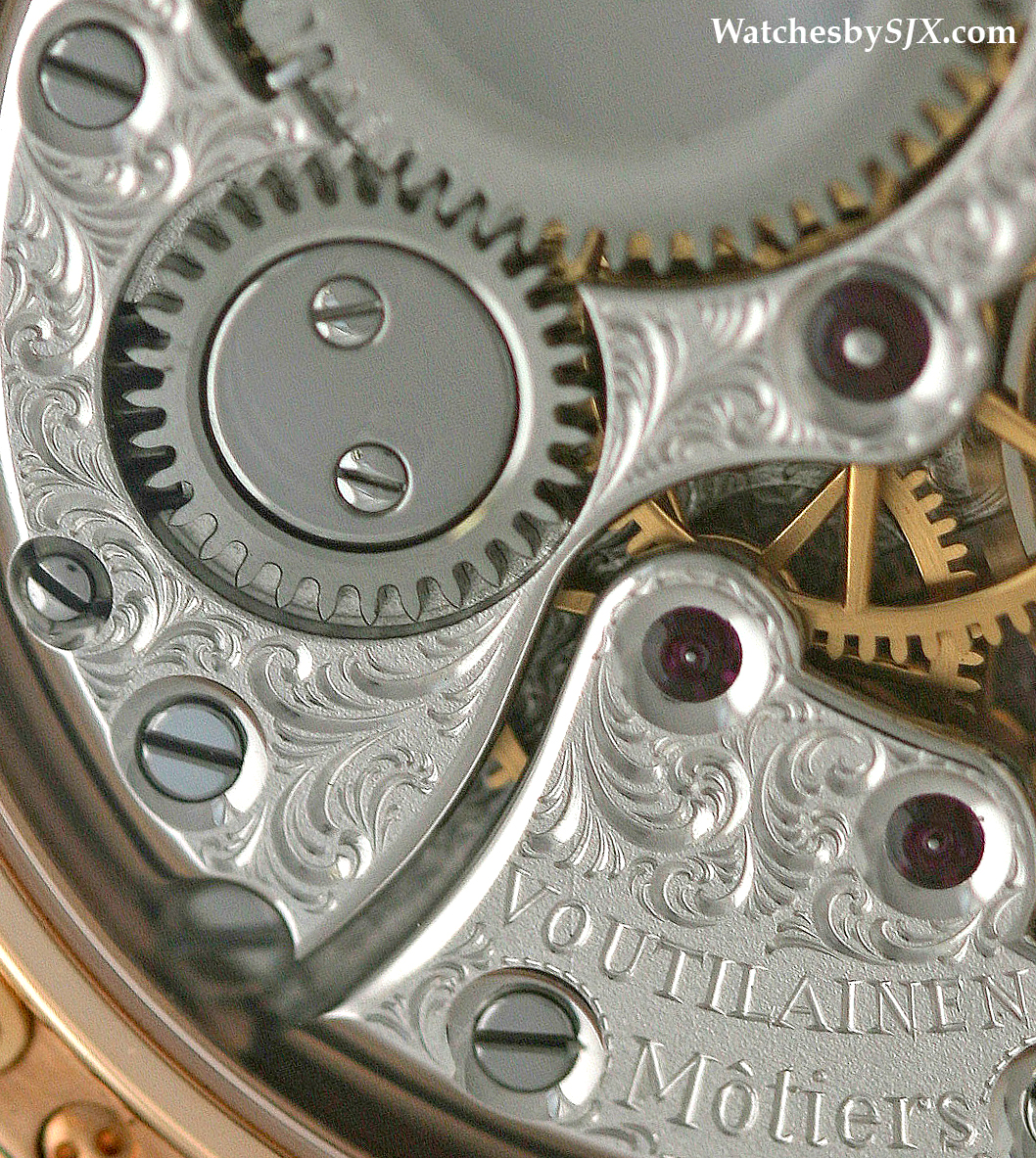 This Observatoire is similar in style to the rest of the series, with the teardrop lugs that are now a signature of Voutilainen's work. The dial is guilloche with different engine turning on the chapter ring and inner section, while the substantial Breguet hands are solid gold with blued steel rings.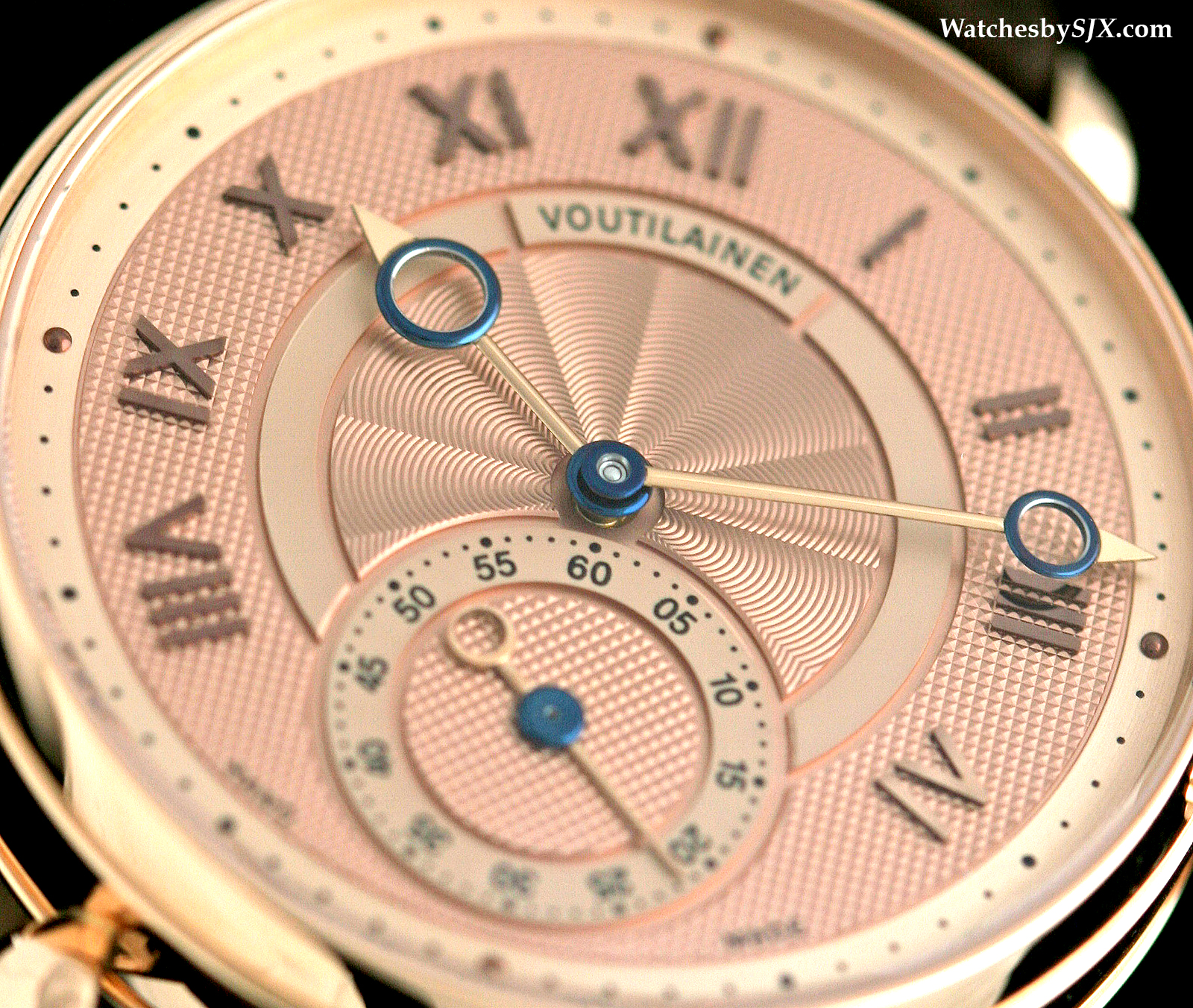 In 2011 the Observatoire was replaced by the Vingt-8, featuring Voutilainen's own calibre 28.
Back to top.
---
You may also enjoy these.