Introducing the Louis Vuitton Tambour VVV – Volez, Voguez, Voyagez (with Specs & Price)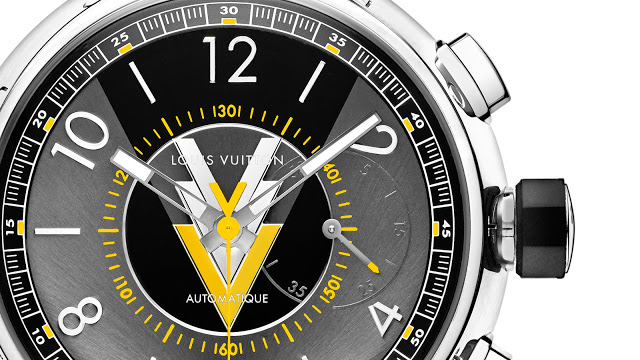 Inspired by an ad campaign from the 1960s unearthed from the Louis Vuitton archives, the Tambour VVV uses the triple V motif as the tricolour oversized central hand on the dial.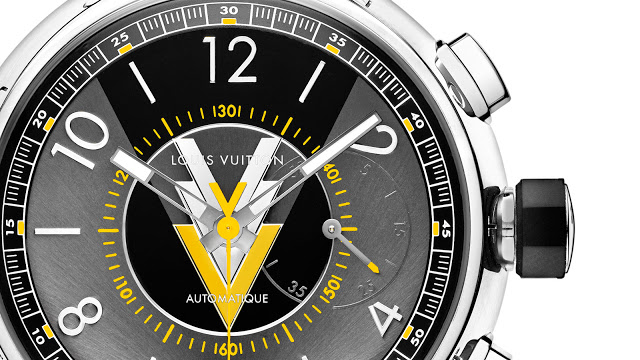 Short for "Volez, Voguez, Voyagez avec les valises Louis Vuitton" – meaning "Fly, Sail, Travel with Louis Vuitton suitcases" – a tagline from an advertisement used in the 1960s, the triple V motif is now a recurring theme in Louis Vuitton clothing and accessories designed by its Men's Artistic Director, Kim Jones. It now makes it debut in Louis Vuitton wristwatches with the Tambour VVV. A large triple V hand is the main element on the Tambour VVV line that includes a GMT, Chronograph and Spin Time GMT. The typical position of chronograph hands is inverted on the Tambour VVV Chronograph, with both the elapsed minute and seconds hands resetting to six o'clock. A tricolour triple V hand in silver, white and yellow is the central elapsed minutes hand, while the yellow elapsed seconds has a V-shaped counterweight.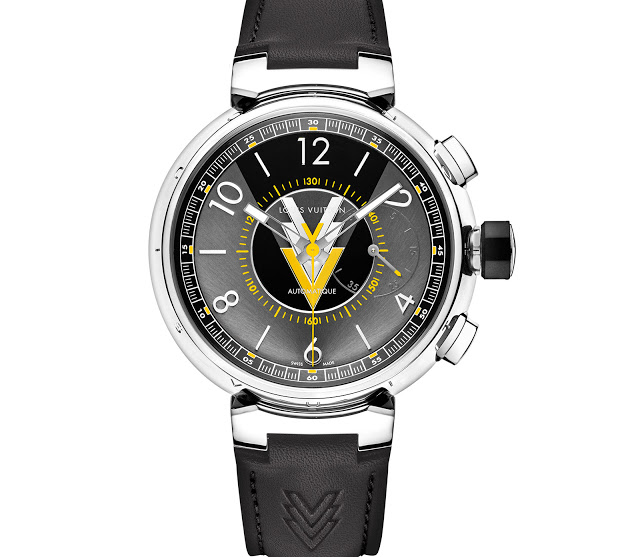 Available in steel or rose gold, the case is 44mm in diameter with the LV 168 movement inside, a derivative of an ETA calibre. The Tambour VVV Chronograph is priced at US$8850 or S$11,800 in steel, and US$33,500 or S$45,500 in rose gold.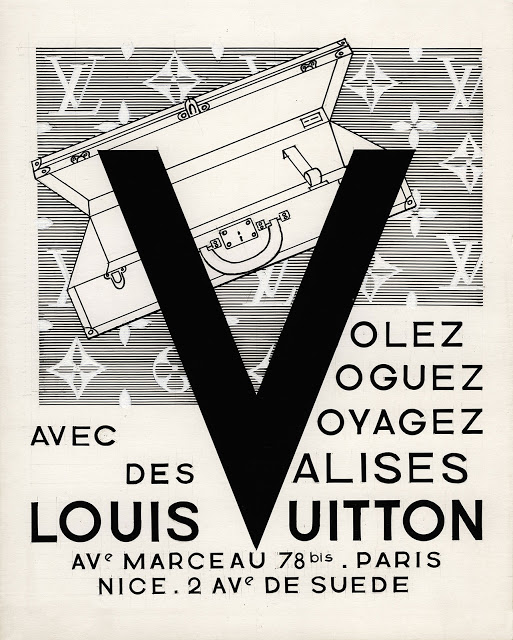 Volez, Voguez, Voyagez from the Louis Vuitton archives
Slight smaller at 41.5mm in diameter and available only in steel, the Tambour VVV GMT uses the triple V hand to indicate the second time zone. A 24-hour scale in yellow distinguishes between day and night for the second time zone. It costs US$5100 or S$6750.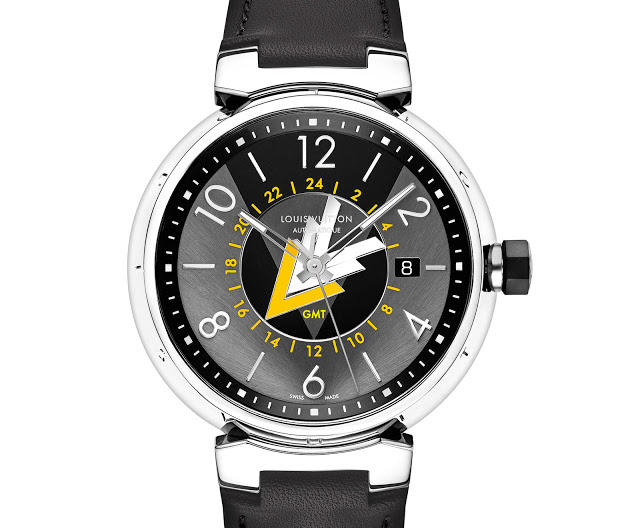 And the top of the line Tambour VVV is the Spin Time GMT. Offered only in white or rose gold with a diameter of 44mm, the Tambour VVV Spin Time GMT features a rotating cube display for the second time zone. Invented by Michel Navas and Enrico Barbasini of La Fabrique du Temps, a movement specialist now owned by Louis Vuitton, the Spin Time mechanism relies on 12 Maltese cross gears to turn the cubes on the dial. Pricing is not yet available for this.
The Tambour VVV will hit stores in September 2015.
Back to top.
---
You may also enjoy these.