PROFILE: A Gentleman And His AWESOME Collection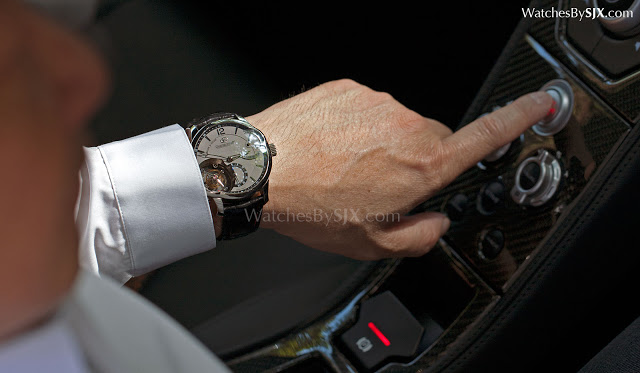 An accomplished collector tells us why and what he collects, including his unvarnished views on the bane of after-sales service, and also his other hobby, exotic automobiles.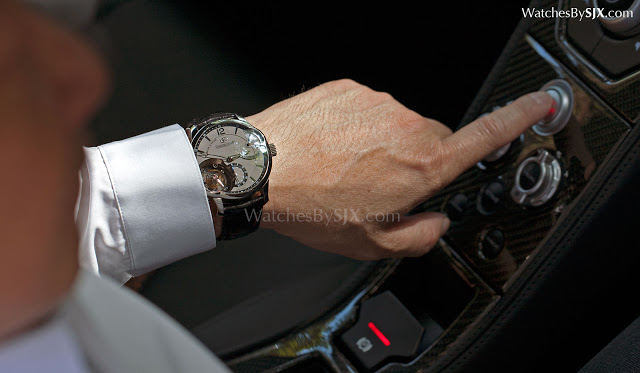 A businessman based in South-East Asia with a penchant for exotic watches and cars, this gentleman is an old hand at watch collecting, having done so for over two decades. For this interview he picked out 10 of his favourite timepieces – comprising nine wristwatches and one bullet-shaped pendant watch. How he started: "I've been collecting since I was in my thirties. Cars came first, then watches. But now it's the other way around, because I have less time to drive."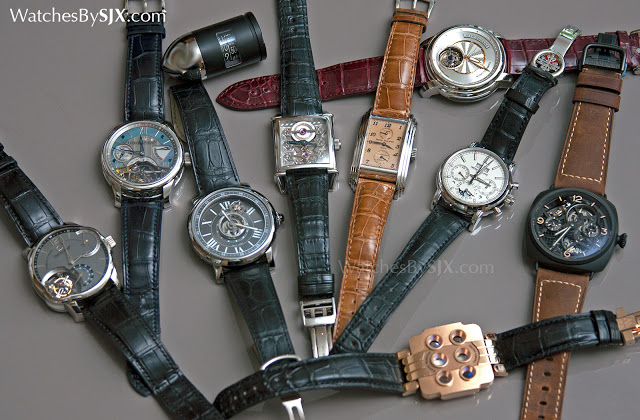 His first mechanical watch: "An IWC perpetual calendar. I haven't seen it in a long time, I've locked it up somewhere. It was just a simple perpetual with a small capsule for the year indicator."  What he likes: "I'm not a very technical person, mainly it's the aesthetics of the watch I like. But technology is important, like how the Greubel Forsey 24 Secondes is one of the fastest rotating tourbillons. And the finishing is also very important, which is why I like Greubel Forsey."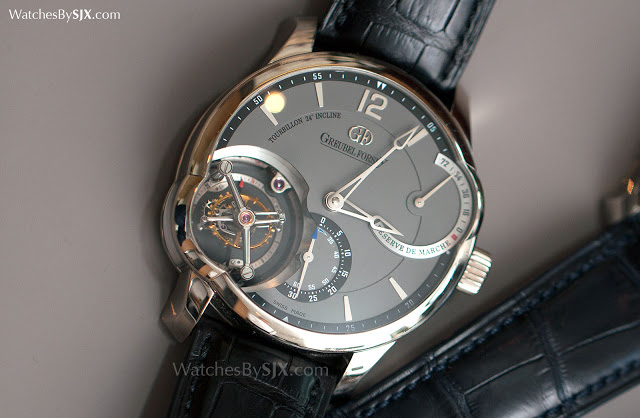 Greubel Forsey Tourbillon 24 Secondes
Favourite complication: "My favourite is actually the split seconds, although I have many tourbillons, especially a lot of Breguet tourbillons. My favourites are the Patek Philippe ref. 5204 or the Lange Double Split. The idea is nice but honestly the function I hardly use."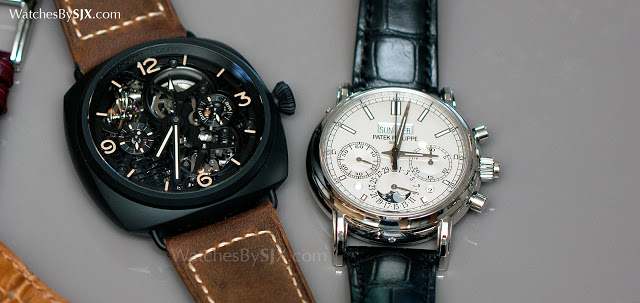 Panerai Lo Scienzato (left) and Patek Philippe Ref. 5204P
Most surprising purchase:  "I walked past the Panerai shop in Milan and I saw this watch, two or three years after it was discontinued. Impossible to find everywhere. It's something that I wanted, but couldn't get. So I went in the shop, they said it's for sale and here it is."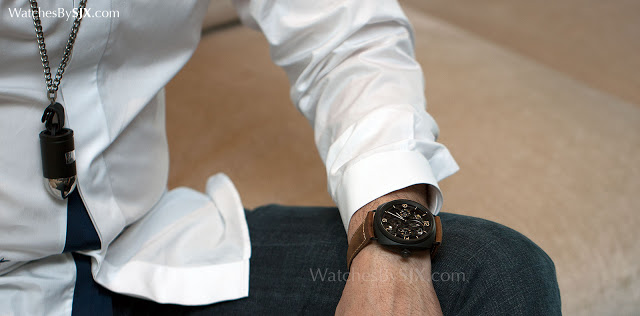 After-sales service: "I hardly service my watches. I don't believe in servicing them because I hardly wear them. If I shake it and it goes then I wear it. Only when there's a problem then I send it in. It's an enormous cost to service a watch. If a part needs to be replaced, then charging is all right, but not an enormous amount. Watch brands should do something, maybe extend the warranty, like it is for cars. Five or 10 year warranty. And they should establish a service centre here in Asia, instead of having to buy insurance and fly it all the way to Switzerland. It's not like what Patek Philippe says, you don't own the watch, it's for the next generation. It costs so much to service that it doesn't make sense to leave it for the next generation."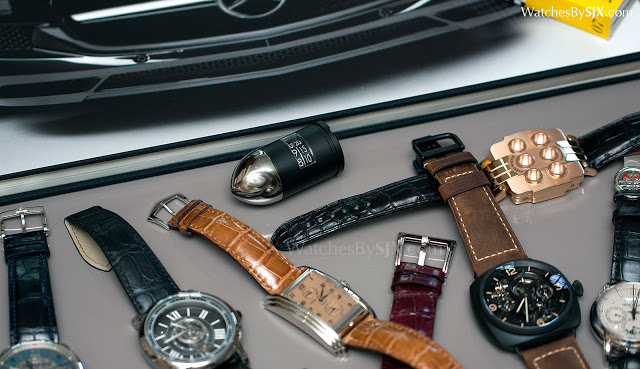 Changing the mix: Some of the watches I will never sell, like these [shown here]. Others I try for a while, and if I don't like them then I sell. There's something new every year, then I can buy something different. What watch brands can do to enhance the purchasing experience: "I think they have to do more in terms of experiences. With cars you get experiences; I just came back from the McLaren factory because I bought the P1. You get the test the car on the Top Gear track at Dunsfold, meet all the people [behind it] and visit the factory.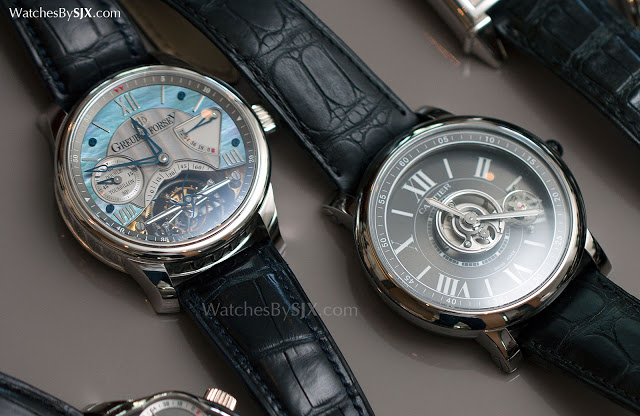 Greubel Forsey Double Tourbillon 30 Degrees (left) and Cartier Astrotourbillon Carbon Crystal
I didn't mind buying the Cartier Carbon Crystal because they flew me there to experience the factory. I don't care about visiting the factory itself because I've seen all of them. I'm not a technical person, so to me every watchmaker is doing the same thing. It's more interesting to have lunch with the creators of the watch, get to know why they used carbon crystal in the movement, what they are working on next."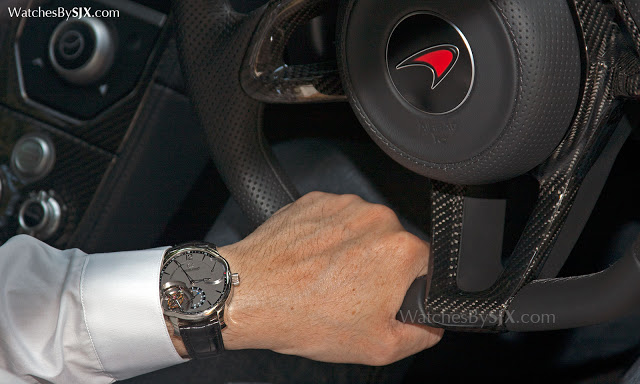 Inside the McLaren 12C
The other passion, fast cars:
"On the road, the McLaren 12C is the fastest, for that kind of money. And the Porsche 911 GT3 is both track and road car, which I like. You can drive to the track and then you can bring it home."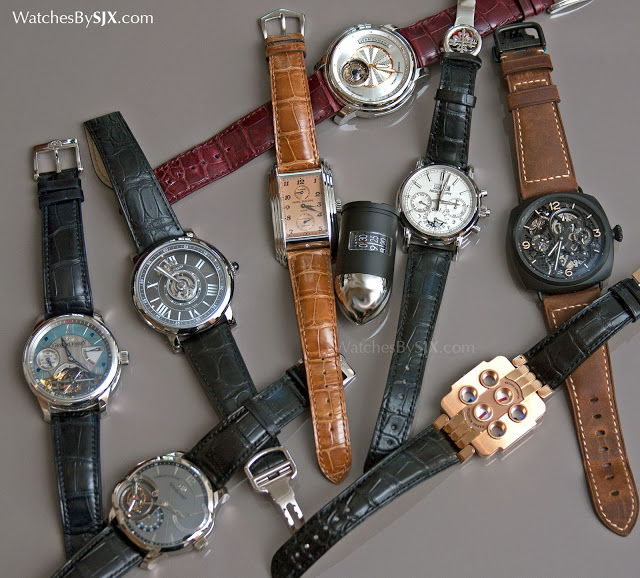 A version of this interview was first published in the last issue of The Peak: Timepieces.
Back to top.
---
You may also enjoy these.