Profile: Keaton Myrick and His American Chronometer
The independent watchmaker from Oregon.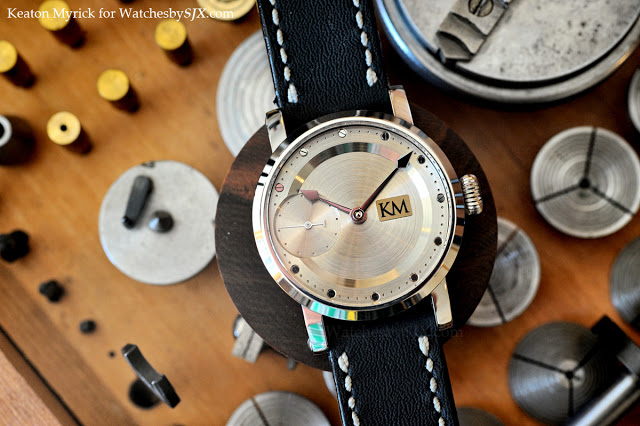 Doing his part to revive American watchmaking is Keaton Myrick, an up and coming American independent watchmaker. Having recently finished the first working sample of his own wristwatch, the Oregon native's fascination with timepieces started with the humble Swatch.
"These watches had the translucent cases, and sometimes dials, and you could just kind of see the inner workings," he says, "This was enough to pique my interest and I can attest that more than one of those watches was sacrificed to satisfy my curiosity."
After high school he decided to pursue watchmaking as a career. Now 31 years old, Keaton attended the Lititz Watch Technicum (LWT) in Pennsylvania, after which he spent some time as a watchmaker with Rolex before returning to his hometown of Bend, Oregon, to set up a watch restoration business.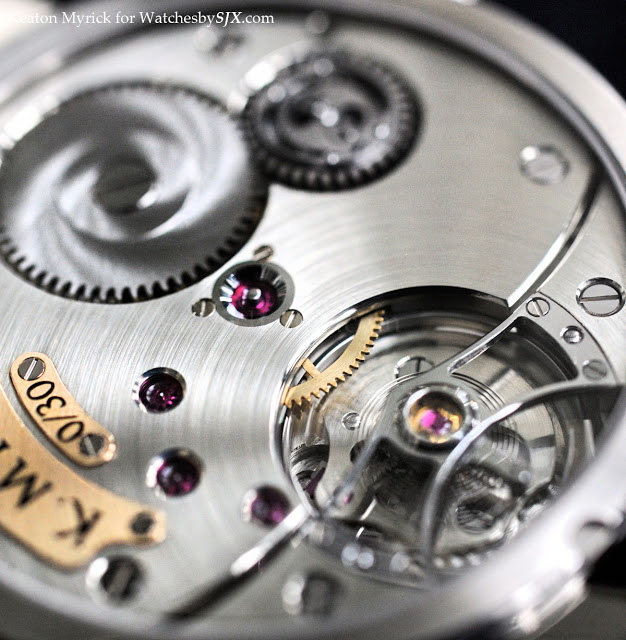 Keaton gives LWT much of the credit for his horological skill. "LWT was one of only three WOSTEP accredited schools in the US at the time and it is my opinion that Herman Mayer, the principle of the school, had fine tuned that curriculum into one of the finest watchmaking educations in the world." It was also at LWT that the idea for his own wristwatch began. "During the first year at LWT each student was assigned to design and manufacture a watch based on an existing calibre [the Unitas 6497], a school watch. This design ended up laying the groundwork for the watches I am making now."
The actual design of the production wristwatch began three and a half years ago. It took six months of design work, followed by thirty six months of prototyping and manufacturing. Though based loosely on the Unitas 6497, Keaton chose to remake the wheels of the gear train for greater precision, while keeping the pinions of the 6497. Now he is working on the first commercially available piece.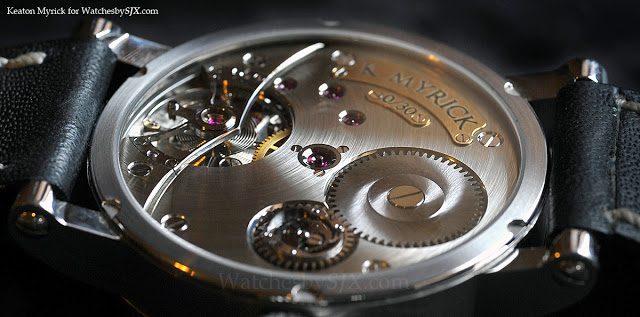 Inspired by watchmaking legends like Philippe Dufour, Keaton's goal is to make a simple watch finished to the highest standards with various elements of high end movement construction. "The German style three-quarter bridge [and] the steel balance bridge of the Swiss Observatory tourbillons," are all examples of fine watchmaking according to Keaton, as is "[the] click system which is in the style of a grande sonnerie."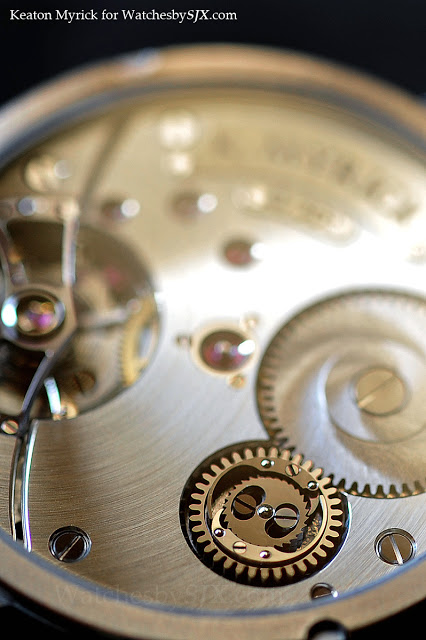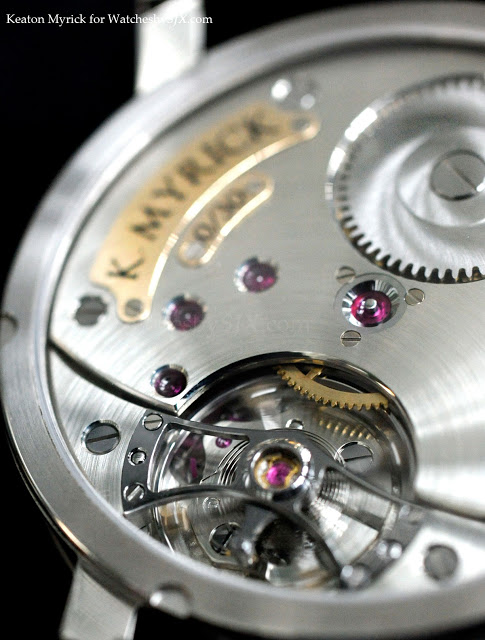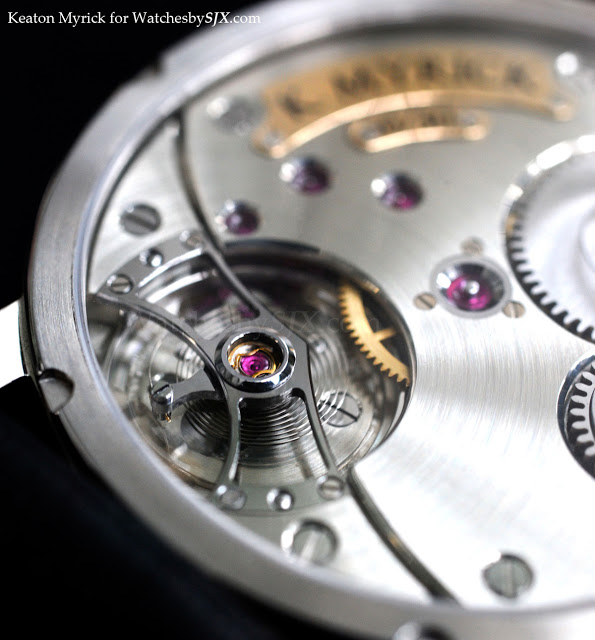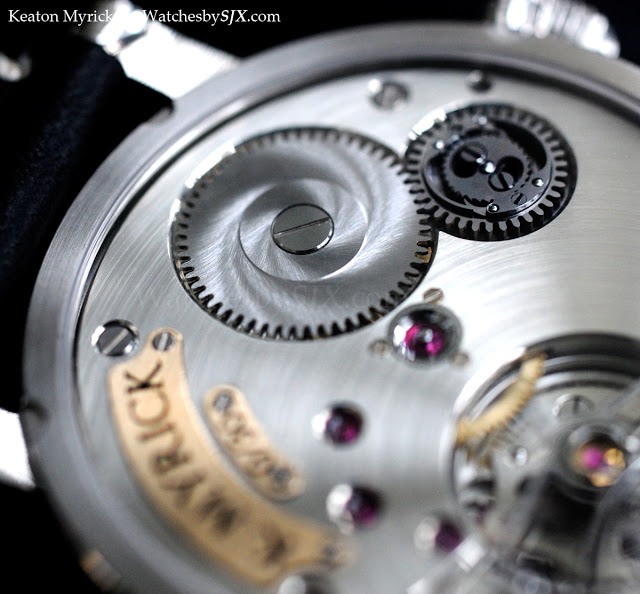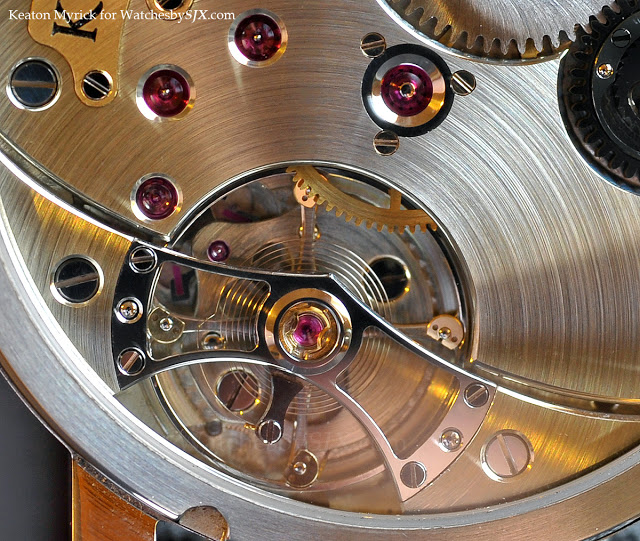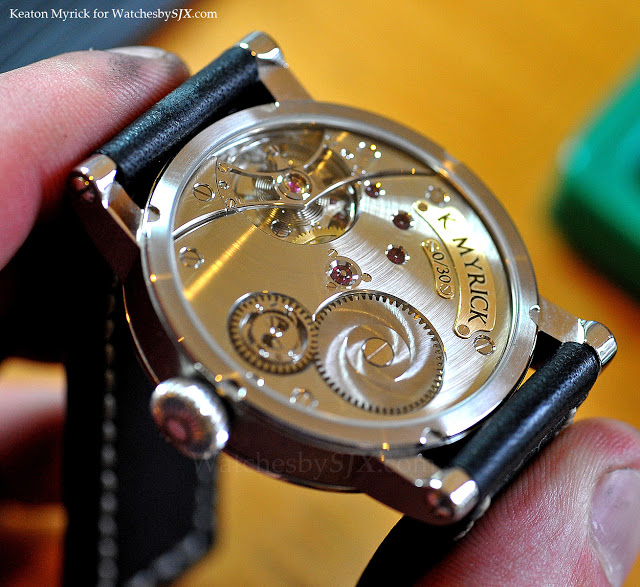 Keaton operates from workshop about 20 miles from his home where he makes most of the watch himself. "I am making the main plate, all bridges, a good majority of the screws, click system, the dial and the hands," he explains, "The balance wheel is also of my own design and manufacture; it uses four 18k gold eccentric timing weights. I form and free spring the balance using Nivarox 1 hairspring material."
His workshop is also where he does watch restoration, which is his main source of income. "I had to divide my time wisely between my restoration and the making of this watch, which provided no income," he says, echoing the experience of many other start-up watchmakers. "I made [the first prototype] for myself, no one had ordered it or put a down payment."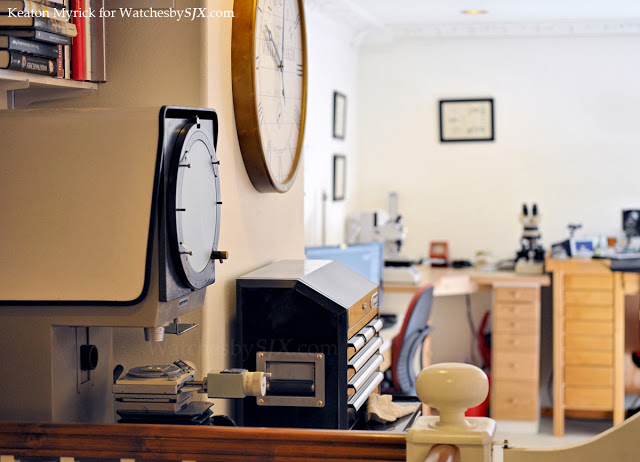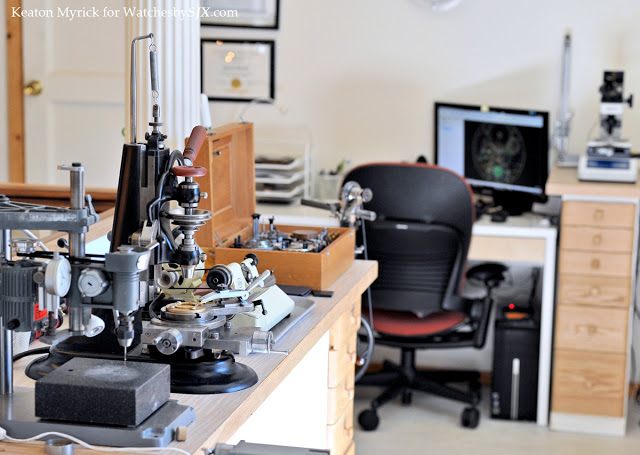 Funding aside, another challenge was finding the right tools. The tool kit Keaton bought from the LWT was meant for watch repair rather than watchmaking. "We haven't had any sort of infrastructure for watchmaking here in the United States for at least 65 to 70 years so you can imagine the condition of some of the really poor condition of tools that are available." Keaton turned to fellow independent watchmakers, in Switzerland of course, who were able to point him in the right direction.
Despite being in a place not known for watchmaking, Oregon is much like Switzerland with its great outdoors. "My workshop is in the foothills of snow capped mountains and cold snow fed rivers. I find a huge amount of inspiration in nature and whenever I am having trouble solving a problem or coming up with a new idea I can look out my window or go for a short walk to find the inspiration that's right outside my door," not unlike a Swiss watchmaker plying his trade in the snowy alps. "In my town there are no horns honking and people are very warm and friendly.  It is the ideal place for a profession that requires such concentration and patience."
Only 30 will be made with each being made to client specifications in terms of dials, hands and also some movement parts. The first two have been sold and will be delivered shortly. Complications will be added to this base calibre in the future models, and Keaton can do custom or bespoke timepieces as well. He can be reached via his website.
---
Back to top.
---
You may also enjoy these.