Pre-Basel 2015: Introducing The Louis Vuitton Tambour éVolution In Black (With Specs And Prices)

Louis Vuitton continues to grow the Tambour éVolution line of sports watches with a trio of new models in black DLC and metal composite: the GMT, Chronograph GMT and Spin Time GMT.

Shaped like a drum (tambour is French for "drum") with prominent sloped sides and narrow lugs, the Tambour is Louis Vuitton's signature watch case. Last year the Tambour éVolution was introduced, intended as a sporty twist on the Tambour, finished with a matte, brushing and a black metal matrix composite (MMC) bezel. The Tambour éVolution In Black adds a black diamond-like carbon (DLC) coated steel case to the mix, along with red accents on the dial and hands, while the bezel remains MMC, a hard mix of metal and ceramic particles. Three models are offered in the éVolution Black guise, including the novel Spin Time developed by La Fabrique du Temps that indicates the time on rotating cubes. The basic model is the Tambour éVolution GMT in Black, a dual time zone watch with a 43 mm case equipped with an ETA calibre. This costs €5600 before taxes.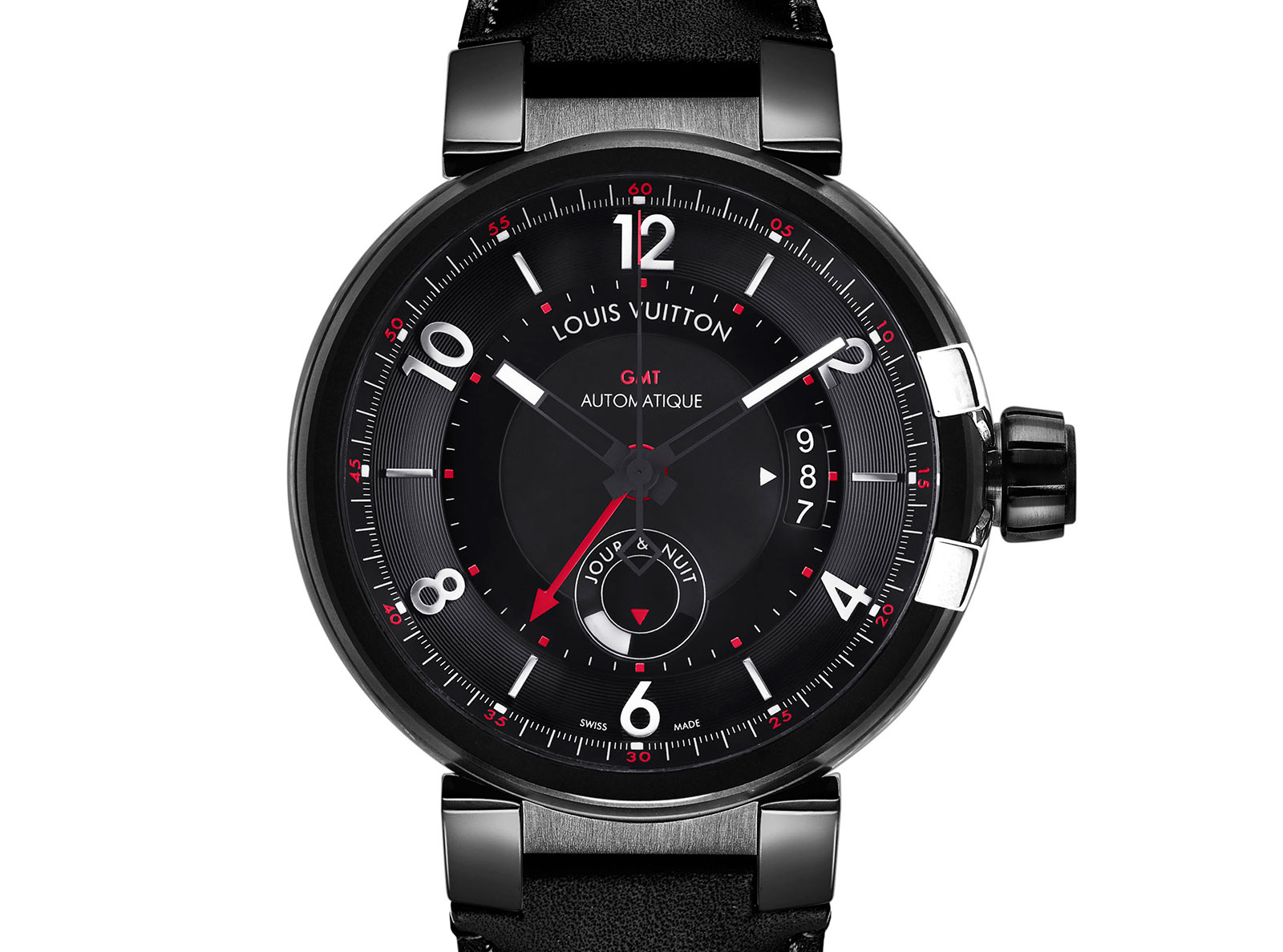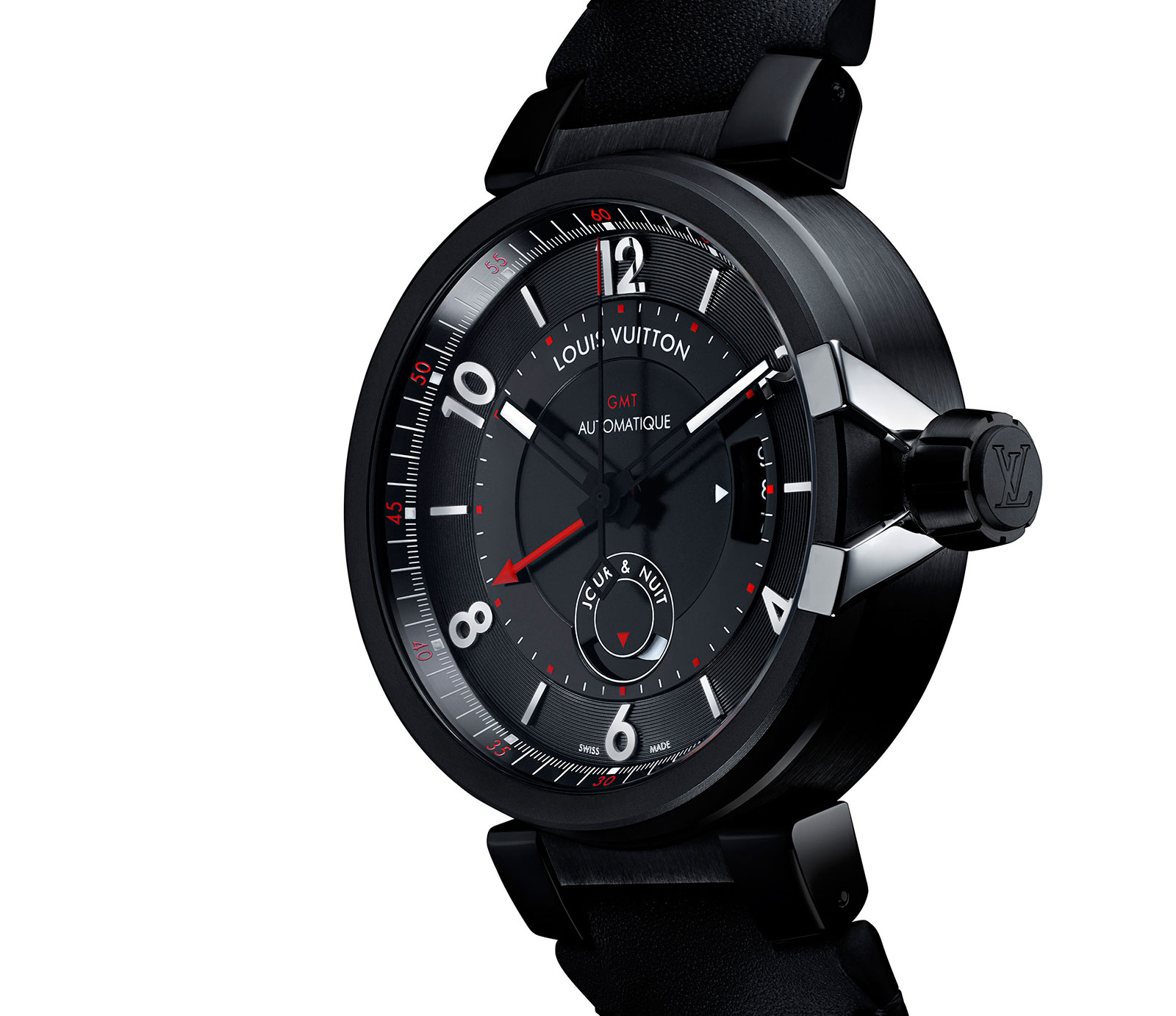 Also featuring a second time zone function is the Tambour éVolution Chronograph GMT in Black, 45 mm in diameter and priced at €7100.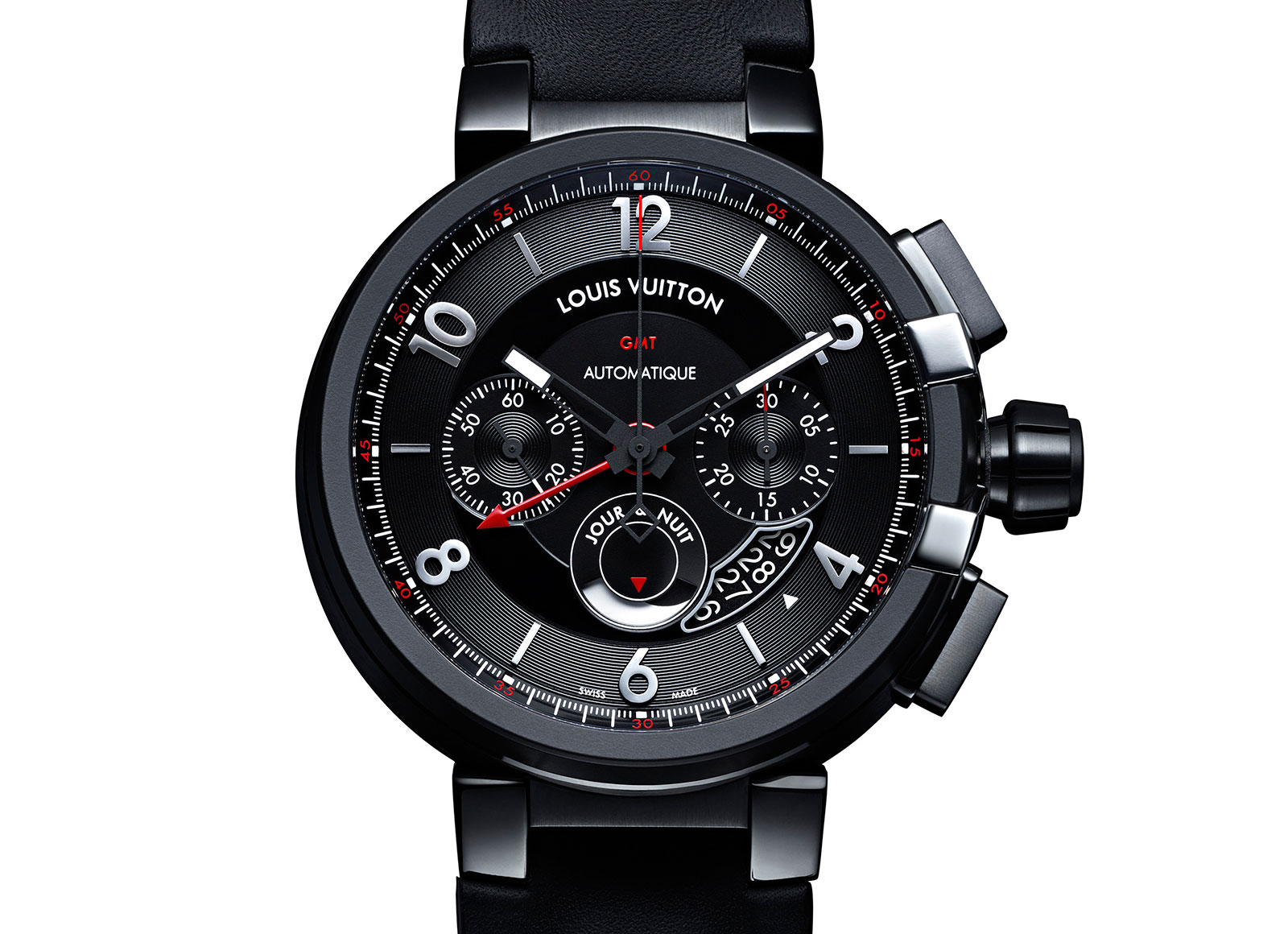 And the most interesting is the Tambour éVolution Spin Time GMT In Black. This is a dual time watch with a unique second time zone display. Local time is indicated via the hour hand, but home time is shown on rotating cubes around the dial marked with arrows.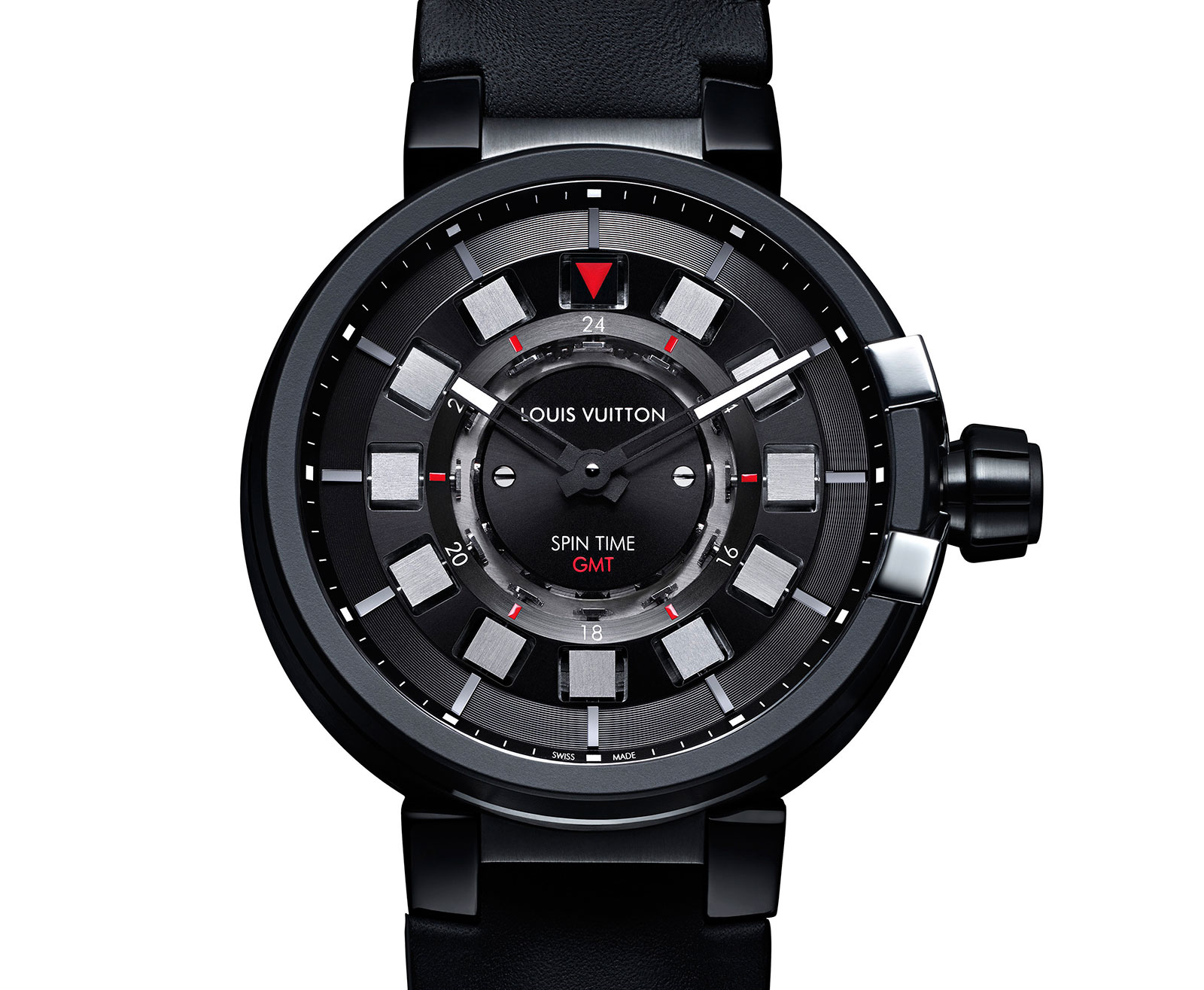 As each hour passes, the appropriate cube flips over to show the current hour indicated by an arrow, as the cube for the previous hour rotates to show a blank face. An outward pointing arrow indicates the time from 1:00 am to 12:59 pm, with an inward pointing arrow for the rest of the day. Below it is 10:10 local time, and 12:00 am in the home time zone.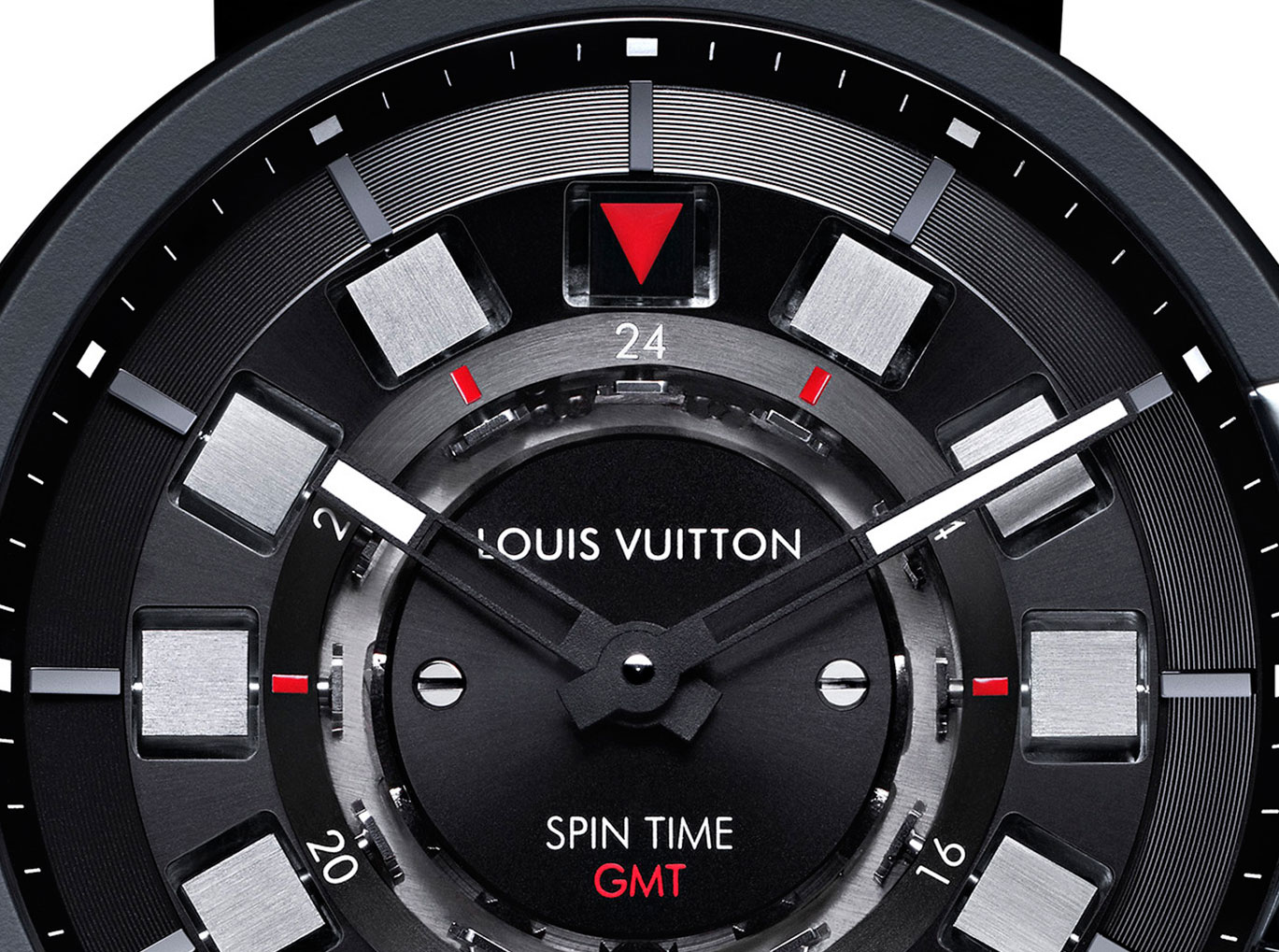 The Spin Time module is made in-house by La Fabrique du Temps, while the base movement is an ETA 2892. The price is €15,100, the most affordable Spin Time model to date.
Back to top.
---