Pre-Basel 2015: Introducing The Ressence New Type 3, Upgraded With Display Fluid Thermometer (With Details & Price)
Belgian watchmaker Ressence specialises in an ingenious crown-less, oil-filled wristwatch with a mechanical movement, that has now been upgrade to include a thermometer for the display.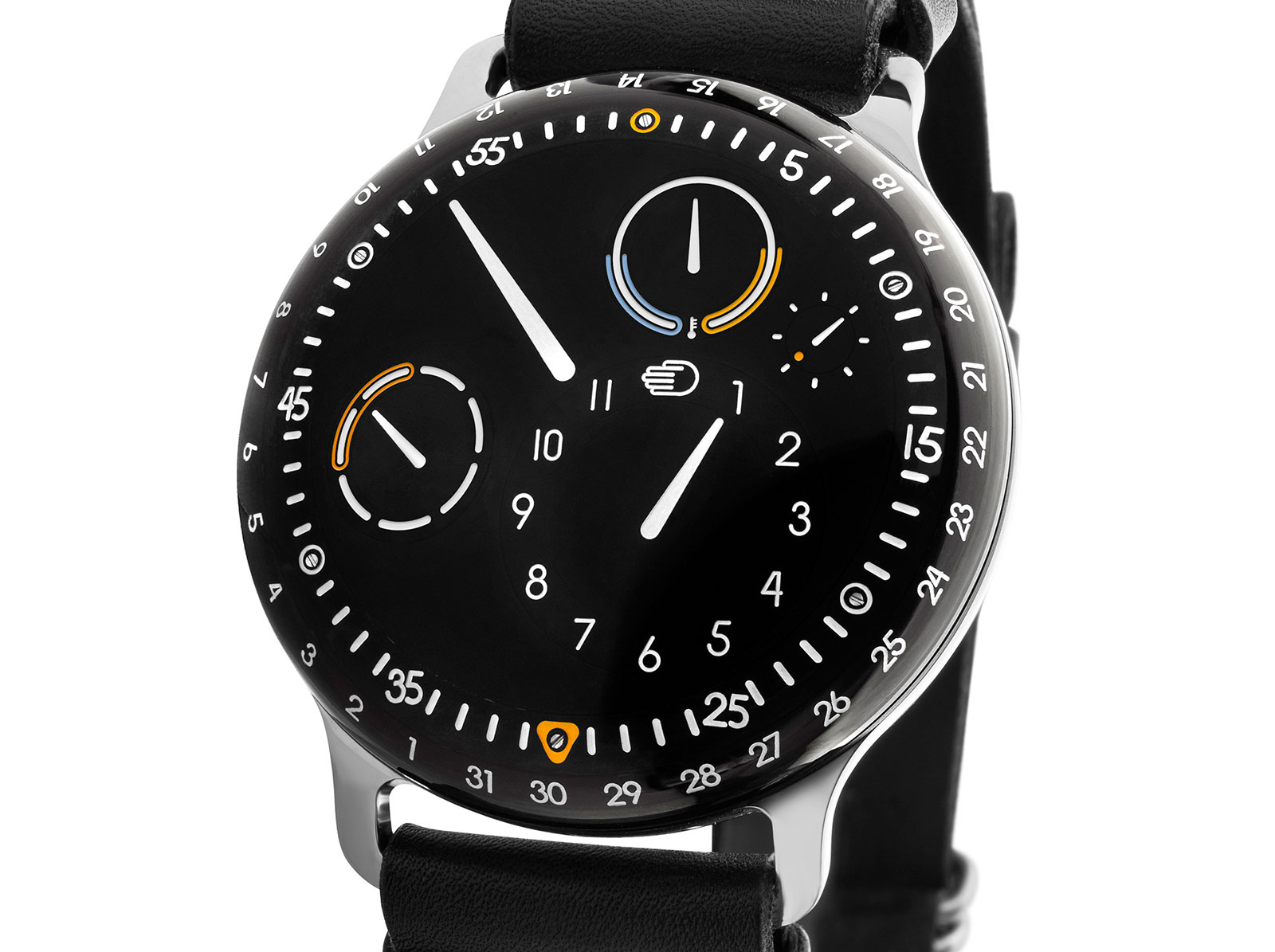 Two years ago Ressence premiered the Type 3, a pebble-shaped wristwatch without a crown that is instead set and wound via the case back. And the time display capsule is filled with oil, resulting in an optical effect that leaves the dial seemingly flat against the crystal. Basel world 2015 sees the introduction of the upgraded version, the New Type 3 (the brand's creativity clearly lies in watchmaking instead of words). The New Type 3 is similar to the first generation, save for the addition of an oil temperature indicator. Because the oil inside the time display module is sensitive to temperature changes, the thermometer indicates when the temperature is at the optimum. A bimetallic spring highly sensitive to temperature changes from -5 to 55 degrees Celsius is mounted just underneath the dial.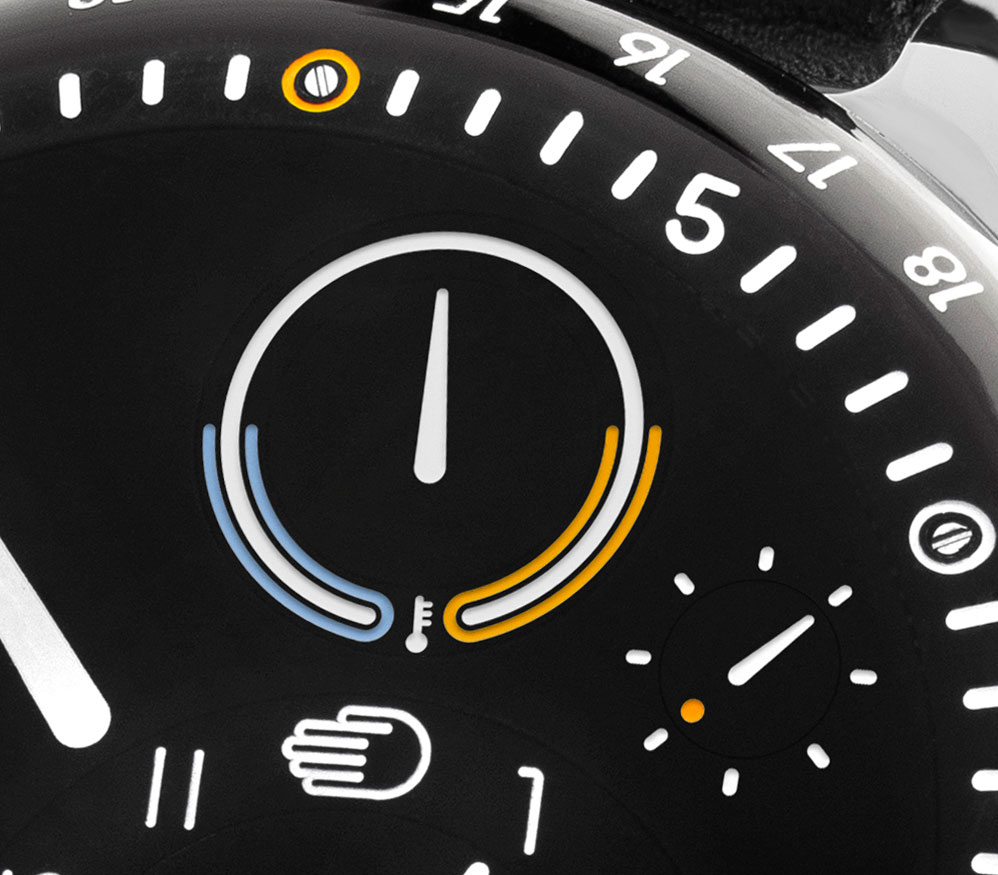 The oil thermometer with blue to indicate cold and orange for warm – in between is optimal
Because of the oil-filled time display module, the dial appears to be printed on the underside of the crystal, seemingly having no depth. The Ressence Orbital Convex System (ROCS) as Ressence calls the time display, is a sealed module comprising some 158 parts.  It's made entirely of titanium, save for the 35 gears that drive the display. Magnets are used to move the gears, meaning that the movement in a separate module has no physical connection to the time display. Winding and setting is done via the rotating case back that engages when the watch is turned over.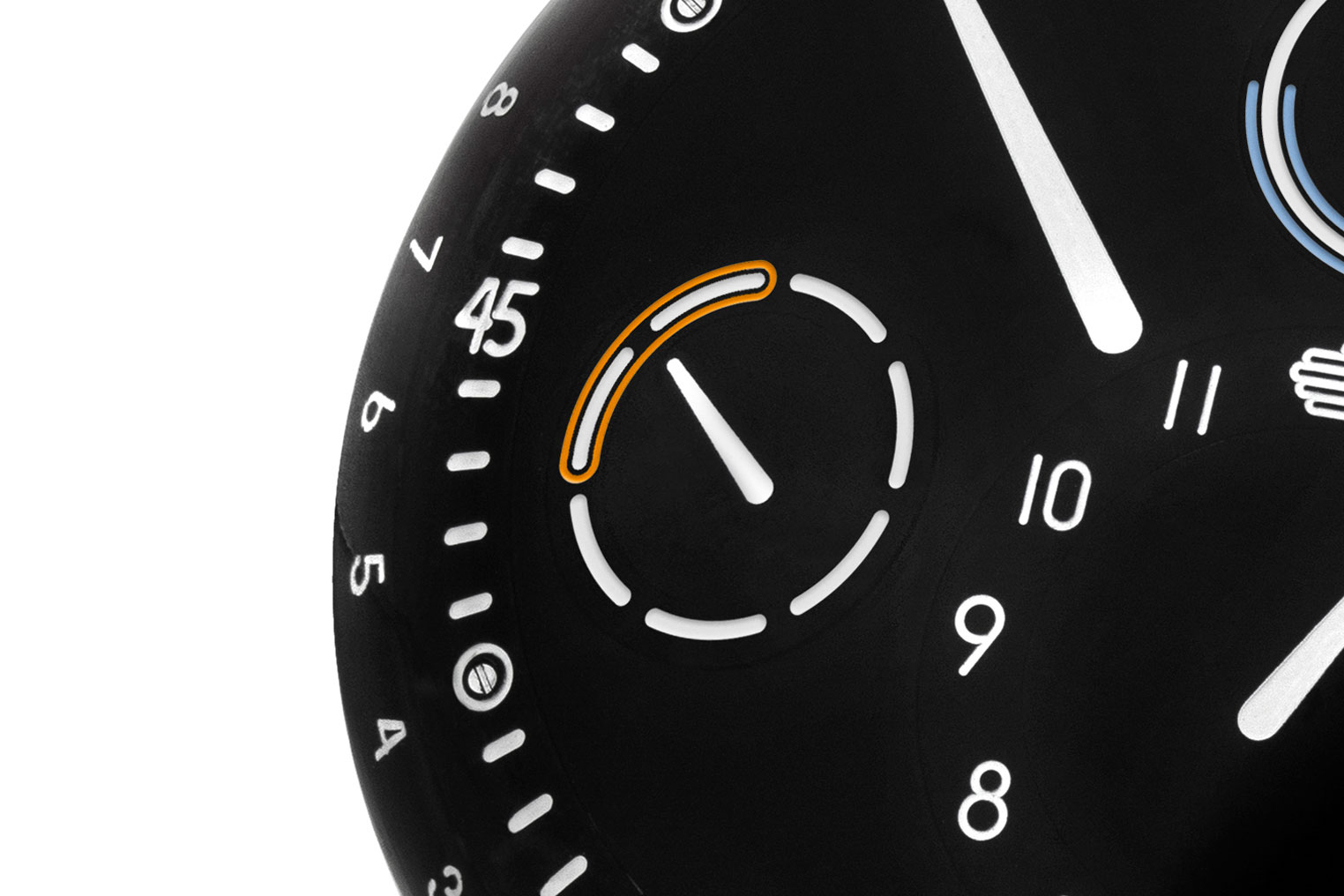 The day of week display with the weekend circled in orange
And the time display comprises planetary indicates, each circling the dial with the passing of time. Though the dial is busy, legibility is enhanced by the minimalist yet intuitive markings. While the earlier Type 3 cost approximately US$30,000, the New Type 3 costs US$42,200 and it's available from Ressence.
Back to top.
---
You may also enjoy these.