Pre-Basel 2014: Introducing a Slew of New HYT H1 and H2 Models with Coloured Fluid Displays (with specs and pricing)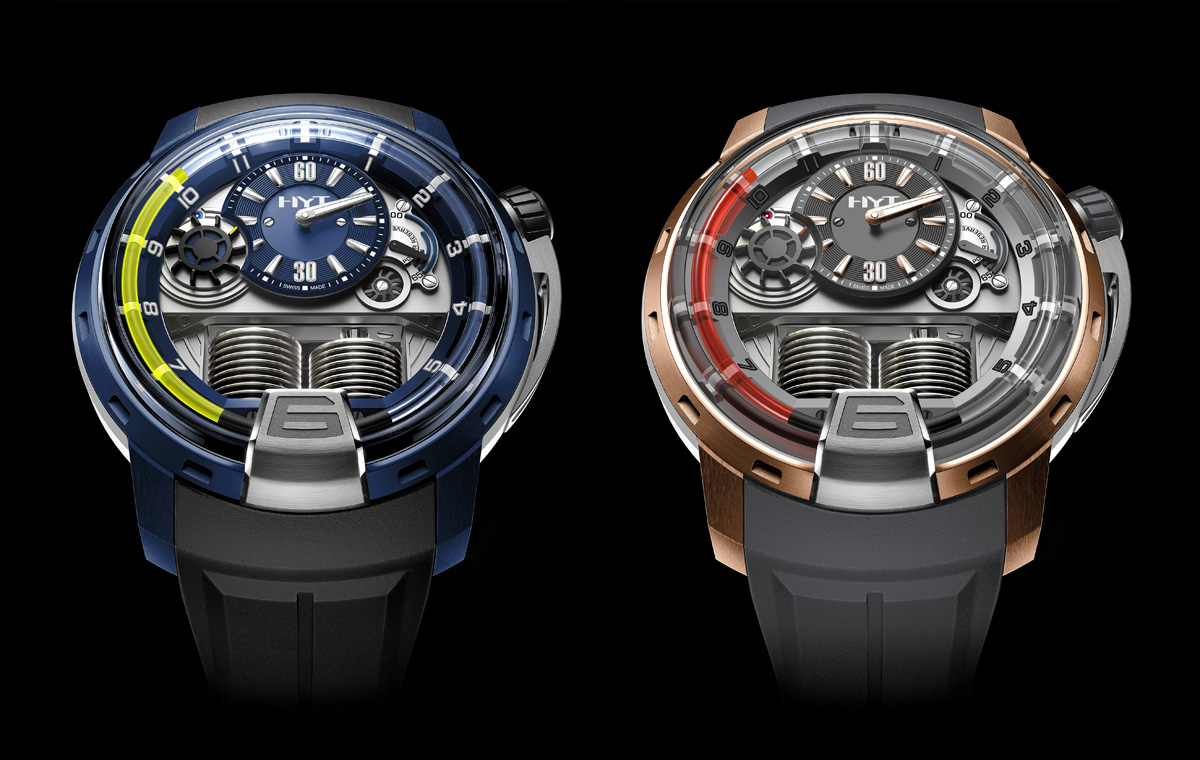 HYT will present five variations of its H1 and H2 hydro-mechanical timekeepers at Baselworld 2014, including several with red fluid time displays and one with a blue aluminium alloy case.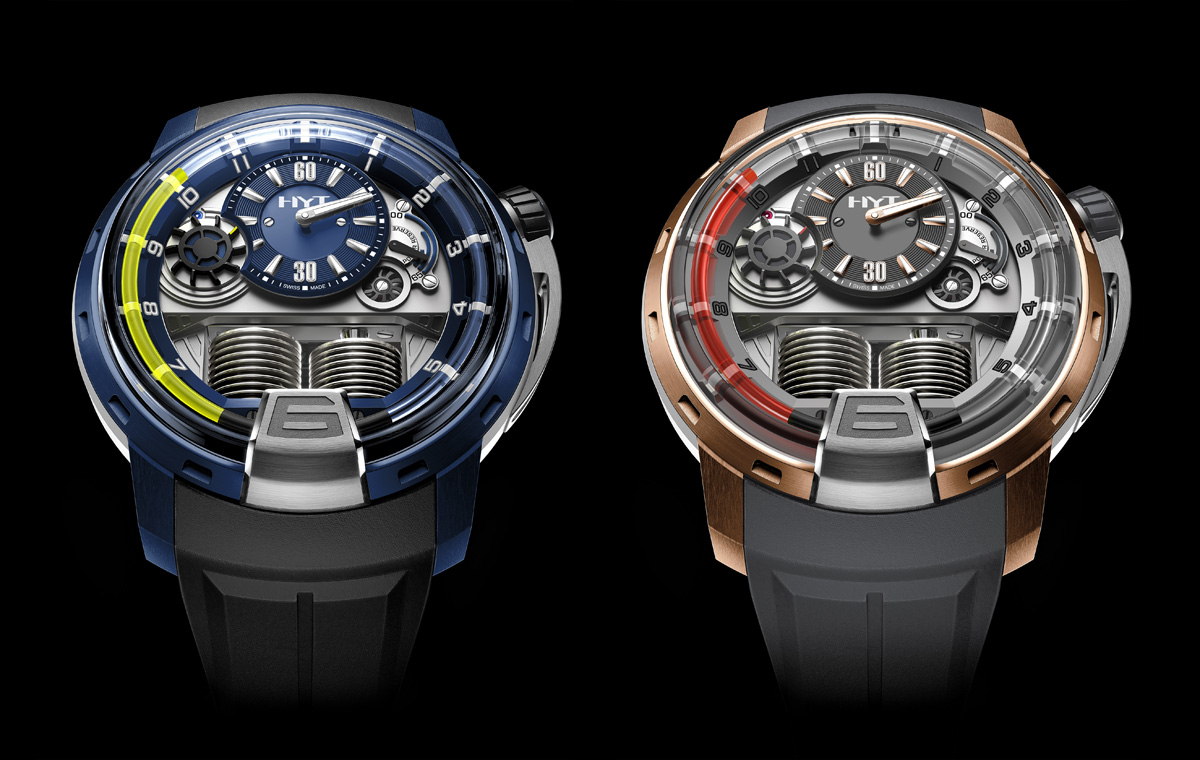 H1 Alumen Blue (left) and H1 Red 2
HYT made quite a splash (no pun intended) when its fluid time display watches were first unveiled three years ago. At Baselworld 2014 the brand will extend its two key model lines, the entry level H1 and pricier H2. The HYT H1, the brand's entry level timepiece developed together with Chronode, is now available in two new guises. The first is the H1 Red 2, which has a striking red fluid hour display and a titanium case with the bezel and lugs in red gold. This retails for US$64,000. Joining the Red 2 is the H1 Alumen Blue, which is priced at US$59,000. It has a blue anodised aluminium alloy case, while the hour display is the brand's trademark fluorescent green. Both new H1 models are limited to 50 pieces. (For our detailed look at the H1, look no further). Developed by Renaud & Papi, which explains the sharp jump in prices, the H2 (explained in-depth here) sees three models added. The H2 Black DLC and Pink Gold has its bezel and lugs in pink gold and the rest of the case in black DLC coated titanium. Limited to 20 pieces, it will retail for US$160,000.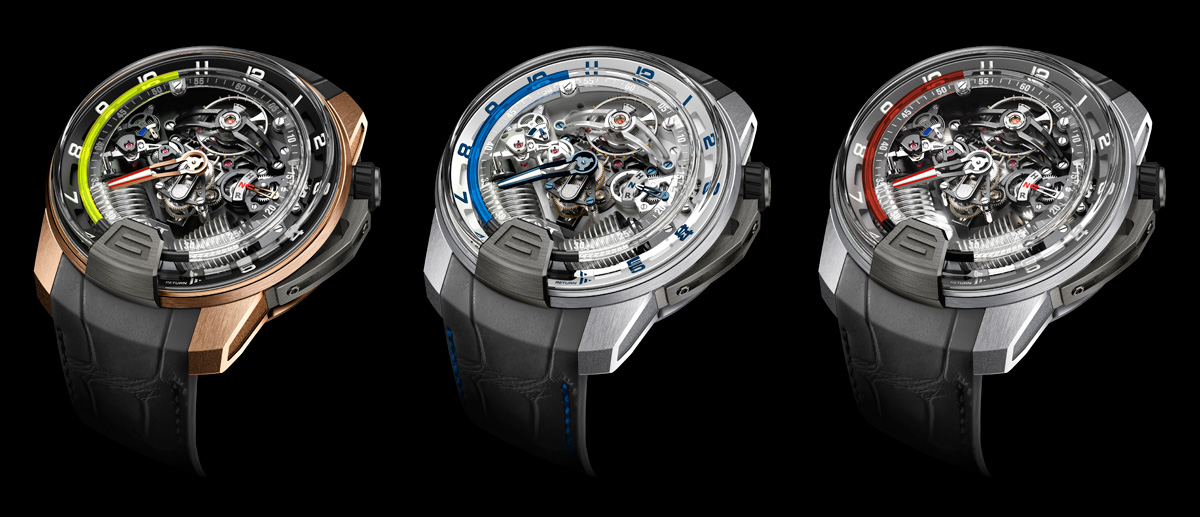 From left: H2s in Black DLC and Pink Gold, Titanium and White Gold Blue, and Titanium Platinum SQ
Also in titanium and gold is the H2 Titanium and White Gold Blue which has a titanium case with a white gold bezel. This has a blue fluid time display and is also limited to 20 pieces, with a price tag of US$160,000. And the top of the line model is the H2 Titanium Platinum SQ. Limited to 15 pieces, this has a titanium case and platinum bezel, and a red fluid display. It will cost US$190,000.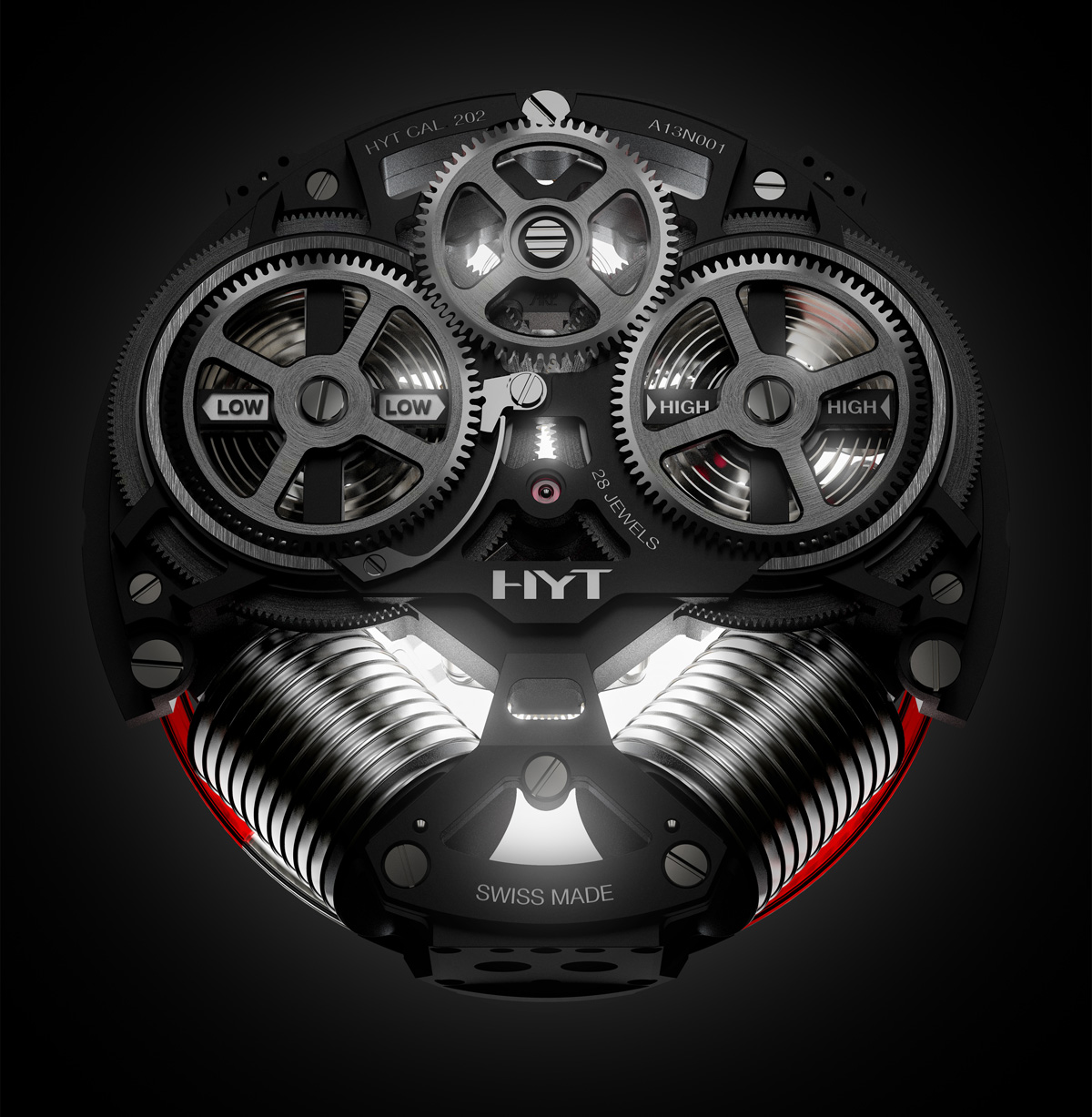 The HYT H2 movement developed by Renaud & Papi
Back to top.
---
You may also enjoy these.