A look at some notable timepieces from Christie's "Important Watches" sale in Hong Kong
Christie's "Important Watches" auction will take place at month's end in Hong Kong. A enormous offering of over 500 lots, the sale includes several notable timepieces, new and old, as well as establishment and independent.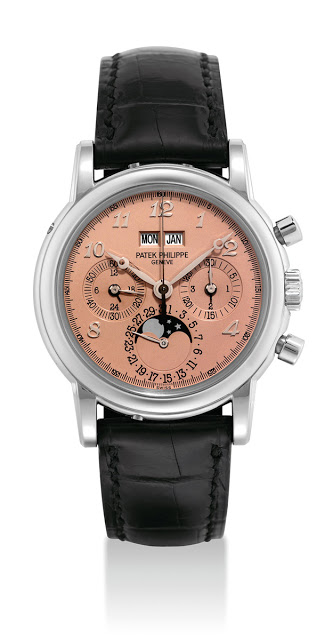 A impressive line-up of timepieces has been put together for the upcoming Christie's "Important Watches" sale on 27 November in Hong Kong. The range is diverse, with plenty of the usual suspects. But a couple of timepieces stand out, including the Patek Philippe refs. 3970 and 5050 with Breguet numerals. Also notable is a pair of pocket watches from Thomas Engels, a little known independent watchmaker. Here are a couple of highlights from the sale, starting with something special for the ladies.
Lot 2373 – Cartier Crash limited edition
Estimate HK$320,000 – HK$480,000 (US$41,470 – $US62,205)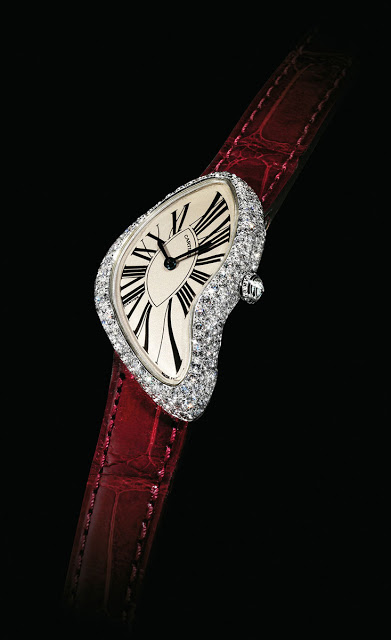 A limited edition version of Cartier's instantly recognisable Crash timepiece. Few ladies' timepieces have achieved iconic status, but the Crash is certainly one of them. This particular version is in the white and set with diamonds.  Unlike most Crash watches seen recently at auction, which are special orders, this is a limited edition of 50 pieces and numbered 06/50. The edition was made to mark the 2006 reopening of the Cartier boutique at 13 Rue de la Paix in Paris. And then we have a few special Patek Philippe timepieces, out of the dozens and dozens which dominate the sale. And several of them sport Breguet numerals, which are often a good thing.
Lot 2493 – Patek Philippe ref. 5004A
Estimate HK$2,400,000 – HK$4,000,000 (US$311,025 – US$518,375)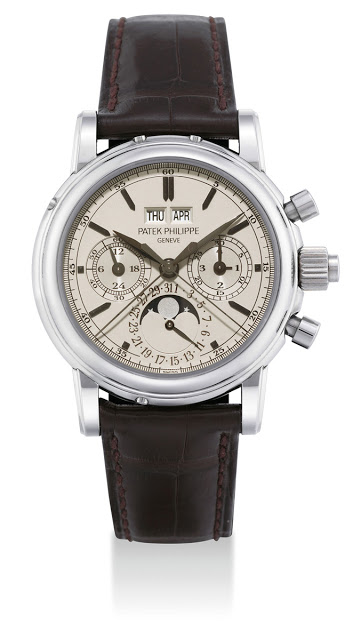 The Patek Philippe ref. 5004A, a perpetual calendar split seconds chronograph in steel. The last 50 of the Lemania-based CHR 27-70 Q movements were put in steel cases, with the same 37 mm diameter as the precious metal versions. The watches were allocated to important clients of Patek Philippe, with delivery of the model still ongoing. Aside from the steel case, this is distinguished by the baton indices similar to those on the ref. 3970, whereas the typical ref. 5004 has Arabic numerals. As an indication how dear this watch will be, the estimate is nearly double that of the platinum ref. 5004P in the same sale.
Lot 2657 – Patek Philippe ref. 3970G with black dial and Breguet numerals
Estimate HK$1,200,000 – HK$2,000,000 (US$155,513 – US$259,188)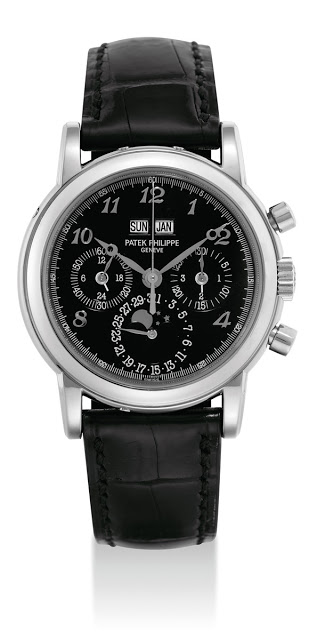 Lot 2660 – Patek Philippe ref. 3970P with salmon dial and Breguet numerals
Estimate HK$1,280,000 – HK$2,400,000 (US$165,880 – US$311,025)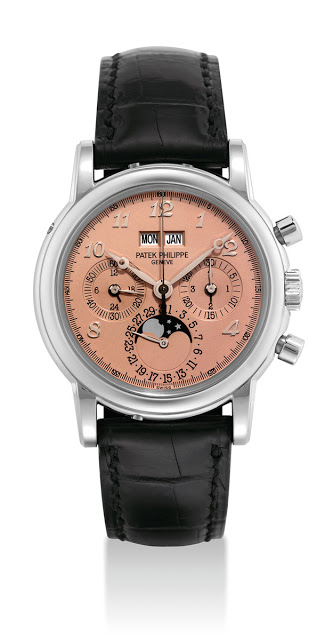 Lot 2663 – Patek Philippe ref. 3970J with champagne dial and Breguet numerals
Estimate HK$960,000 – HK$1,400,000 (US$124,410 – US$181,431)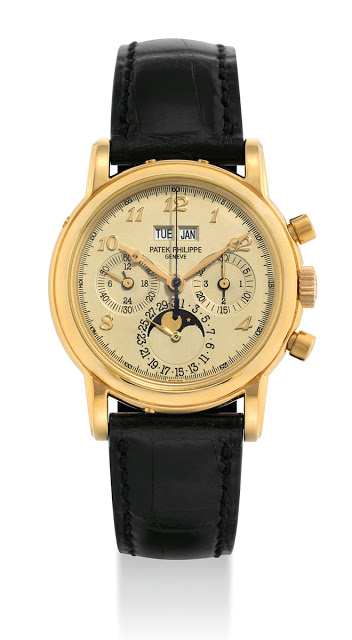 Lot 2666 – Patek Philippe ref. 3970R with silver dial and Breguet numerals
Estimate HK$1,200,000 – HK$2,000,000 (US$155,513 – US$259,188)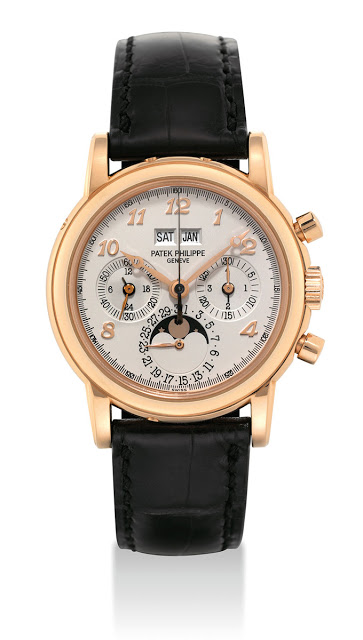 Created as a set of four towards at end of the production run of the ref. 3970, these watches are have Breguet numerals and hands, giving them a strikingly different – and far more attractive – look than the typical ref. 3970. The platinum and yellow gold versions are especially beautiful.  This quartet is presented in a wooden box for four timepieces, which is a separate lot in the auction. There is no information on how many sets were produced, but several sets exist.
Lot 2505 – Patek Philippe ref. 5050J with grey dial and Breguet numerals
Estimate HK$640,000 – HK$960,000 (US$82,940 – US$124,410)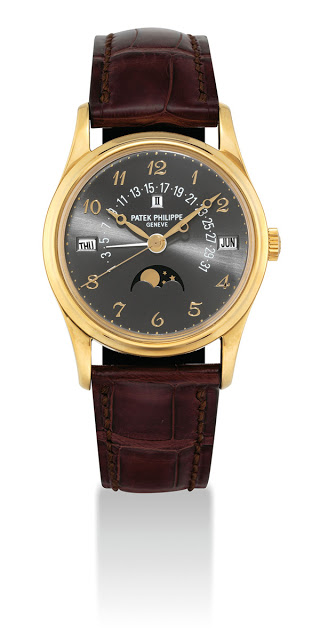 More Breguet numeral goodness from Patek Philippe. Sold in 2010, this was part of a series of ref. 5050 watches fitted with Breguet numerals and hands made for special clients of Patek Philippe. These were made long after the ref. 5050 was discontinued in 2002. More than one dial colour was available, with another version being yellow gold with a black dial.
Lot 2543 – Richard Mille RM012 "Tube Tourbillon"
Estimate HK$2,400,000 – HK$4,000,000 (US$311,025 – US$518,375)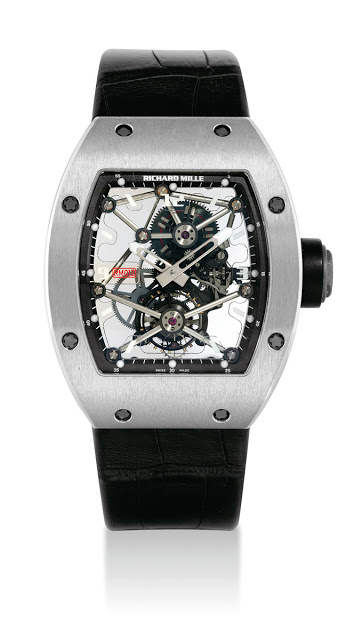 One of the most beautiful Richard Mille timepieces ever made, the RM012 movement has tubes in place of bridges, giving it an airy, architectural form. Made in a limited edition of 30 pieces, it was unbelievably (and unreasonably) expensive when new. And we conclude with some strong value propositions from independent watchmakers.
Lot 2522 – Daniel Roth Papillon
Estimate HK$40,000 – HK$60,000 (US$5,184 – US$7,776)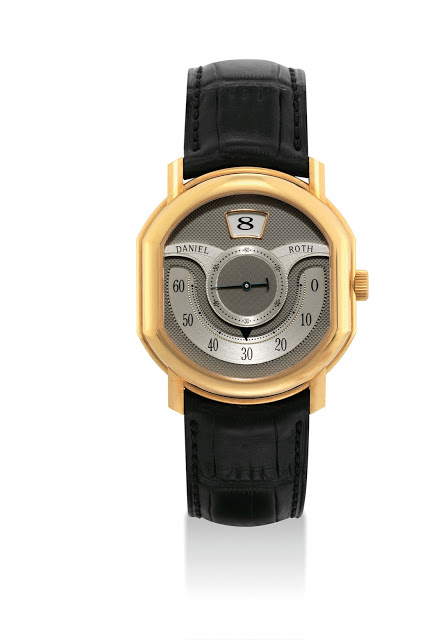 Arguably the most recognisable timepiece from what was once a leading independent watchmaker. Designed by Daniel Roth himself while he was still with the company in the late nineties, the Papillon is a jump hours with wandering minutes, which is actually a variation of the same Maltese cross mechanism used in the AP Starwheel and Urwerk 103. It is a modest but elegant display inside the double ellipse case that was Daniel Roth's trademark.
Lot 2879 – Roger Dubuis Sympathie perpetual calendar chronograph
HK$160,000 – HK$240,000 (US$20,735 – US$31,103)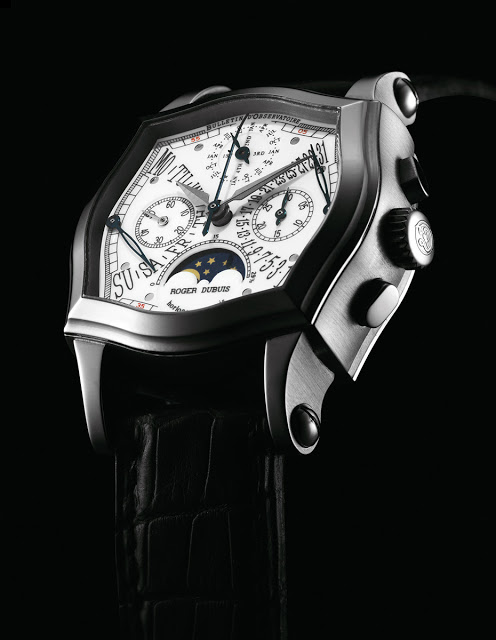 Another form watch from another independent of the same period. A signature timepiece from the early (and glorious) days of Roger Dubuis in the distinctive Sympathie case. Using a Lemania 2310 base with a bi-retrograde perpetual calendar module designed by Mr Dubuis, the Sympathie is a beautiful timepiece, and importantly offers significant value for money. But the perpetual calendar mechanism, primarily because of the retrograde displays, is delicate and expensive to repair.
Lot 2849 – Thomas Engel chronometer pocket watch with day of week, power reserve and thermometer
HK$64,000 – HK$96,000 (US$8,294 – US$12,441)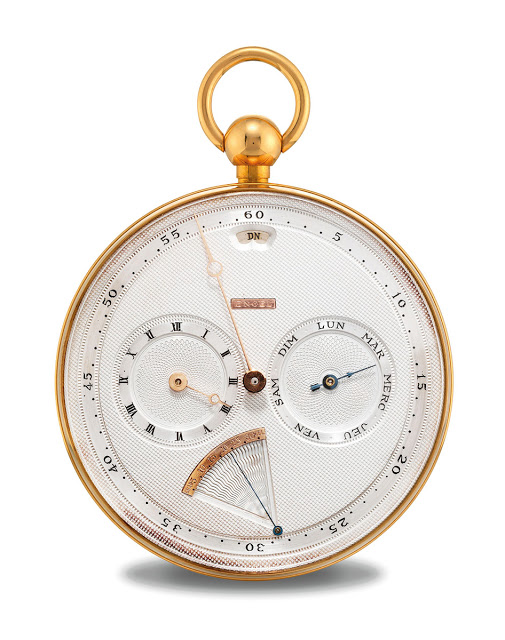 Lot 2848 – Thomas Engel pocket watch with tourbillon and power reserve, with COSC certification
HK$320,000 – HK$480,000 (US$41,470 – US$62,205)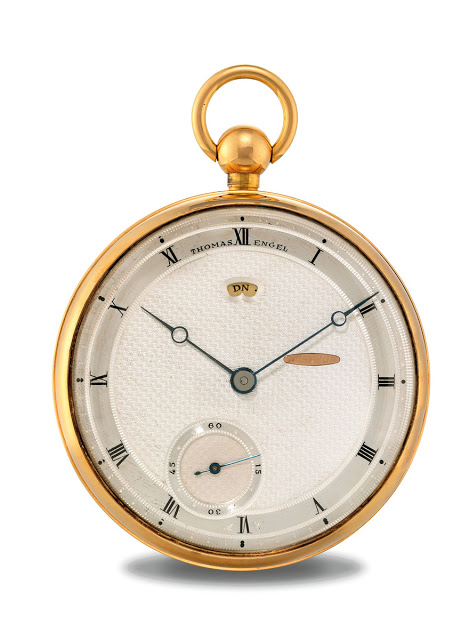 A chemist noted for his work in plastics and polymers, Professor Thomas Engel was also a watch collector and scholar of Breguet, having published a book on the French horologist. He is not widely known but was an accomplished watchmaker, having made high quality pocket watches from the seventies to eighties, with various functions and complications, but all in the Breguet style with guilloche dial and pomme hands.  All of Engel's pocket watch used the Zenith 5011K observatory chronometer movement (most recently found in the enormous Zenith Aeronef Type 20), which he modified and finished. His tourbillon pocket watches contain the Zenith movement as well, with the tourbillon regulator made by independent watchmaker Richard Daners.  Both of these pocket watches are examples of high quality, classical horology for comparatively little money. The auction will take place on 27 November 2013 at the Hong Kong Convention & Exhibition Centre, with viewings taking place in the week before that. The rest of the catalogue is available on-line at Christie's. – SJX
Back to top.
---
You may also enjoy these.