News: Christophe Claret X-TREM-1 Pinball for Only Watch 2013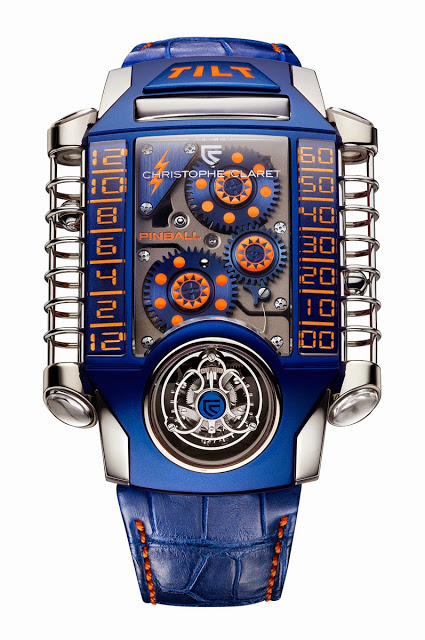 Christophe Claret has created a unique X-TREM-1 Pinball for the upcoming Only Watch charity auction. With the time indicated by metal balls in tubes, the orange and blue X-TREM-1 Pinball is meant to evoke a pinball machine.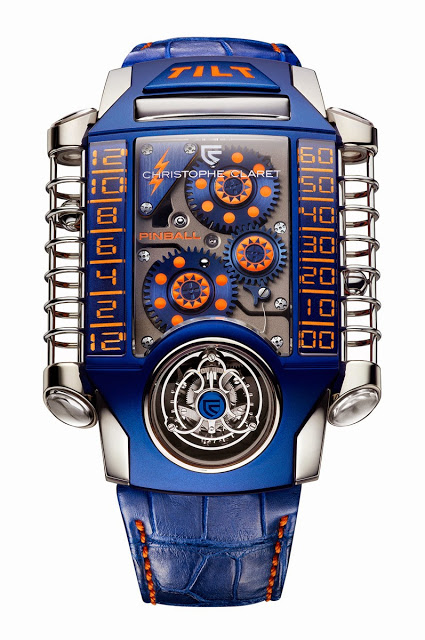 The Christophe Claret X-TREM-1 indicates the time via two metal balls which travel up mesh tubes on the side of the case, indicating the hours on the left and minutes on the right. Both balls are cleverly propelled by magnets inside the watch case, meaning neither ball has any mechanical connection to the watch movement. Once each ball reaches the top of the tube, it jumps back to zero, in other words a retrograde mechanism. And the pusher at 12 o'clock on the case marked "Tilt" is for rapid time adjustment; additionally there are two crowns on the back, one for time setting and the other for winding.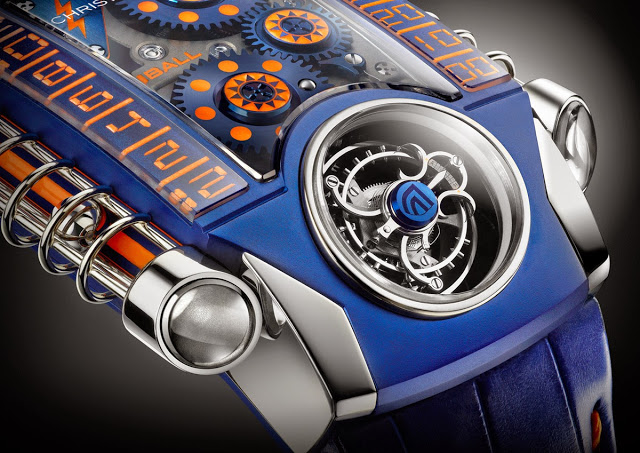 Two other notable movement features are the curved, titanium main plate and the inclined flying tourbillon at six o'clock, which rotates on ceramic ball bearings. Interestingly, the movement has two barrels, one for the time display and another for the tourbillon. On a full wind it will run for 50 hours. Though it appears extremely large in photos, the X-TREM-1 measures a moderate 40.8 mm by 56.8 mm, while standing 15 mm high. Because the case is lightweight – it made of blue anodised aluminum and white gold – as well as curved, it sits very well on the wrist. The X-Trem-1 typically retails for about CHF280,000, and is one of the Christophe Claret's signature exotic complications, though the brand is now trying to make itself more accessible with the recently launched Kantharos. This, along with the rest of the Only Watch timepieces, will be sold at the end of September to benefit research in Duchenne muscular dystrophy. – SJX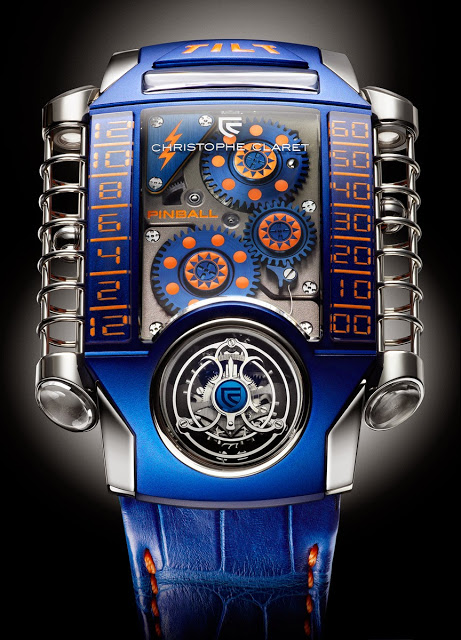 Back to top.
---
You may also enjoy these.