Photo essay: Bovet Rising Star Triple Time Zone Tourbillon unique piece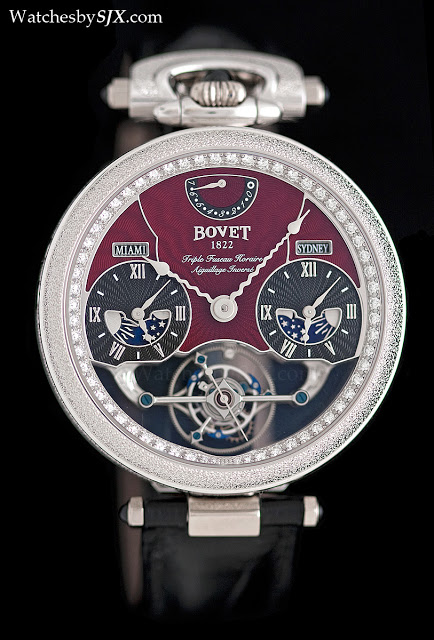 Named after a Swiss watchmaker who was a pioneer in selling Swiss timepieces in China, Bovet watches are easily distinguished by the Lépine style pocket watch case with a crown at 12 o'clock. In fact, the straps on all Bovet watches are detachable to convert them into pocket watches, which Bovet calls the Amadeo convertible case. This pocket watch styled case has been the hallmark of the brand since it was resurrected in the nineties by Roger Guye and Thierry Oulevay (who later founded Jean Dunand). In 2001, the Fleurier-based brand was acquired by Pascal Raffy. And just earlier this year Swiss trading house DKSH acquired a fifth of Bovet, as well as the right to distribute the brand in Asia.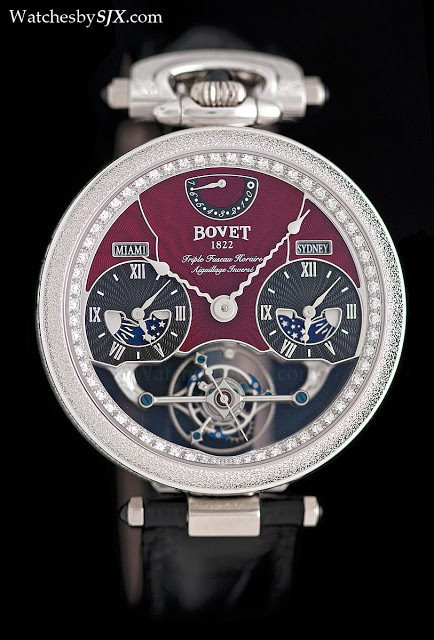 Bovet Rising Star Triple Time Zone Tourbillon
Mr Raffy has made Bovet into a small high horology brand – production is about 2300 pieces a year – with a lot of focus on decorative dials and cases. Equally significant is Mr Raffy's decision to vertically integrate Bovet. In 2006 Bovet acquired STT (formerly Progress Watch), which is best known for the tourbillon movements it supplies to various brands including Harry Winston and Peter Speake-Marin, renaming it Dimier 1738. Bovet also acquired dial producer Valor Lopez & Villa in the same year. Having acquired those companies, Bovet now makes nearly all its high complications in-house, along with all of its dials. A good example of Bovet's movement as well as dial expertise is the Rising Star Triple Time Zone Tourbillon. Equipped with an in-house Dimier calibre with seven day power reserve, the Rising Star is a limited edition of 190 pieces as well as nine unique pieces, one of which is shown here. The unique pieces have miniature paintings on the reverse dials. The miniature paintings are inspired by the pocket watches Edouard Bovet sold in China in the 19th century. This elaborately styled aesthetic, which includes enamelling, engraving and even pearls, is the second design characteristic of Bovet, in addition to the crown at 12.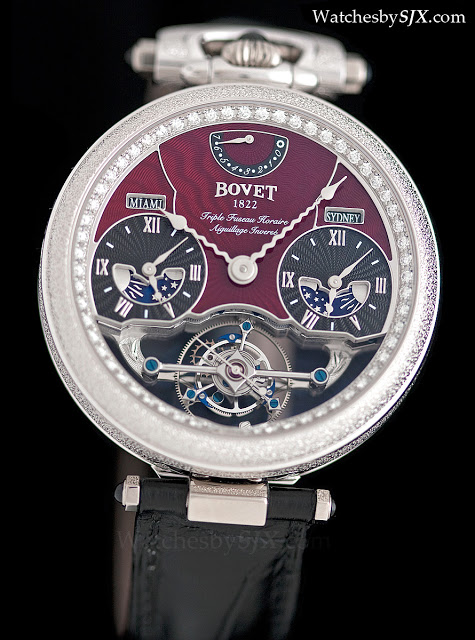 Over on the front are three time zones, with each of the two time zone sub dials having its own cities window and day/night indicator.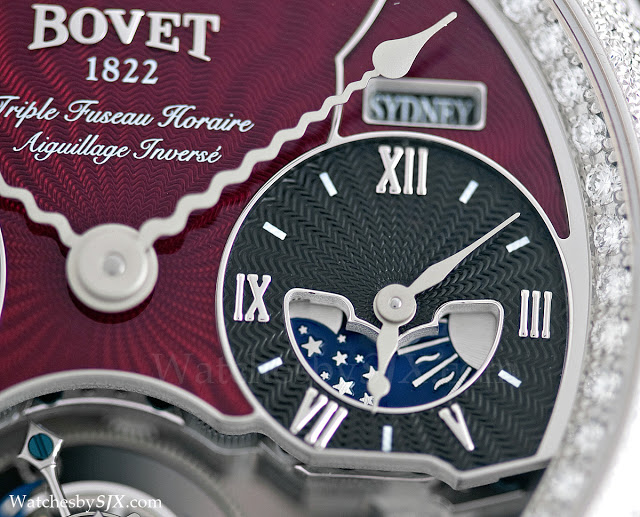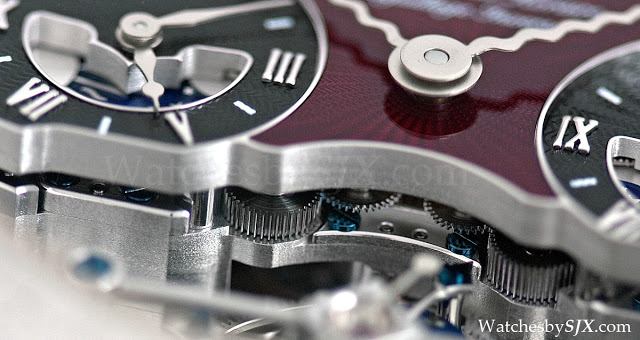 The gearing for the time zone displays
At six o'clock sits the tourbillon with a beautifully polished and rounded tourbillon bridge.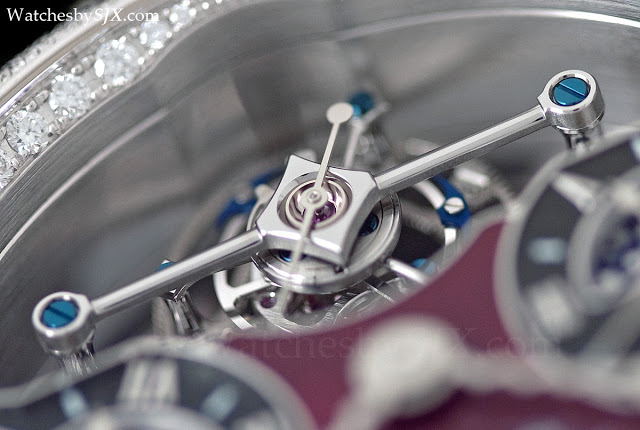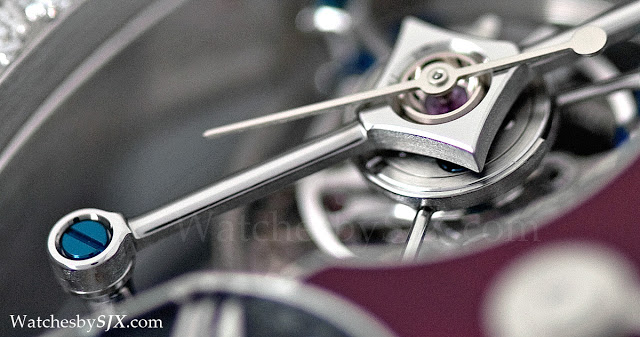 The dial is a beautifully executed guilloche dial with translucent lacquer. All indices are solid gold and applied. The hands, however, are a bit flat and lacking three dimensional presence.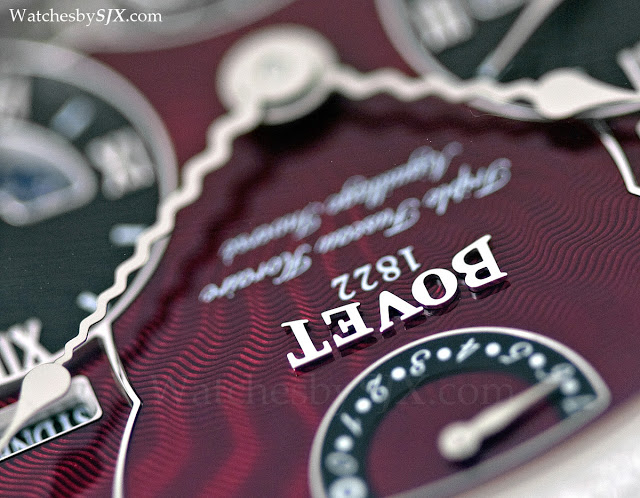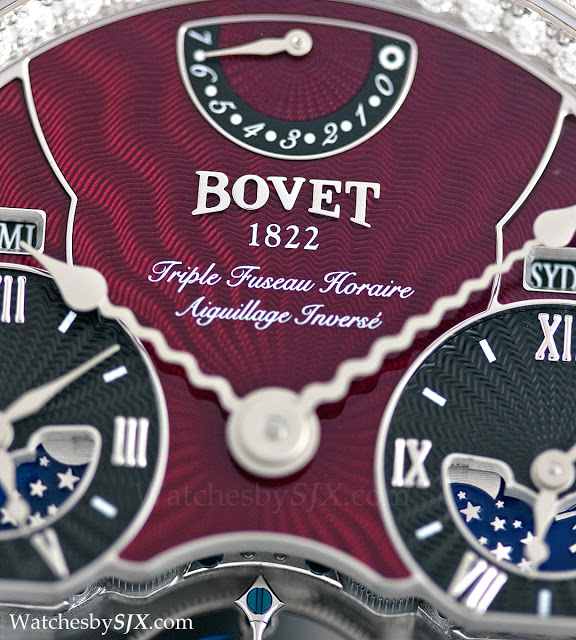 The text on the dial reads "triple time zone, reverse hands"
The 45 mm case is white gold and decorated with a hand-chiselled motif.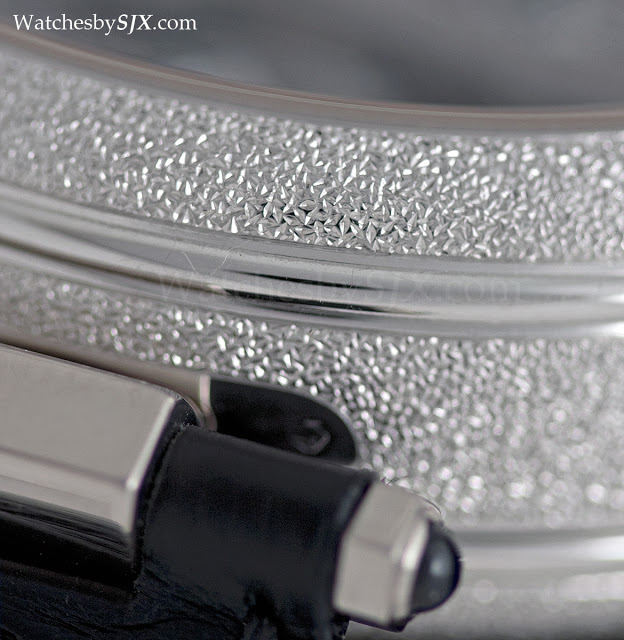 This is a reversible, double face watch – the strap can be removed and fitted on the other side – so the reverse face has a pair of hands as well, though the reverse side is not an additional time zone; this reminds me of the early Franck Muller Double Face complications. The flip side is decorated with floral hand engraving on the bridges and a miniature painting enamel dial decorated with pearls. Also visible on the reverse is the tourbillon, along with an identical, rounded tourbillon bridge.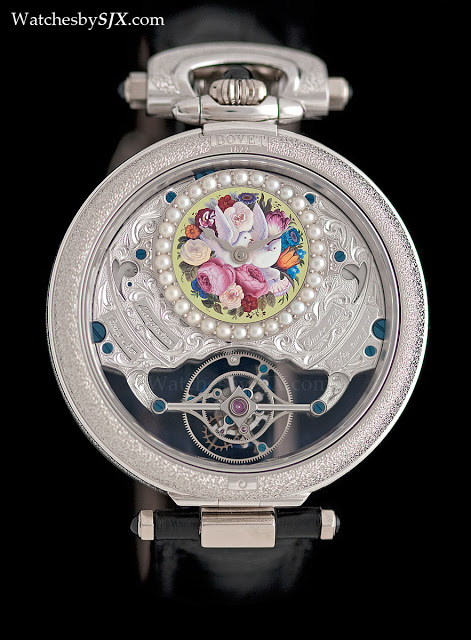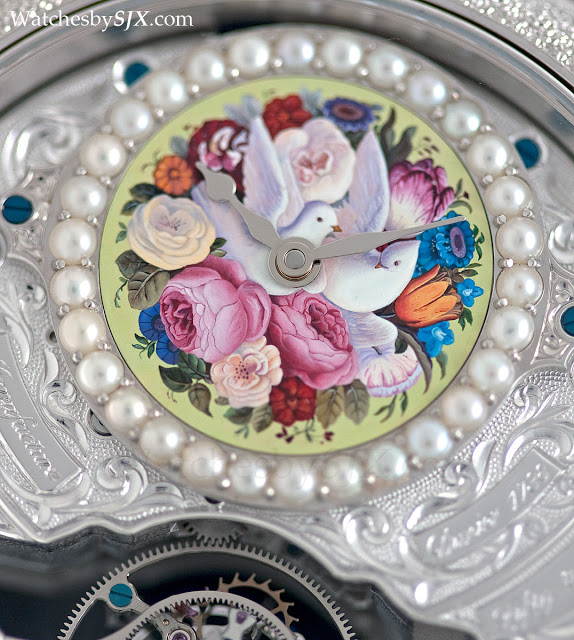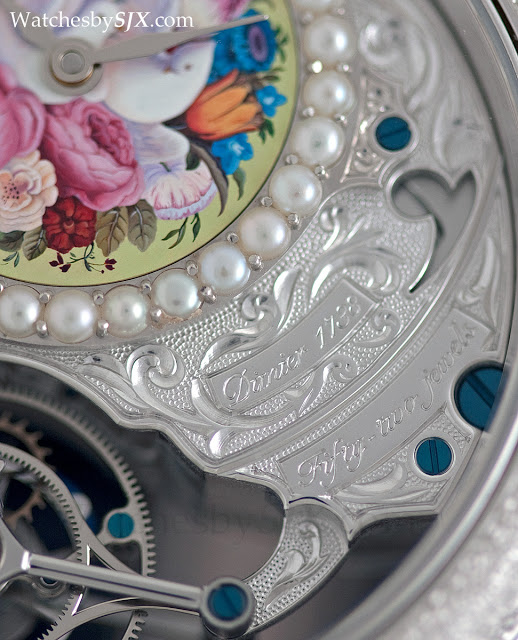 The Bovet aesthetic is ornate and obviously not for everyone. But the timepieces are well made and beautifully finished, and Bovet actually has little competition in this specific niche of high-end complications in this particular Baroque style. – SJX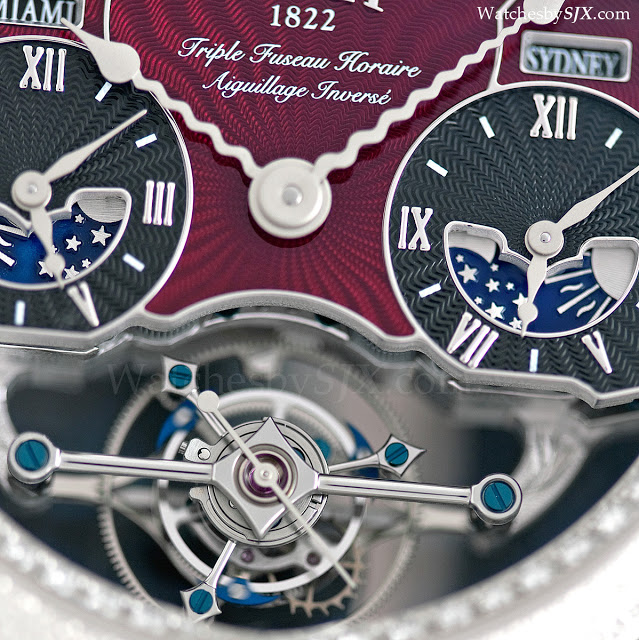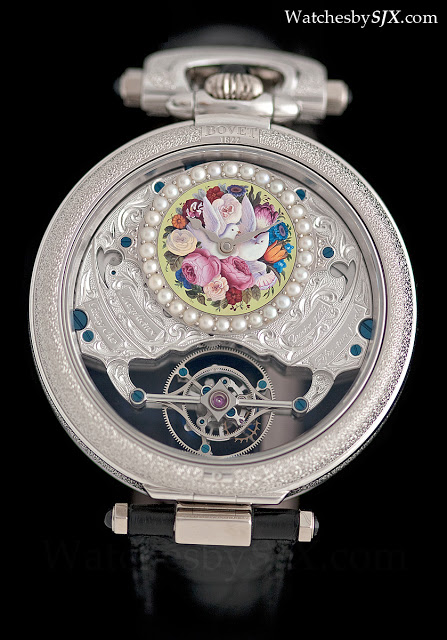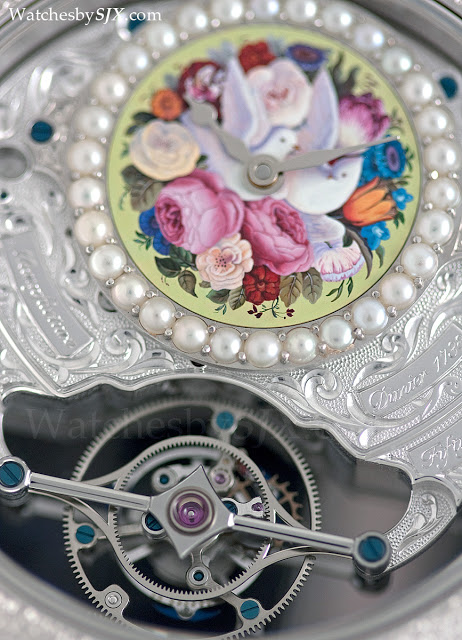 Back to top.
---
You may also enjoy these.