An Eye on Complicated Watches at Phillips Hong Kong
A lovely and unique ref. 3974P to a value-buy AP repeater.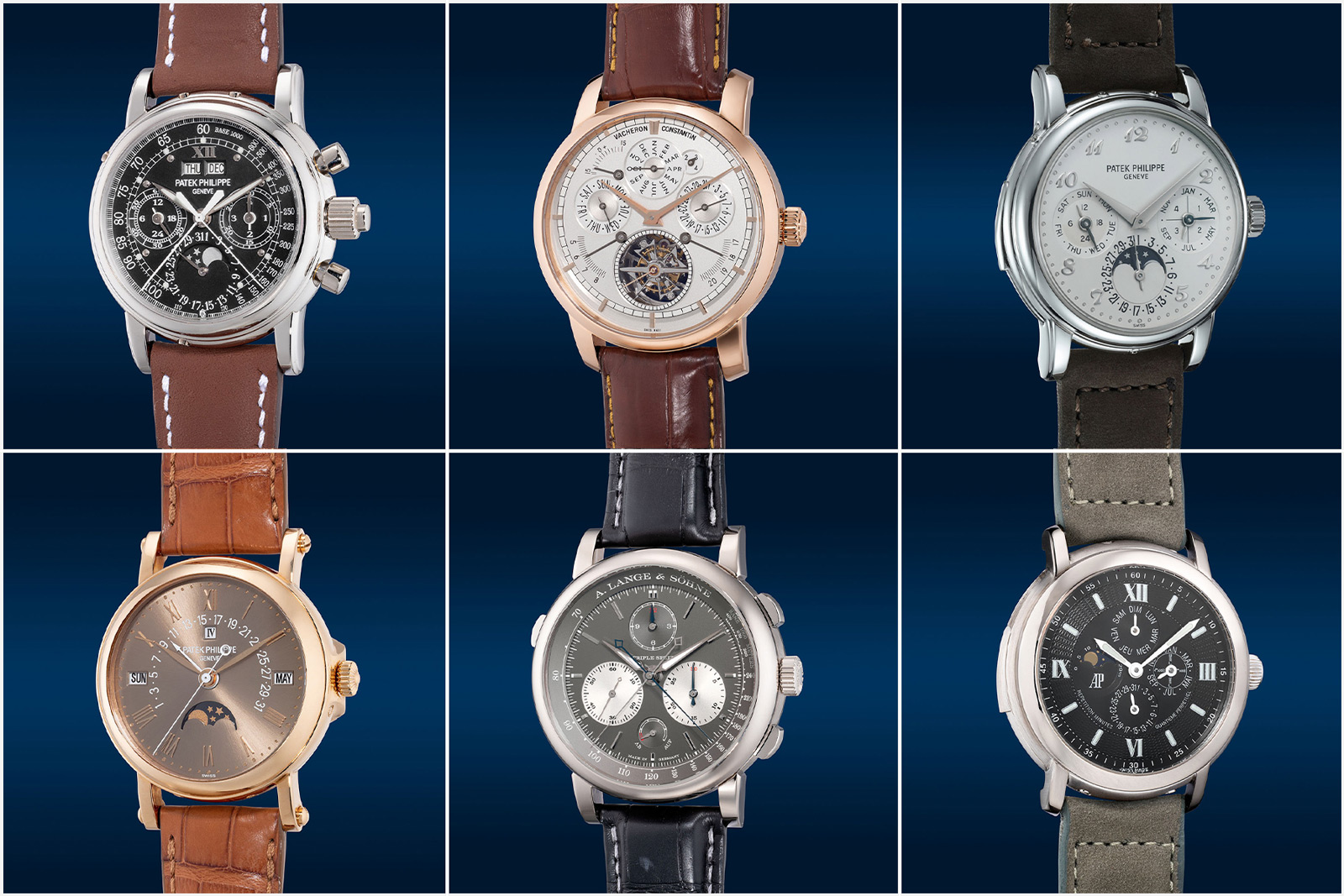 Our favourite segments in Phillips' Hong Kong sale on November 24 and 25 are artisanal and form watches, independents of course, and now complications.
We round up a selection of nine notable complicated watches, including two special-order Patek Philippe masterpieces, a ref. 3974P with Breguet numerals and a ref. 5004P Michael Ovitz special.
The list also includes vintage complications, like the well-preserved Rolex ref. 6062 yellow gold "Stelline". And also some big value buys in a literal sense: the 48 mm Panerai PAM00350 "Lo Scienzato" skeleton tourbillon and the 44 mm Vacheron Constantin Traditionelle grand complication, both estimated at a fraction of their retail price.
The Hong Kong Watch Auction: XVII takes place on November 24 and 25, 2023. Registration for bidding and the complete catalogue can be accessed here.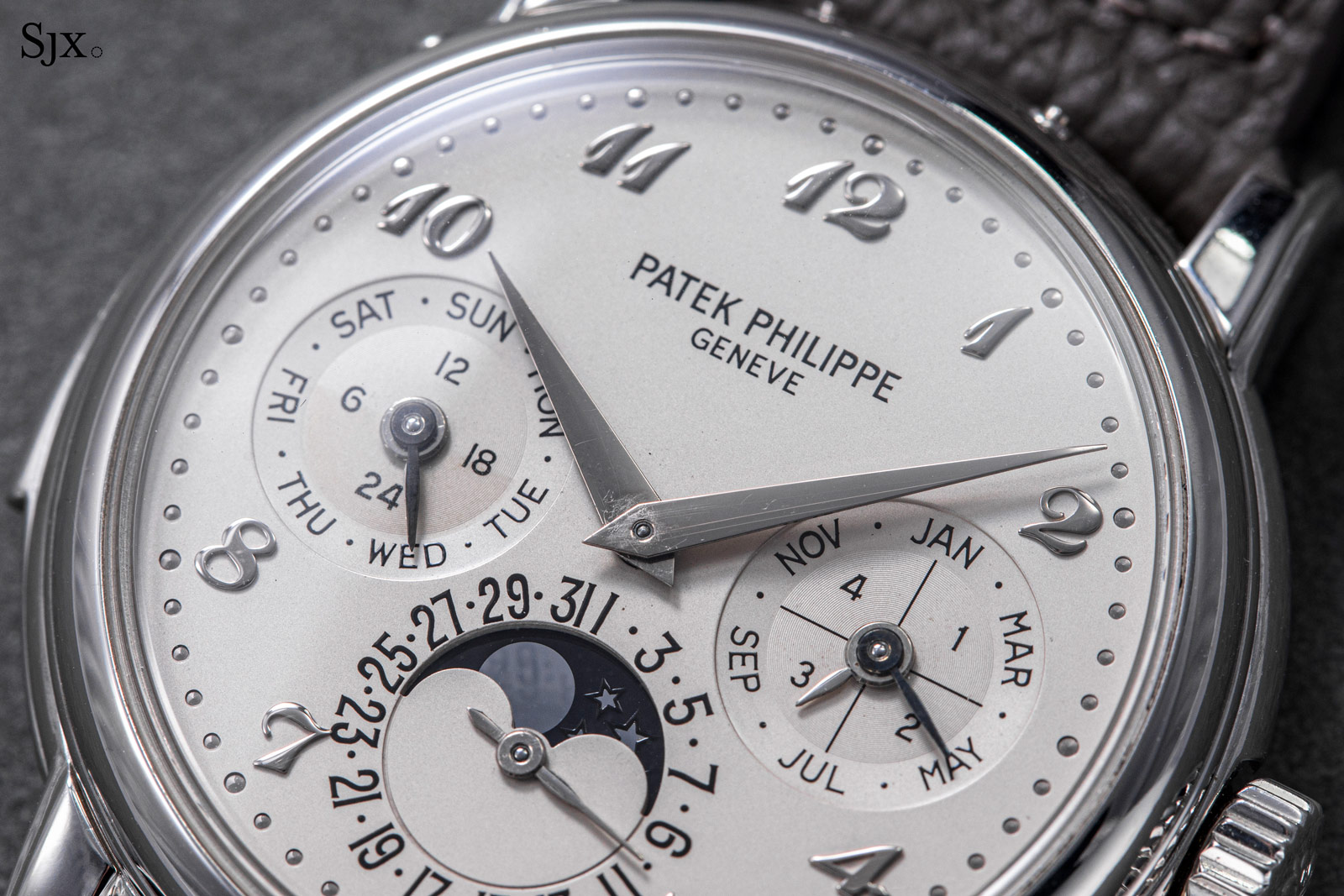 ---
Panerai paid tribute to astronomer Galileo Galilei in 2010 with the PAM00350 "Lo Scienziato", one of the most complicated watches made by the brand. 
It was a Radiomir Tourbillon GMT Ceramic powered by the in-house cal. P.2005/S – a skeletonised movement executed in a distinctly modern style with the base plate and brides open worked in a grid and finished entirely in matte black.
The aesthetics of the P.2005/S movement make the PAM00350 arguably one of the few Panerai models that successfully blended a thoroughly contemporary aesthetic with the historical Panerai design. Even the faux vintage lume works well with the overall style.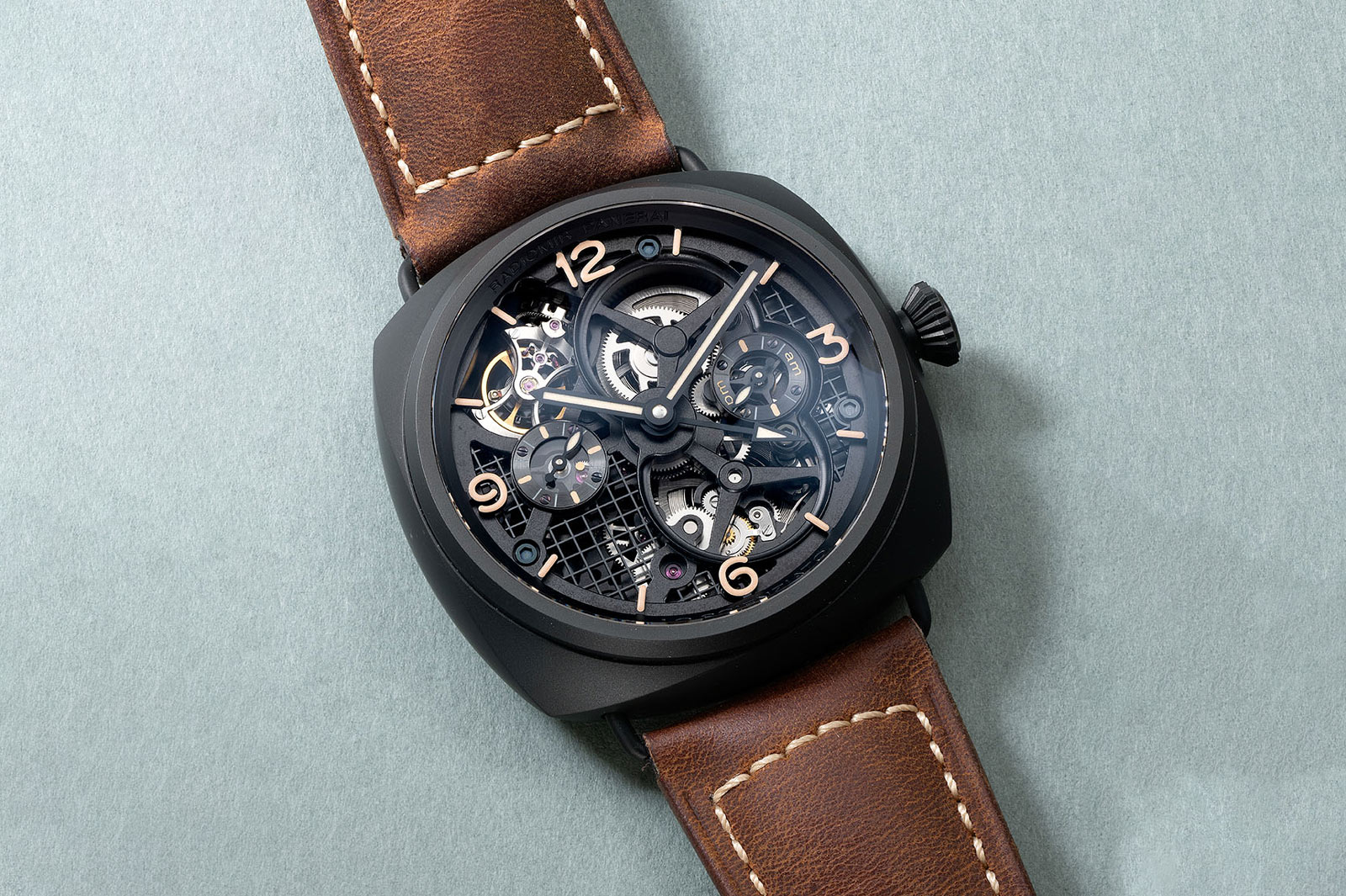 The P.2005/S is endowed with triple barrels for an impressive six-day power reserve and Panerai's signature double-axis tourbillon that rotates like a rotisserie. The movement also include a second time zone display and day-night indicator, along with the power reserve indicator on the back.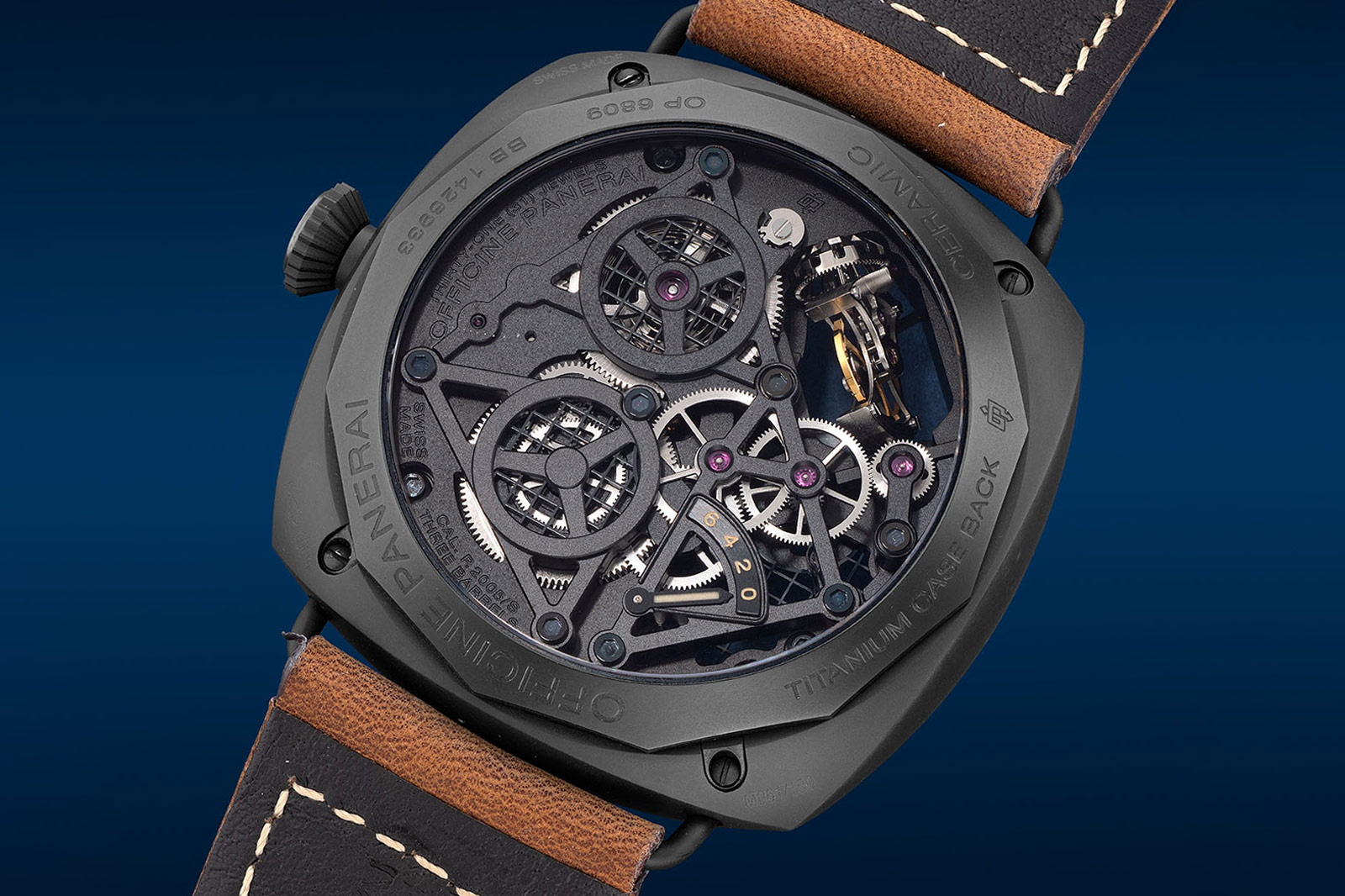 Encased in black ceramic, the PAM00350 was a limited run of 150 pieces, with the present example numbered "61/150".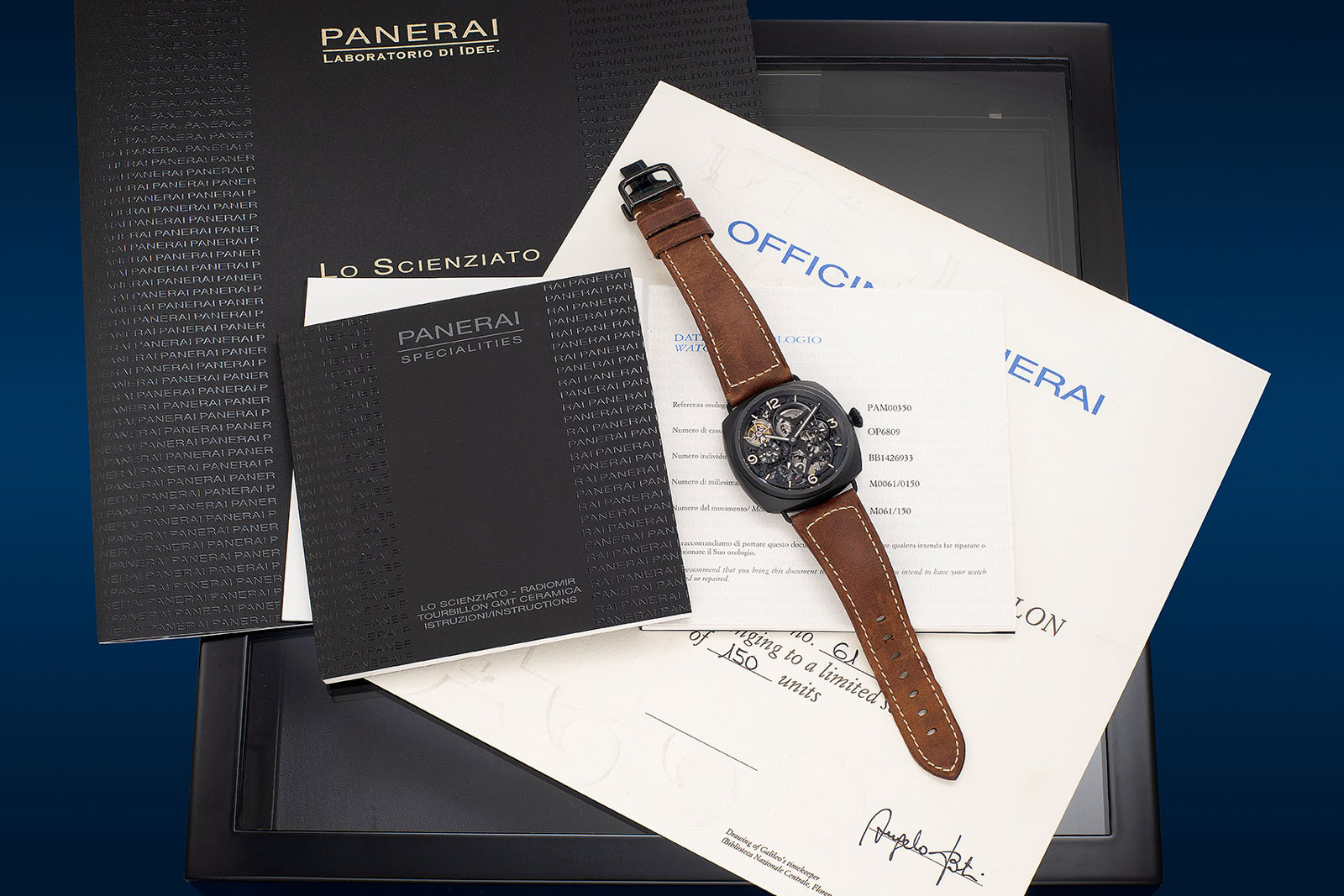 In impeccable overall condition and accompanied by its full set of accessories, the PAM00350 has an estimate of HK$160,000-320,000, or about US$20,500-41,000.
Find out more in the catalogue.
---
The present ref. 5059 is distinguished by an unusual sunburst brown dial with applied Roman numerals – both features not found on the regular-production version of the model that had a white dial with printed Roman numerals. Notably, this edition was produced after the ref. 5059 was officially discontinued.
It was one of the limited editions released by Patek Philippe for the Watch Art Grand Exhibition London 2015, several of which were reissues of discontinued references. This example is the first of the edition to appear at auction.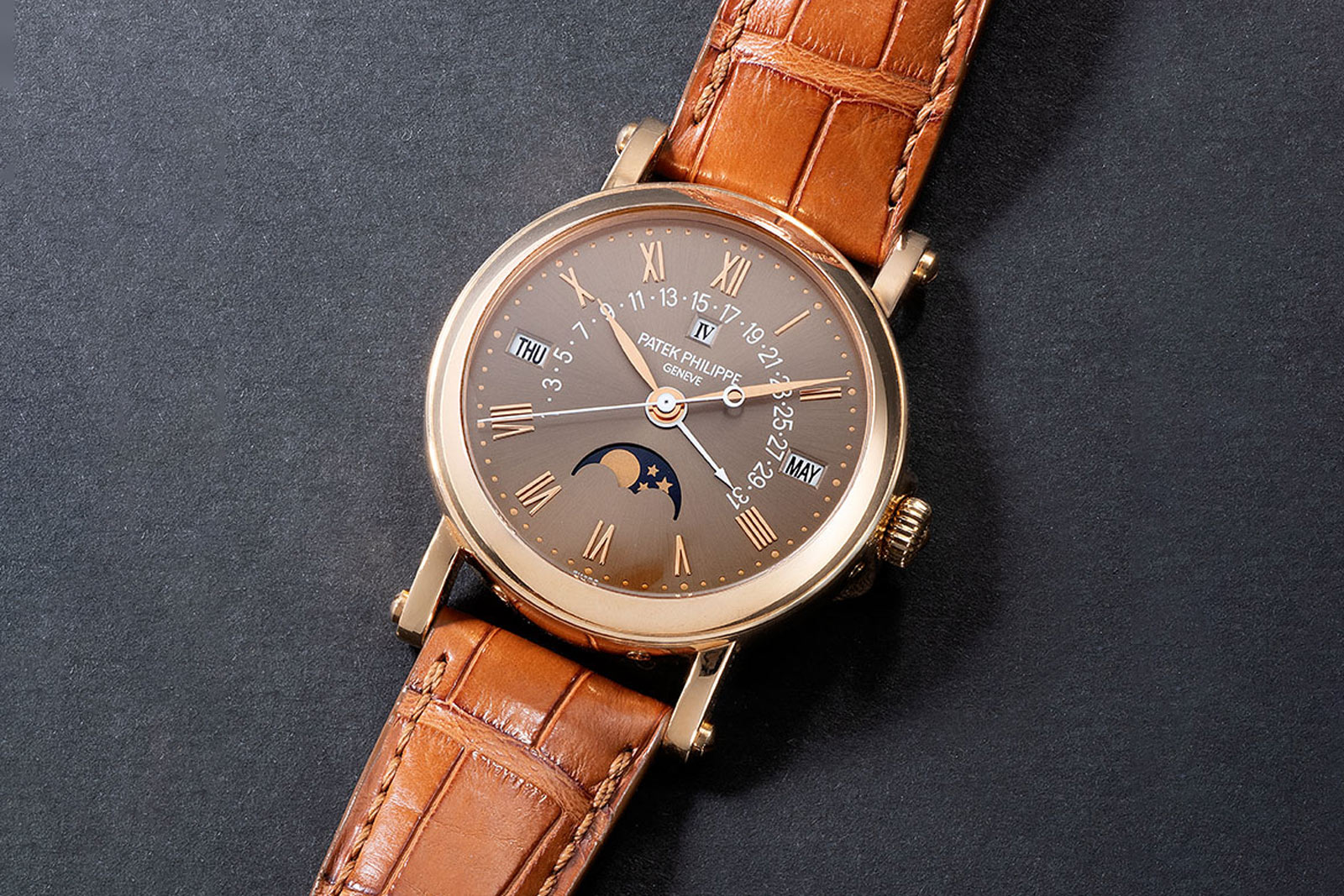 Originally made in all four precious metals, the ref. 5059 had an estimated production of 1200 to 1400 units before it was discontinued, with about 300 of them in pink gold. This particularly edition was a small run of a few watches.
Produced between 1998 and 2006, ref. 5059 was the successor of the ref. 5050, the first serially-produced perpetual calendar wristwatch with a retrograde display. The model stands out for the "officer's" case with a hinged back that reveals the automatic cal. 315 below.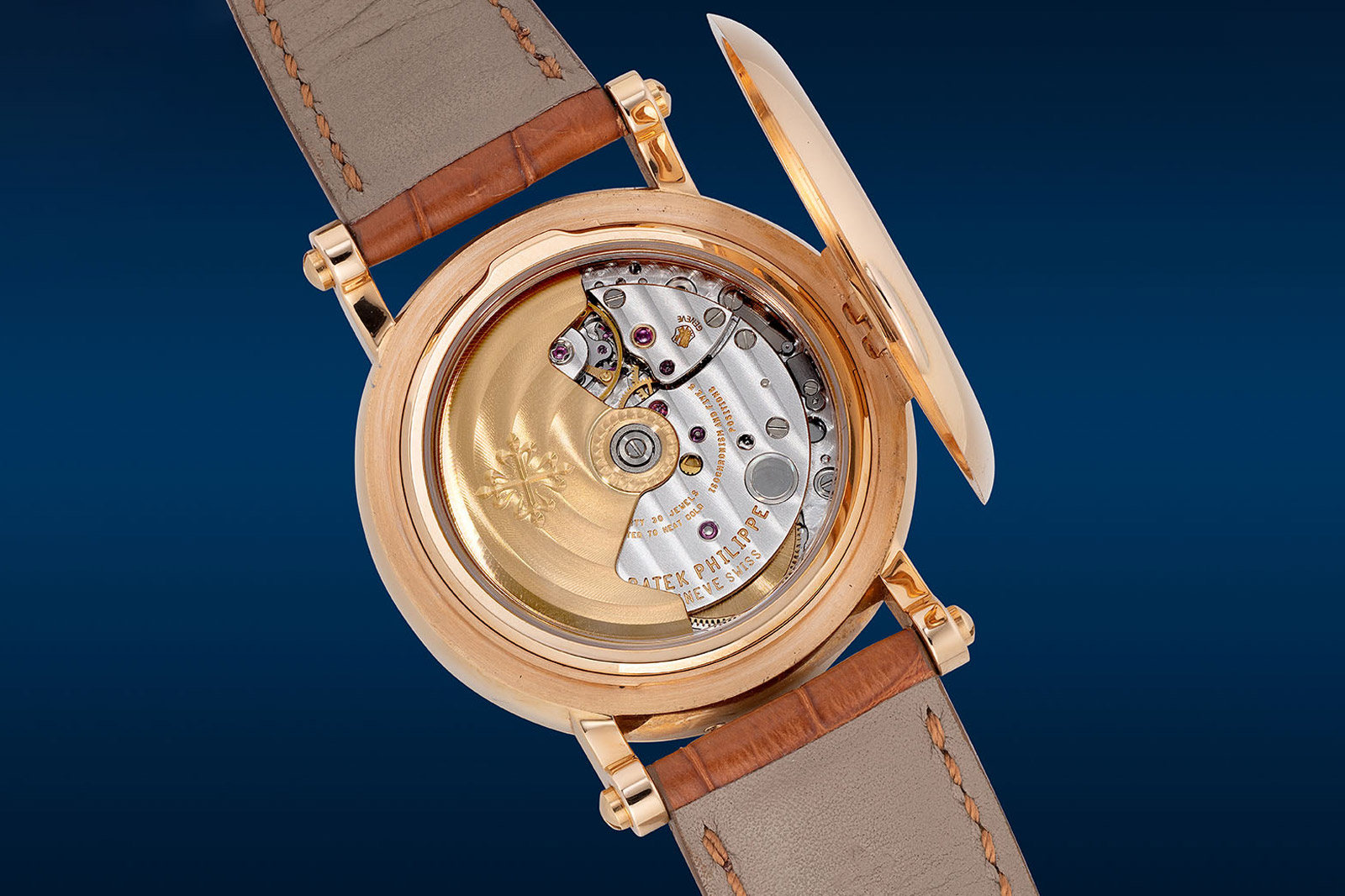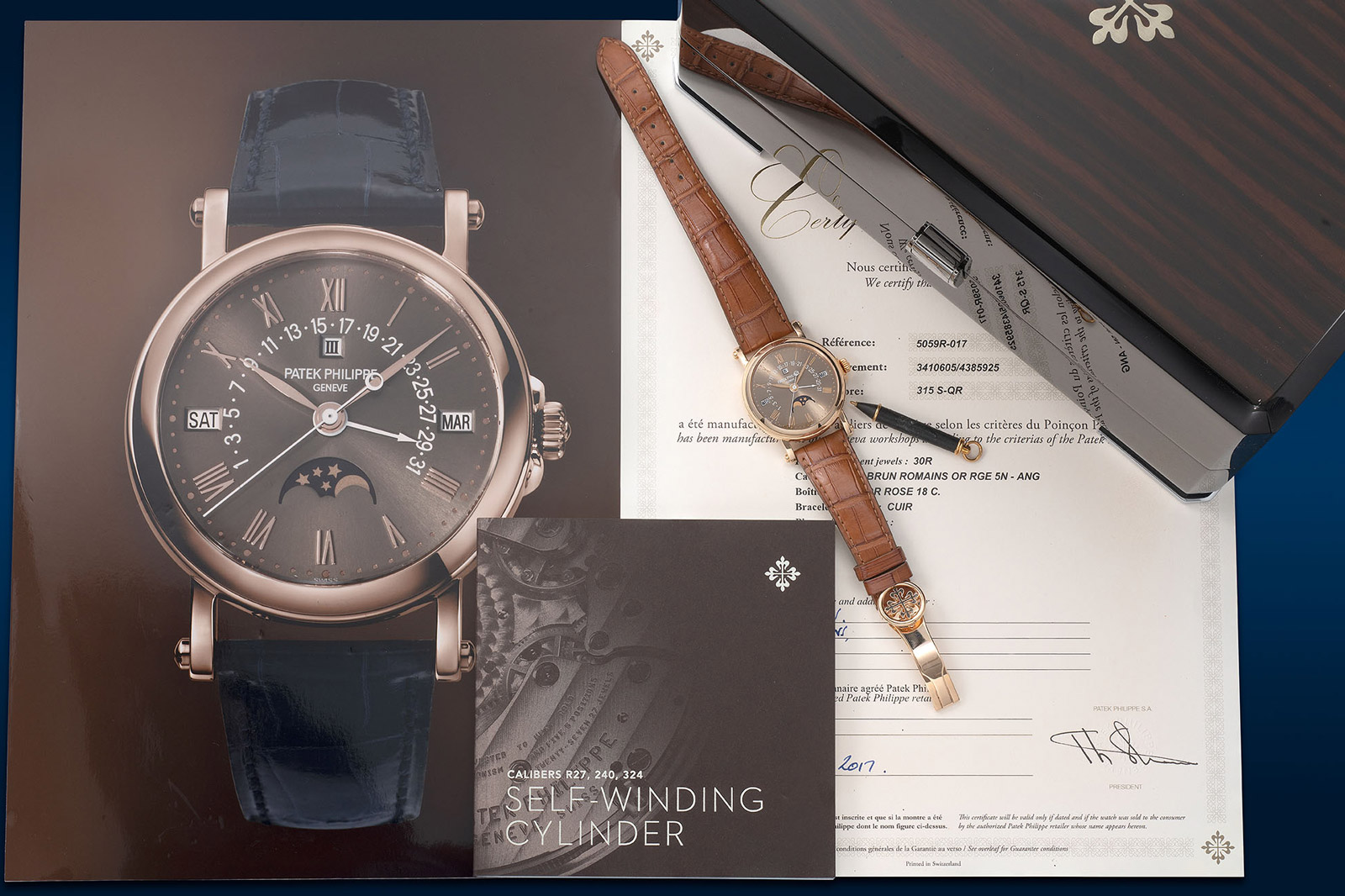 Presented in superb overall condition, this timepiece comes complete with its original certificate and a comprehensive set of accessories. It is relatively affordable for a special order Patek Philippe and has an estimate of HK$630,000-1.2 million, or about US$80,800-160,000. Full lot details here.
---
The most complicated watches in production at launch, the ref. 3974 was introduced in 1989 to commemorate Patek Philippe's 150th anniversary.
It was powered by then-new cal. R 27 Q, a self-winding minute repeating movement with a perpetual calendar that was a marvel at just 6.80 mm thick despite being composed of 467 components. Notably, the ref. 3974 was also the first automatic minute repeater.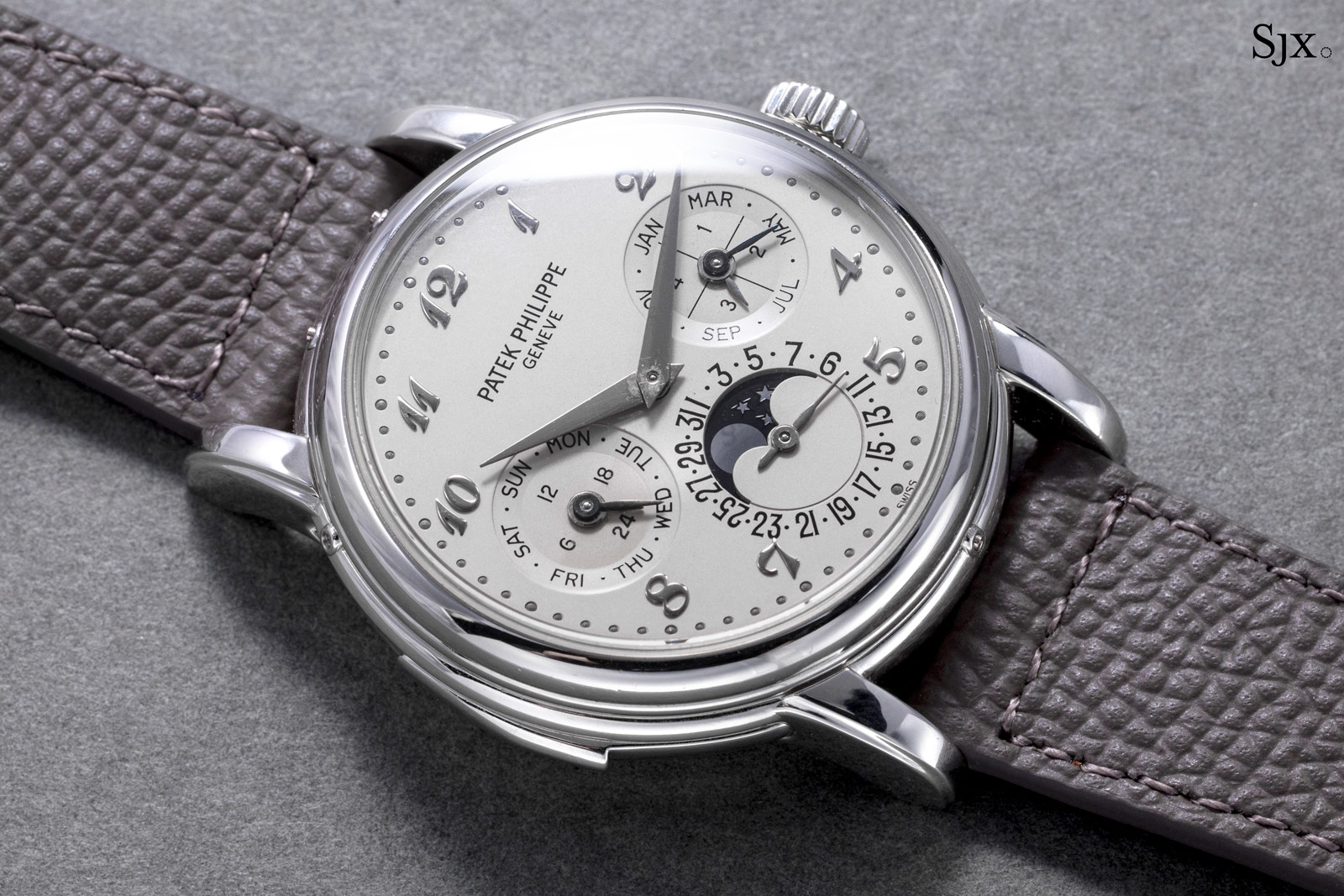 Production of the reference was halted in 2002 after about 120 examples were made in all metals – yellow, pink, and white gold along with platinum. The ref. 3974P is believed to be the rarest, with only a handful of examples made. Just eight in platinum have appeared at auction, and only two feature a dial with Breguet numerals like this example.
The present specimen, however, is possibly one-of-a-kind due to the silver opaline dial; the other known platinum example with Breguet numerals has a black dial, while other silver dial examples have standard baton indices.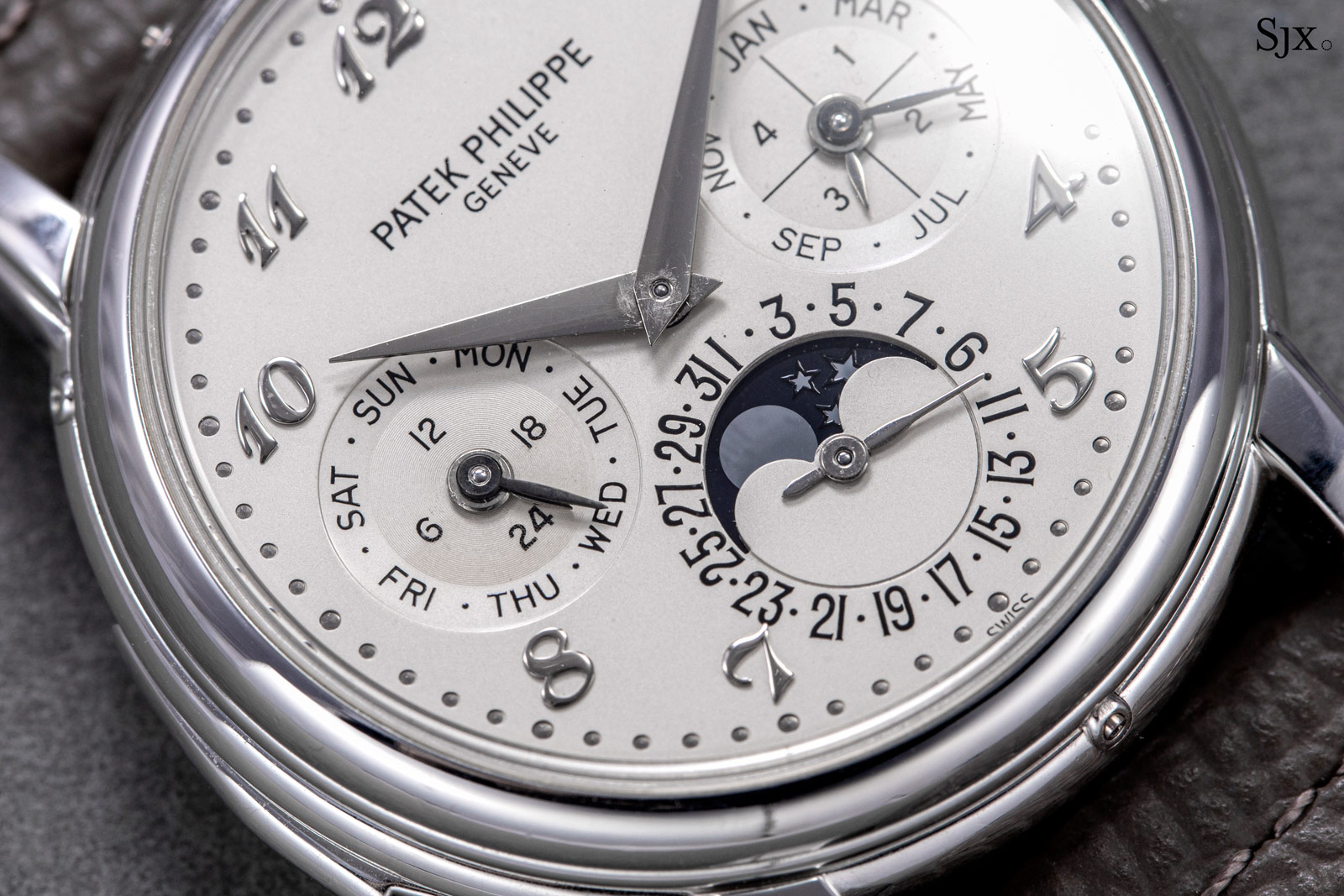 Also noteworthy is the "JHP" hallmark on the case, indicating it was made by Jean-Pierre Hagmann, a leading case maker of the period who fabricated the cases for many of Patek Philippe's striking watches at the time. He made some, but not all, of the cases for the ref. 3974, making this example even more uncommon.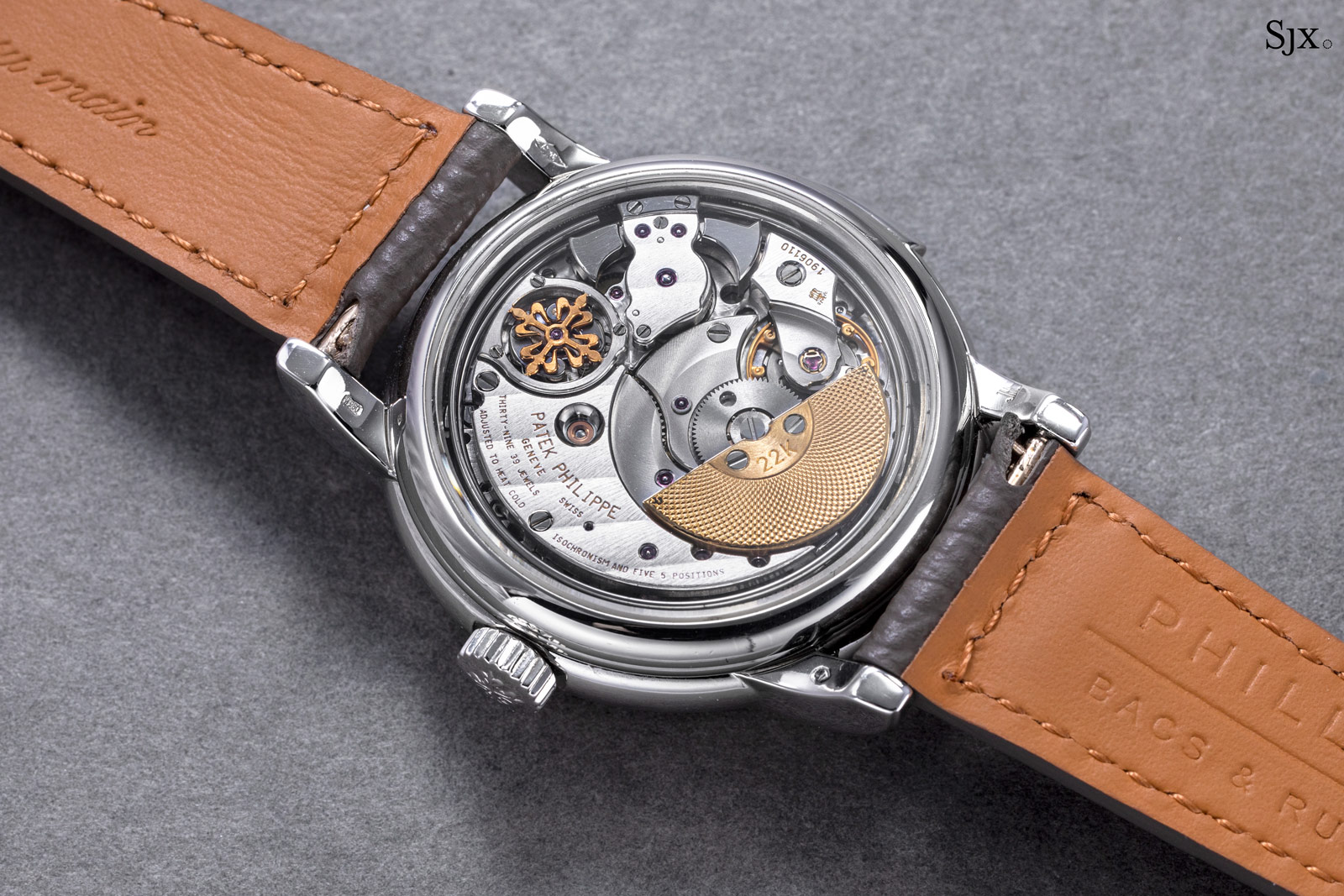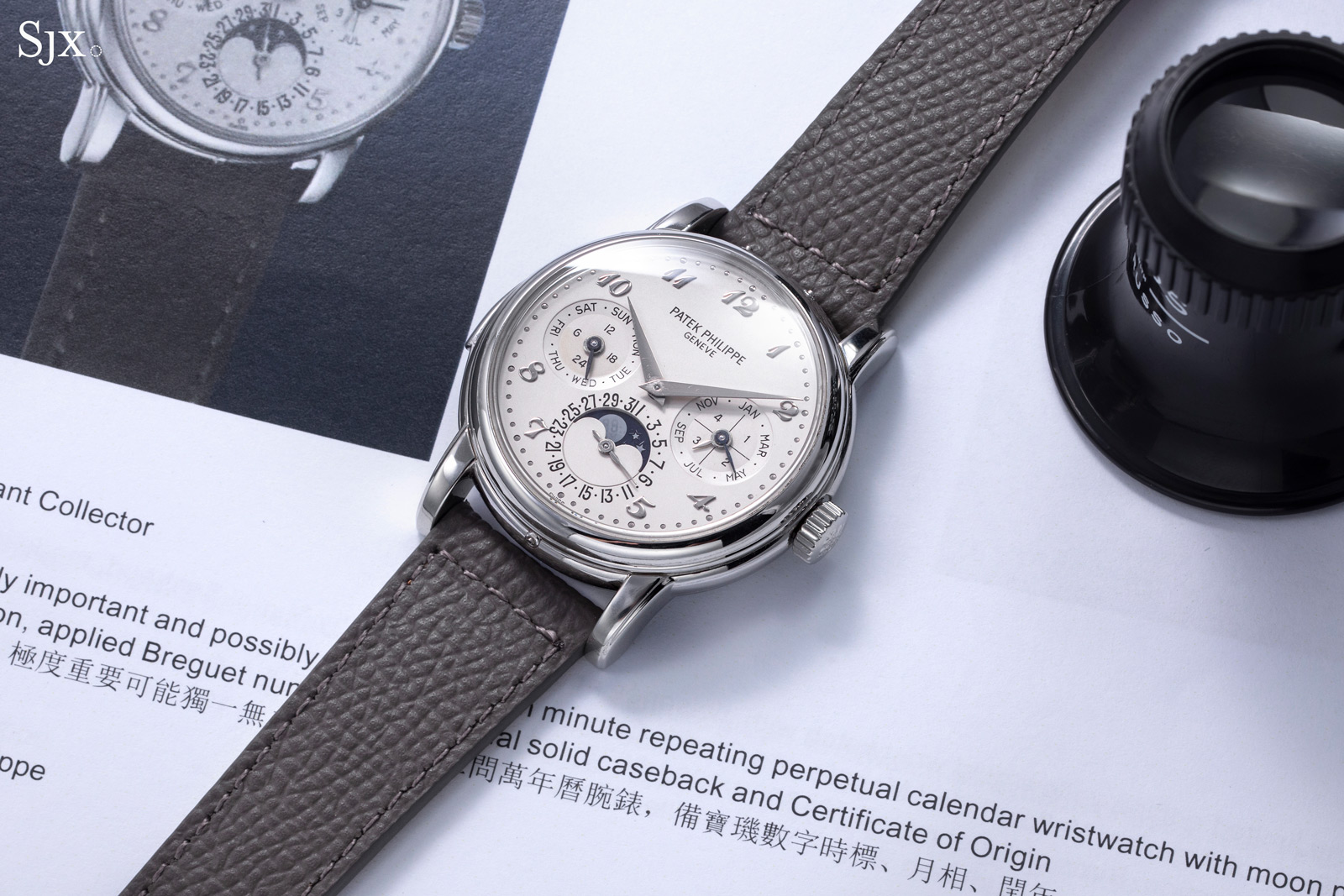 The watch includes the Certificate of Origin, leather folio with literature, and an additional solid back. Furthermore, it includes an Extract from the Archives, which attests to its production date in 2001 with its present configuration.
The watch does show some wear, including on the hands, so it might benefit from a service. It has an estimate of HK$8.8-17.6 million, or about US$1.13-2.26 million.
Full lot details here.
---
Patek Philippe's inaugural venture into serial production of a split-second perpetual calendar wristwatch, the ref. 5004 was manufactured from 1996 to 2012, with platinum being the least common of variants.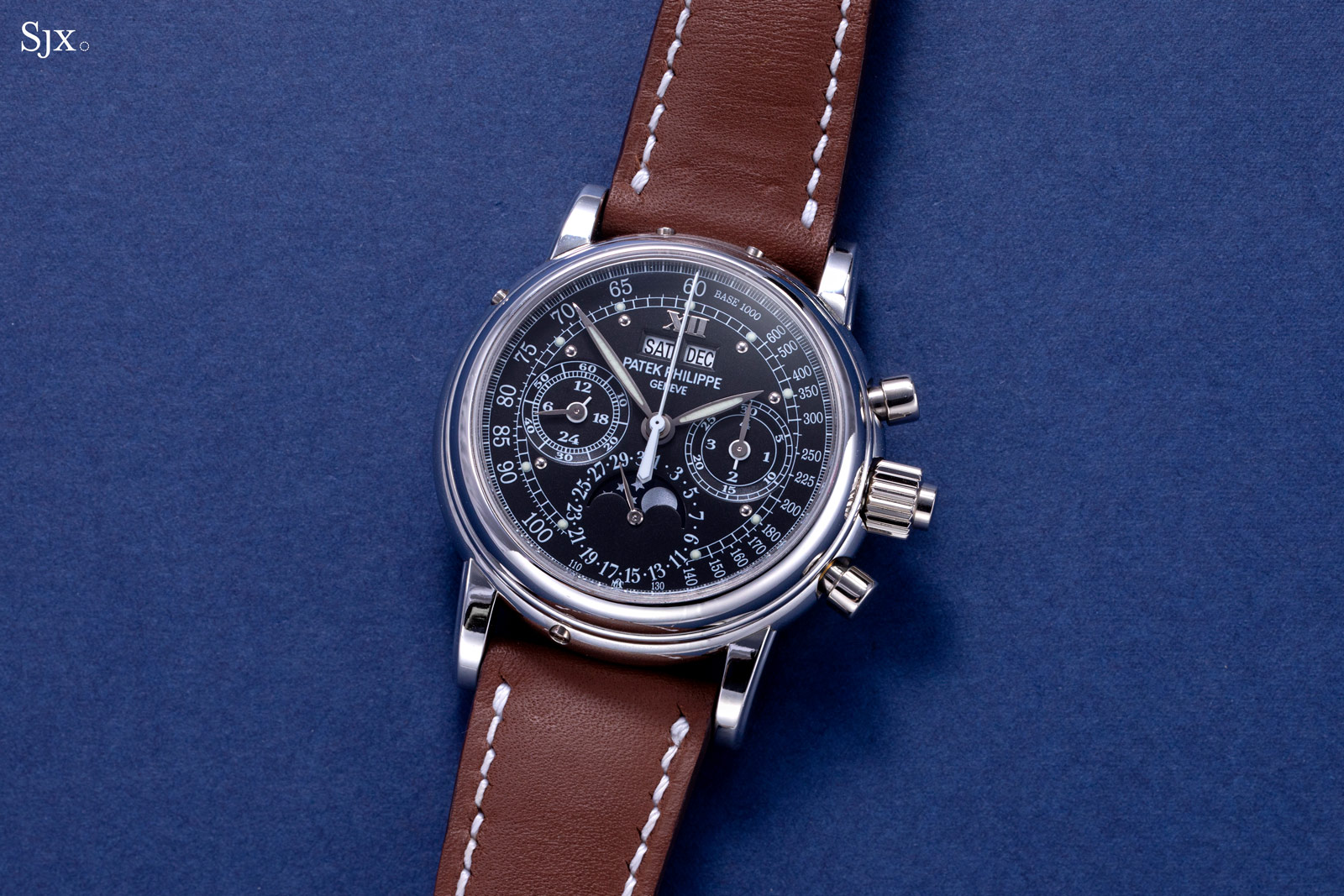 The present example is a special order with a dial featuring a tachymeter on its periphery and spherical hour markers save for a Roman "XII".
This design is found on a few number specially commissioned examples of the refs. 3970, 5004, and 5970, including several made for musician Eric Clapton, reputedly the first to commission such a dial.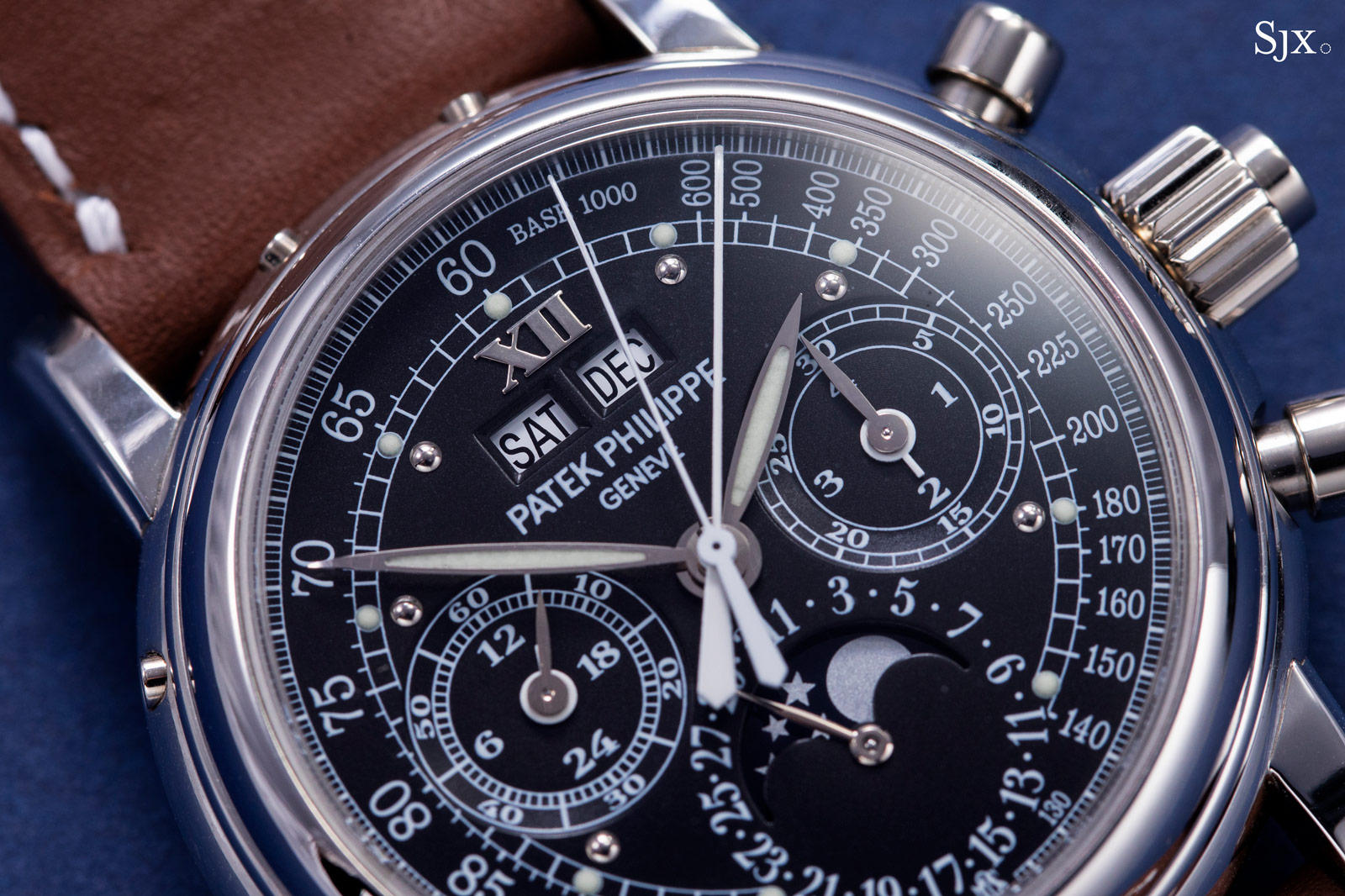 This example, however, also has Super-Luminova on the hands and dial, along with the "MSO" monogram at six o'clock that reveals the identity of the original owner.
"MSO" is short for Michael Steven Ovitz the talent agent who was one of the most influential figures in Hollywood throughout the 1980s and early 1990s. Now better known as a contemporary art collector, Mr Ovitz commissioned a large number of special-order Patek Philippe watches in the late 2000s, most of which have appeared at auction, like this example.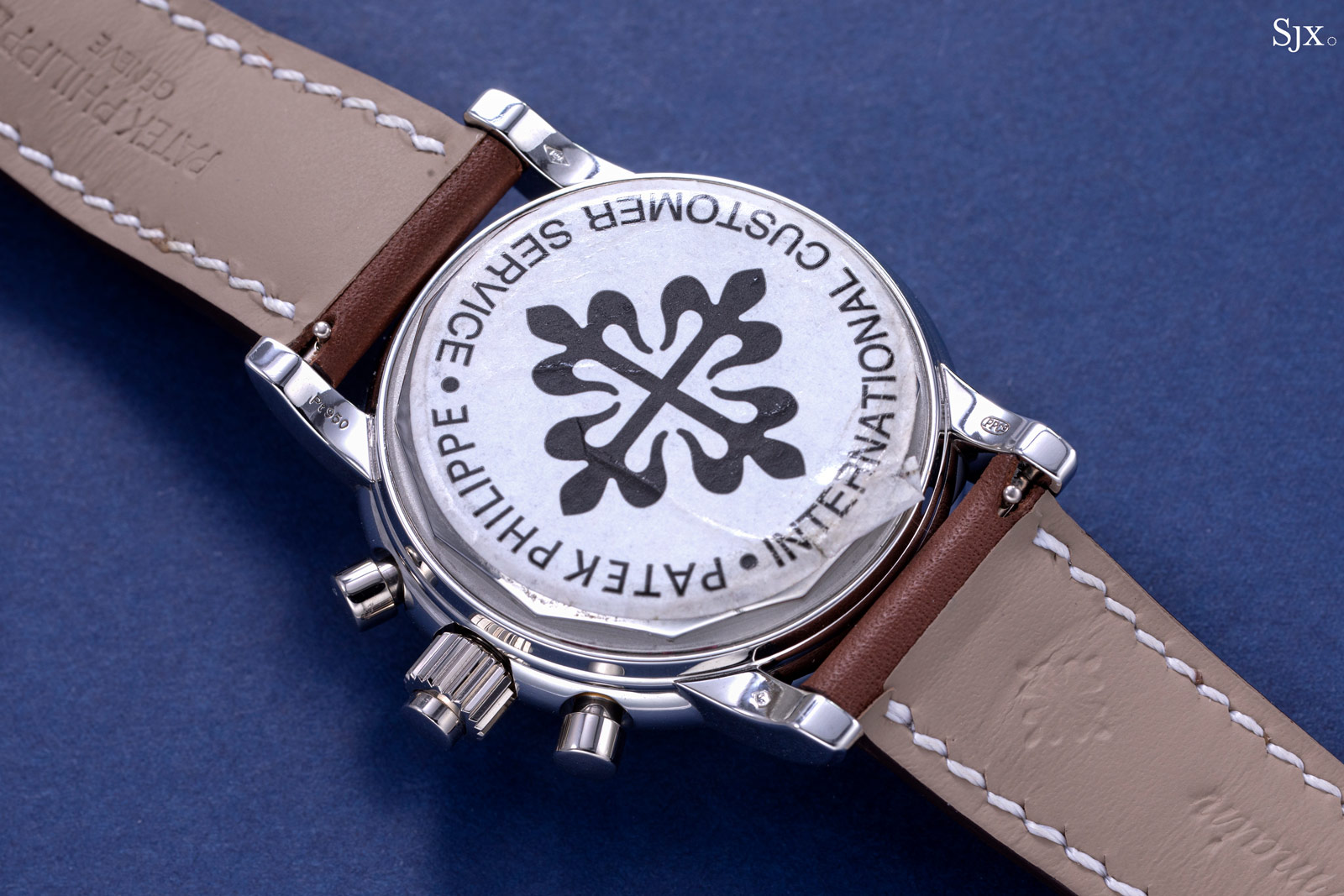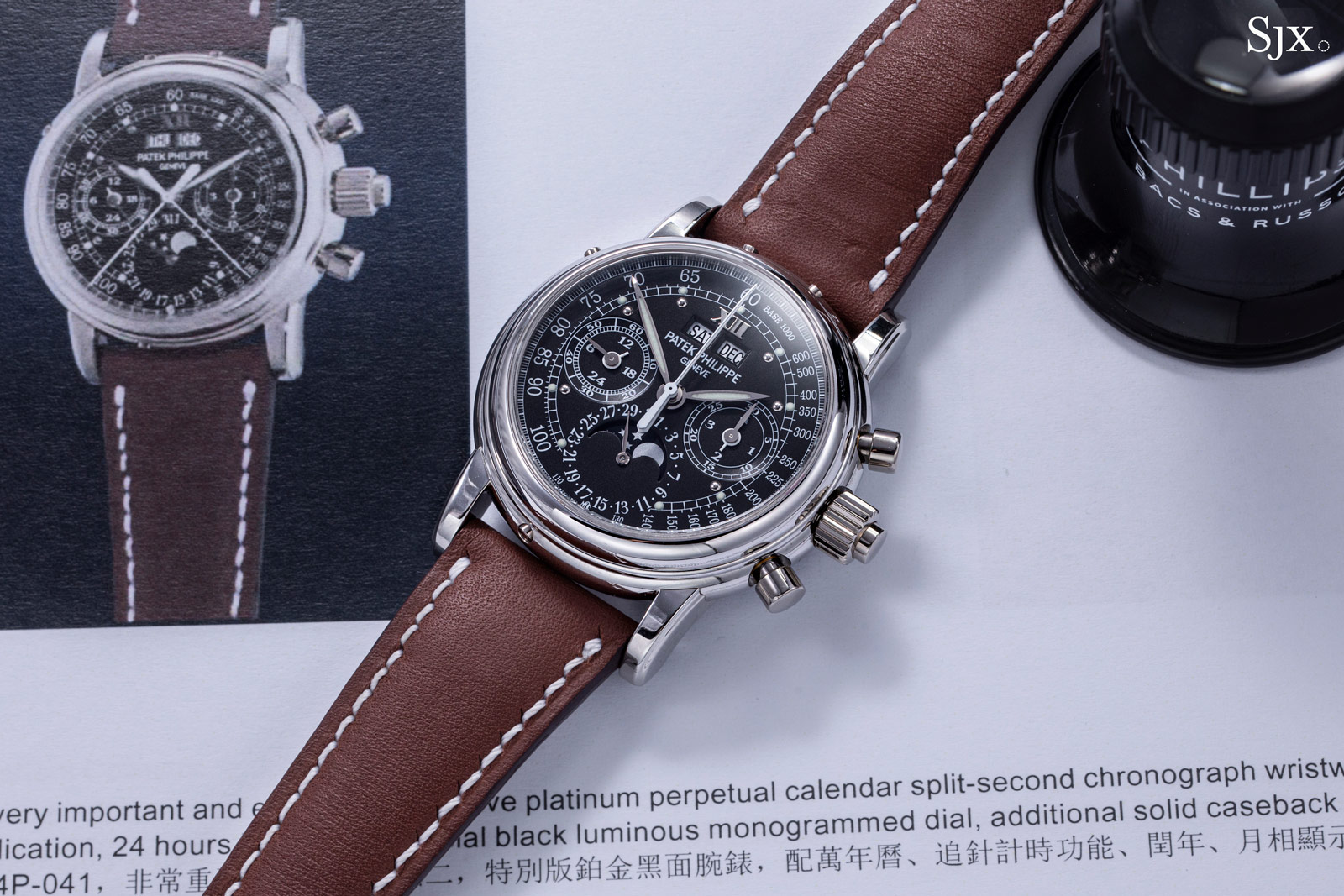 This example is presented with its Certificate of Origin, additional solid case back, hang tag, emerald-tipped setting pin, extract from the archives confirming production in 2008 of the present watch with a black dial bearing one applied Roman numeral, tachymeter scale and Super-Luminova. It has an estimate of HK$2.6-5.2 million, or about US$333,000-667,000.
Full lot details here.
---
The ref. 6062 is one of the most desirable Rolex watches and also amongst the most complicated with a full calendar and moon phase.
The ref. 6062 is distinguished by its dial. Various dials were available during its production run, but the most iconic are those with star-shaped hour markers, hence the "Stelline" nickname, Italian for "little stars".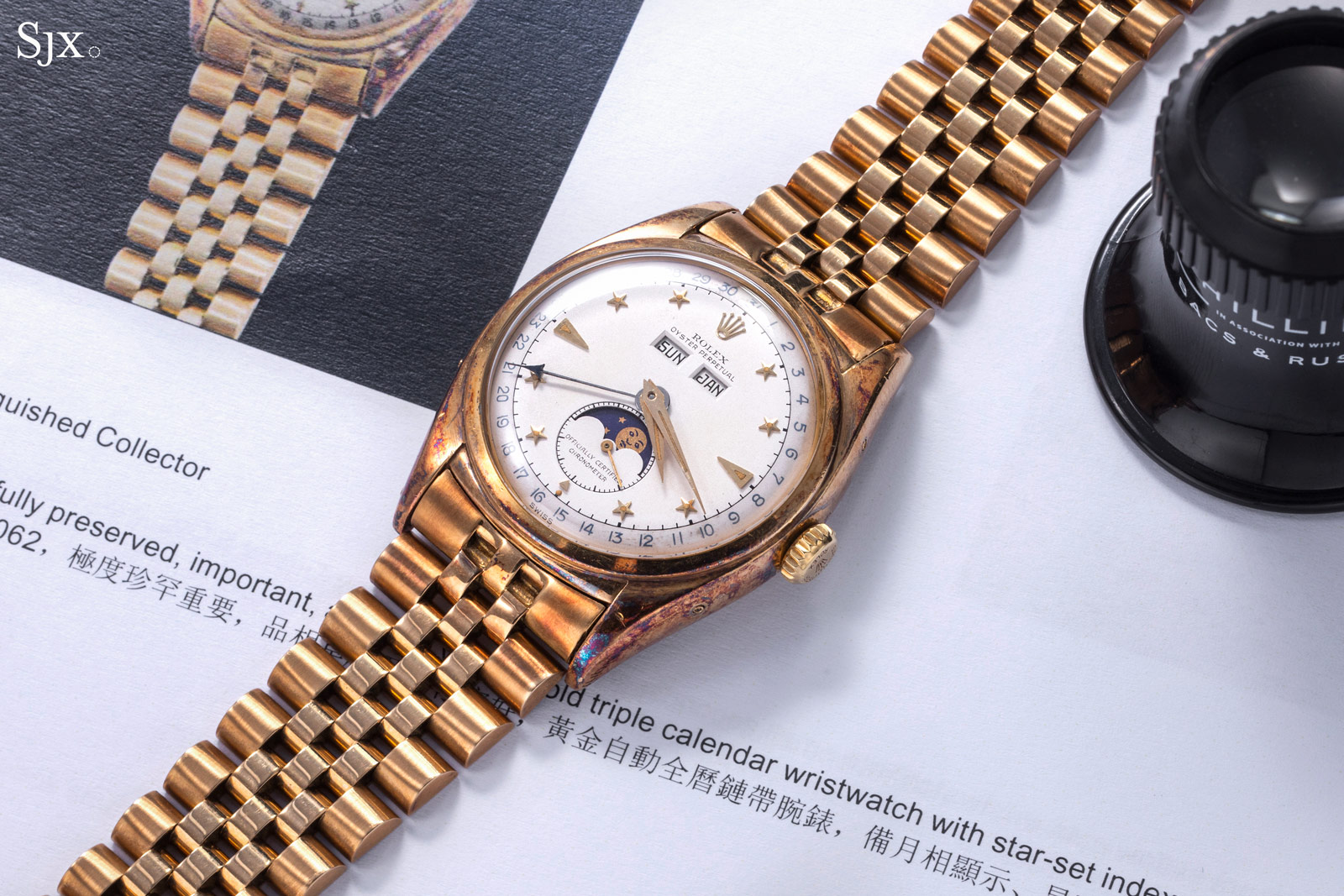 The current ref. 6062 is in sterling condition, showing wear but retaining most of its factory finishes. It has a well preserved case showing sharp edges, strong fluting on the case back, and a deep hallmark.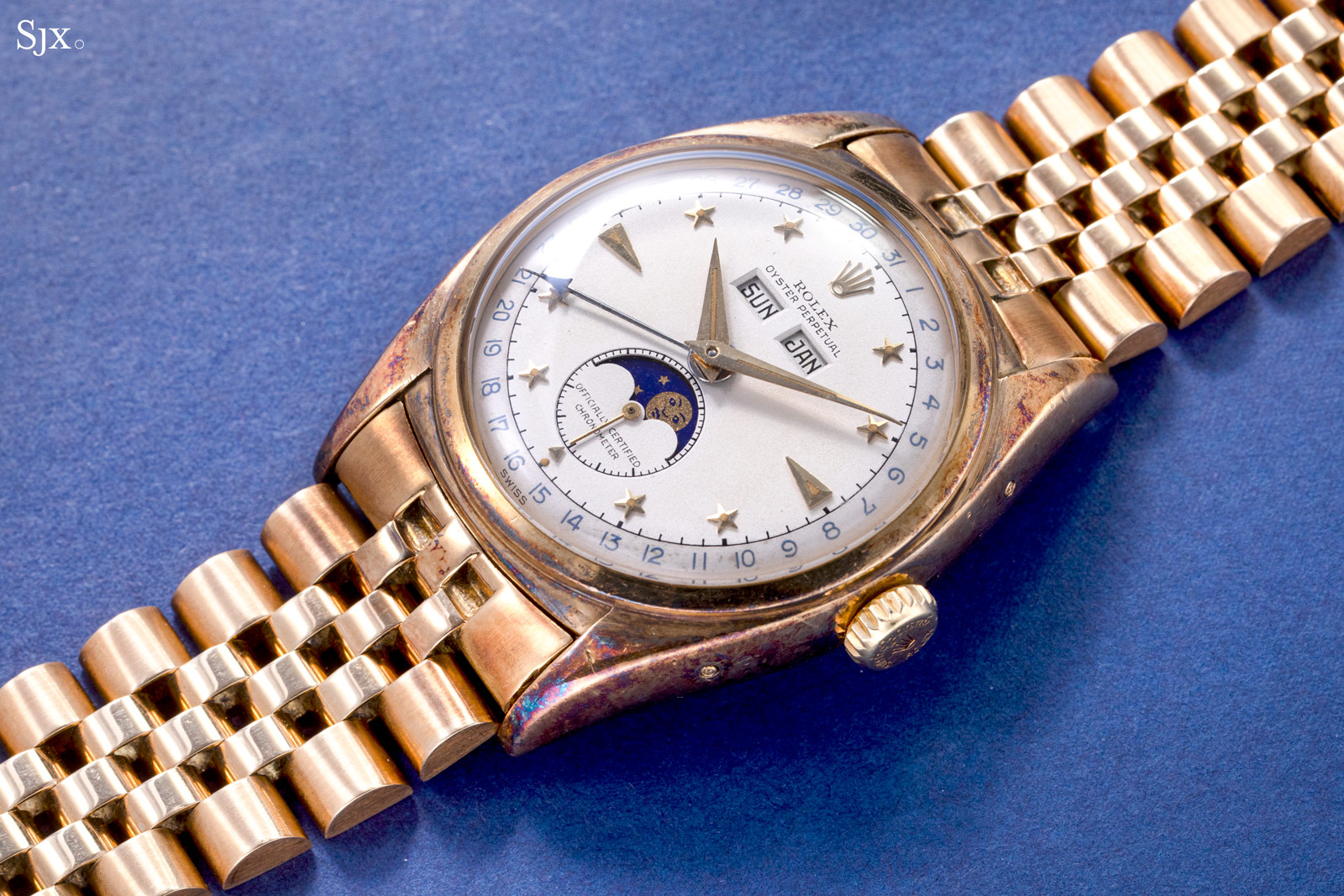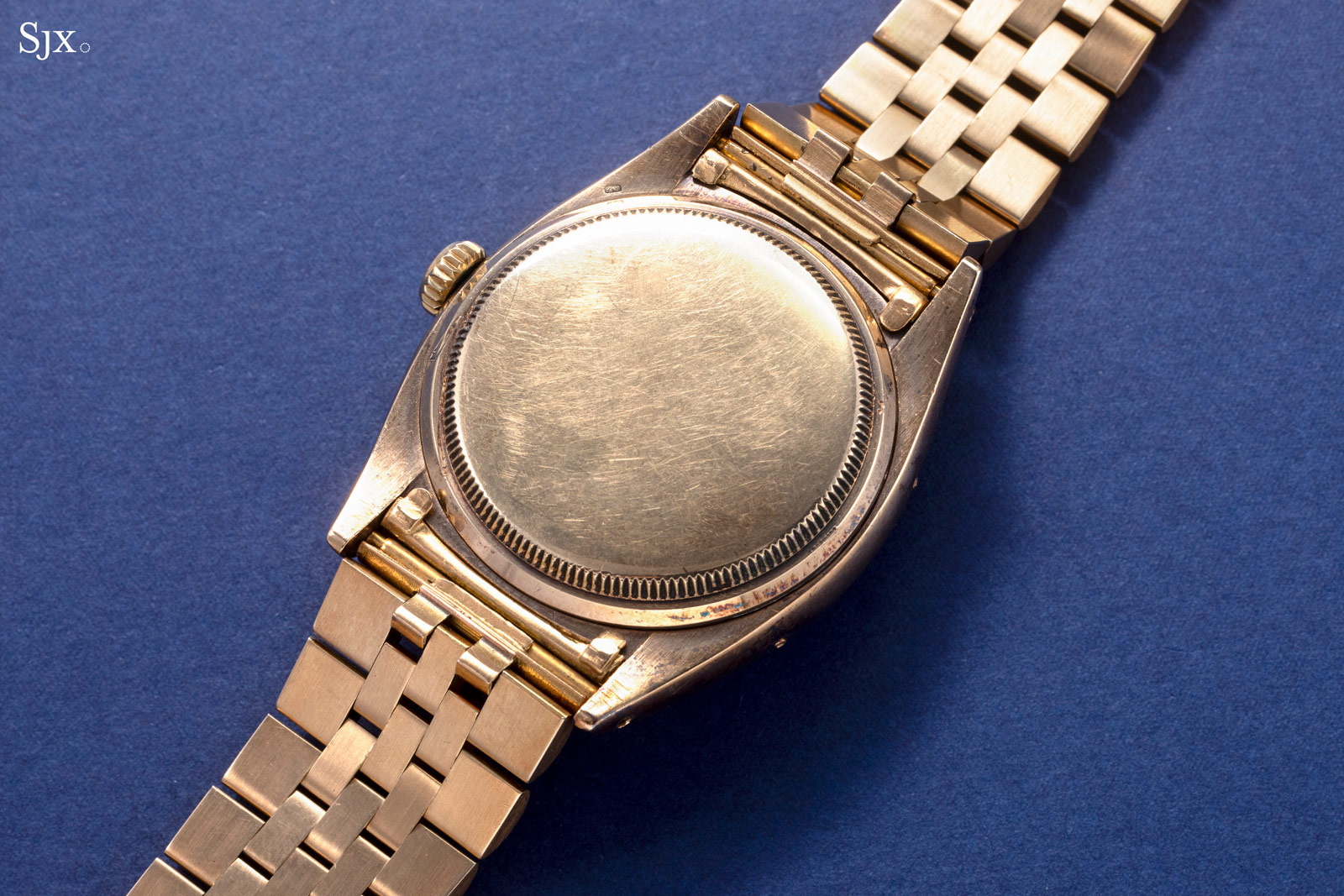 The dial is equally well preserved with sharp edges on the calendar windows and retaining its two-tone finish.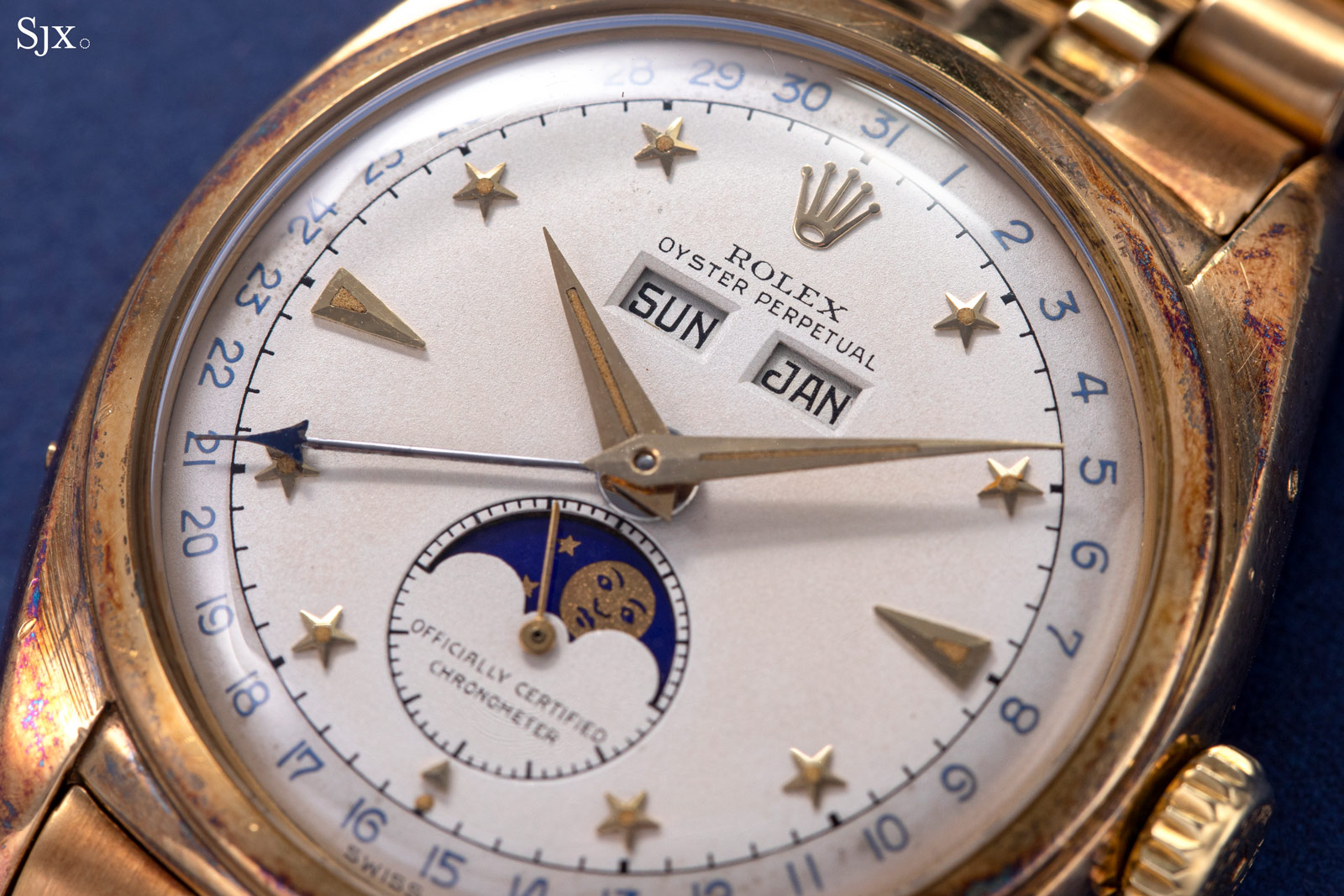 Even the Jubilee bracelet that accompanies the watch is in good shape, despite such bracelets typically showing substantial stretch over time.
The present ref. 6062 was last sold at Phillips' Rolex Milestones thematic sale in 2016 where it sold for about US$660,000. Now it has an estimate of HK$5.5-11 million, or about US$705,000-1,410,000.
Full lot details here.
---
A handsome watch that is relatively good value as Patek Philippe limited editions go, the ref. 5134P was made in 2004 to mark the 150th anniversary of Gübelin, a Swiss retailer founded in 1854, making it almost as old as Patek Philippe.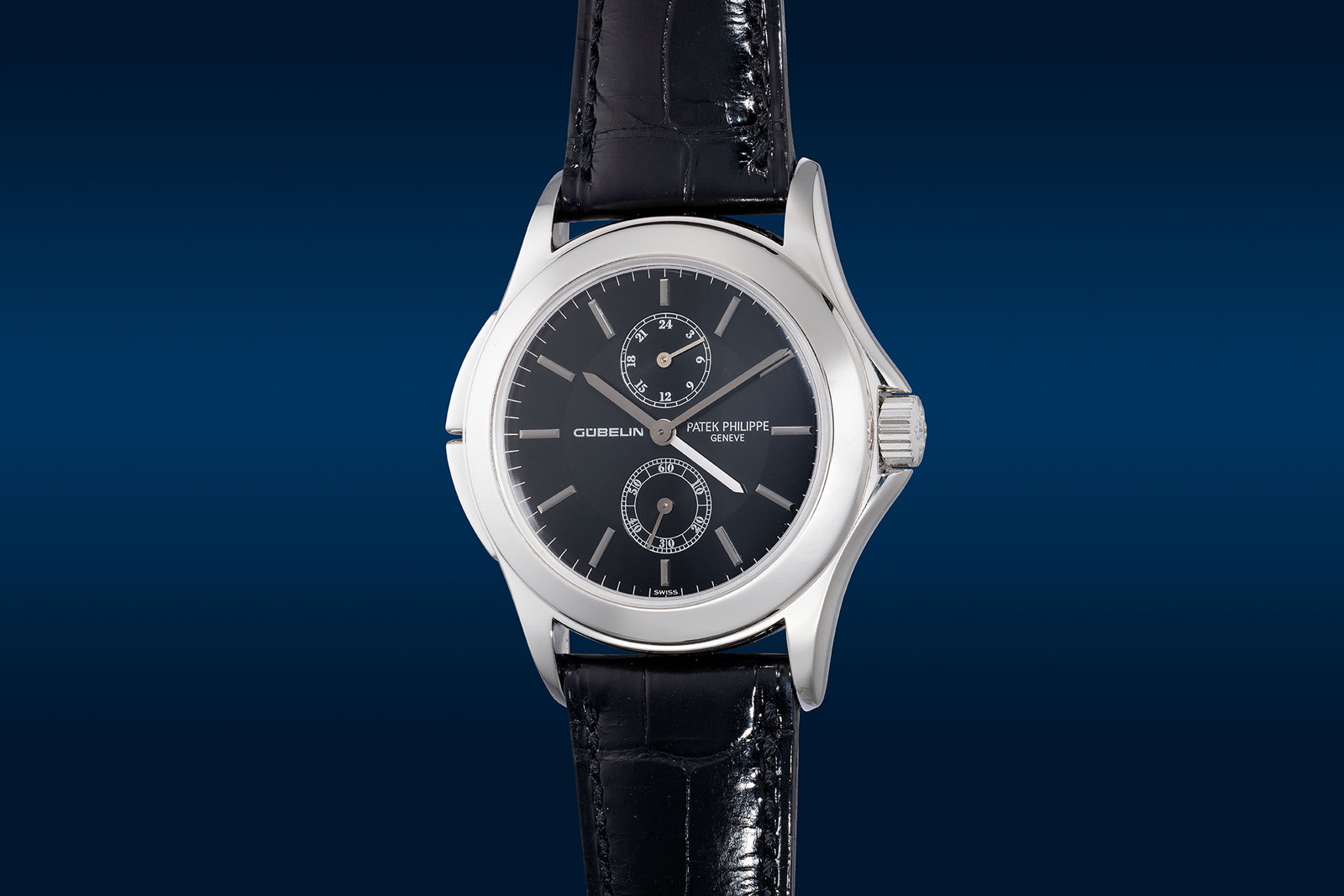 Featuring baton hands and markers, the ref. 5134 features Gübelin's logo on the symmetrical dial. It is more functional in appearance than the regular production ref. 5134 due to the simple baton hands and indices.
The Gübelin edition was made in all four standard precious metals but the 40-piece run in platinum, of which this is one example, is the most striking due to its black dial.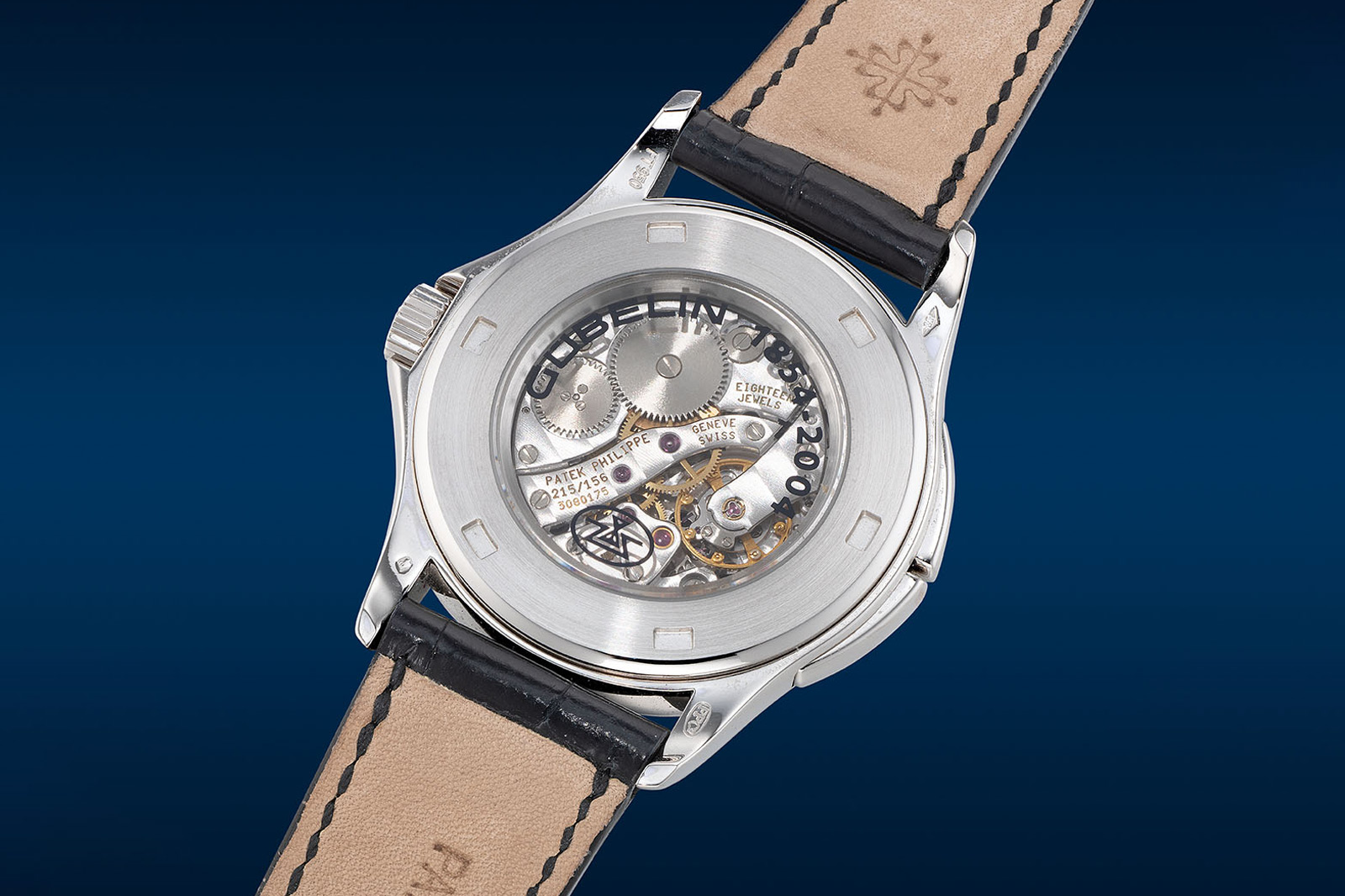 The case back also bears a commemorative printing on its underside, and reveals the cal. 215, a manual wind movement that was once the standard base calibre for the Travel Time complication. The cal. 215 has since been superseded by self-winding movements, making this an uncommon manual-wind dual time watch.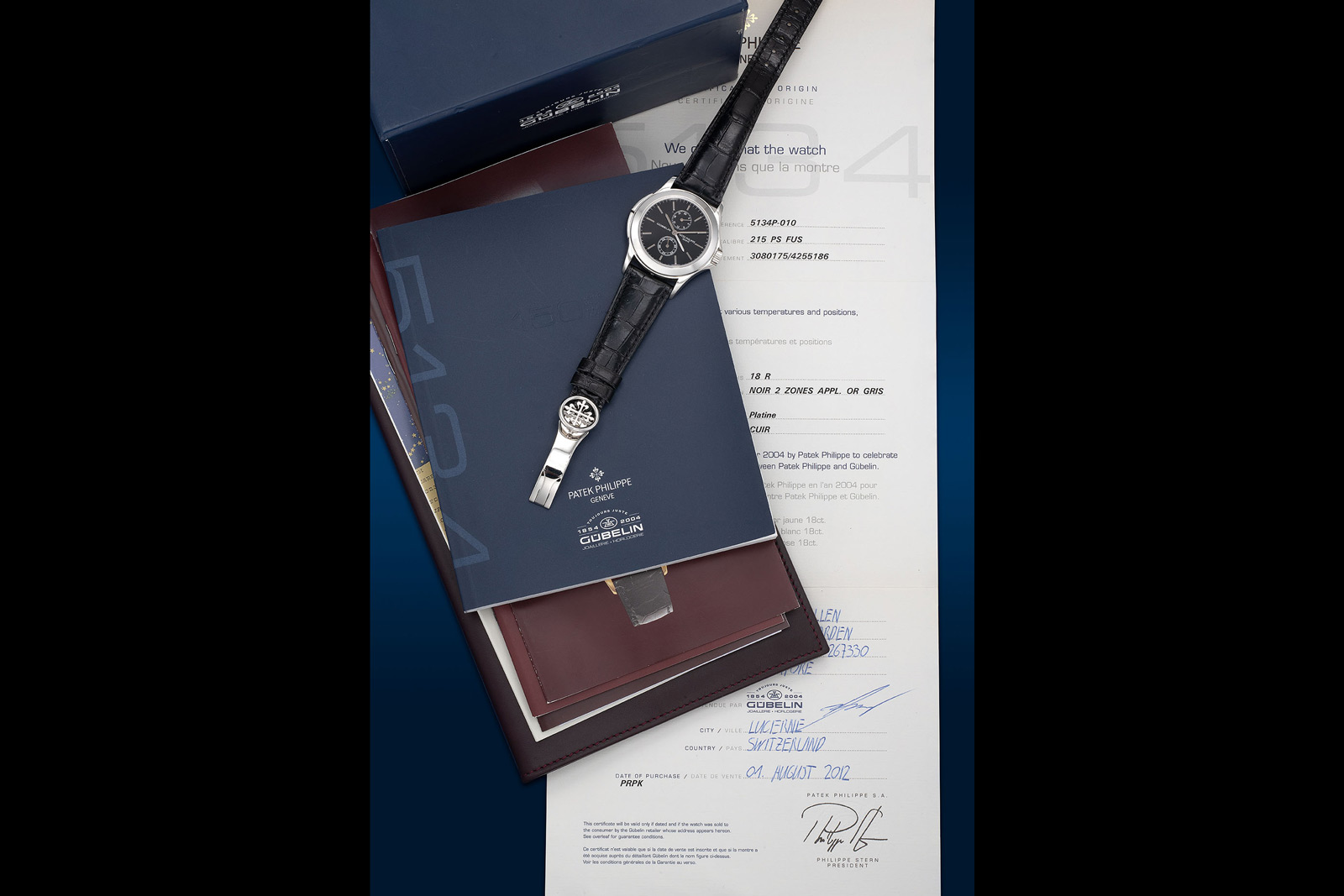 Presented in excellent overall condition and as a complete set, this Travel Time is estimated at HK$240,000-400,000, or about US$30,800-51,300. Full lot details here.
---
One of the most complicated chronographs ever made, the Triple Split was an evolution of the Double Split that was able to record two elapsed times of up to 30 minutes. The Triple Split upped that to twin elapsed times of up to 12 hours in the register at 12 o'clock.
This example is the first variant of the Triple split that was a 100-piece limited edition in white gold with a grey dial and illustrates what Lange does best – impressive and intricate chronograph movements in a traditional style.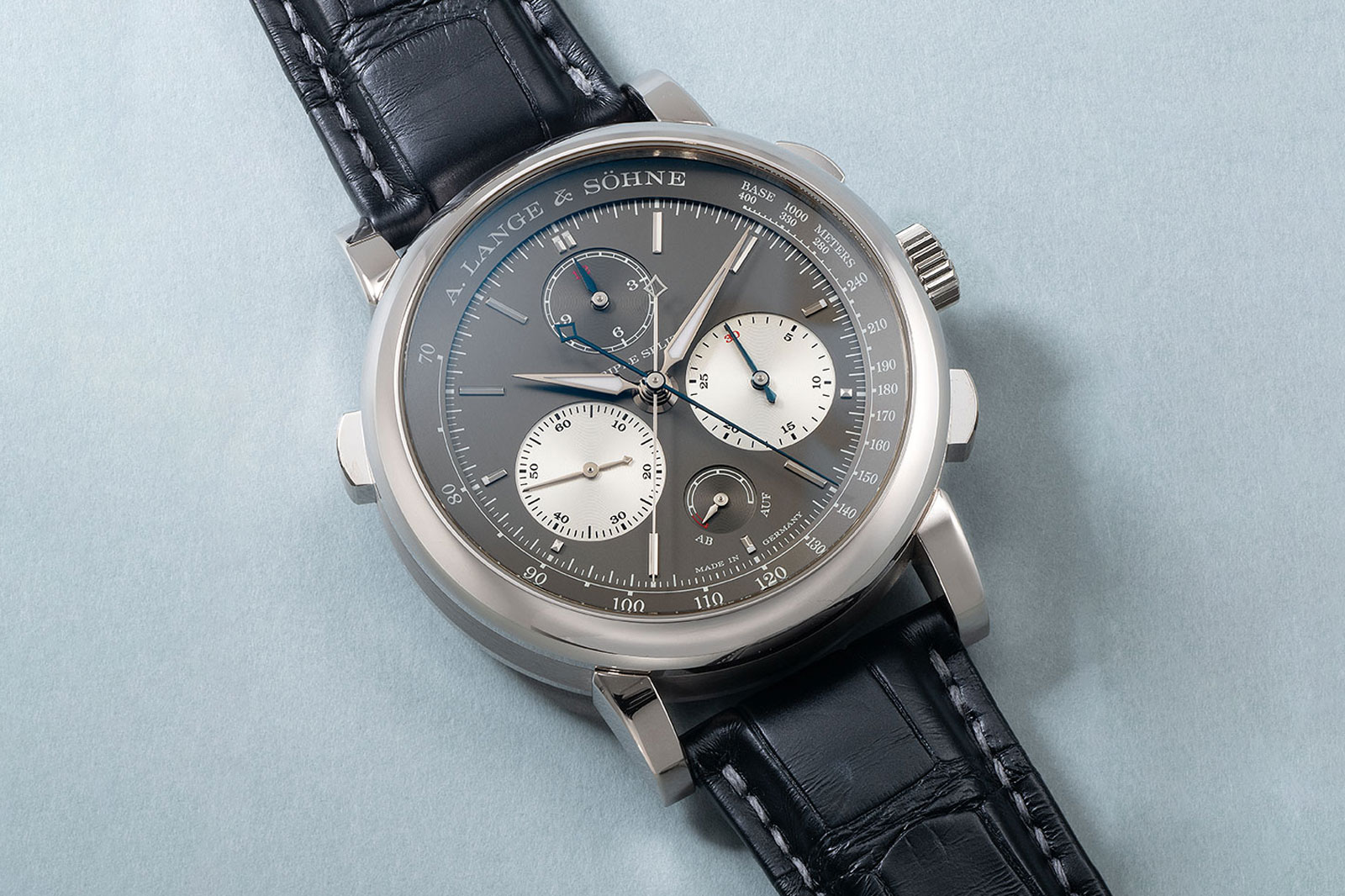 The impressive L132.1 movement inside is derived from the Double Split calibre, but manages to add the 12-hour elapsed time mechanism with barely any increase in height.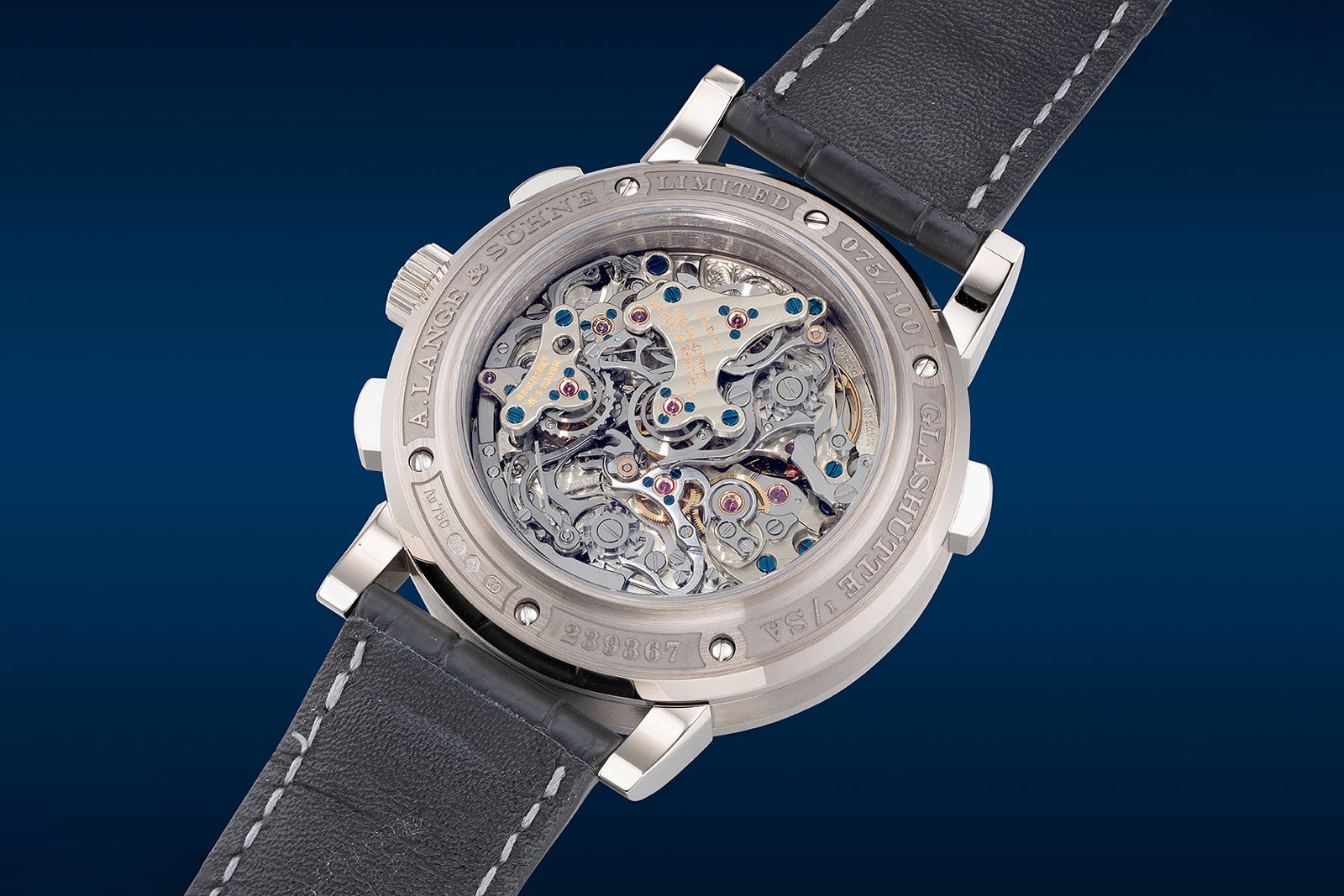 Retaining the same height was imperative, as its predecessor was already a large watch. The Triple Split is 43.2 mm in diameter and some 15 mm high.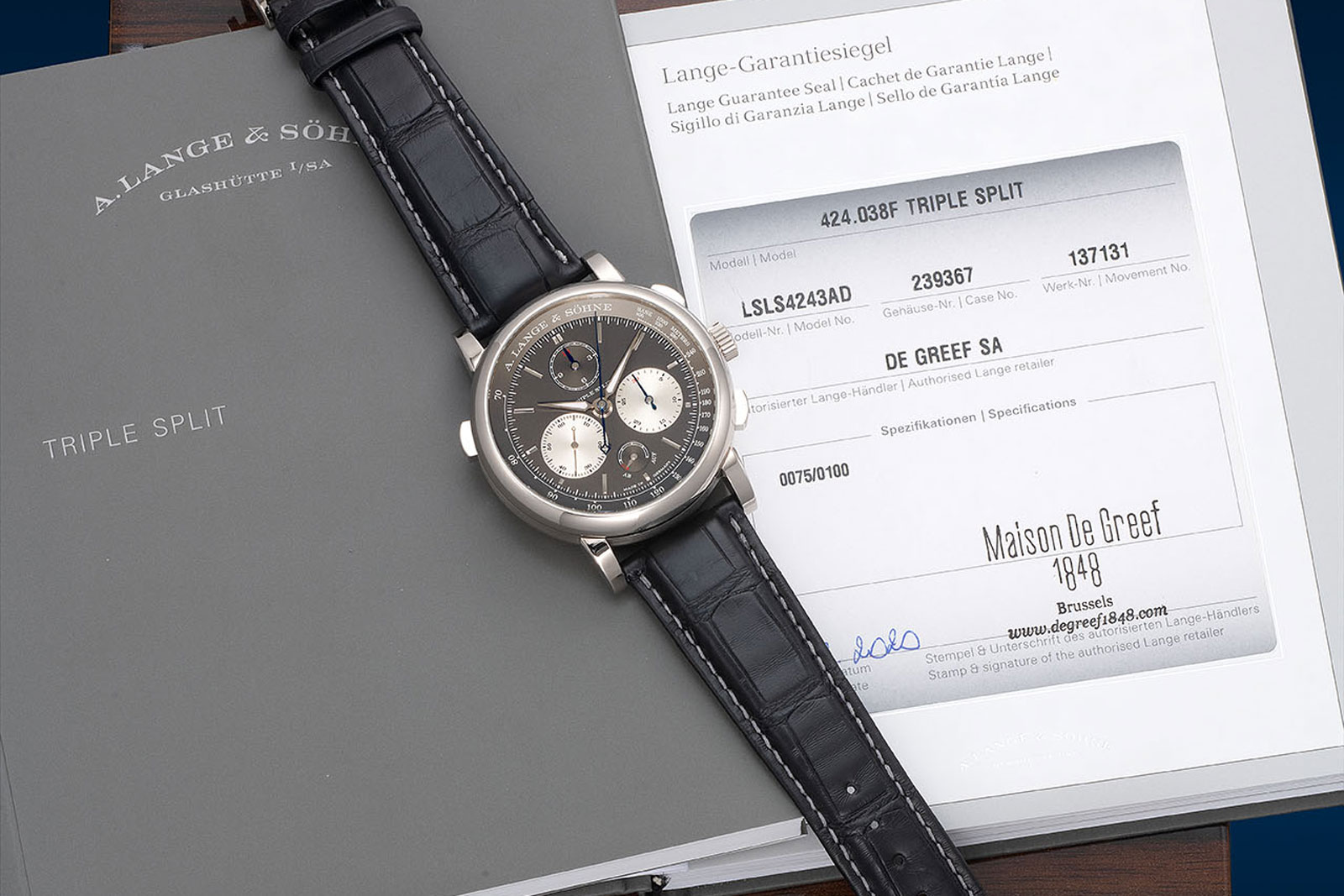 The present example is 75 of 100 made. It is offered as a complete set and carries an estimate of HK$600,000-1.0 million, approximately US$76,900-128,000. Find out more in the catalogue.
---
One of the most complicated recent Vacheron Constantin watches, the ref. 88172 boasts a perpetual calendar, equation of time, as well as sunrise and sunset times – and here an estimate that makes it pretty good value.
Indicated on a scale at 11 o'clock, the equation of time mechanism employs a kidney-shaped cam making one revolution a year that approximates the shape of the Earth's orbit around the Sun. A feeler hand on the edge of the cam allows the watch to show the difference between our conventional 24 hour day and the actual length of a day based on the Earth's motion.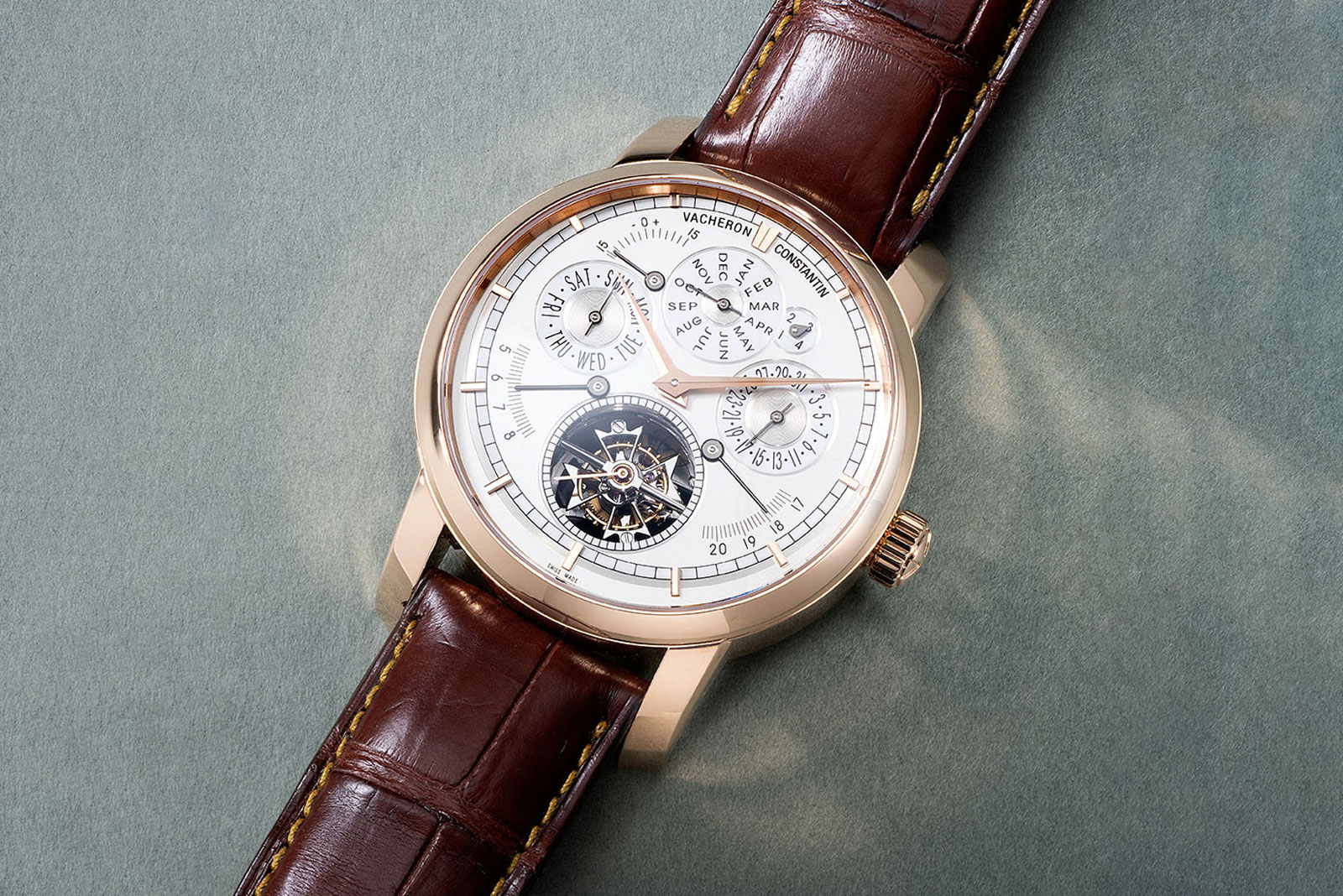 The movement also indicates sunrise and sunset times on a pair of scales at eight and four o'clock respectively, both of which rely on cams designed specifically for a particular geographical location.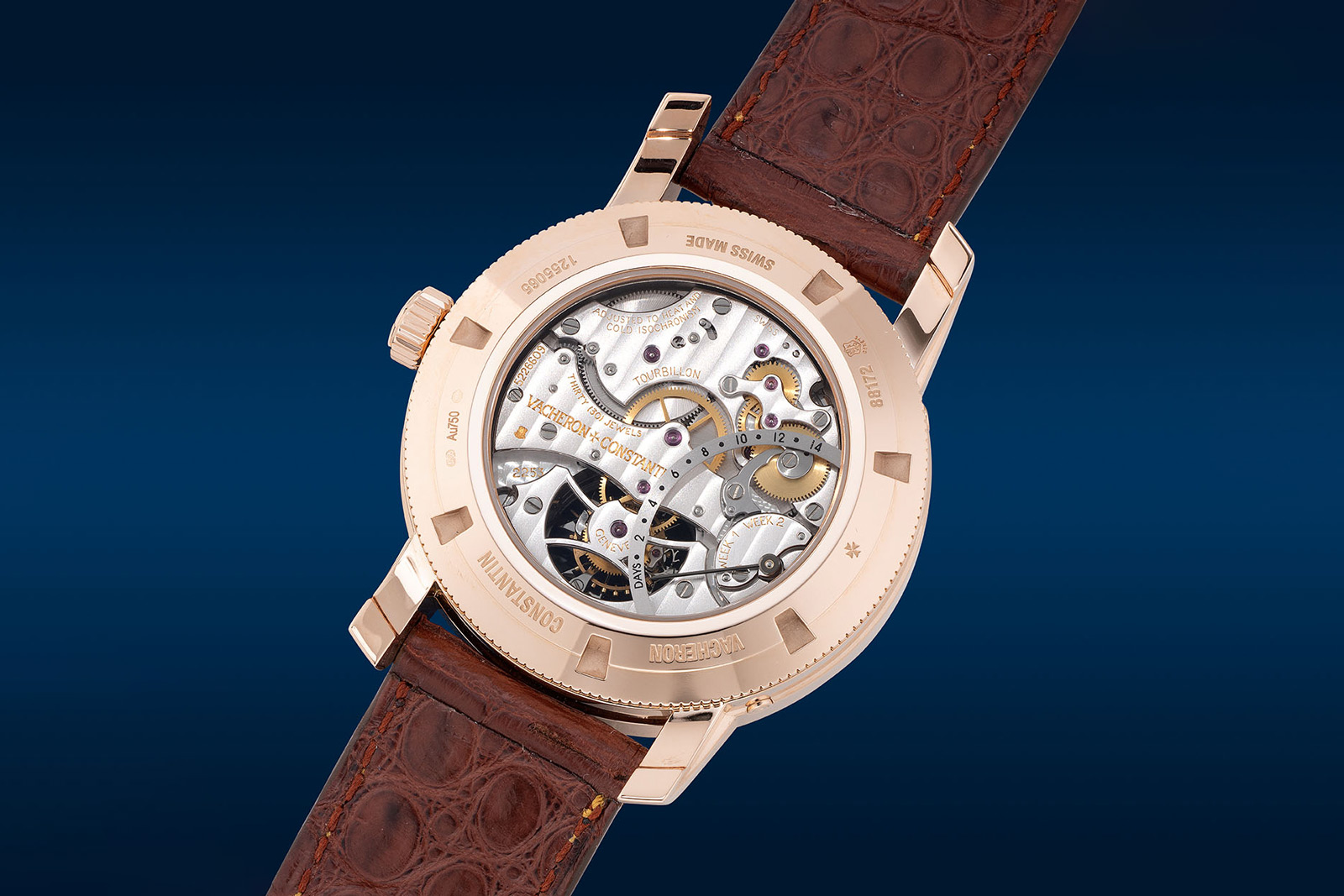 In addition to the perpetual calendar the cal. 2253 boasts a tourbillon and a surprising 14-day power reserve achieved with twin barrels. All of those complications explain the height of the watch, which is substantial.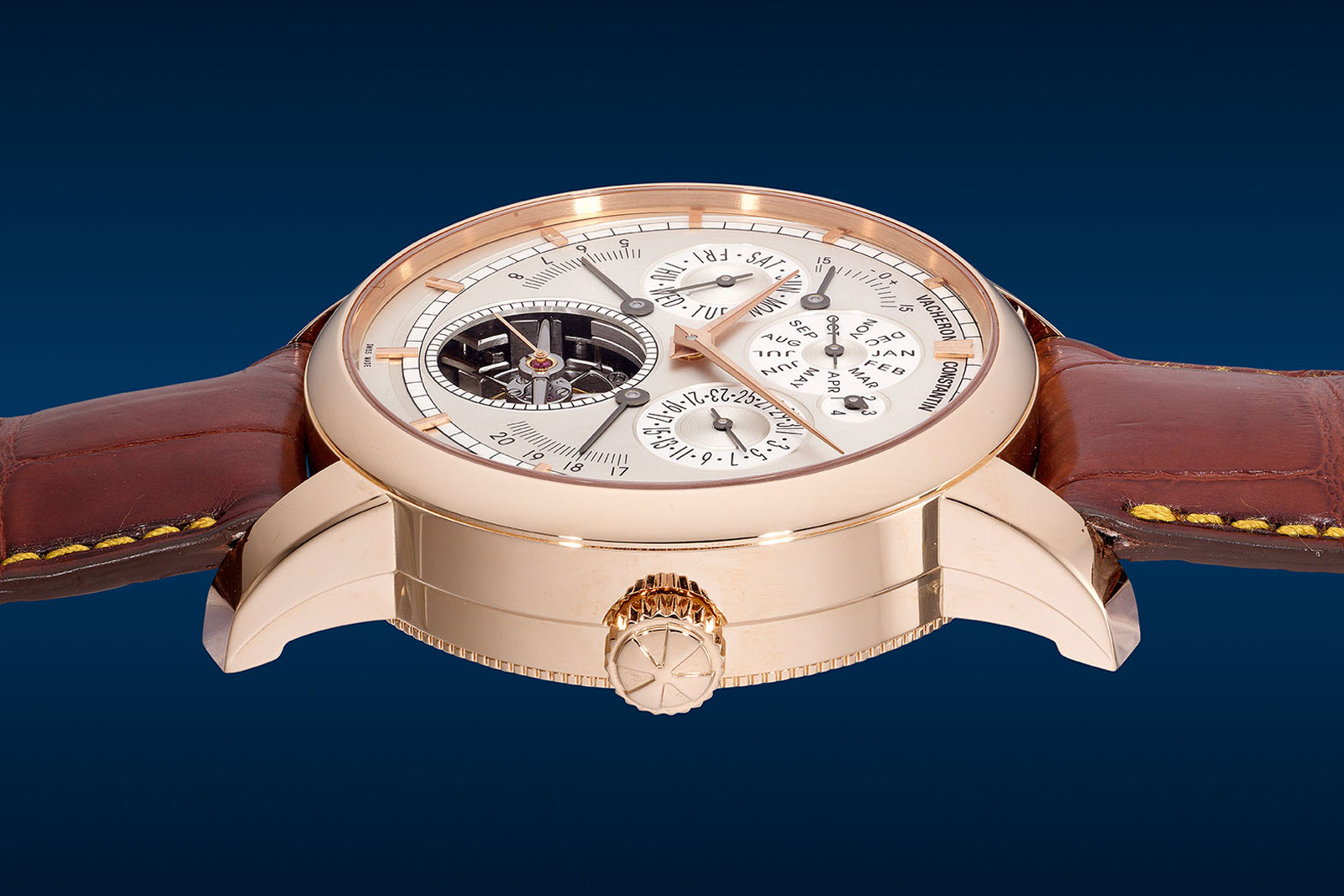 The timepiece is in barely worn condition and is accompanied by an extract from the archives, a presentation box and outer packaging. It has an estimate of HK$800,000-1.6 million, or about US$103,000-205,000, a fraction of the approximately US$500,000 retail. Full lot details here.
---
Before the Code 11.59, the Jules Audemars was Audemars Piguet's round offering. Amongst the most complicated in the line was the Jules Audemars Minute Repeater Perpetual Calendar launched in 1997.
Very few of this model were made, just 17 in total according to Phillips, with 11 in white gold, like this example. This model is notable for being larger than most watches at the time, with a case that is 39 mm in diameter.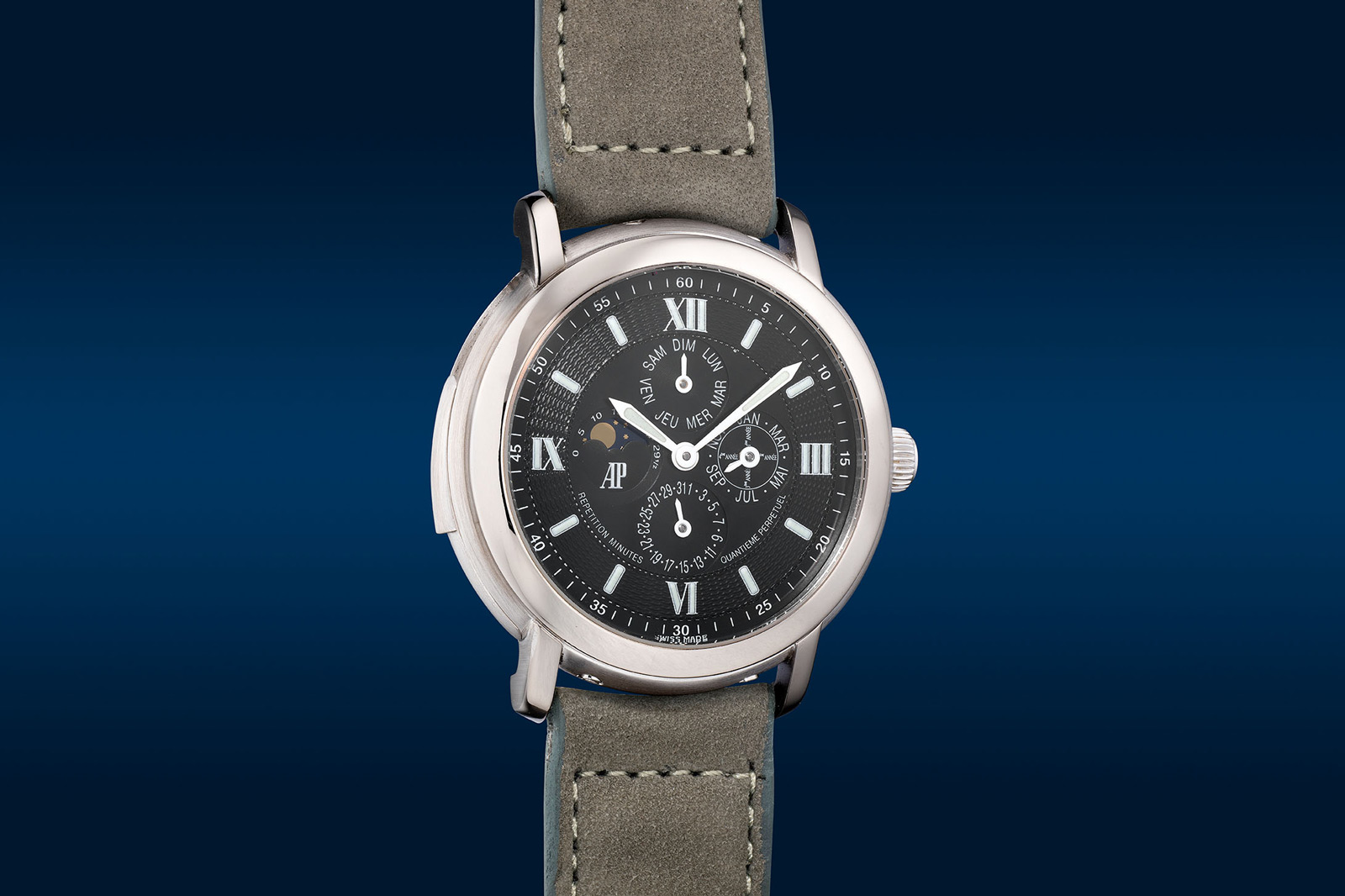 Inside is the manual-wind cal. 2866Q that is small relative to the case diameter. However, the dial retains an attractive layout due to the oversized and luminous hour markers that fill up the wide, engine-turned chapter ring. The black-and-white dial evokes vintage military watches despite the classical elements of the dial.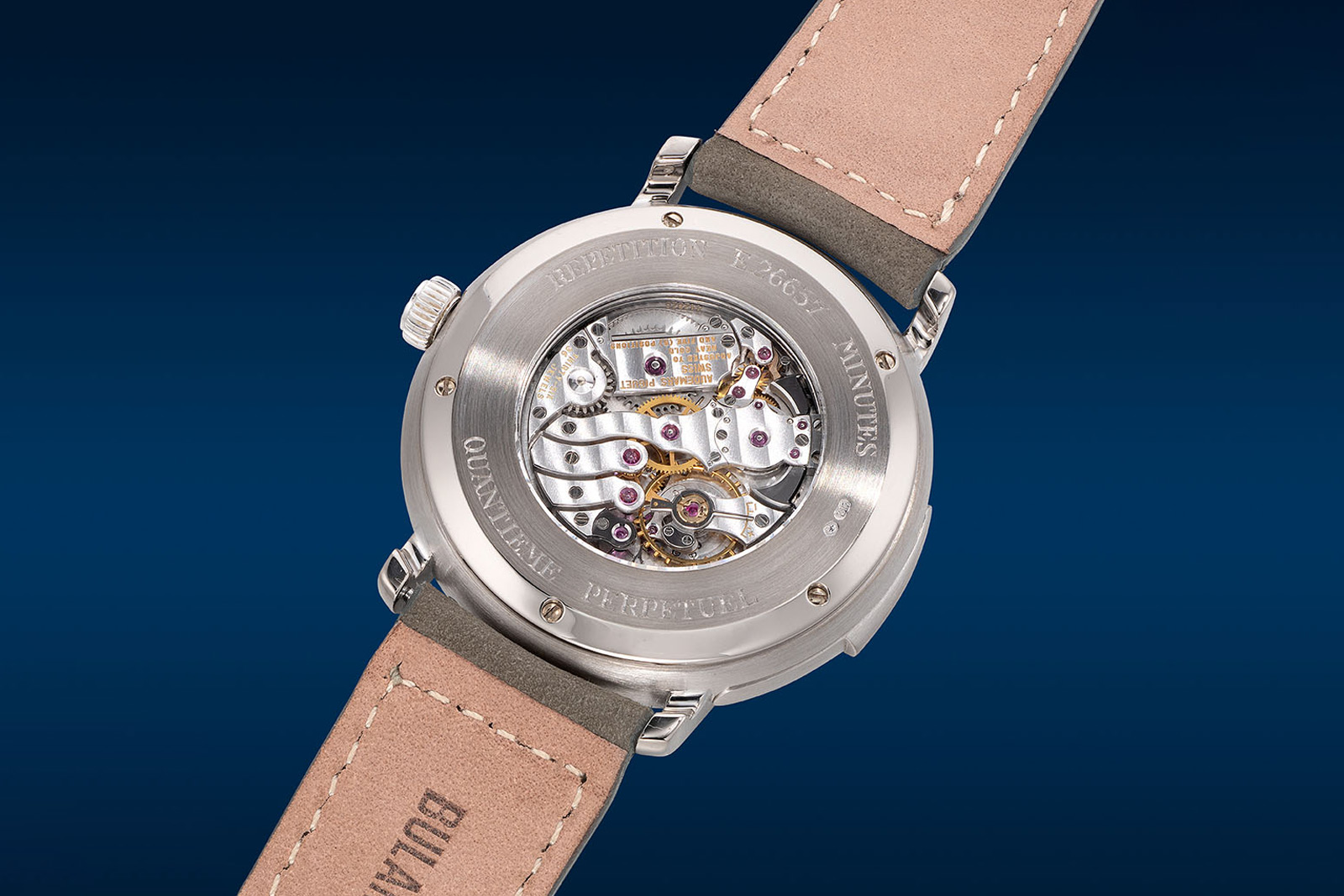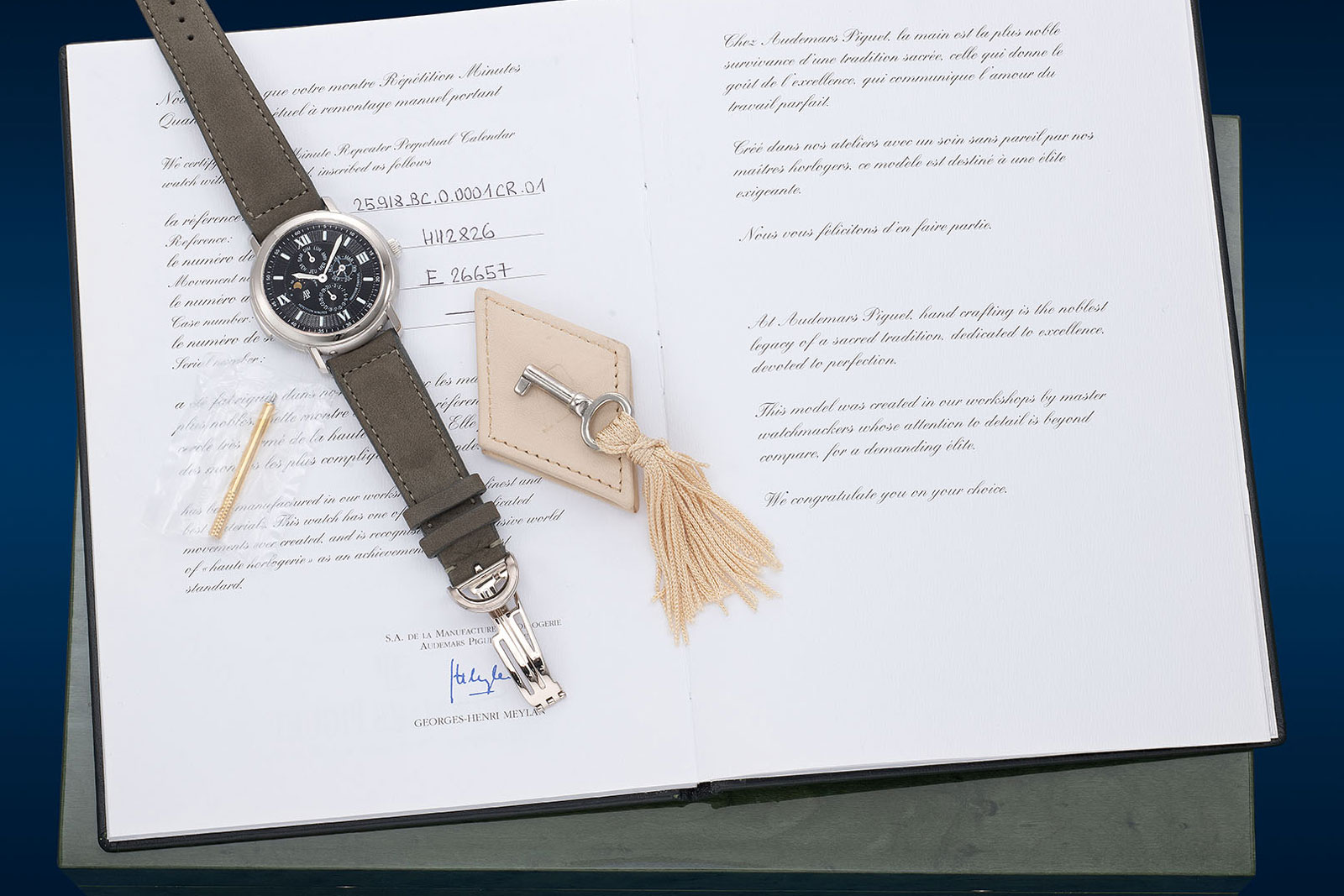 The present lot is offered in good overall condition and as a complete set. Like many highly complicated Audemars Piguet watches of this period, this has a value-buy estimate of HK$320,000-650,000, or about US$41,000-83,300.
Full lot details here.
---
Preview and auction details
All lots will be on show during the preview exhibition in the run-up to the auction. Both the auction and preview will take place at Phillips Hong Kong in the West Kowloon Cultural District.
Preview
Open daily November 18-25 from 10:00 am-7:00 pm
Auction
November 24, 2:00 pm (lots 801-903)
November 25, 11:00 am (lots 904-1011)
All times are local to Hong Kong, GMT+8.
Phillips
G/F WKCDA Tower
Cultural District
8 Austin Road W
Kowloon
Hong Kong
For the whole catalogue, viewing appointments and online bidding, visit Phillips.com.
---
This was brought to you in collaboration with Phillips.
Back to top.
---
You may also enjoy these.