Three Vintage Watches Worth Knowing About at Phillips Hong Kong
A "JPS", Tank Cintree, and the platinum ref. 3448 set with sapphires.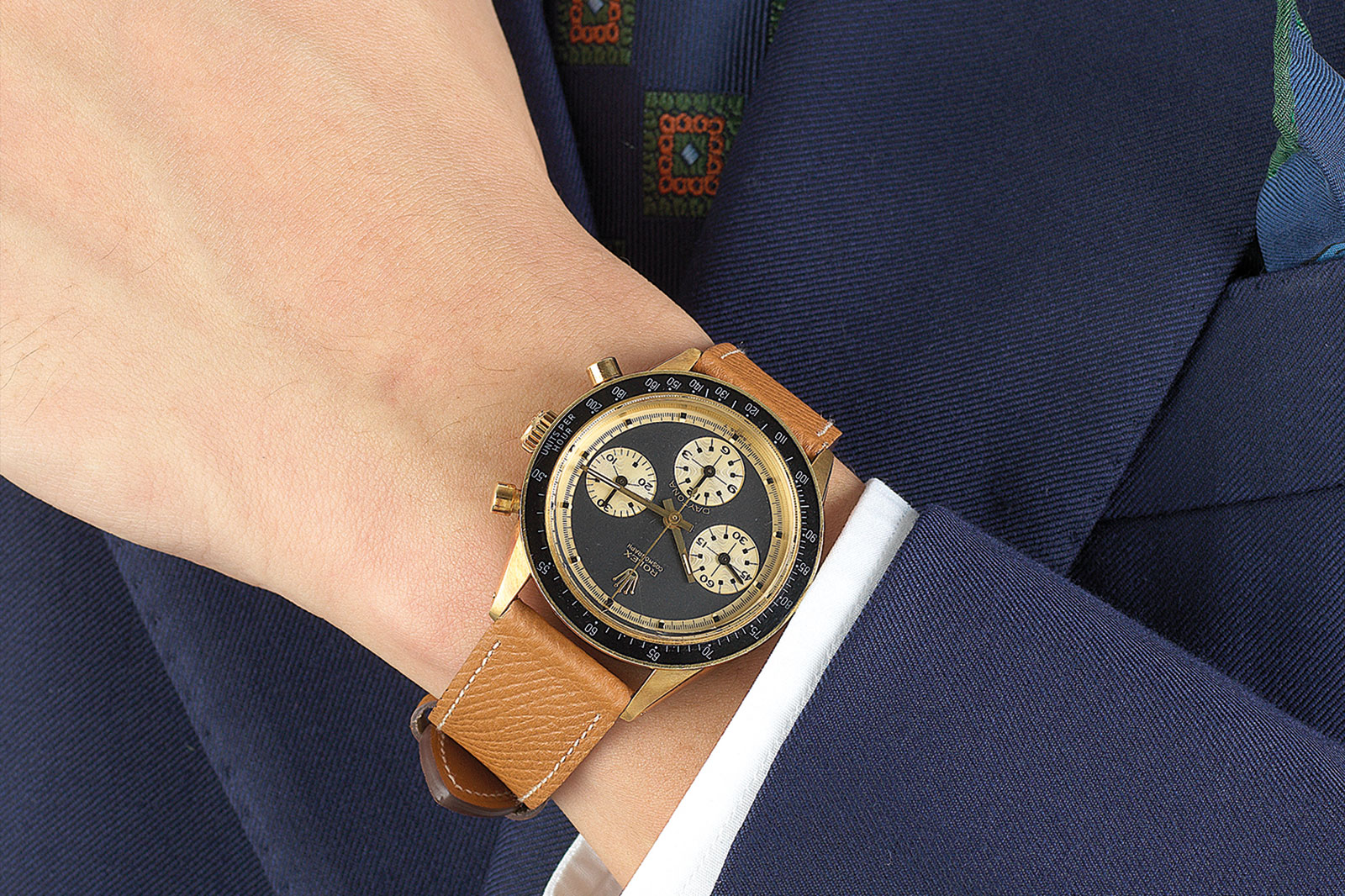 Independent watchmaking may be the flavour du jour at auctions now, but there are still vintage watches worth paying attention to. Phillips' upcoming Hong Kong sale includes three of them, including an impressively crisp Rolex Daytona "John Player Special" (above) as well as the unique Patek Philippe ref. 3448 in platinum with sapphire hour markers – both of which will be million-dollar watches in US dollar terms (or ten-million dollars in Hong Kong currency).
The last watch of the trio, a 1930s Tank Cintree in white gold, is the most elegant. And its seemingly new condition merits reflection: what is a skilfully and sympathetically restored watch worth?
The Hong Kong Watch Auction: XIII takes place on November 25 (for lots 801-852) and November 26 (lots 853-1106). The full catalogue and registration for bidding are available on Phillips.com.
---
With the market for vintage sports watches having plateaued since it peaked in 2018 and 2019, prices have mostly softened across the board. That said, a handful of models still achieve impressive prices, most notably the Rolex Daytona "John Player Special", or "JPS" for short. That's because the solid-gold, manual-wind Daytona is an intrinsically rare watch – it is estimated that a few hundred exist as opposed to thousands in steel – and even less common with the "JPS" dial.
Perhaps the most striking version of the "Paul Newman" Daytona, the "JPS" nickname comes from the black and gold livery of the Team Lotus Formula 1 cars of the 1970s and 1980s, when the team was sponsored by the tobacco company of the same name.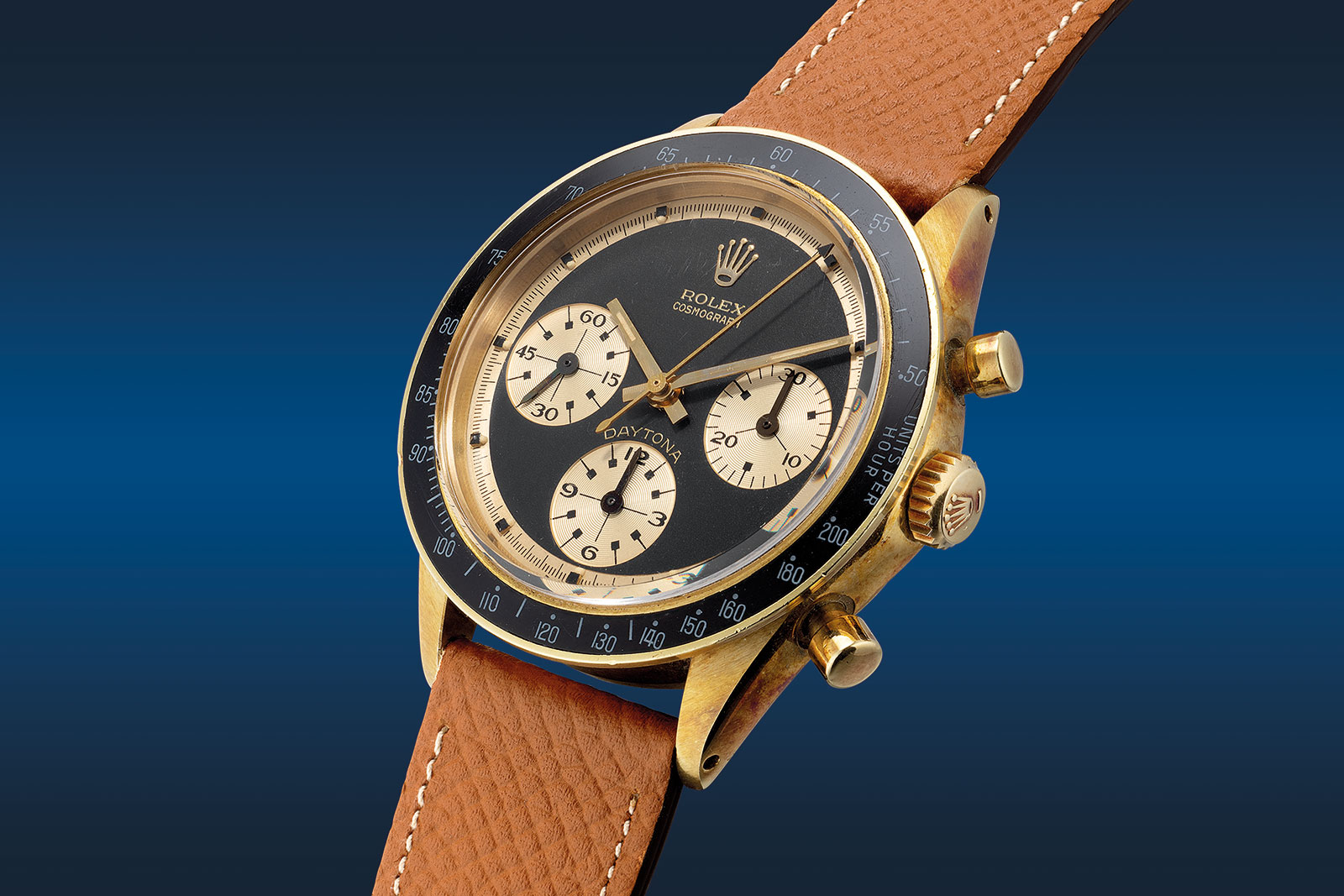 A watch so coveted even Francois-Paul Journe himself owns one (I watched as he won an example at auction in Geneva), the "JPS" has continued to achieve strong prices at auction, mostly recently in June at Sotheby's in New York where a rare, 14k ref. 6241 in fair condition (but with original papers) sold for US$625,000. And last year Sotheby's in London sold a less common ref. 6264 "JPS" for £1.215 million, or about US$1.5 million.
The example going under the hammer at Phillips is one of the best known to date. Preserved in crisp, original condition, this watch is "fresh to market", meaning it's never been sold publicly at auction before.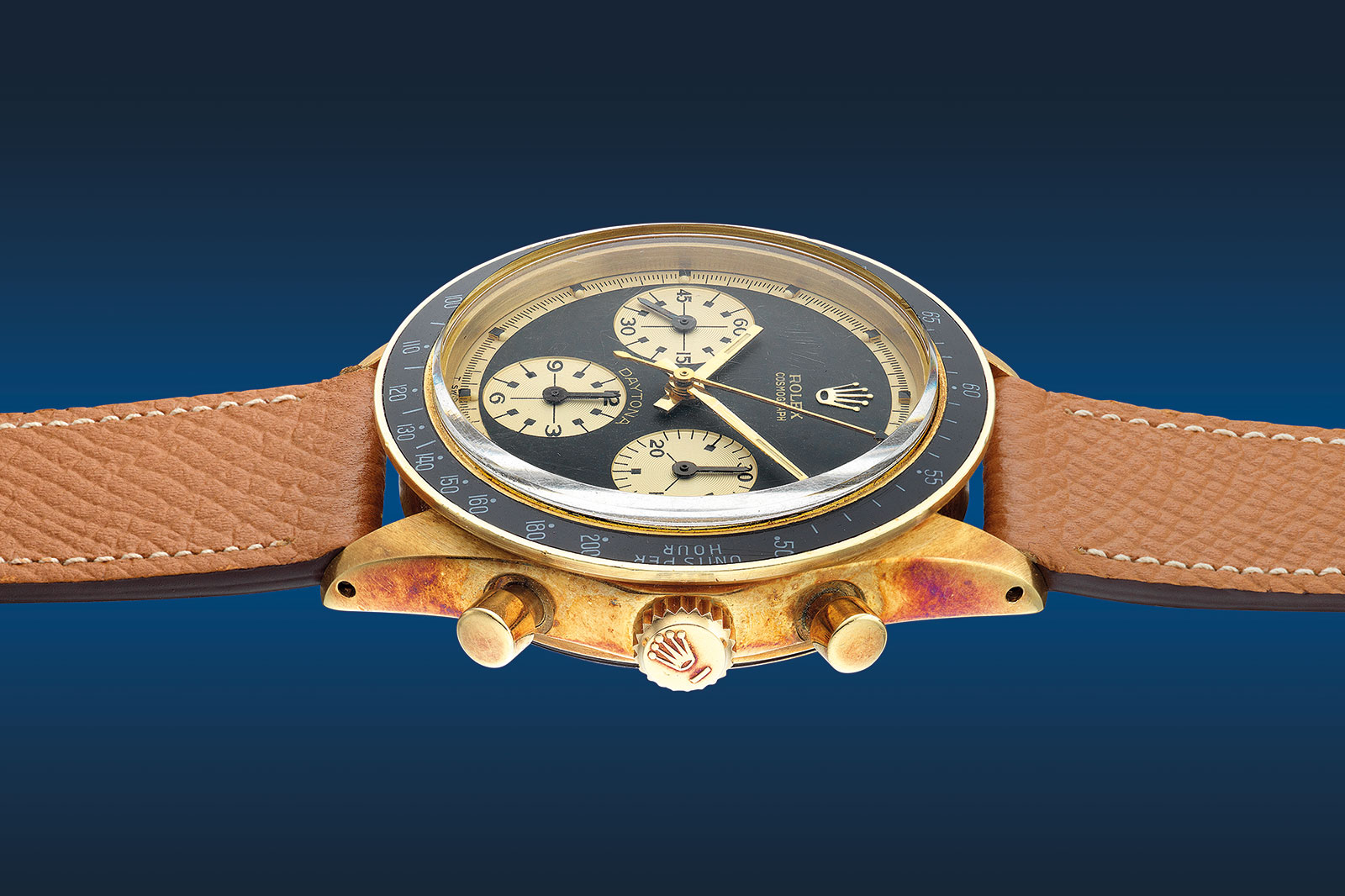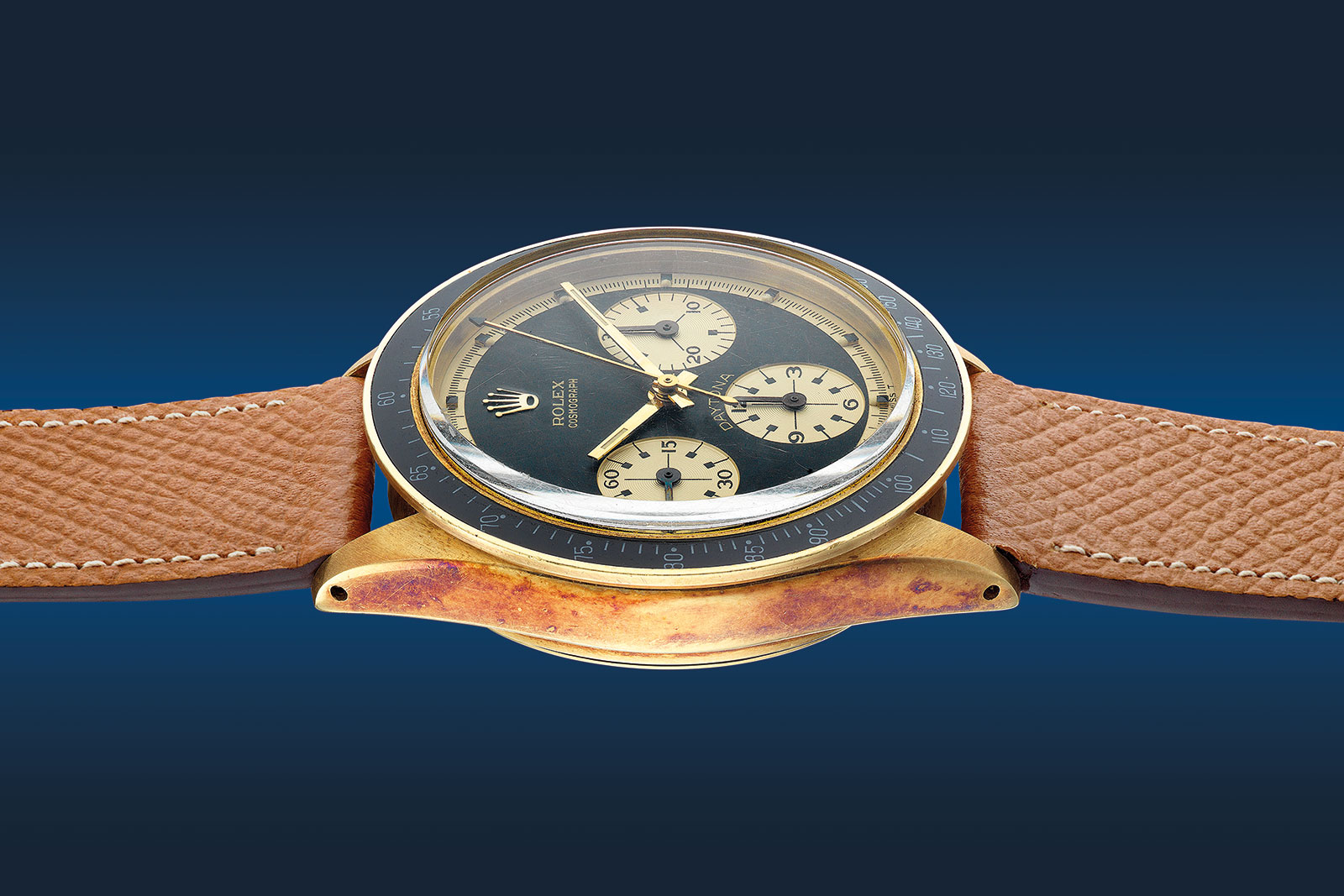 The case retains strong lines and also no wear between the lugs that would be visible had it been on a bracelet, indicating it was originally sold with a strap.
While the watch was consigned by a Japanese client, it was first sold in France, as evidenced by the French import hallmarks on the case back.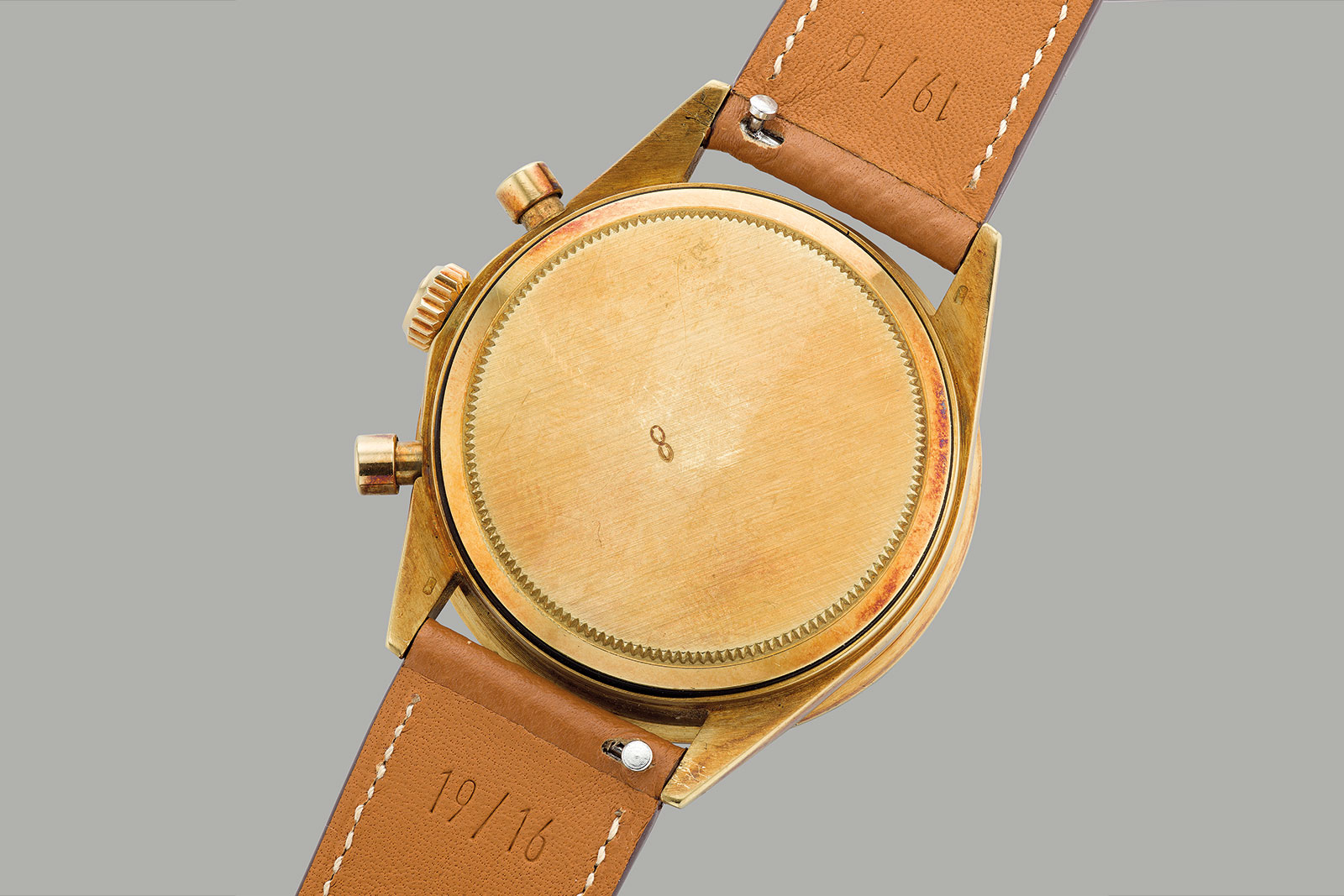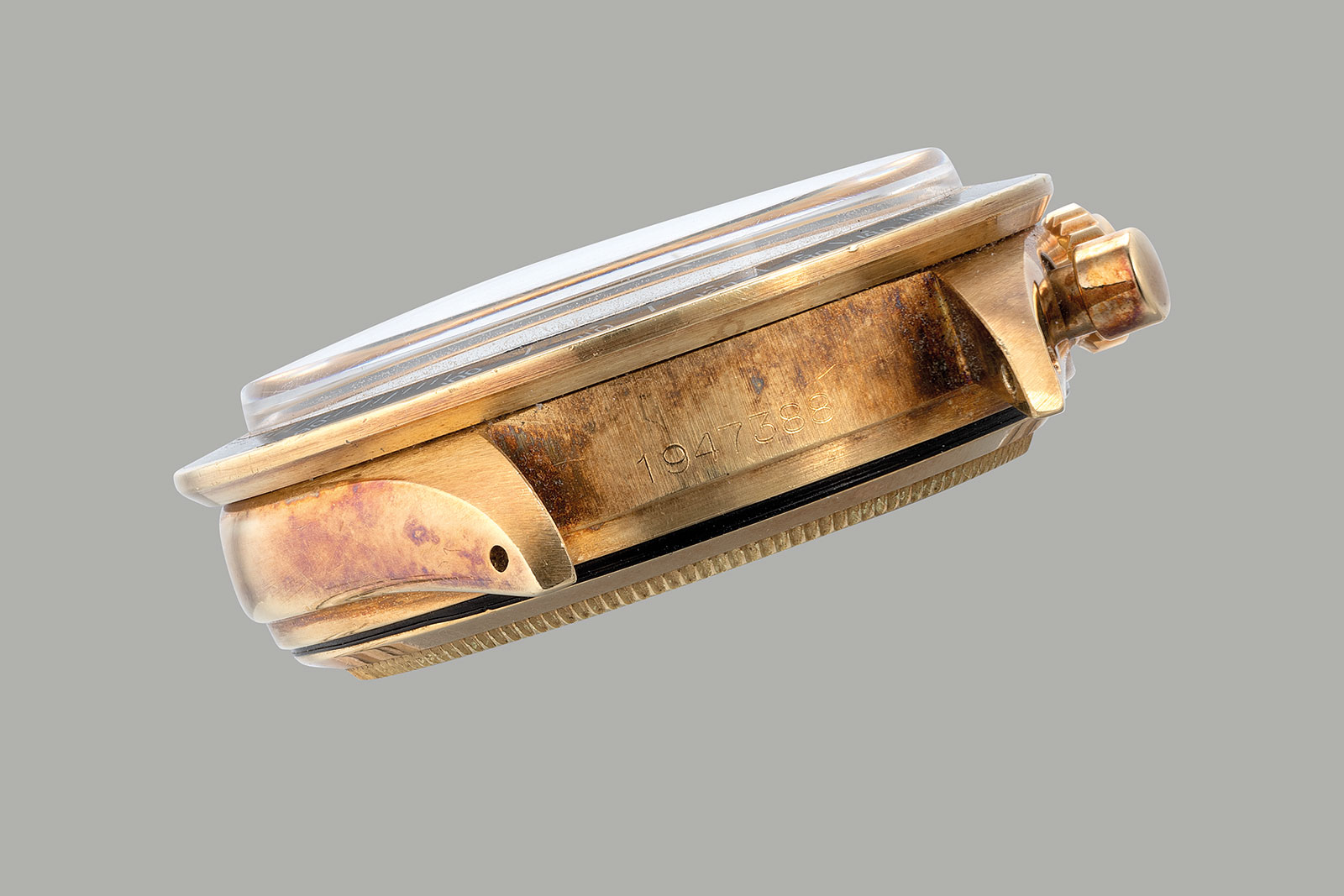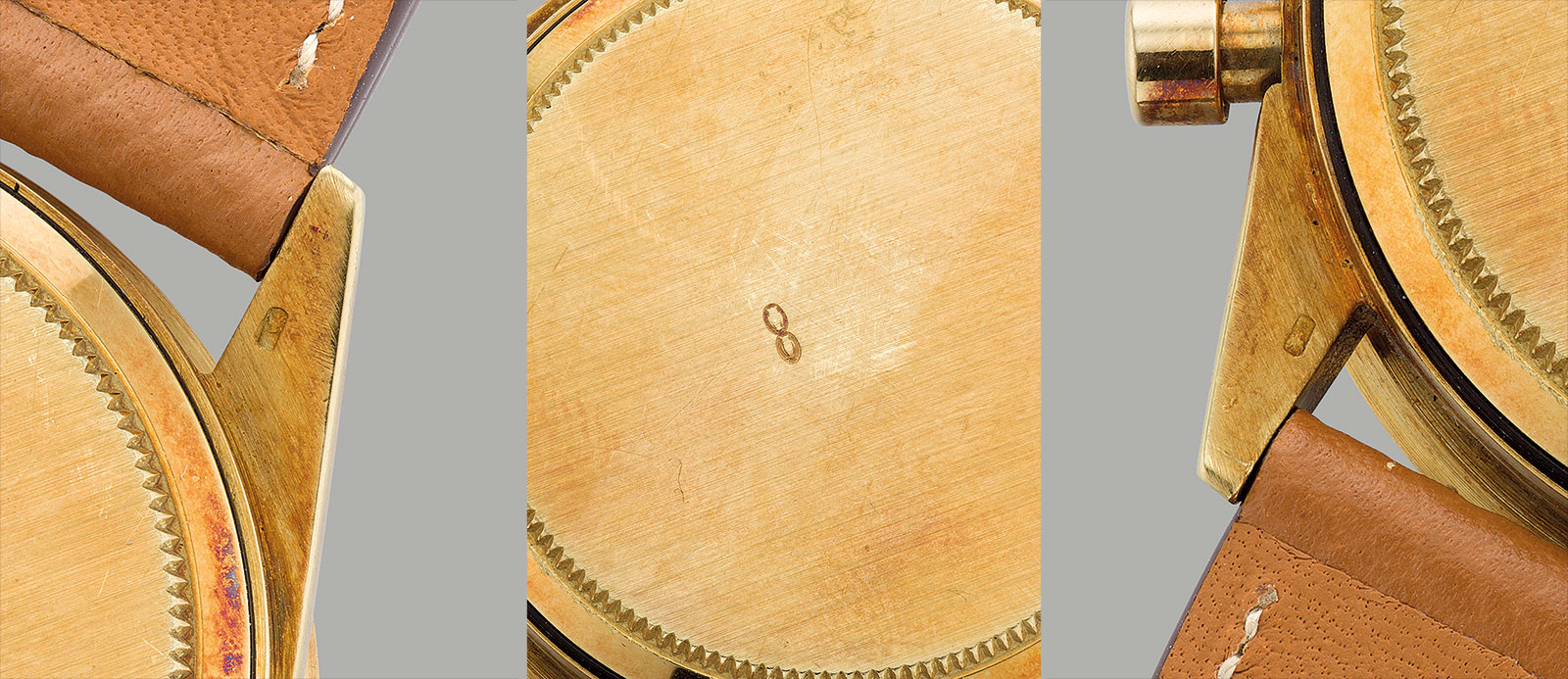 The Daytona "JPS" has an estimate of HK$4.65m-9.40m, or about US$596,000-1,21m. Full lot details can be found here.
---
This Tank Cintrée is a gorgeous example of perhaps the most desirable of vintage Tank models – and despite being almost 100 years old, it looks like a new watch. That's because it was restored by Cartier in Geneva from 2015 to 2017 – sympathetically and using period-correct techniques – resulting in a pristine example of an exceptionally rare watch.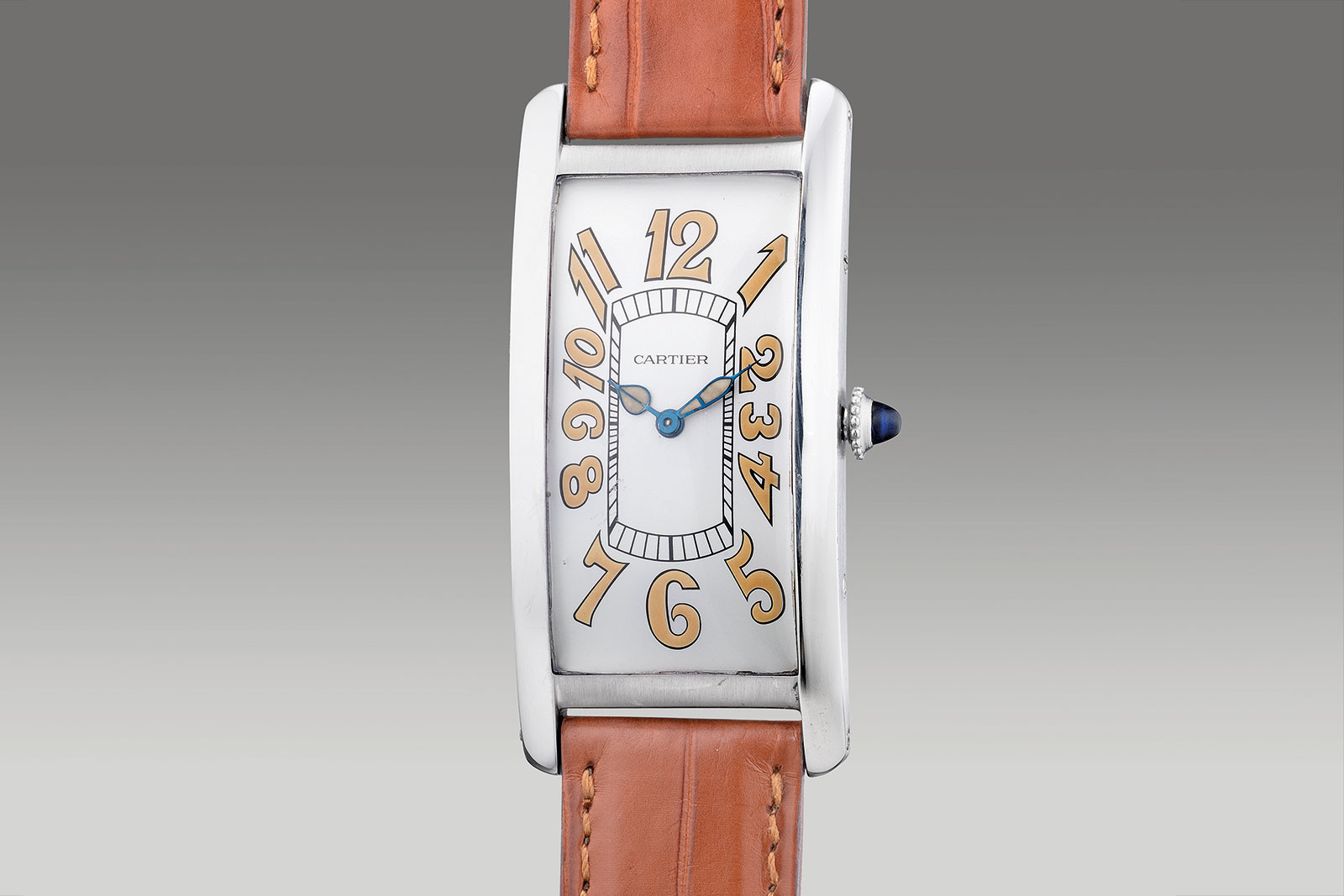 Already a rare watch, the Tank Cintrée in its largest size – with a 9"' movement and a case about 46 mm long – is mostly found in yellow gold. One of the most famous Tank Cintrée is the yellow gold example gifted by Fred Astaire in 1929 that's now in the Cartier Collection.
This watch is nearly identical, with the same Arabic numerals and similar blued steel hands, but in white gold. According to Phillips, it's the only known example of an early Tank Cintrée in the metal.
While unquestionably a rare and attractive watch, this Tank has been completed restored. Although the lume on the numerals and hands possess the colour of aged radium, it is actually Super-Luminova applied during the restoration, which also saw the dial reprinted in its original silvery colour (and avoiding the bright white tone sometimes found on poorly redone dials).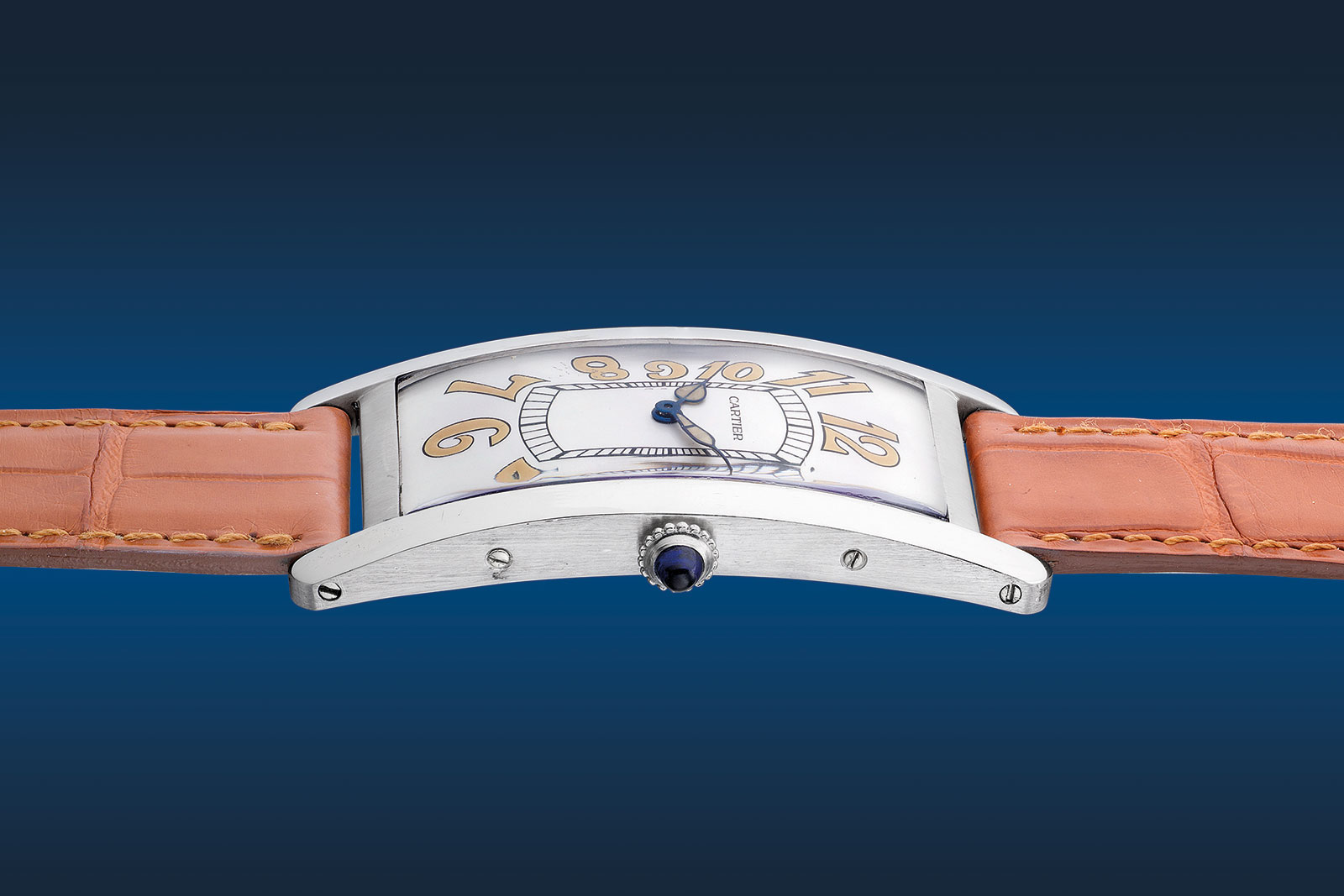 The restoration bills was no doubt in the thousands (which is what such things cost), but does it increase the value of the watch?
Convention in vintage watch collecting indicates not, because collectors generally prefer everything to be original, even if that brings with it obvious ageing and wear.
That said, a few factors point in favour of restoration for this watch. One is the simple fact that the watch is beautiful, having lost none of its charm after restoration. Another is the fact that vintage Cartier watches are desirable because of their aesthetics – they are icons of wristwatch design – as opposed to being complicated or artisanal timepieces.
The restoration certainly improved the aesthetics of this watch. Though no "before" photos are available, vintage Cartier watches tend to age badly because the cases are not water resistant.
Estimated at HK$320,000-640,000, or about US$41,000-82,100, the Tank Cintrée is accompanied by the Cartier restoration certificate. Full lot details can be found here.
---
Vintage Patek Philippe wristwatches that are both complicated and valuable are common at auction. But examples with gemstone hour markers are surprisingly uncommon. This ref. 3448 is one such watch. And like some very rare watches, this ref. 3448/100 has an intriguing backstory.
This ref. 3448/100 boasts brilliant-cut sapphires as hour markers, along with a platinum case, making it one of two ref. 3448s in the metal – both of which upgraded by Patek Philippe itself decades after the watches were first sold.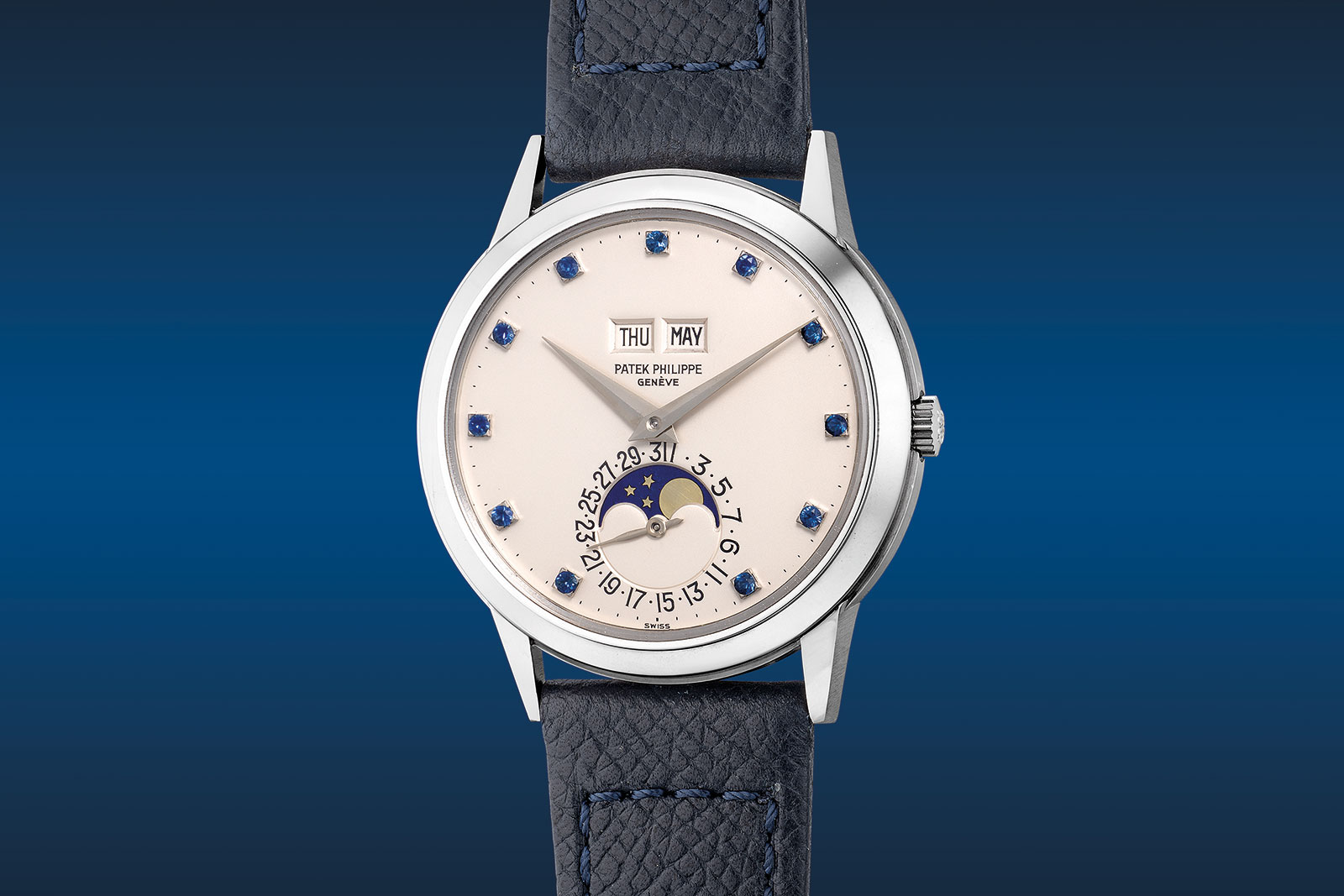 Up to the 1980s and 1990s Patek Philippe regularly upgraded or modified watches for its best clients, as illustrated by this ref. 3448/100 (and its sister watch). Originally owned by a Thai collector, this ref. 3448/100 started life as a yellow gold example in 1973. Then in 1997 it was upgraded with a platinum case and sapphire hour markers at the request of the then owner, making the only example of the ref. 3448 with sapphire indices.
Another ref. 3448 from 1966 in gold was similarly converted that year, but retained the standard dial. That example was later acquired by Jean-Claude Biver, who sold the watch at auction in 2018, where it achieved CHF1.1 million including fees.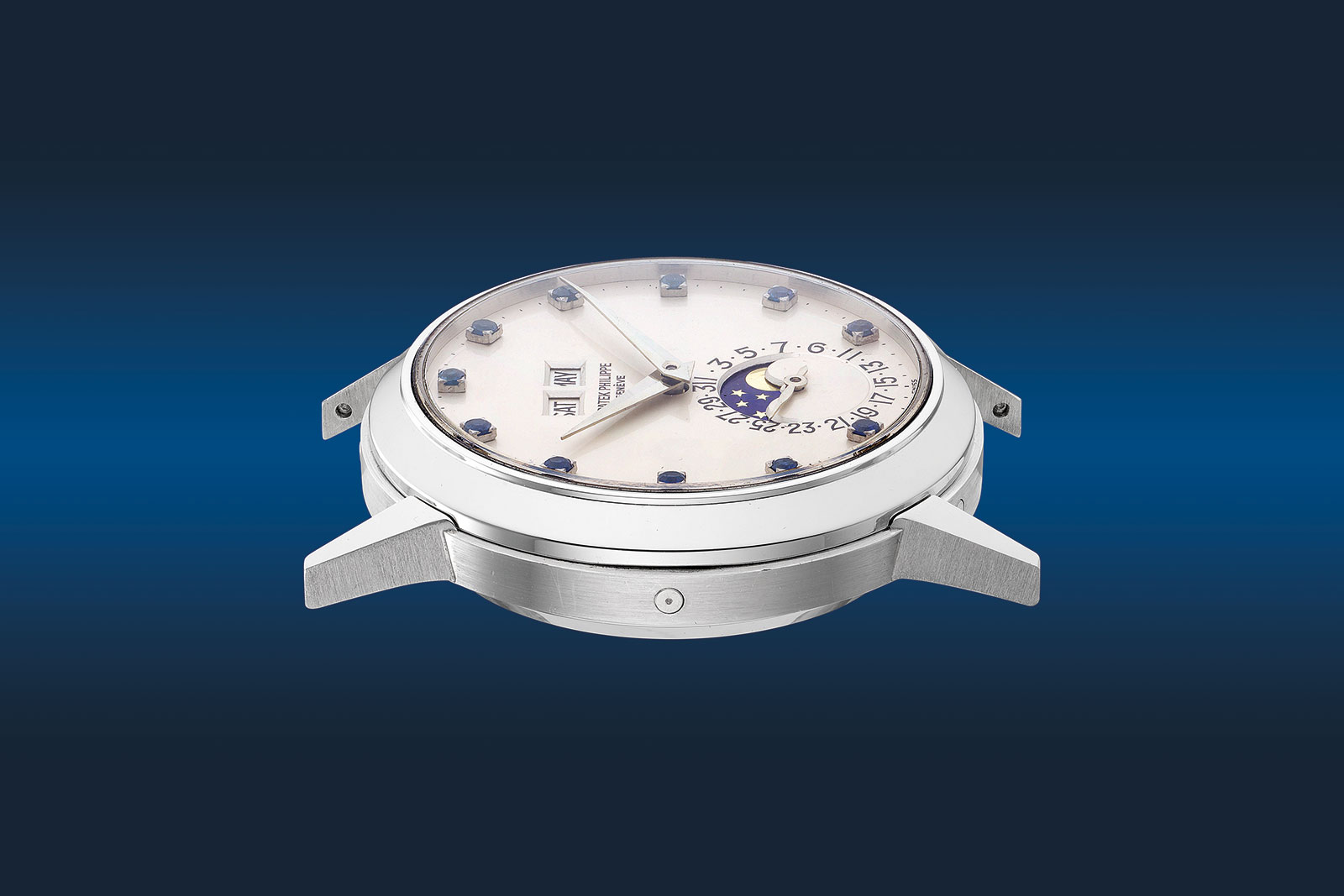 Returning to the ref. 3448/100 with sapphires – a year after the upgrade, the owner sold the watch at Antiquorum, perhaps because of the Asian Financial Crisis. There the watch sold for CHF201,500 to a European collector who has had it ever since.
Having only had two owners since it received its new case and dial in 1997, this ref. 3448/100 remains in near-perfect condition. The case retains its sharp edges and neat brushing, while the dial is clean and fresh.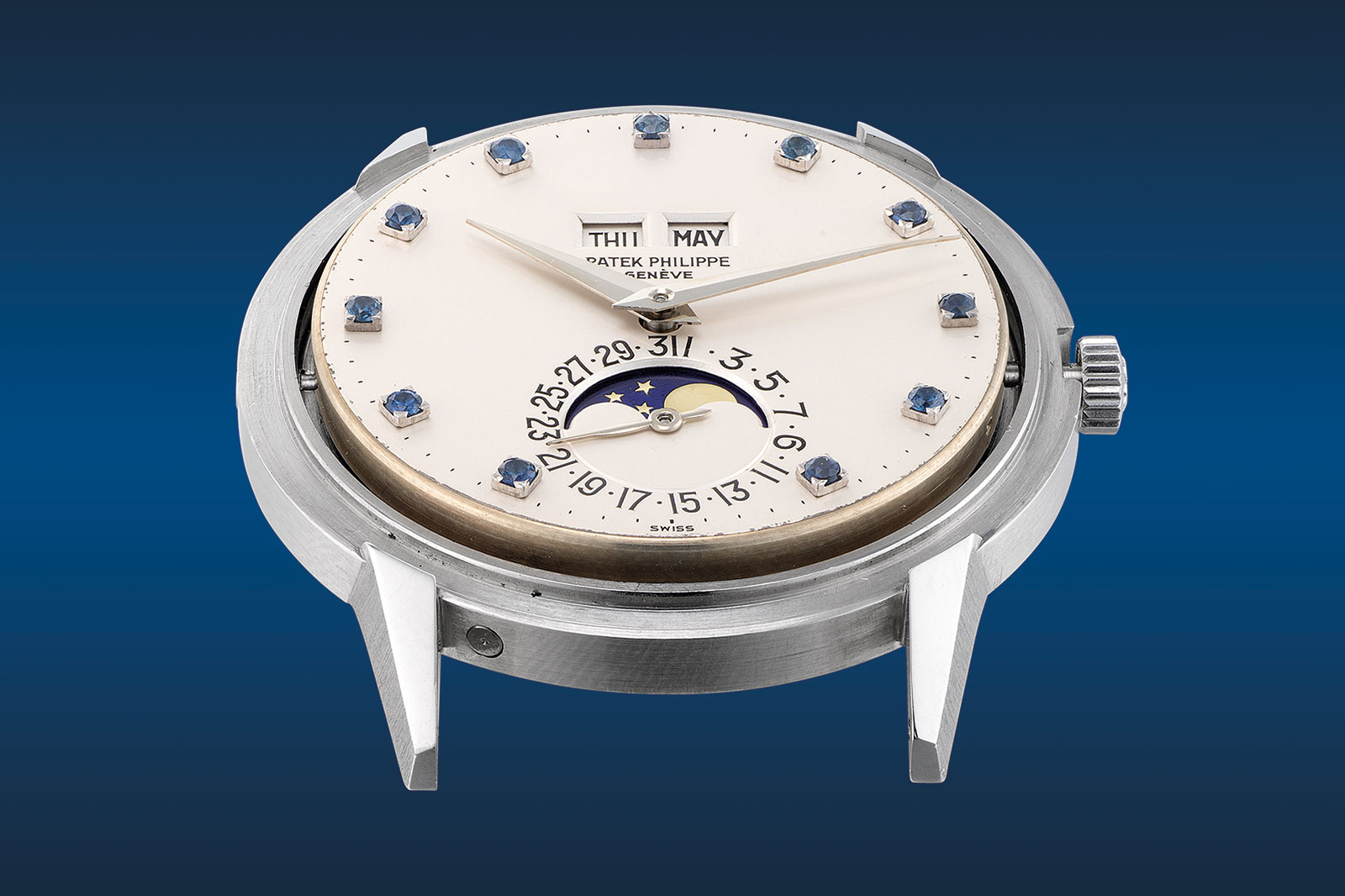 Doubtlessly having been hand made as a one off, this platinum case is identical to the standard gold cases in design and diameter, but with slightly different lugs. Its lugs are marginally shorter and slightly taller, and the overall case height is increased by 0.5 mm due to the sapphire window on the back.
Notably, besides being platinum, the case is also notable for having a display back. It's just one of six ref. 3448s with an open back.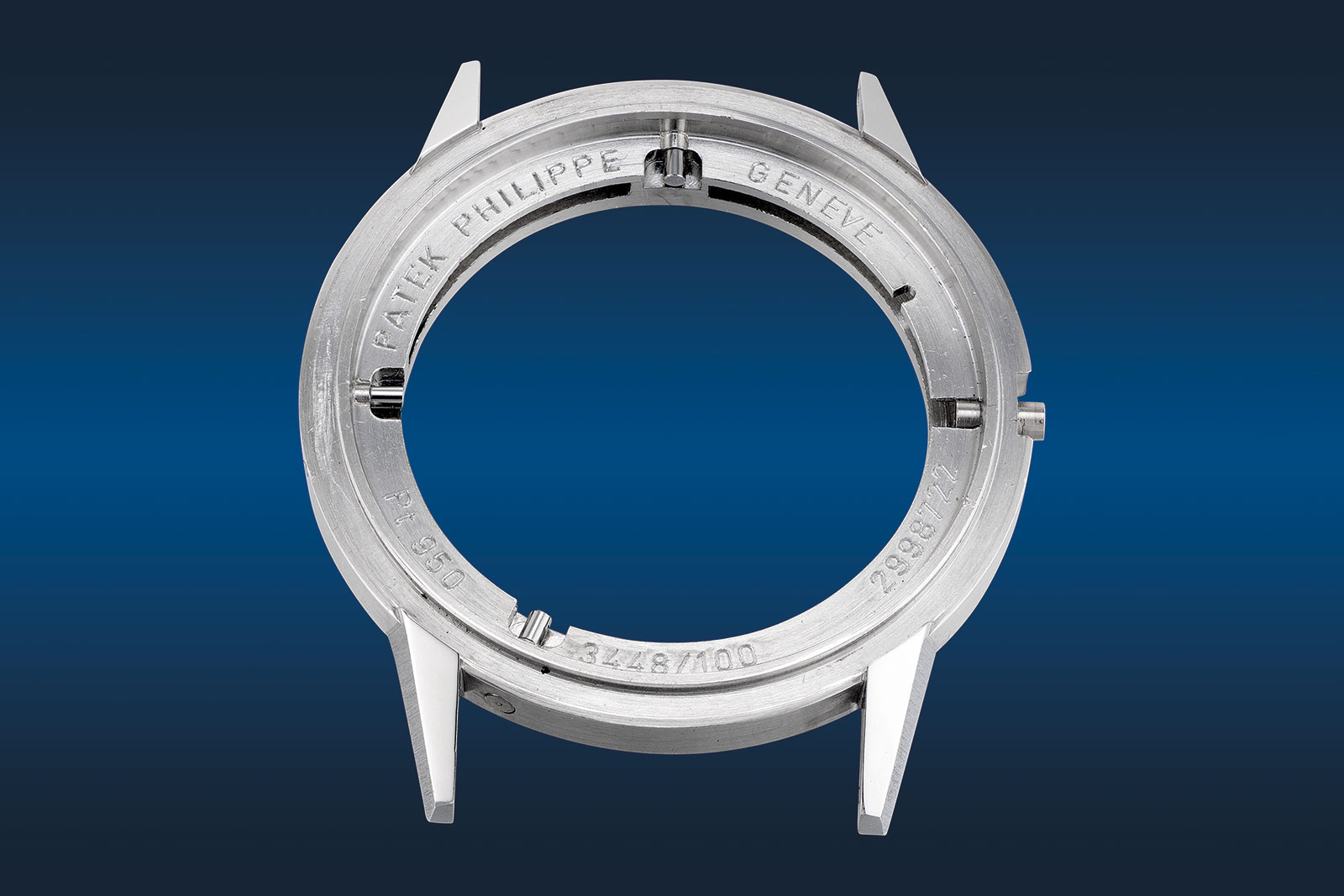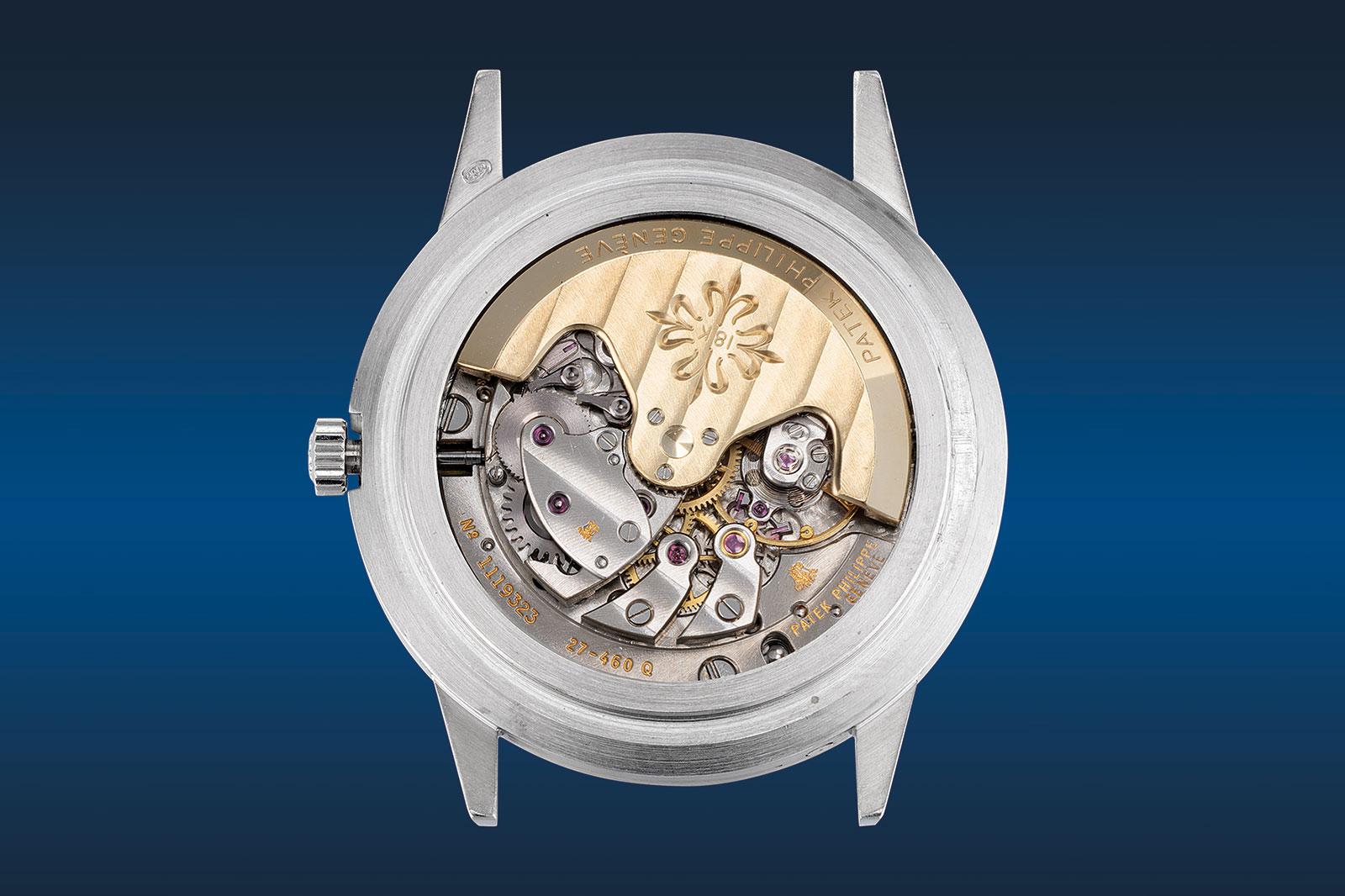 In November last year Christie's sold a ref. 3448/8 in yellow gold with baguette-cut ruby hour markers and a less desirable integrated bracelet for HK$5 million, or about US$640,000. This ref. 3448/100 should finish at multiples of that; it has an estimate "in excess of HK$10m", or about US$1.28 million. Full lot details can be found here.
---
Preview and Auction
The preview exhibition is open daily from November 23-25 at the JW Marriott Hotel Hong Kong. The auction takes place over two days at the same location:
November 25 at 6:00 pm
November 26 at 12:00 pm and 4:30 pm
JW Marriott Hotel Hong Kong
88 Queensway
Admiralty
Hong Kong, China
For the full catalogue, as well as registration and online bidding, visit Phillips.com.
This was brought to you in partnership with Phillips.
---
Back to top.
---
You may also enjoy these.