The Arts and Forms of Watchmaking at Phillips' Hong Kong
Technique and shape.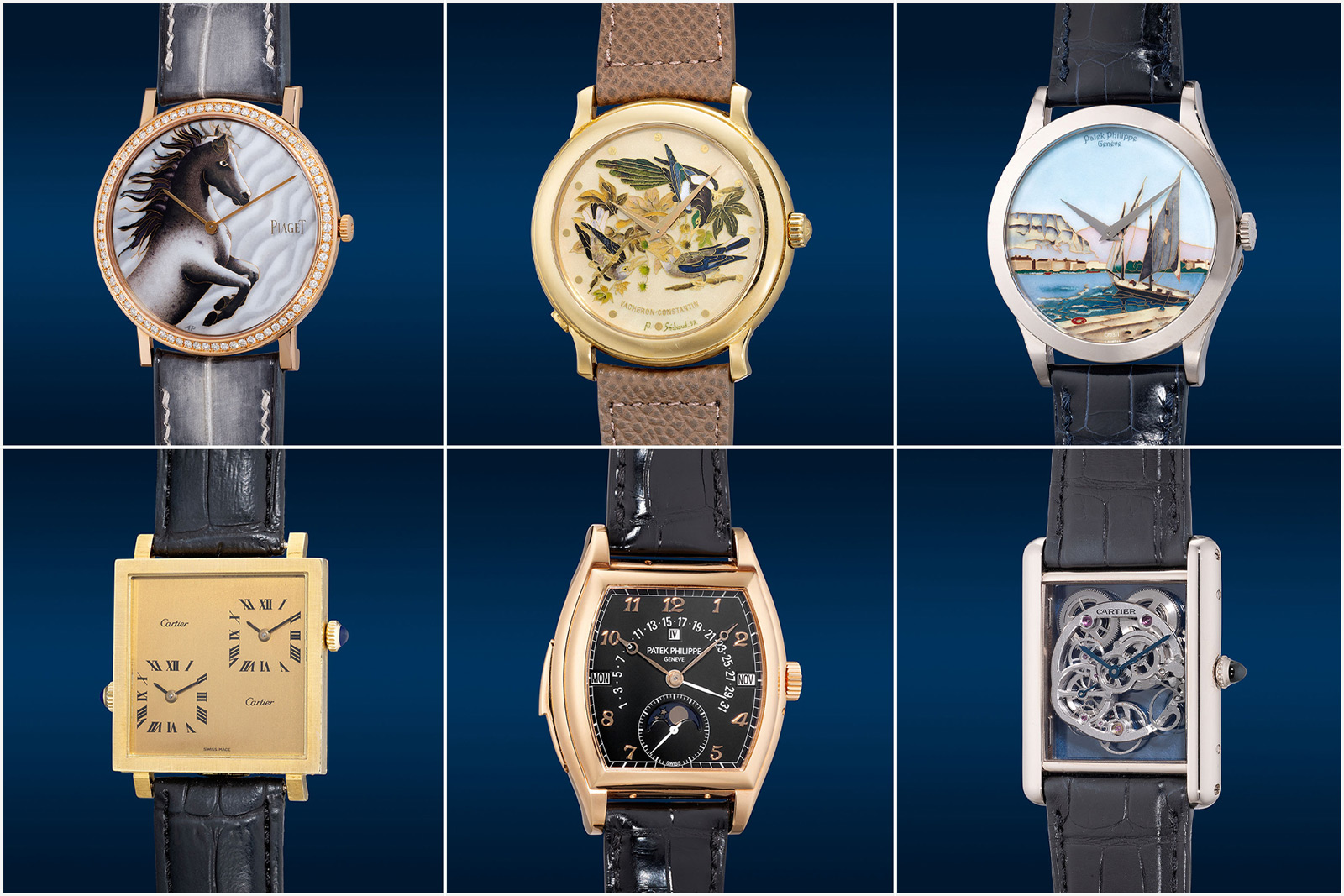 After exploring the independents in Phillips' upcoming Hong Kong auction, our attention now turns to watches that focus on unusual aesthetics, namely timepieces defined by complex decoration or unusually shaped cases.
Amongst the artisanal selection, here is one of Muriel Sechaud's avian creations for Vacheron Constantin, alongside other enamelled works from the workshop of Anita Porchet.
And amongst the form watches is the Patek Philippe ref. 5013R-013, a tonneau-shaped grand complication in pink gold with a black dial, of which only three are known. 
The Hong Kong Watch Auction: XVII takes place on November 24 and 25, 2023. Registration for bidding and the complete catalogue can be accessed here.
---
Renowned enamelist Muriel Sechaud collaborated with Vacheron Constantin to create a collection inspired by the illustrations of Jean-Jacques Audubon, a French-American artist, naturalist, and ornithologist. Audubon's work, 'Birds of America,' served as the primary inspiration for this collaboration.
The Swiss watchmaker, known for its commitment to craftsmanship and artistic expression, commissioned a series of cloisonné enamel dials to reproduce Audubon's intricate bird illustrations faithfully. This artistic union reflects the fusion of horological expertise with the beauty found in natural history illustration.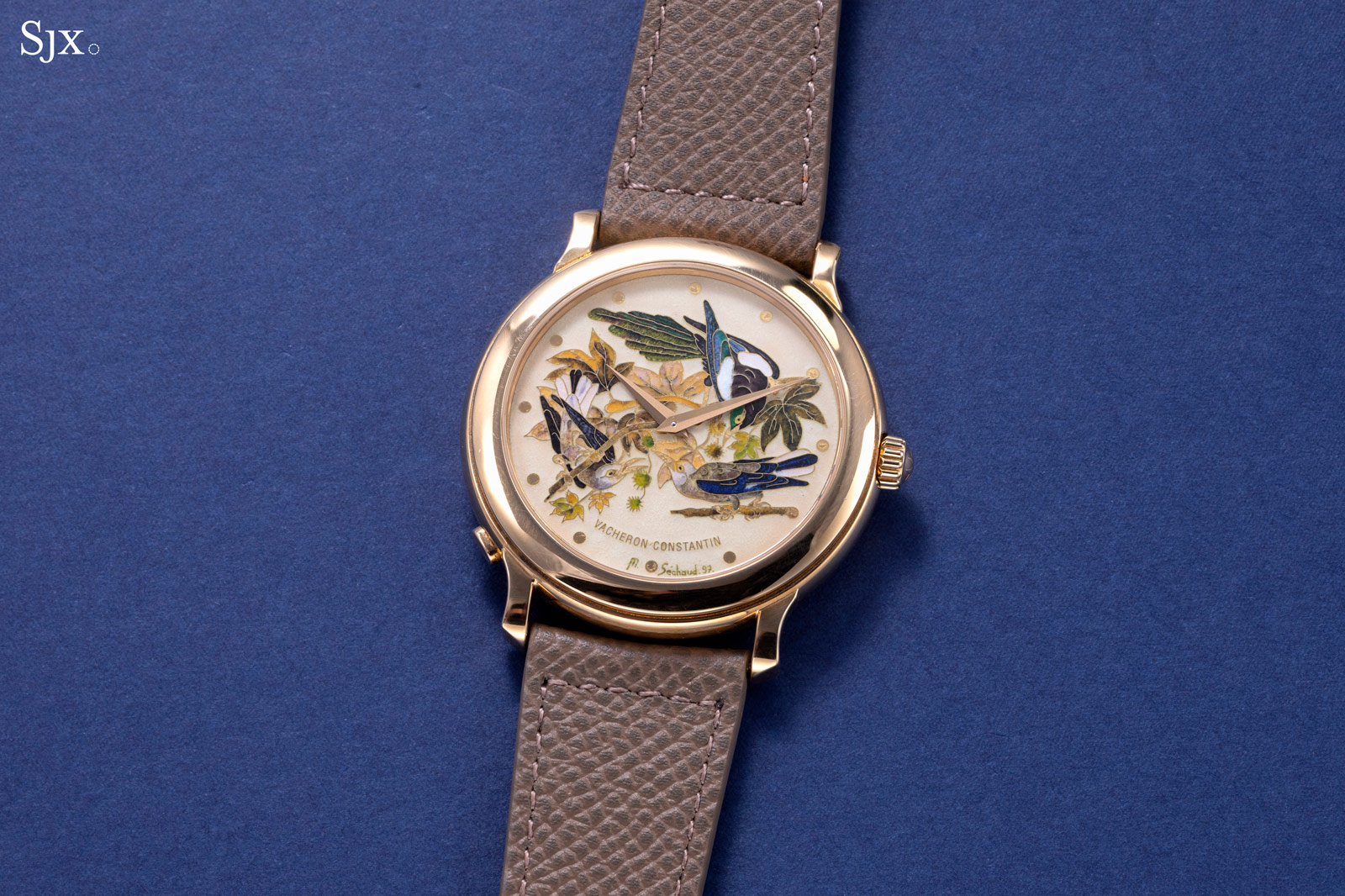 The current reference, 43060/000J-8625, is a standout variant within this collaboration, featuring not one but two bird species on its dial. The Yellow-Billed Magpie and two Clark's Crows are meticulously depicted, creating an exquisite tableau of avian life. This particular reference exemplifies the mastery of enamelling techniques and the dedication to detail, showcasing Vacheron Constantin's commitment to producing unique and artistic timepieces.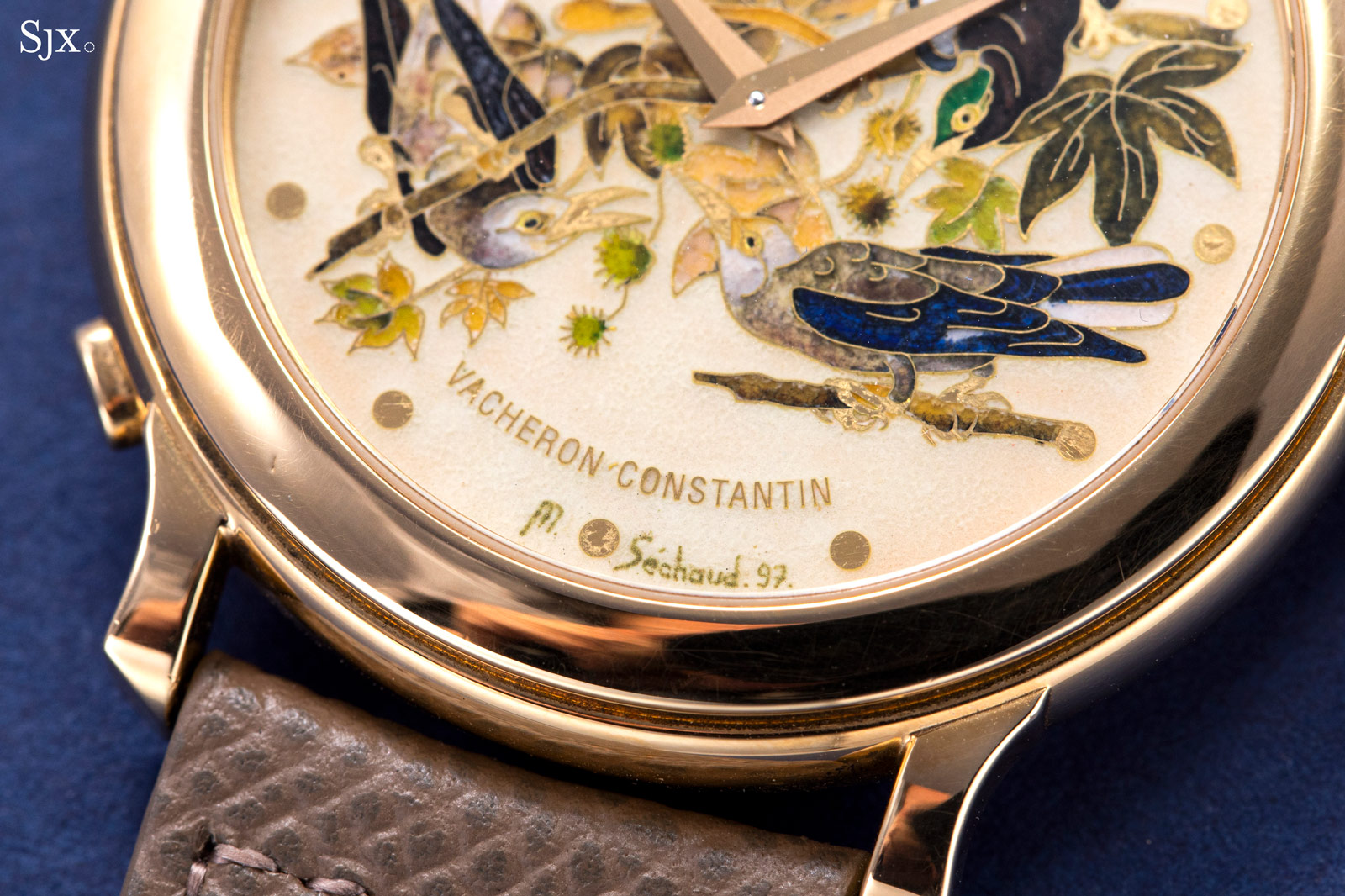 Through the "Birds of America" series, Vacheron Constantin transcends traditional watchmaking by incorporating elements of natural history illustration into its designs. This unique approach connects the horological world with the rich heritage of bird study, reflecting an era when the ornithological cabinet d'amateur, a collection of objects related to bird study, held significance in European culture.
The aesthetic of the Vacheron Constantin reference 43060/000J-8625 is complemented by its 37mm circular case featuring a stepped bezel. The button discreetly placed in the band allows for the opening of the hinged back, revealing an inscription that pays homage to John J. Audubon. The watch's glazed cuvette adds a layer of sophistication to the timepiece, creating a harmonious blend of form and function while revealing the ultra-thin cal. 1120 featuring a hand-engraved rotor, a feature reserved for the brand's top-of-the-line models.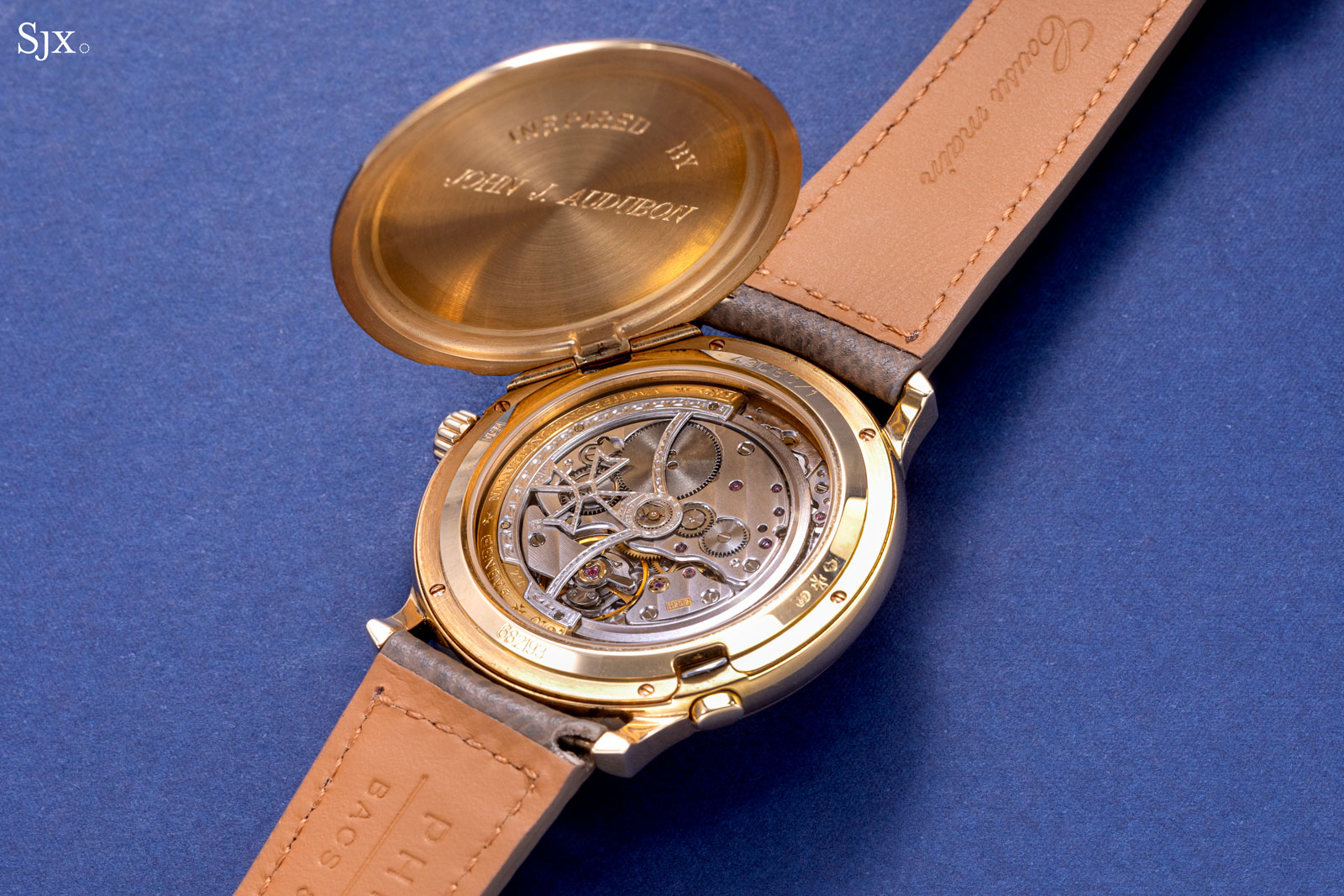 The example is in excellent overall condition and accompanied by an extract from the archives. It has an estimate of HK$200,000-400,000, or about US$25,600-51,300. Find out more in the catalogue.
---
In the early 20th century, Audemars Piguet crafted approximately thirty-five minute-repeating wristwatches, including a cushion-shaped one made for John Wallace Shaeffer, Vice President at the Allied Chemical Corporation in Morristown, New Jersey. This particular timepiece now resides in the Audemars Piguet Museum and inspired the exclusive "John Shaeffer" series launched in 1996, featuring a digital hour display.
The dial, balanced between the aperture displaying the hours at 12 o'clock and the subsidiary dial for constant seconds at 6 o'clock, and the angular faceted case epitomised the Art Deco period's masculine yet elegant aesthetic, considered a pinnacle of that era.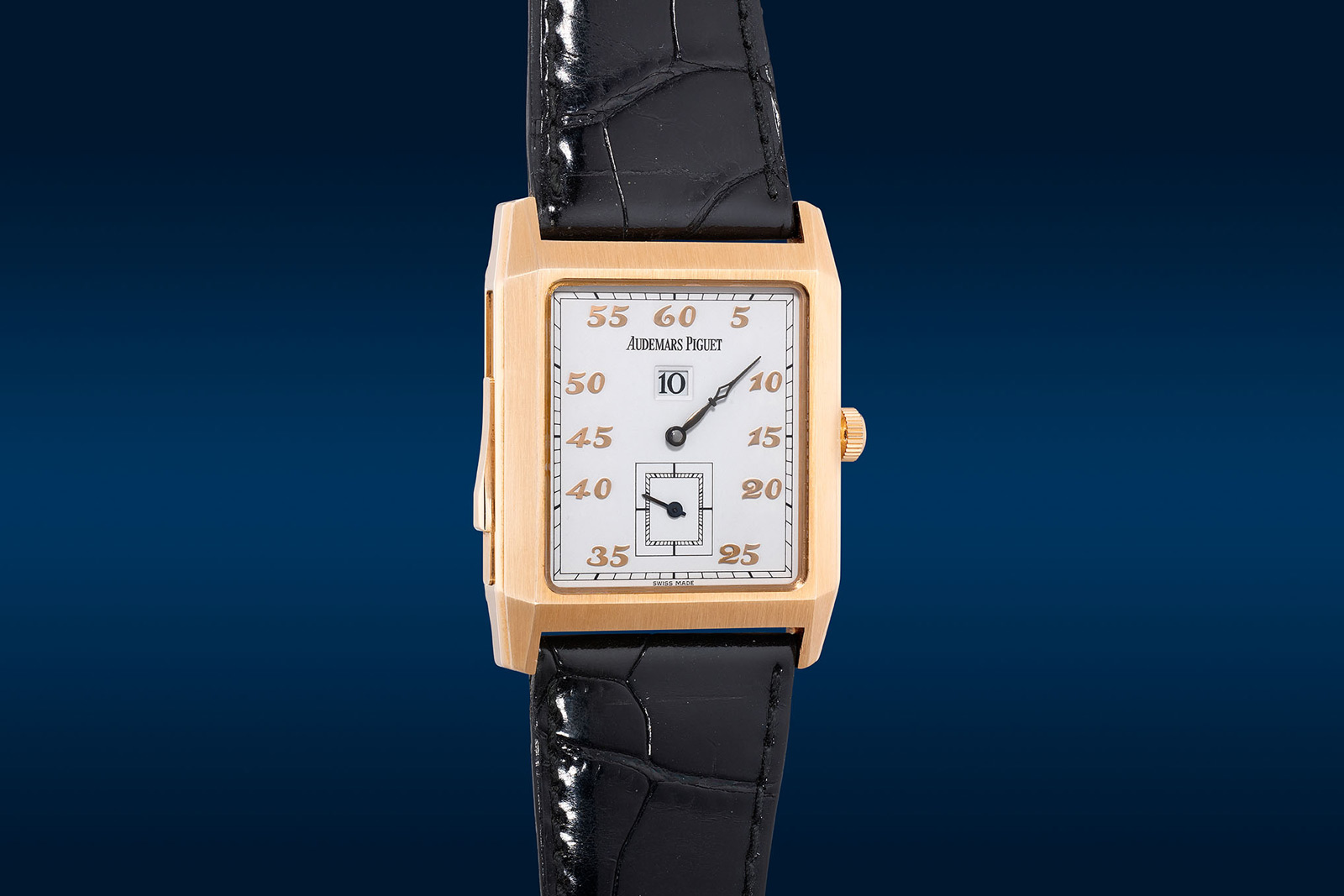 Debuting in 1992, reference 25723 marked the brand's venture into merging a minute repeater with a digital jumping hour display. The rectangular 18k yellow-gold case, measuring 31mm long by 29mm wide by 8mm thick, boasts short downturned lugs and a discrete slider on the left side, activating the minute repeater.
The classic white dial features a jumping hour mechanism, unveiling the hour through a small window at 12 o'clock, paying homage to Art Deco-styled timepieces of the 1920s. The minutes, featuring a Cathedral-style hand, are read through applied 18k yellow-gold Breguet-style 5-minute indicators, the seconds in a sub-dial at 6 o'clock.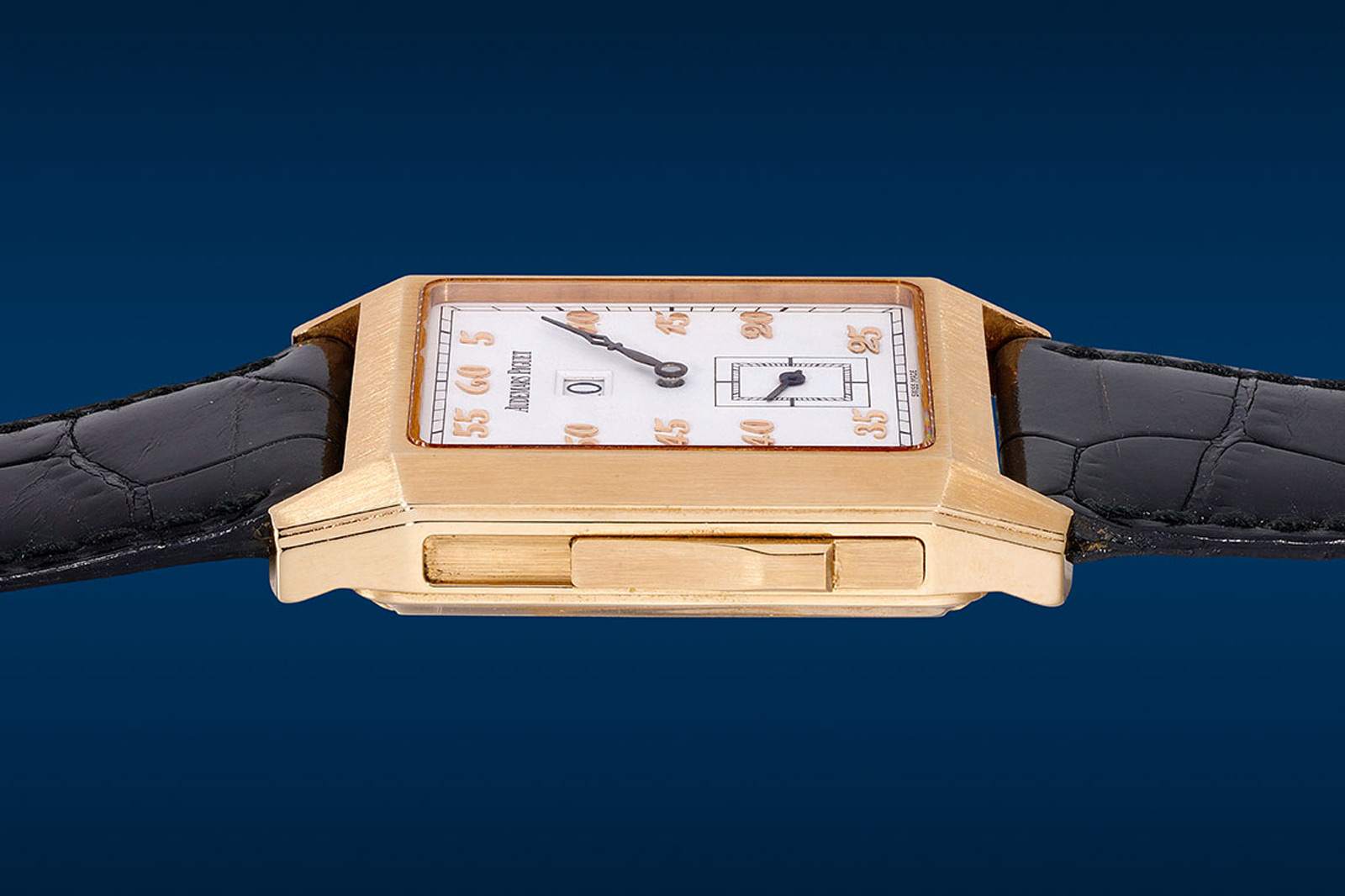 The innovation continues with the use of a wholly redeveloped cal. 2865, making the reference 25723 the world's first wristwatch featuring both a minute repeater and a digital jump-hour display. The AP Caliber 2865 powering this watch is a manually wound movement decorated with Cotes de Geneve. The slider activates the repeating mechanism, creating tones to indicate hours, quarters, and minutes as tiny hammers hit steel gongs inside the case.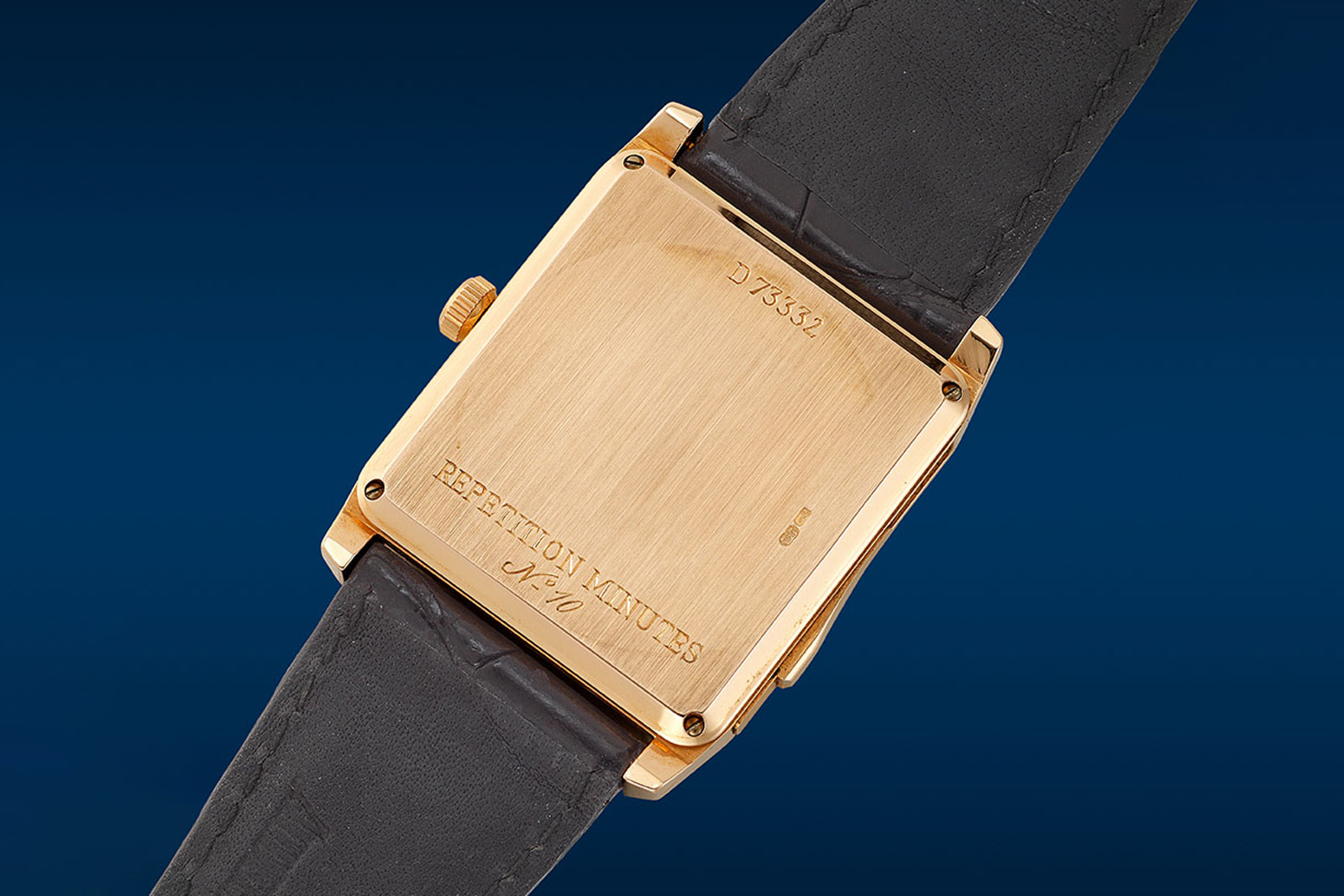 In excellent condition overall, this watch was part of a limited series of 100 pieces. The present example has "10" engraved on the back and is offered as a complete set.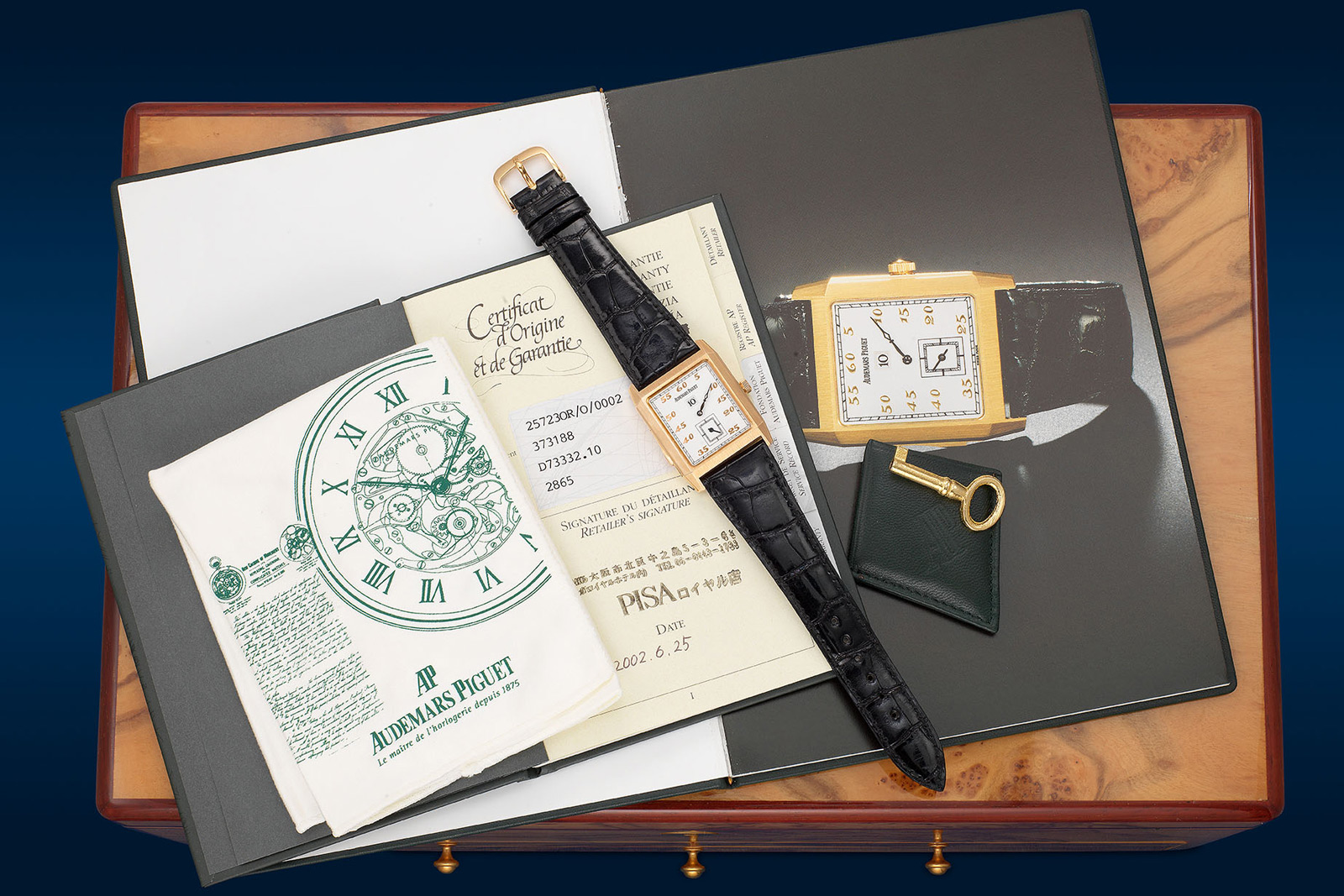 It has an estimate of HK$160,000-390,000, or about US$20,500-50,000. Find out more in the catalogue.
---
The Cartier Tank watch, born in 1917, is a testament to Cartier's legacy. A marriage of timeless elegance and avant-garde design, the Tank watch embodied a genuine sense of modernity from its inception. Transparency, a key element in Cartier's design language since the early 20th century, has manifested in various forms, from the mysterious clocks of 1912 to the skeletonised movements of the 1930s and more recent Fine Watchmaking creations.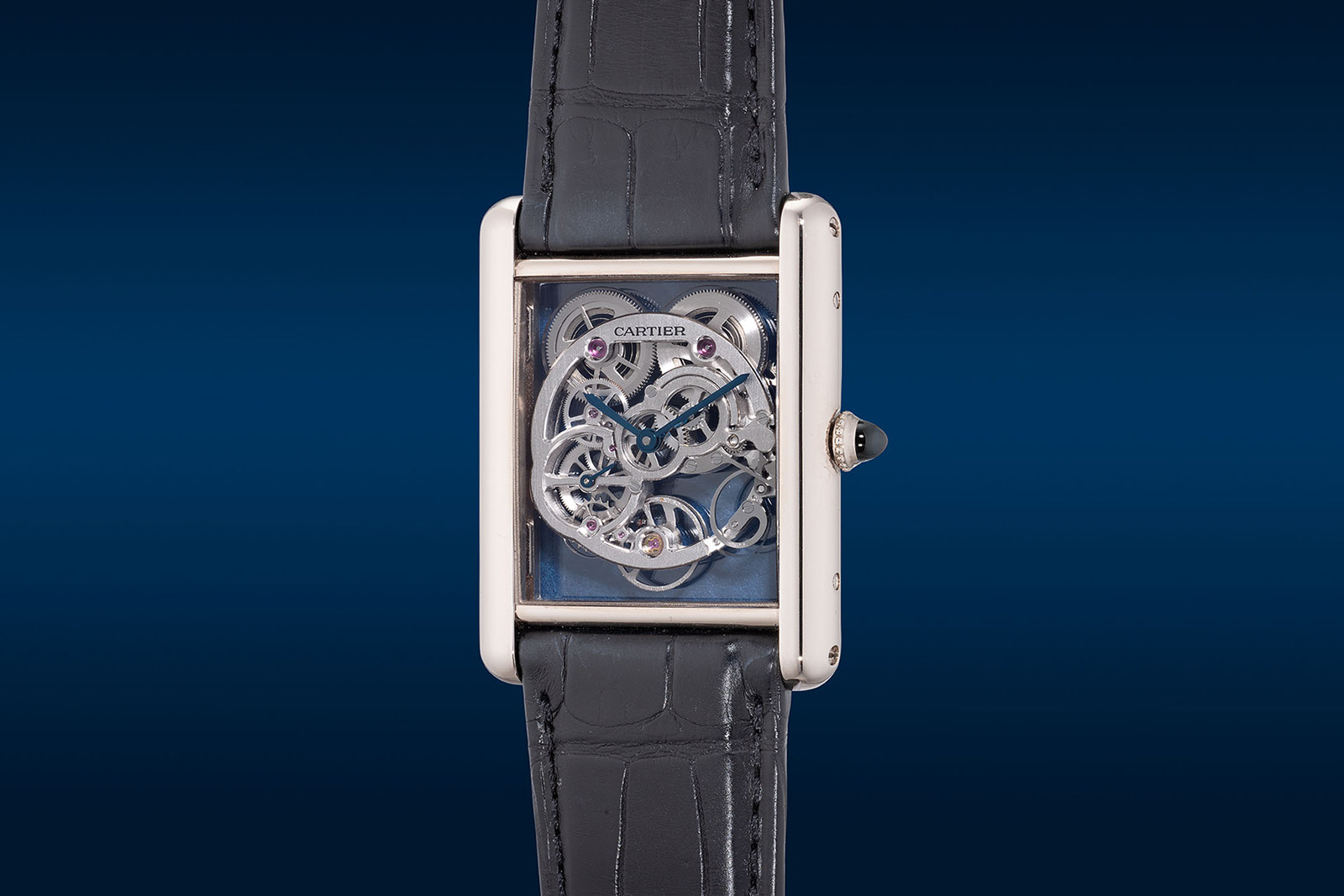 In 2014, Cartier introduced a skeletonised rendition of the historic creation, marrying the iconic Tank aesthetics with the captivating allure of transparency. The skeletonised Tank Louis Cartier Sapphire Skeleton watch unveils its mechanical intricacies through a transparent plate made partially from sapphire crystal.
The in-house calibre 9616 MC, composed of 159 components, exposes every winding gear and barrel around a sizeable circular bridge in an artful arrangement.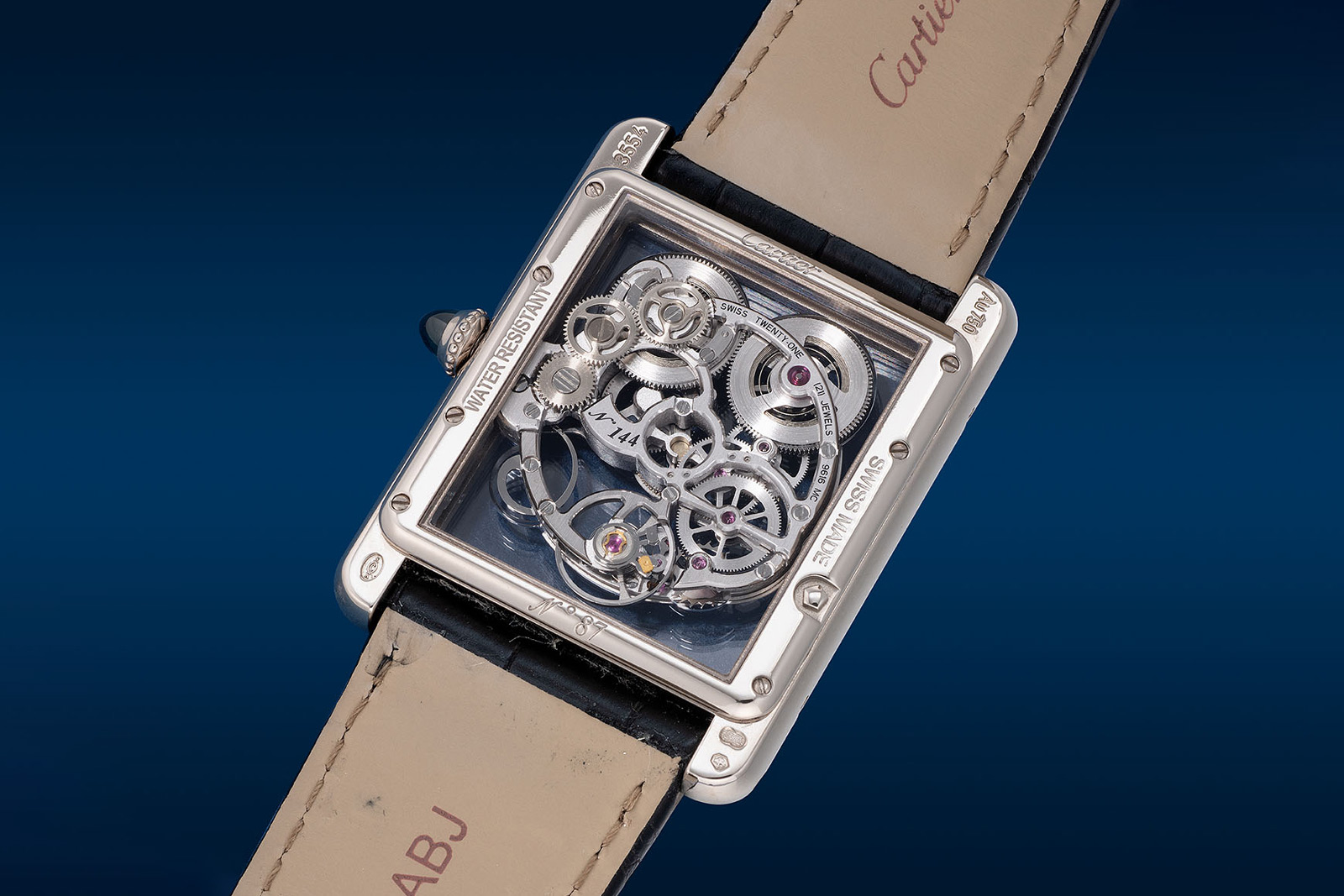 The double barrel movement provides an impressive three-day power reserve and demonstrates technical innovation. The transparent sapphire panels affixed to the case with secret rubber blocks for shock resistance and movement stability introduce a contemporary dimension to the Tank's classic silhouette.
Measuring 39.2 mm x 30 mm, the white gold case, featuring an off-centre small seconds display at 8 o'clock, transforms the watch into an abstract and contemporary work of art.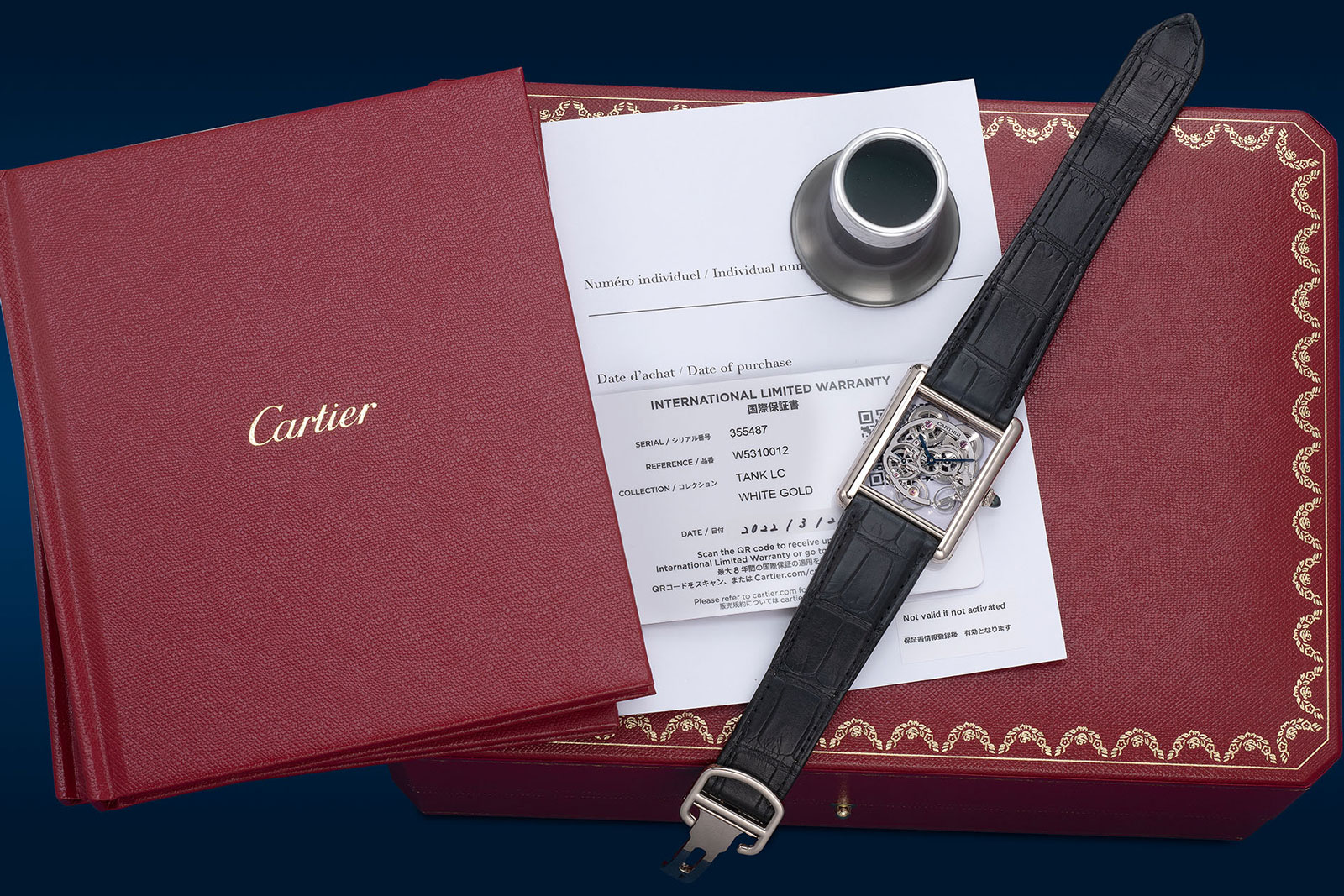 This Tank Louis Cartier Skeleton Sapphire is well preserved and is complete as a full set. Bearing number "87", the watch has an estimate of HK$160,000-300,000, or about US$20,500-38,500.
Find out more in the catalogue.
---
The tonneau-shaped grand complication, introduced in 1992 and discontinued in 2010, was a milestone for Patek Philippe for combining a perpetual calendar (with a retrograde date) and a minute repeater – in a form case. At the time, it was the second-most complicated wristwatch produced by Patek Philippe after the ref. 5016 that had a round case.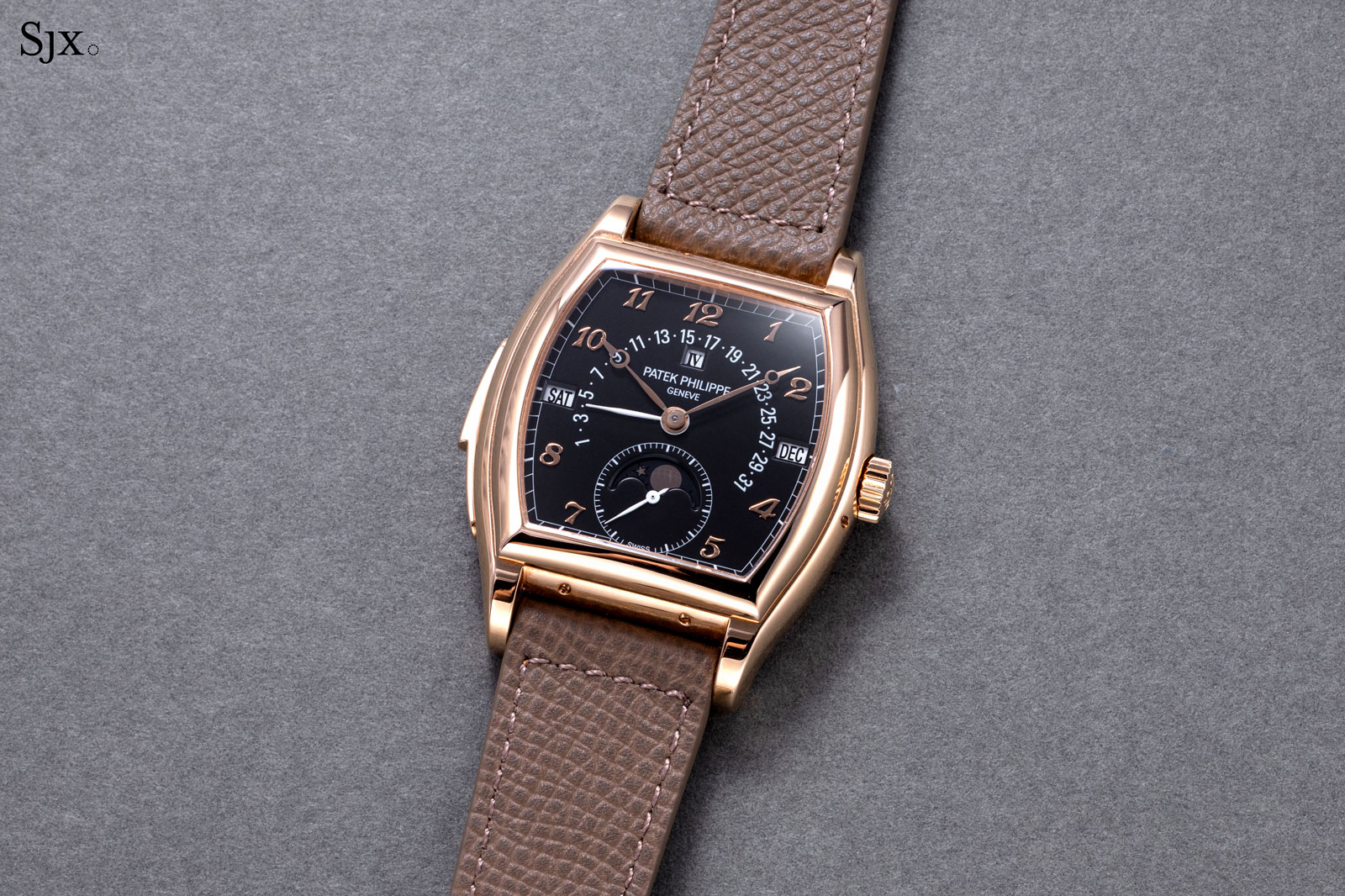 The design of this watch pays homage to a historically significant tonneau-shaped minute repeating wristwatch in yellow gold, numbered "97'589", commissioned by Henry Graves Jr., the American financier who was one of Patek Philippe's most well-known historical clients.
While most examples of the ref. 5013 are in platinum or yellow gold, there are only nine known examples of the ref. 5013 in pink gold. And among those, only three, including this example, feature black dials.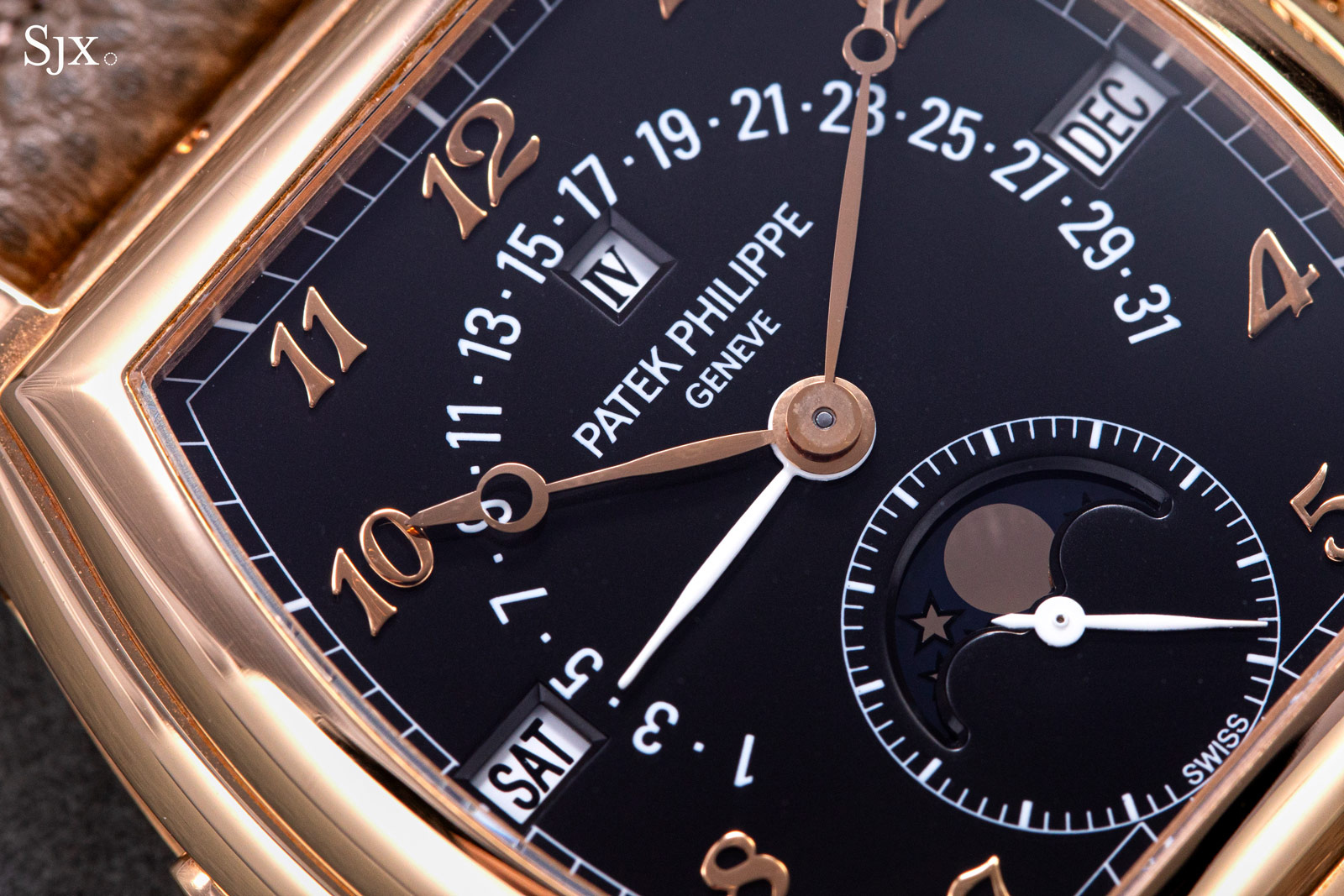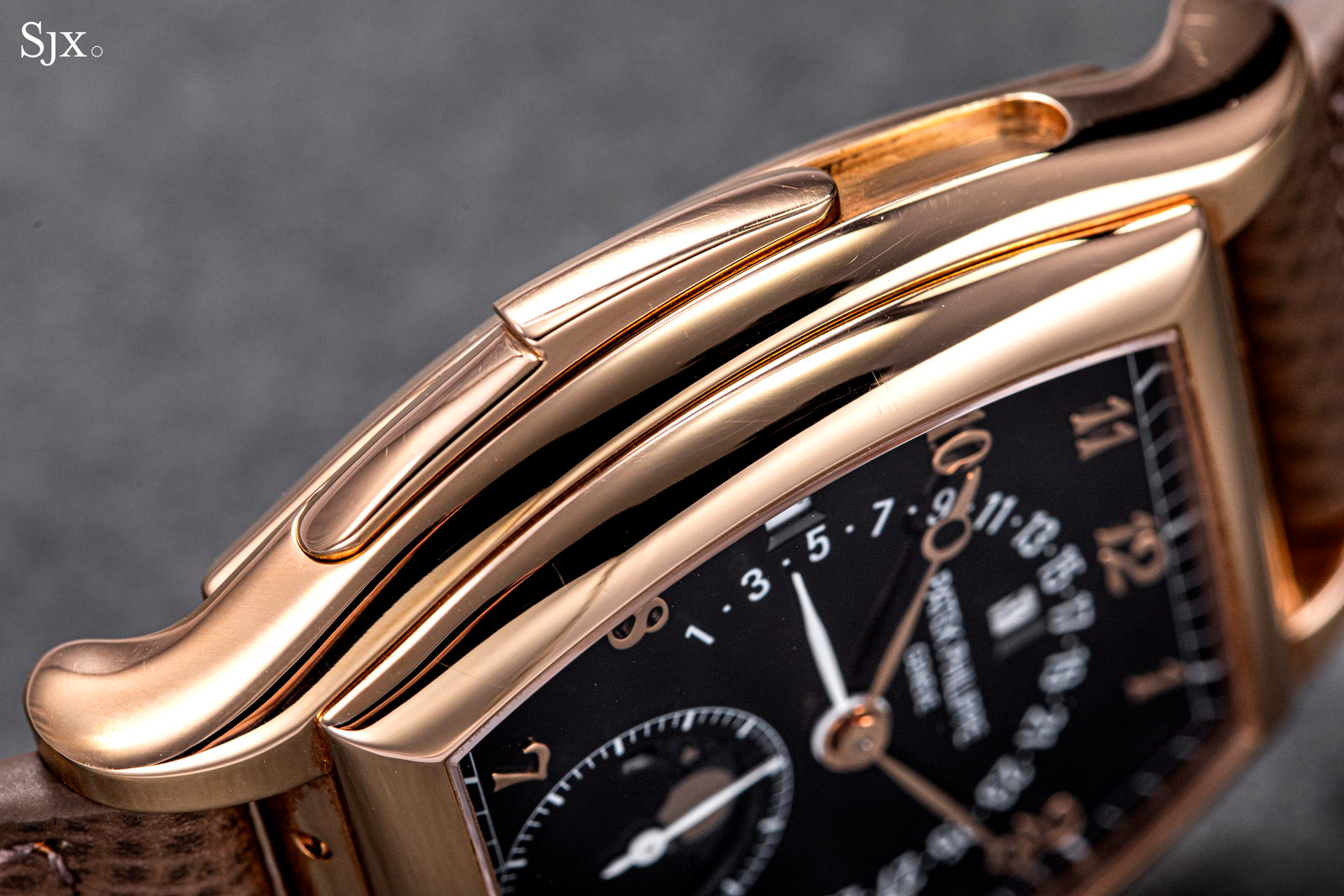 The development of the cal. R 27 PS QR used by the reference was a culmination of the research and development in the lead-up to 1989, when Patek Philippe marked its 150th anniversary.
The R 27 base movement was the brand's first self-winding minute repeater, a notable technical feat. Until then, its minute repeating wristwatches were powered by manual-winding movements. Notably, the R 27 remains in the Patek Philippe catalogue and was most recently installed in the Aquanaut Luce "Rainbow" ref. 5260.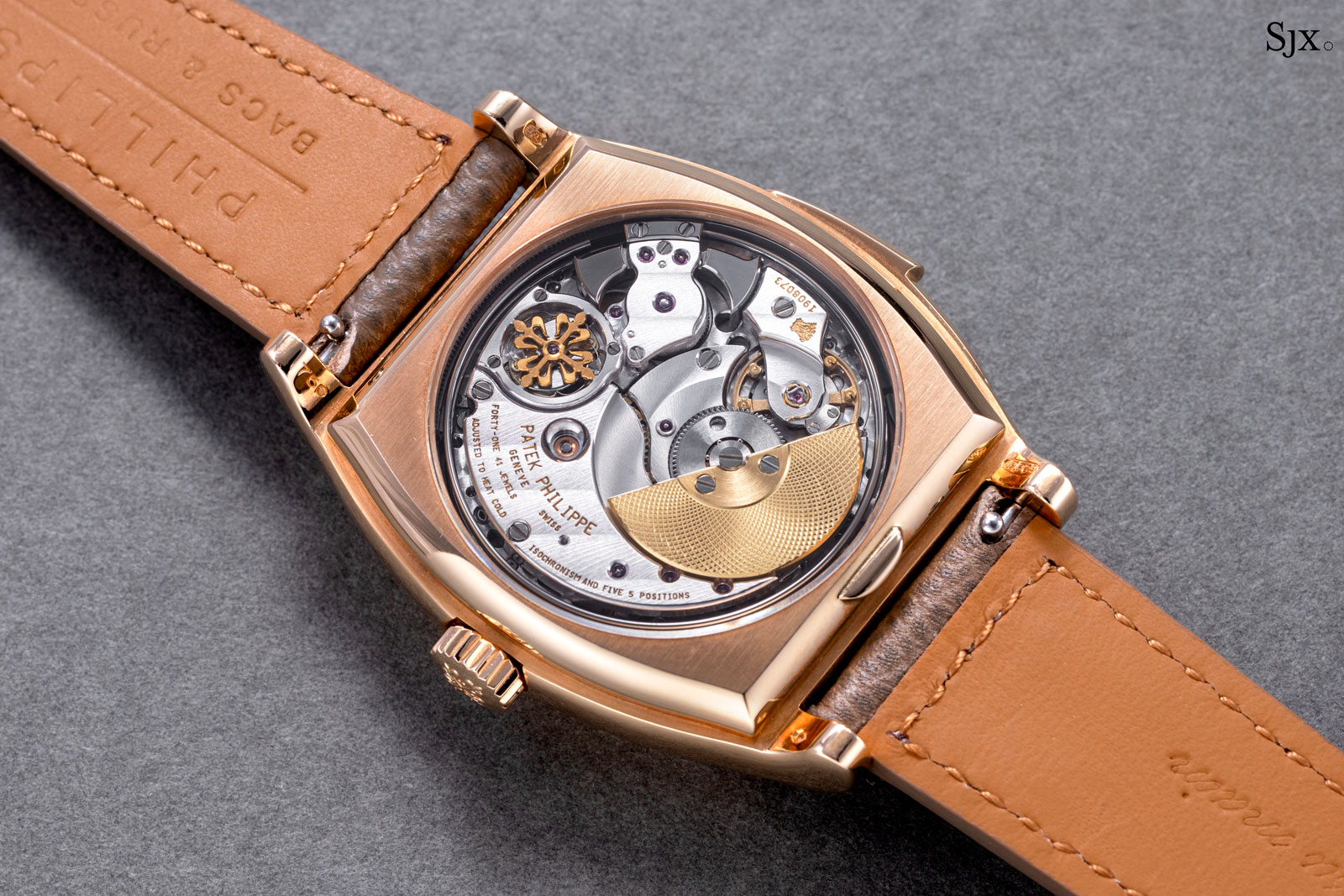 Like the more complex ref. 5016, the calendar of the ref. 5013 incorporates a central retrograde display for the date, along with day and month displays in a double aperture arrangement at three and nine o'clock, resulting in a symmetrical dial.
The present example is considered to be in good overall condition, with the case having undergone very light polishing in the past.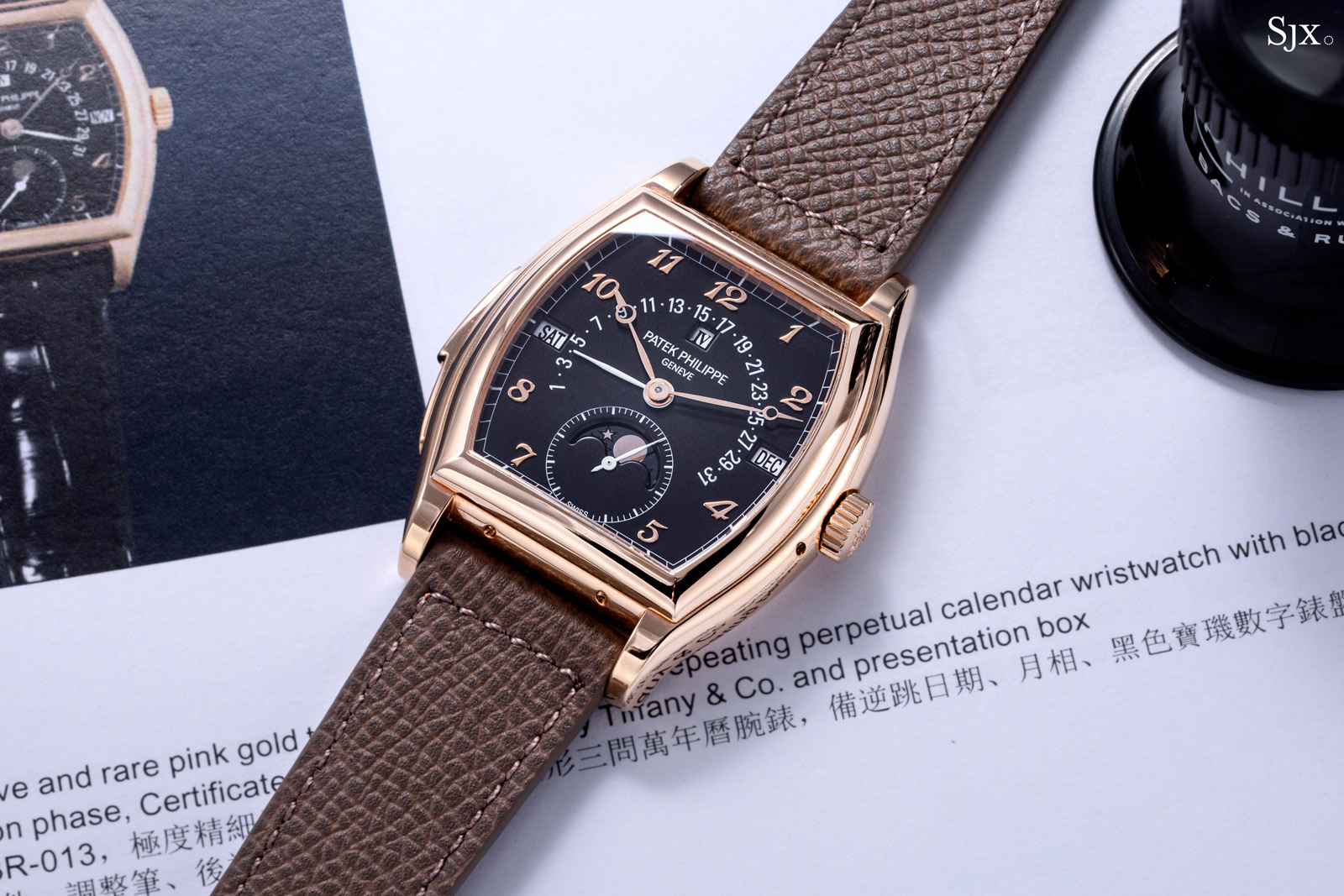 This example was previously sold in May 2019 for HK$2.687 million. It carries an estimate of HK$2.3-3.9 million, or about US$295,000-500,000 and is offered as a full set.
Find out more in the catalogue.
---
Crafted in a limited edition of just 50 pieces by the Swiss clockmaker L'Epée 1839 for Tiffany & Co., this clock is part of the American jeweller's Time for Speed collection but was sold only in Japan. It marries horology, design, and gem-setting, resulting in a singular objet d'art.
Exclusively tailored for the Japanese market, this was a 50-piece limited edition distinguished by the 192 brilliant-cut diamonds on the time display ring, along with additional one-carat stones at the centre of each wheel, all adding a touch of opulence.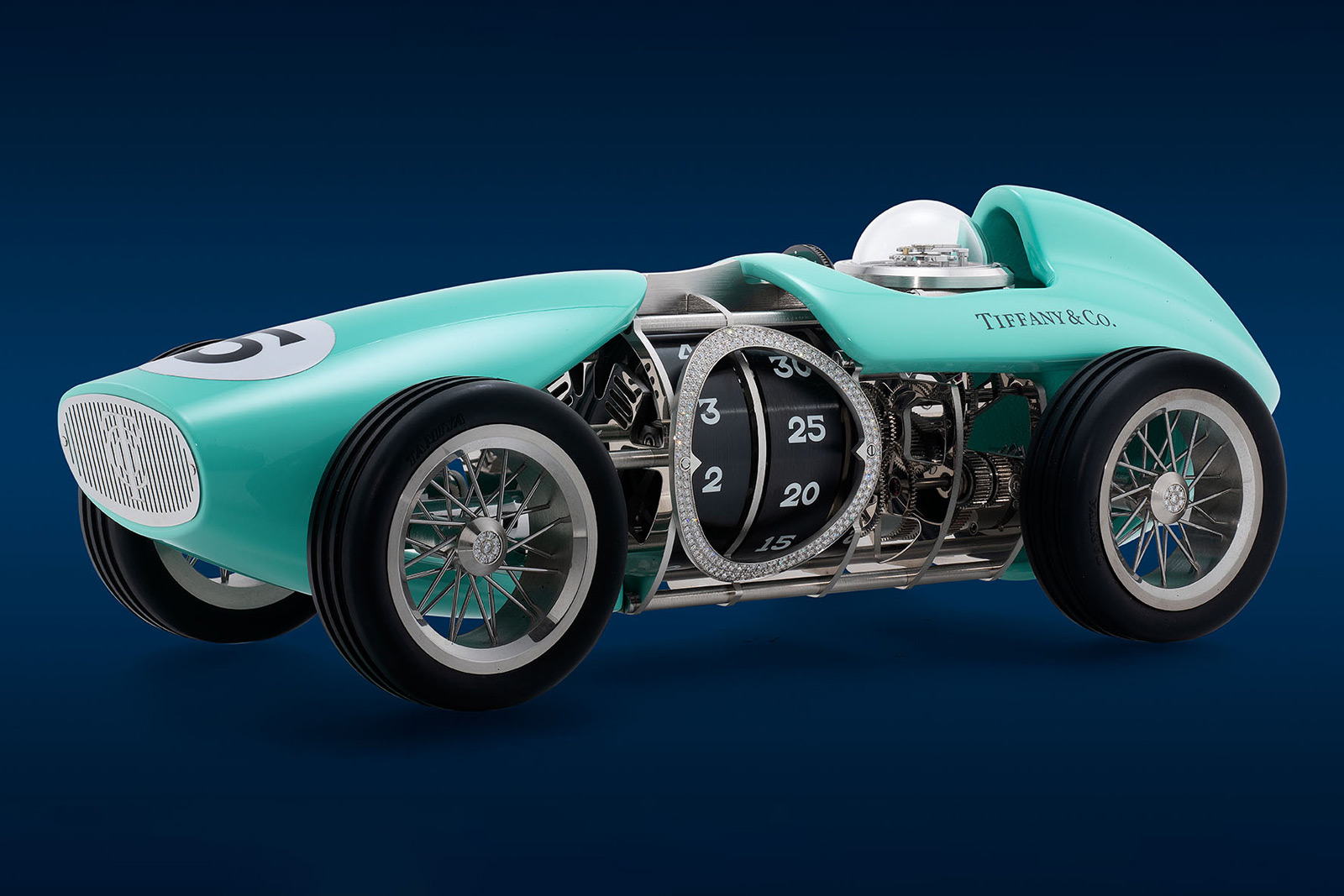 Drawing inspiration from Tiffany & Co.'s history of racing trophies, the aluminium-bodied clock emulates a vintage 1950s race car. It's naturally painted in the iconic Tiffany blue. Details like the "T & Co." grille and the "5" on the hood all refer to the flagship Tiffany store on Fifth Avenue.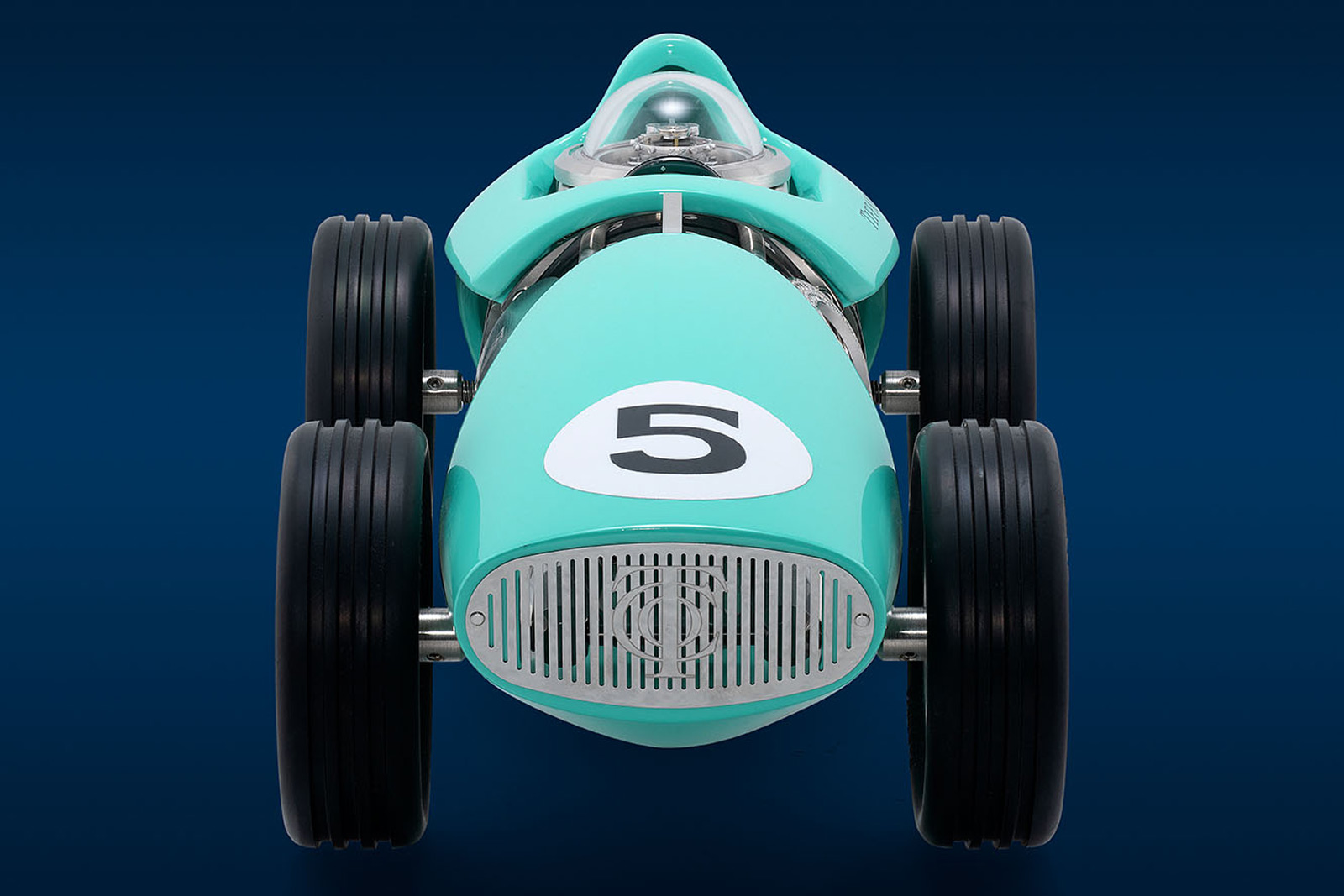 A brushed steel ring on its side frames the two drums that indicate the hours and minutes. The clockwork of the cal. 1855 MHD comes to life under a domed, helmet-shaped glass that reveals the balance wheel. The time can be set with a turn of the steering wheel, while the mainspring is wound by rolling the car back and forth; the winding mechanism is incorporated into the axles.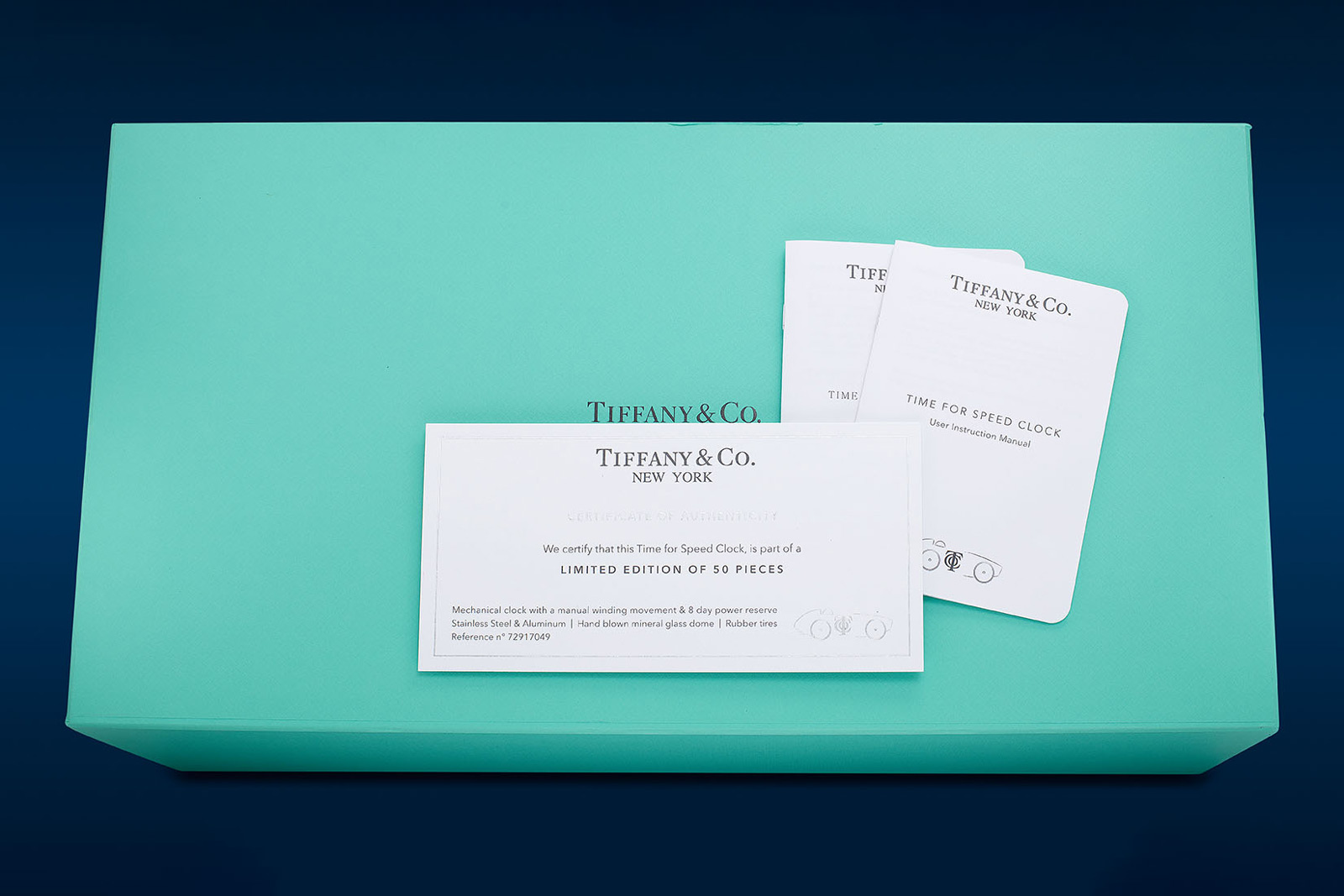 The clock is offered as a full set and has an estimate of HK$160,000-320,000, or about US$20,500-41,000. Find out more in the catalogue.
---
This is part of a Rare Handcrafts series of 40 wristwatches, pocket watches, and Dome Clocks made to commemorate Patek Philippe's 175th anniversary in 2014. Many of the timepieces drew inspiration from paintings in Philippe Stern's personal collection that often depict traditional scenes synonymous with Geneva, themes that are dear to Mr Stern's heart.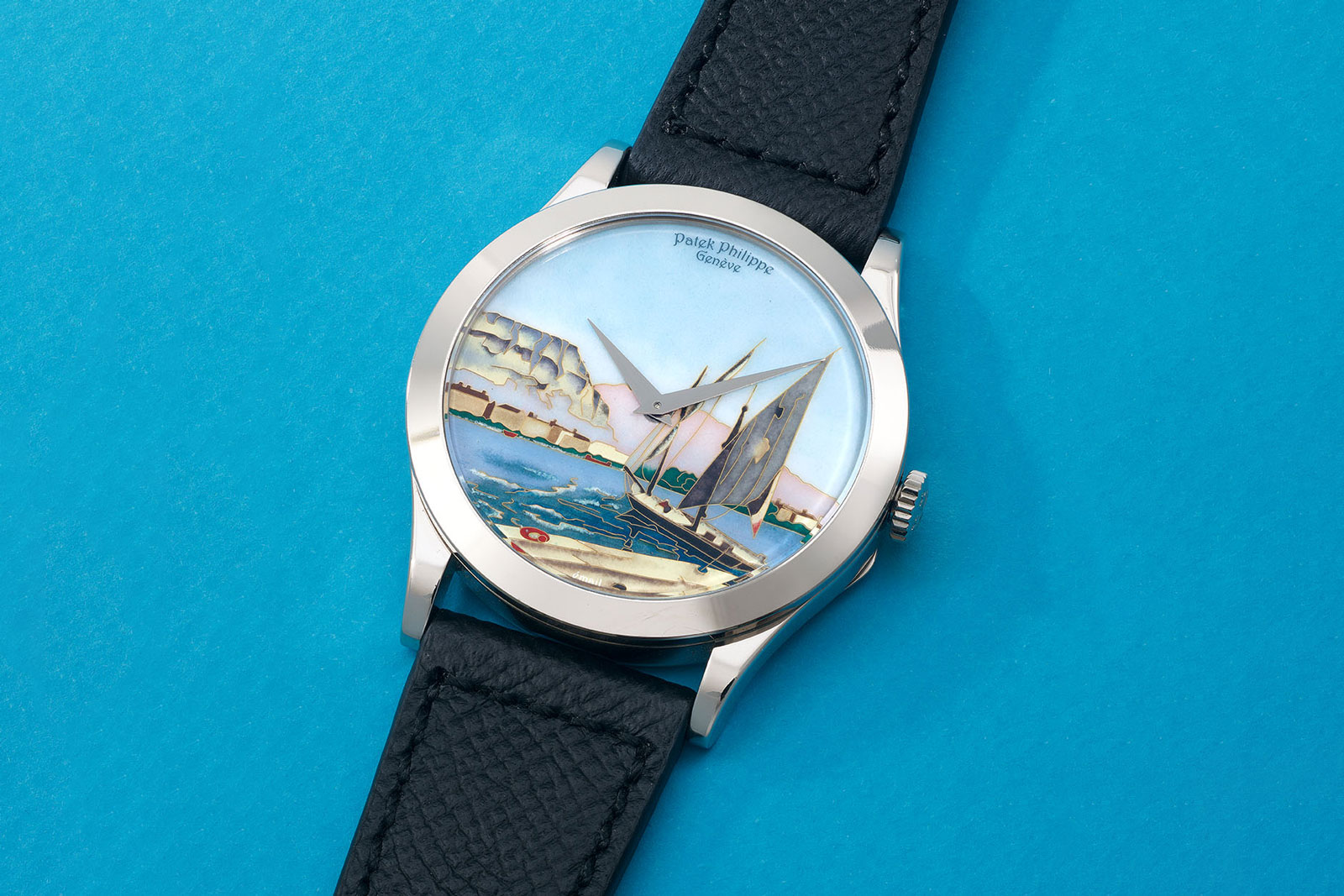 Amongst the wristwatches were several that paid homage to the splendour of Lake Geneva with scenes depicting traditional sailboats known as barques on the lake. The scenes were rendered in various decorative techniques, including engraving, enamel painting, cloisonné, and guilloché. This present watch was part of a set made up of four limited edition wristwatches featuring cloisonné dials.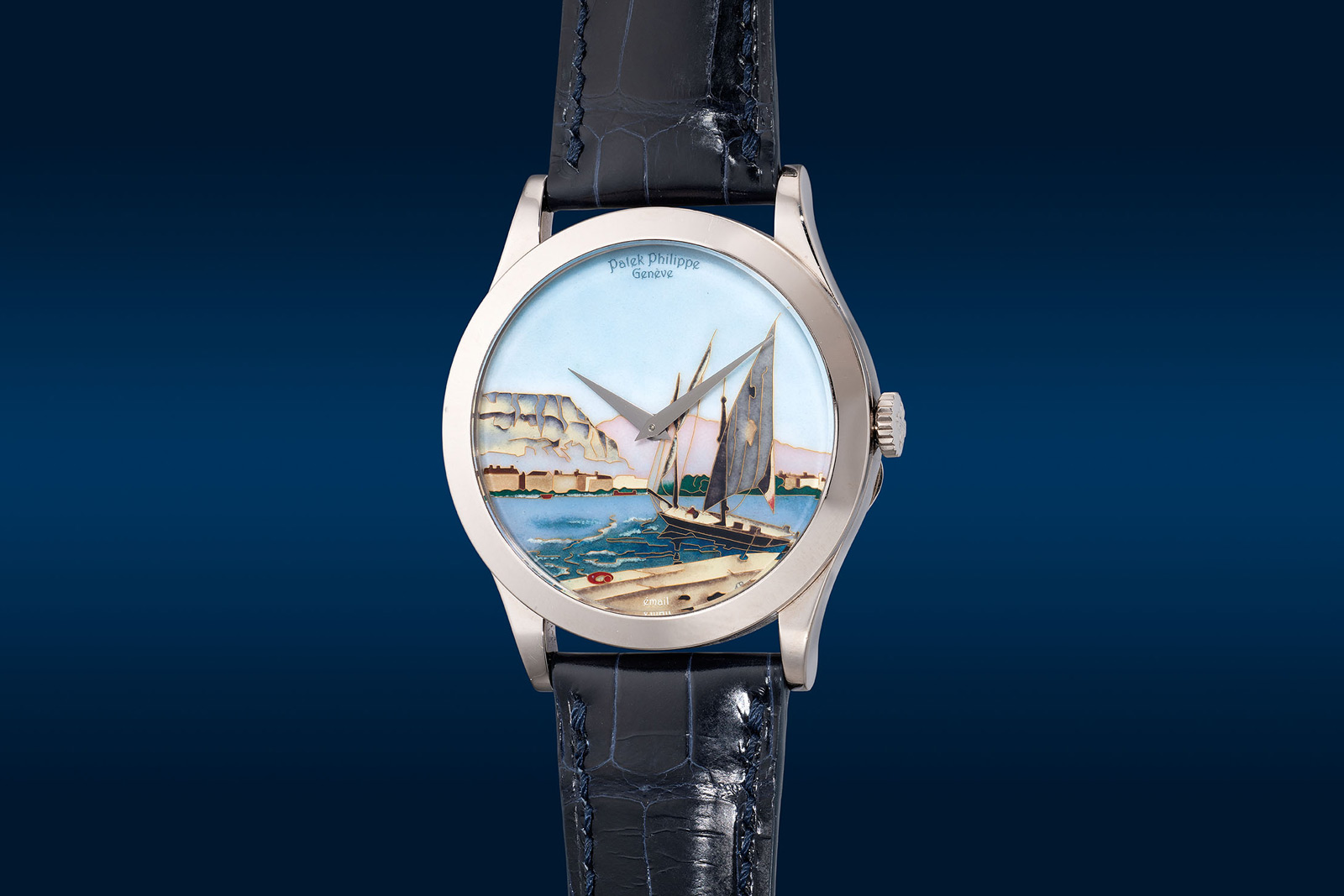 The cloisonné portrait presented here was inspired by Louis Baudit's 1951 oil painting Scene of Unloading at the Quai des Pâquis. It was meticulously reproduced by the artisans of Anita Porchet's workshop, hence the discreet "AP" signature on the dial.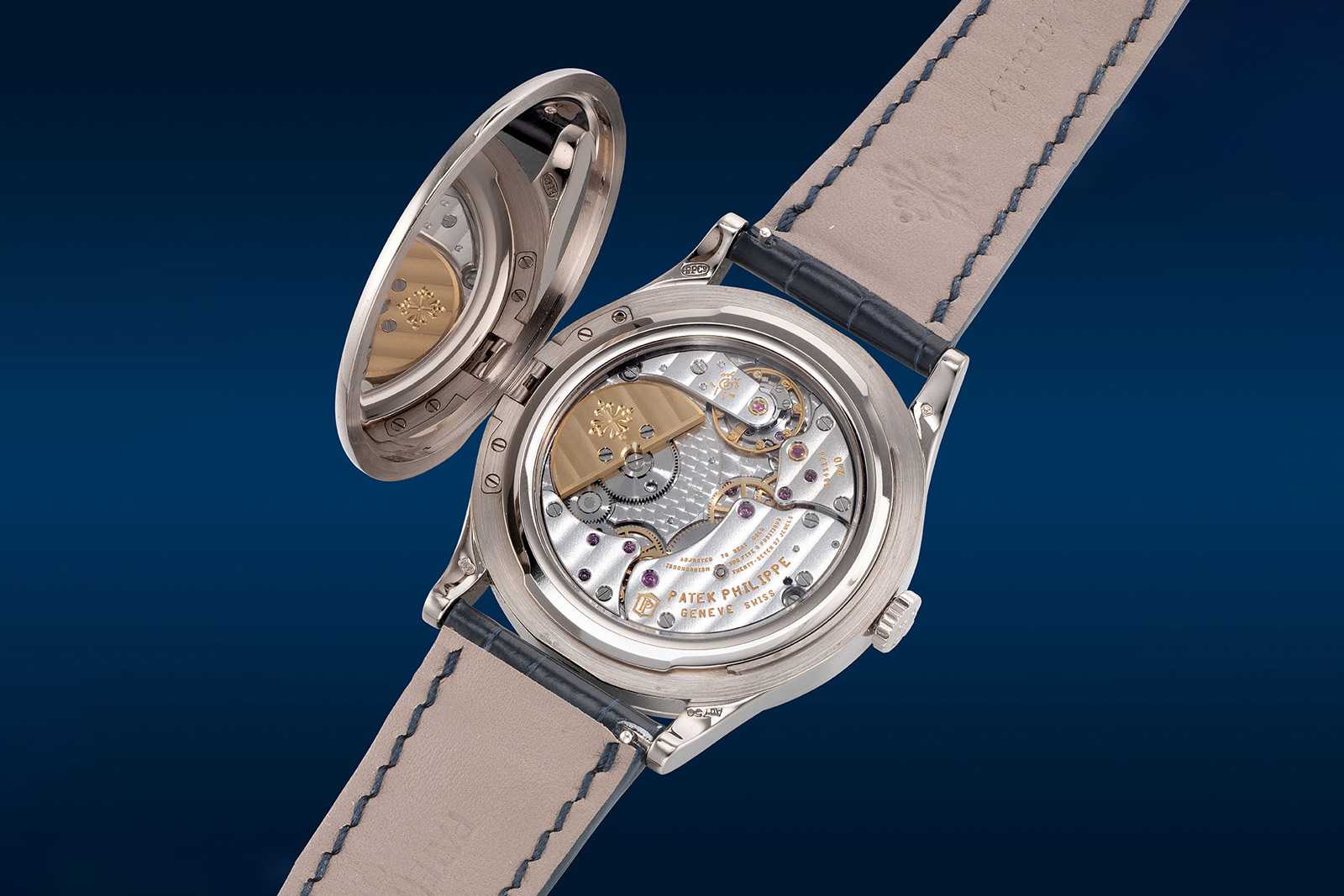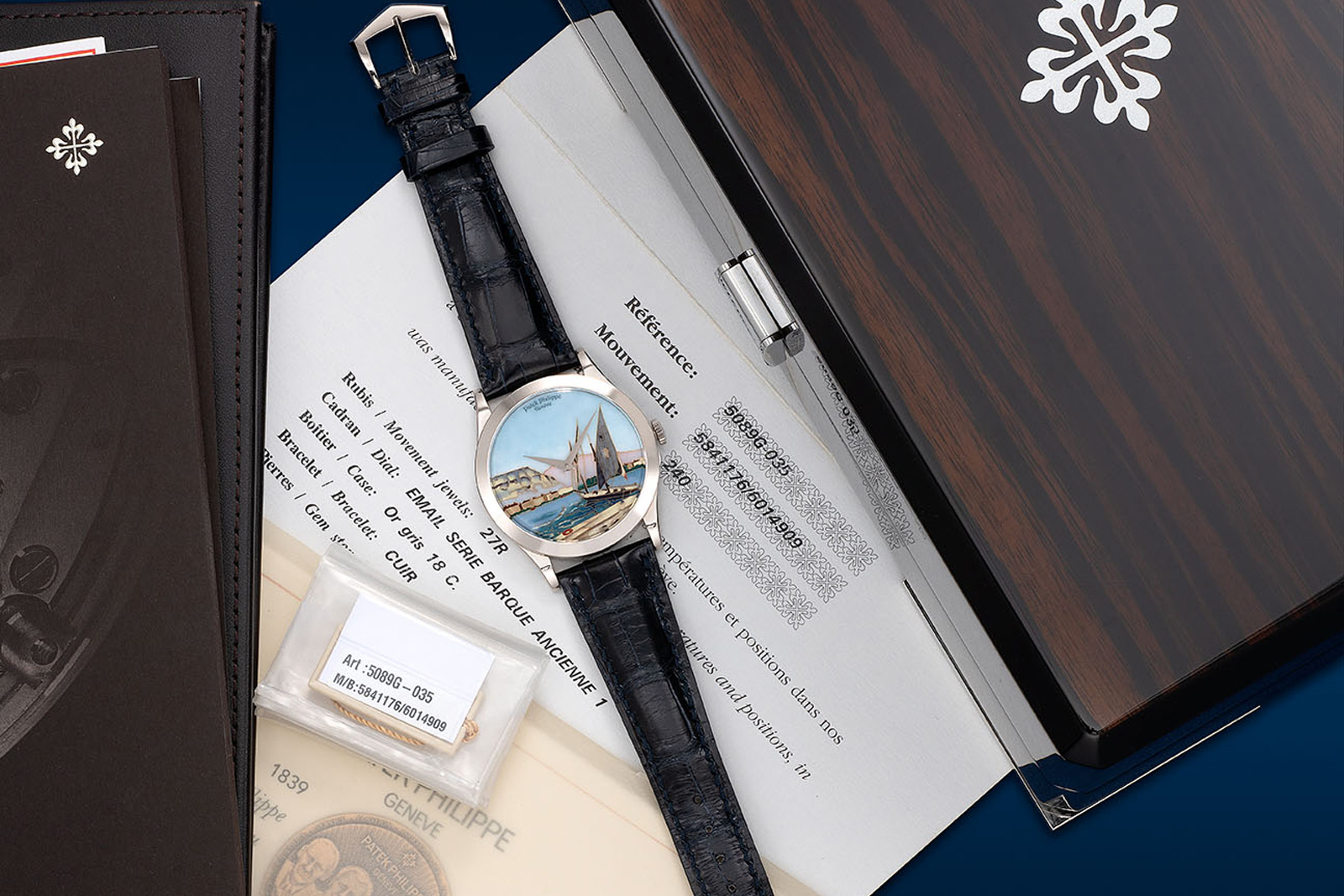 This Rare Handcrafts Calatrava carries an estimate of HK$800.000-1.6 million, or about US$103,000-205,000 and is offered as a full set.
Find out more in the catalogue. 
---
Part of a limited edition of just 38 watches, the current was part of the Metiers d'Art collection "Mythical Journey by Piaget", made up of 12 models released over a dozen years, each to commemorate a particular Zodiac symbol – all featuring dials made by Anita Porchet's workshop. The present example was made for the Year of the Horse in 2014.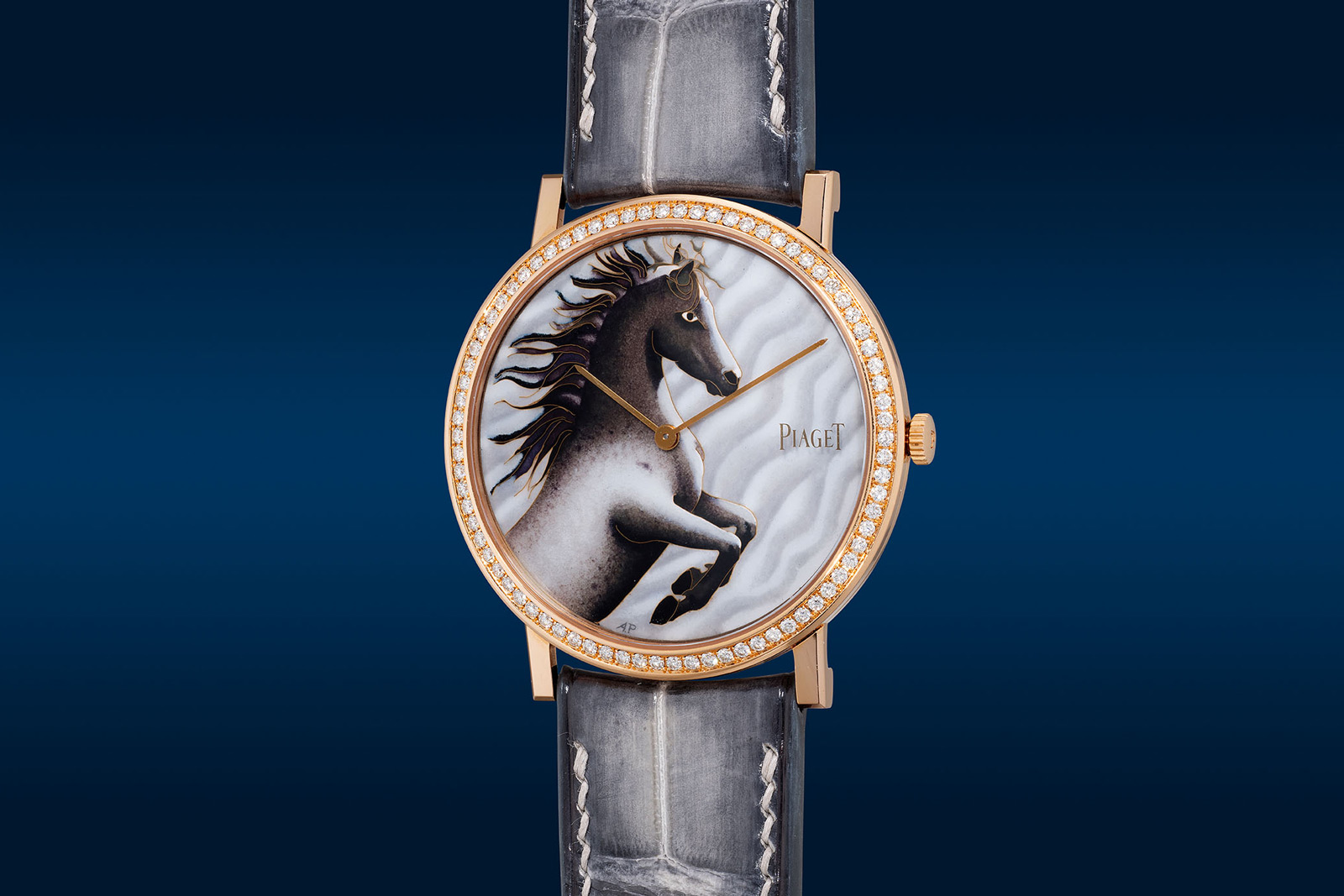 Encased in rose gold and measuring 38 mm, this timepiece is adorned with 78 brilliant-cut diamonds along the bezel.
The crowning glory is the cloisonné enamel dial signed "AP", indicating it was made by the workshop of master enameller Anita Porchet.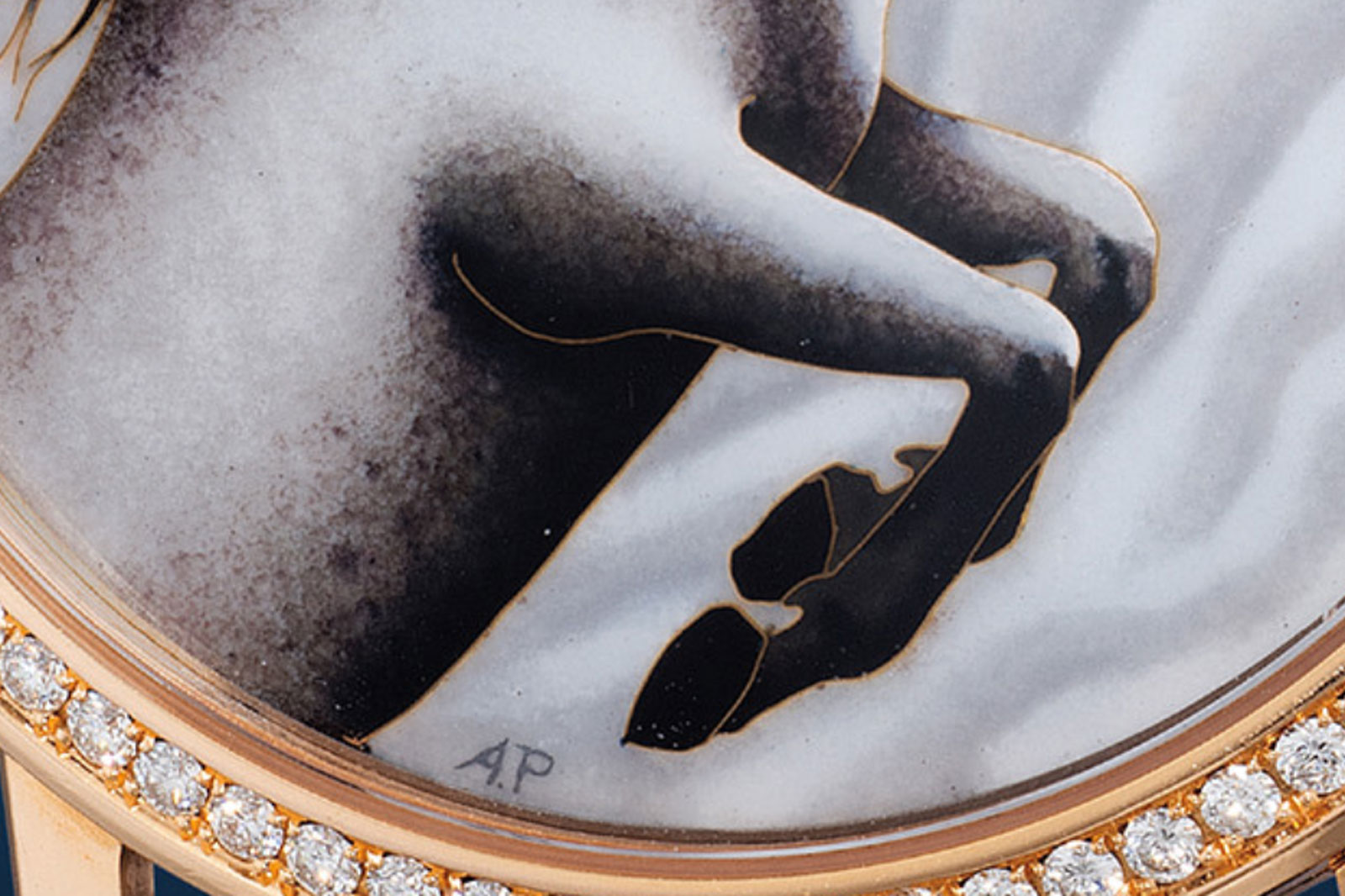 The dial portrays a Ferghana horse known for its extraordinary power and endurance. Often depicted in Tang dynasty art, it was an animal associated with divine origins.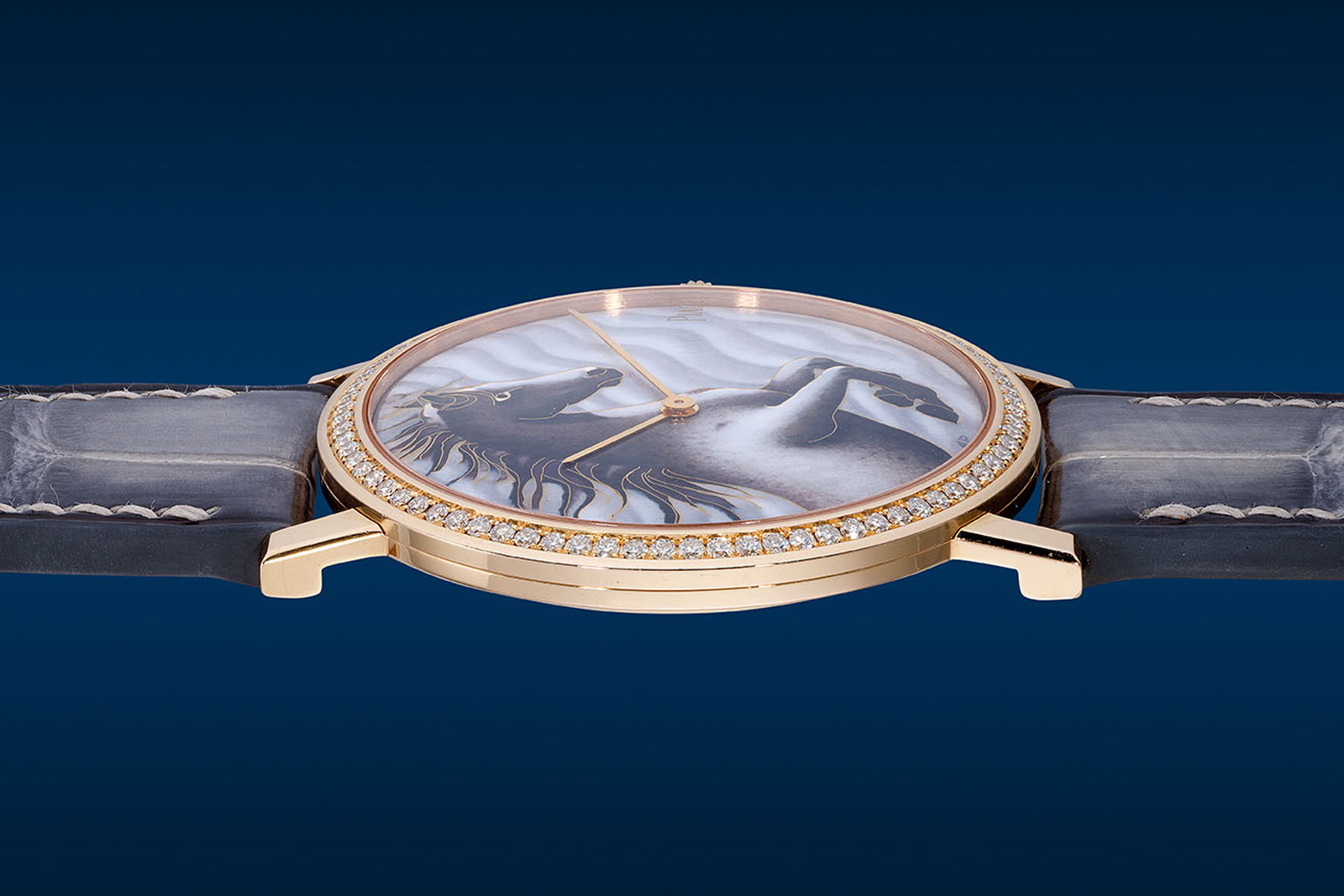 The timepiece is powered by the ultra-thin cal. 430P movement and has a 43-hour power reserve.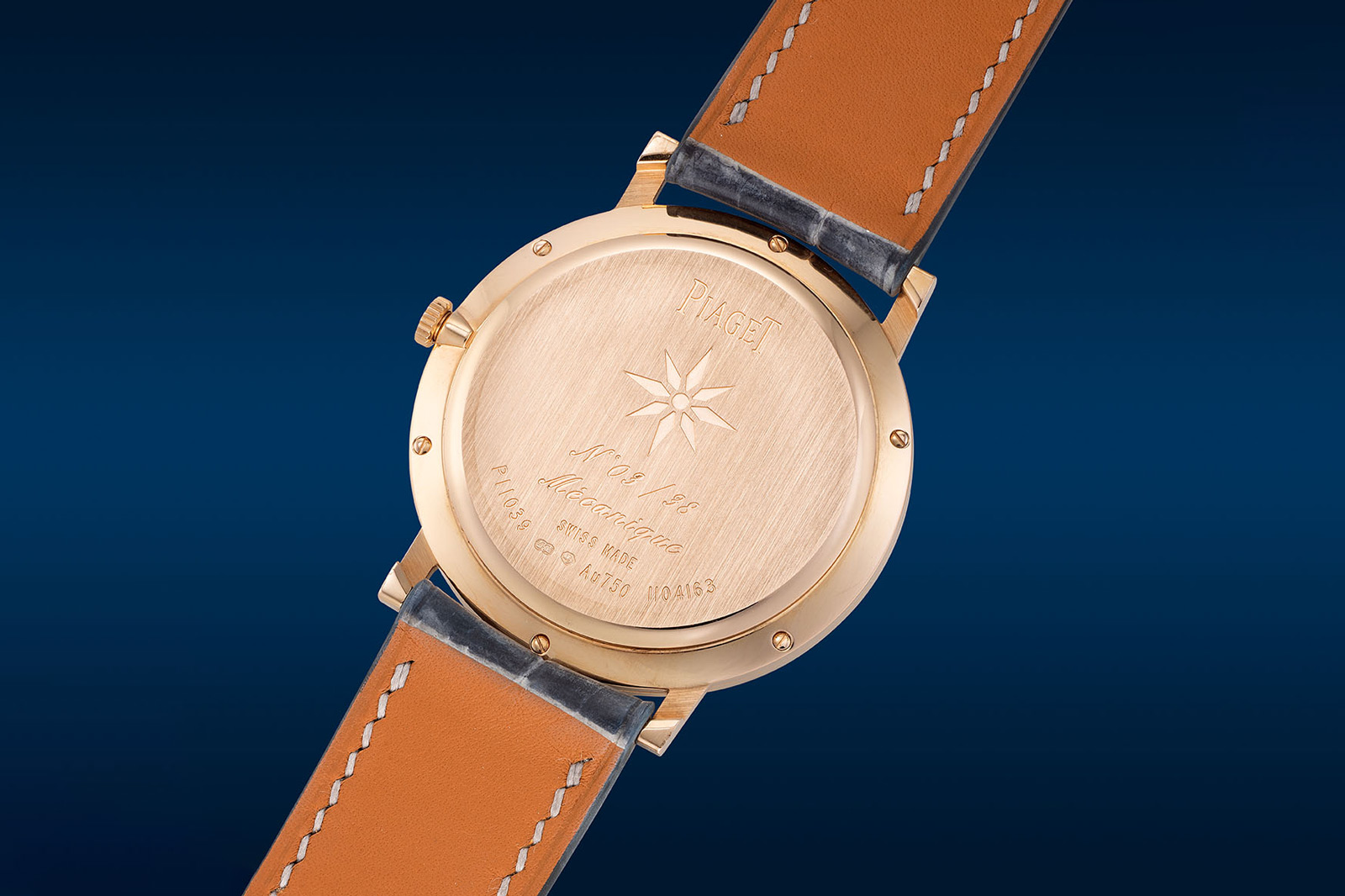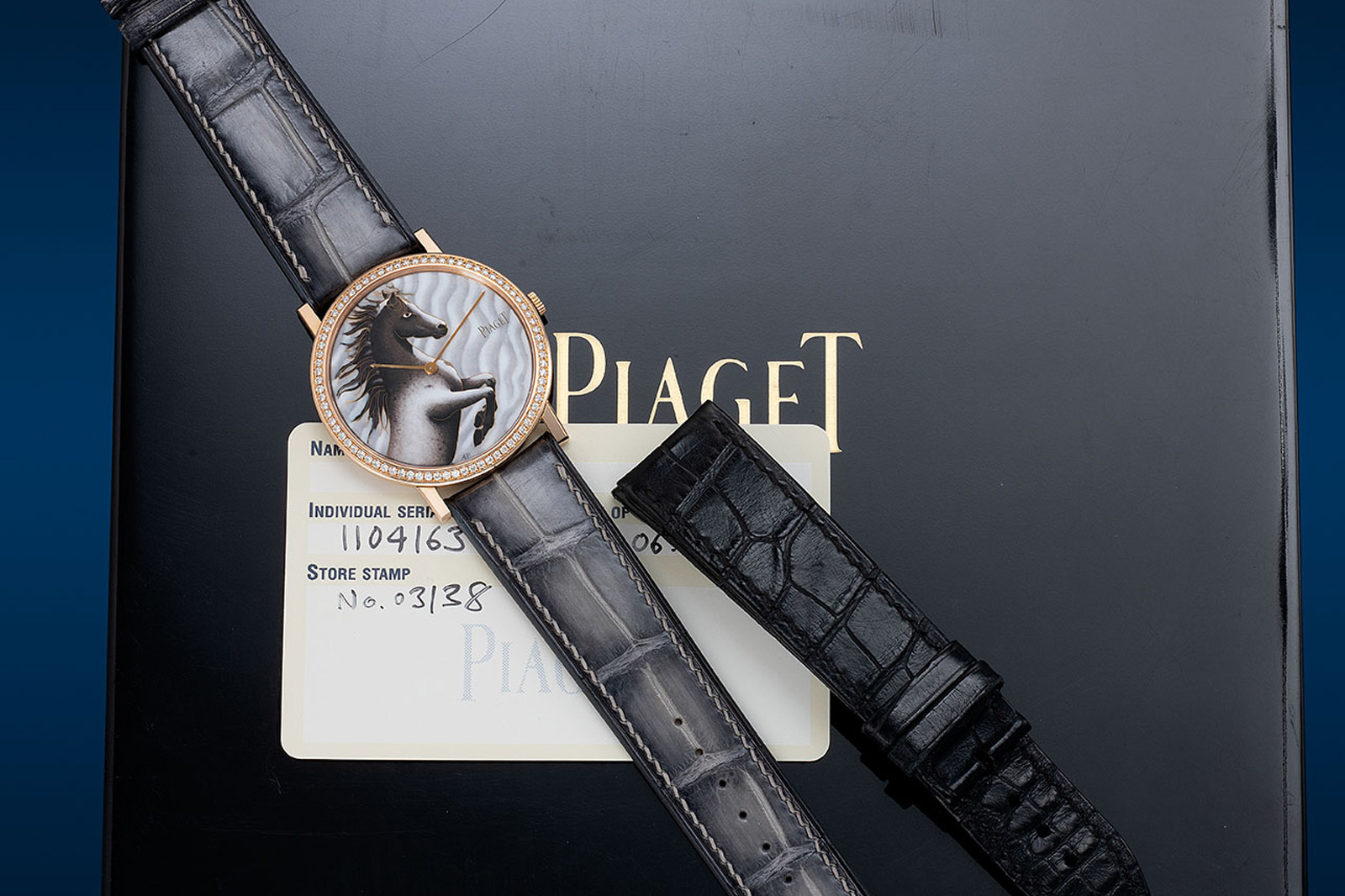 Offered as a full set, this carries an estimate of HK$160,000-320,000, or about US$20,500-41,000. Find out more in the catalogue.
---
The dual time is a longstanding complication in Cartier's catalogue, having been found in the Tonneau, Tank Cintrée, and Tank À Vis.
This is an esoteric and less-known model – and substantially more affordable – with a square case. With short, faceted straight lugs, this watch has a champagne dial with twin time displays, each bearing a Cartier signature, making this a literal "double-signed" watch. Each time display is powered by its own movement and individually set by its own crown with a blue cabochon, a trademark Cartier design element.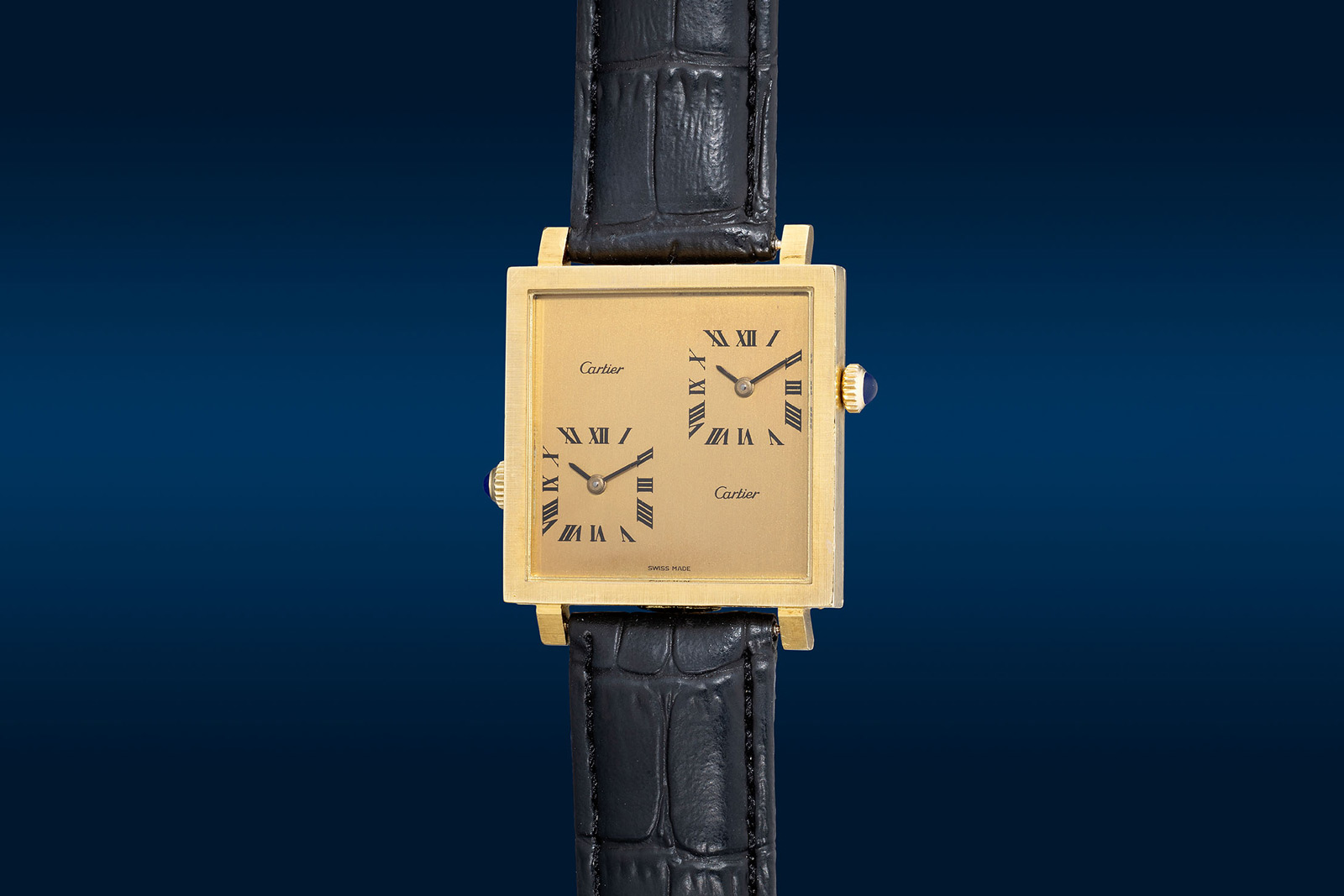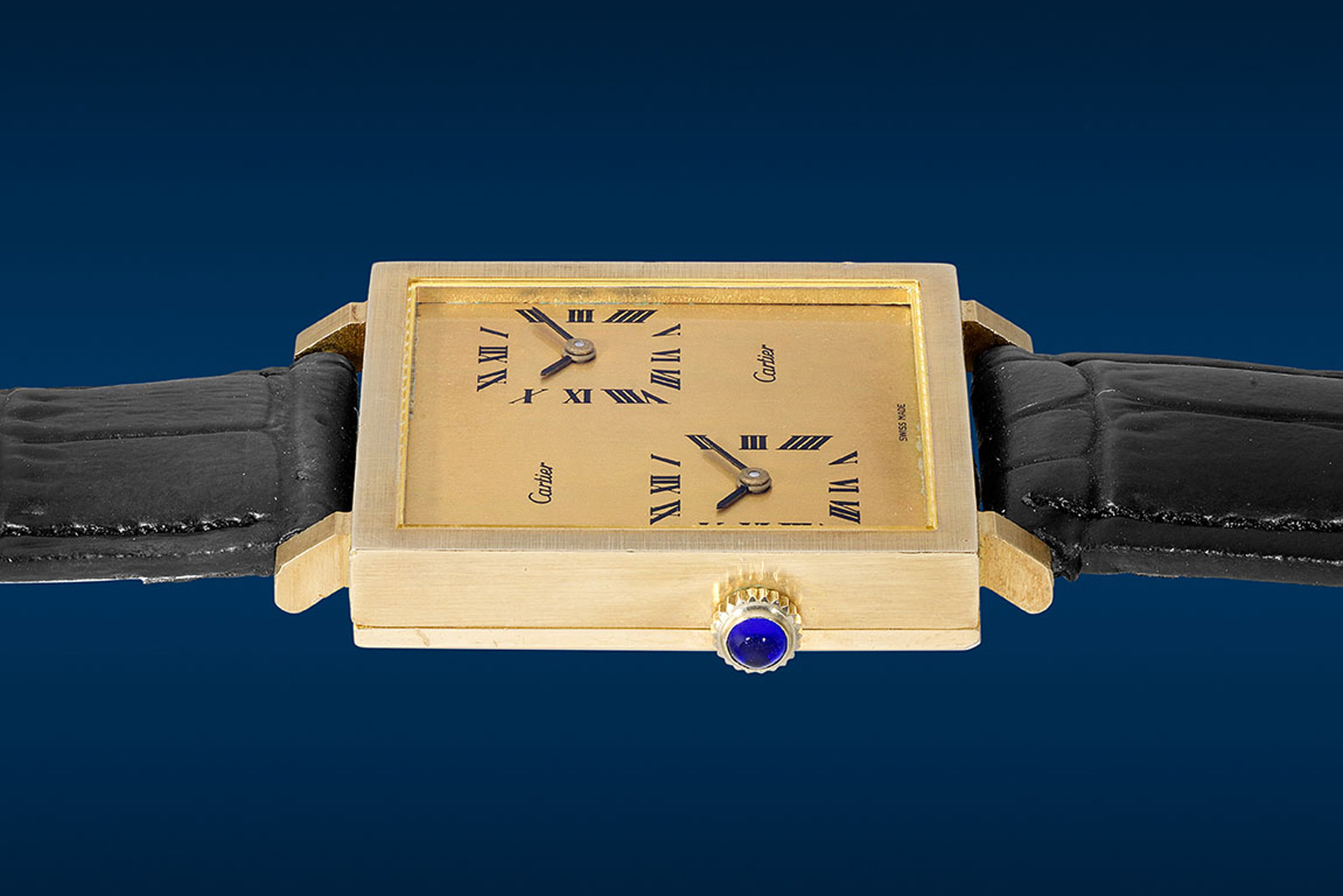 This watch bears a striking similarity to the Baume & Mercier ref. 32001, save for the branding on the dial, while inside is the Baume & Mercier BM550 movement.
This is a quirk explained by the fact that it was made in the 1970s when Cartier held a controlling interest in both Piaget, which in turn owned Baume & Mercier (B&M). As a result, B&M sometimes supplied watches to Cartier.
Though B&M branded examples are known, this is the first Cartier example to surface at auction.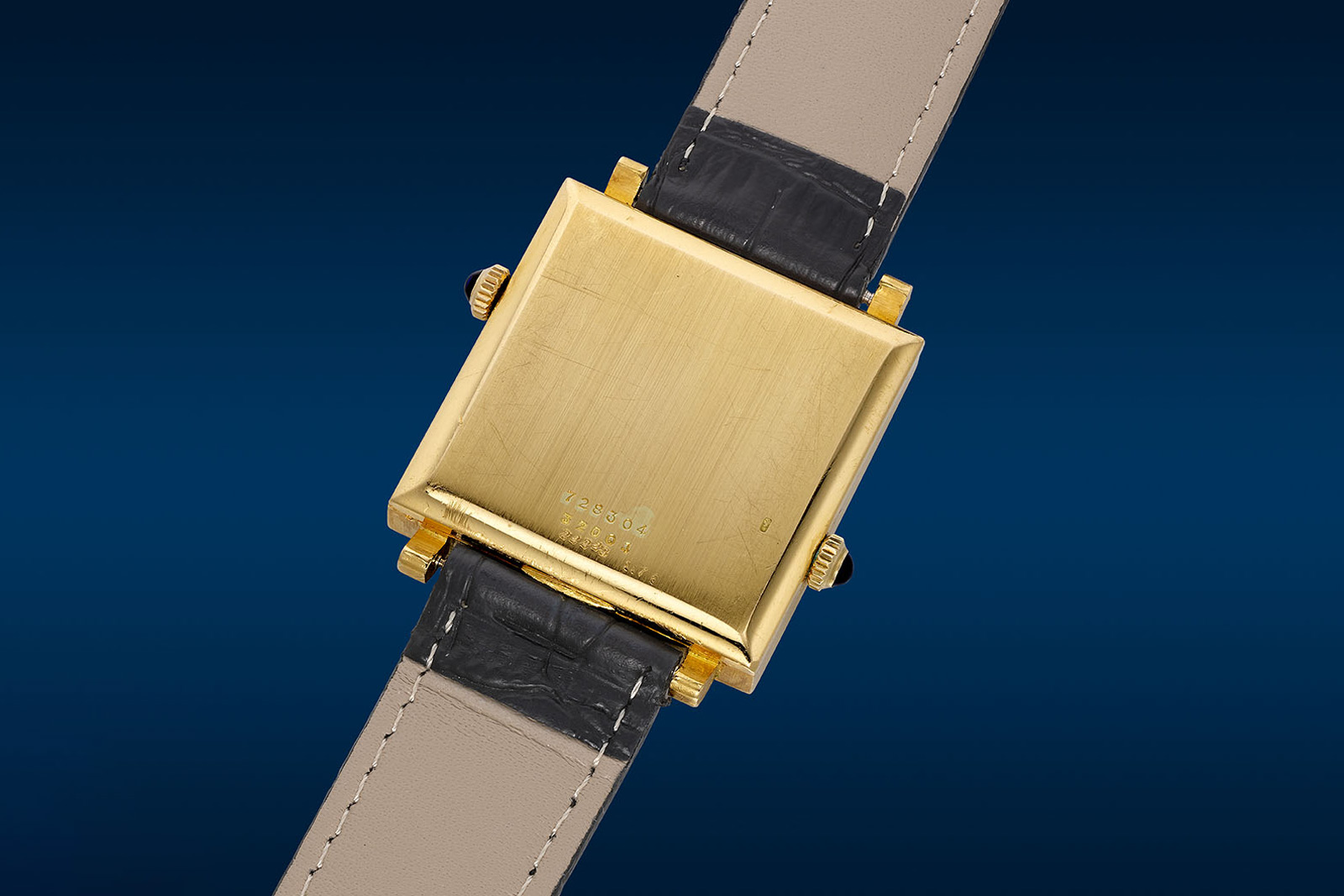 Offered in excellent condition and accompanied by a recent service receipt, the present lot has an estimate of HK$80.000-160,000, or about US$10,300-20,500. Find out more in the catalogue.
---
Preview and auction details
All lots will be on show during the preview exhibition in the run-up to the auction. Both the auction and preview will take place at Phillips Hong Kong in the West Kowloon Cultural District.
Preview
Open daily November 18-25 from 10:00 am-7:00 pm
Auction
November 24, 2:00 pm (lots 801-903)
November 25, 11:00 am (lots 904-1011)
All times are local to Hong Kong, GMT+8.
Phillips
G/F WKCDA Tower
Cultural District
8 Austin Road W
Kowloon
Hong Kong
For the whole catalogue, viewing appointments and online bidding, visit Phillips.com.
---
This was brought to you in collaboration with Phillips.
Back to top.
---
You may also enjoy these.