Equine Artisanal Craft with the Hermès Masan Masan Pocket Watch
Expect the unexpected.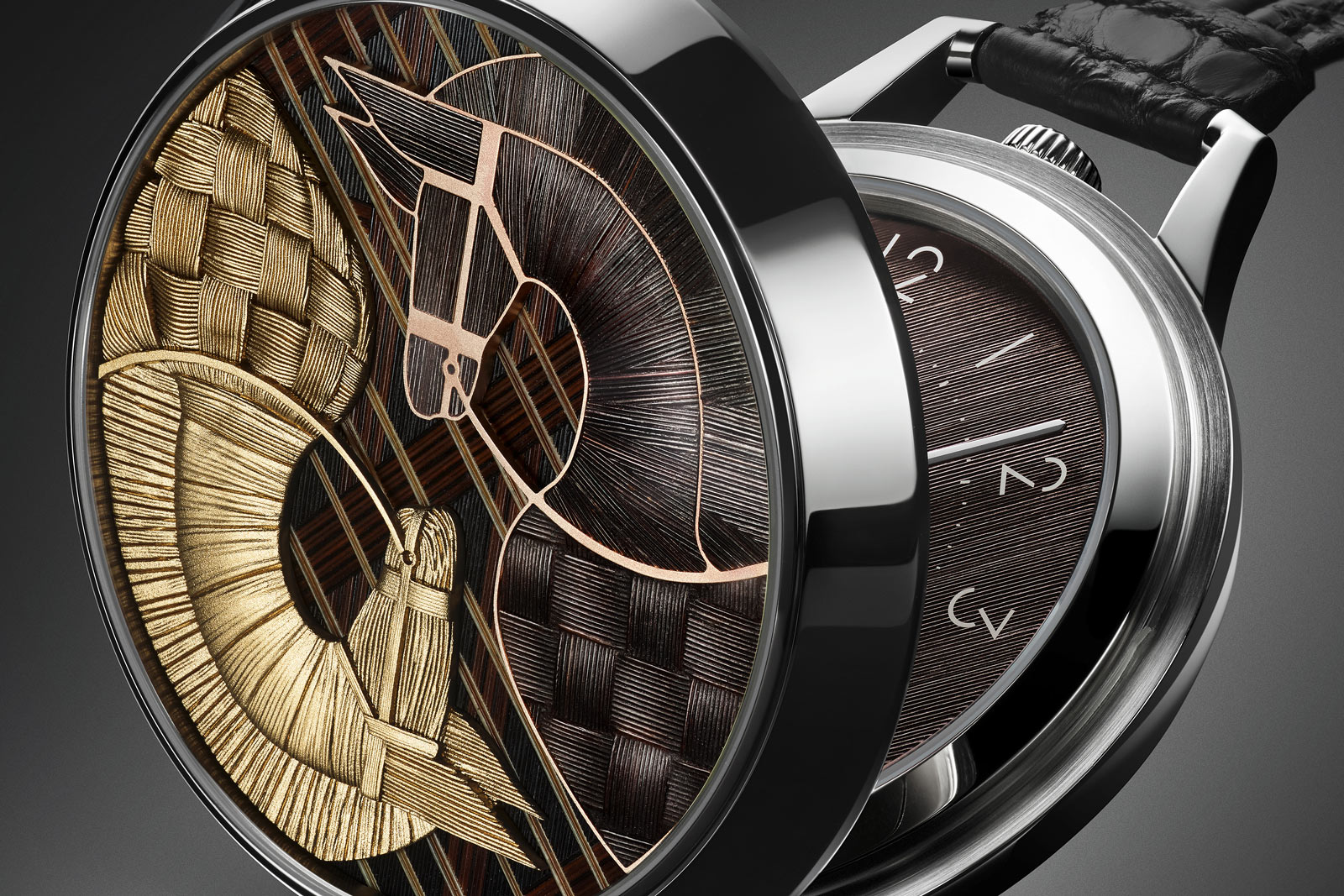 Hermès' pocket watches consistently demonstrate the brand's limitless creativity across a spectrum of artisanal crafts. Bringing forth a delightful blend of surprise and anticipation, the Slim d'Hermès Masan Masan Pocket Watch is decorated with horsehair marquetry, a weave technique that forms a finely textured motif.
The one-off creation stands as a remarkable achievement, underscoring Hermès' exceptional talent transforming the distinctive designs drawn from its scarves into works of art for the wrist or pocket.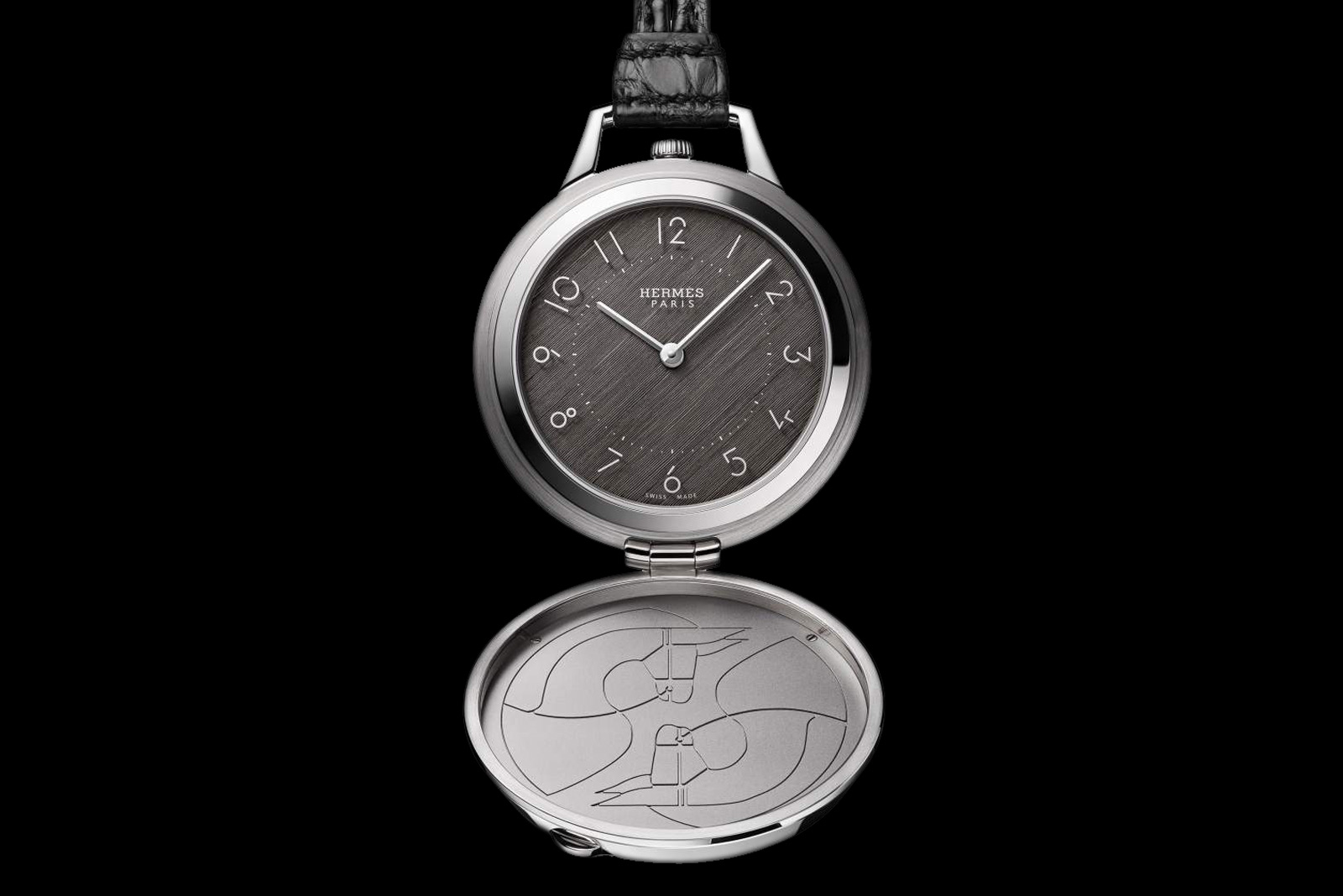 Initial thoughts
Hermès' creativity appears boundless, characterised by an impeccable sense of understated aesthetics that sets it apart from the more extravagant approaches taken by many other manufacturers. Even when Hermès endeavours to go over the top, the outcome remains remarkably restrained, aligning seamlessly with the company's approach to other product lines. Its collection of exceptional watches always demands a second look to truly appreciate the craftsmanship required to achieve these results, as they often showcase techniques and skills seldom employed by more renowned watchmakers.
This is evident in the unique Masan Masan pocket watch, where the artistic craft of marquetry, typically executed with small pieces of various kinds of wood, takes an unexpected turn with the use of woven horsehair, resulting in a beautiful outcome. Applied to the dial of this white gold timepiece, this technique creates a brownish oblique texture, against which the numberings, exclusively designed by graphic designer Philippe Apeloig for Hermès, present a flawless contrast. However, it is the lid of the hunter-style case of this pocket watch that truly stands out, featuring an intricate yin and yang horse design. Its price tag of US$159,800 (excluding VAT) is high, yet seems to be in alignment with the artistry involved here.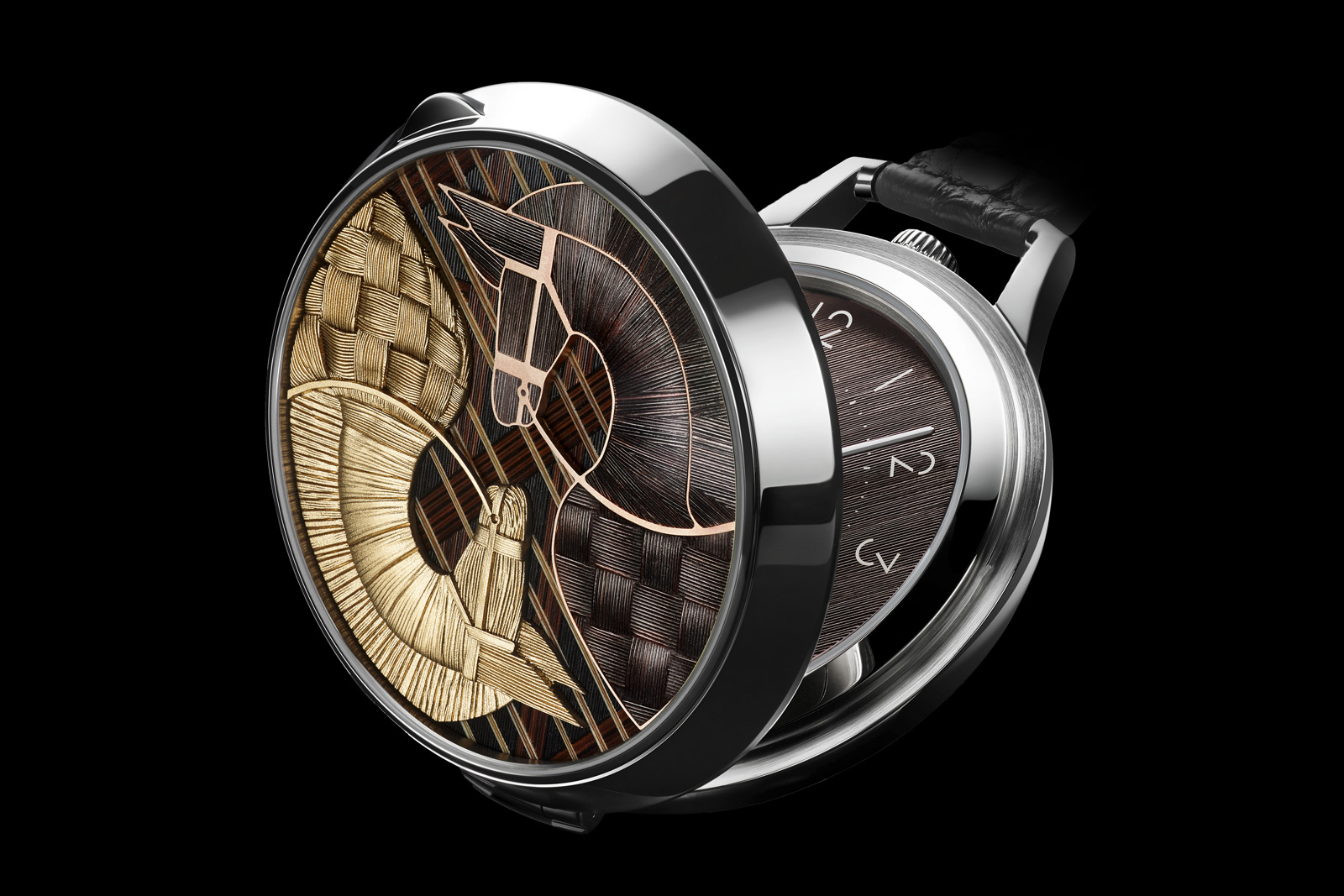 The art of horsehair weaving
The sleek lines of the Slim d´Hermès watch line were originally designed in 2015 by Philippe Delhotal, who, since 2009, has served as the skilful creative director at La Montre Hermès.
Delhotal had already presented us with similar, unexpected works like the leather marquetry produced for the Aaaaargh! Arceau Pocket Minute Repeater, a testament to his open mindedness and the contribution of artists with different backgrounds and expressions.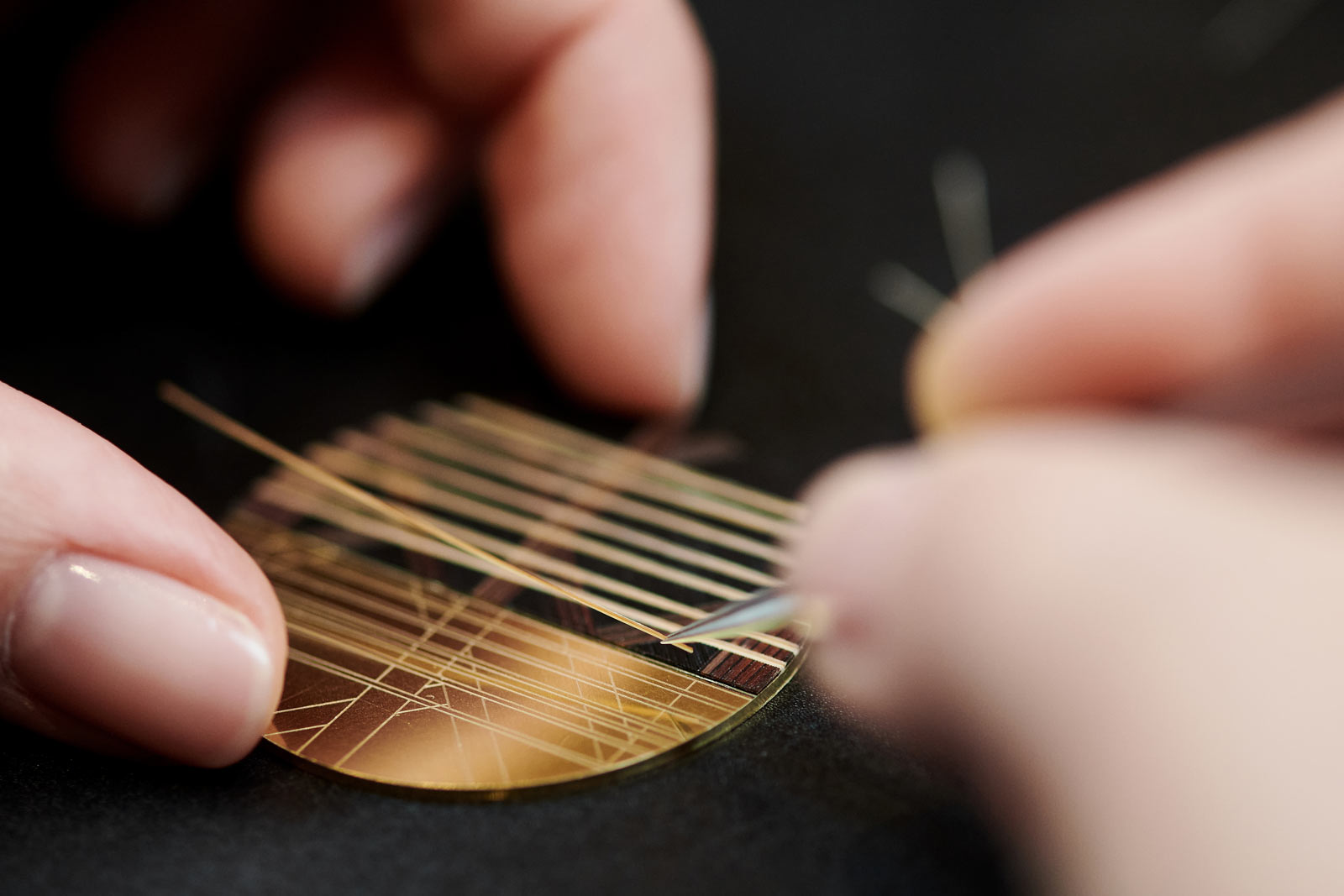 With the Slim d'Hermès Masan Masan Pocket Watch, Hermès incorporated the design of Terawat Teankaprasith, one of the six winners of the Grand Prix du Carré Hermès in 2019, which the brand had previously featured in its Autumn-Winter 2021 collection. This design features two intricately woven horses in a captivating face-to-face encounter, paying homage to Hermès' longstanding equestrian heritage.
Teankaprasith finds his creative inspiration in the abundance of water hyacinths that fringe the shores of numerous rivers, lakes, and streams throughout Thailand. These versatile plants undergo careful harvesting, sun-drying, and weaving, resulting in an array of functional items such as baskets, hats, sandals, and animal-shaped toys. Within this collection of artisanal treasures lies the "Masan", a term that translates to "woven horse" in Thai. Teankaprasith has prominently featured this exquisite woven horse design as the focal point of his vision for this extraordinary piece.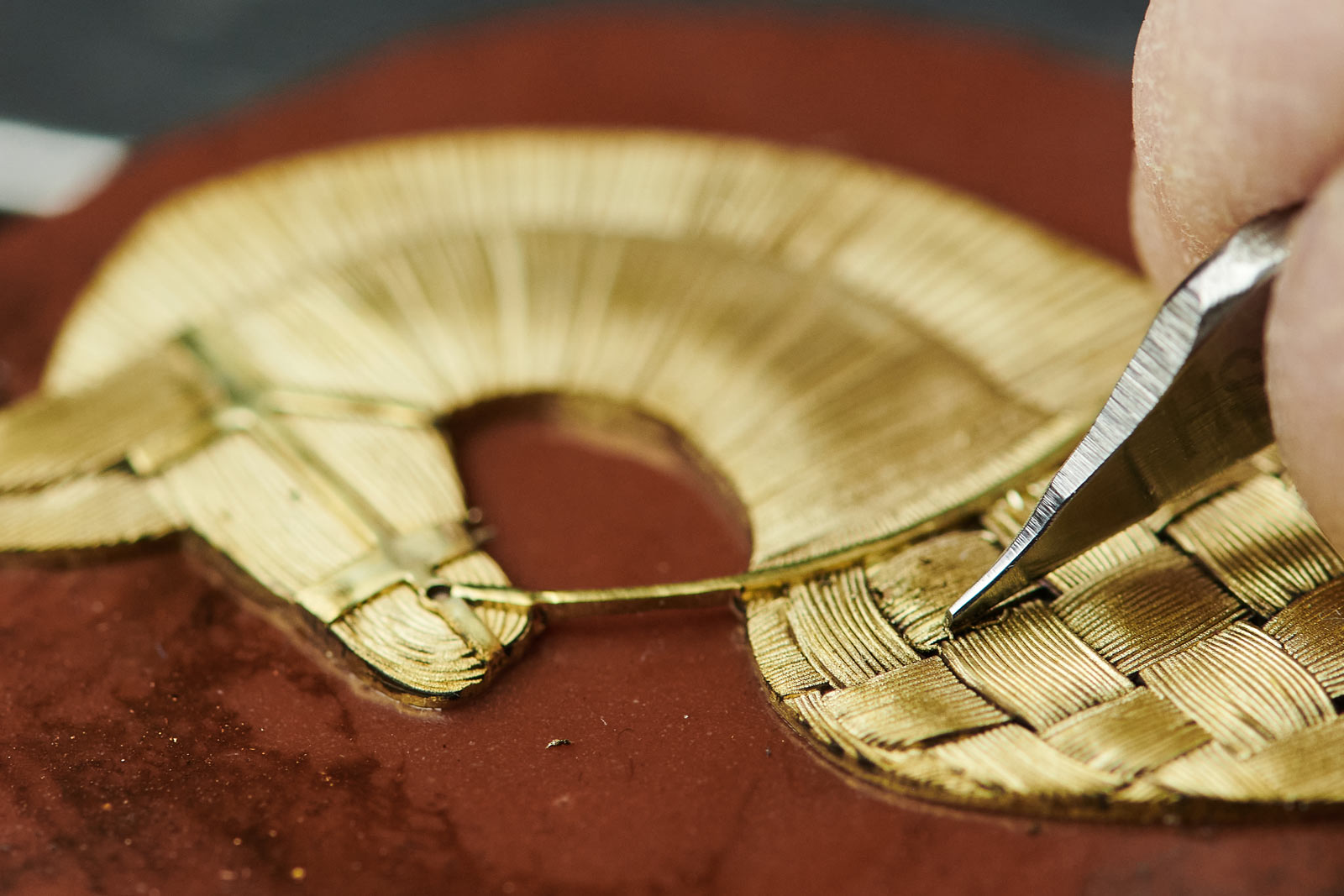 In order to craft the intricate weave on both the cover and the dial, the artisan meticulously selected various shades of horsehair, carefully cutting and then individually glueing each strand and artfully composing the motif. Meanwhile, the engraver skillfully breathes life into the second horse profile, adding dimension and contrast through the traditional use of burins and chisels in gold, creating the necessary reliefs and depths to complete the work.
The movement is a simple, time-only affair, run on the Hermès cal. H1950, a micro-rotor calibre based on a Vaucher that has been decorated with the standard H motif that can be seen through the sapphire caseback. 
---
Key facts and price
Slim d´Hermès Masan Masan Pocket Watch
Ref. 403037WW00
Diameter: 45 mm
Height: 11.6 mm
Material: White gold
Crystal: Sapphire
Water resistance: 30 m
Movement: Cal. H1950
Functions: Hours and minutes
Winding: Automatic
Frequency: 21,600 beats per hour (3 Hz)
Power reserve: 48 hours
Strap: Black alligator cord strap and pouch
Limited edition: Unique piece
Availability: At Hermès boutiques
Price: US$159,800; or 234,000 Singapore dollars
For more information, visit Hermès.com
---
Back to top.
---
You may also enjoy these.