Inside F.P. Journe – "In-House" Still Matters in 2023
A visit to the manufacture(s) in Geneva.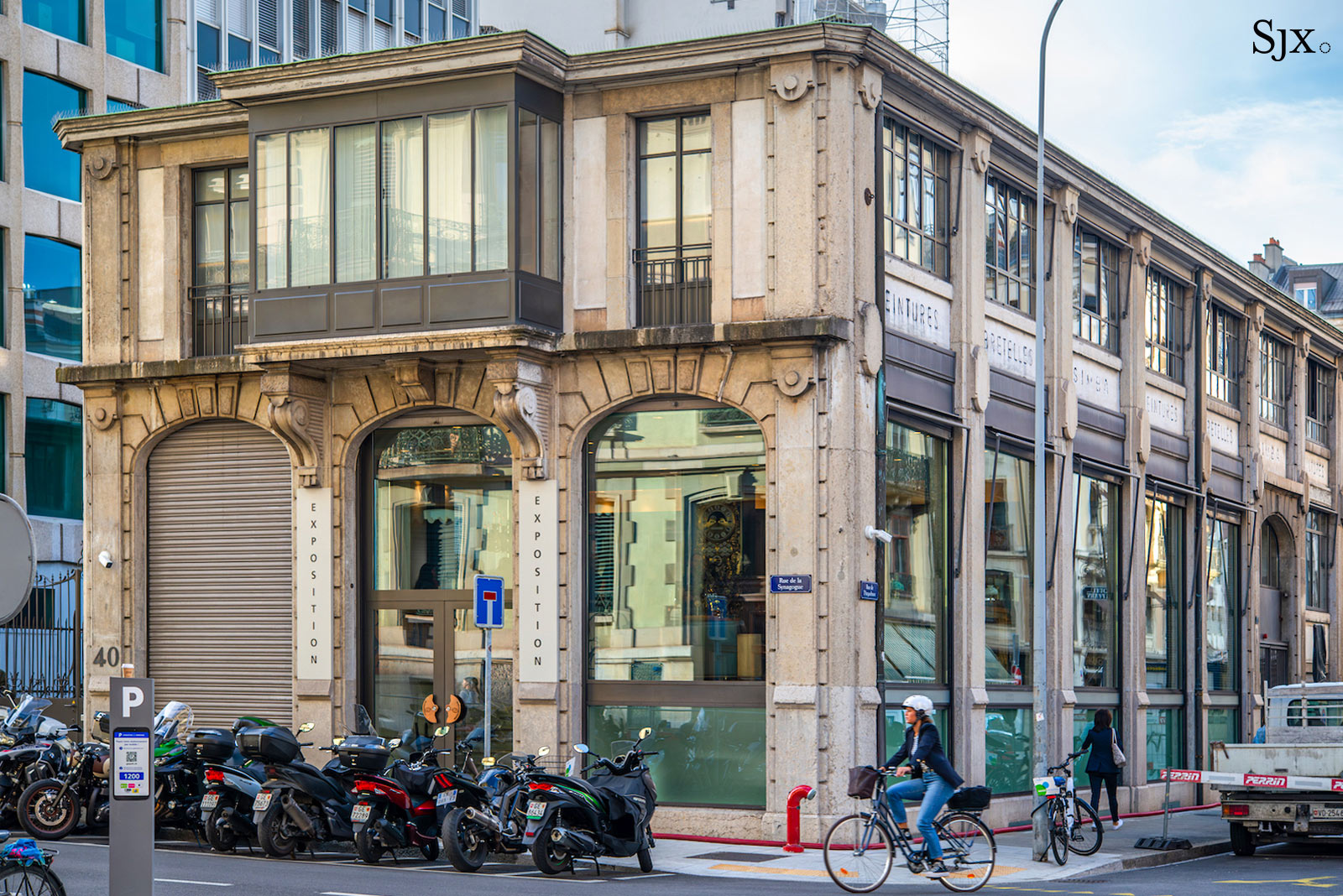 Over the past 25 years, few things have taken over the discourse in the watch industry and collector community more than "in-house". It's a seemingly simple concept: a movement or an entire watch is made wholly by the brand whose name is printed on the dial. Unfortunately, the term has been so overused, misunderstood, and misapplied that it has lost much of its meaning.
And yet, for brands that are able to invest in the necessary resources, there are numerous and tangible benefits to making things in-house; benefits that accelerate product development cycles, enhance creative versatility, and result in superior innovation and quality in the final product.
We've previously examined the difference between "in-house" as a marketing concept and "in-house" as a product development philosophy, finding that "True horological differentiation can only be achieved when brands invest in their own capabilities in order to go beyond what's available from suppliers".
I recently had the opportunity to see how the philosophy of "in-house" plays out in real life with a behind-the-scenes tour of the F.P. Journe manufacture in Geneva, and its newly opened case and dial factory in Meyrin. The tour was impressive in its thoroughness and transparency.
Understanding F.P. Journe
Montres Journe, the entity that makes F.P. Journe watches, comprises three entities at two sites in the Geneva metro area. The first is the F.P. Journe manufacture in downtown Geneva – incidentally not far from the Patek Philippe Museum – where all F.P. Journe movements are designed and manufactured, and where all watches are finished, assembled, and tested. The other two entities are Les Cadraniers de Genève (CDG) and Les Boîtiers de Genève (BDG) – which translate literally as "The Dial Makers of Geneva" and "The Case Makers of Geneva".
The two recently moved into a new building where CDG makes dials for F.P. Journe as well as third-party clients like Vacheron Constantin, Laurent Ferrier, and numerous other elite brands, while in contrast BDG makes cases and bracelets exclusively for F.P. Journe.
Between these two facilities, F.P. Journe makes approximately 95% of the components of its watches in-house; essentially everything except straps, jewels, springs, and certain escapement components.
A brief history
CDG was founded in 2000 as a joint venture between F.P. Journe, Cédric Johner, and Harry Winston. In 2012, after Cédric Johner and Harry Winston exited the partnership, Vacheron Constantin acquired 50% of the company. Vacheron Constantin had already been a client of CDG, so it was a natural fit. This transaction supported the move to a new facility, which brought CDG and BDG under the same roof for the first time.
However, Vacheron Constantin ultimately decided to exit the partnership in 2016, selling its shares back to F.P. Journe, which now owns 100% of CDG. Despite Vacheron Constantin's exit, the brand continues to be a significant client.
In June 2023, CDG and BDG moved into a larger and more modern production facility in Meyrin, an industrial area outside the city that is home to many watchmaking facilities, including Louis Vuitton and Audemars Piguet. One of the significant upgrades in the new space is the climate control system, which allows for greater control of temperature and humidity, which not only makes for better working conditions for the staff but also improves quality control for certain highly sensitive dial treatments.
The right size
Across these entities, F.P. Journe employs about 200 staff. There are 80 staff at the manufacture in Geneva, 70 in Meyrin between CDG and BDG, and the rest spread across the brand's global network of about ten boutiques.
Considering the brand produces about 1,000 mechanical watches per year (plus around 400-500 units of the quartz-powered Elegante), this equates to 6.25 mechanical watches per Geneva-based employee per year. However, considering the fact that some of CDG's production is devoted to third-party clients, the effective ratio will be slightly higher, likely around seven or eight watches per year. This confirms F.P. Journe's position at or near the top of the Artisanal-Industrial segment of our latest market map.
A notable aspect of F.P. Journe's size is the fact that it's a direct result of Mr Journe Journe's hands-on style of management. The current size is large enough to enable Mr Journe to develop a number of different ideas simultaneously, while being small enough that he can maintain direct involvement with each department and each project.
He remains the brand's lead designer, some might say the sole designer, and works on-site at the manufacture in an office situated next to the watchmakers' benches. This enables watchmakers, engineers, machinists, and other technicians to consult with him directly on a daily basis, helping his ideas and insights diffuse rapidly throughout the organization. Being a watchmaker, Mr Journe also does a lot of watchmaking: he builds the prototypes of all new movements and also troubleshoots teething problems with new calibres.
All signs indicate that Mr Journe is happy with this size; the company has been roughly this size for a few years, despite insatiable demand. Mr Journe has remained resolute in keeping production around the 1,000 watch mark.
In this context, the total Geneva headcount of 150 reminds me of Dunbar's Number, a theory in sociology which suggests that the cohesiveness of a group starts to break down once there are more than about 150 individuals in a group. It may be a coincidence, but many other companies have noticed that organizational dynamics become less cohesive above this threshold.
Every watch starts with the dial
Mr Journe starts every new watch by designing the dial, so it's natural that he would want to maintain complete control of the dial-making process to avoid constraints on his creative vision.
At CDG, advanced machines labor in support of artisans. The dial appliques are a perfect example of how this works in practice. In this department, I observed the finishing of a batch of 0s for the "10" marker on the Chronomètre Souverain. These tiny appliques had been milled in a CNC machine and then arranged in a circle on a thick brass disk, held in place by their retaining pins and a bit of shellac. Under a loupe, machine marks from the CNC machine were visible.
A lathe operator then attached the disk to a lathe and lapped the appliques until a consistent finish was achieved for the entire batch. The before and after was striking; the machine marks had been replaced with a perfect mirror finish.
This process, which is repeated for every dial applique, sums up the philosophy of production at F.P. Journe. Advanced machines are used openly, but only up to a point. When a human touch is needed to execute on Mr Journe's vision for a particular component, skilled craftspeople use traditional methods to go beyond the capabilities of modern equipment.
Another traditional technique I observed was in the décalque department. Here, I was able to watch an artisan print text on a watch dial using a transfer pad, a process known as tampography. What impressed me most about this process was the fact that the colour of the paint was being mixed by hand (and eye).
The décalque department was responsible for one for perhaps the most complex printing task in contemporary watchmaking, the dial of the Vacheron Constantin Reference 57260, the grand complication pocket watch from 2015 that has 57 complications and dozens of scales on its two faces.
This is another area where maintaining expertise in-house contributes to a competitive advantage. Specifically, the skill of the artisan means that dials can be produced in smaller batches than would be economical for an industrial operation. In this case, the dial I watched being printed was part of a 40-piece limited edition for a client brand.
CDG can accommodate these kinds of small orders and create custom colours thanks to its in-house talent. Of course, this benefits CDG's external clients, but it also gives F.P. Journe the flexibility to create unique pieces for special clients and charity auctions like Only Watch.
CDG also has an extensive restoration department, which takes on work from other brands. In fact, during my visit I saw several vintage dials from historical Genevan brands being restored. In these situations, the third-party brand sends the dial in with a detailed information sheet and instructions for the work that needs to be done. CDG completes the restoration and returns the dial for installation in the end client's watch.
I was also impressed with what I witnessed in the enamelling department. CDG does enamel work for third-party brands, as well as more recently for F.P. Journe's own Tourbillon Souverain Vertical. I got to see a batch of these dials being made, and was able to inspect the reverse sides as well. I was curious to find out if these dials are counter-enameled, and was pleased to see that they are.
Because enamel and brass and gold have different coefficients of expansion at different temperatures, dials can warp if exposed to extreme temperature fluctuations, causing the enamel to crack. If cracking can be avoided, enamel dials can last without degradation for centuries.
For this reason, counter-enamel is sometimes applied to the reverse side of a dial, to prevent warping and cracking. Not only are the dials for the Tourbillon Souverain Vertical counter-enamelled, they also feature reinforced grooves machined into the rear surface to enhance rigidity and further reduce the risk of cracking.
Interestingly, the only technique that CDG does not do in-house is guillochage. Otherwise, all dial operations from initial CNC through quality control happen on-site. From there, dials are packaged and sent to the logistics department at the manufacture in Geneva where they are organized into kits for final assembly.
Cases and bracelets

At BDG, the heaviest equipment is on the ground floor. Here, large CNC machines turn rods of platinum, gold, tantalum, and titanium into cases and bracelets for F.P. Journe watches.
Though metals like platinum, tantalum, and titanium are often noted for being more challenging to work with than traditional materials like gold and steel, in practice the difficulty presents itself as a cycle time problem. The same machines are used for each kind of material, but the cutting speeds and level of required supervision are different for harder materials.
Tantalum, for example, will cause tools to wear much faster and requires constant supervision by an operator to proactively change tools before they break. These interventions increase the cycle time but ensure a good result.
The example of tantalum illustrates another tangible benefit of maintaining full control of the manufacturing process: you can produce items that a supplier might not want to produce. For Only Watch 2023, F.P. Journe introduced the Chronomètre Furtif Bleu, its first watch to feature a full tantalum bracelet. Given the poor unit economics of machining tantalum, there's a reason few other brands have done it before (and then giving up shortly after). F.P. Journe would probably have had a hard time convincing a third-party supplier to prioritise a one-unit order for a tantalum bracelet.
Once the cases have been machined, several stages of hand finishing begin. The first involves hand polishing against a spinning wheel to remove any burrs or tool marks left by the CNC machines. From there, the cases are taken to the soldering room where the famous rings are applied to the case.
In the soldering room, I was struck by the traditional method of working, particularly with the work benches similar to those used by traditional jewellers. The previous day I had visited the Patek Philippe Museum, which has preserved an entire soldering room from a 19th century workshop. Over at BDG, the work benches, down to their design, were almost identical, and it was clear that any craftsman from generations past would easily recognise all the key soldering operations taking place today at BDG, and would probably fit right in.
After soldering, cases go to the final finishing department for a second stage of hand finishing against a sequence of spinning wheels. This is where the final mirror finish is achieved before the cases are packaged into kits for assembly.
Another surprise was the sandblasting department. Perhaps I shouldn't have been surprised given the name, but I was genuinely surprised to see bags of actual sand and specialized machines for achieving a genuine sandblasted finish. I had assumed that some advanced process had overtaken the humble sandbag, but sometimes the traditional methods are unsurpassed.
These machines are used to prepare cases and bracelets for special surface treatments, such as those found in the lineSport and élégante collections. This equipment can also be used with microbeads to produce a satin finish.
In addition to cases, BDG also produces bracelets for F.P. Journe, which offers the brand an important competitive advantage over other independent brands that have recently started making sport watches.
Bracelets are notoriously difficult to get right, even for large brands. F.P. Journe is able to punch well above its weight because having all operations in-house shortens the product feedback loop. This results in tangibly superior bracelets relative to rival brands, which are typically at the mercy of suppliers. Lead times for cases and bracelets are often measured in years, and smaller brands may not be able to afford to wait for another round of product revisions before going to market.
Geneva made
While cases, bracelets, and dials are made in suburban Geneva, all F.P. Journe movements are still produced from start to finish at the manufacture in the city centre. This is unusual, as most historic Geneva brands have moved all production to the suburbs, with Meyrin being a key location. In fact, F.P. Journe is one of the last brands doing everything from CNC to final assembly under one roof in central Geneva, truly earning the designation "Geneva Made" that is machined into every movement.
The process starts in the basement, which houses numerous CNC machines for turning rods of gold, aluminium, and steel into movement plates, bridges, wheels, pinions, and other components. When the CNC machines were originally installed, the foundation of the listed building had to be reinforced to prevent vibrations from impacting the structure and the sidewalk outside.
It is worth noting that unlike any other brand, F.P. Journe fabricates all of its bridges and base plates, even for the quartz Elegante movement, from 18k red gold, so many of the machining and finishing processes are applied to the precious metal, instead of the conventional brass.
Though CNC machines operate with incredible precision, good enough even for the wafer-thin fingers of the hand on the FFC, some components are too small and thin for CNC. For these components, wire erosion is used. This process uses an electrified tungsten wire to cut out components with especially complex or delicate forms, such as remontoire springs and tourbillon cages.
Though CNC machines operate with incredible precision, good enough even for the wafer-thin fingers of the hand on the FFC, some components are two small and thin for CNC. For these components, wire erosion is used.
Finishing
Once the components have been fabricated, multiple stages of finishing commence. The first stage involves the use of automated machines, which can work on several movements simultaneously, and semi-automated machines, where a craftsperson controls a machine to finish one movement component at a time. These steps are followed by hand-finishing.
One of the most interesting machines I saw was a four-axis CNC machine set up for automatic perlage, busily working on a batch of 12 baseplates. It was interesting because the machine was self-regulating.
After finishing each baseplate, the automated machine head retracts to the back right of the machine and sharpens its tool against a spinning wheel. Before resuming operation on the next baseplate, the machine head moves the tool into the path of a laser beam (pictured above) to confirm the optimal cutting profile has been achieved.
This struck me as an impressive level of automation for a facility producing just 1,000 movements per year – less than three per day on average. This routine, repetitive task could be done manually, but given the simple pattern and low ceiling for differentiation, doing so would be of minimal added value. Furthermore, the periodic laser analysis of the tool ensures a uniformity that would otherwise be impossible.
Naturally, the design of more complex movements can require a human touch. For watches like the Astronomic Souveraine and FFC, the perlage is done by hand.
A similar machine is used for applying the Côtes de Genève to the movement bridges, except in this case there is more human control of the process. There is also specialised equipment to help watchmakers set jewels in plates and bridges.
After the first stage of automated finishing, all components are sent to the finishing department for traditional hand finishing. This team of seven artisans handles all manual finishing steps before the components are checked for quality and sent to the logistician. The hand finishing operations include anglage, polished using both fixed and handheld rotary tools. This department also applies black polish to select steel components.
Assembly and servicing
F.P. Journe is rightly proud of the fact that each watch is assembled and adjusted by a single watchmaker from start to finish. Beginning with a kit that contains the case, dial, and finished movement components, the watchmaker is responsible for the watch until submitting it for final testing by the quality control department. Having worked for weeks or even months assembling and testing a watch, this final step must feel a bit like submitting an exam for grading.
This structure does two things to promote quality. First, it gives each watchmaker autonomy in their work and the ability to take genuine pride in the final product. Second, it helps incentivise watchmakers to take as much time as is needed to do things right the first time, because few things are as time consuming (or embarrassing) as having to do the same work twice.
For watches that need servicing outside the warranty period, there is a dedicated team of watchmakers for after-sales service. This team is composed of five watchmakers in Geneva, plus one each in the Paris and Miami boutiques.
Summary
Arguably both the largest founder-led artisanal brand and the smallest industrial brand, F.P. Journe occupies a market niche all its own, making watches like no other. Touring these facilities, it's easy to see why the brand has attracted such a devoted following. Though every F.P. Journe watch is the result of the labour of dozens of individuals, each is an expression of one man's perspective on what contemporary watchmaking is all about. In other words, the authenticity is palpable.
The writer Simon Sinek has popularized the idea that "[people] don't buy what you do; they buy why you do it." At F.P. Journe, it is abundantly clear that the brand's "why" is Mr Journe's determination to express his singular vision of watchmaking by any means necessary. And where his vision might be constrained by the limits of suppliers, he has invested in the freedom to do things his own way.
Updated October 18, 2023: Edited for clarification of the sandblasting process, updated personnel and Elegante production numbers, and removal of proprietary information.
---
Back to top.
---
You may also enjoy these.