Sarpaneva Introduces the Näkki, Inspired by Nordic Mythology
A water spirit in Super Luminova.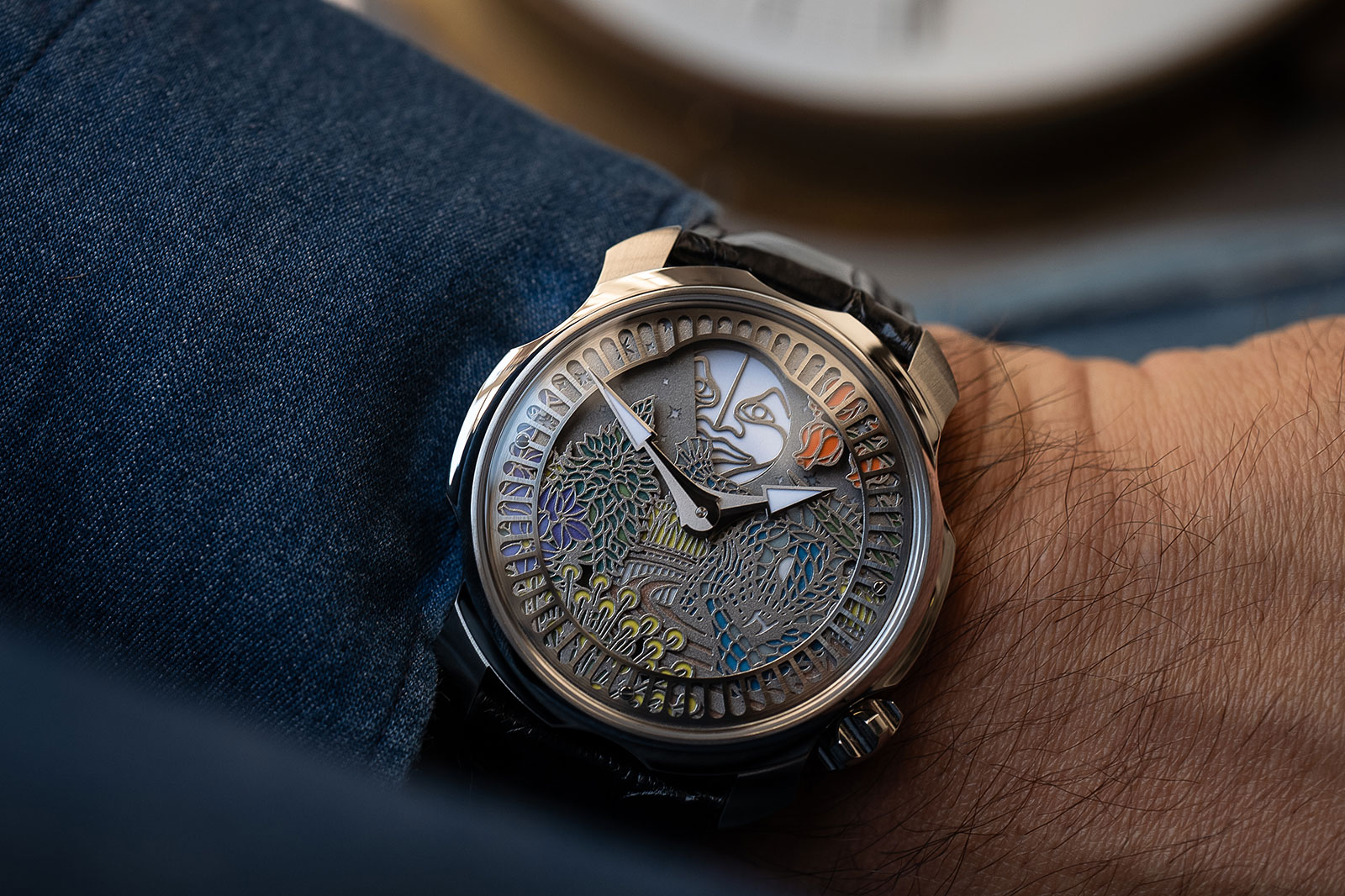 Having made a specialty of artistic Super-Luminova that began with the Moomin in 2020, Finnish independent watchmaker Sarpaneva now applies it to a motif inspired by the water spirits of Nordic folkore. The Sarpaneva Näkki has a hand-finished dial open worked to create over 650 apertures that are then filled by hand with luminous paint, creating a multi-coloured scene – with the brand's trademark moon phase looming overhead – that is best appreciated in the dark.
Initial thoughts
The Näkki is quintessential Sarpaneva in combining the art and history of its home region along with the brand's distinctive design. Though its style is similar to Sarpaneva's past models, particularly last year's Nocturne, the Näkki is more elaborate in terms of dial decoration and finishing. In fact, unlike past Sarpaneva models with Super-Luminova dials, the Näkki is almost as colourful during the day as a result of the pigmented lume that still has colour even when not luminescent.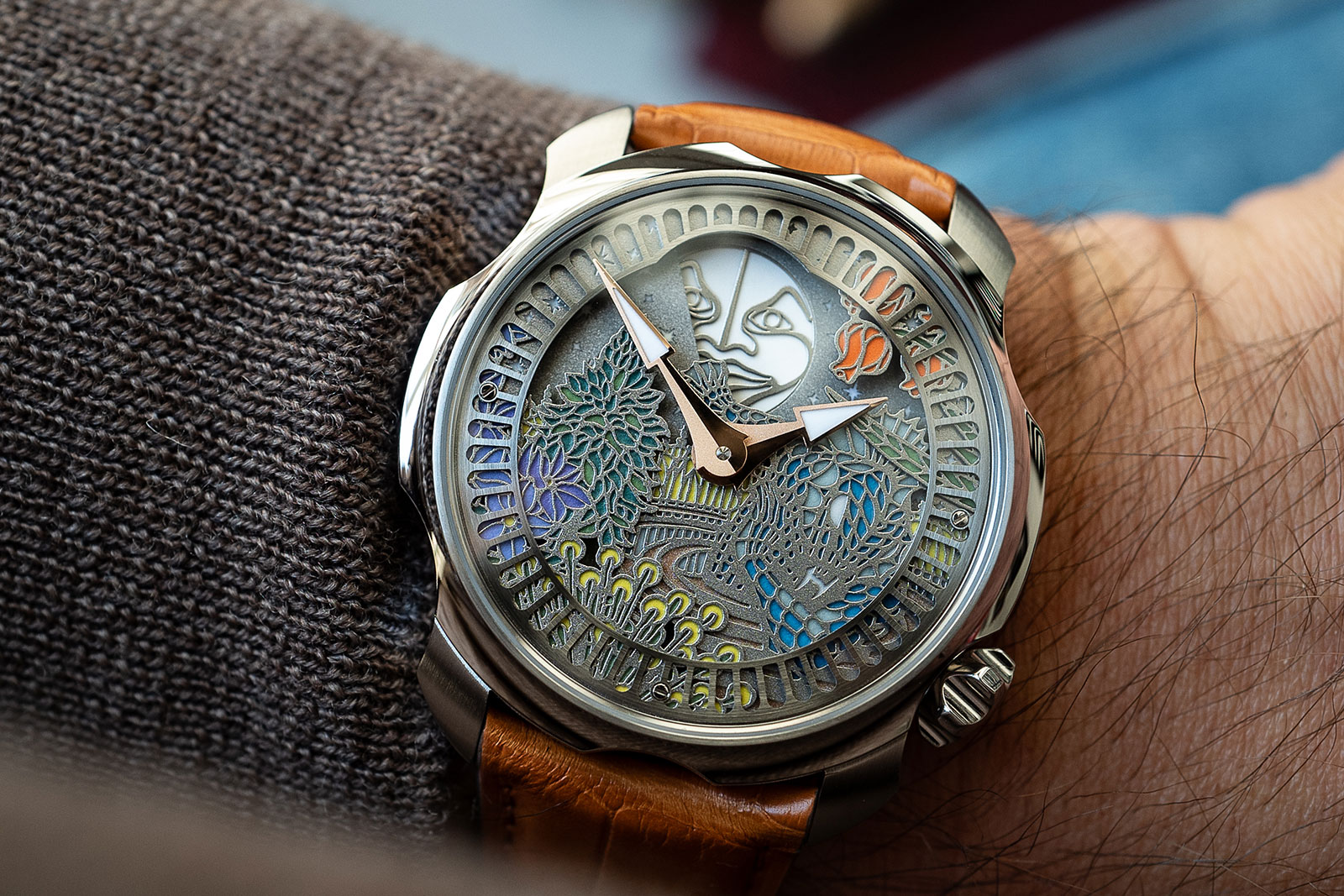 Dial aside, the rest of the watch is identical to the standard Sarpaneva automatic, which means a high quality case and customised movement with an especially elaborate rotor made in-house. Though the movement itself is outsourced and no-frills, the execution of the rest of the components is high quality.
At €21,000 before taxes, the Näkki is amongst the most expensive Sarpaneva watches. The price is arguably justified by the complexity of the dial, though it is probably close to the price ceiling for a lumed-out Sarpaneva.
As an aside, though Sarpaneva it seems like been rolling out many luminous editions on a regular basis, each has been a limited edition of a few dozen – the Näkki totals 60 pieces across two dial styles – which still keeps them fairly uncommon. This will probably ensure the watches are still uncommon enough to be appealing. But like the price, the pace of launches and quantities is probably at a ceiling as well.
A shapeshifting water spirit
According to Finnish mythology, näkki are water spirits that live in the water and use music to lure unsuspecting passersby to their watery deaths. Also known as nixe in German and nøkke in Danish, näkki-like are found in the mythology of Central and Northern Europe.
The dial of the Näkki reproduces an illustration by Ville Tietäväinen, a Finnish comic book artist who was also responsible for last year's Nocturne. It depicts a näkki rising out of the marshes at night with the Sarpaneva moon "face" above.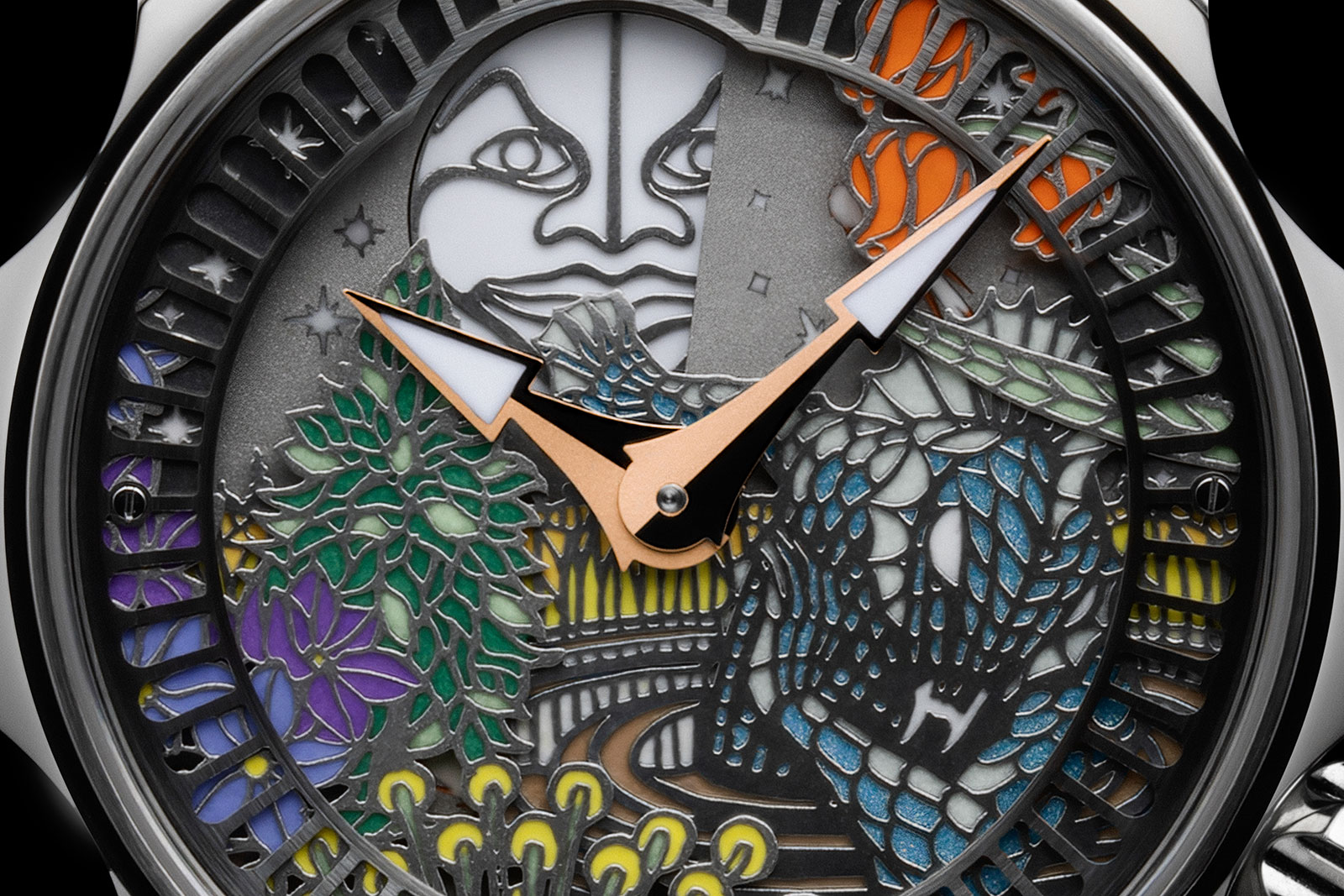 The dial is comprised of seven parts, all skeletonised by laser and then finished by hand. Fifteen types of Super-Luminova, ranging from white to purple, are applied to the dial by hand with a mini syringe – a laborious process given the more than 650 openings in the dial layers
The Näkki is available in two dial styles. The first is the White Moon that has a moon "face" in pale blue Super-Luminova and rhodium-plated hands.
The second is Harvest Moon that features a vivid orange moon "face" and rose gold-plated hands to match.
Made of stainless steel sourced from Finnish foundry Outokumpu, the case is in Sarpaneva's classic form with a notched outline and flared lugs. It measures 42 mm in diameter and 11.4 mm high.
Like many of Sarpeneva's other watches, the Näkki is powered by a Soprod A10. A relative thin automatic movement, the A10 used here is a decorated version sporting striping on the bridges.
More notably, it has been modified by Sarpaneva in two ways. The first replaces the date mechanism with a moon phase display, and the second is the installation of a hand-finished, skeletonised rotor bearing the moon "face" with glow-in-the-dark eyes and lips.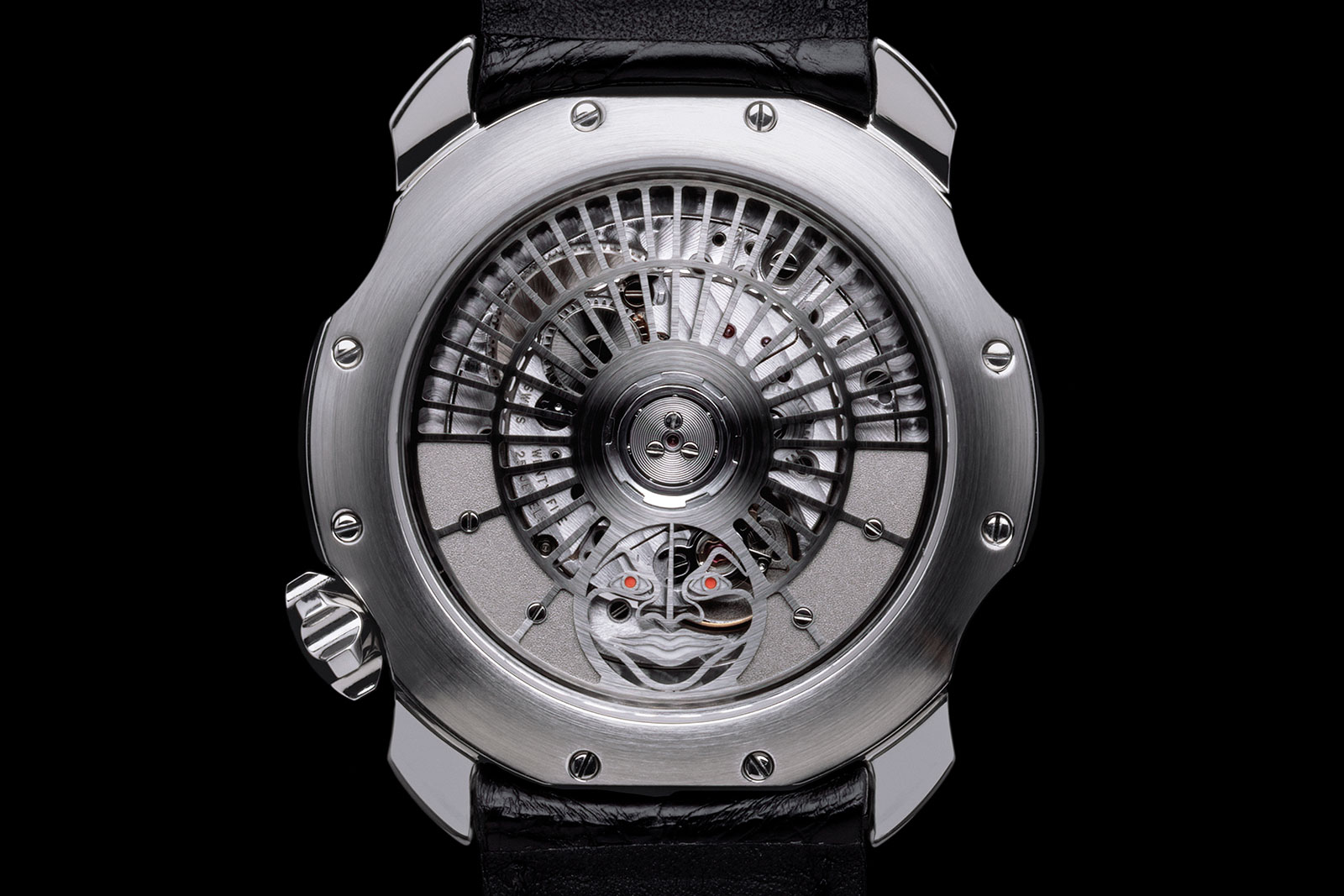 ---
Key Facts and Price
Sarpaneva Näkki
Diameter: 42 mm
Thickness: 11.4 mm
Material: Stainless steel
Crystal: Sapphire
Water resistance: 100 m
Movement: Soprod A10
Functions: Hours, minutes, and moon phase
Winding: Automatic
Frequency: 28,800 beats per hour (4 Hz)
Power reserve: 42 hours
Strap: Alligator with pin buckle
Limited edition: 30 pieces for each dial
Availability: Direct from Sarpaneva, with delivery in 8-21 weeks from order placement
Price: €21,000 before taxes
For more, visit Sarpanevawatches.com.
---
Back to top.
---
You may also enjoy these.