Dornblüth Marks 350 Years of Mitsukoshi with a Limited Edition
Based on the Q-2010.1 Klassik.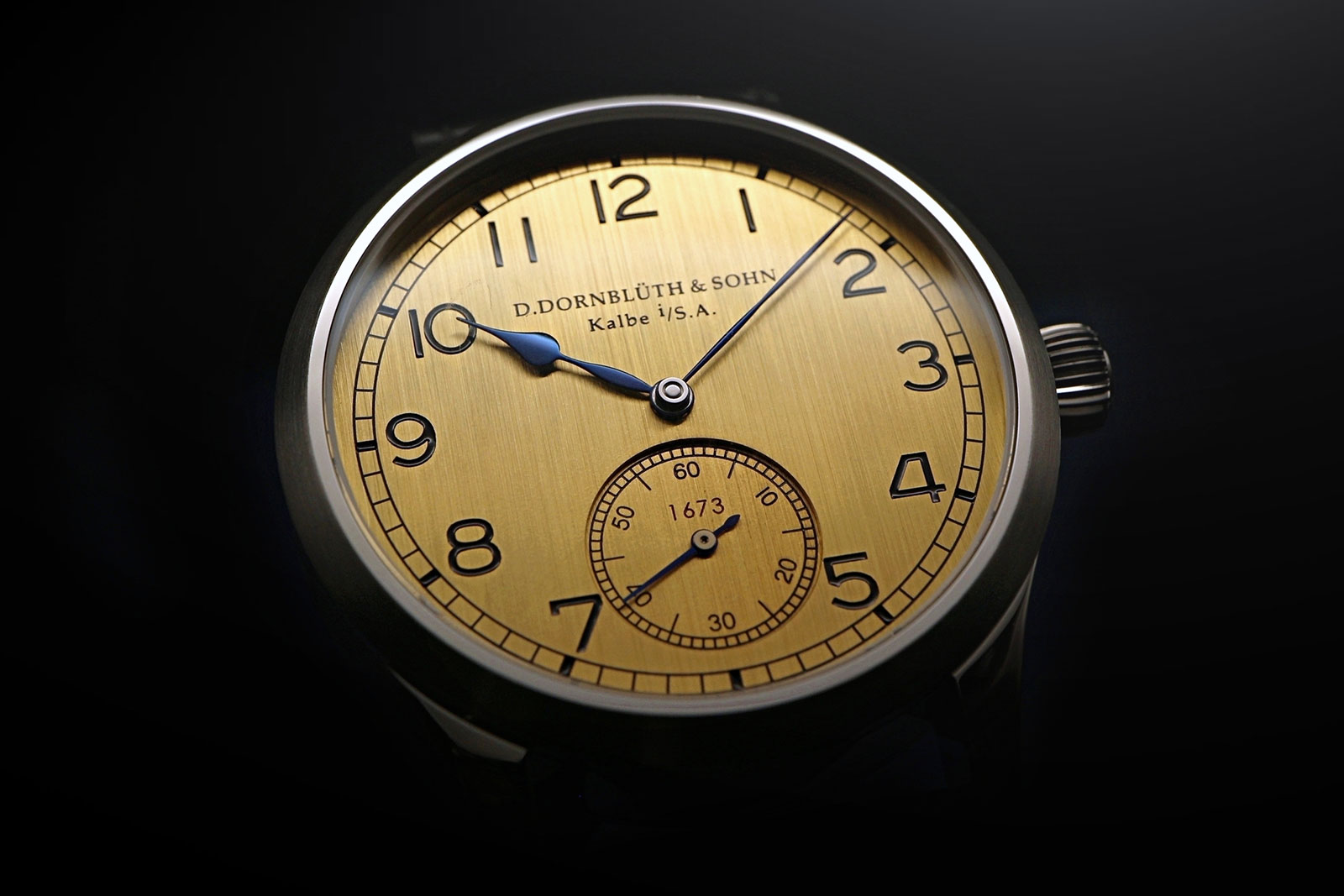 The small German independent was commissioned to produce a limited run of watches to the 350th anniversary of the oldest department store in the world, Mitsukoshi, which began as a kimono store in 1673. Designed in a collaborative effort between the watchmaker and watch retailer Shellman, the D. Dornblüth & Sohn Mitsukoshi 350th Anniversary retains the traditional Dornblüth aesthetic that evokes marine chronometers of the 19th century, but with a bronze-coloured dial.
Initial thoughts 
Not many will be overly familiar with D. Dornblüth & Sohn, but its Germanic aesthetic is reassuringly familiar. It was founded by a father and son watchmaking duo who learnt the trade restoring vintage timepieces, allow them to employ traditional techniques in making their watches. As a result, their work is customisable in terms of finishing and colours, though the pair have been able to maintain a clear brand identity throughout. 
It would be easy to dismiss this watch. Only five will be made, and all sold through a Tokyo department store, but the curious combination of German sensibilities and restrained Japanese taste makes it one of the more intriguing offerings of this year. The Mitsukoshi edition channels the spirit of Dornblüth very well, but manages to stand apart from the typical Dornblüth thanks to its striking golden dial that contrast with the silvered dials found on the typical Dornblüth.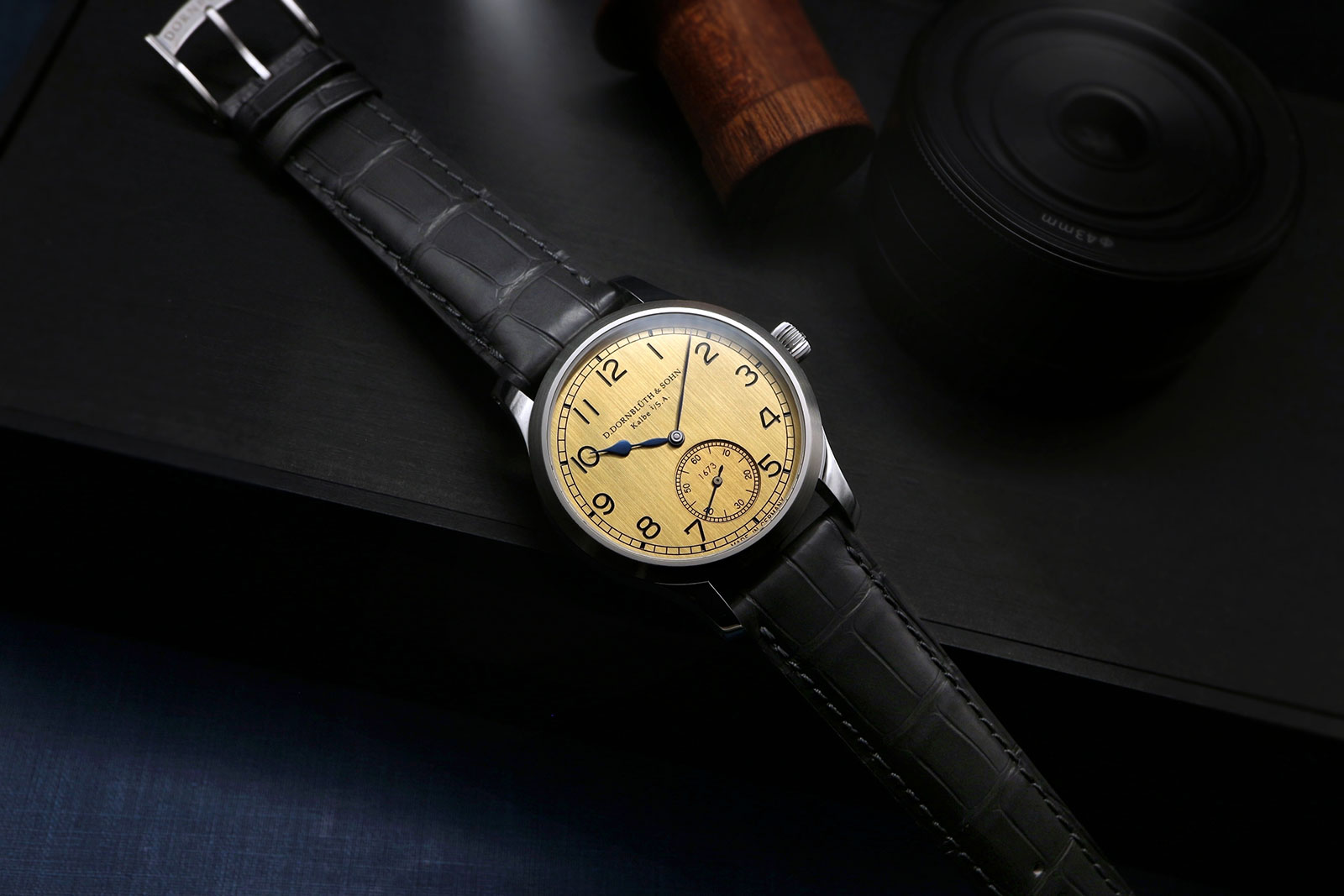 One detail that is worth mentioning is the light touch co-branding. There is in fact no mention of Mitsukoshi anywhere on the watch, rather just the year of its founding with "1673" engraved and inked in red in the small seconds sub-dial. The co-branding doesn't try to dominate the space, or make this watch something other than a Dornblüth. A nice touch and one you would expect from a firm that has been an arbiter of good taste for three and a half centuries. 
With its understated aesthetic, and clear sense of concept, it is easy to understand what this watch is trying to achieve. It doesn't want to break any rules, nor does it want to be on a big billboard, it just wants to execute the traditional techniques that have come before it perfectly. 
Dornblüth watches are generally well priced and offer solid, workmanlike quality for relatively accessible prices. To buy one of the five Mitsukoshi watches will take a bit more however. The watch costs JPY 2.86 million including 10% tax, which comes to about US$20,000 at the time of writing. That makes it substantially pricier than equivalent regular-production model, a difference that is attributable to taxes, exchanges rates, and the status of Mitsukoshi as one of the most prestigious stores in Japan. 
An unlikely match
Given the vast geographical distance between these two companies, and the big gap in age, it could be a little confusing as to why they would be co closely joined but the father-and-son duo that founded Dornblüth travelled to Japan in 2019 thanks to their retailer in Tokyo, Shellman, which operates the independent watchmaking concession inside Mitsukoshi flagship store in Tokyo's Nihonbashi business district.
According to a Shellman representative, Mitsukoshi management was incredibly impressed with the German pair's philosophy and personality. Given that the Japanese collectors have always been early adopters when it comes to the independent space, it makes sense that the venerable store would welcome this collaboration to mark its anniversary.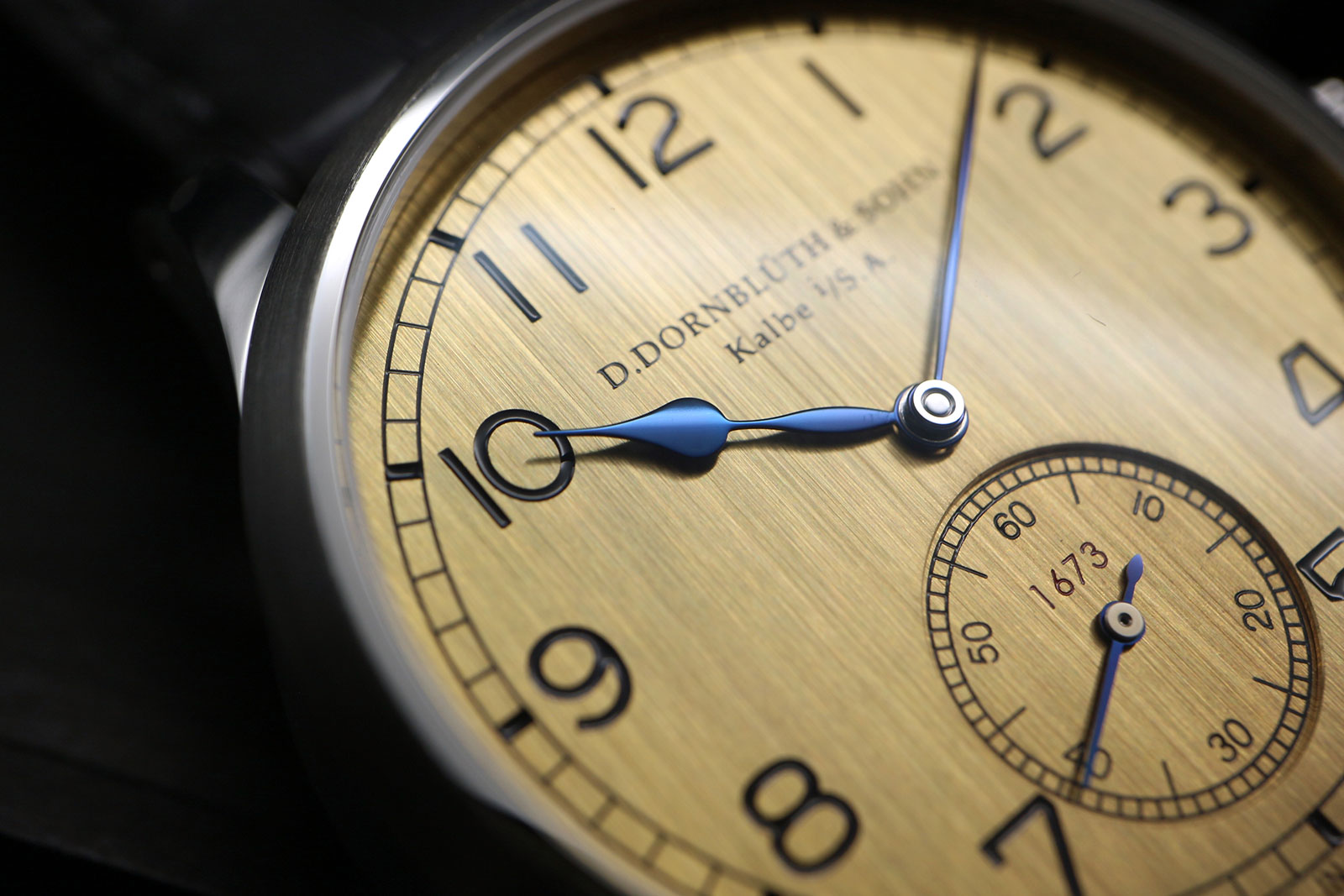 While the Mitsukoshi edition is based on the standard Dornblüth Quintus Q-2010.1 Klassik, there are still a lot of details to take note of, all of which come together for a pleasing and understated effect. The first is the numerals in a minimal, sans serif typeface that places clarity above all else. They are engraved into the dial using a pantograph and hand-filled with black lacquer, a traditional, no-frills technique that leaves a crisp, old-school finish. 
The dial is made of brass that is first vertically brushed and then treated to give it a bronze-tone finish. Fans of finer details will also note that the sub-dial is made from a separate piece of brass that is attached to the main dial, giving the dial more depth.
A pair of railroad tracks encircles both the main dial and seconds register, with the only detail that falls outside of the norm for a Dornblüth timepiece being the red "1673" on the seconds sub-dial. This references the year of Mitsukoshi's founding and is also a nod antique marine chronometers that often had their serial numbers engraved on the dial.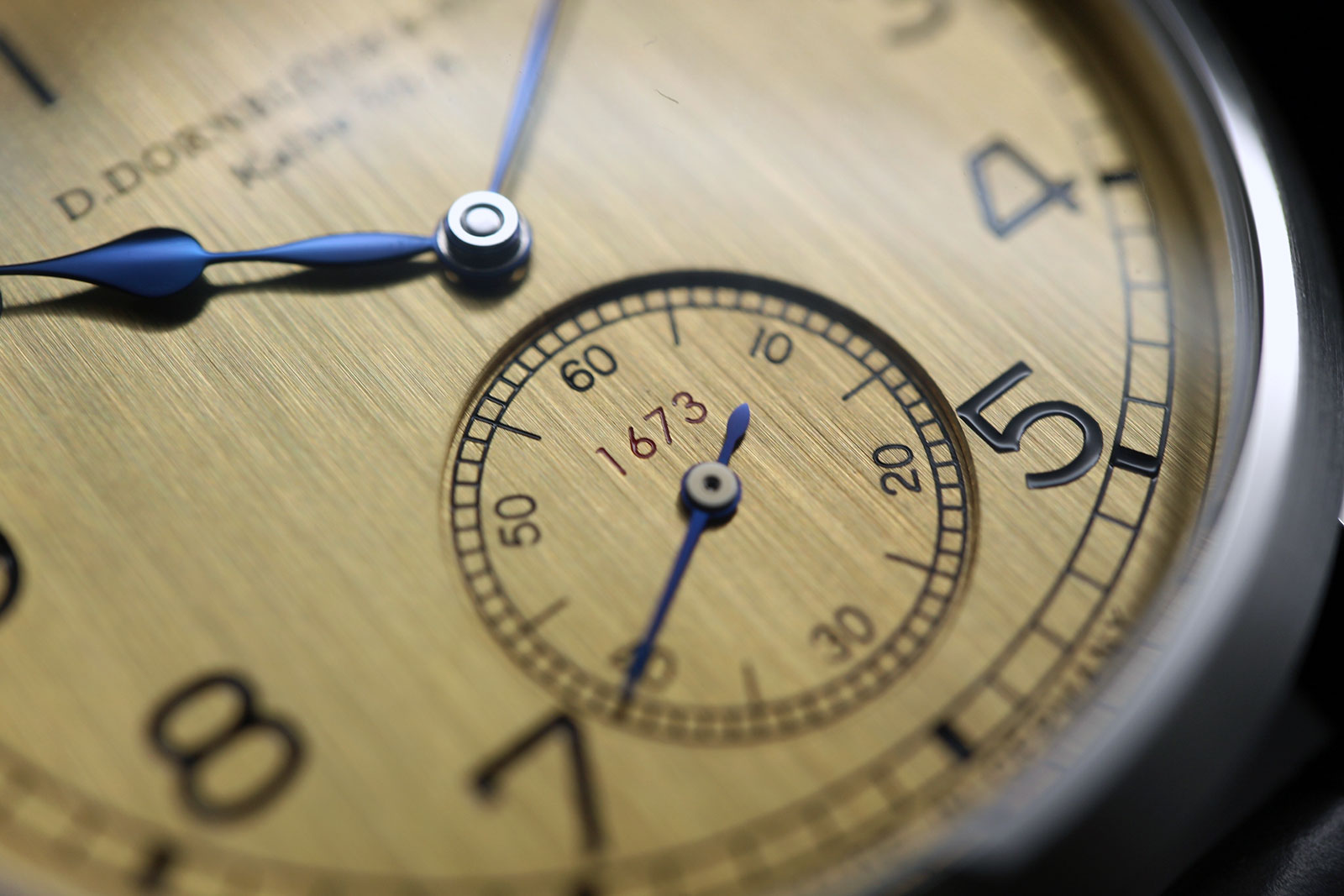 In the usual Dornblüth style, the cal. 2010 is just as traditional as the front of the watch. In classic German style, a three quarter plate covers the majority of the calibre. The barrel ratchet wheel has been treated with a triple snailed finish, while the rubies are secured with gold chatons and screws have been blued by hand. And the hand-engraved balance cock as well as hand-engraved lettering add an artisanal flourish.
But the calibre has been gently customised for the Mitsukoshi edition. Instead of the red gold-plated finish that is standard for Dornblüth, the three-quarter plate is frosted and then gilded in yellow gold while the hand-engraved balance cock is plated in rhodium for contrast.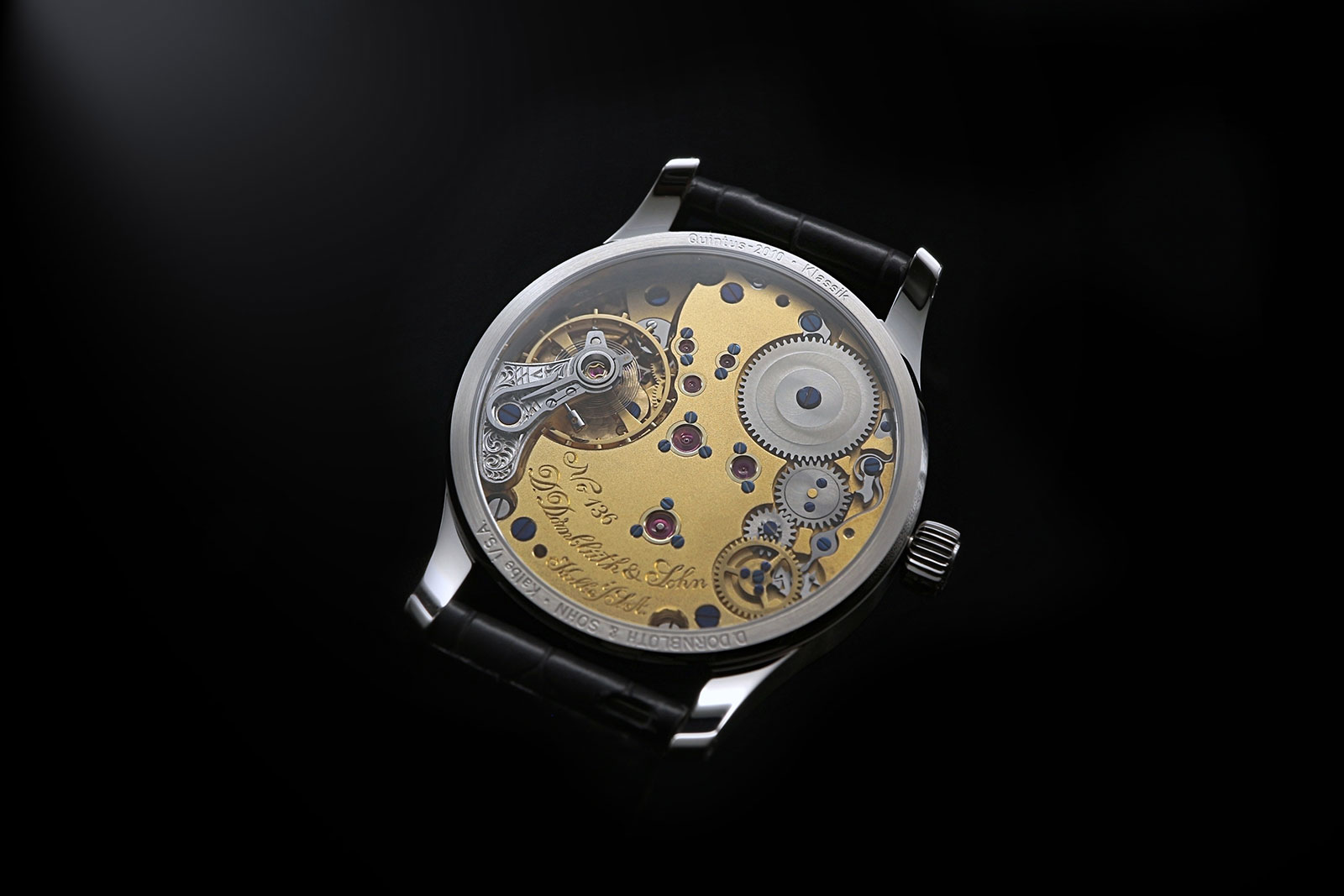 ---
Key facts and price
D. Dornblüth & Sohn Mitsukoshi 350th anniversary
Diameter: 38.5 mm
Height: 10 mm
Material: Stainless steel
Crystal: Sapphire
Water resistance: 30 m
Movement: Cal. 2010
Functions: Hour, minutes, and small seconds
Winding: Manual
Frequency: 18,000 beats per hours (2.5 Hz)
Power reserve: 52 hours
Strap: Leather strap with pin buckle
Limited edition: Five
Availability: Sold exclusively through Mitsukoshi Nihonbashi starting August 16
Price: JPY2.86 million (including 10% domestic tax)
For more, visit Shellman-dearwatchlover.com.
---
Back to top.
---
You may also enjoy these.