Seiko Introduces the Astron GPS Solar, Redesigned and Sleeker
More watch and less gadget.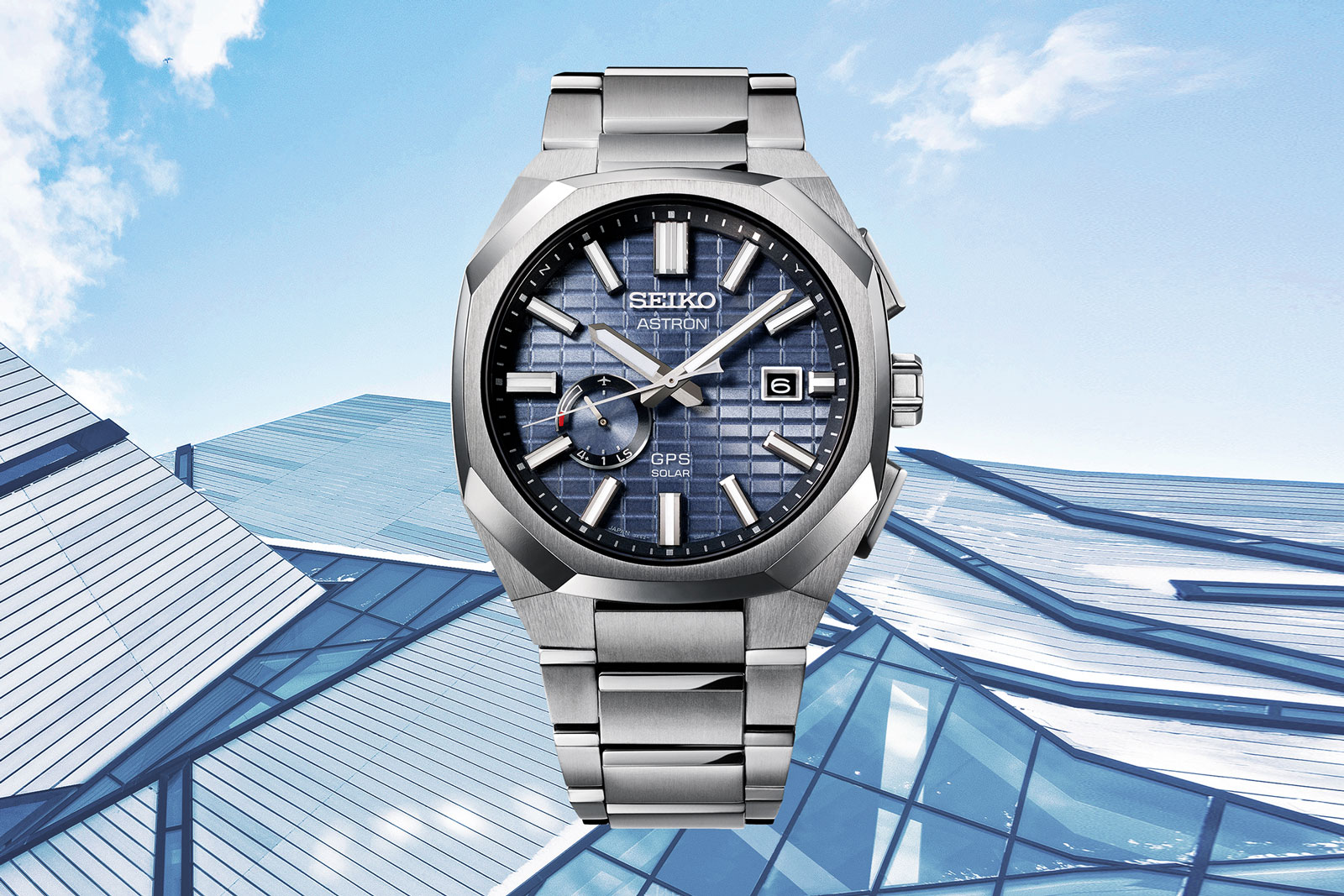 Seiko debuted its first solar-powered GPS watch just over a decade ago and has since improved and iterated the model, ranging from an extravagant, 18k pink gold limited edition to the asymmetric Giugiaro Design.
But most of the Astron GPS watches to date have resembled gadgets, with cases featuring lots of buttons and dials with numerous indicators. Now Seiko has cleaned up the dial design and streamlined the case to create the Astron GPS Solar, which sports an octagonal titanium case and matching integrated bracelet.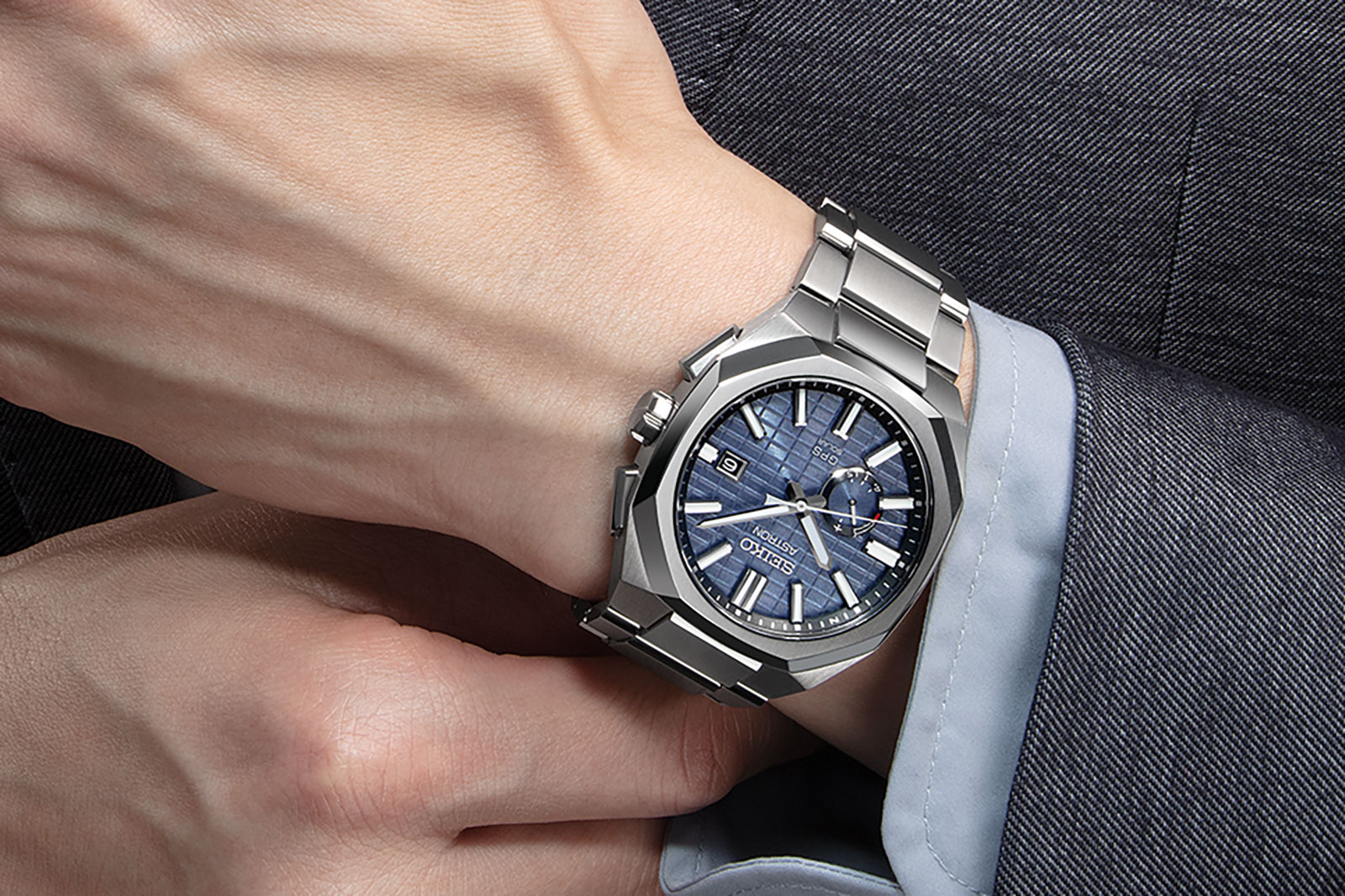 Initial thoughts
Able to automatically set the time and time zone by syncing to GPS satellites, the Astron has always been an impressive piece of tech. But it has long looked like a piece of tech with its bulk case and fiddly interface.
The new Astron, however, looks like a wristwatch. With an integrated-bracelet and grid-like patterned dial, the new Astron ticks all the boxes in terms of the current fashionable in watch design. Granted, the design isn't exactly original, but the sleek style and compact size mean the new Astron is more compelling offering than its predecessors. 
And the new models cost only slightly more than prior versions, making them a no-brainer for anyone who appreciates the tech but wants a more sophisticated design.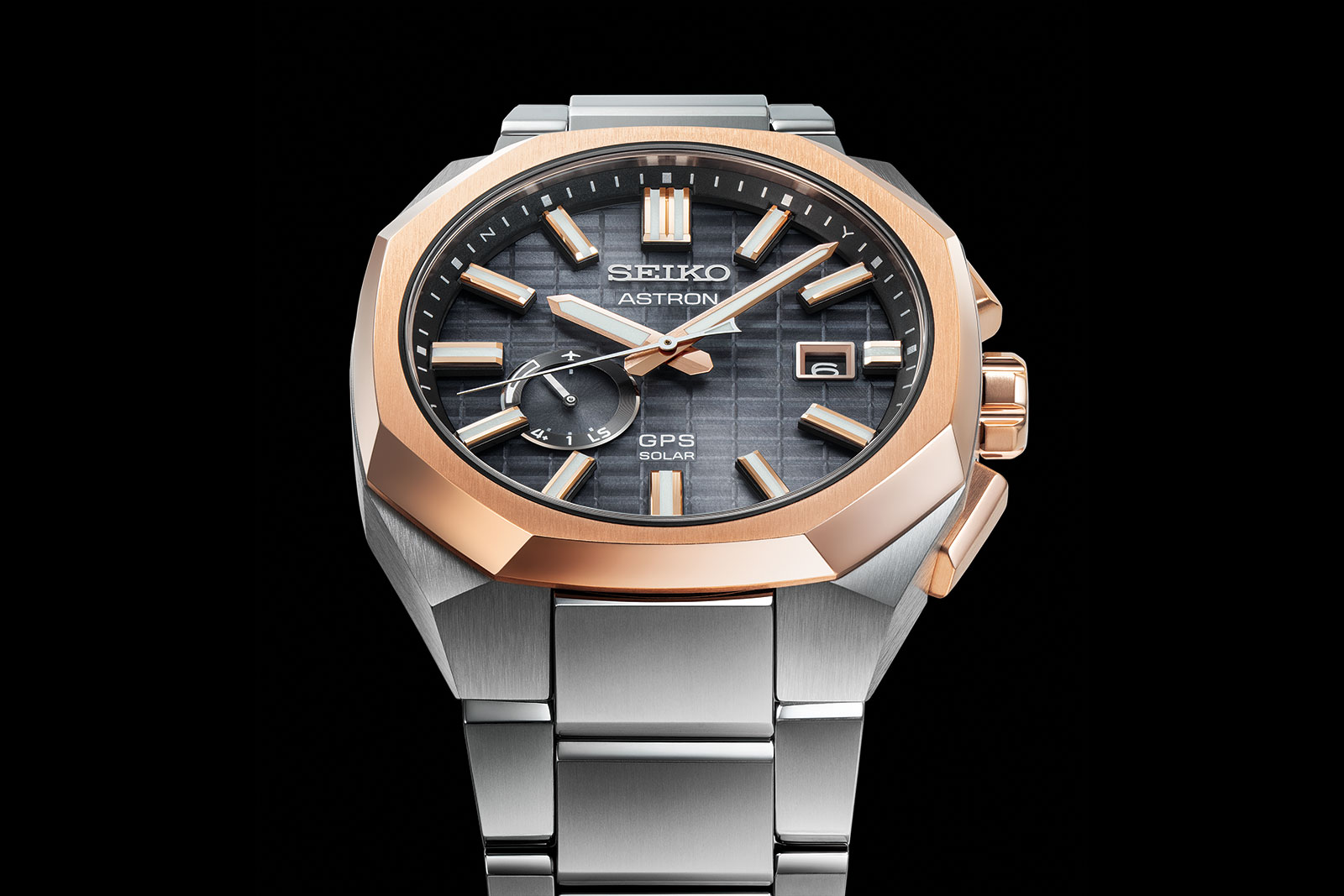 A familiar construction 
The redesigned Astron is made up of elements that appear to be drawn from popular luxury-sports watches, most notably the octagonal bezel and integrated bracelet. Even the patterned dial is familiar, although Seiko says the grid motif is inspired the quartz crystals that formed the high-frequency oscillators found in the first-ever quartz watch, the Seiko Quartz Astron of 1969.
The new Astron GPS make its debut in four colourways. Three are regular production: blue (SSJ013), grey with a rose gold-plated bezel (SSJ014), and black (SSJ015). And the last model is a limited edition with a grey, horizontal-stripe dial (SSJ017).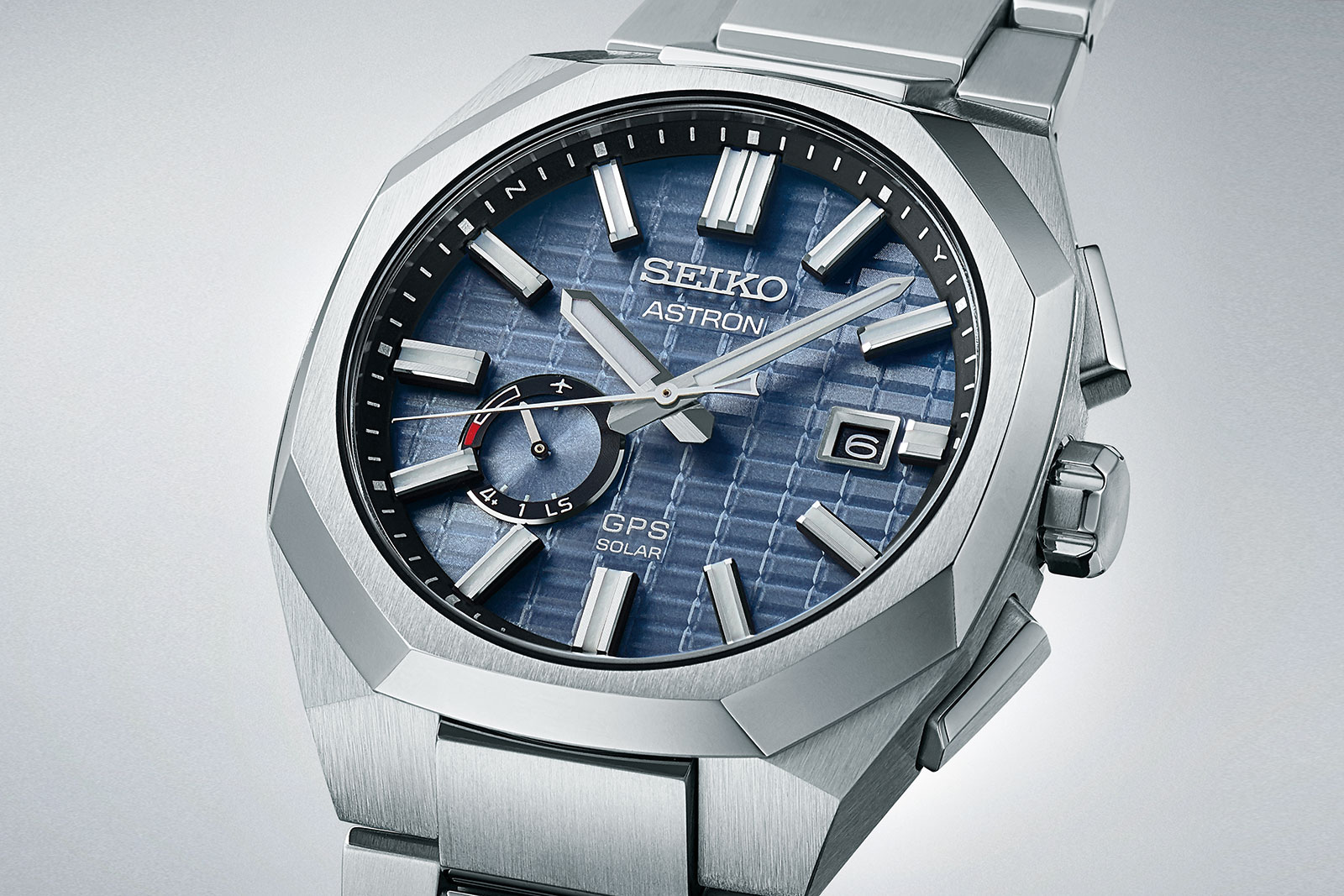 All four models share the same concise design. The dial has a solitary sub-dial at eight o'clock that indicates the GPS satellite sync status and power reserve, while the date window is at three o'clock. And the case is titanium, measuring 41.2 mm in diameter and 12 mm high.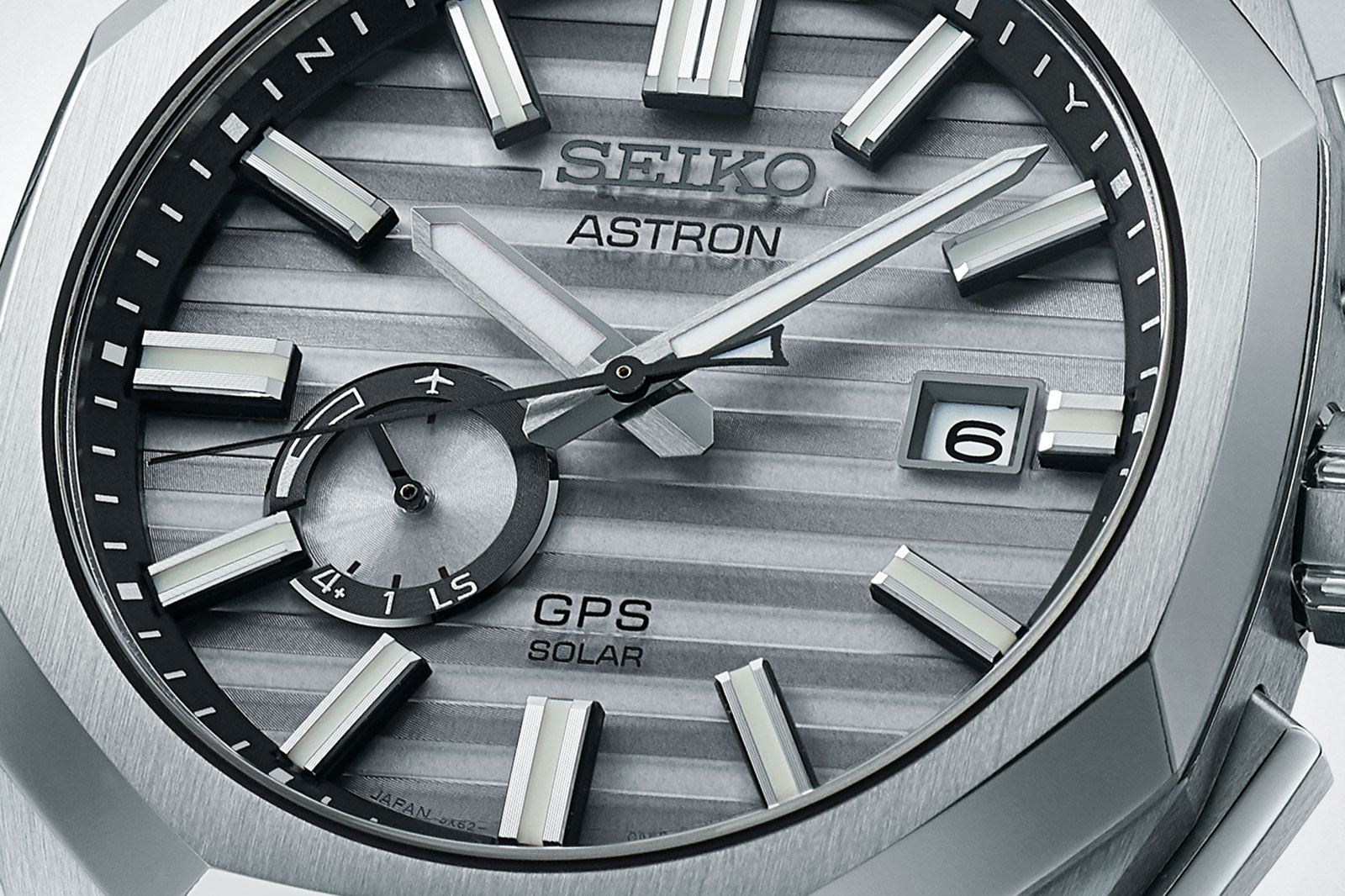 The new Astron features Seiko's latest GPS solar movement, cal. 3X62. Solar-powered with a running time of six months in regular operation (and up to two years in power-save mode), the movement boasts improved GPS reception over prior generations.
It performs automatic syncing with GPS satellites up to twice per day, ensuring it will almost always be spot on.
---
Key facts and price
Seiko Astron GPS Solar
Ref. SSJ013 (blue dial)
Ref. SSJ014 (grey dial with rose-plated gold bezel)
Ref. SSJ015 (black dial with matching coloured bracelet)
Ref. SSJ017 (grey dial with horizontal stripes)
Diameter: 41.2 mm
Height: 12 mm
Material: Titanium with super-hard coating
Crystal: Sapphire
Water resistance: 100 m
Movement: Cal. 3X62
Features: Hours, minutes, seconds, date, GPS-controlled time and time zone adjustment, perpetual calendar, high-speed time zone adjustment, signal reception result indication, power save function
Frequency: GPS Solar
Winding: Quartz
Power reserve: Six months when fully charged with power save up to two years
Strap: Matching bracelet
Limited edition: Regular production, except for SSJ017 (1,500 pieces) 
Availability: Starting June 2023 at Seiko boutiques and retailers
Price: 
Blue dial and grey dial with horizontal stripes: €2,100
Grey dial and rose gold bezel: €2,200
Black dial with matching coloured bracelet: €2,300
For more, visit seikowatches.com.
---
Back to top.
---
You may also enjoy these.