Code41 Introduces the Mecascape Pocket Watch
A time-telling panel.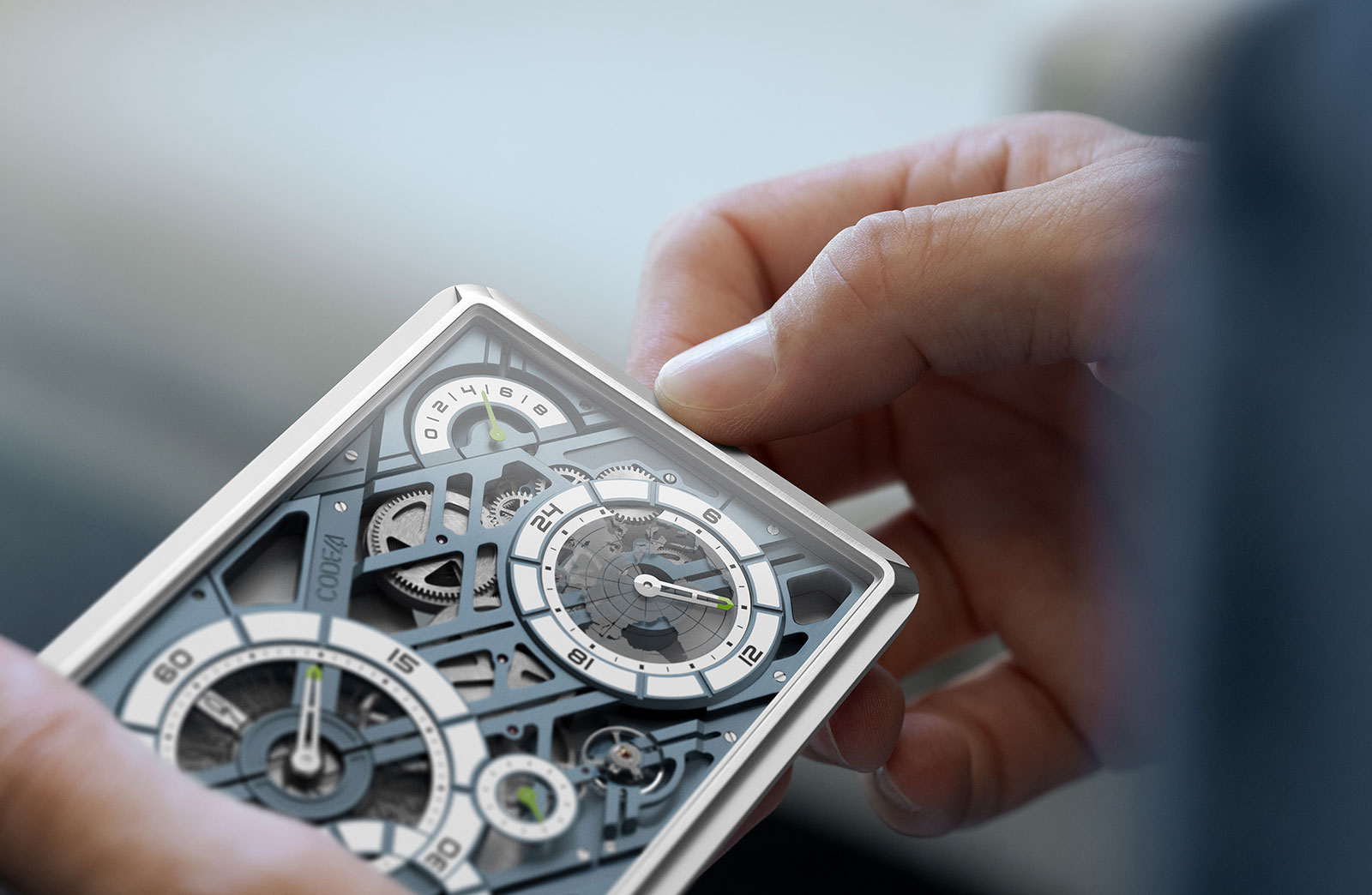 A startup that relies solely on crowdfunding for its timepieces, Code41 has launched a variety of wristwatches since its founding in 2016. All of its products to date have been wristwatches with a stylised, mechanical appearance. Now Code41 is launching its first pocket watch, the Mecascape.
Essentially a portable clock that doubles up as a desk clock, the Mecascape is powered by a manually-wound movement with an eight-day power reserve. Like the brand's other timepieces, the Mecascape has a modern, open-worked aesthetic, but applied to a regulator-style display with each of the indications in separate sub-dials.

Initial thoughts
More of a portable panel clock than a pocket watch, the Mecascape is an interesting product that doesn't quite fit into any category of timepiece. The best way to describe it would be as an interesting mechanical object that watch enthusiasts might appreciate.
Though slim, it is quite large at about 10 cm long, which is about a third shorter than an iPhone. The size means its practicality as a portable timepiece is limited. It would seem more useful as a small desk clock.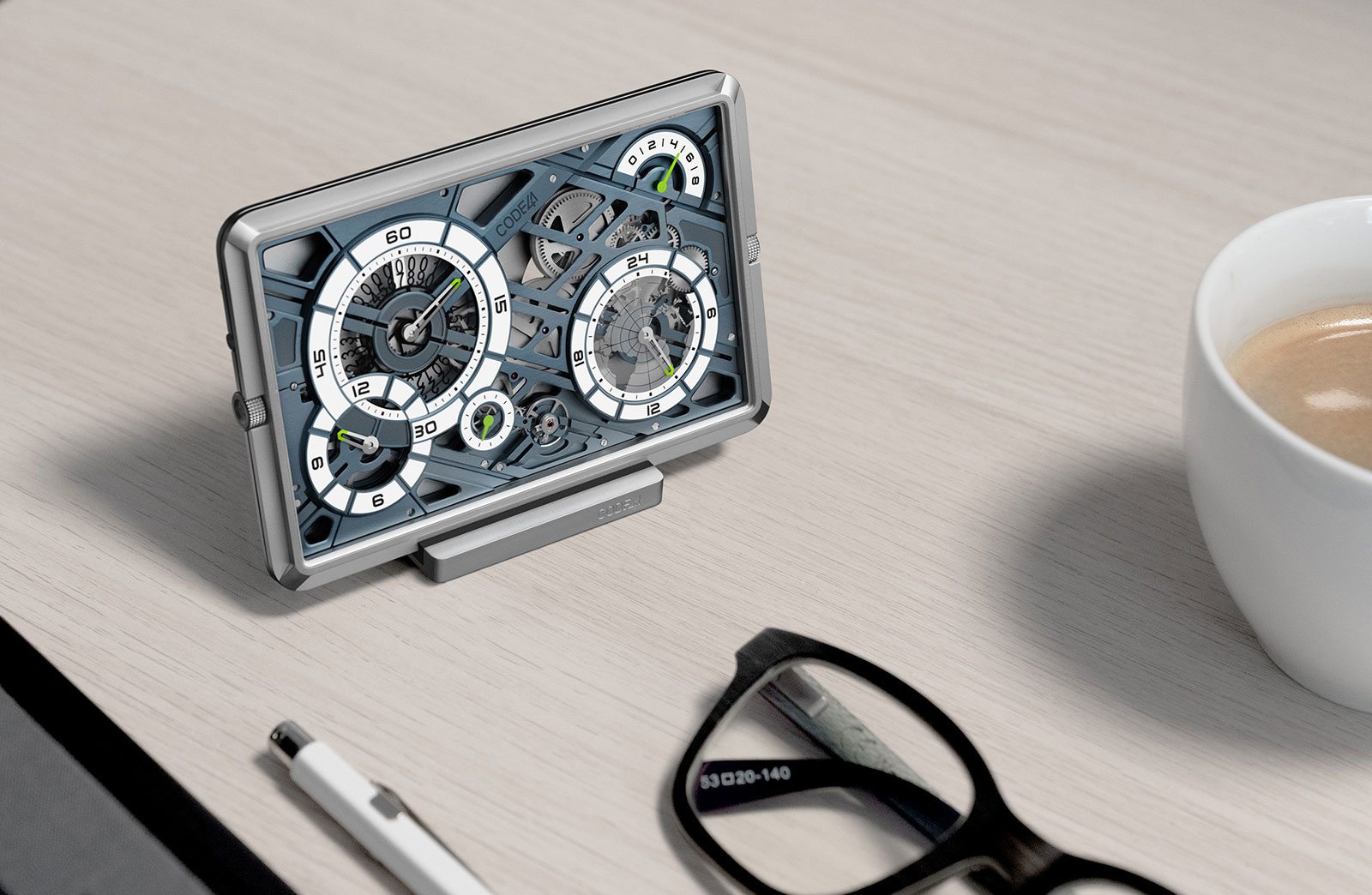 Visually it has the modern, open-worked aesthetic found on watches from the likes of Richard Mille and Hublot. The style works well with the concept of the Mecascape. And thanks to its scale the mechanics are more easily observed than on a wristwatch.
At just over US$9,300, the Mecascape seems fairly priced on initial examination, largely thanks to its unconventional form and exotic appearance. But as a small desk clock powered by a heavily reconfigured wristwatch movement, it seems slightly pricey. Still, the Mecascape is unquestionably different, making it interesting in any case.
A display panel
The Mecascape is essentially a panel with separate registers for each of its indicators – hours, minutes, seconds, second time zone, and power reserve. The layout is a function of the movement construction, which spreads out the gears as much as possible, since the case footprint is less of a constraint than the height. That allows the Mecascape to be thin at just over 8 mm high.
With all of the bridges skeletonised to reveal as much as possible, a good deal of the moving parts are visible, including the twin mainsprings and secondary gear trains for each of the indicators. Developed by Le Cercle des Horlogers, a movement specialist owned by the same French family that owns Speake-Marin, the movement is manually wound with an eight-day power reserve.
The tiny balance at the lower centre of the dial is a clue that the calibre is based on a wristwatch movement, presumably something robust and proven. It's likely that many of the key components come from a wristwatch movement construction, namely the balance and escapement..
A range of colour options are offered for the movement and sub-dials, though the case is standard across all variants. About a quarter larger than a credit card, the case is titanium and made of two halves secured together by screws on its edge.
The case slots into a small stand that accompanies the Mecascape, allowing it to function as a desk clock. And the watch is also delivered with a leather pouch.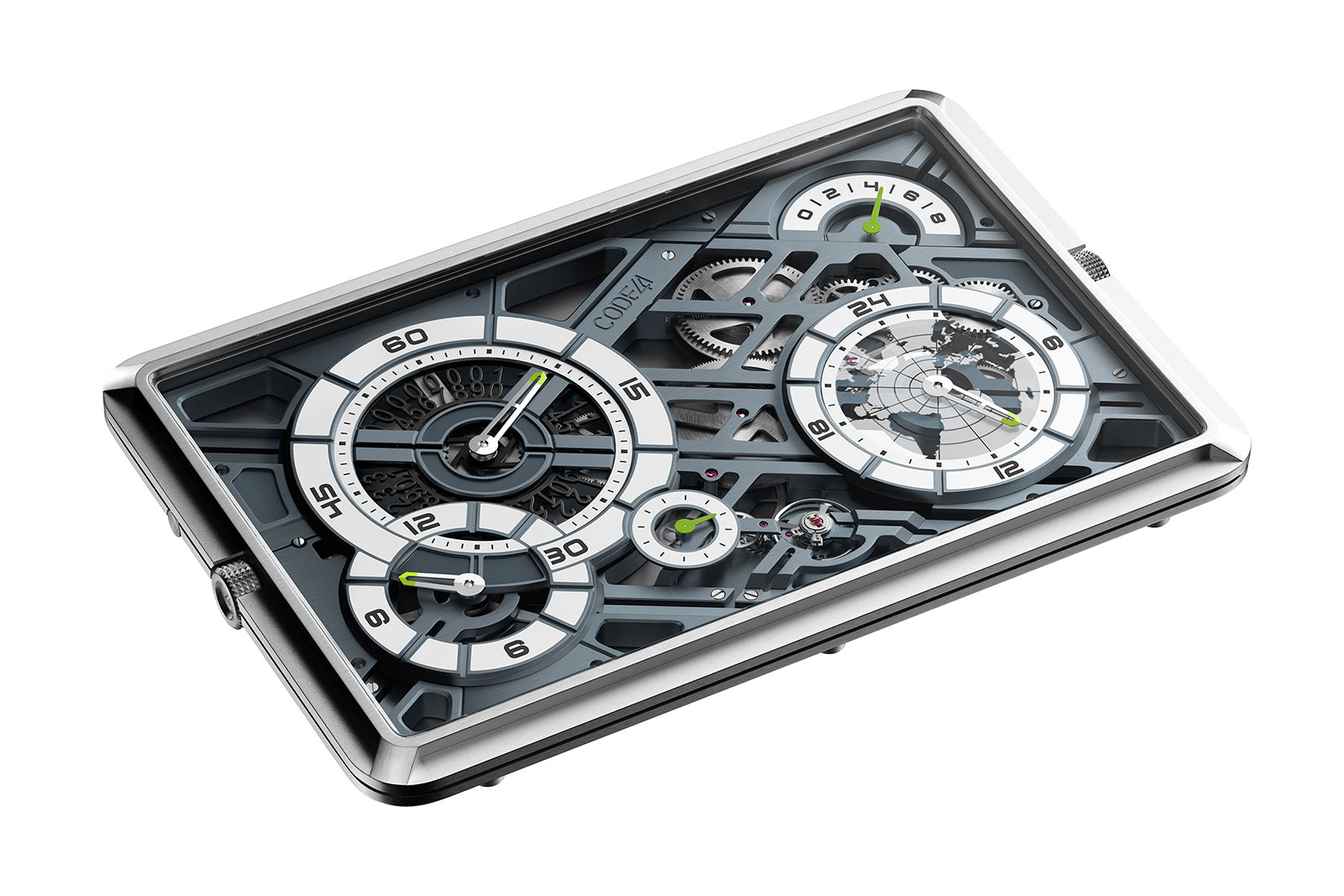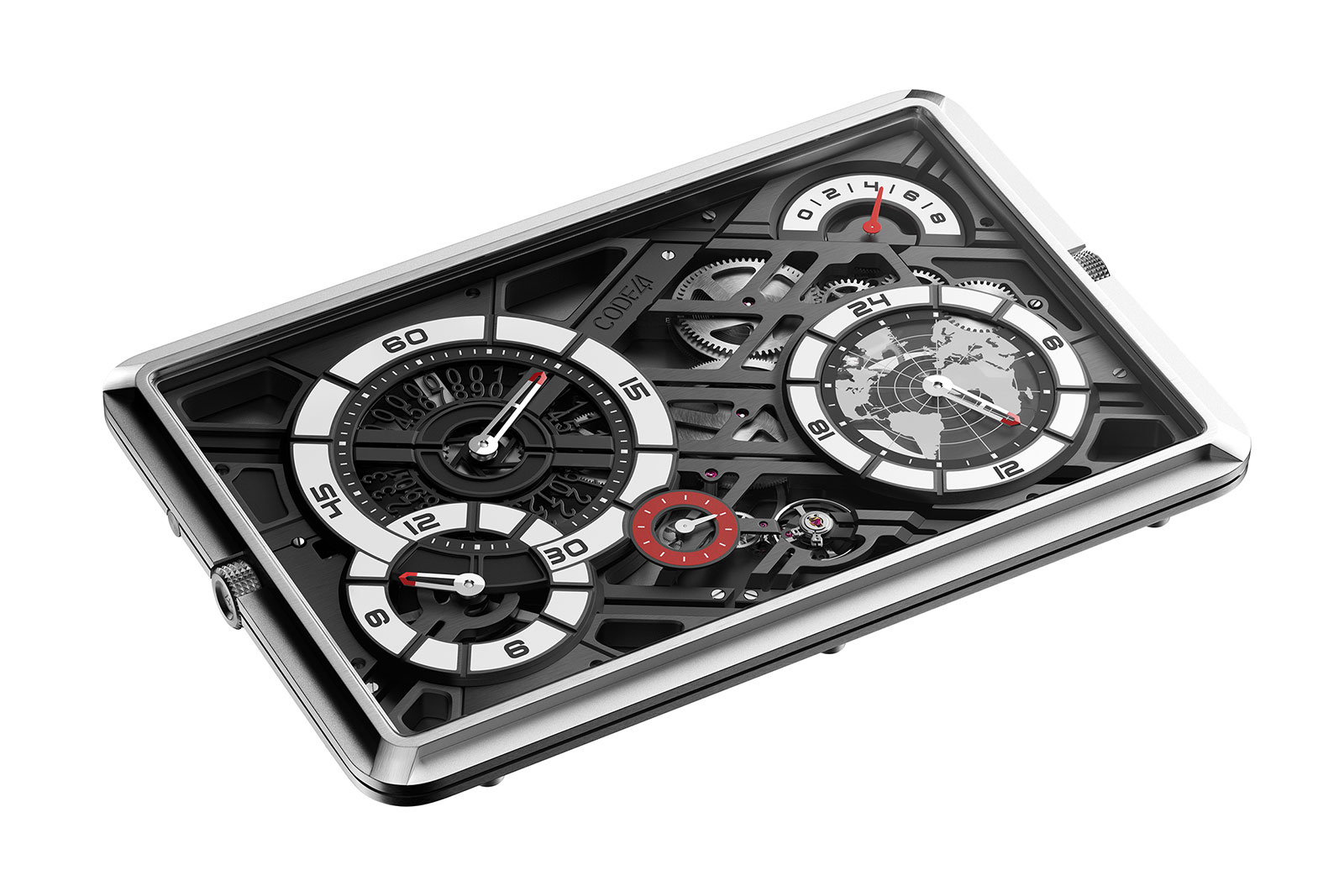 ---
Key Facts and Price
Code41 Mecascape
Diameter: 108 mm by 71 mm
Height: 8.1 mm
Material: Titanium
Crystal: Sapphire
Water resistance: 30 m
Movement: Mecascape
Functions: Hours, minutes, date, second time zone, and power reserve indicator
Winding: Hand wind
Frequency: 28,800 beats per hour (4 Hz)
Power reserve: Eight days
Accessories: Leather carrying case and desk stand
Availability: Pre-order from Code41 starting November 2, 2022
Price: US$9,360
For more, visit Code41watches.com.
---
Correction August 25, 2022: The Mecascape is about 10 cm long, and not 100 cm as stated in an earlier version of the article.
Back to top.
---
You may also enjoy these.