Up Close: Yosuke Sekiguchi Primevère Prototype
Classical inspired and exceptionally executed.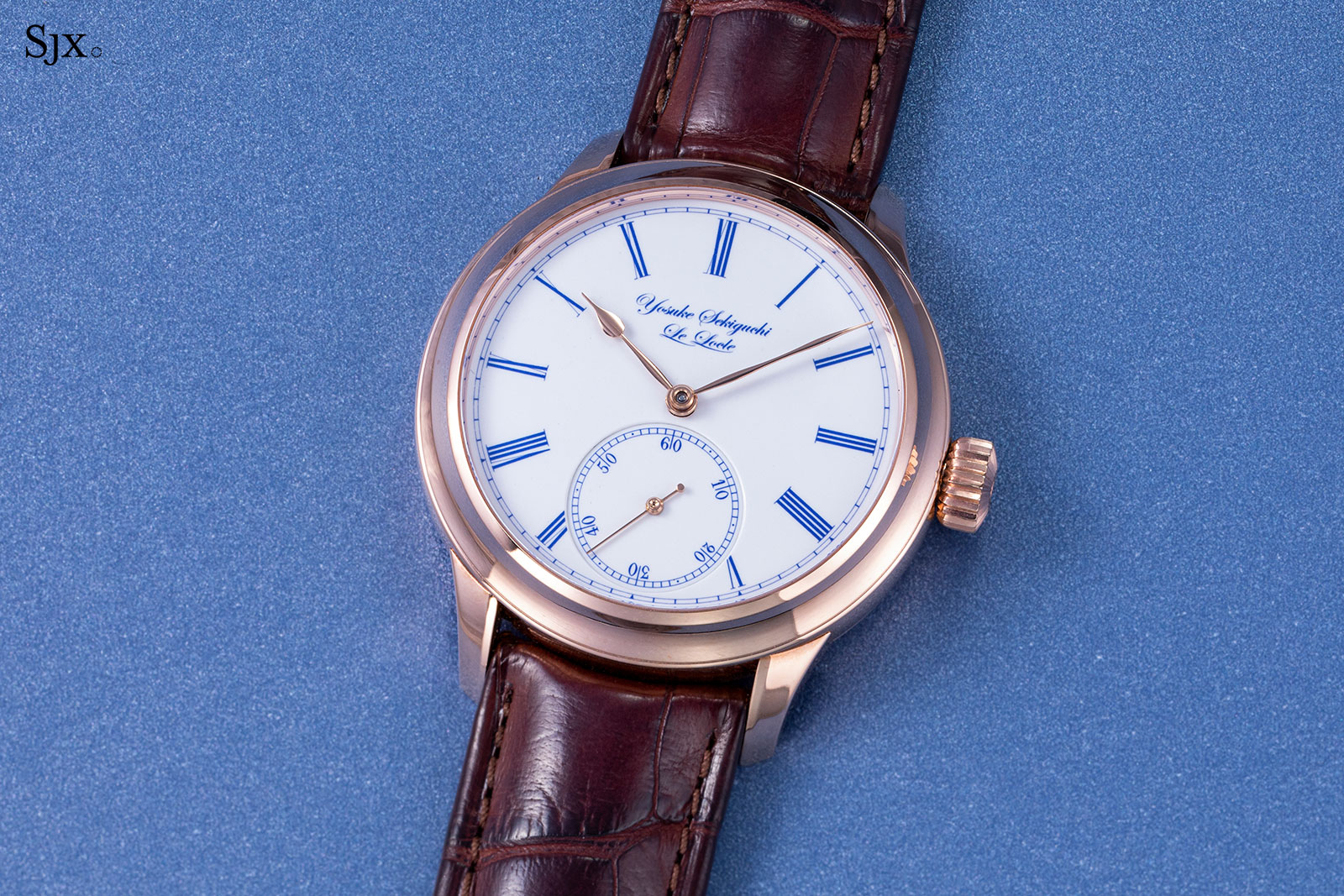 Though born in Japan, Yosuke Sekiguchi is steeped in the tradition of Swiss watchmaking. He moved first to France and then Switzerland some two decades ago, and is today fluent in French and skilled at watchmaking.
After a career at complications specialists like Claret and La Joux-Perret, Mr Sekiguchi established his own brand in 2020 with the goal of building a historically-inspired timepiece of extremely high quality. The concept is a familiar one that has been interpreted in various ways by others, but Mr Sekiguchi arguably succeeds far better in both paying tribute to the historical inspiration and achieving impressive, artisanal quality.
His first watch is the Primevère, which made its debut just earlier this year. It is an elegantly designed and clearly rooted in 19th century pocket watches, but also novel in several ways, reflecting Mr Sekiguchi's unusual approach to the concept. Amongst other things, it is robustly constructed and larger than such wristwatches typically are. And while the movement resembles its vintage inspiration, it is fabricated and decorated in a finer, more artisanal manner than the 19th century original.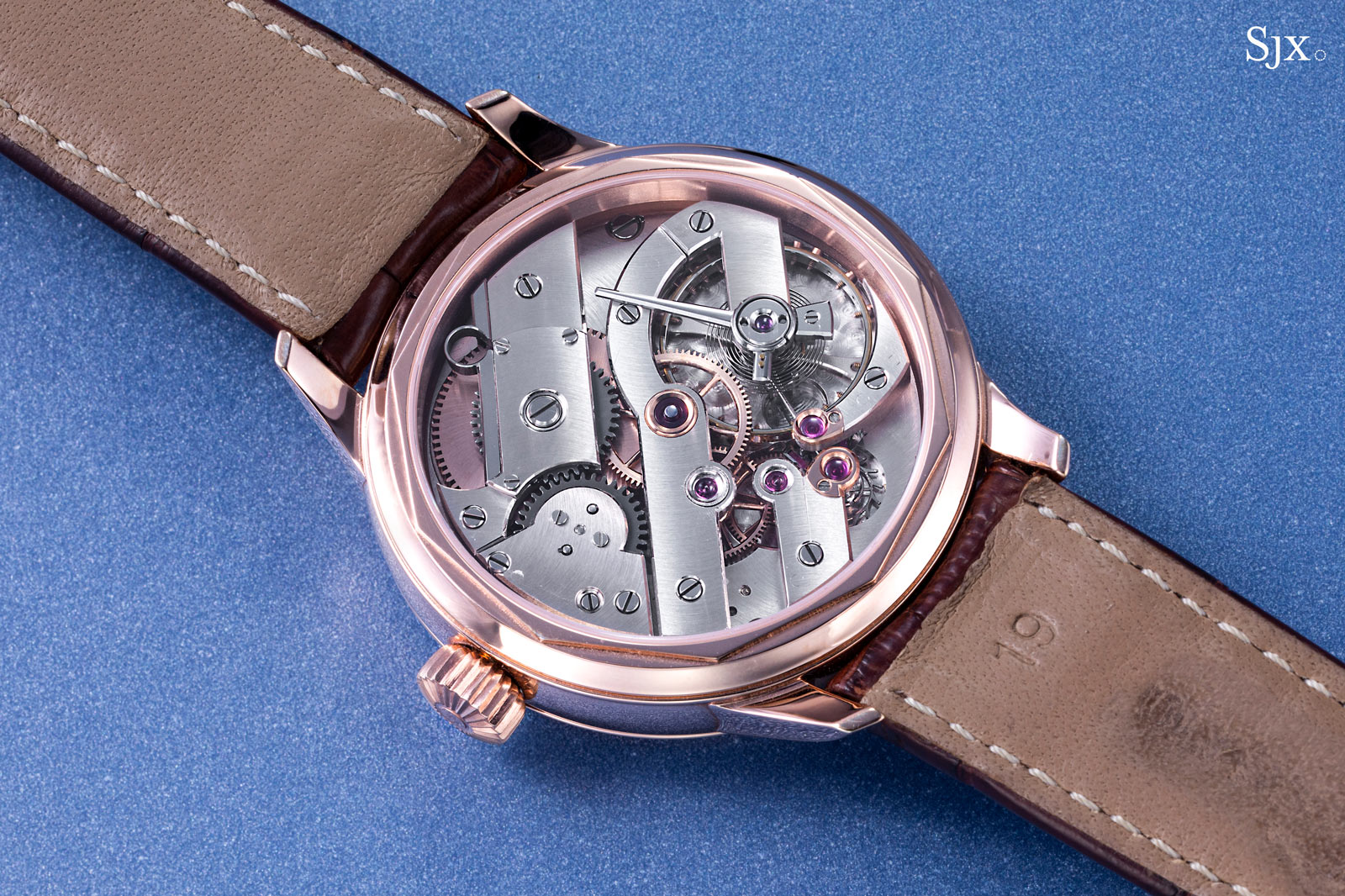 NB: The Primevère pictured here is the first complete prototype with a gold-plated case, so it still reveals several obvious imperfections in the movement decoration. Mr Sekiguchi promises the the final product will be perfectly finished and I believe that it will be.
Initial thoughts
Although it appears to be a pocket watch reproduction, the Primevère is an interesting proposition. Watches with comparably classical movements typically use vintage ebauches, as Atelier de Chronometrie does for instance.
In contrast, the movement in the Primevère is a modern-day calibre constructed to resemble a vintage movement that's also fabricated and finished by hand. In fact, the movement looks like a vintage pocket watch calibre at a distance. Only a closer inspection reveals that it's a modern creation that's more refined and sophisticated than the original in its details.
Besides the artisanal quality of the watch, its most apparent feature is its size. Even though the Primevère is not a large watch, it feels substantial. But dimensions of the watch make sense given its inspiration, which is a vintage pocket watch re-cased into a wristwatch.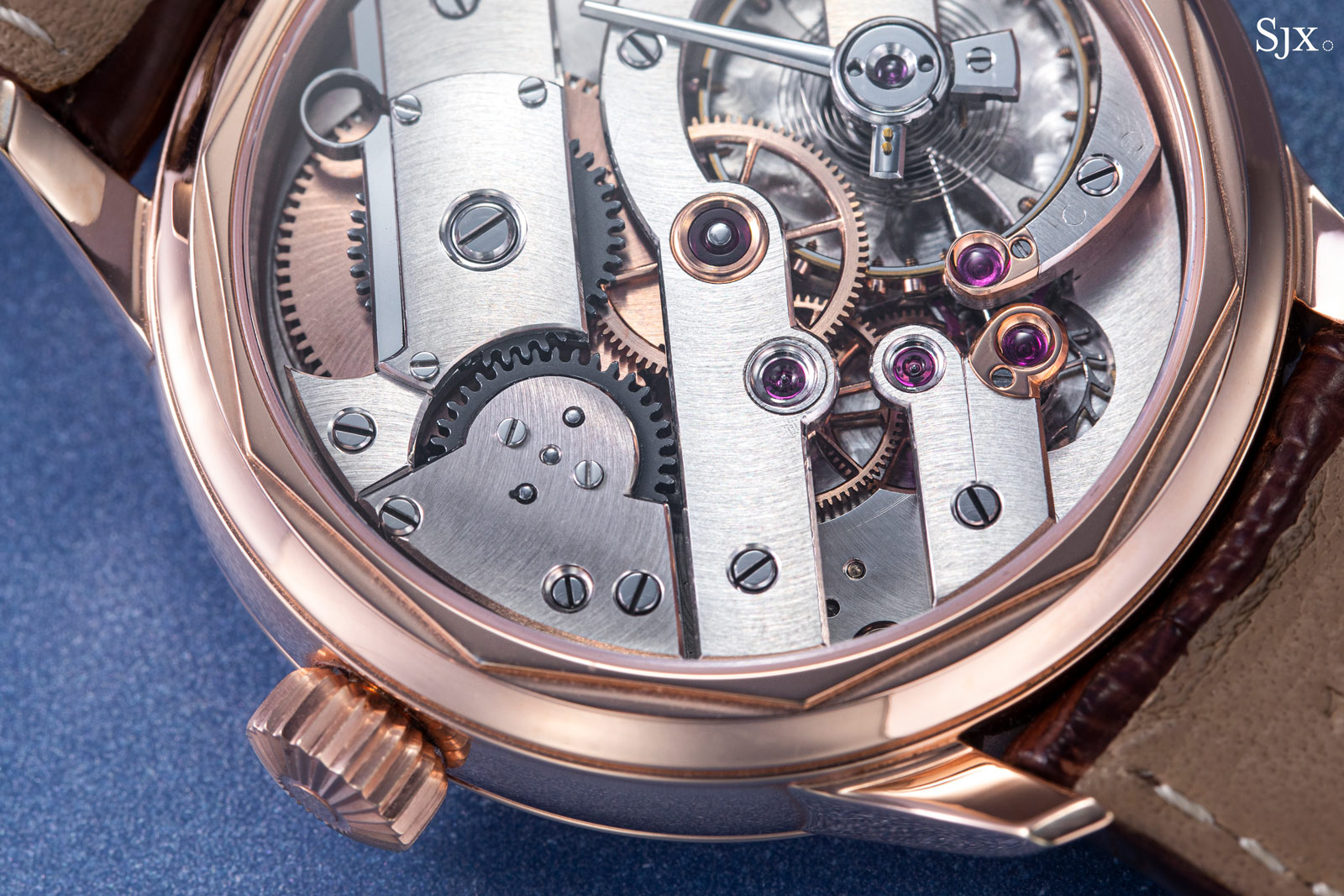 The adherence to historical inspiration – but executed to an even higher level than the original – is an approach that is distinctly Japanese. It's the same approach taken by Japanese artisans who make highly desirable products in other categories, ranging from Native American jewellery to English leather goods to fountain pens.
With that in mind, the only reasonable criticism that can be levied against the Primevère is its lack of novelty, which only matters to someone who wants something that is obviously 21st century. The Primevère is a handsome and beautifully finished watch, but it does resemble an antique.
Fortunately for anyone who wants something more modern looking, the Primevère is available in other variants that do look more contemporary, like the black enamel dial for example.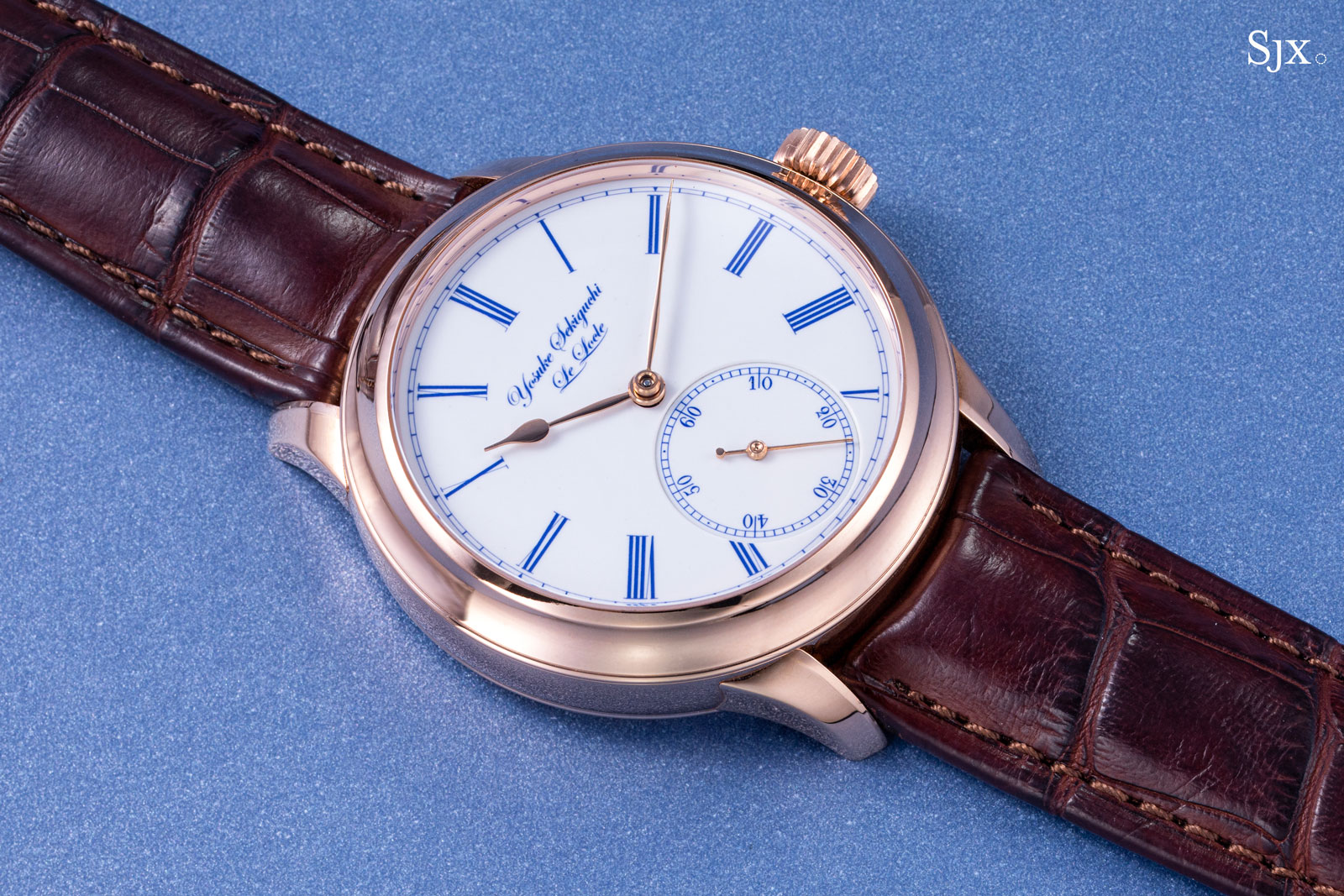 That said, it is still a compelling watch because in terms of execution and quality, the Primevère certainly lives up to its ambitions and also easily justifies its price.
At about US$57,000 in steel and about 10% more in gold, the Primevère is modestly priced considering to its artisanal manufacture and high quality. And compared to the general price level in today's frothy market for independents, it is something of a value proposition.
The inspiration
For those with an interest in vintage Swiss pocket watches, the Primevère movement might seem familiar. That's because Mr Sekiguchi modelled it on the so-called "Jürgensen" calibre.
Distinguished by its bridges with rounded ends, elongated regulator index, and long pallet fork, the Jürgensen calibre was actually a generic style popular in the mid 19th century according to watch expert Philip Poniz. For that reason says Mr Poniz, it is more correctly known as calibre ponts arrondis or calibre ponts ronds, which translate as "movement with rounded bridges".
The style of movement sold well enough during that period that it was produced by a number of movement makers and found in watches made by a variety of brands, including Jules Jürgensen.
Mr Sekiguchi's inspiration was an 1871 Jules Jürgensen pocket watch that he restored and then re-cased into a wristwatch. That re-cased timepiece because the basis for the Primevère, which retains the overall style but executed with more sophistication and finer details.
Classical styling
Interestingly, its proportions give it a sturdy, robust appearance. Even though the watch pictured has a gold-plated case, it still felt solid in hand.
It measures 39.5 mm in diameter and 12 mm high – relatively large for this type of watch. This was intentional according to Mr Sekiguchi, who wanted to recreate the robustness of the vintage Jürgensen pocket watch.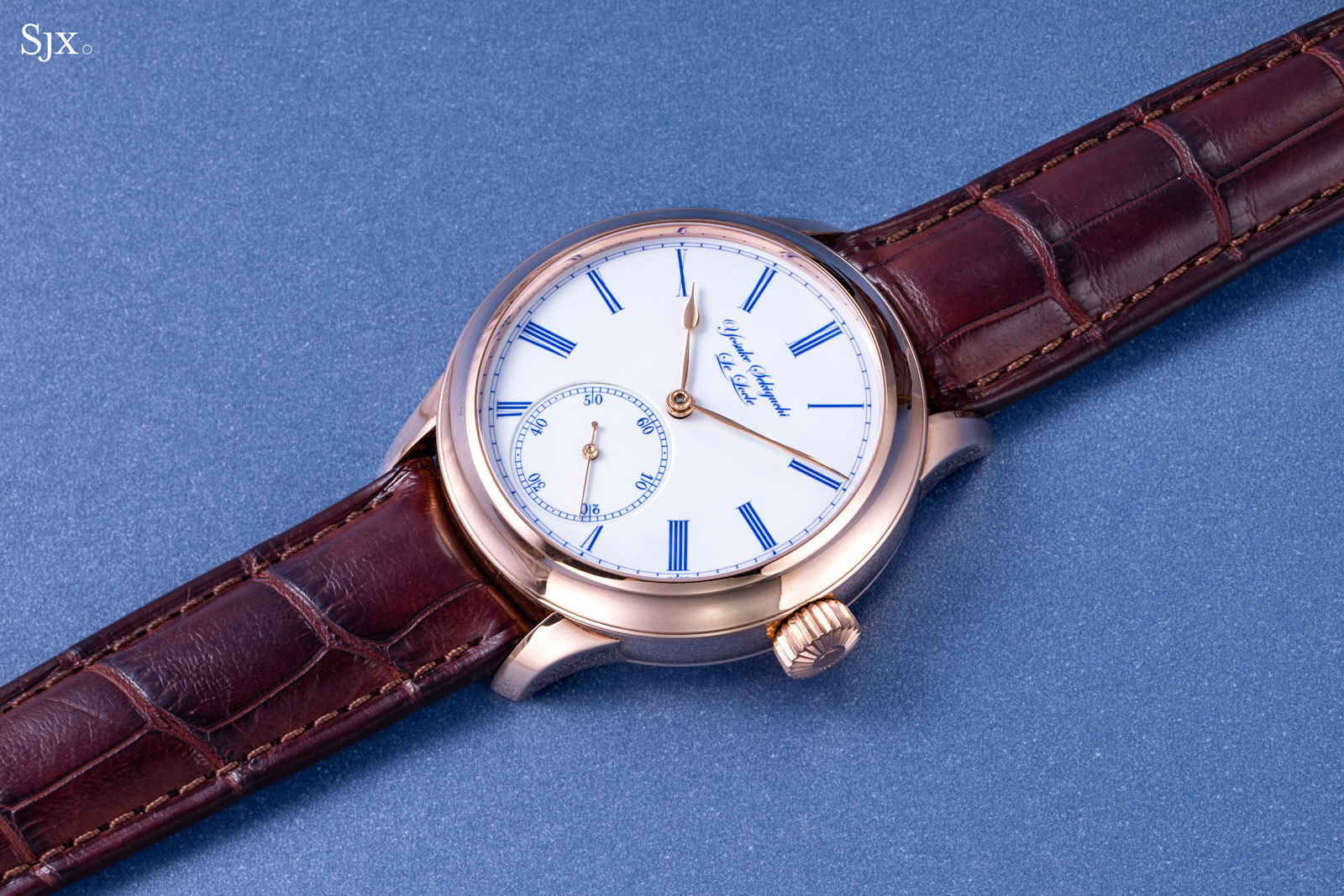 But the elegant form and details of the case are immediately obvious. The soldered lugs are gently curved, as is the tall and subtly concave bezel. Even the case back is finely executed with its domed shape that ends in a polygonal screw-down back.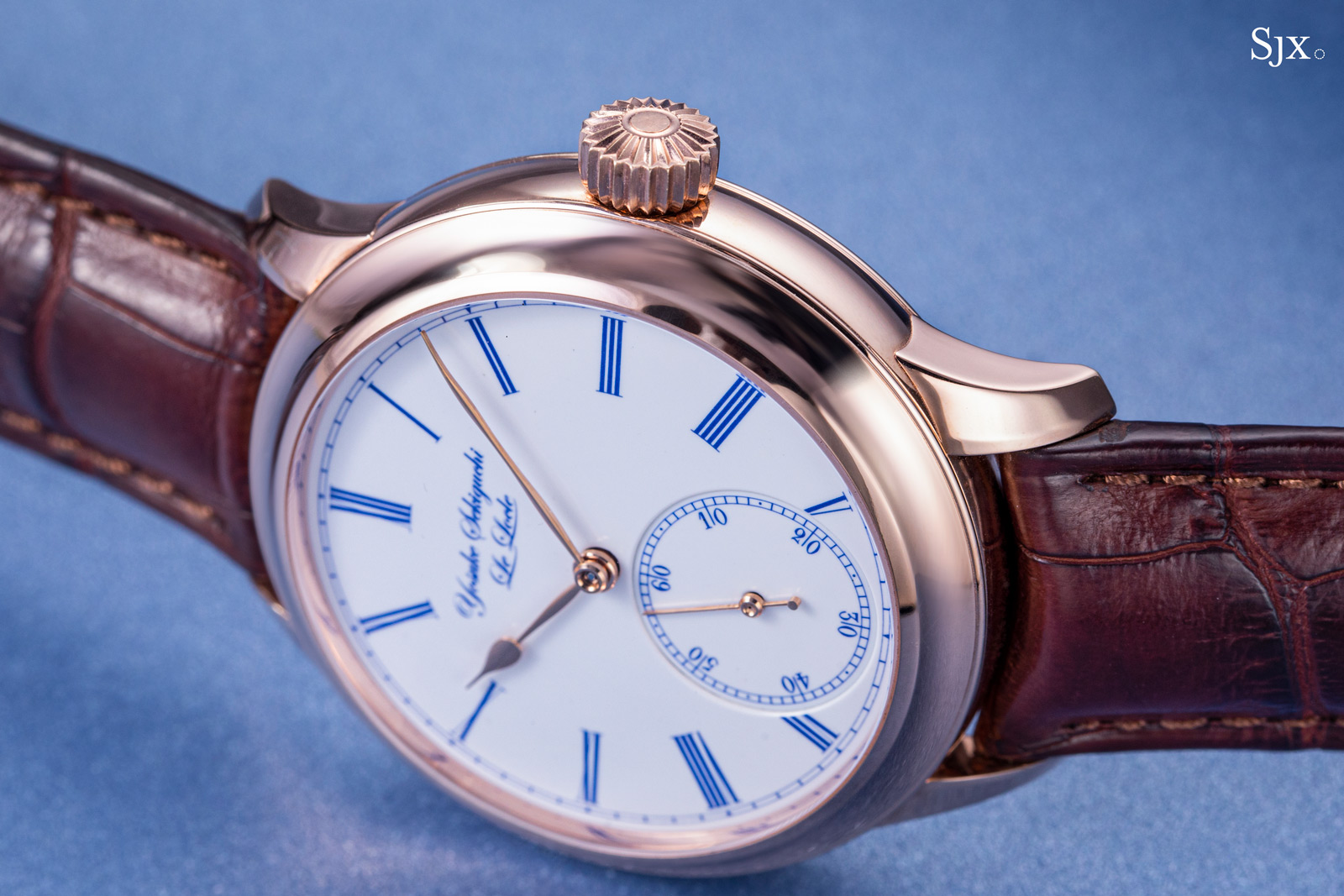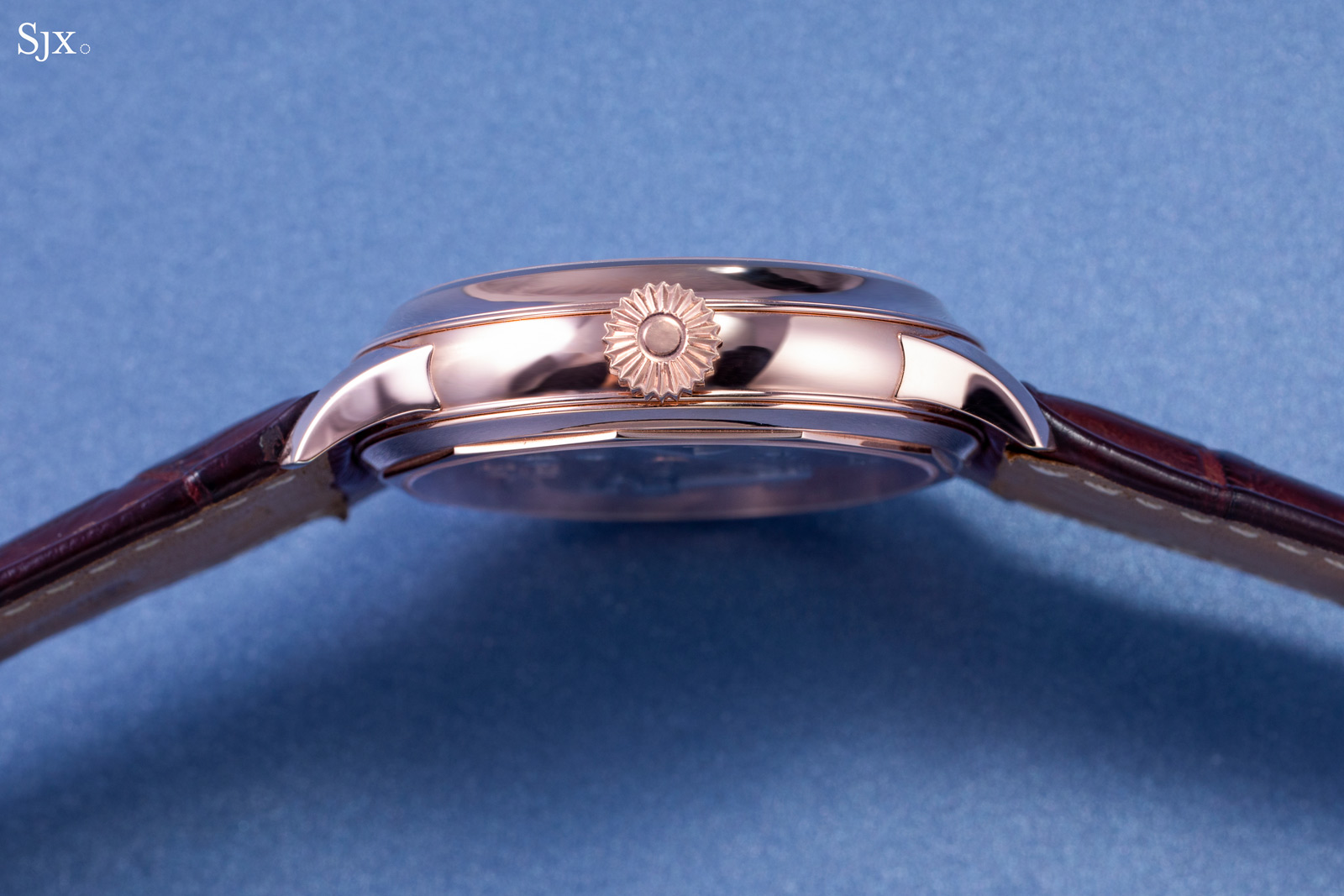 Mr Sekiguchi designed the case, but turned to Stila for its manufacture. Located in La Chaux-de-Fonds, Stila is a well-known maker of cases and its director, Julien Vallon, also happens to be the owner of Juval Horlogerie, the vintage watch store that is one of two retailers of the Primevère, the other being Koyanagi in Japan.
Email grand feu
The natural choice of dial for the Primevère is an old-school fired enamel dial. And so it is – a two-parter in glossy enamel with Roman numerals, a railway minute track, and typography that would not look out of place in the 19th century.
Like the case, it was designed by Mr Sekiguchi but produced by a specialist, this time Donze Cadrans, one of Switzerland's biggest maker of enamel dials.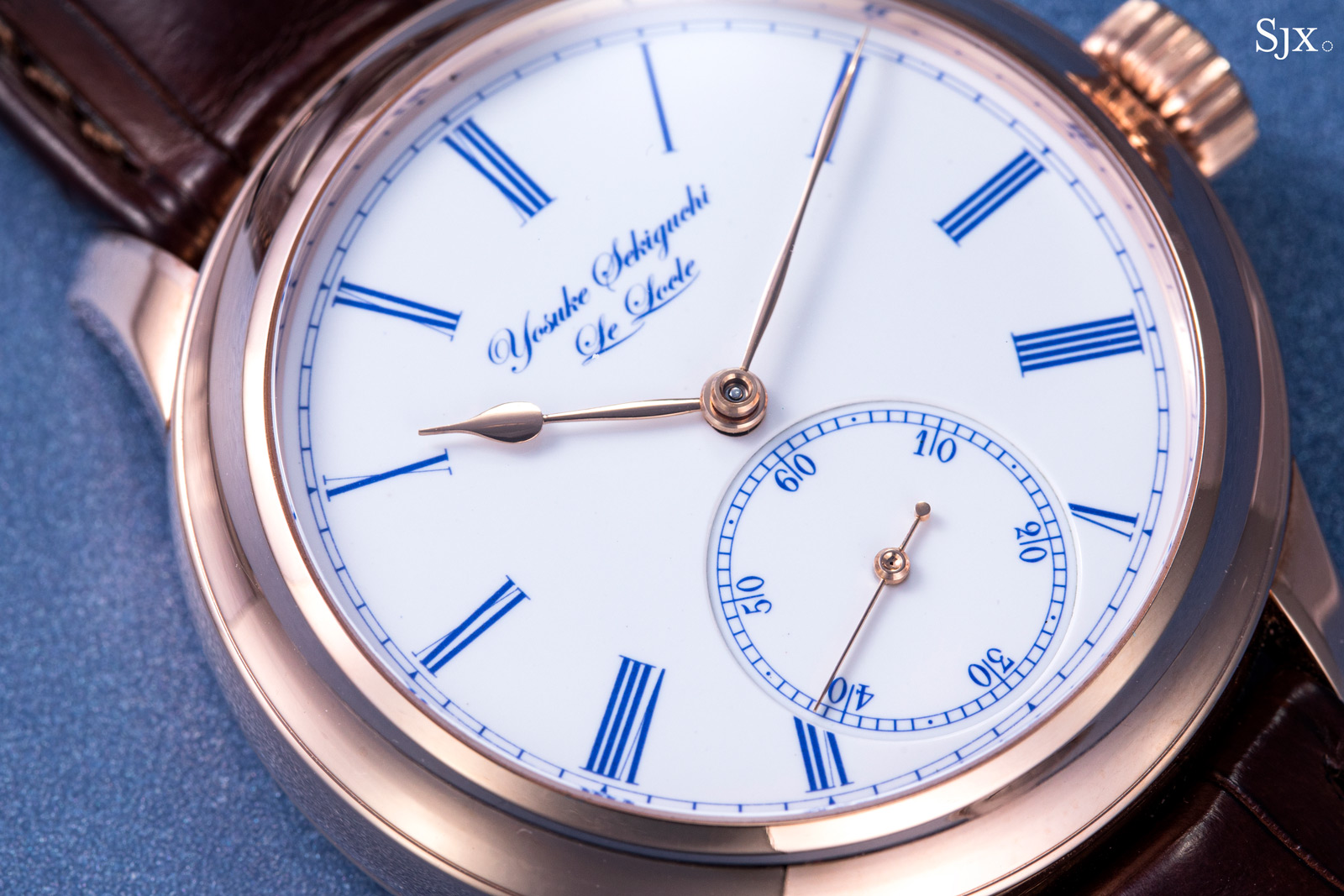 While the dial might seem to be a generic pocket watch face at a glance, it features several tasteful details. One is the proportions of the Roman numerals – they are narrow and tall, which emphasises the elegance of the design. Another is found on the subsidiary seconds, namely the quirky dots to mark the five-second intervals.
And the same can be said for the hands, which are hand made by Mr Sekiguchi. He uses a saw and file to form the shape, then polishes and rounds them. They resemble hands found on high-end vintage pocket watches, except scaled down to fit a wristwatch.
The "Jürgensen" calibre
The quality of Mr Sekiguchi's work is most apparent in the movement, which is almost entirely made by him with traditional techniques. The bridges, for instance, are cut with a saw and then decorated. One of the few components not made by him is the pallet lever.
His goal when building the movement was not only to replicate the style of the calibre ponts ronds, but to create a movement with the solid construction of vintage pocket watch calibres. The movement looks the part: even though it is elegantly designed with several refined details, it looks robustly constructed with notably thick bridges.
While the overall aesthetic certainly sticks closely to the calibre ponts ronds style, the movement has been refined with both impeccable finishing and a handful of decorative flourishes. Despite this being the first prototype, the movement decoration is excellent.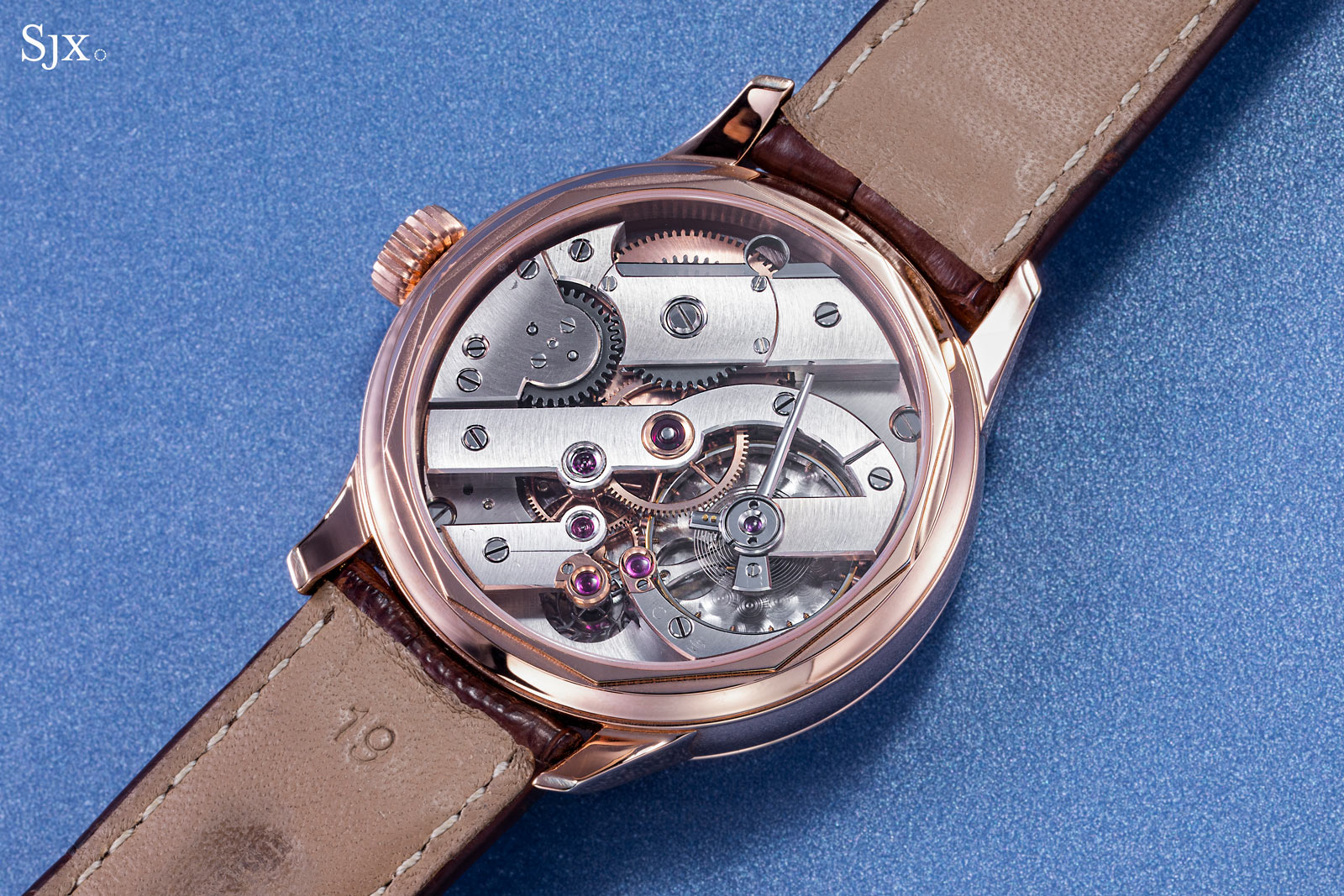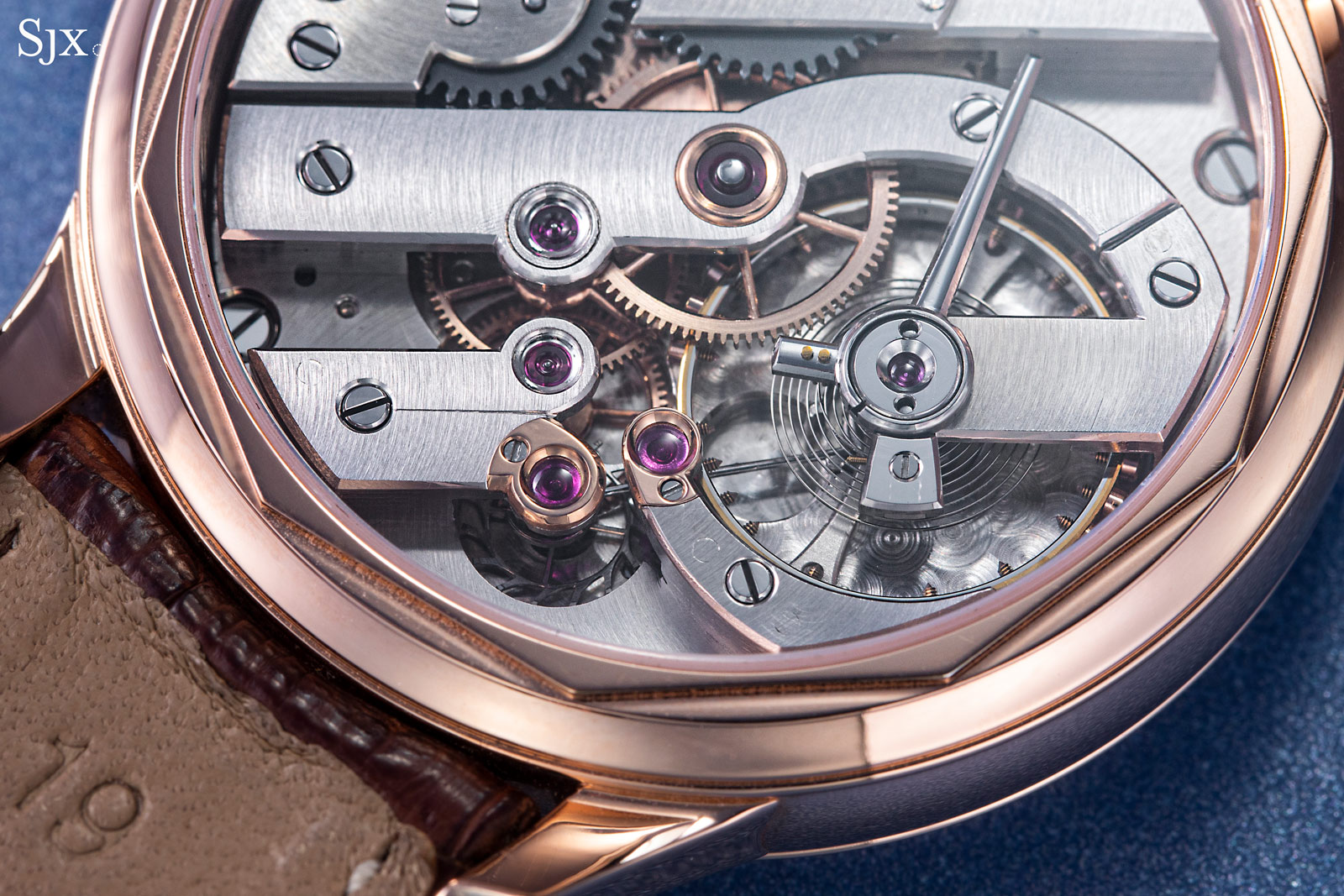 All of the defining elements of the calibre ponts ronds are present. The bridges are arched and rounded, but feature neater forms and sharper outlines than the vintage original. While some vintage pocket watches with this style of movement look like mid-range watches at best, the calibre inside the Primevère is evidently precise and refined in its construction as well as design.
The same is true for the details. More slender than that on the vintage original, the elongated regulator index is in black-polished steel. The pivot jewels for both the escape wheel and pallet lever are secured by gold caps, which are echoed by the gold chaton for the centre wheel jewel.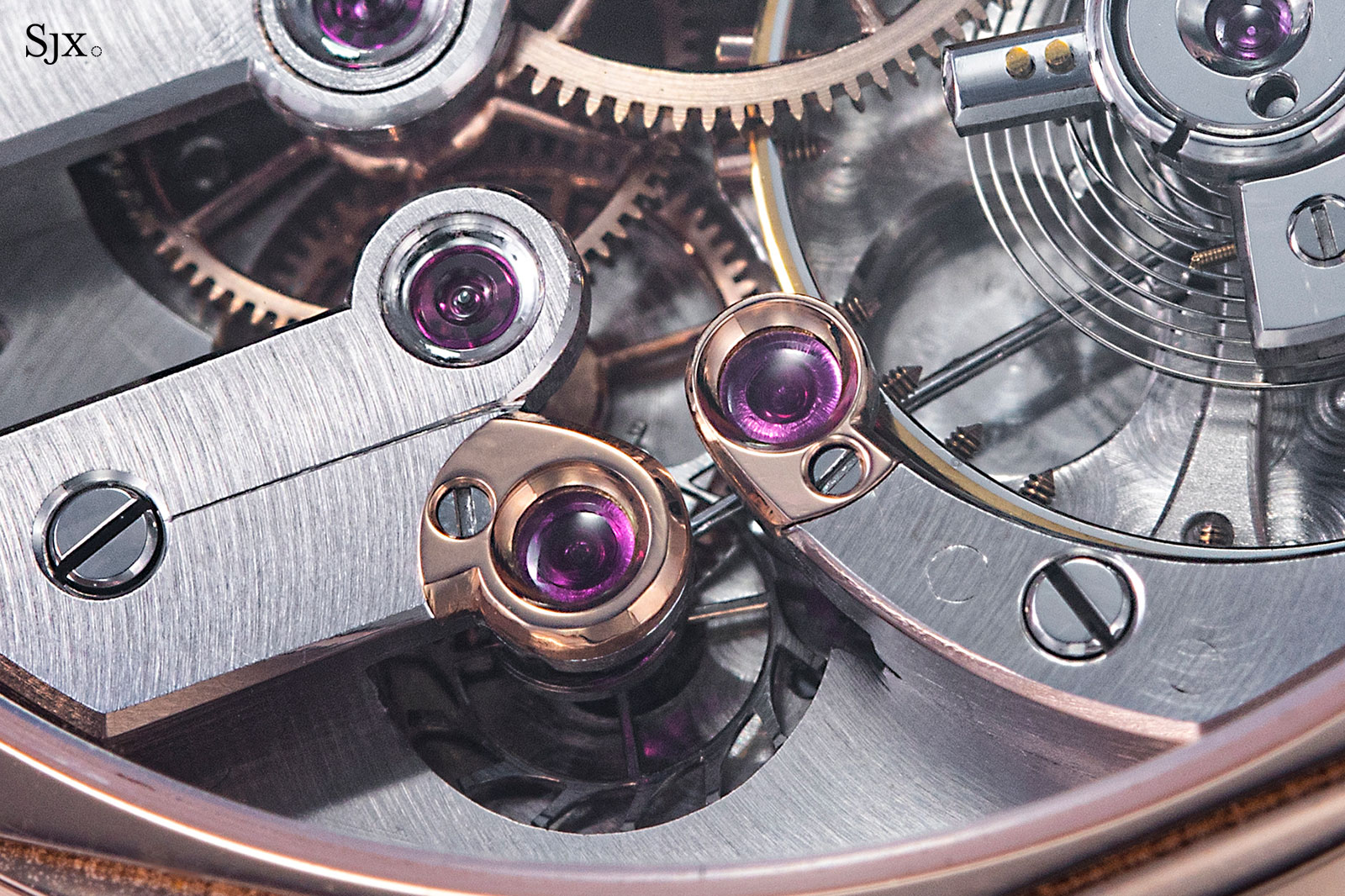 The keen eyed will spot the bimetallic balance wheel, an antiquated element that will not be found on the production version of the watch. Mr Sekiguchi reused the balance from a vintage pocket watch for the prototype, but will instead use a balance wheel of his own design for the production watch.
Similarly, the jewel bearings used in the prototype are "new old stock" vintage parts. But unlike the balance wheel, the vintage rubies will also be used in the production version.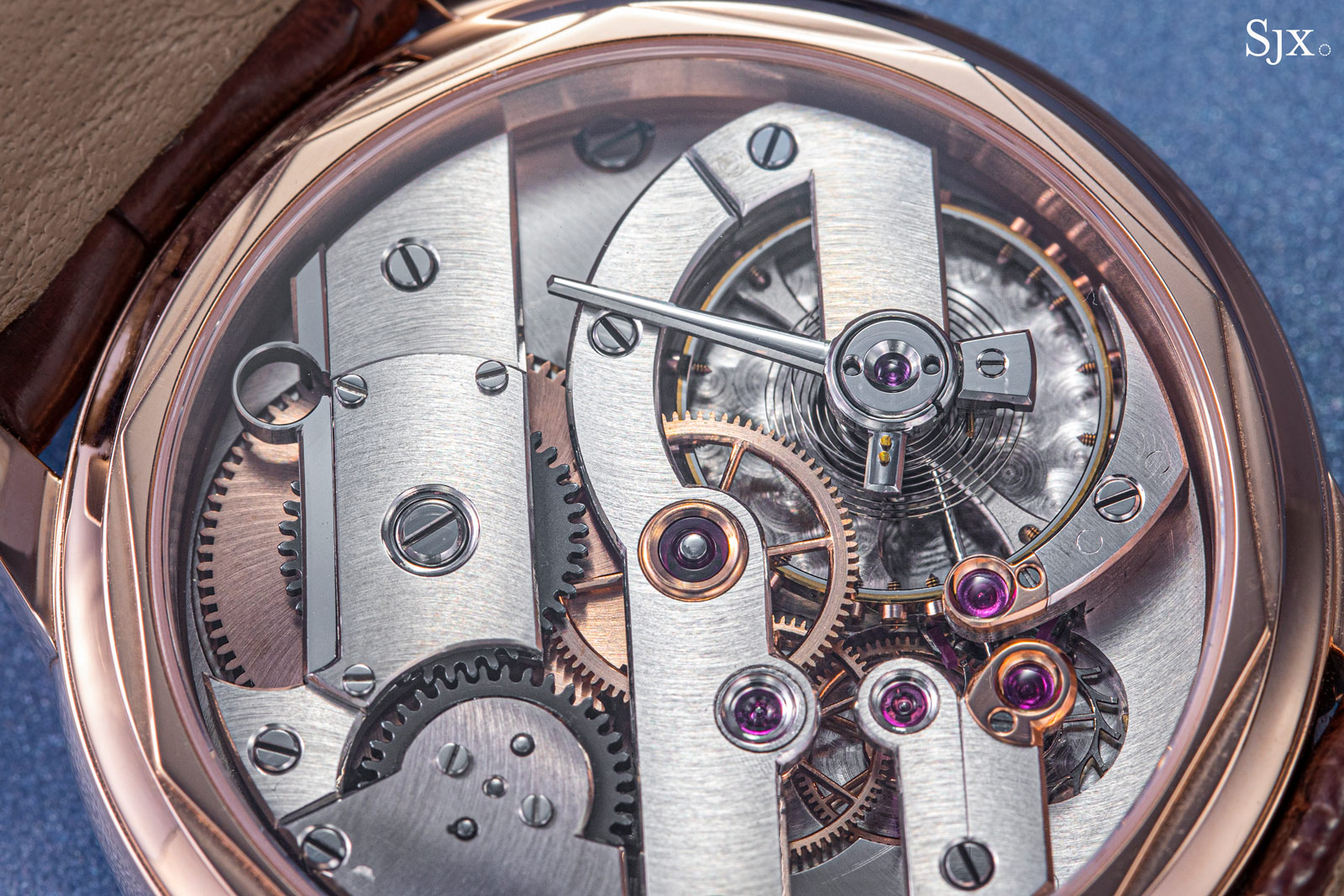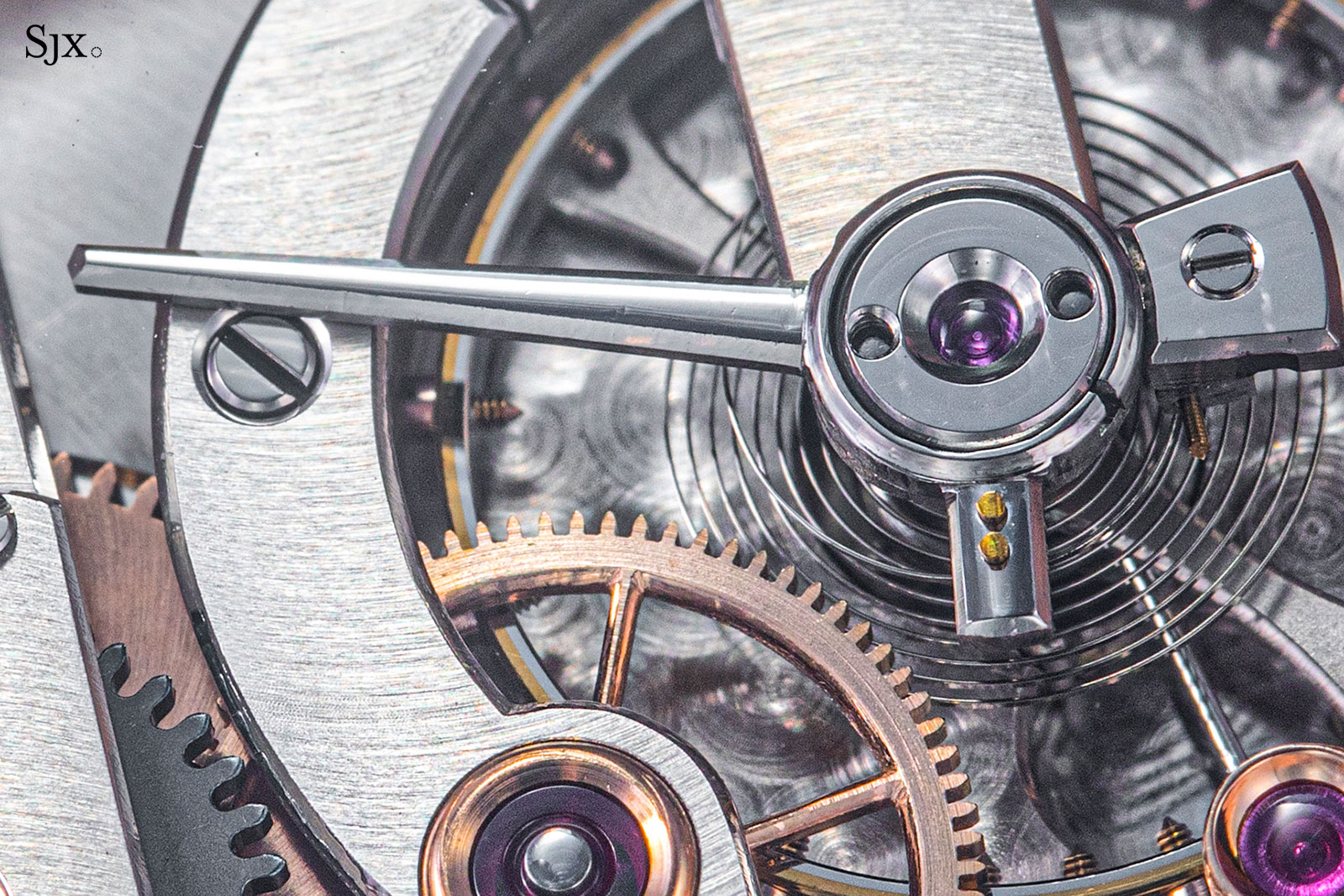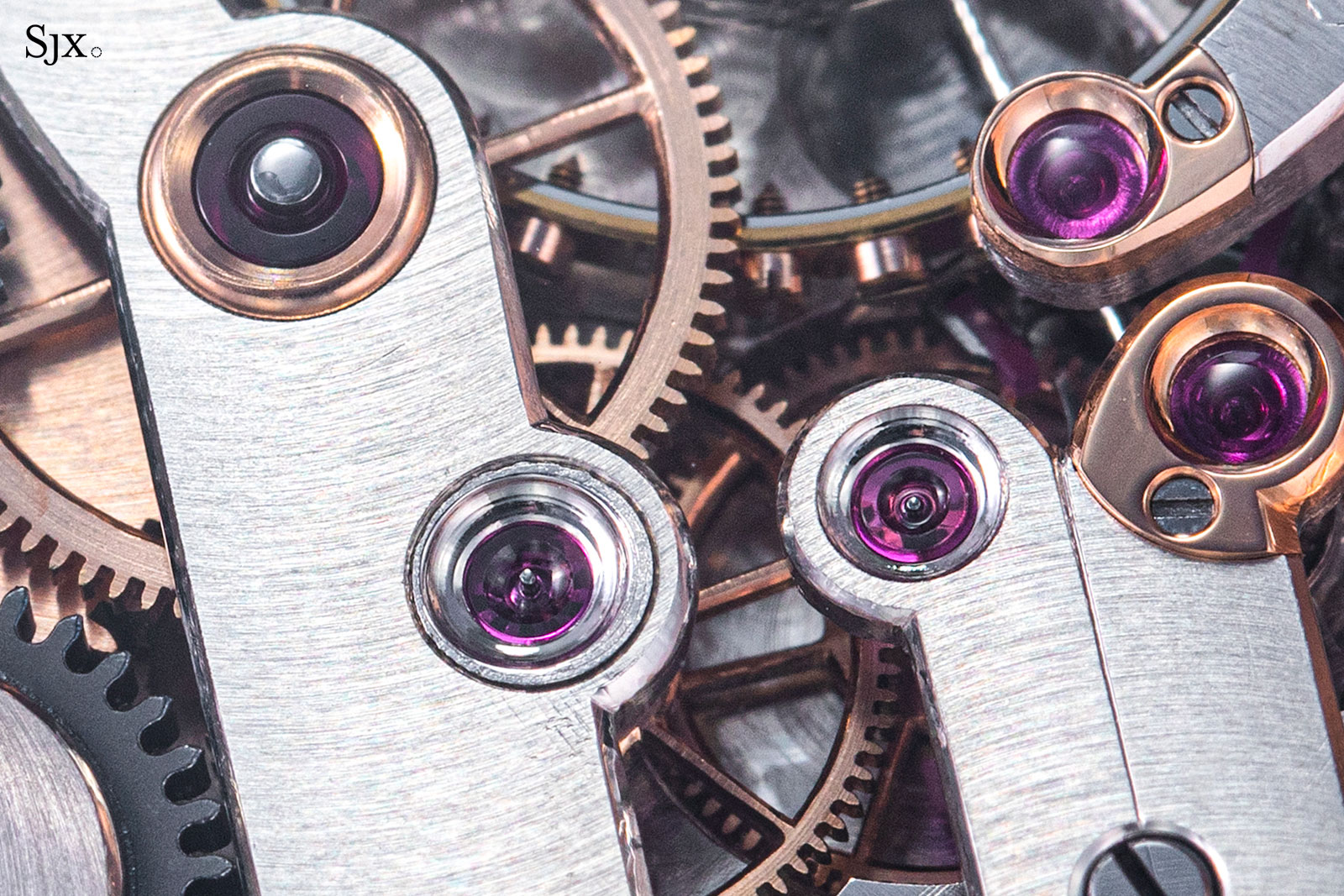 Made by Mr Sekiguchi himself using manual methods, namely a saw and file, the bridges are German silver and finished with a fine, circular brushed graining. The brushed finish is perhaps the finest example of this style of decoration I have seen.
The most intriguing aspect of the bridge finishing is the direction of the graining. Instead of being consistent on each bridge and radiating from the centre wheel as is convention, the graining echoes the most prominent edge of each bridge. As a result, the graining goes in different directions on each bridge, which in theory makes it sound like a mess, but the result is pleasing and interesting in the metal.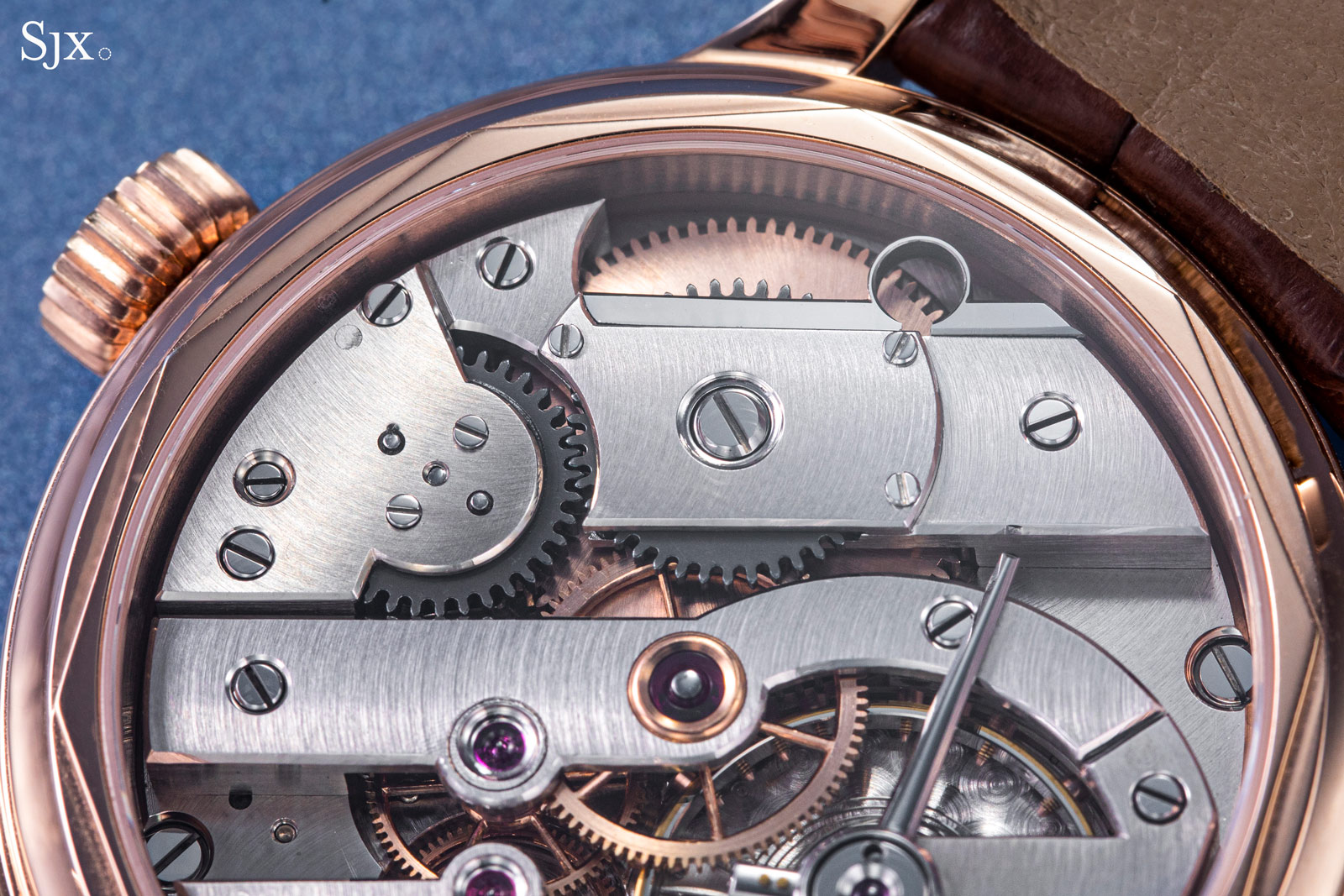 One of the most beautiful details in the movement is the omega-shaped winding click spring. While the average calibre ponts ronds has a straight steel spring, Mr Sekiguchi has transformed it into a miniature work of art with a round arch forming the flexible point of the spring.
Even on the prototype the spring is intricately finished, with a black polished top surface and fine bevelling on all edges. Most impressive is the tapered bevelling that narrows towards the opening in the arch.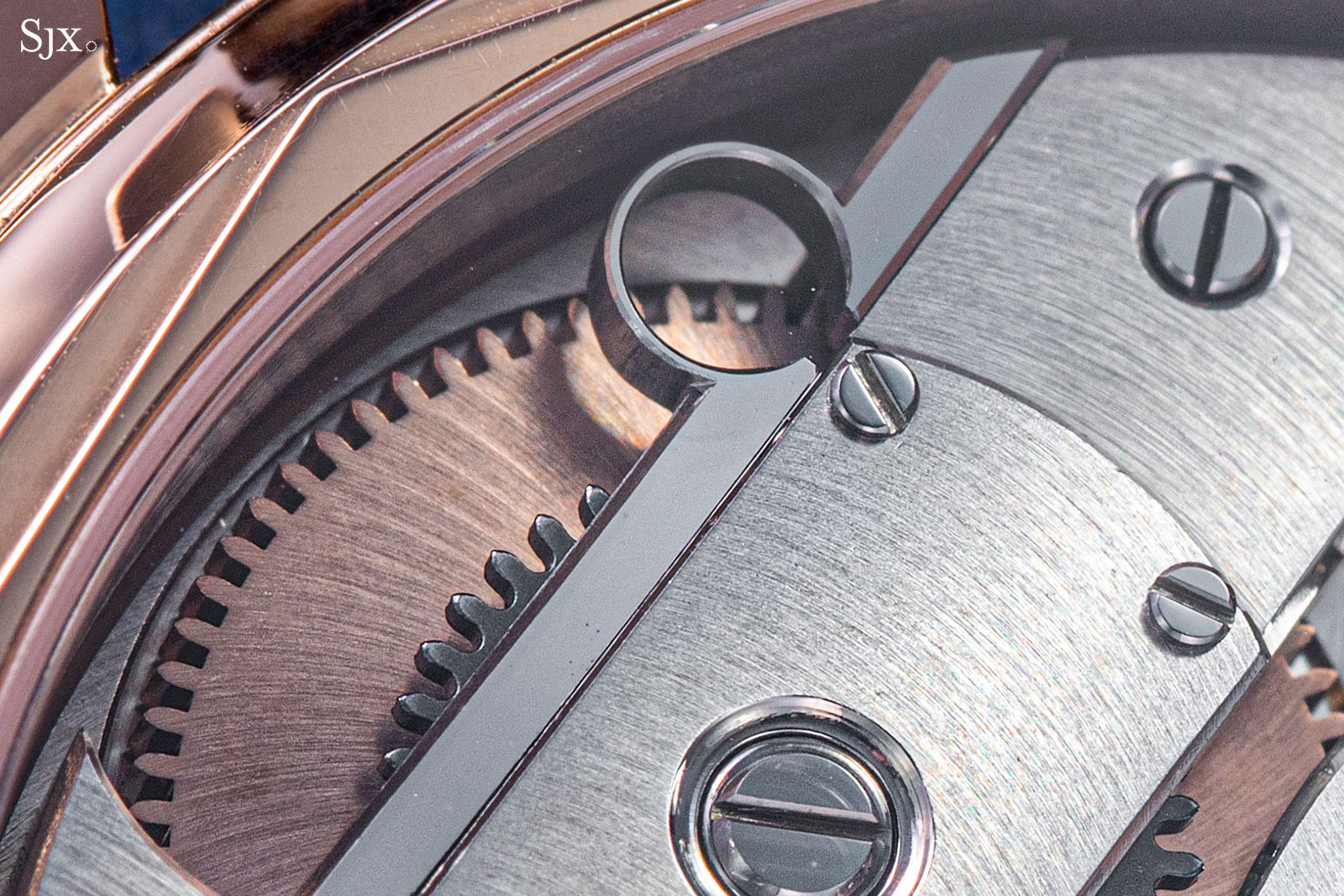 Concluding thoughts
The Primevère is a beautifully executed watch that succeeds in being what it wants to be – a historically inspired wristwatch with eminently classical details and exceptional quality of finish.
It's a brilliant first watch from an obviously talented watchmaker, who I expect will go on to do more interesting things. Mr Sekiguchi has hinted something more complicated – but equally classical – is on the horizon.
---
Key Facts and Price
Yosuke Sekiguchi Primevère
Ref. 39RG-WHBL (rose gold)
Ref. 39SS-WHBK (steel)
Diameter: 39.5 mm
Height: 12 mm
Material: Rose gold or stainless steel
Crystal: Sapphire
Water-resistance: 30 m
Dial: Grand feu enamel
Movement: YS-Y01
Functions: Hours, minutes, and seconds
Frequency: 18,000 beats per hour (2.5 Hz)
Winding: Hand wind
Power reserve: 40 hours
Strap: Alligator with pin buckle
Limited edition: Approximately 20 a year
Availability: From Juval Horlogerie in La Chaux-de-Fonds, Switzerland, or Watch Shop Koyanagi (Carillon Co.) in Nara, Japan
Price: Rose gold is CHF60,000 or JPY8.5 million; steel is CHF55,000 or JPY7.8 million (prices exclude taxes)
For more, visit Koyanagi-tokei.com.
---
Back to top.
---
You may also enjoy these.