Hands On: IWC Portugieser Automatic 40
A concise and value-minded take on a classic.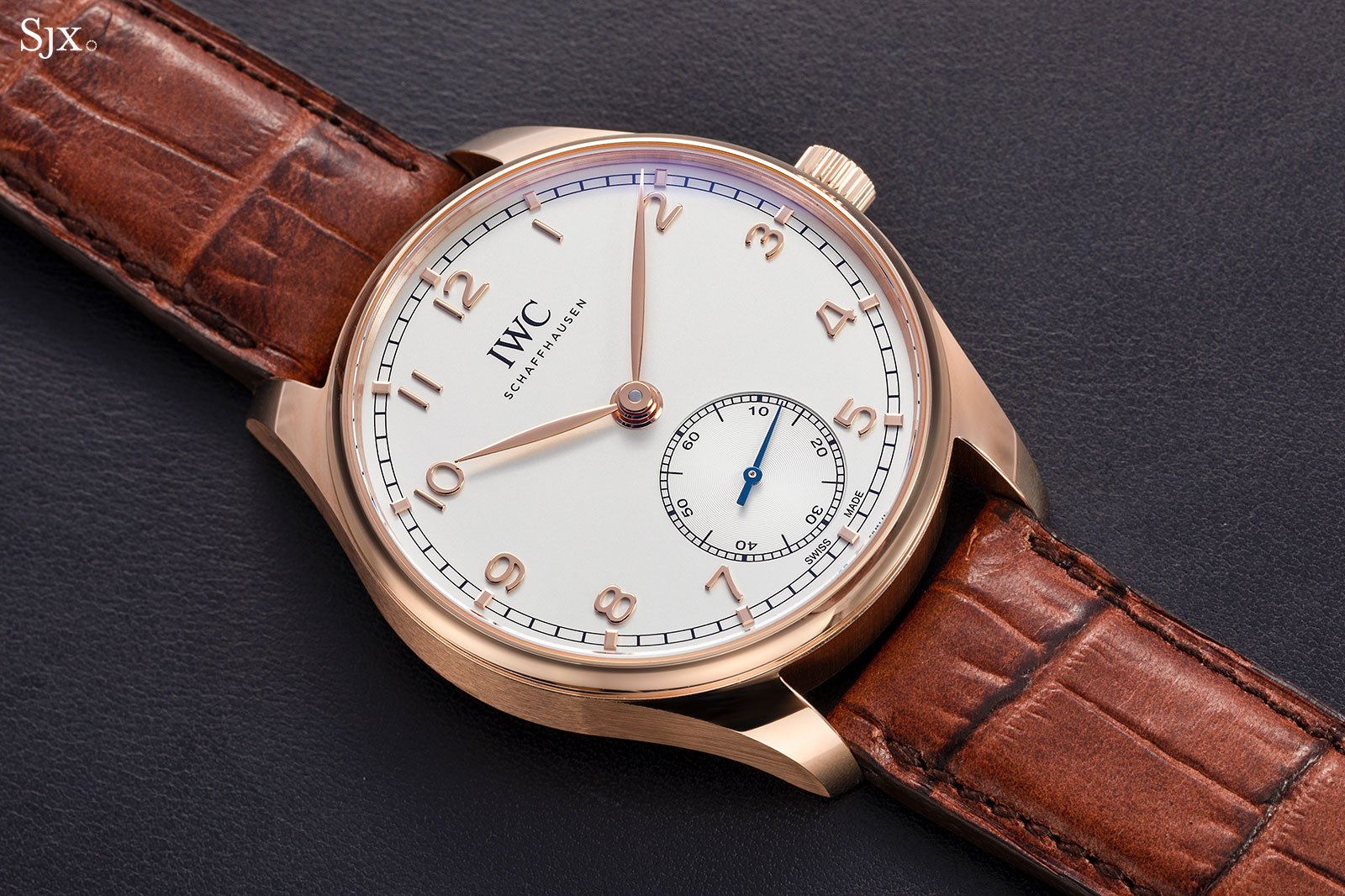 Launched in 2020 as a more wearable version of IWC's signature large-format dress watch, the Portugieser Automatic 40 is a no-frills three-hander executed in a solid, workmanlike manner that is typical of the brand.
Though novel for the current Portugieser line – it's the smallest model in the lineup – the new automatic isn't a wholly new idea. IWC did offer a "small" Portugieser some two decades ago, but Portugieser watches since then have been well over 40 mm in diameter.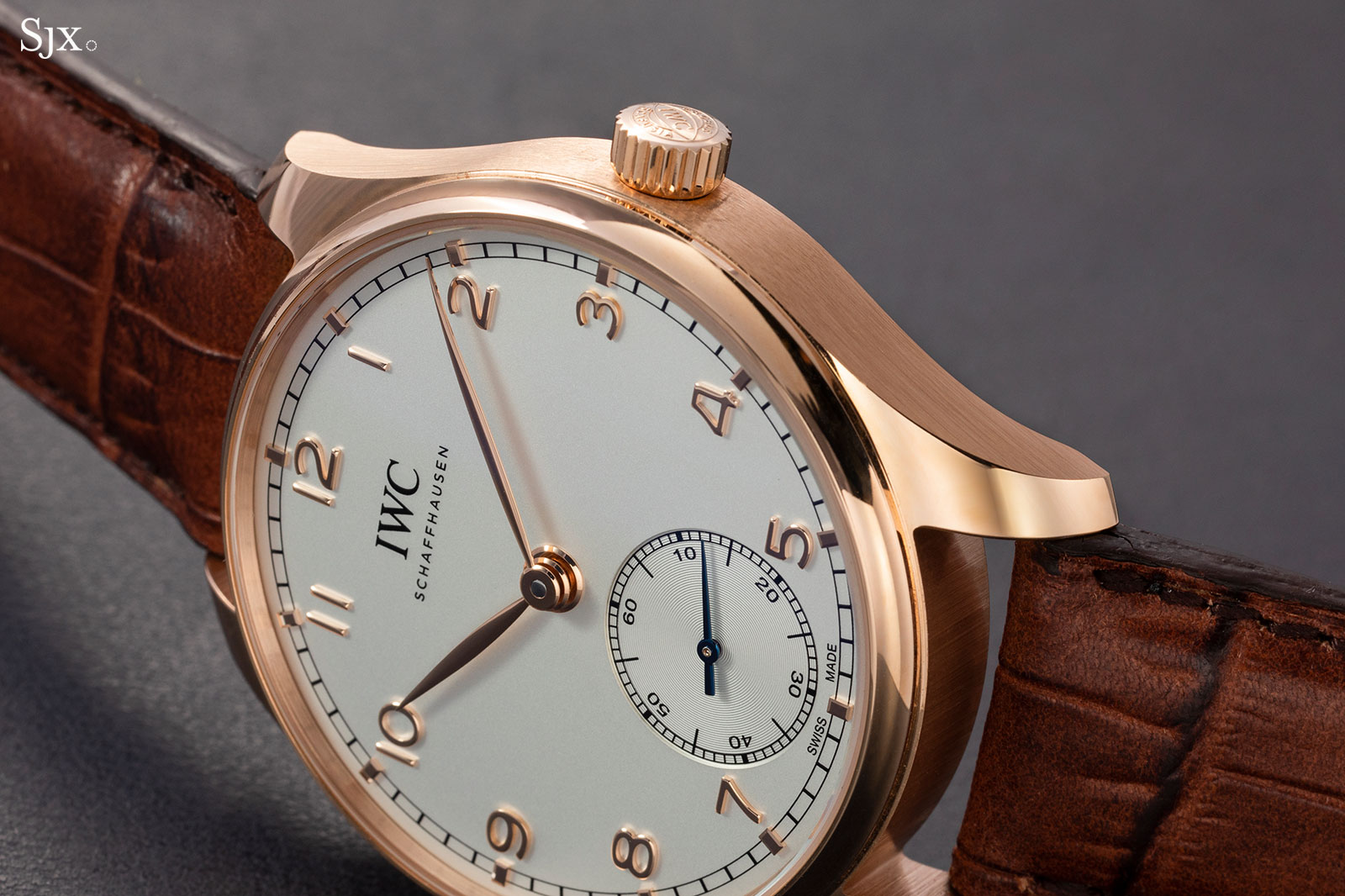 The large size of the various Portugieser models result from the movements, which either have a seven-day power reserve or chronograph, plus a few others that are even more complicated.
That left a gap for a "small", uncomplicated Portugieser. And so it has returned, combining the typical restrained aesthetics of the Portugieser line and the technical quality expected of IWC.
Initial thoughts
The Portugieser Automatic 40 is a wearable watch with a distinctive but classical aesthetic. Unlike its larger and more complicated counterparts in the Portugieser line, the 40 mm automatic is simple but still has the same recognisable aesthetic as well as a solidly engineered movement.
It's moderately sized, though a little thick due to the movement inside. The movement is a good one, which makes the case height acceptable, though a slimmer case would certainly be more appealing and also echo the vintage original more closely.
Importantly, it is also eminently affordable. Considering the appealing, historically-rooted design and excellent execution, the Portugieser Automatic 40 is a value proposition in steel with its US$7,450 price tag. But it costs more than double that in gold, so the precious metal model less compelling.
The familiar style
At 40 mm, the Portugieser Automatic 40 is a good size, but it is thick at just over 12 mm high, which is unusually tall for a time-only watch. In fact, it's thicker than several high-end chronographs like the Patek Philippe ref. 5170. And the Lange 1815 Rattrapante is only 0.2 mm taller.
As a result it has stout dimensions, making it more of an everyday watch that leans towards being a dress watch. The case height is a necessity due to the robustly-built movement inside so it is justified.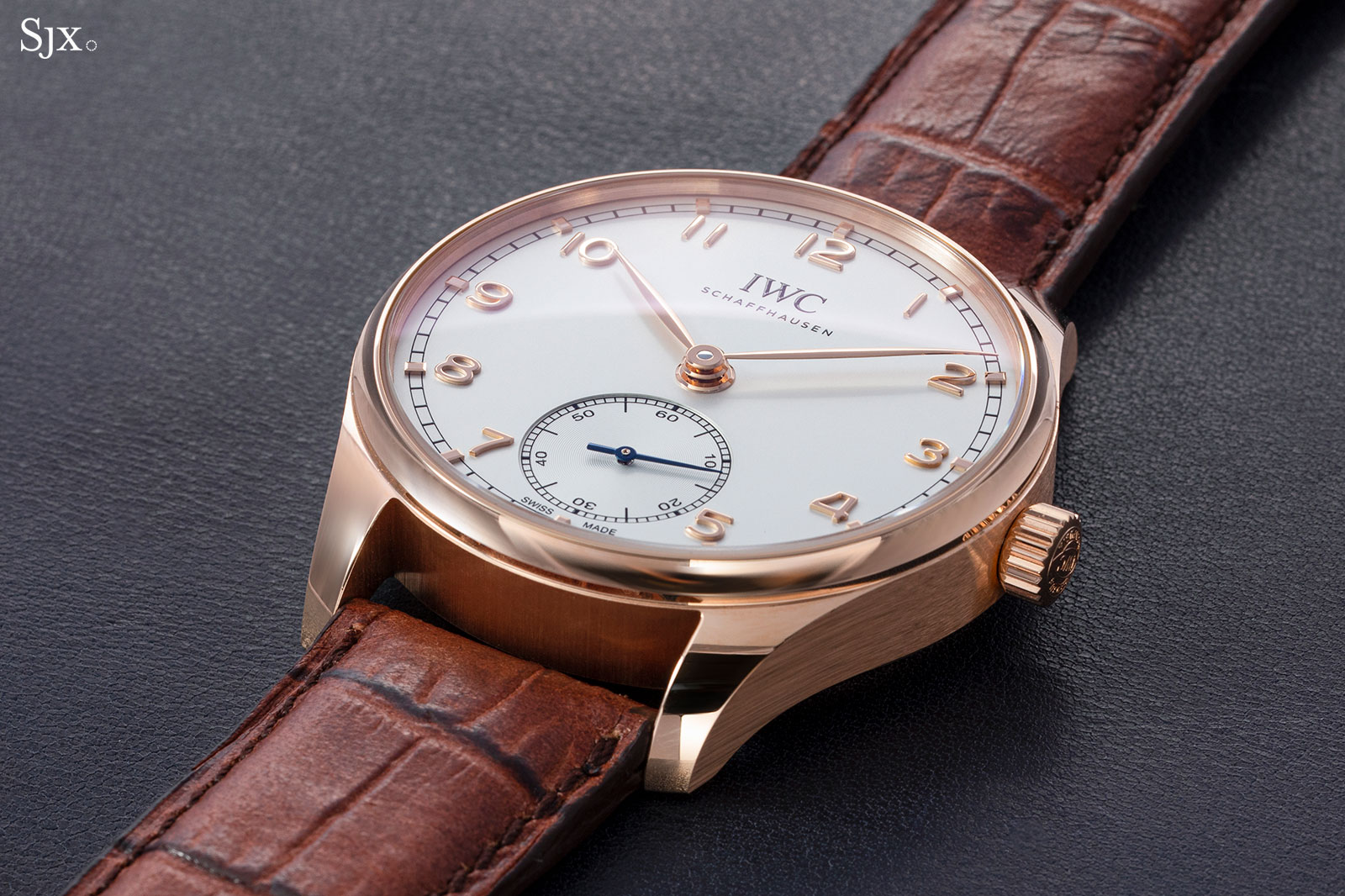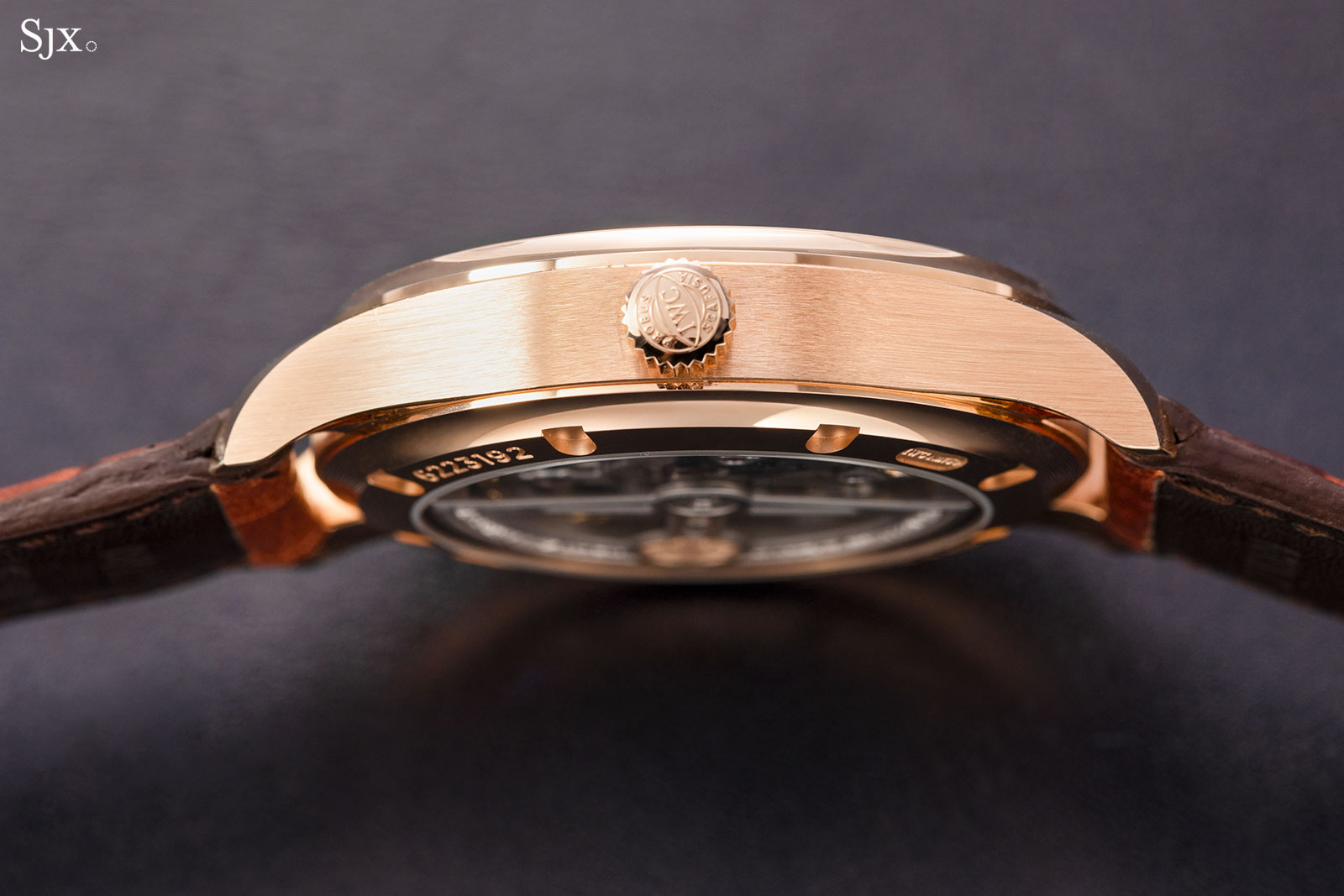 The watch doesn't feel too big on the wrist, but the case height is obvious. While the Portugieser Automatic 40 looks like a Portugieser and has all the trademark design elements, it lacks the slim proportions of the vintage original, which is a bit of a shame.
The case quality is typical IWC – it feels solid and the surfaces are all sharply finished. Although simple in form and finish, it is solidly and neatly executed. One upside of the case thickness is the screw-down back, which is a nice touch though it doesn't make it better or worse than a watch with a press-on back.
Although the case is mostly conventional, one detail does stand out – the polished, concave bezel. It's a detail found on other Portugieser models, but not too common at the price range of this 40 mm automatic..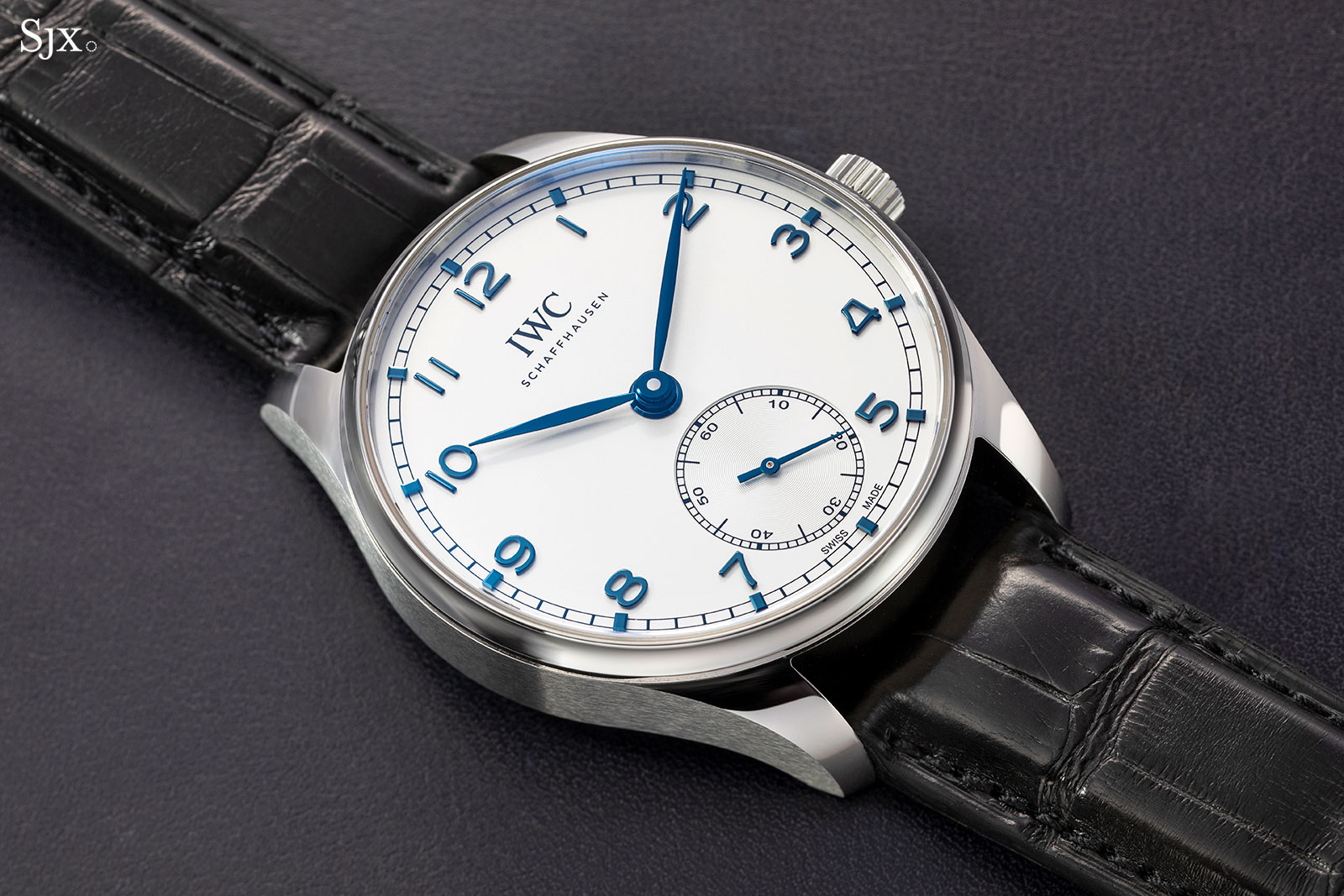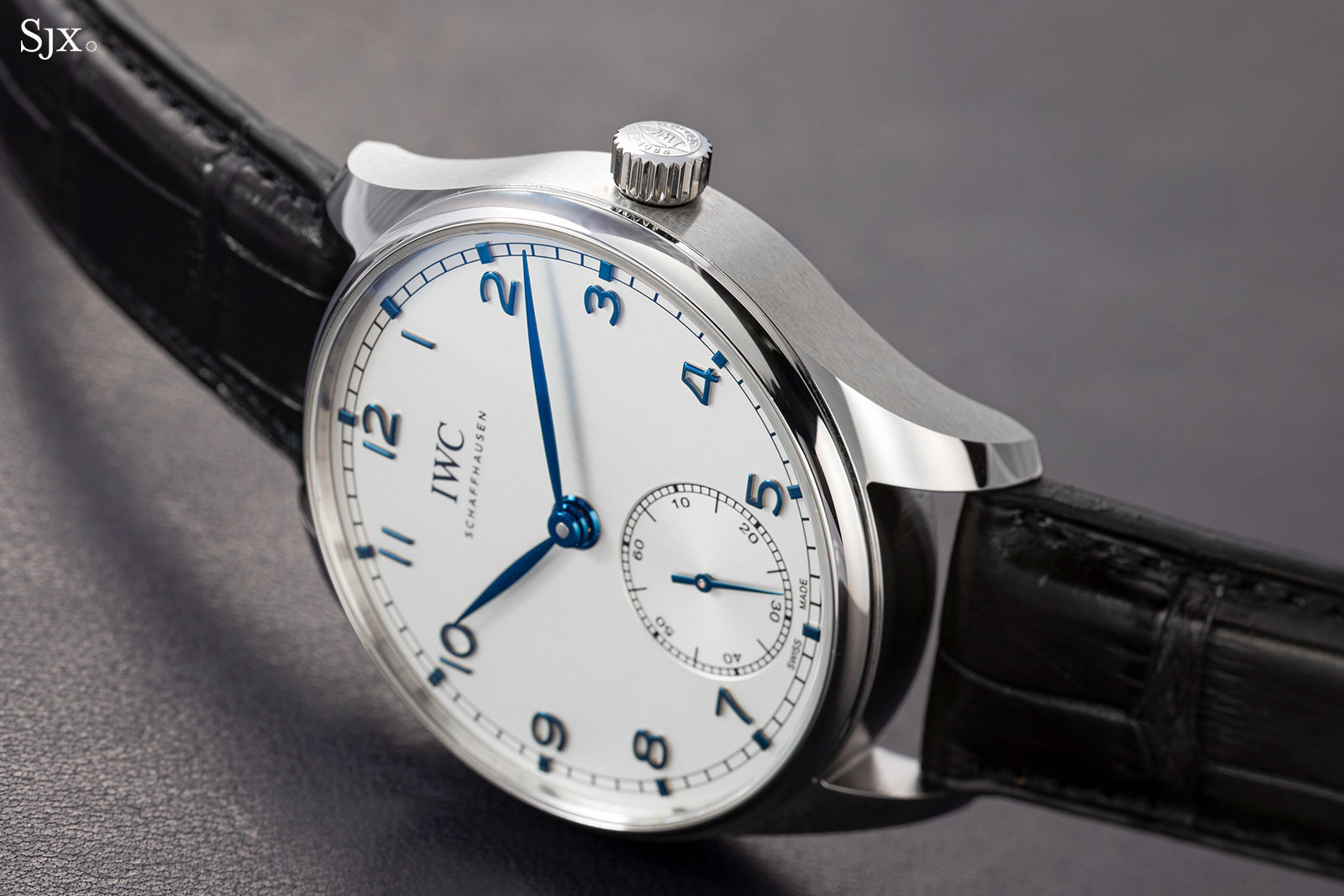 Because this has the classic Portugieser aesthetic, it is a handsome watch. None of the design elements are unique individually, but together they form a look that is instantly recognisable as a Portugieser.
So what makes a Portugieser? Arabic numerals, leaf-shaped hands, and a prominent minute track.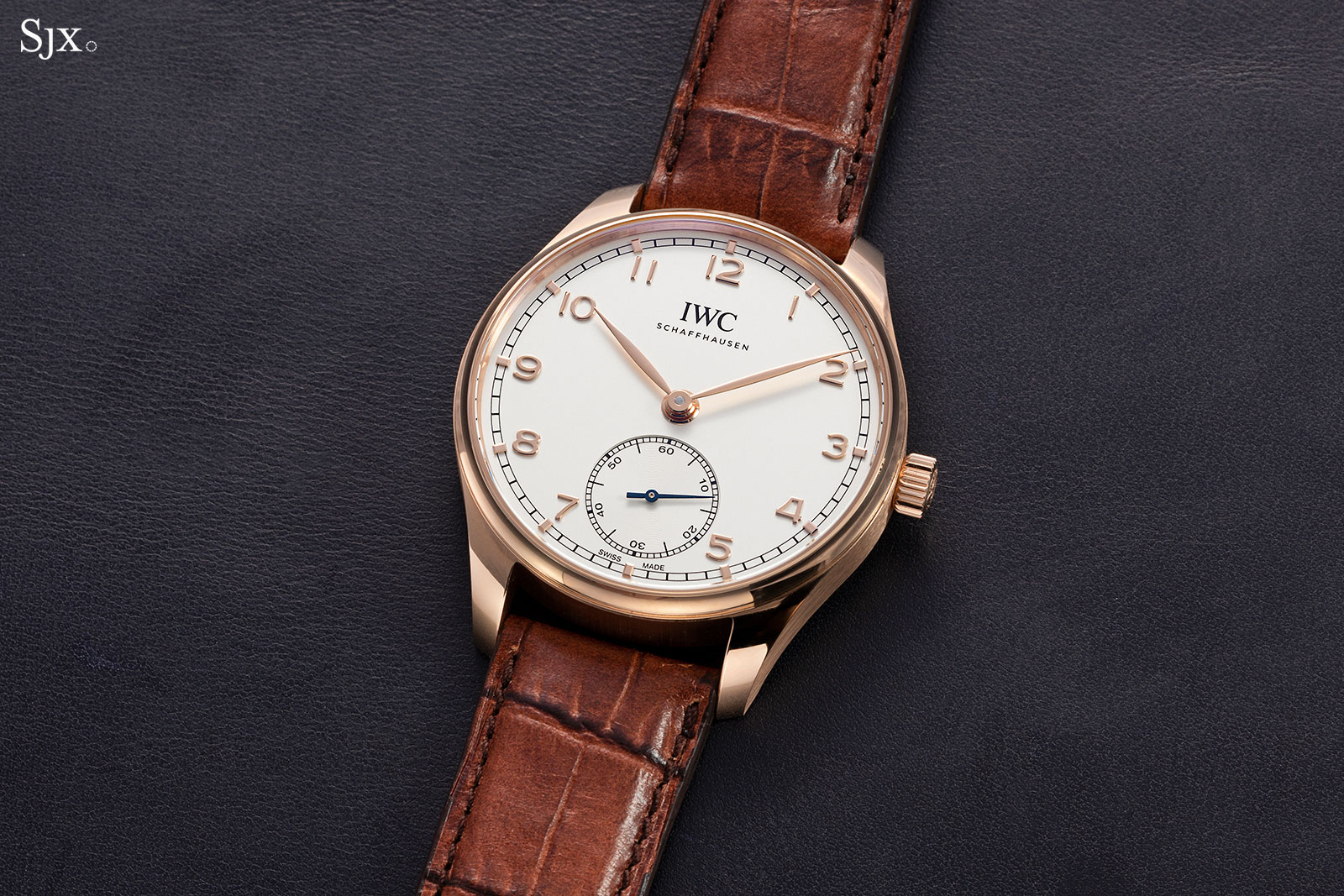 Here the traditional look has been slightly tweaked with a railway minute track – now standard for most modern Portugieser models – as well as applied five minute markers, which give the dial a slightly fancier look.
Because the dial is smaller than other Portugieser models, the applied markers for both hours and minutes make it look slightly busier, compared to the Portugieser 7 Days for example.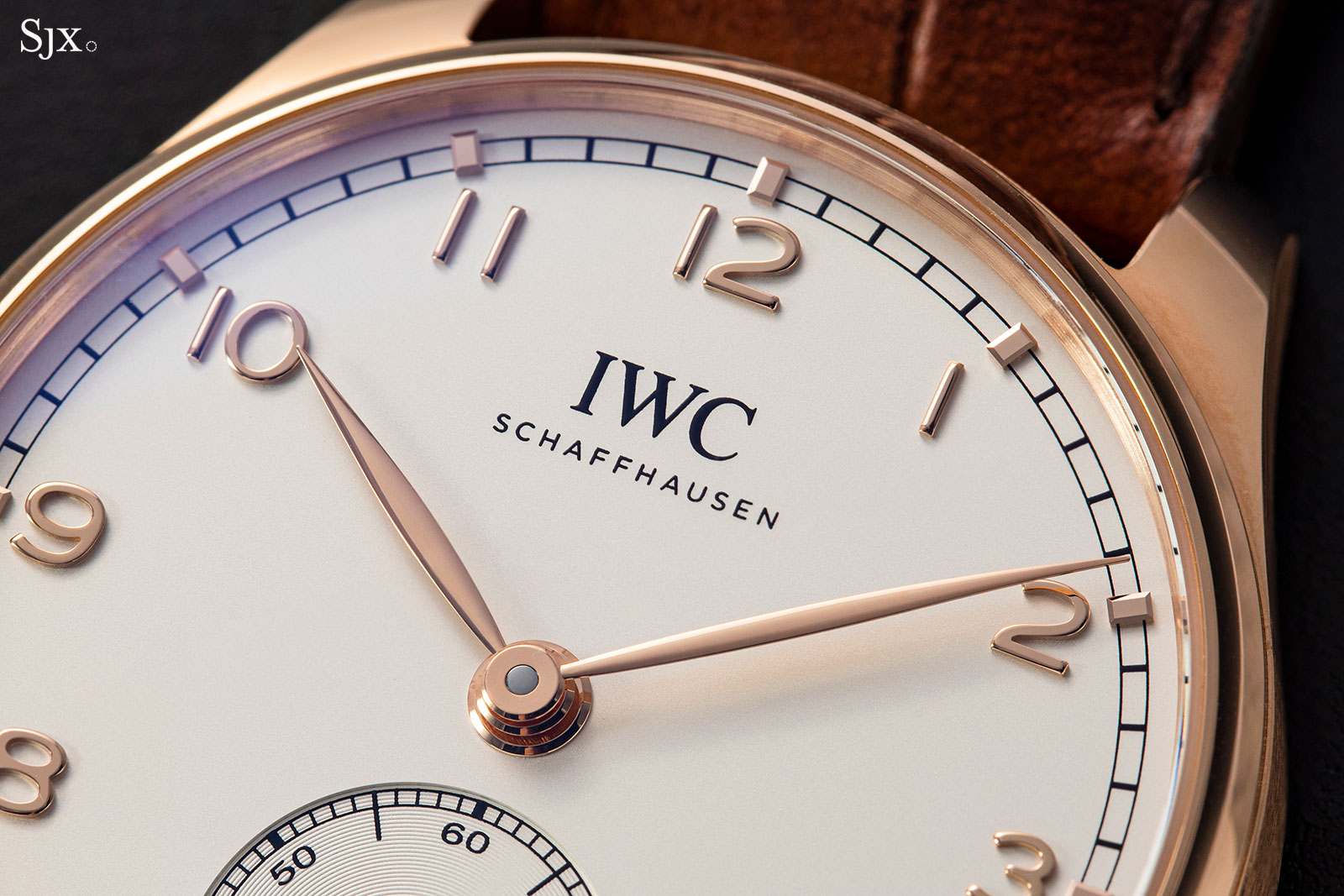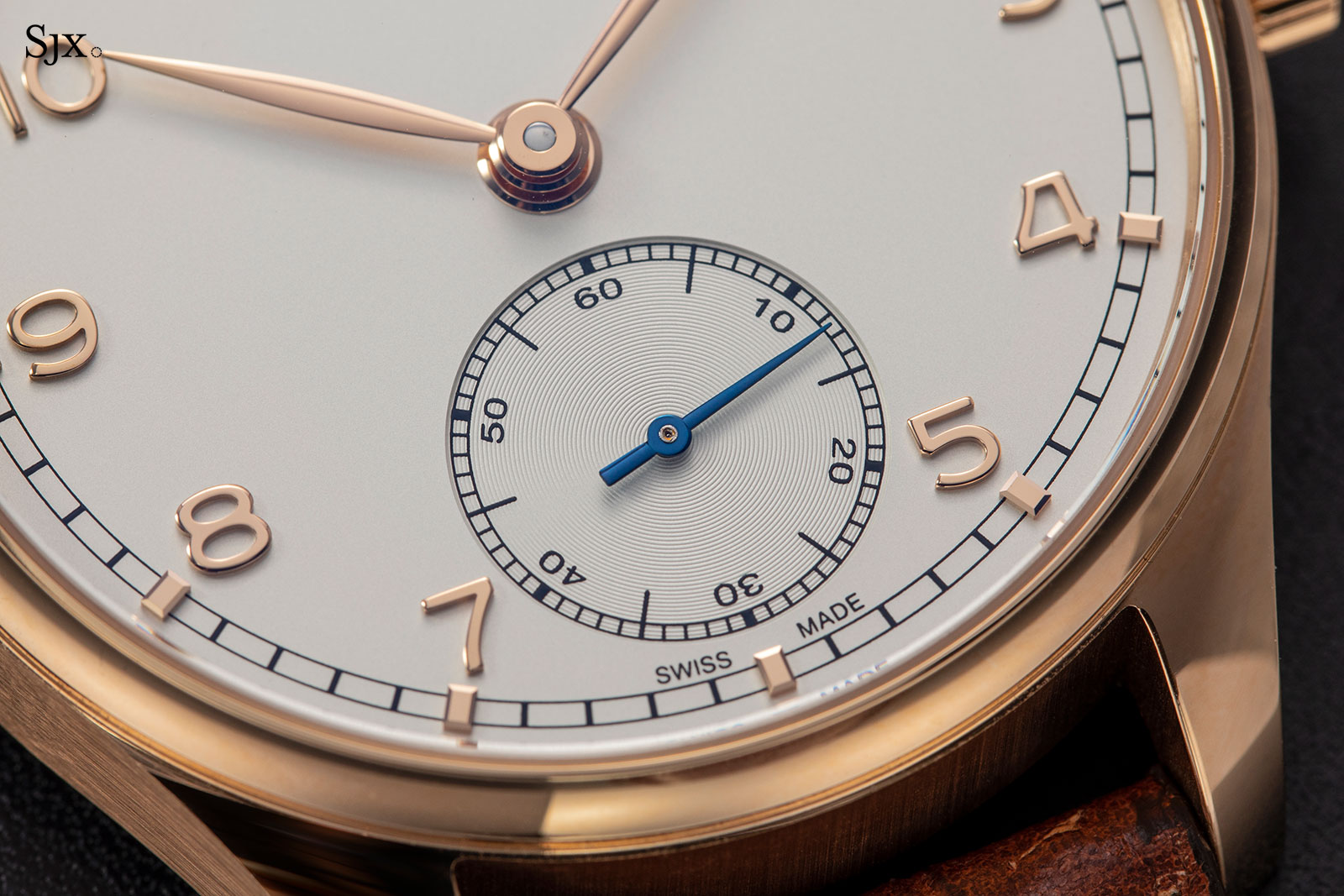 The dial is available in a variety of colours, including the newest variants in green or blue, but all versions share the same details.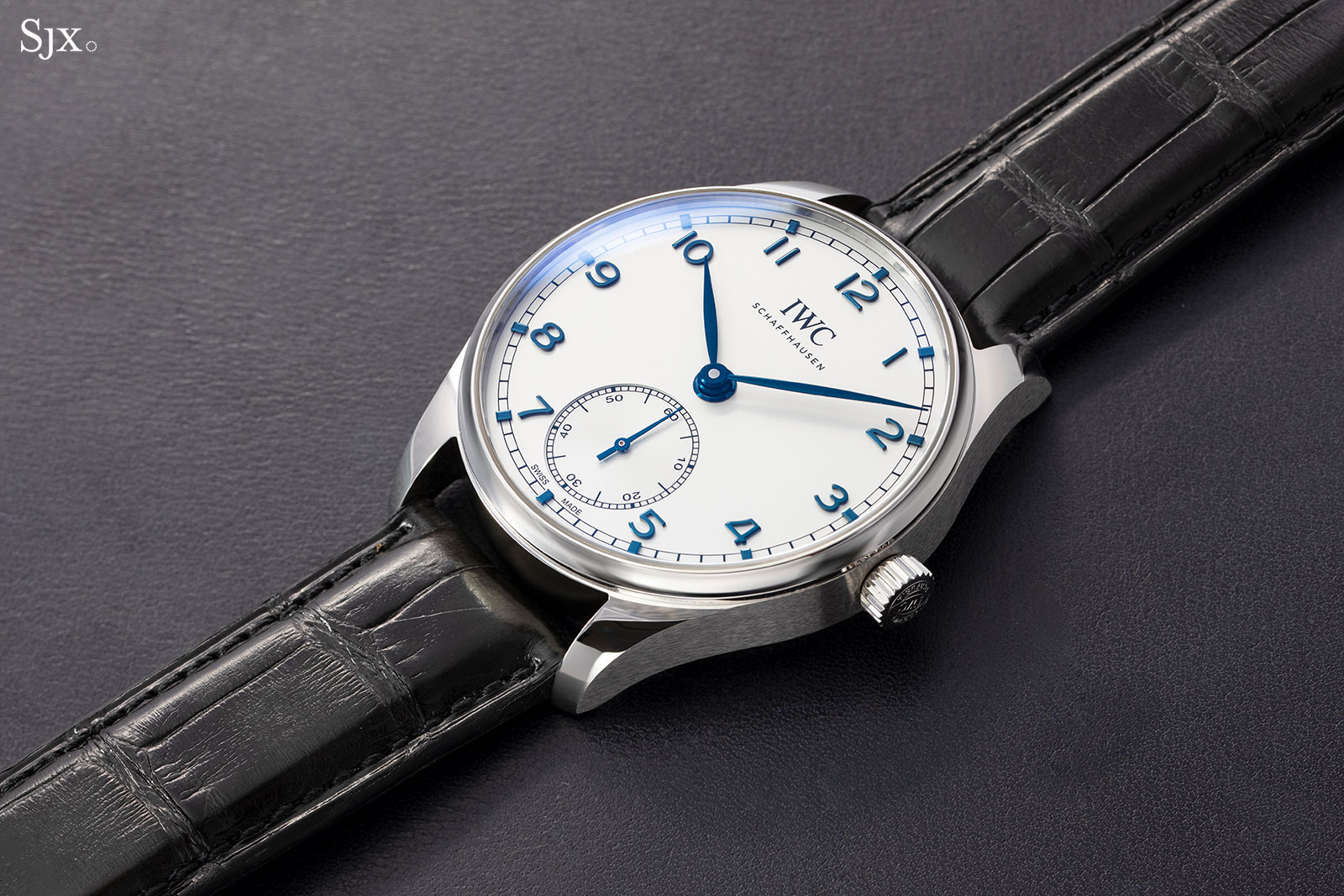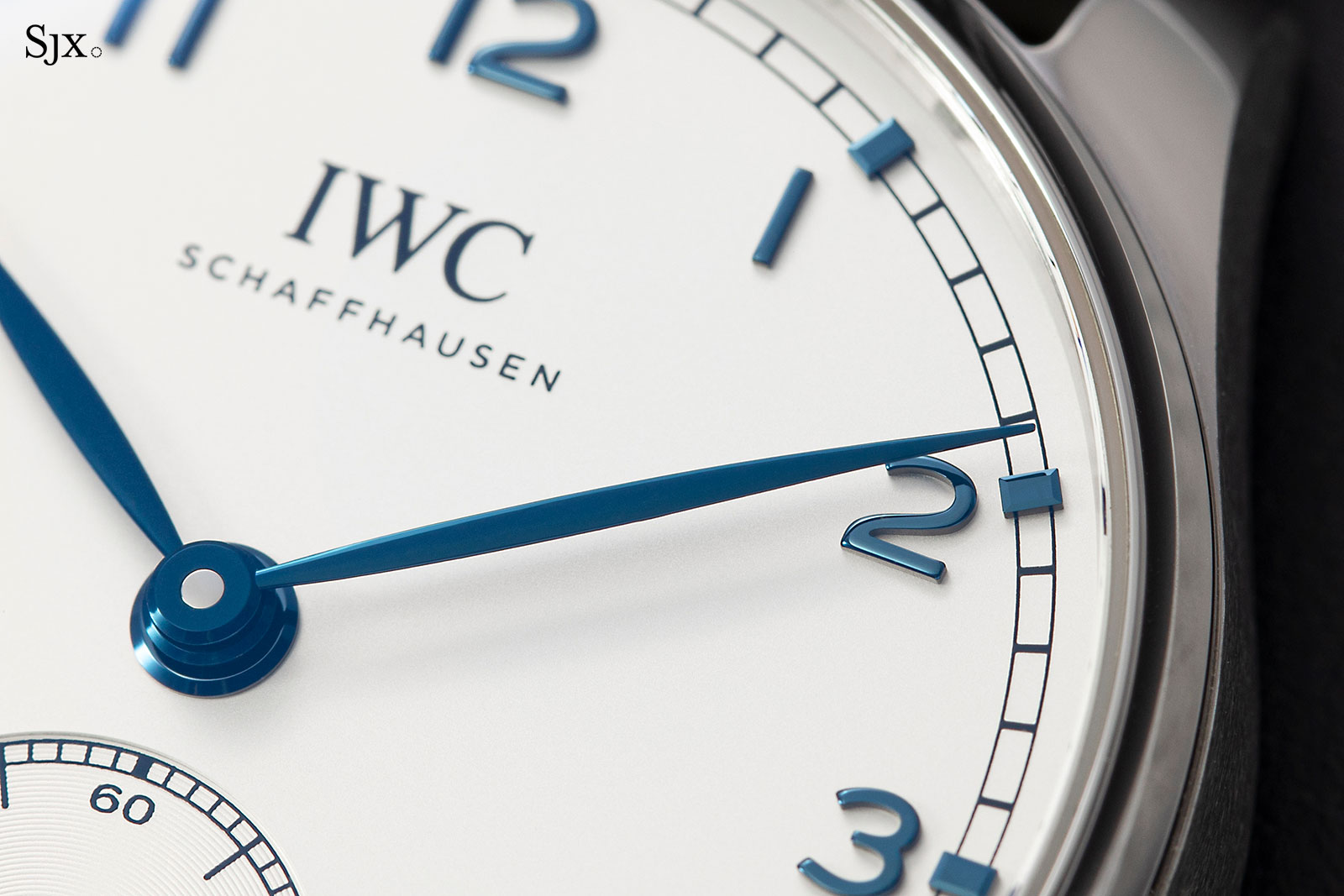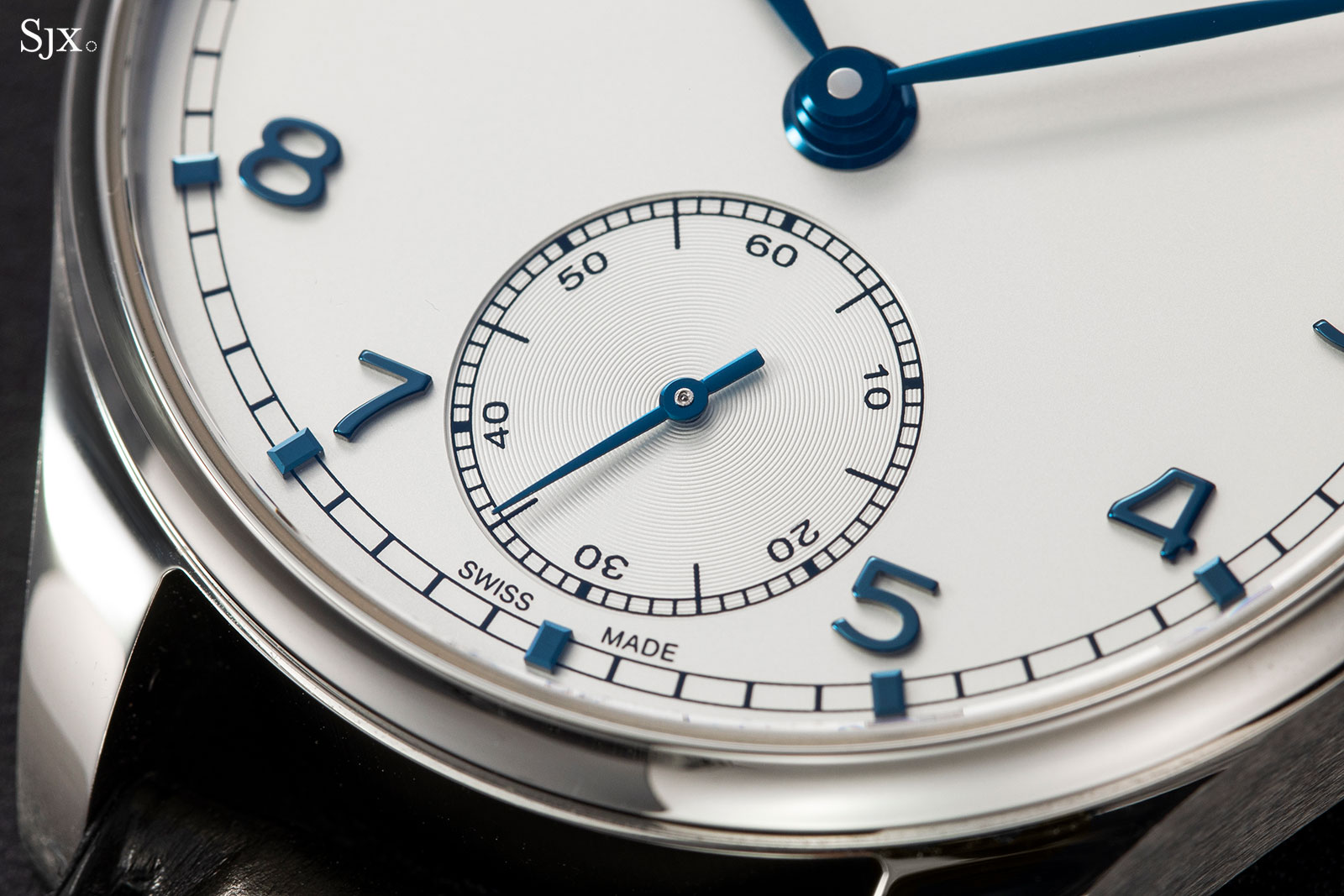 Notably, the applied numerals in blue are PVD coated rather than heat treated, as the flanks of the numerals are not blued. The gold applied numerals, on the other hand, has numerals that are entirely plated.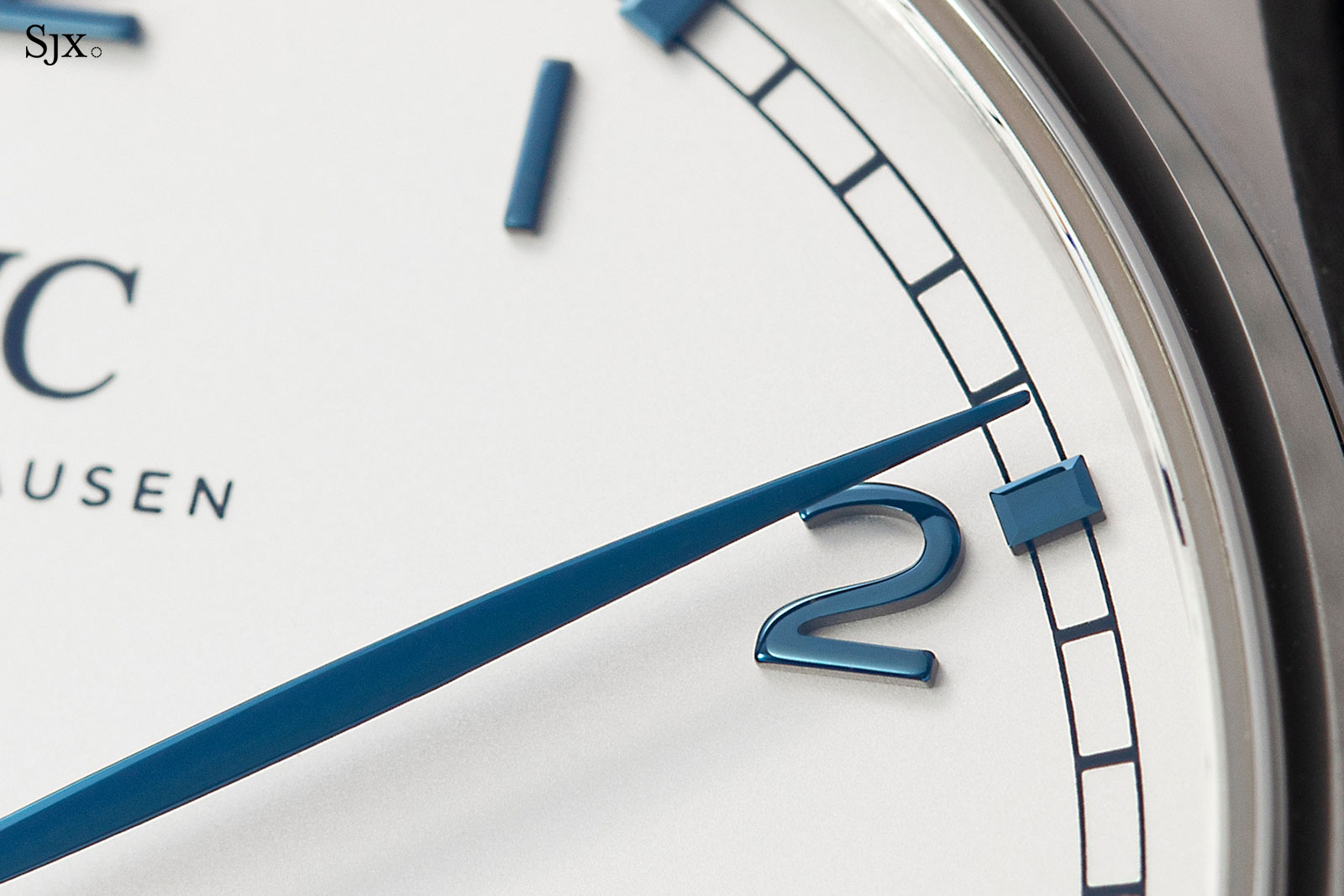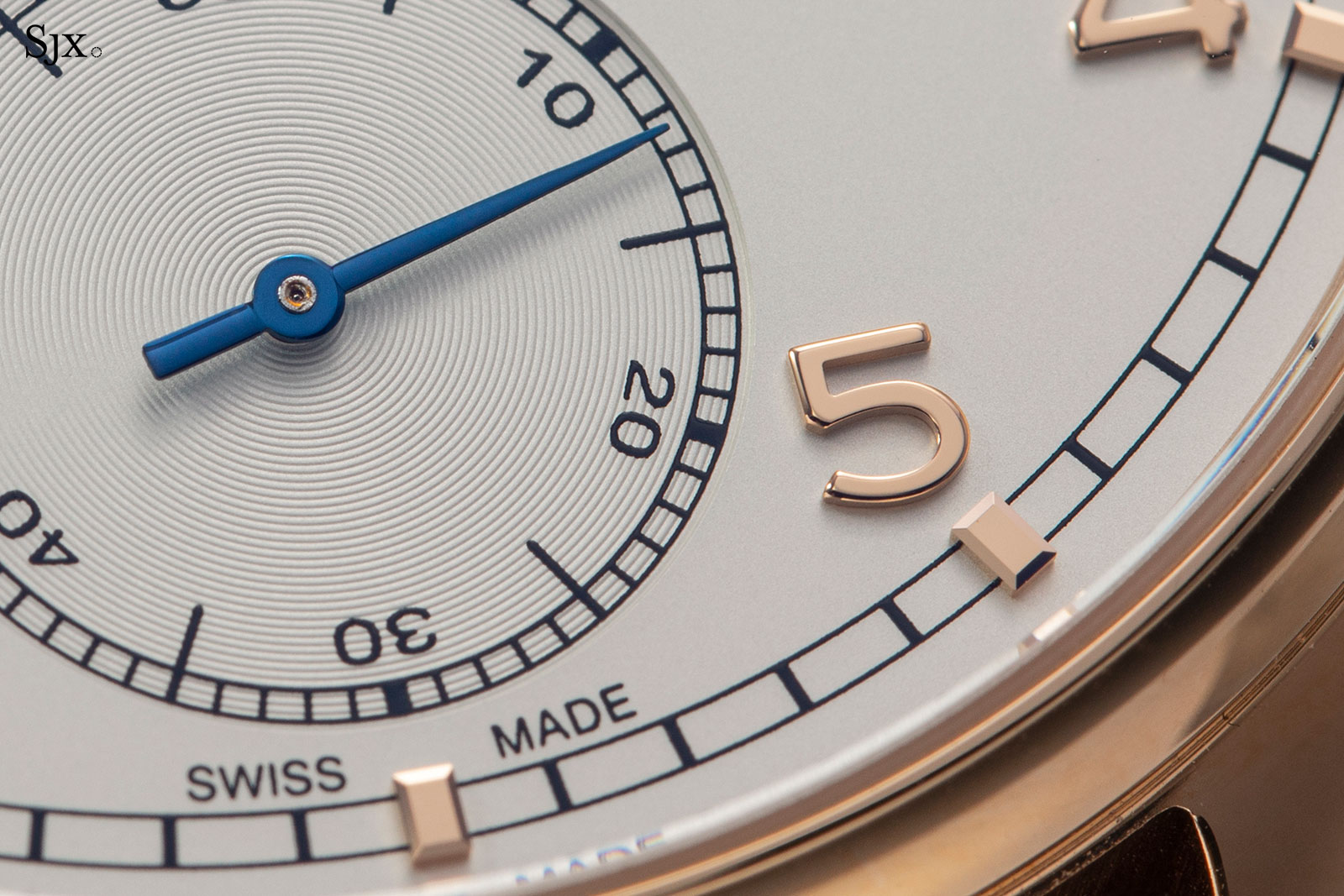 Pellaton of course
The cal. 82200 inside the Portugieser Automatic 40 is part of the 82000 family of mid-tier in-house movements. It's not as basic as the 32000 family of movements, but not as fancy as the 52000 family of seven-day automatics. Considering the price of the watch, the cal. 82200 does well. It offers substantial technical features and adequate decoration.
Even though the cal. 82200 is a simple, time-only calibre, it incorporates a few notable features, including a free-sprung balance. More significant, at least from a historical perspective, is the Pellaton winding mechanism, which is quintessentially IWC.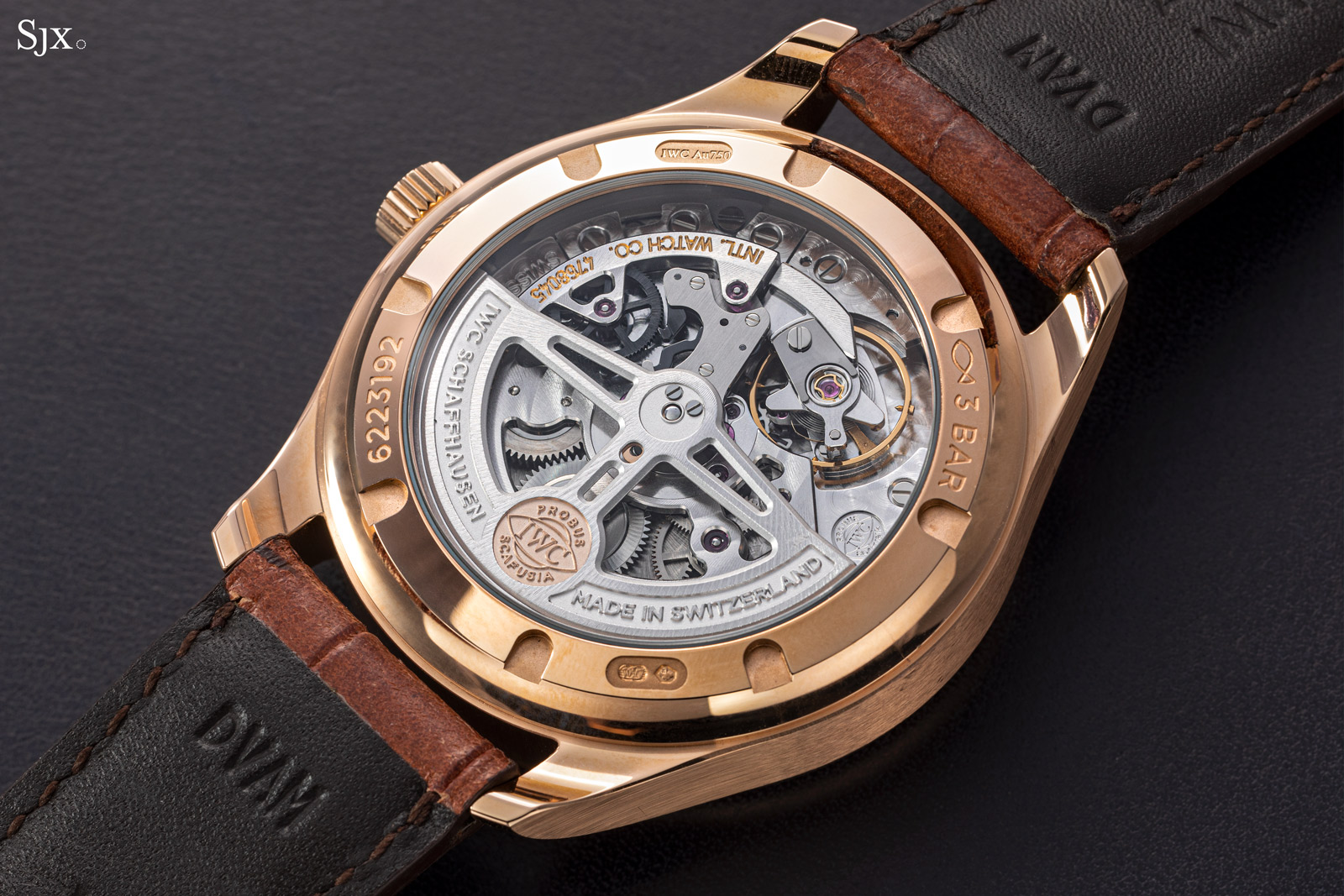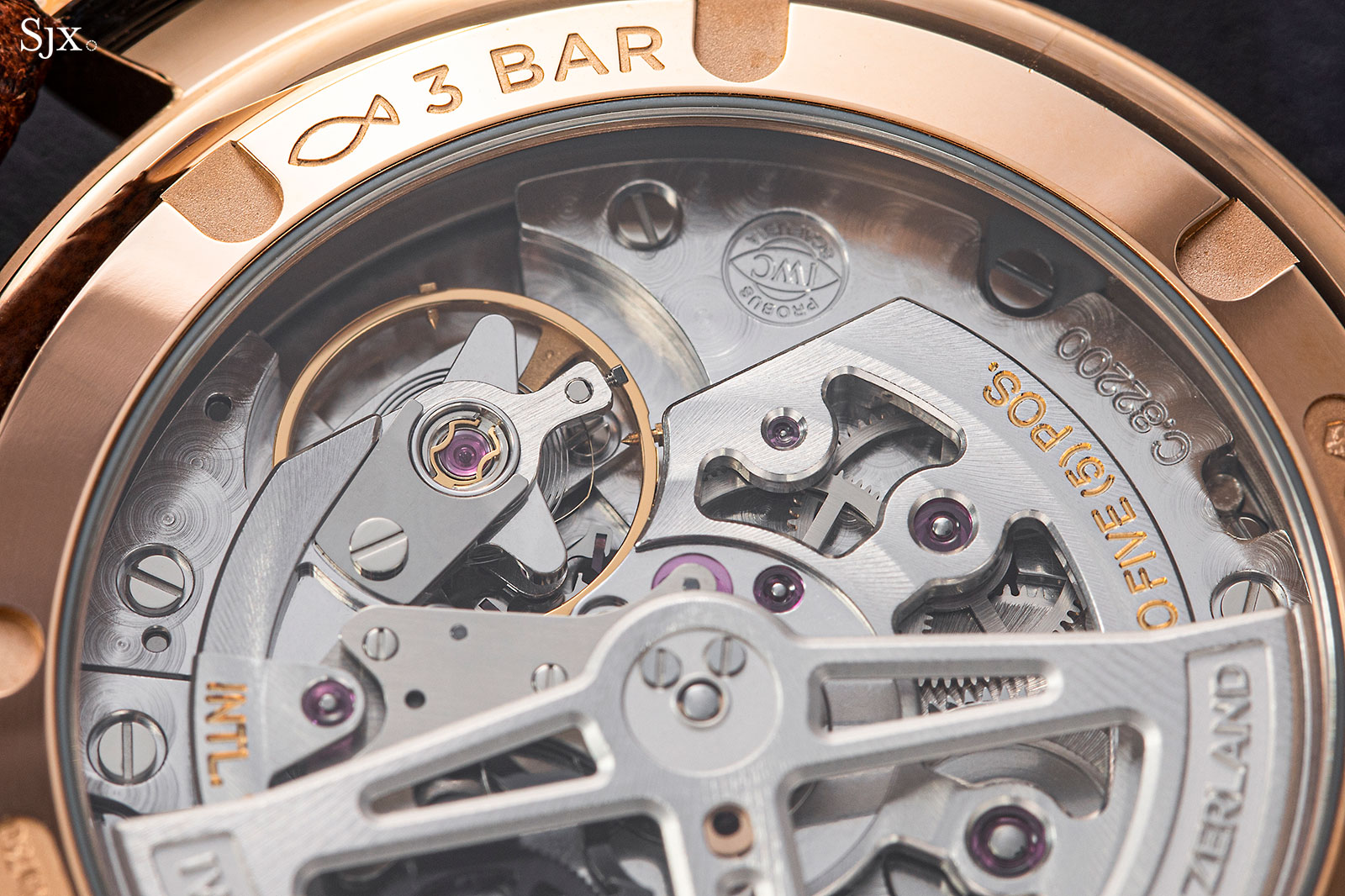 IWC's signature winding mechanism was invented in 1946 by its longtime technical director Albert Pellaton. He devised a bidirectional system that relies on a heart-shaped cam and two pawls – a simple and efficient setup that does, however, require space to implement, so it will never be found in an ultra-thin or ultra-small movement.
The operation of the Pellaton mechanism is straightforward. As the rotor oscillates, the cam swings between two jewelled rollers secured by a Y-shaped bridge. This in turn causes the bridge to swing back and forth, transferring energy to a pair of pawls that push and pull against the teeth of the barrel ratchet wheel, winding the mainspring.
The cal. 82200 contains the latest-generation Pellaton system that has the same fundamental layout but most of its parts, namely the automatic wheel, pawls, and cam, are in ceramic, which is wear-resistant and needs no lubrication.
The cal. 82200 continues the brand's current house style for its movements, which means open-worked bridges and a fancy rotor. The barrel bridge has cut-outs to show the barrel, gear train, as well the Pellaton mechanism.
And the details of the movement are typical of IWC. Everything is executed in a practical, professional manner, with some modest decoration to dress it up. It is all done industrially, which is how IWC has done it historically.
Concluding thoughts
The Portugieser Automatic 40 is appealingly for its simplicity. It focuses on a few things and does them well. The styling is clear and recognisable, while the quality of execution is uniformly workmanlike.
Overall, it lives up to IWC's historical strength of watches that are smartly engineered, industrially executed, and reasonably priced.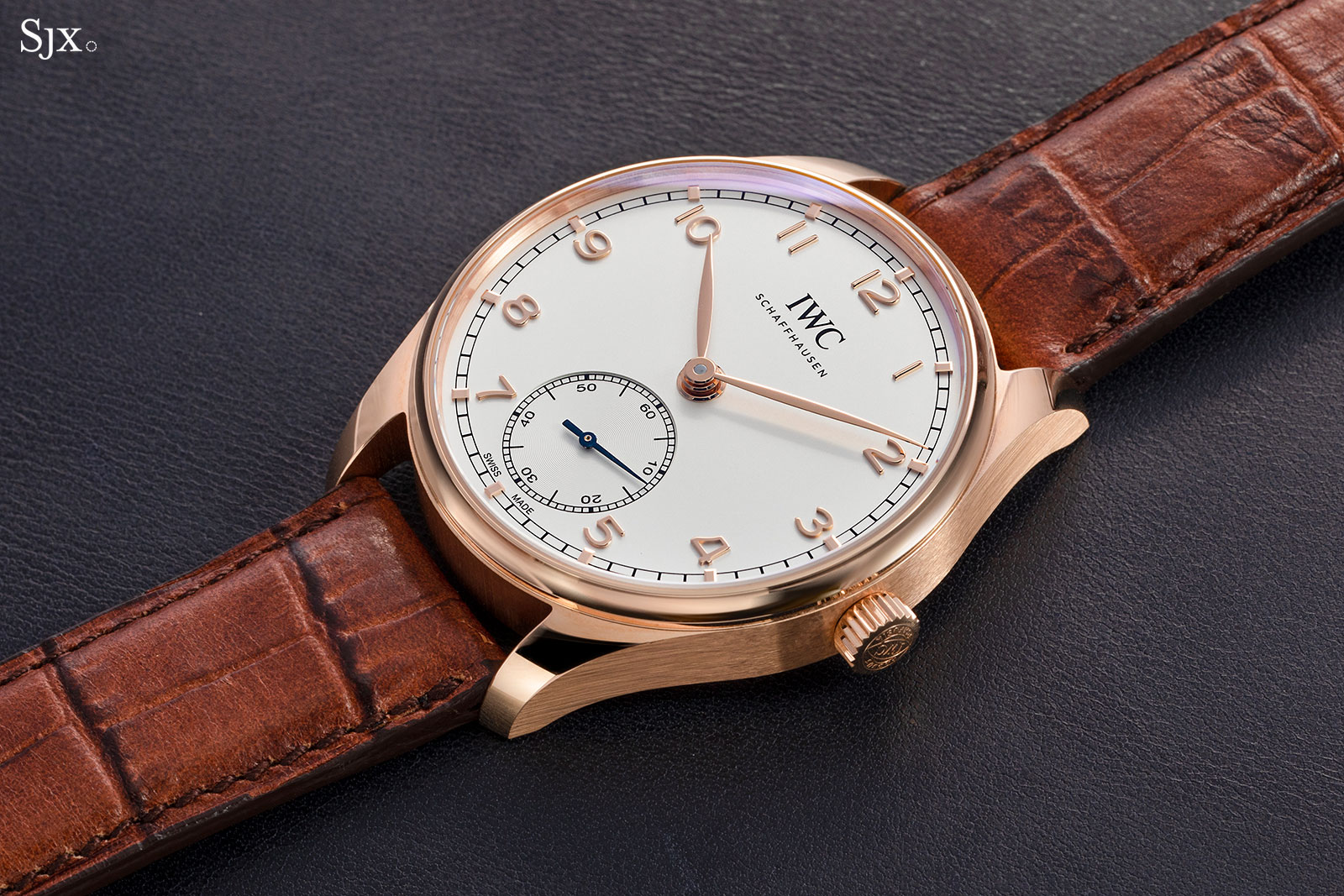 ---
Key facts and price
IWC Portugieser Automatic 40
Ref. IW358303 (Steel with silver dial and gold numerals)
Ref. IW358304 (Steel with silver dial and blue numerals)
Ref. IW358305 (Steel with blue dial)
Ref. IW358306 (Pink gold with silver dial)
Ref. IW358310 (Steel with green dial)
Ref. IW358312 (Steel with silver dial and steel bracelet)
Diameter: 40.4 mm
height: 12.3 mm
Material: Steel or 18k rose gold
Crystal: Sapphire
Water resistance: 30 m
Movement: Cal. 82200
Features: Hours, minutes, and small seconds
Frequency: 28,800 beats per hour (4 Hz)
Winding: Automatic
Power reserve: 60 hours
Strap: Alligator leather with folding clasp, or bracelet for steel model
Availability: Now at boutiques and retailers
Price:
Steel on strap – US$7,450 or 11,000 Singapore dollars
18k rose gold on strap – US$17,400, or 24,700 Singapore dollars
For more, visit IWC.com.
---
Back to top.
---
You may also enjoy these.