Baume & Mercier Finally Debuts an Interesting Watch
Reproducing a Pierre Soulages work.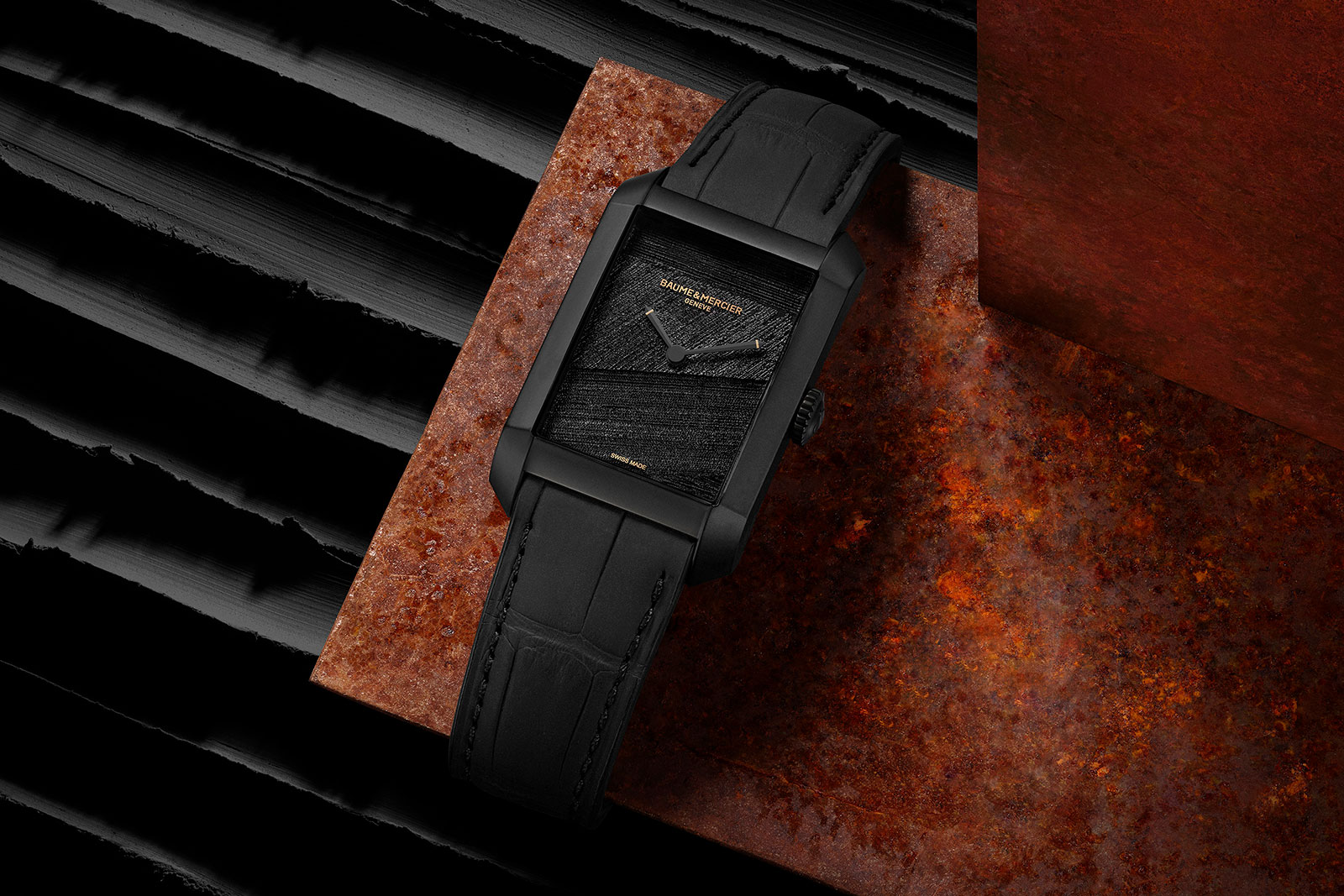 After several years of drift – and a low-priced, Kickstarter-type watch – Baume & Mercier has finally returned with something surprisingly interesting. Based on the brand's trademark oblong watch, the Hampton "Hommage à Pierre Soulages" is based on reproduces a work by the titular French artist on its dial in textured, three-dimensional relief.
With the dial pattern apparent only up close and the case entirely in matte black, the aesthetic is strikingly low key. Like Mr Soulages' best known works, the dial relies on texture, direction, and the absence of colour, although concessions are made for branding and time telling.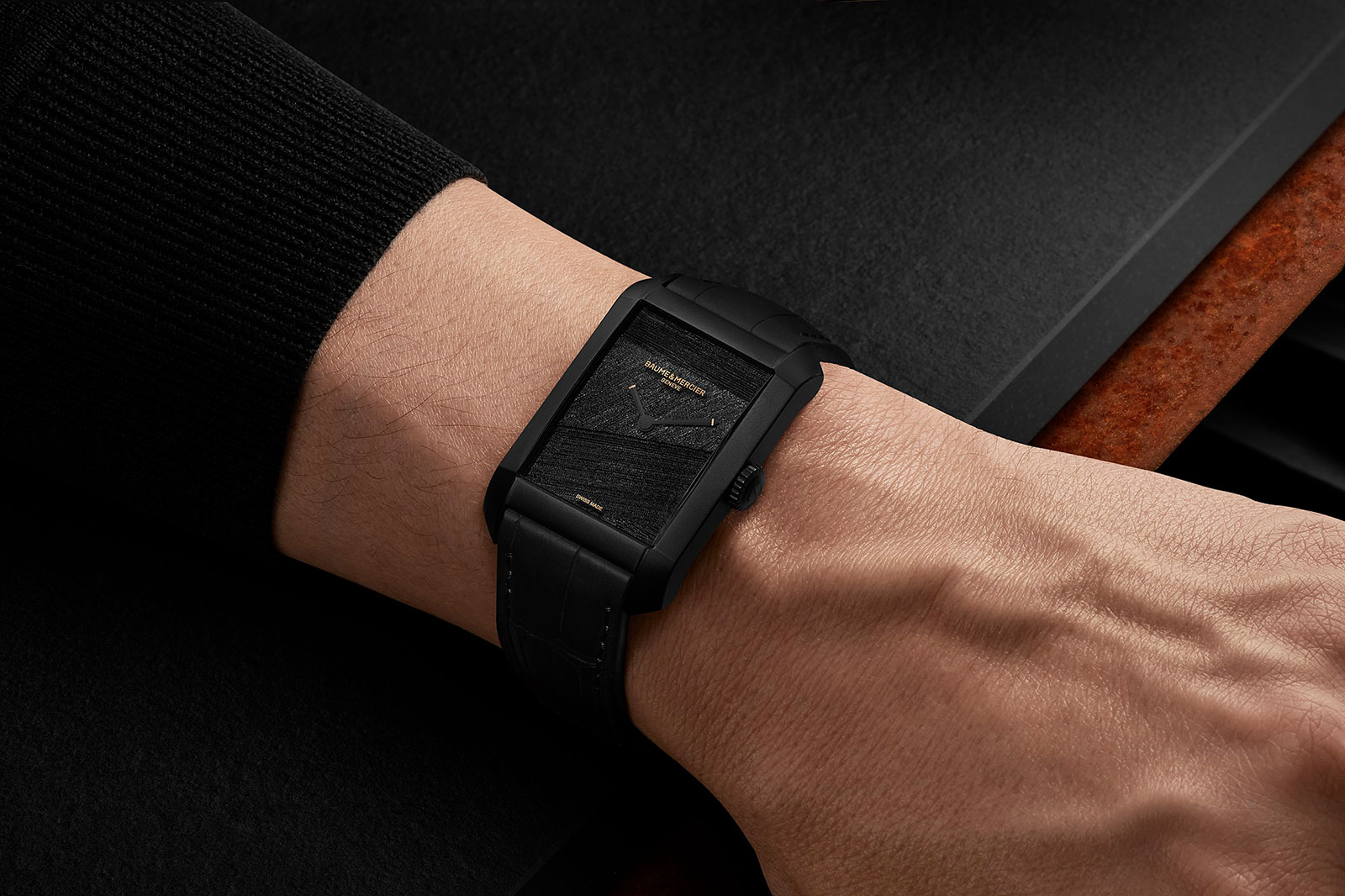 Initial thoughts
Though some of its ladies' watches do well in certain markets, Baume & Mercier (B&M) has had a difficult recent history. While cycling through several chief executives, the brand also launched a great variety of products over the period, but none of them really caught on.
But now it has created something unexpected. The concept is straightforward – a dial that recreates a work of art – but it still manages to be original and unusual.
Despite its simplicity, the watch manages to capture the artist's spirit on a tiny canvas. The monochrome finish and emphasis on texture is exactly what Mr Soulages himself is famous for.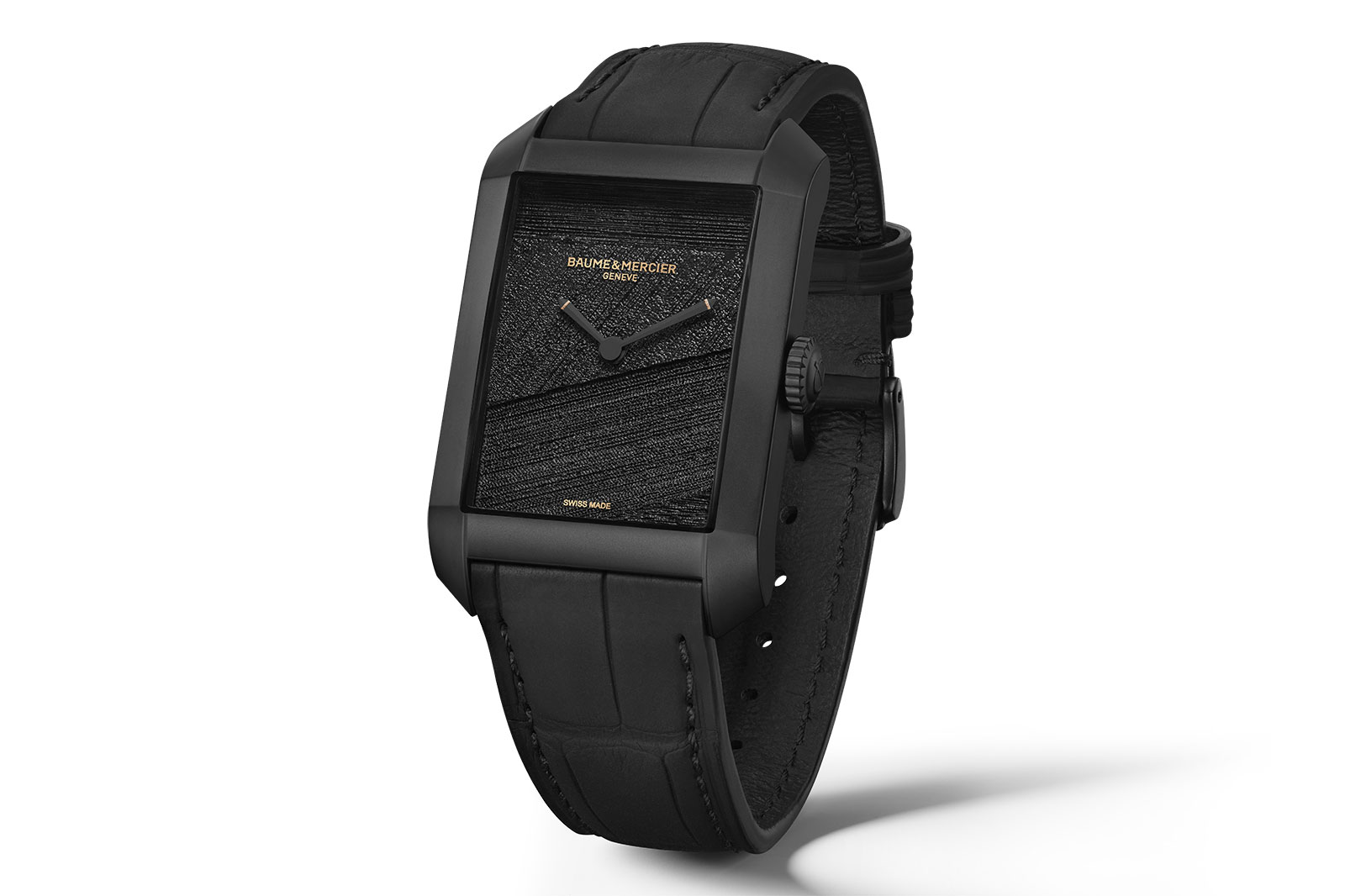 The retail price of a bit under US$6,000 is pretty steep for a time-only watch powered by a stock ETA 2892, but several factors count in its favour.
One is the intrinsic appeal of the watch, and another is the fact that the Musée Soulages no doubt earns royalties from the series of watches. And last is the fact that it's a limited edition of only 102 watches, which is a small run by B&M's standards.
Peinture 390 x 130 cm, 17 mars 2019
The dial of the Hommage à Pierre Soulages is based on the upper half of Peinture 390 x 130 cm, 17 mars 2019, which like all of Mr Soulages works is named after its dimensions and date of completion.
The dial starts out as a brass blank that is first laser engraved to create a texture that mimics the acrylic paint of the work. It's then polished with a Candia stone, an abrasive stone typically used for sharpening knives, which gives it a matte, slightly worn finish. And then it is electroplated black before being covered in clear lacquer for protection and a tiny bit of gloss.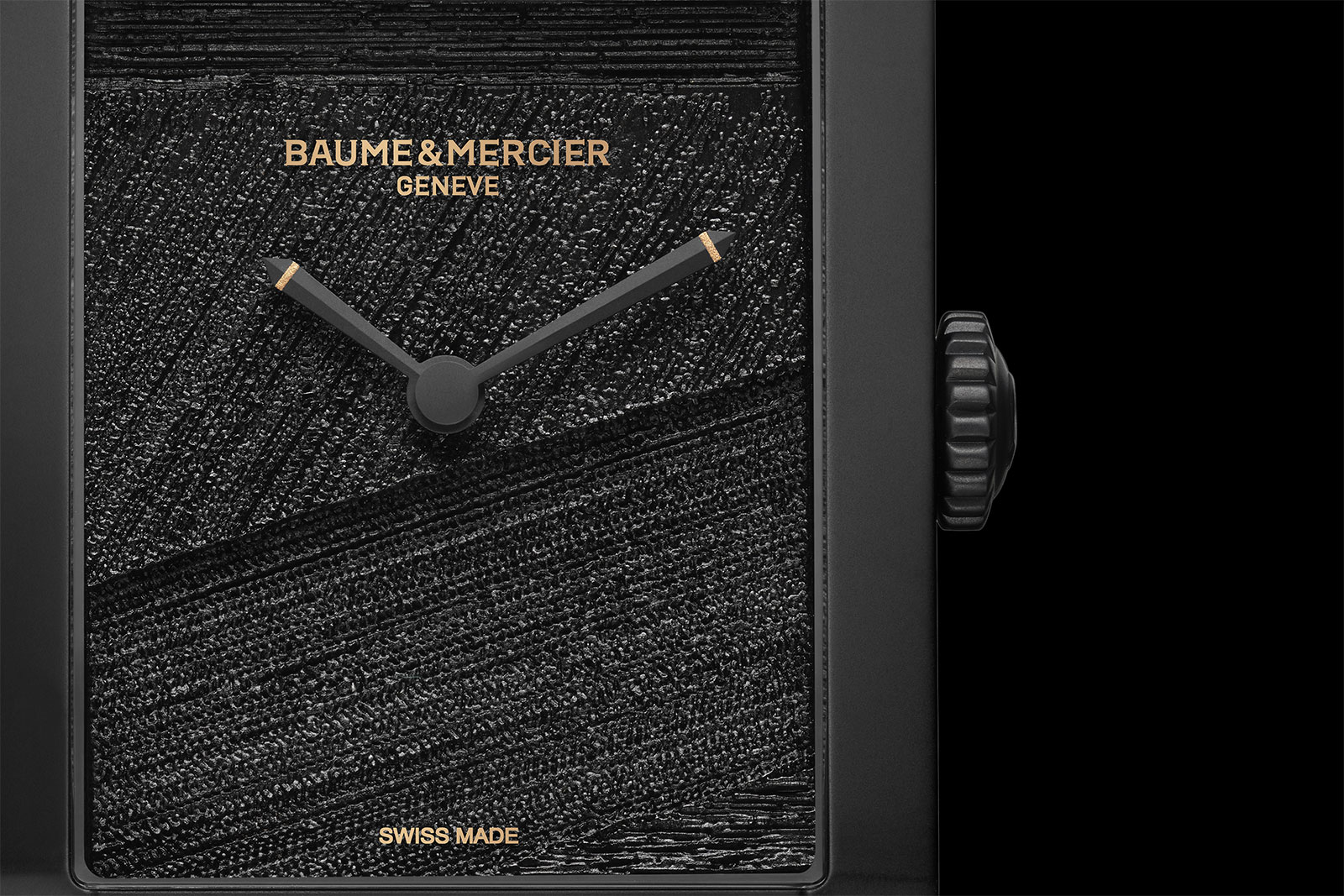 A handful of gold accents are the only colour of the watch. Both the brand name and "Swiss made" label are printed in gilt on the underside of the sapphire crystal, leaving the dial surface untouched.
And both the matte-black hands have a gilt band on their ends, a detail specified by Mr Soulages himself according to B&M.
Dial aside, the rest of the watch is standard Hampton. The case is stainless steel with a sandblasted surface that's been coated with diamond-like carbon (DLC), giving it a matte black finish. It's the large-sized, men's model but retains fairly elegant proportions of 31 mm by 48.11 mm, while the height is a slim 9.8 mm.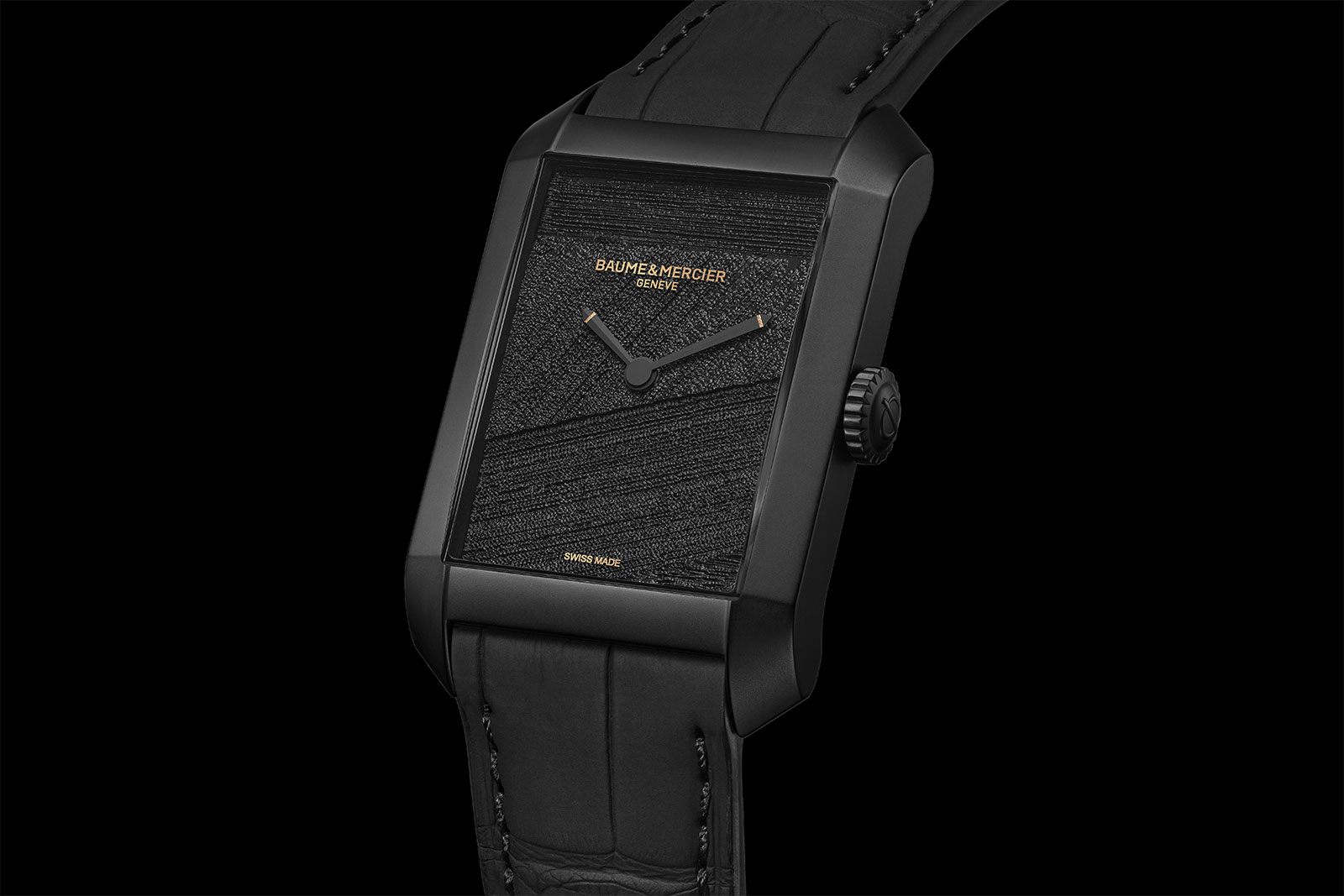 The movement is an ordinary ETA 2892, which is the only letdown. It's a solid performer but not much to look at, although it's been dressed up slight with a black-coated rotor that matches the case.
Limited to 102 pieces, the watch will include a pair of VIP passes to the Musée Soulages in Rodez, a city in the south of France six hours from Paris by train, along with a book on the artist and his work.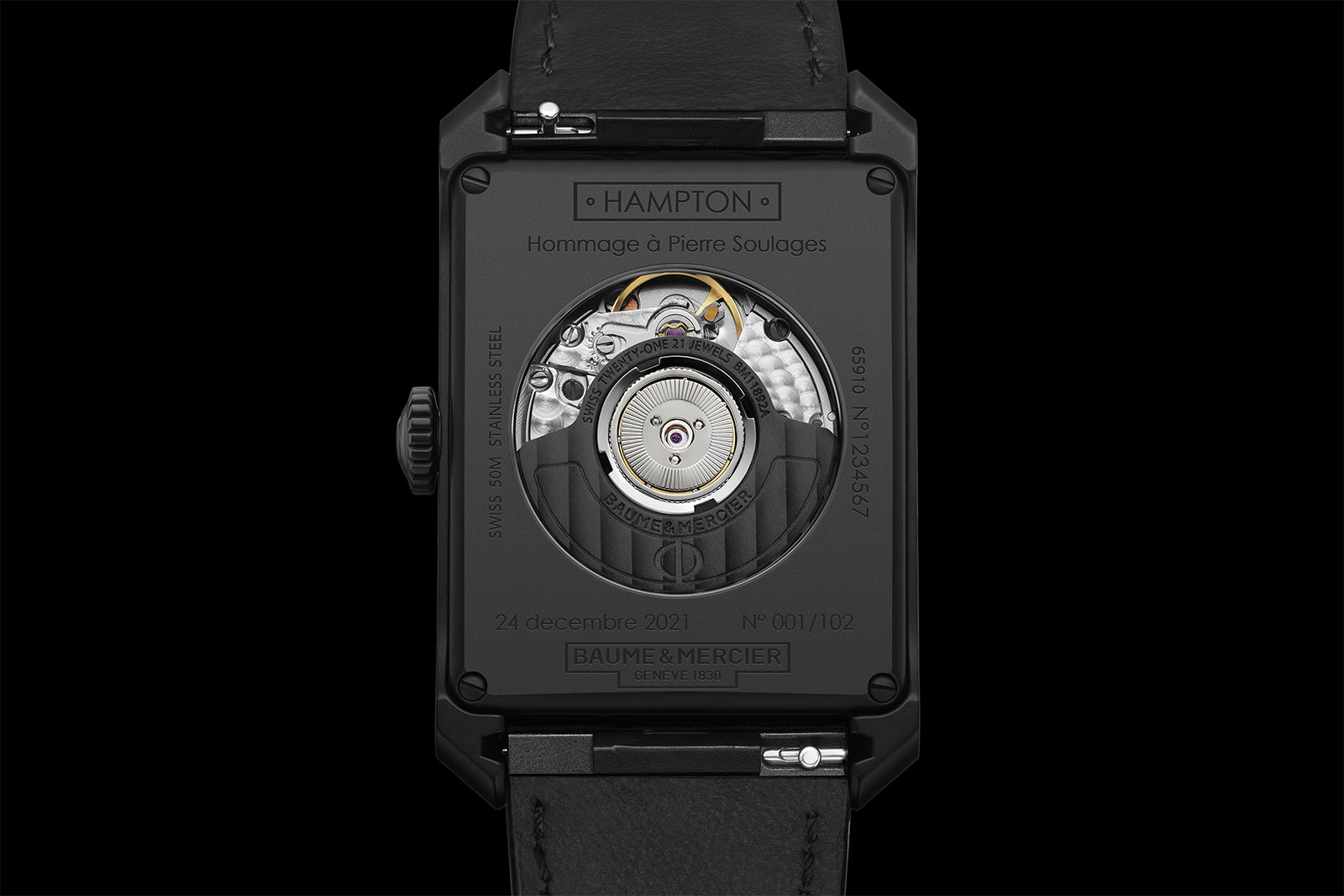 ---
Key Facts and Price
Baume & Mercier Hampton "Hommage à Pierre Soulages"
Ref. M0A10641
Diameter: 31 mm by 48.11 mm
Height: 9.8 mm
Material: DLC-coated steel
Crystal: Sapphire
Water resistance: 50 m
Movement: ETA 2892
Functions: Hours and minutes
Frequency: 28,800 beats per hour (4 Hz)
Winding: Automatic
Power reserve: 42 hours
Strap: Black nubuck alligator with quick-release spring bars
Limited edition: 102 watches
Availability: Made to order at B&M online store, boutiques, and retailers
Price: US$5,850; or 8,600 Singapore dollars
For more, visit Baume-et-mercier.com.
---
Back to top.
---
You may also enjoy these.