Kees Engelbarts Introduces the Dragon Gate Trilogy
Dramatic decoration.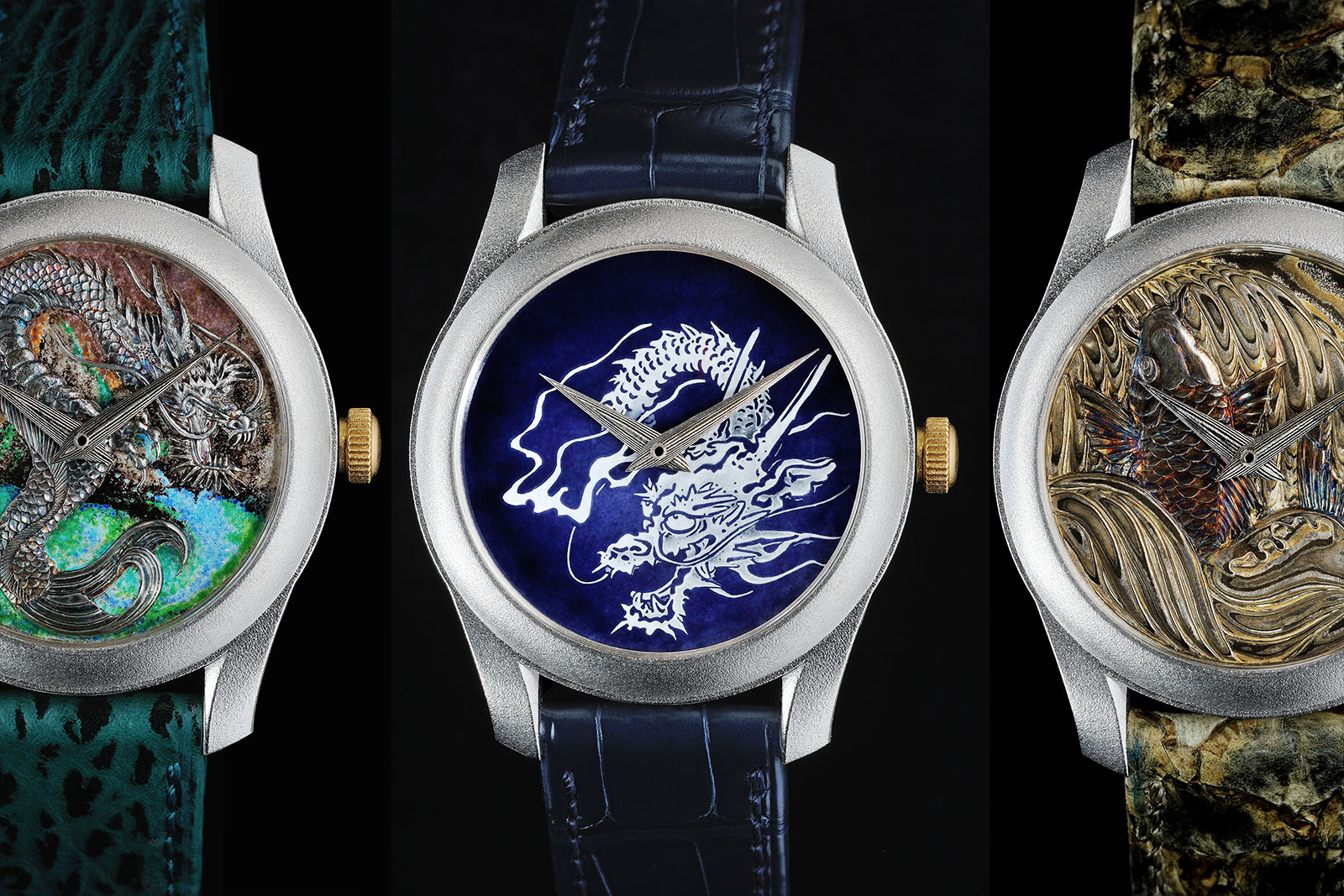 According to Chinese legend, a carp that could jump the falls at the Dragon Gate of the Yellow River would transform into a dragon. The tale inspired the latest from Kees Engelbarts, a Dutchman who's one of the most prominent engravers in Swiss watchmaking.
The Dragon Gate Trilogy is a three-piece set of watches, each featuring a unique, hand-engraved and enamelled decoration that charts the carp's transformation from fish to dragon. They are presented in an equally lavish box that's hand made by a French cabinet maker and decorated by an award-winning lacquer artisan.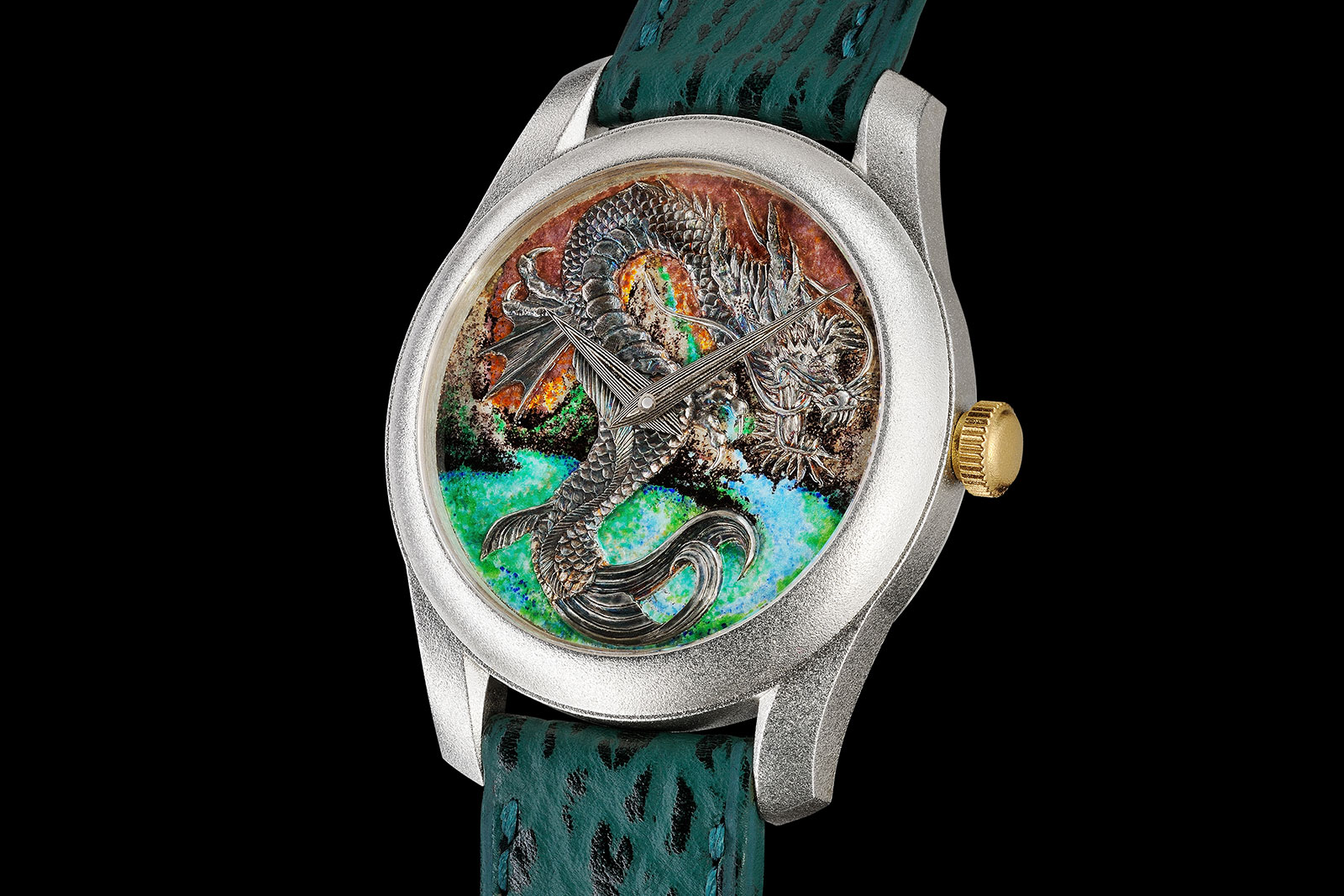 Initial thoughts
Over his two decades in watchmaking, Mr Engelbarts has created wristwatches of surprisingly diverse variety. Last year's skeleton tourbillon was airy and organic, while the Dragon Gate Trilogy is decidedly more decorative.
The trio is certainly not for everyone, though I do like the middle of the three watches, which depicts the carp in the midst of its transformation. The dial is striking and dramatic.
But while the style is subjective, the quality of Mr Engelbart's work is objectively excellent – unsurprising given that he's long been a go-to engraver for a number of independent watchmakers, including veteran Svend Andersen. Mr Engelbart's creations are truly high-quality artisanal work.
The engraving is finely detailed and three dimensional, while being enhanced by Mr Engelbart's clever use of exotic materials. The carp dial, for instance, feature mokume-gane, a type of mix-metal laminate, of silver and white gold, resulting in a striking landscape of swirls and waves.
Metal alloys inside and out
The three watches form a set that tells a story, but the final watch of the trio stands out for having an entirely enamel dial.
Depicting a dragon, the dial is done in a blue and white that evokes Chinese porcelain. It's a miniature enamel painting on a ceramic base and the work of Gael Colon, an enameller who once worked for Roger Dubuis. The hands, however, are mokume gane, just as on the other two watches.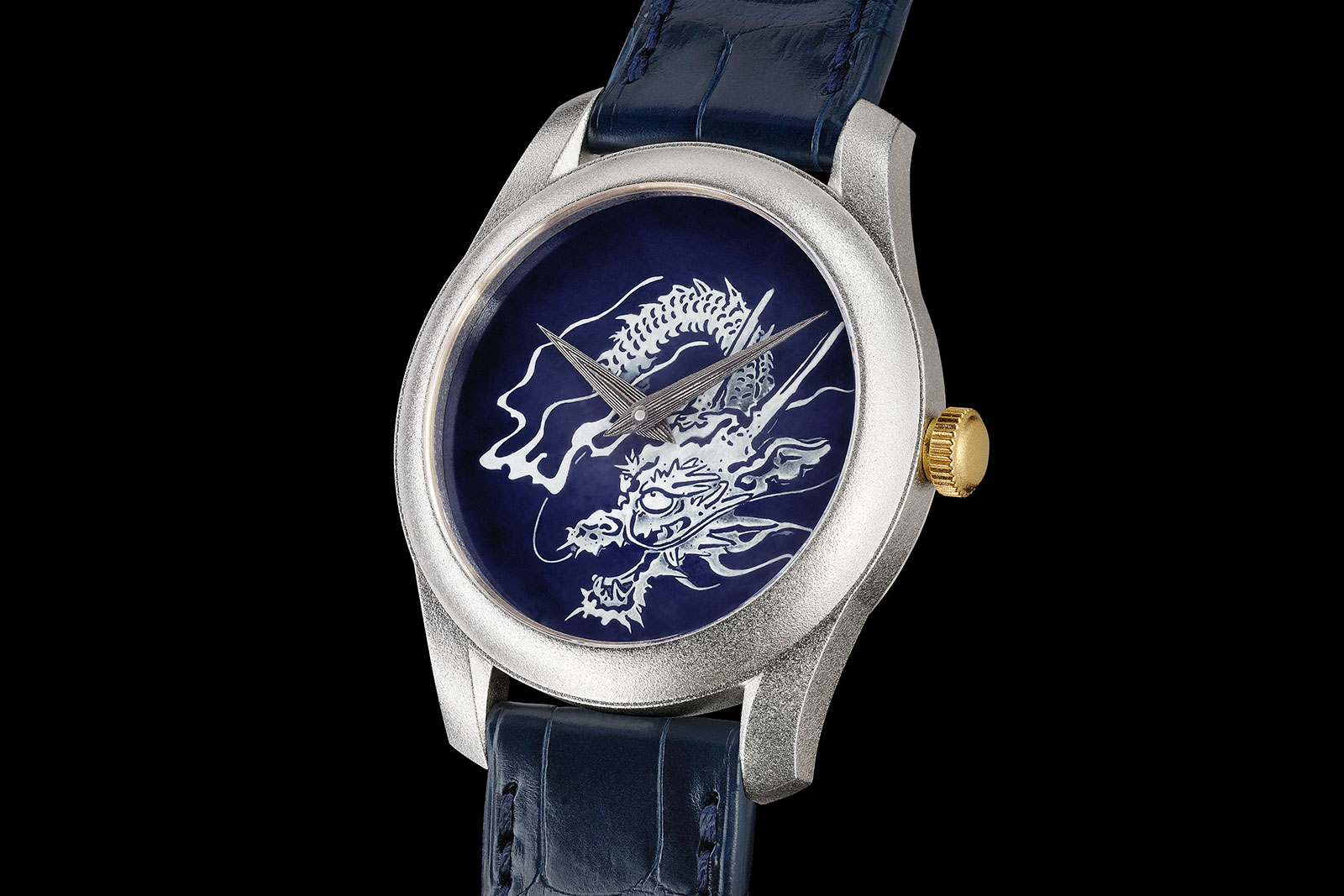 The trilogy share the same case of Argentium, a 925-silver alloy, along with an 18K yellow gold crown. All three also share the same movement, a "new old stock" Peseux 330 from the 1960s, each decorated to match the motif on the front.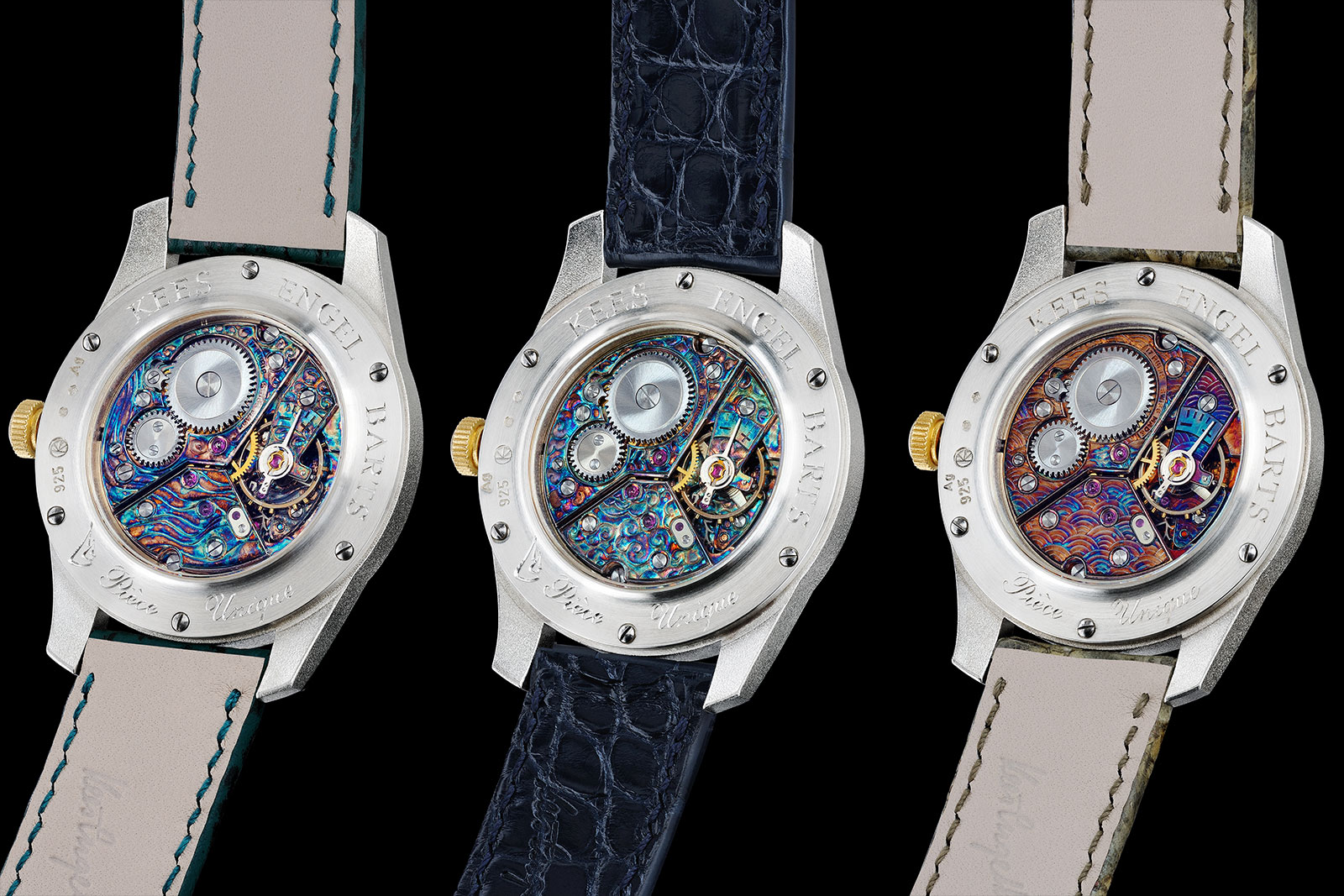 The movements have been cleaned and restored, and then hand engraved with a variety of motifs. The movement of the carp dial, for instance, has been engraved with a seigaiha, or wave, pattern. After engraving, the bridges and plates are silver plated and chemically treated to create a varied, colourful finish.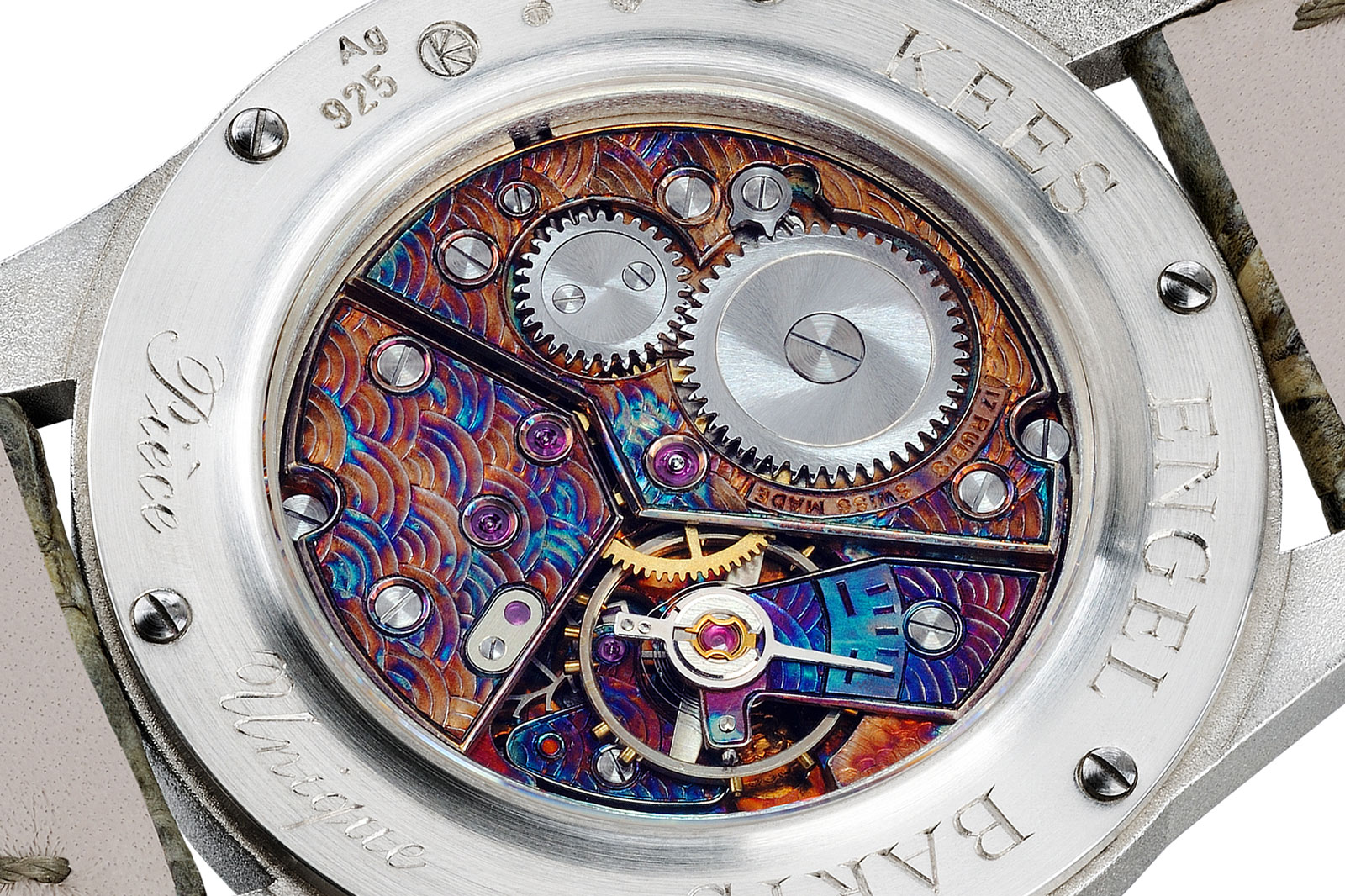 The box containing the three watches is almost as lavish as the timepieces themselves. The result of 140 hours of work, the box has three apertures on its lid to reveal the watch dials, with each aperture positioned along a river motif that terminates in the Dragon Gate and the dragon dial watch.
Built by Carré d'ébène, a French maker of jewellery cases, the box has a lacquered lid painted by Catherine Nicolas, a lacquer artist who has been recognised as a Meilleur ouvrier de France, or top-class craftsperson, by the French government.
All photos by Guy Lucas de Peslouan
---
Key facts and price
Kees Engelbarts Dragon Gate Trilogy
Diameter: 39.5 mm
Height: 10 mm
Material: Argentium (silver alloy), with 18K Yellow Gold crown
Crystal: Sapphire
Water resistance: 30 m
Movement: Peseux 330
Features: Hours and minutes
Frequency: 18,000 beats per hour (2.5 Hz)
Winding: Hand-wound
Power reserve: 43 hours
Strap: Nile perch, shark, or crocodile with pin buckle
Limited edition: Unique set of three watches
Availability: Direct from Kees Engelbarts
Price: Price on application
For more, visit Kees.ch.
---
Back to top.
---
You may also enjoy these.