Kees Engelbarts Introduces the Argentium Tourbillon Skeleton
Truly hand-made skeleton movement.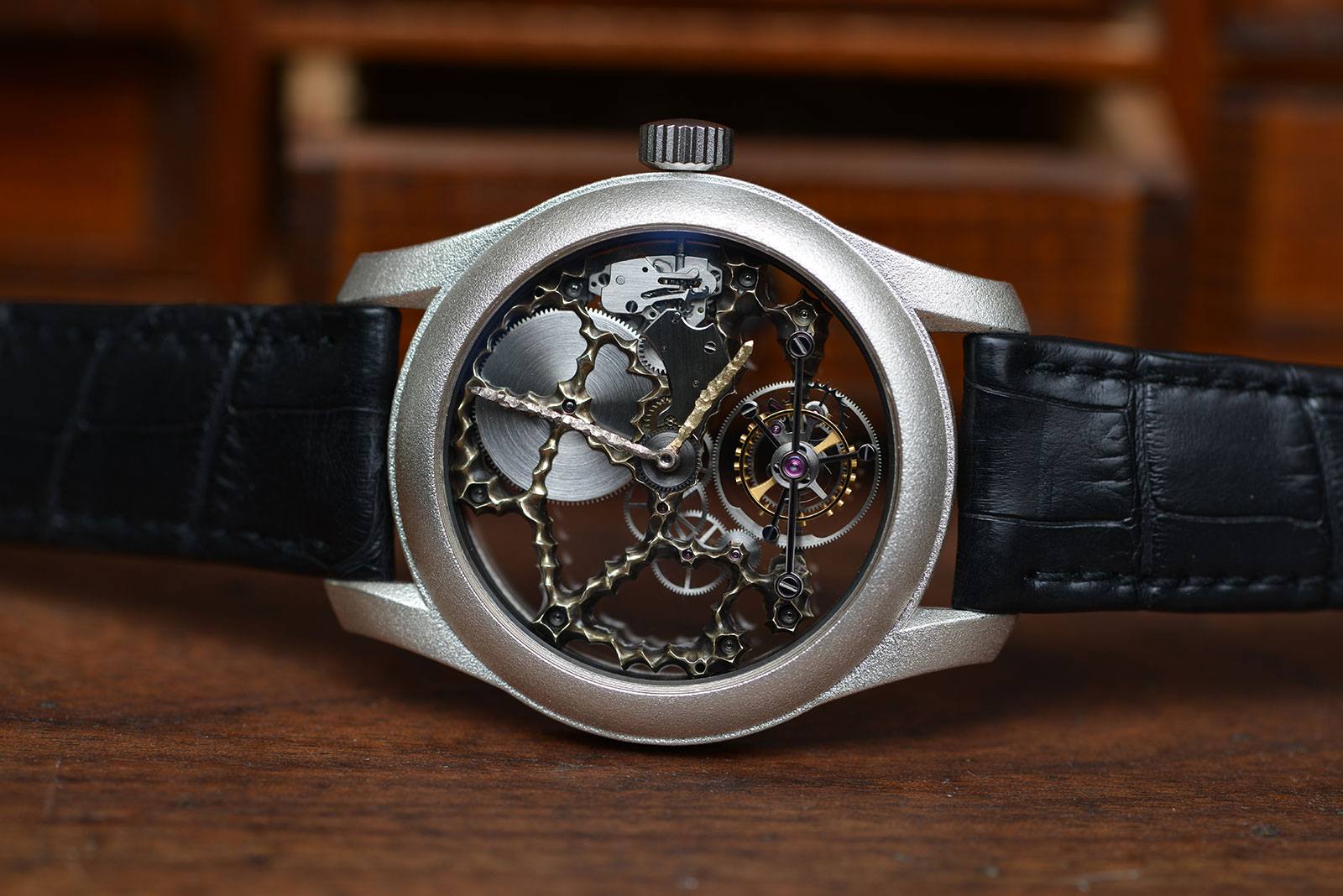 Born in Holland but now based in Geneva, Kees Engelbarts is one of the most prominent and established engravers in Swiss watchmaking. He moved to Geneva in 1994, and began a career as an independent engraving not long after. Amongst the brands he has worked for are major names like Jaeger-LeCoultre and Hublot, but also independent watchmakers like Philippe Dufour and Svend Andersen.
Mr Engelbarts also makes watches under his own name, focusing on elaborately engraved or open-worked movements. His latest creation is the Argentium Tourbillon, an incredibly airy yet organic tourbillon that's been skeletonised entirely by hand.
Initial thoughts
Mr Engelbarts is one of the oldest names in movement skeletonisation, so whether or not you like the aesthetic, the work is always excellent. His engraved creations are mostly figurative, often depicting a mythological creature, while his skeletonisation is usually organic and extremely striking.
Though the look of the Argentium Tourbillon is too alien for me, the work is impressive. The bridges are refined and organic, and looking almost soft, but they are metal. Going from a full bridge made of German silver to an extraterrestrial life form is tedious work made up of cutting and filing. The craft is both delicate and physical, and similar to the craft of a high-end jeweller.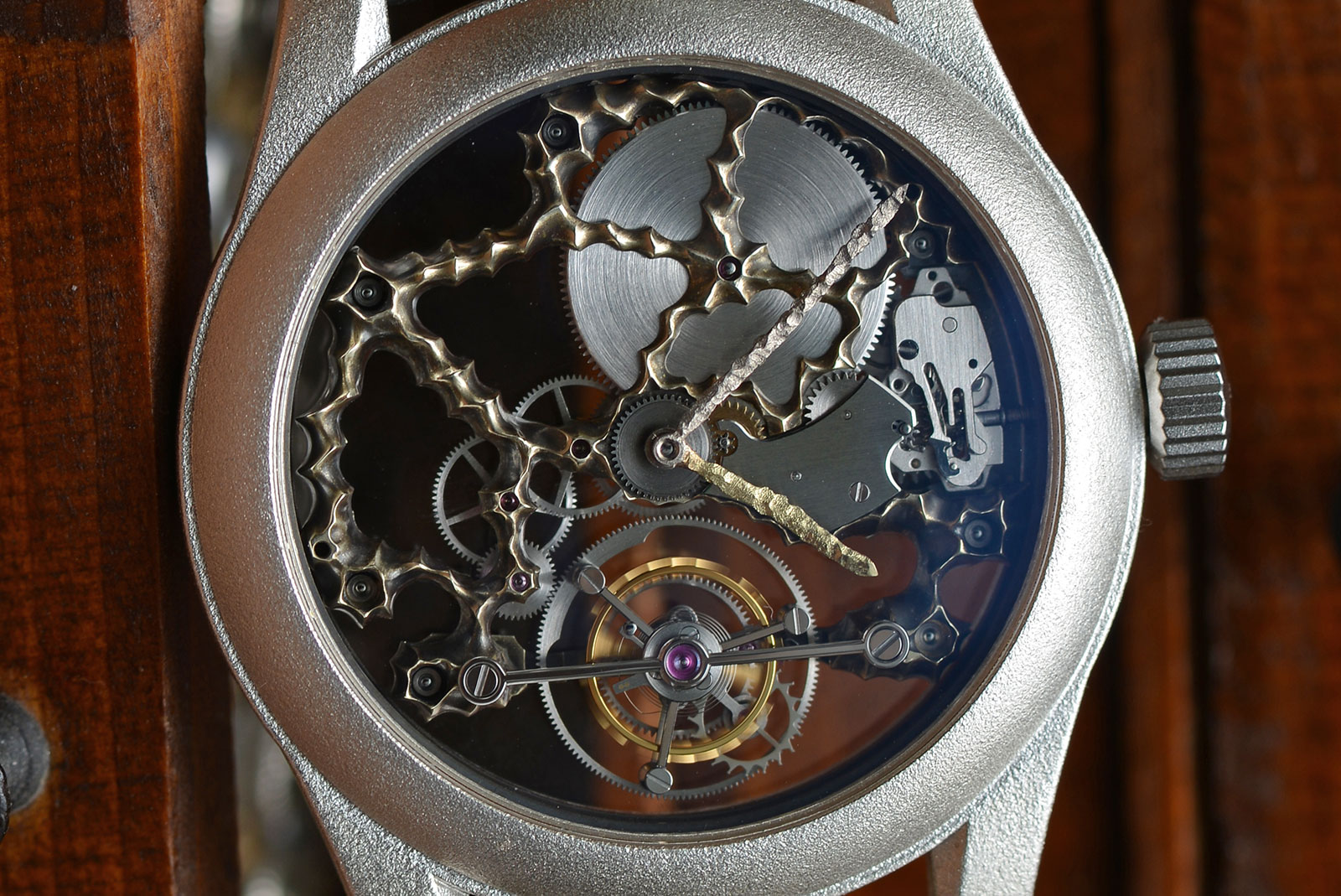 A reductive process
The Argentium Tourbillon starts with a CH016 movement made by Le Cercle des Horlogers, a movement specialist in Neuchatel that specialises in complicated movements. Amongst its creations is the movement in the Jacob & Co. Twin Turbo Furious that is equipped with twin, triple-axis tourbillons, a minute repeater, as well as a chronograph.
Delivered to Mr Engelbarts as a complete movement with conventional, full bridges and plates made of German silver, the CH016 is slowly worked over by hand using the most traditional of methods. The bridges and base plate are first marked out freehand with the desired open-worked motif, and then drilled, sawn, and filed by hand to create the skeletonised plates that resemble something extraterrestrial.
Mr Engelbarts doesn't work according to formal plans, instead relying on his experience and judgement to refine the skeletonisation along the way. But his work is not merely removing material – because the bridges are structural components, he has to preserve enough rigidity to keep the moving parts properly aligned so the movement functions properly.
The hands are produced with similar techniques. Made of different alloys to distinguish the two – the minute hand is white gold, while the hour hand in red gold – the hands are fabricated from a thick gold wire that is hammered and filed into shape.
After the open working is complete, Mr Engelbarts also does hand finishing for the movement parts. The gear wheels have circular grained faces, while the parts of the tourbillon are polished and bevelled.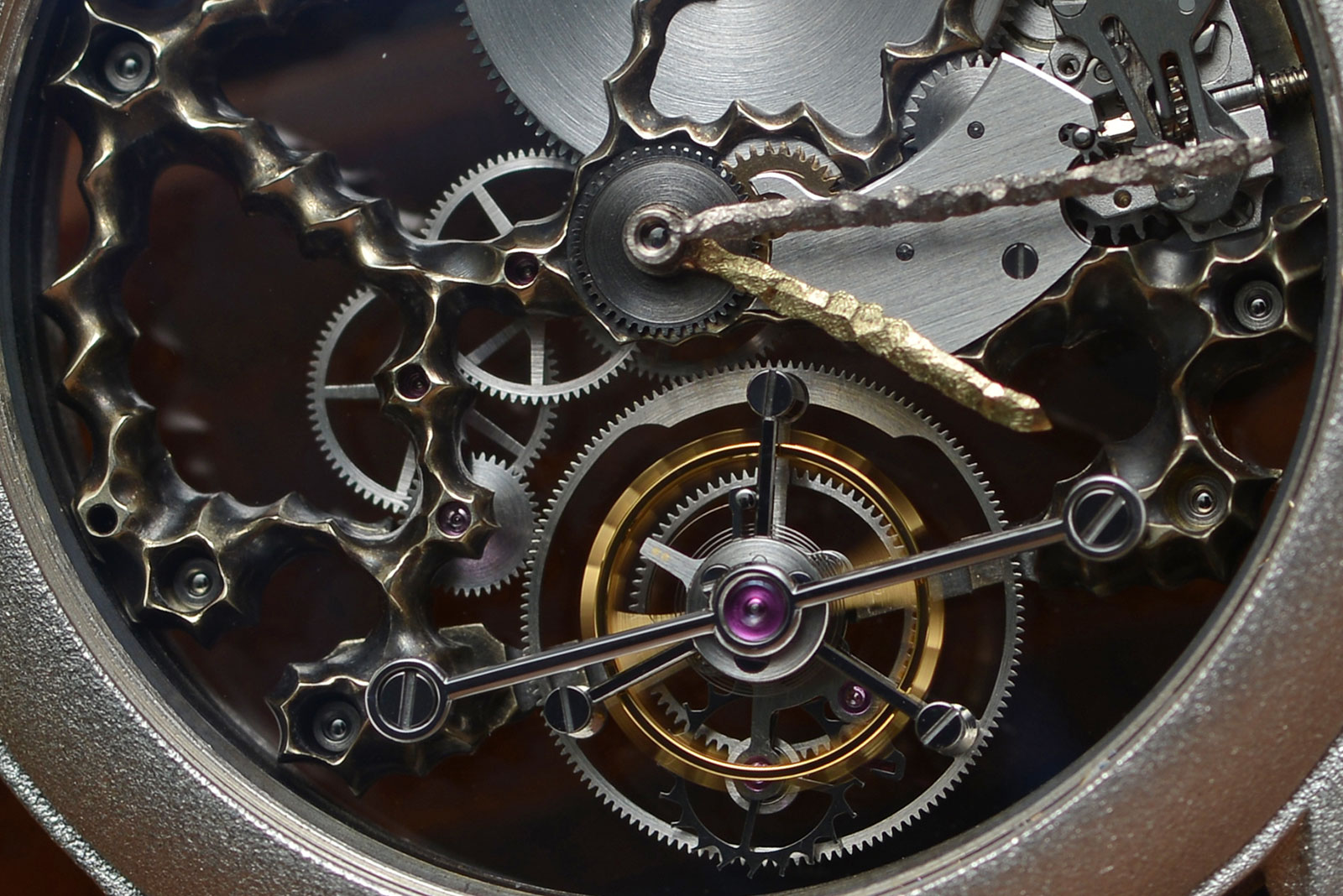 93.5% silver
Though Mr Engelbarts has produced similar-looking watches in the past, every watch he makes is unique in both style and material. The Argentium Tourbillon gets its name from the case metal, a 935 silver alloy containing with Germanium, which prevents it from tarnishing like ordinary sterling silver.
First tempered to increase its surface hardness, the case is then given a granular, frosted finish. According to Mr Engelbarts, his cases usually have a matte finish of one sort of another, because "I don't like polishing my cases since polished surfaces don't stay polished very long".
---
Key facts and price
Kees Engelbarts Argentium Tourbillon
Case diameter: 39.5 mm
Case height: 9.5 mm
Material: Argentium (silver alloy)
Crystal: Sapphire
Water resistance: 30 m
Movement: Le Cercle des Horlogers CH016
Features: Hours and minutes; tourbillon regulator
Frequency: 21,600 beats per hour (3 Hz)
Winding: Hand-wound
Power reserve: 72 hours
Strap: Alligator
Limited edition: Unique piece
Availability: Direct from Kees Engelbarts
Price: 120,000 Swiss francs before taxes
For more, visit Kees.ch.
---
Back to top.
---
You may also enjoy these.