Interview: Guido Terreni, CEO of Parmigiani Fleurier
Keeping the legacy alive.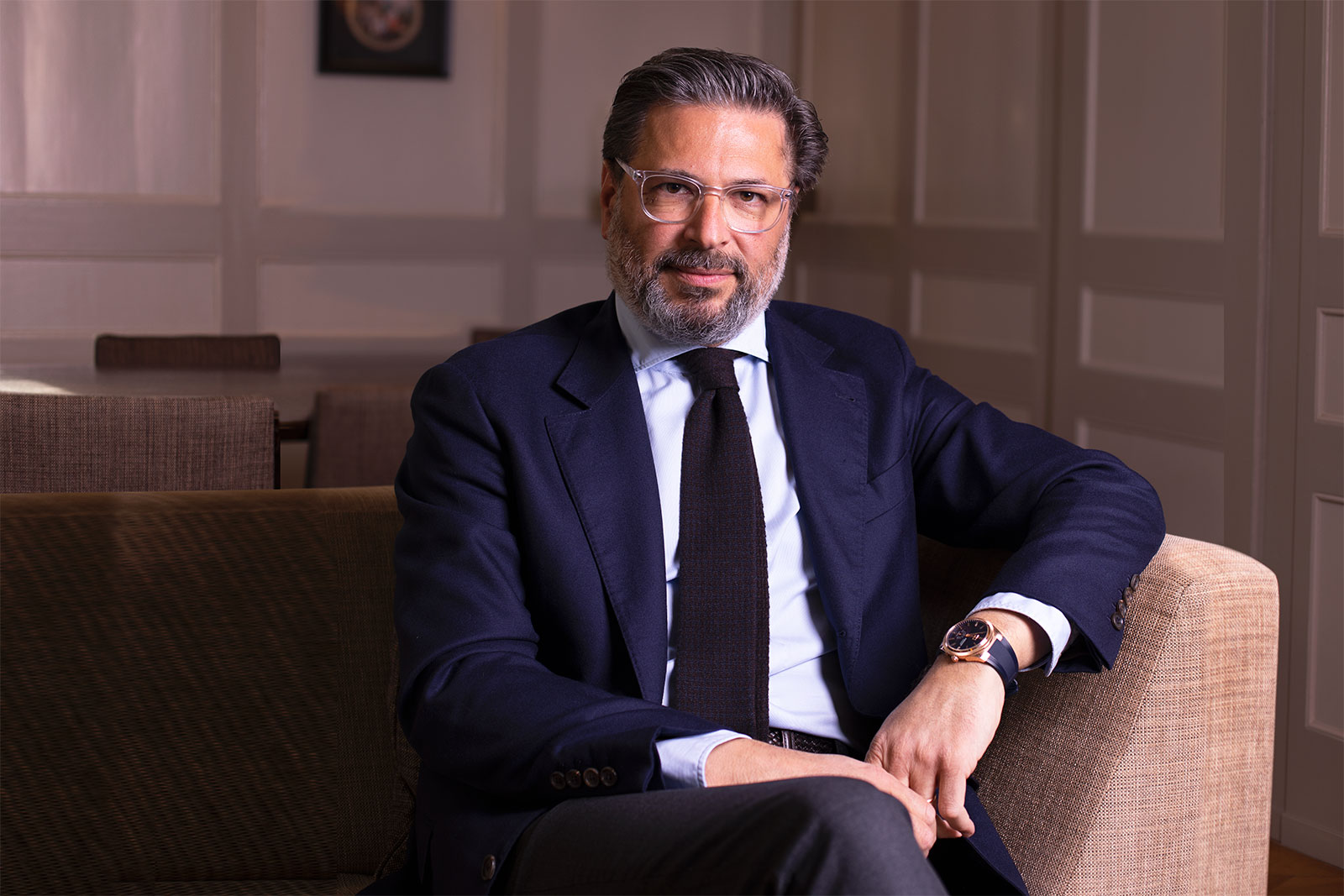 Parmigiani Fleurier is one of the pioneering independent watch brands, having been established in 1996 by Michel Parmigiani, watchmaker and restorer extraordinaire.
While Parmigiani is a company of relative youth, its founder is a legendary watchmaker universally acknowledged as one of the most talented restorers of vintage watches and clocks. Mr Parmigiani has repaired timepieces in the world's most venerable watch collections, including the Patek Philippe Museum.
Over 25 years of existence, Parmigiani has garnered respect for the quality of its timepieces, though commercial success has consistently eluded it. Being owned by Sandoz Family Foundation, Parmigiani has long enjoyed the largesse possible only with a multi-billion franc endowment funded by a Swiss pharmaceutical fortune. But now perhaps change is in the air.
Just earlier this year, Parmigiani tapped Guido Terreni for the top job. Prior to Parmigiani, Mr Terreni spent two decades at Bulgari, the second half of which as head of its watch division. And it was during his tenure that Bulgari's timepiece business enjoyed a revival of the sort that Parmigiani's owners are no doubt hoping for.
I caught up with Guido earlier in the year to discuss his plans for Parmigiani, including the product line up as well as Mr Parmigiani's continued role at the company.
The interview has been edited for clarity and length.
---
SJX: Let's start with an easy question.You joined Parmigiani in January 2021, at a difficult time for the world. How has it been so far?
Guido Terreni: It's been a confirmation that what I thought of this brand as an outsider – Parmigiani is extremely interesting and has an untapped potential, because its technical content and know-how is huge.
The first couple of months have been a full immersion into the soul of the brand, trying to really understand it deeply. I found the 80 people that constitute Parmigiani Fleurier are loyal and dedicated to the brand. They're very competent at what they do, the level of know-how here is at the highest level of the industry.
And the cherry on the cake is really to have the founder still with us. Michel Parmigiani is a living legend. He is a source of inspiration – and this is not just rhetoric. When you meet him in person, you realise Michel has an experience that's of extraordinary importance. I have 20 years of experience in the watch industry but I never spoken about watches in the way I have with him. He is able to capture the essence and fine details of watchmaking.
SJX: And the challenges?
GT: The know-how alone is not enough today. We have to explain the product to aficionados and clients.
At the same time, we need to have a style that understands the aesthetic codes of the brand. So often it happens that very creative people go in many directions and dilute the style. You have to be consistent and have to have a certain discipline in finding the aesthetic codes that make your brand recognizable.
This happened in my previous experience, when I had the chance to integrate the Gerald Genta brand into Bulgari. When you look at what he did with his own brand, he wasn't able to create an icon like he did for others.
So this is the work that that we're trying to do here: keep the soul of the brand. Go back to the origins of the high-end horology. At the same time give it a consistent point of view in terms of style, while injecting a little bit more contemporary flavour.
SJX: You mentioned a couple of interesting things. One is Michel Parmigiani, who of course created the brand and really is an extraordinary watchmaker. Now he is at an age where he is less active in the business. How do you continue a brand once the founder starts to step back?
GT: Well, your question is very smart. There is a contribution that can be physical, and there's a contribution that is more from a philosophical standpoint. The contribution from him is on aspects of watchmaking, aesthetics, and understanding the clientele.
Of course, he doesn't restore watches like he did before. But he can still be involved in restoration projects, because we are lucky to have other younger watchmakers who love working with him and see him as the living legend who can guide their work.
Remember that Michel started in restoration right in the middle of the Quartz Crisis so you can understand what kind of mindset this man has.
It's mindset that is very humble because when you do restoration, you have to disappear. You can have the best craft in the world but it cannot be seen because the goal is to admire the original creator. This understatement and high competence are coupled with a humble personality – these values and traits of Michel are the ones that we want to preserve in the brand.
And Michel lives next door, like 20 meters from my office. He pops in like a grandpa, and we just start talking.
Our job is really to drink at the source, to make Michel's philosophy understood and known by our clientele. And our clients are those who are willing to move away from mainstream luxury. We cater to people who have gone beyond the trends, the watches that everybody is waiting five or ten years for.
SJX: Earlier you mentioned aesthetic codes of the brand. Parmigiani has two eras of design, one is the Breguet-inspired Toric era and the other is the modern-day Kalpa, Tonda and so on. What is the future of the Parmigiani design? Are you going to go down either route? Or are you going to create something entirely new as you did at Bulgari with the Octo Finissimo?
GT: The codes are present but across many models. So we have to be selective, because we can't do a brand with 1000 codes. The codes have to be the ones that understandable for the final customer and also make sense from an aesthetic point of view because the objective has to be beauty.
To answer your question, our plan is a little bit in between. I think we need to go back to the craft and excellence of the early days. But we have to do that with an eye on the world of today.
Because today's watchmaking is shaped by people who are young, in their 30s and 40s. These clients and aficionados have a taste that is a little bit more fresh and a little bit more contemporary. So we're going back to the origins, but with a contemporary flavour.
SJX: Does that also mean that the product range will start to narrow? It feels quite wide now.
GT: Of course. Today we have too many references but they're like your children – you know which one you like the most but you still can't choose because they are all beautiful. Still, we have to be disciplined.
We will focus on making the Tonda the backbone of our maison. But we will save some space for exceptional executions outside the Tonda collection because the brand has been built on more than a single model.
SJX: Recently you also launched a sports watch, the Tonda GT. Do you think sports watches are a key part of the future for you?
GT: The response to the Tonda GT has been very positive, both in terms of demand and in rejuvenation of the clientele. Against the scale of Parmagani's business, it is a very good response. In fact, we're struggling with demand to keep up the requests. I think it's a starting point for us.
SJX: For me personally, the appeal of Parmigiani has always been the quality. Everything you do is extremely good – dials, cases, movements are excellent. But the watches are also quite pricey. You mentioned younger clientele earlier. So how are you going to bring the watches to a wider audience while maintaining the quality that Parmigiani is known for?
GT: Here I have to make an important point: younger doesn't mean cheaper. There are many young people who are very rich. So the question is what is right for a younger customer – while remaining at a price point that the brand is accustomed to?
I would say that the brand has a right to start around 15,000 in either Swiss francs or dollars. In fact, 15,000 is already an average price point of the industry. And the sky's the limit on the higher end.
Regardless of price, it is important to keep that level of content and substance very high. It's a bit of a tension between the new direction for design, which is less ostentatious, and having rich content within – that's an exercise that may seem contradictory, but in reality, it's logical because we want to have a price point that allows us to succeed in such an exercise. Our watches are expensive to manufacture, because what we do is truly an exultation of the art of watchmaking.
SJX: So when can we expect to see some of the new models?
GT: Thanks to the integration that we have, development can go quickly. But the real advantage of being an integrated manufacturer is being able to keep the quality consistently high in 360 degrees. And it's also being able to work as a team, instead of being in silos where somebody develops the dial, another the case, and someone else the movement. This will allow us to present an evolution of what we've discussed in the fall.
SJX: Moving from the watches to the business, something that has been much discussed is Parmigiani's financial sustainability, because the brand is known for extremely high-quality watches, but its financial success has been less certain. What are your goals in that respect?  
GT: The objective, of course, will be to increase our profitability.
But instead of going towards savings and cuts, I believe that you have to go towards developing the brand. So I have a different approach from the usual cost-cutting.
SJX: That's good to know. I really like the brand; I'm wearing a Parmigiani with expanding hands. The hands are an interesting idea that come from English pocket watches that Michel restored. Are such restoration projects something you're going to use as inspiration more often going forward?
GT: I believe that restoration shouldn't be used on its own. Because to copy an idea and put it in a in a movement of today is a shortcut. We have to go deeper.
We're working on a wonderful piece right now. I can't tell you too much about it, but it's a movement from the end of the 19th century. We're trying to give a second life to this movement. But it's not restoration for the sake of itself. It's trying to find a way to blend all its history with today. This reflects the work that we will be doing, instead of just transferring what was done in the past to today.
SJX: On the topic of movements, Parmigiani's sister company is Vaucher, which is increasingly supplying movements to niche independent watchmakers like Konstantin Chaykin. Is that an intentional strategy to grow awareness of Vaucher and by relation, Parmigiani?
GT: No, no, I don't think that's the reason. I think it's more a search for wider competence, because when you do only one exercise, you're always working the same muscles. To have a variety of demand allows you to extend your craft. It's in the interest of moving forward.
SJX: You mentioned the new launch in the fall. Beyond that, will you be taking part in watch fairs again?
GT: This it depends on the fairs. Because I believe that the industry needs a moment where the whole world comes together for one week and everybody showcases their brands in the best way. But the fairs have to understand that the brands are more important than the fair itself.
I haven't yet understood the philosophy of Watches & Wonders. I'm going to understand it in the following months. Then I will decide if we want to participate next year.
---
Back to top.
---
You may also enjoy these.