Only Watch 2021: Patek Philippe Complicated Desk Clock Ref. 27001M-001
A truly unique creation.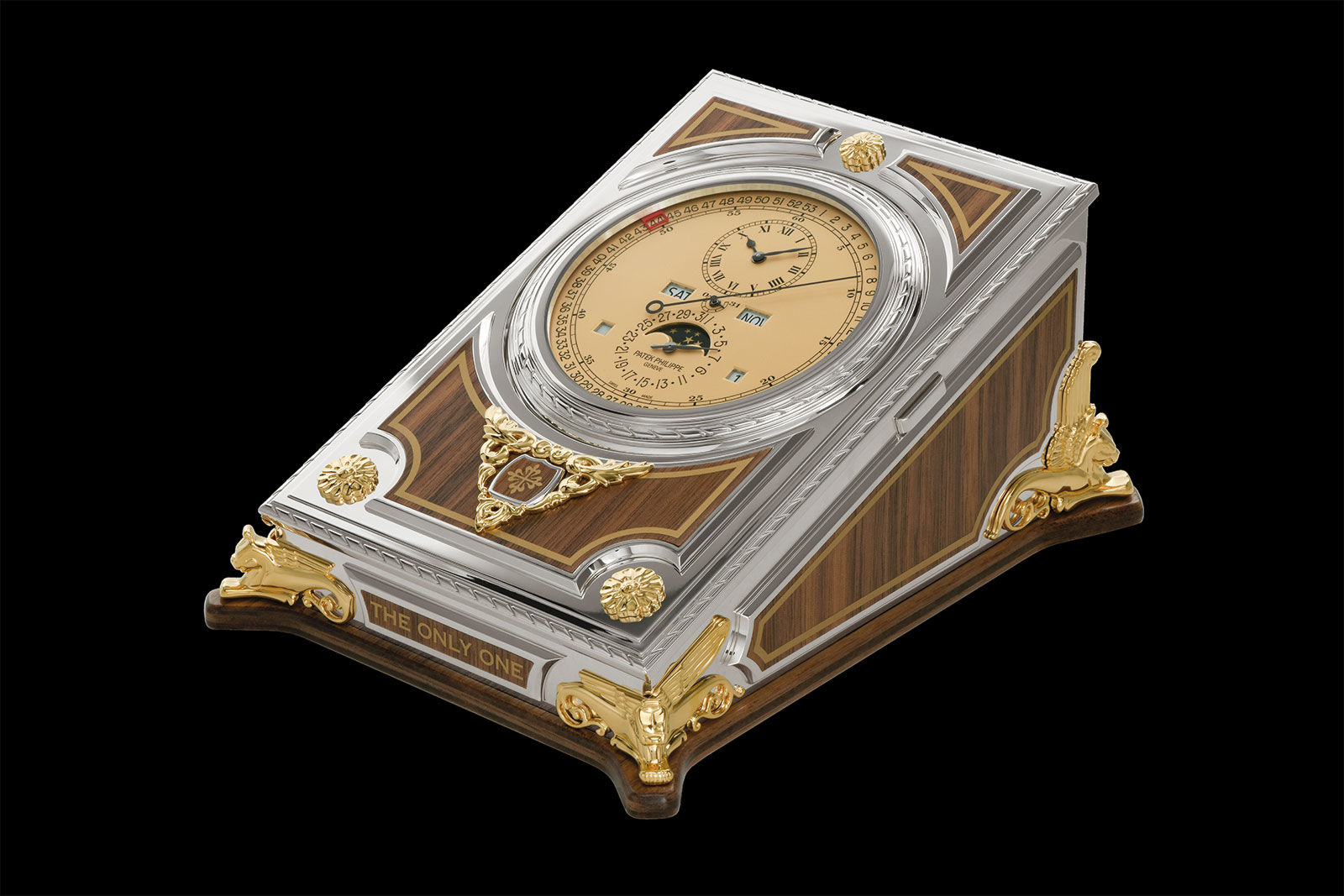 Departing from its Only Watch tradition of unique versions of current-production wristwatches, Patek Philippe's contribution to Only Watch 2021 is a desk clock with perpetual calendar modelled on a 1923 original now in the Patek Philippe Museum.
The Complicated Desk Clock Ref. 27001M-001 is inspired by a desk clock owned by James Ward Packard, the American automobile tycoon who was one of Patek Philippe's leading clients in the 1920s. Made of sterling silver and vermeil with inlays of American walnut, the clock contains a 31-day movement featuring a perpetual calendar.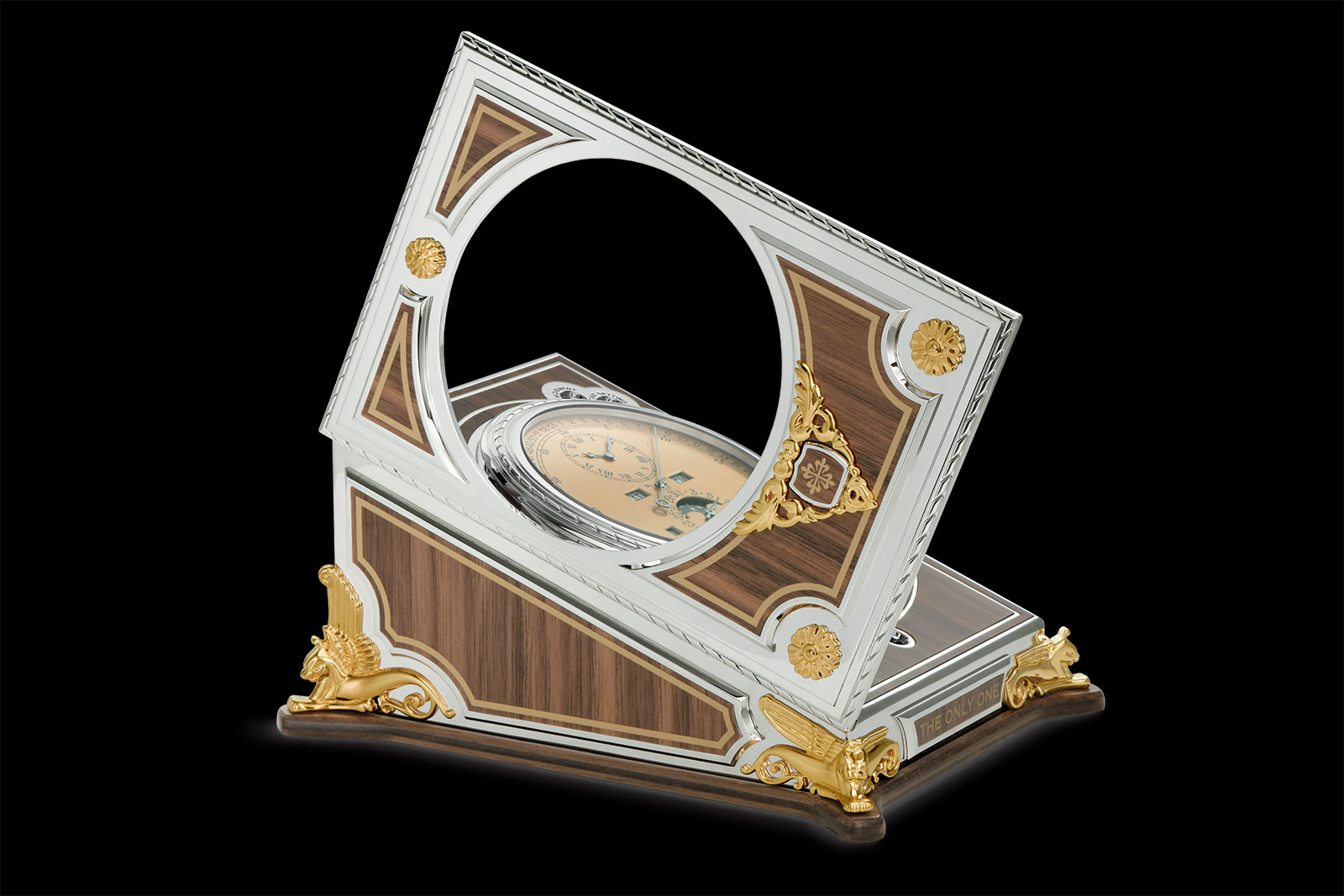 Initial thoughts
Topping the mega, CHF31 million result for the Patek Philippe Grandmaster Chime ref. 6300A at Only Watch 2019 would be hard to imagine since the Grandmaster Chime is the most complicated and expensive watch in the brand's catalogue. Resetting the counter with a desk clock is a shrewd move since its avoids comparisons with the wristwatch of 2019.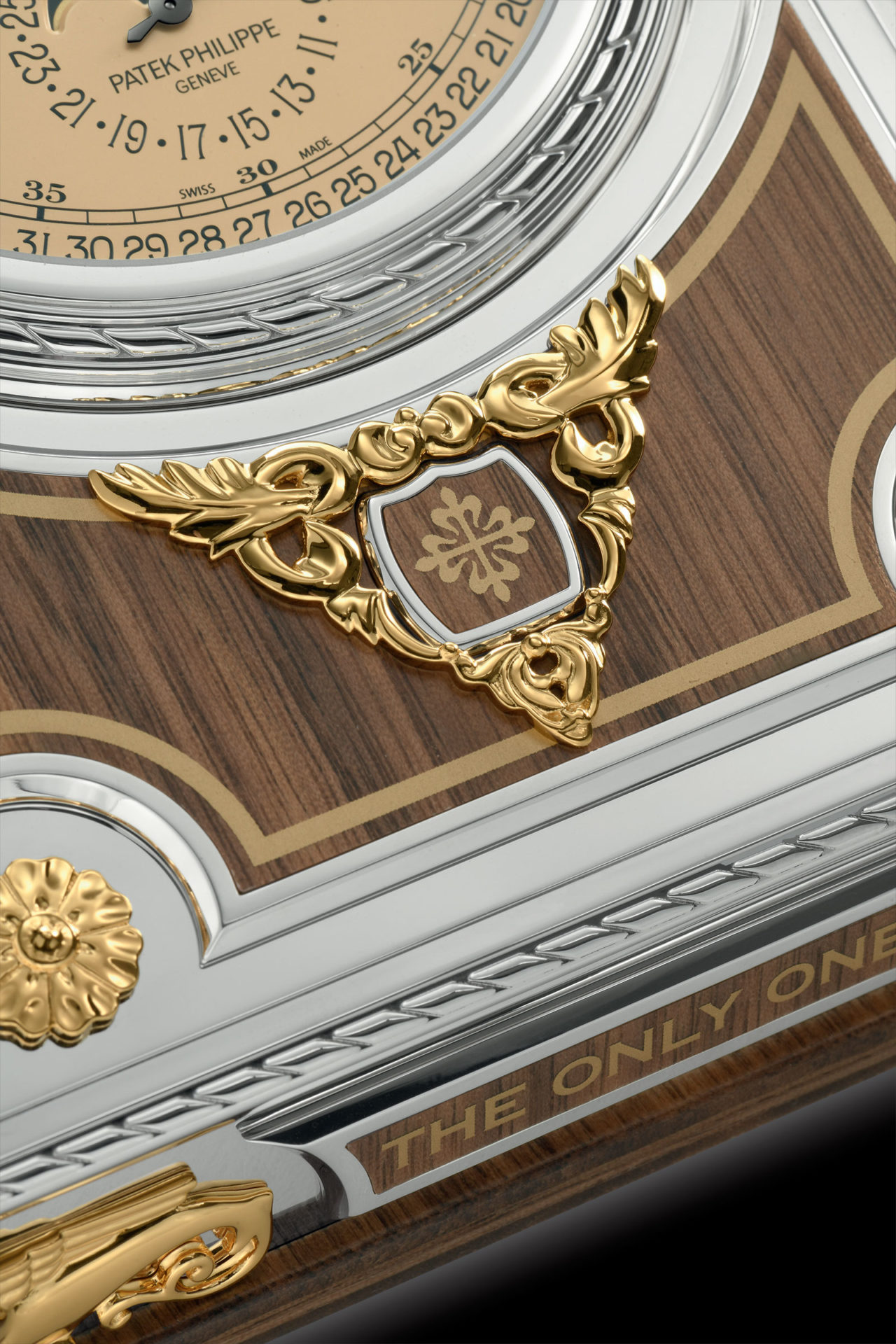 That said, the desk clock is actually more unique than anything else Patek Philippe has made in recent memory – it is literally the timepiece of this form that exists. Even the unique Dome Clocks and desk clocks that Patek Philippe offer in its annual Rare Handcrafts line up are based on standard templates.
It's worth noting that the desk clock has a "rose-gold opaline" dial similar to that of the Grandmaster Chime ref. 6300A, so it might make a nice pair for the buyer of the 2019 watch.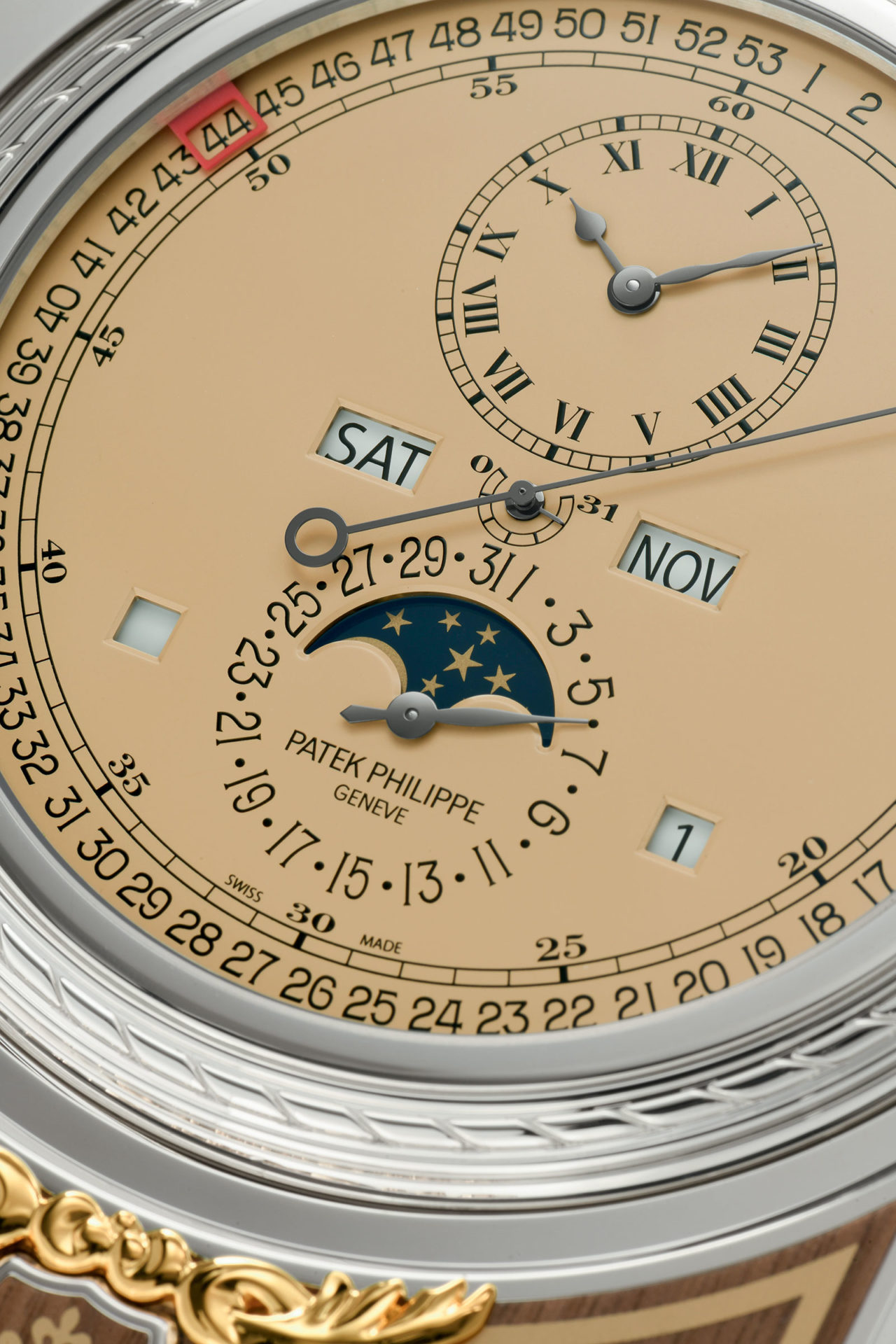 Packard's clock
The inspiration for this clock is a similar timepiece, with case number "601'324" and movement number "197'707", delivered to James Ward Packard on June 7, 1923.
Also equipped with a perpetual calendar, the original was made of silver with solid-gold feet and inlays, while the movement inside had an eight-day power reserve. Interestingly, Packard's ostensible rival, banker Henry Graves Jr, owned a very similar desk clock.
The Complicated Desk Clock is a compact but no doubt weighty timepiece. Slightly larger than the original, it measures 16.46 cm by 12.5 cm and stands 7.63 cm high. It has a hinged lid on the front that has an aperture revealing the face when closed.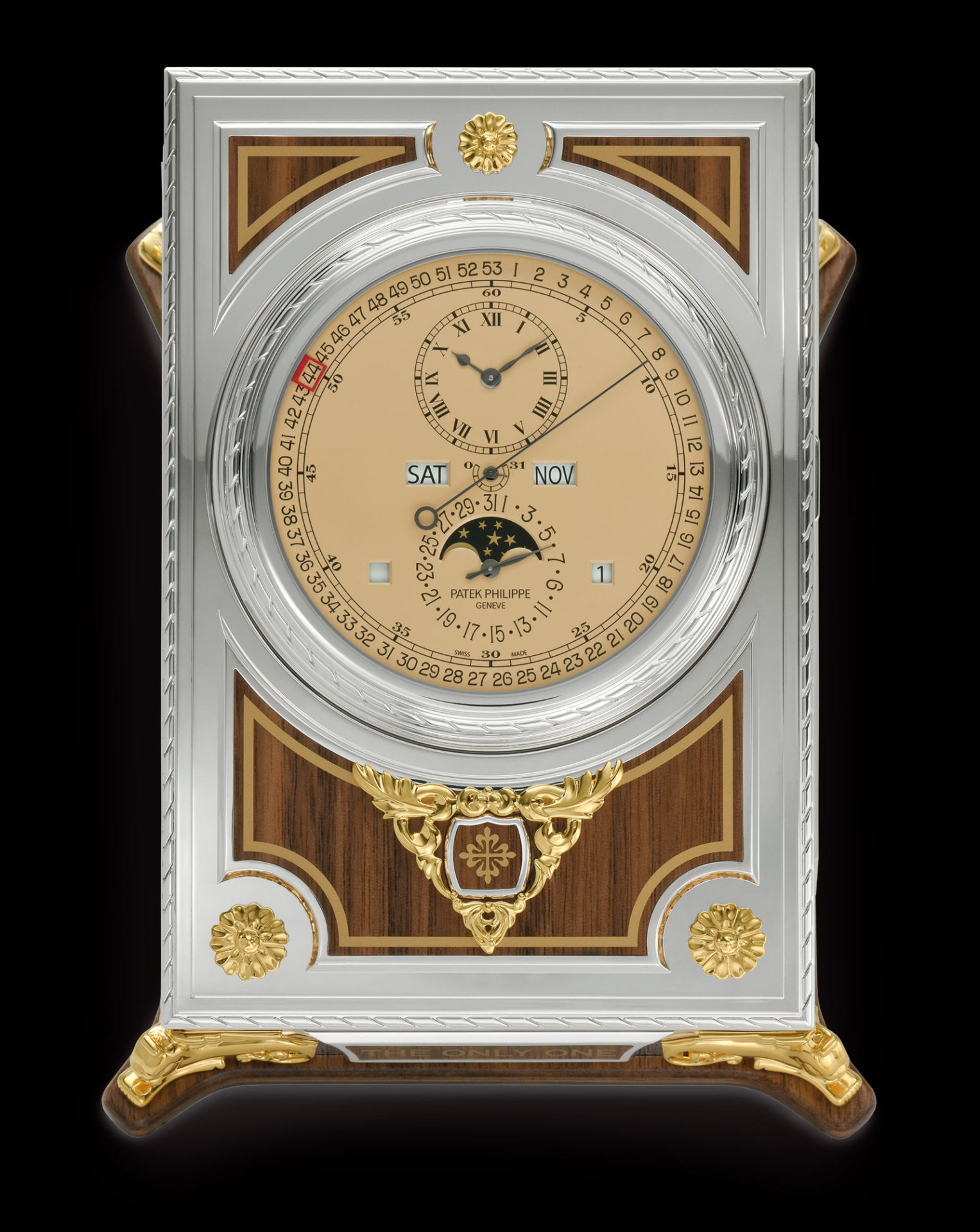 Lift the lid and the control panel is visible below the face, with buttons for selecting the function of the key that goes into a socket near the base. The key can be used to wind the 31-day movement or set the calendar, depending on the button selected.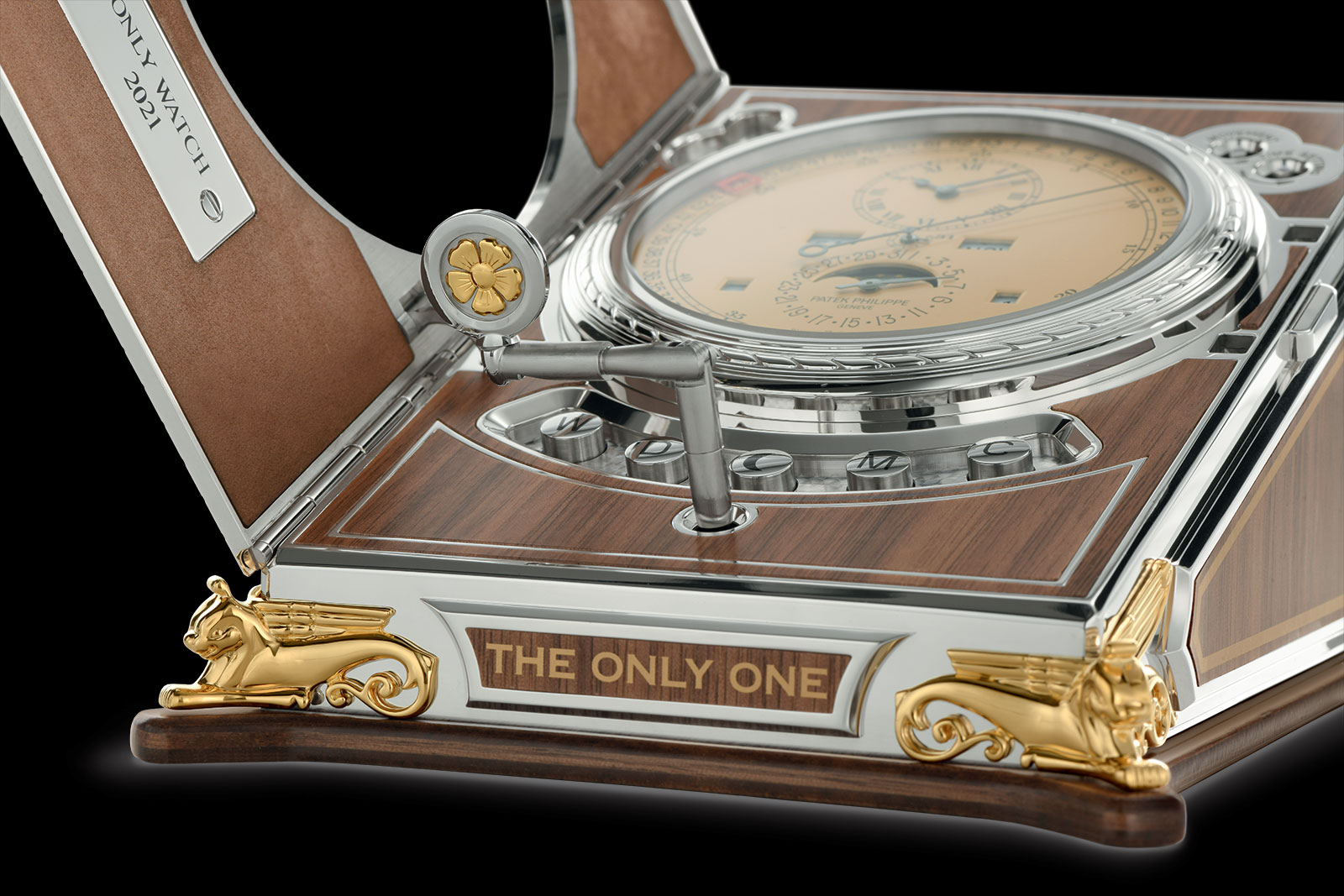 ---
Key facts and price
Patek Philippe Complicated Desk Clock
Ref. 27001M-001

Diameter: 16.46 cm by 12.5 cm
Height: 7.63 cm
Material: Silver with fittings of vermeil American walnut inlays
Movement: 86-135 PEND IRM Q SE
Functions: Time, perpetual calendar, moon phases, week-number display and power-reserve display
Winding: Key-wound
Power reserve: 31 days
Limited edition: Piece unique
Availability: To be sold at Only Watch on November 6, 2021
Estimate: 400,000-500,000 Swiss francs
For more, visit Onlywatch.com.
---
Back to top.
---
You may also enjoy these.