De Bethune Debuts Contemporary Chiaroscuro on Titanium
With the DW5 Empreinte.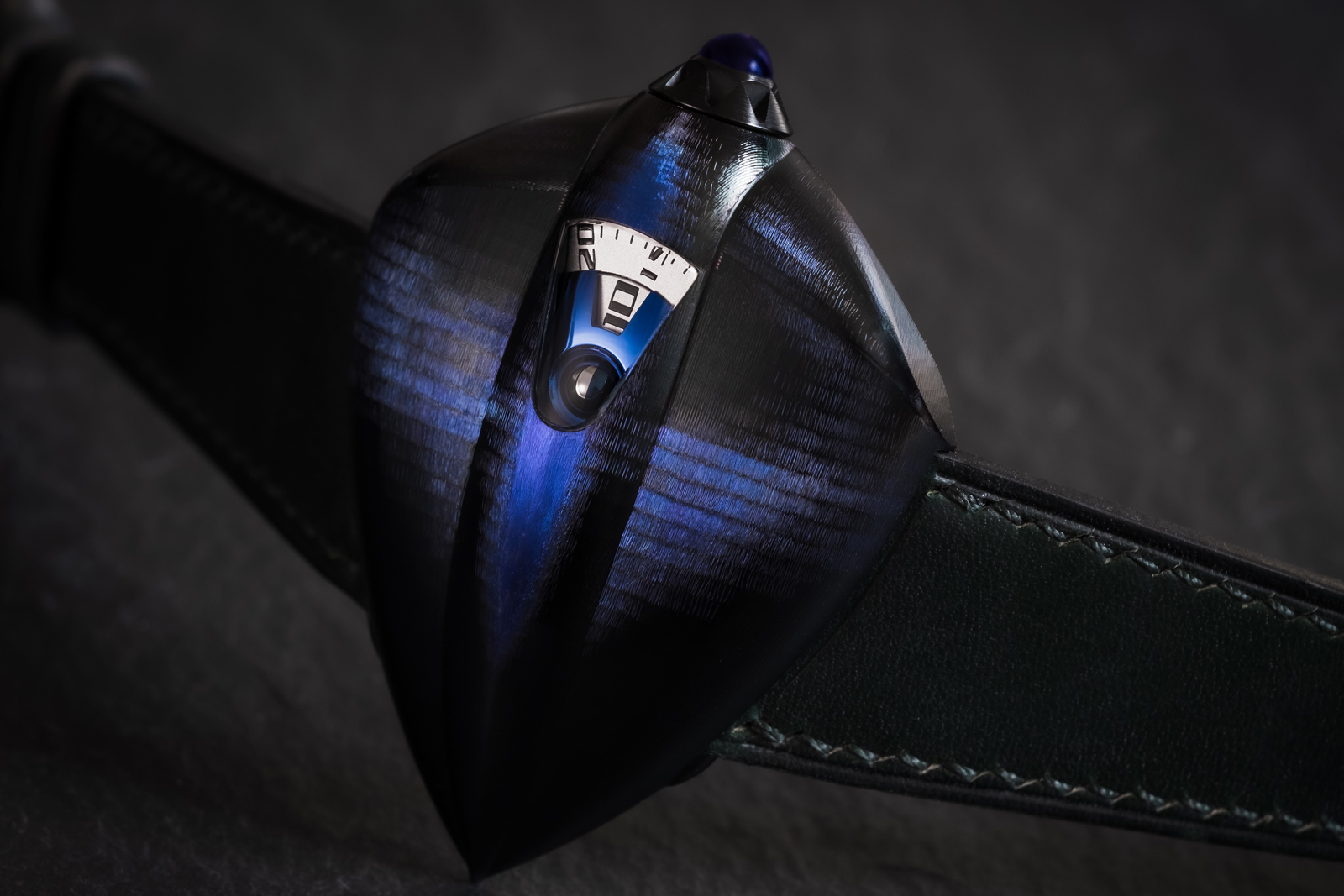 Resembling an alien seashell, the Dream Watch 5 is De Bethune's most unusual case and unquestionably its most artistic creation. While the model started out as a pared-back affair entirely in polished titanium, the DW5 has since evolved into a canvas for decoration like over-the-top, dancing-skeleton engraving.
The DW5 Empreinte sits in between the two aesthetic extremes. Clad in deep, dark colours, the case is inlaid with a subtle, organic pattern that's hard to describe.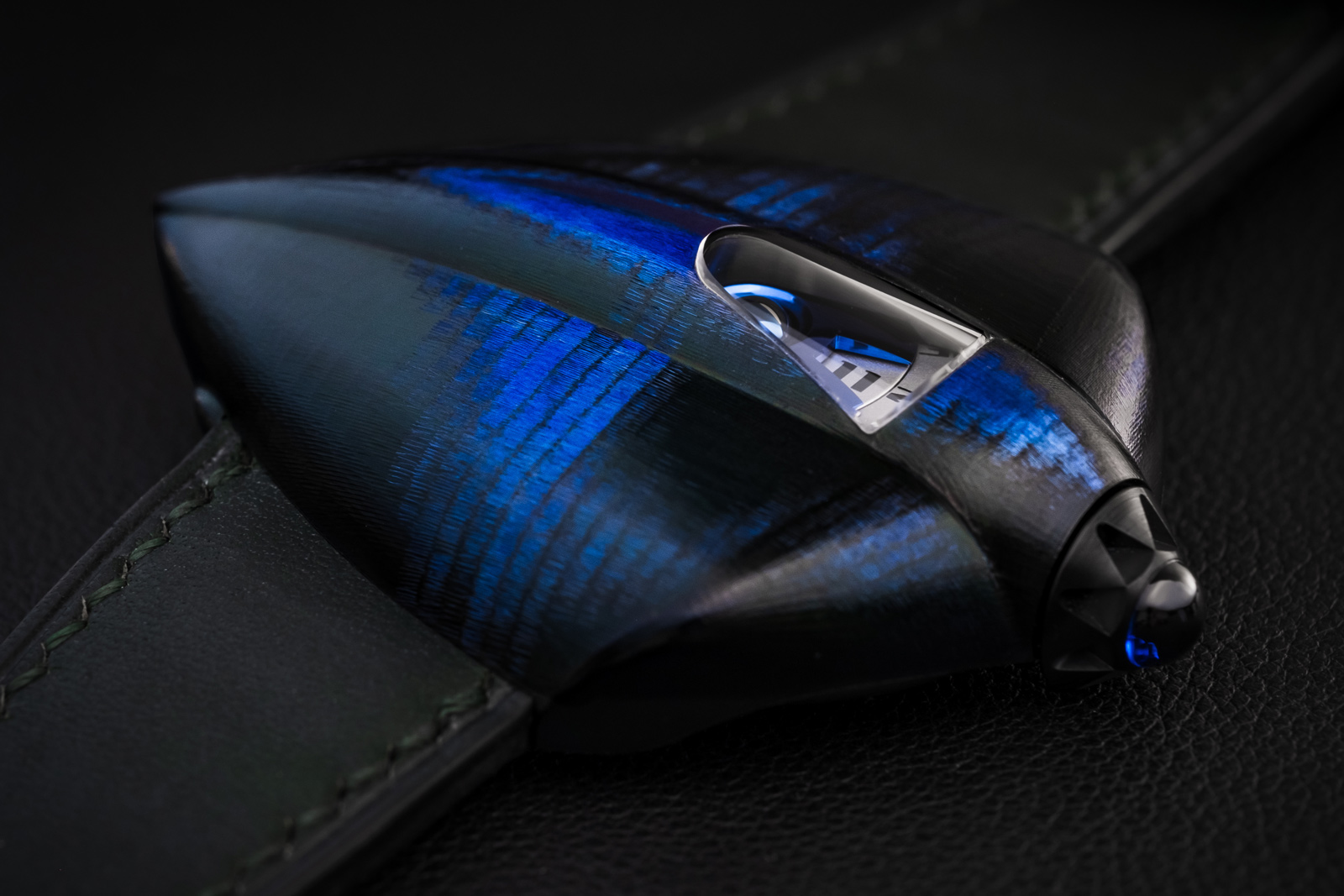 The distinctive colours and pattern were conceived by Clara Martin, who won the 2019 prize in the annual contest sponsored by De Bethune that's open to masters students at the University of Art and Design Lausanne, better known by its French acronym ECAL.
Ms Martin's vision was realised by De Bethune cofounder Denis Flageollet, a talented watchmaker and self-taught metallurgist, as well as Michèle Rothen, the brand's go-to engraver.
Initial thoughts
De Bethune's avant-garde in both style and watchmaking – an attractive combination that leaves the watchmaker with few peers. But even so, the DW5 still manages to stand out from the brand's other offerings, as it is arguably a sculpture first and a timepiece second.
The fluid, organic case is three-dimensional and gorgeous – and even more incredible when executed in the right material and colours, as demonstrated by the meteorite version of 2016.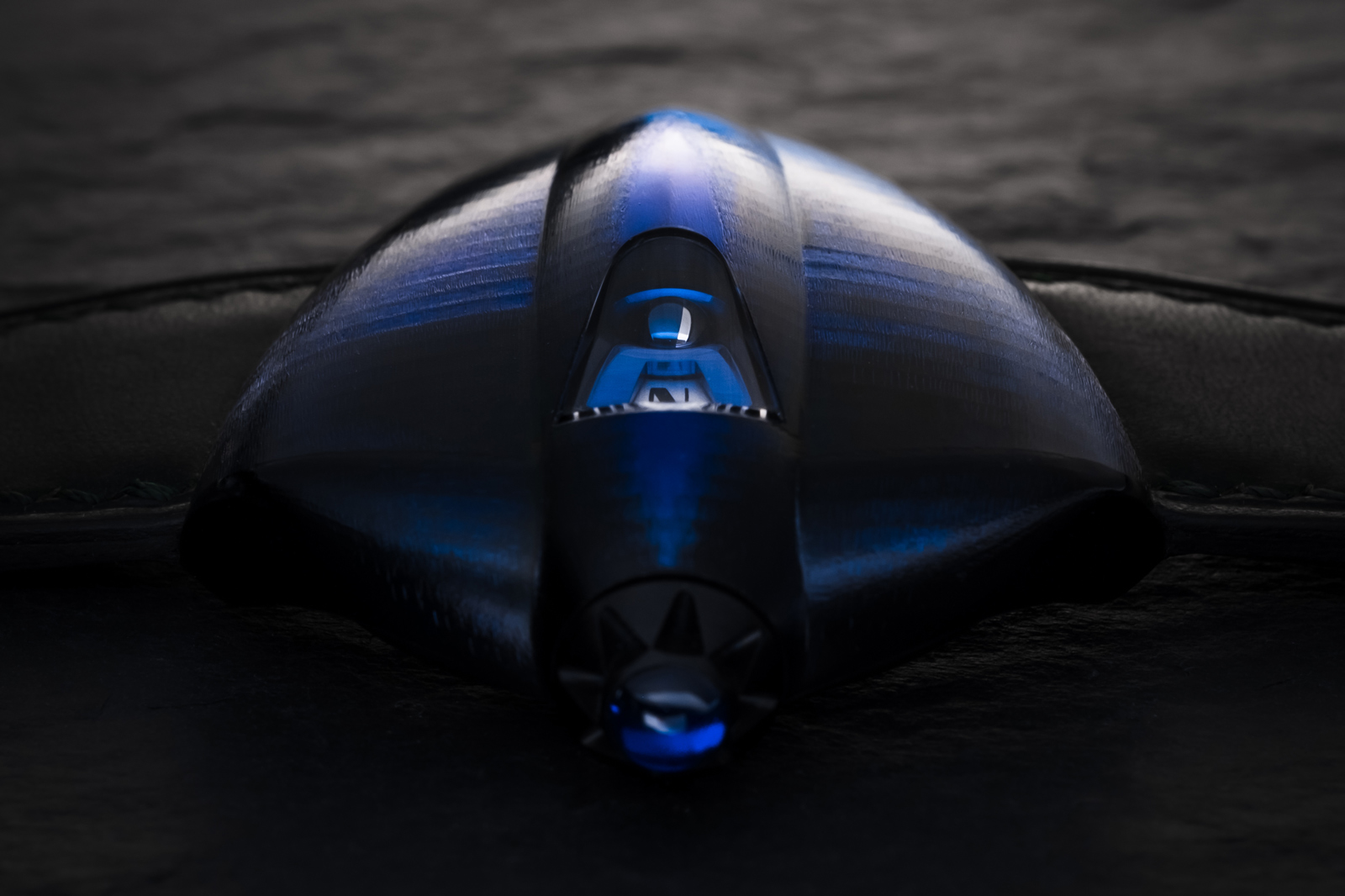 The DW5 Empreinte gets it right, with a deep black case accented by metallic blue that seems to glow, giving it a mysterious, shimmering look evoking an alien spacecraft about to take off.
At CHF210,000, the DW5 is expensive compared to the rest of De Bethune's offerings, at least from a mechanical standpoint since the movement is identical to that found in more affordable models. But the price is on par with earlier versions of the DW5, and justified by its sculptural quality and the fact that it's a piece unique.
Glowing black
Ms Martin's 2019 award was a sponsorship of her research is into "drawing light from black" with the help of textures, shapes, and highlights. Her work is inspired by French painter Pierre Soulages, whose works are all about creating lightness against a black background.
More broadly, Ms Martin's research and Mr Soulages' art are an extension of chiaroscuro, the technique of painting high-contrast light and dark that's exemplified by the works of artists like Rembrandt and Vermeer.
The final product is a realisation of Ms Martin's research: the DW5 Empreinte is predominantly black, with bands of shimmering blue flowing outwards from the sapphire window that shows the time.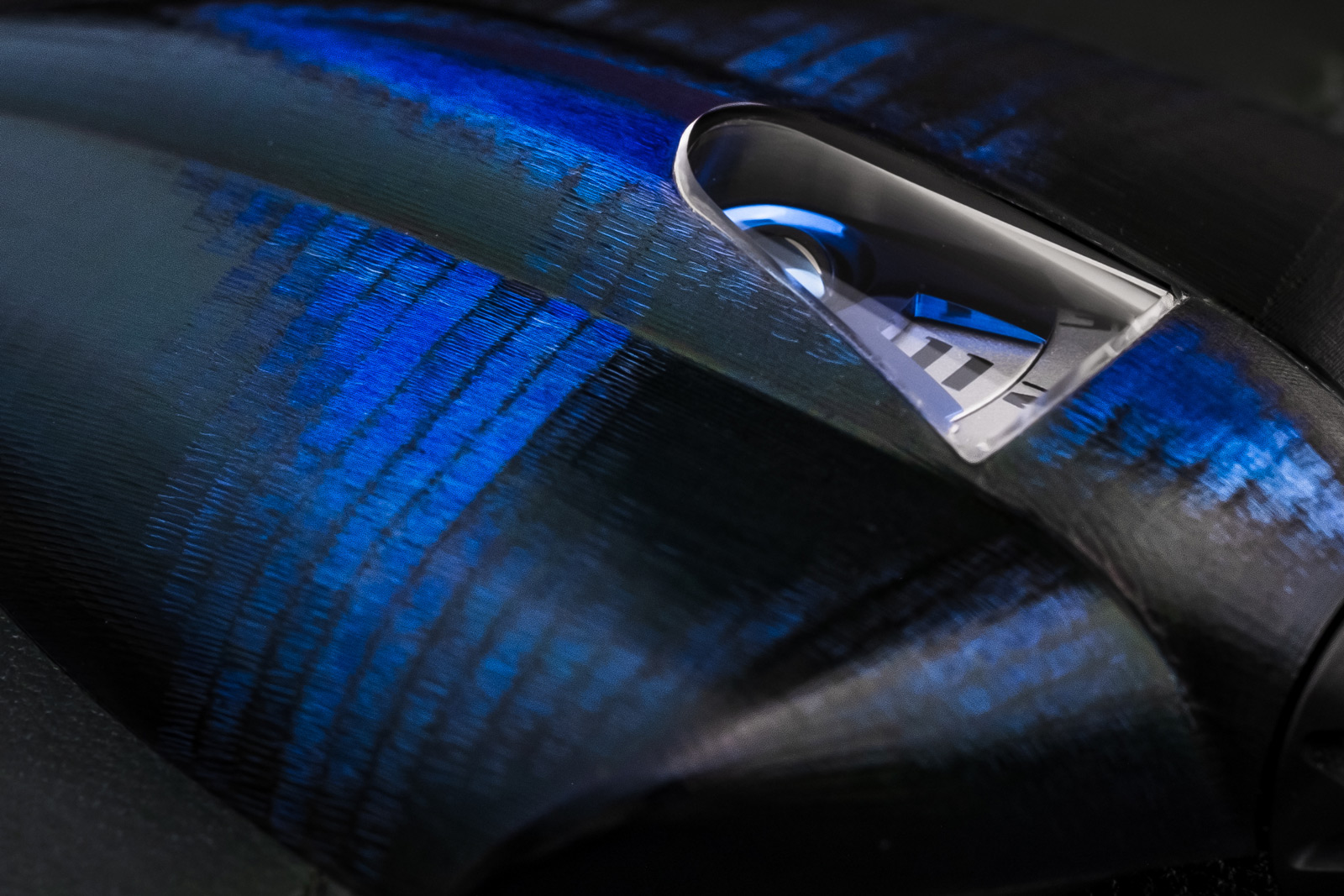 Realise Ms Martin's design, however, was a challenge. Though appearing simple at a distance, the case is actually finely textured, which was entirely hand-engraved by Ms Rothen.
The colours, on the other hand, were created by vacuum-depositing varying metal oxides on the surface, before heat-treatment that changed the colours of the metal oxides, resulting in the different colours and smoked effect.
Like all other De Bethune watches, the mechanics within the DW5 Empreinte are sophisticated.
The movement is equipped with a jumping hour and ultra-accurate spherical moon phase – accurate to a day in 1,112 years – as well as a five-day power reserve. And it is a bona fide high-end calibre, featuring a patented titanium balance wheel with white-gold weights and a silicon escape wheel.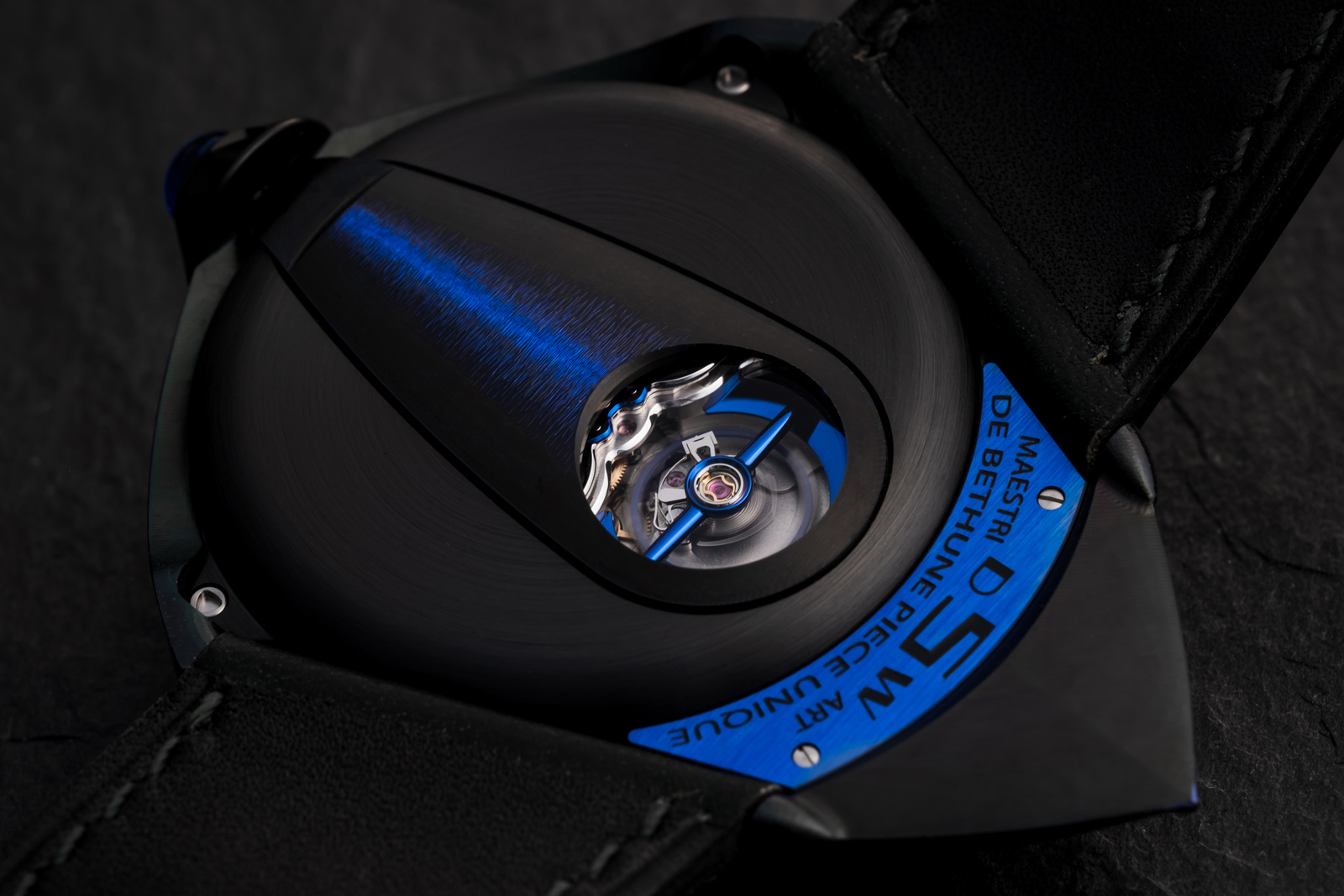 ---
Key facts and price
De Bethune Dream Watch 5 (DW5) Empreinte
Ref. DW5MA Empreinte
Diameter: 58 mm by 47 mm
Height: 16 mm
Material: Titanium
Crystal: Mineral
Water resistance: 30m
Movement: DB2144V2
Functions: Jumping hours, minutes, and spherical moon phase
Winding: Hand-wound
Frequency: 28,800 beats per hour (4 Hz)
Power reserve: Five days
Strap: Leather with titanium pin buckle
Limited edition: Unique piece
Price: CHF210,000 (excluding taxes)
For more, visit Debethune.ch.
---
Back to top.
---
You may also enjoy these.