Swatch Introduces the Disney Mickey Mouse x Keith Haring Collection
Pop art Mickey.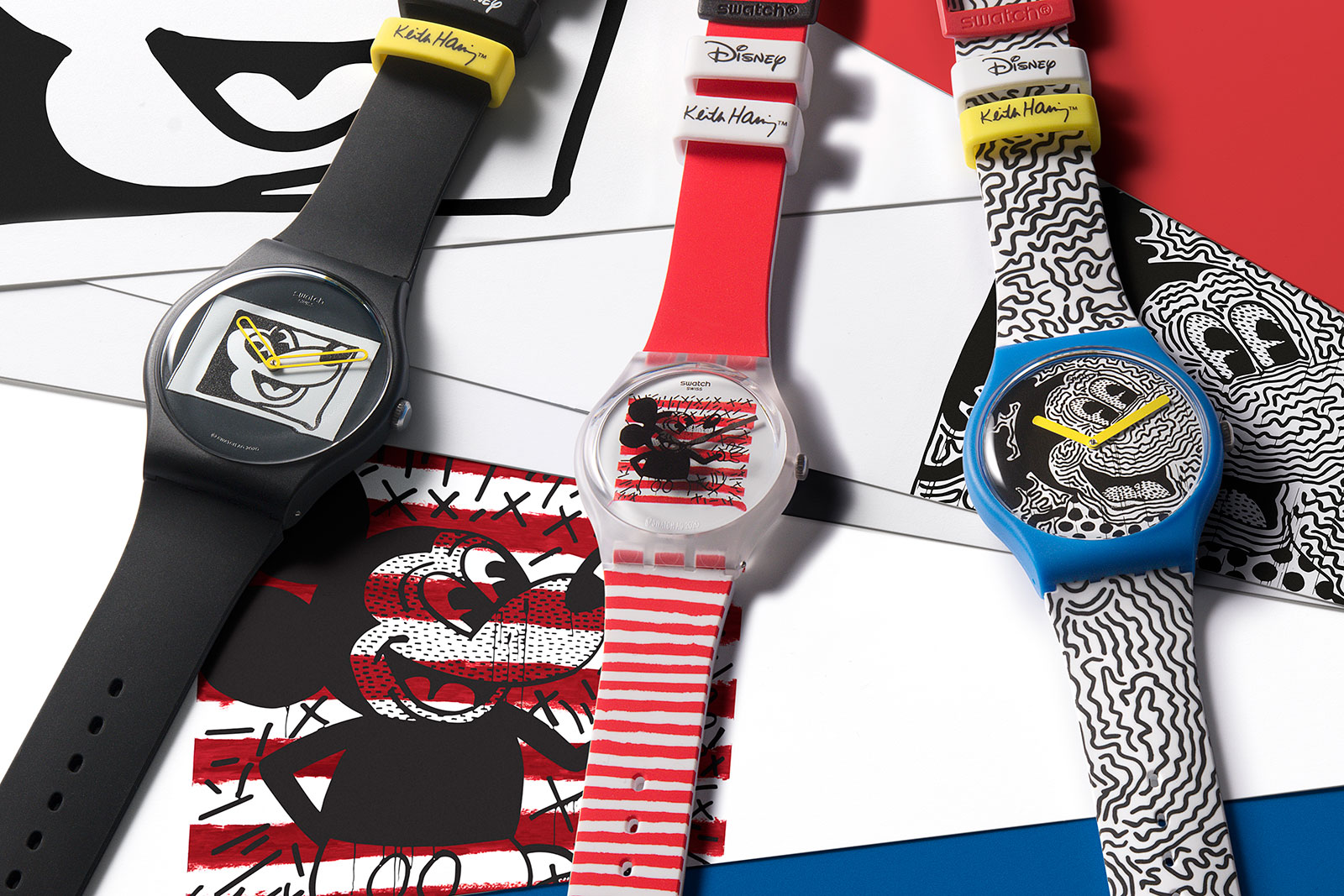 Continuing its series of collaborations with noted artists, Swatch has just unveiled the Disney Mickey Mouse x Keith Haring Collection, a quartet of watches inspired by the artist's take on the iconic mouse. The collection is made up of a pair of 41 mm New Gent models, a smaller 34 mm watch, as well as an oversized, Maxi wall clock shaped like a wristwatch.
An artist whose pop art outlived his unfortunately short career, Haring was best known for his graffiti in New York City's subway stations, often depicting dancing figures or animals in outline. Haring was also a proponent of accessible art, and worked with Swatch in 1986 to create a set of four watches, which debuted alongside Pop Shop, a store in New York's Soho district that sold affordable products bearing his work.
Haring died in 1990 at the age of 31, but now, some three decades later, Swatch has rolled out the second Haring collection, conceived together with the artist's eponymous foundation. The new collection revisits Haring's earlier work that depicts Mickey Mouse, explaining the collaboration with Disney.
Initial thoughts
Swatch excels at watches in funky design and bright colours, and the Haring-Mickey Mouse watches personify that. And the fact that the watch incorporate iconic examples of 1980s pop art make them even more interesting, less timekeeper than an affordable means of acquiring a little bit of Haring's iconic style. The watches smartly minimise their timekeeping features while maximising Haring's work, with the time reduced to  minimalist baton hands.
Additionally, the quartet of watches ensures that there's something for everyone, with each watch distinct in style and size, ranging form the pared-back, almost monochromatic Mickey Blanc Sur Noir, to the vibrant Eclectic Mickey that features the artist's trademark line motif.
Most unusually, the Ecletic Mickey is also offered in an extra-large size intended for the wall – 2.1 m long from top to bottom, taller than the average person – which turns the watch into an actual piece of art.
The prices for the new collection are in line with other Swatch watches, albeit being a little more expensive due to the royalties that go to the Keith Haring Foundation. But they are still eminently affordable and compellingly priced, starting at US$100 for the 34 mm wristwatch and rising to US$500 for the Maxi Eclectic Mickey wall clock.
And set against the value of the original 1986 Keith Haring quartet – Christie's sold a set for US$3,000 in 2016 – the new watches are almost a bargain.
Keith Haring and Mickey Mouse
Though much of Haring's work was a channel to raise social awareness of AIDS, especially after he was diagnosed with the illness, Haring long had a fascination with Mickey Mouse originating from childhood. Early on in his career, Haring produced several drawings of the Mickey Mouse, which now form the blueprint for the new Swatch collection.
The most complicated work is reproduced on Eclectic Mickey, a New Gent model with a 41 mm blue-plastic case along with a dial and strap covered with Haring's signature lines, and a dramatic depiction of Mickey Mouse based on a 1982 drawing. And the same watch is also rendered as the oversized Maxi wall clock.
More minimalist is the Mickey Blanc sur Noir, also a 41 mm model that reproduces a 1981 drawing. Instead of filling up the dial, the drawing is framed in a box against an all-black case and strap. Notably, the hands are peculiar in style, resembling paperclips and painted yellow, making the watch appear more lively.
And between the two is the Mouse Marinière, a smaller, 34 mm watch in striking red and white, with Mickey Mouse clad in his trademark shorts.
But unlike the other two watches, the Mouse Marinière has the drawing etched on the crystal, instead of being printed on the dial. This has the effect of making the black hands less visible, making the art more prominent.
---
Key Facts and Price
Swatch Disney Mickey Mouse x Keith Haring Collection
Ref. GZ352 (Mouse Marinière)
Ref. SUOZ336 (Eclectic Mickey)
Ref. SUOZ337 (Mickey Blanc sur Noir)
Ref. MSUOZ336 (Maxi Eclectic Mickey)
Diameter: 34 mm (GZ352);  41 mm (SUOZ336, SUOZ337); 300 mm (MSUOZ336)
Height: 8.75 mm (GZ352); 9.85 mm (SUOZ336, SUOZ337)
Material: Plastic
Water resistance: 30 m
Movement: Quartz
Functions: Hours and minutes
Strap: Silicone
Limited edition: No, "special edition"
Availability: Starting January 7, 2021 at Swatch stores and online boutique
Price:
Eclectic Mickey – US$185, or 283 Singapore dollars
Mouse Marinière – US$100, or 149 Singapore dollars
Mickey Blanc sur Noir – US$125, or 186 Singapore dollars
Maxi Eclectic Mickey – US$500, or 745 Singapore dollars
For more, visit swatch.com
---
Addition January 7, 2021: Included the height of all wristwatches, and the price of Maxi Eclectic Mickey.
Back to top.
---
You may also enjoy these.