Interview: Ricardo Guadalupe, CEO of Hublot
An understated captain of industry.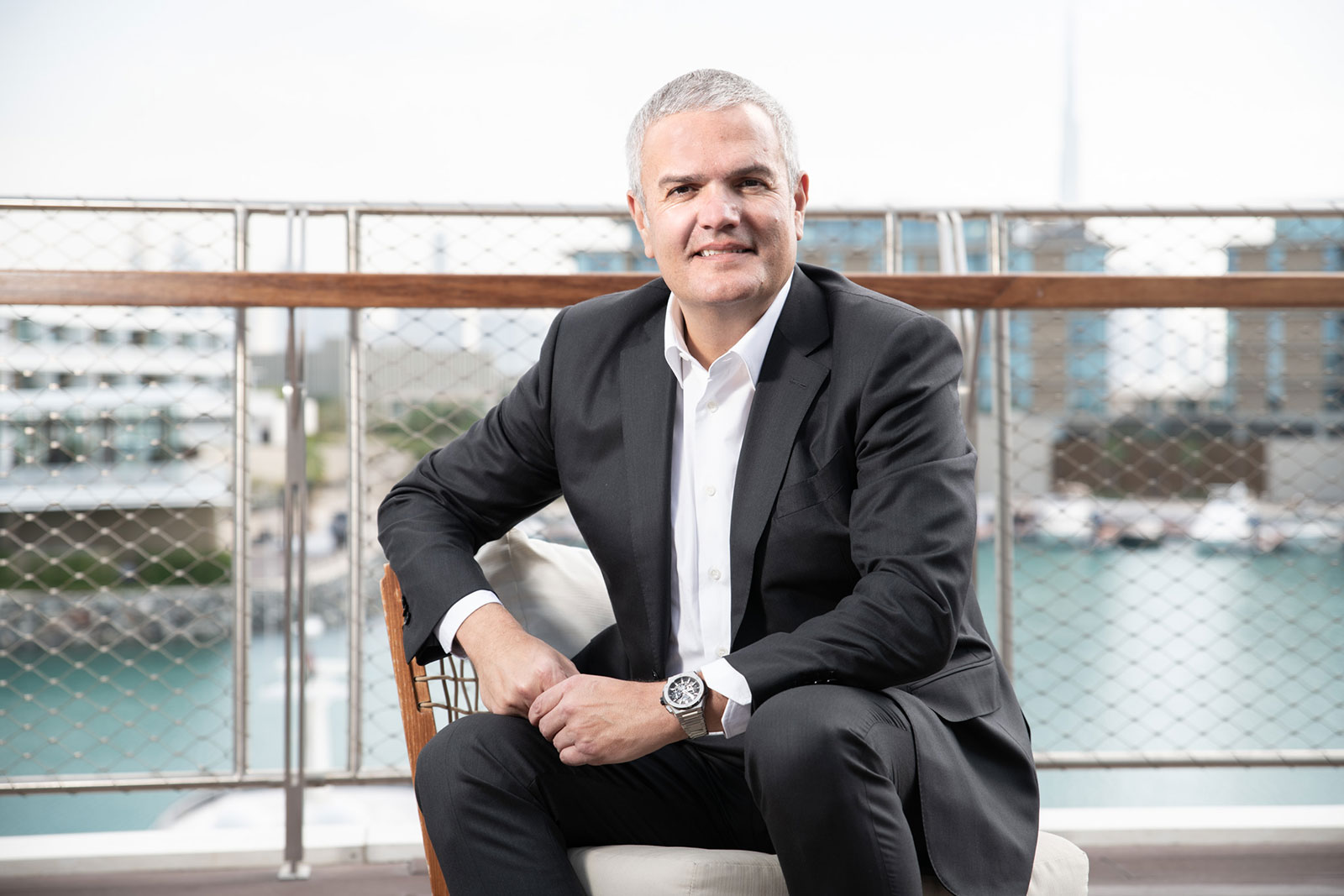 Though he runs one of the world's most high-profile watch brands, Ricardo Guadalupe is less flamboyant than many of his peers. But the 30-year veteran of the watch industry has grown the brand into one of the world's ten biggest watchmakers measured by revenue, making him one of the most successful leaders in the industry.
A longtime deputy to the larger-than-life Jean-Claude Biver – though he is now the boss, Mr Guadalupe still acknowledges his mentor often – he took charge of Hublot in 2012 after his former boss was tapped to run the watch division of LVMH. During his tenure, Mr Guadalupe not only continued Hublot's sales growth, but also substantially expanded its manufacturing capability – a feat that is often overlooked and underrated.
That was made possible in part by a career that has taken him from product development to manufacturing, allowing him to develop an all-encompassing grasp of the business, explaining how Hublot manages to produce both its own movements – and its own proprietary, bright-red ceramic.
I spoke to Mr Guadalupe during LVMH Watch Week earlier this year, where he discussed his measured and practical approach to delivering consistently excellent performance and product, exemplified by the years-long evolution of Hublot's signature Big Bang into the Integral.
The interview was edited for length and clarity.
---
You guys did a really good job with the new Big Bang Integral. It's difficult doing a nice bracelet, but you managed it.
In the 30 years I've been in this industry, I've tried and tried to do nice bracelets but it is still not easy; this took three years.
To find the equilibrium, to try and do something unique – that's difficult. Sometimes you have a design, then you do a prototype, but you realise the facets should be a bit bigger. There are already three or four bracelets that [are famous] because of the links, so our flexibility in design is very narrow.
The bracelet is a new design, but more importantly you upgraded the finishing of the bracelet and case compared to earlier Big Bang models. Is this part of a larger plan to do the same for other Hublot models?
Yes, the challenge is always to improve the product. The is idea is to you change important details so the consumer feels it, but the watch always remains the Big Bang or Classic Fusion. We're working on evolution of the Classic Fusion for instance, that will come in maybe two to three years. We cannot change everything every year of course, but there is always work done to improve it.
As I understand it, one reason you managed to be successful with many new designs and materials every year is because Hublot has a manufacture where you make movements and other components. Can you tell us more?
Having a manufacture is a really big competitive advantage, because it gives us the agility and flexibility that some other brands do not have. I tried to build a manufacture which is very flexible, so when we don't want to do a big series I can stop the machines without bothering the rest of the production.
Our vision is to grow the manufacture even more; we're planning to build a third building now. We took over the land close to us, and even then we are thinking long term, because on the land we can build three new buildings. This year we will finalise the plan, so we have one building dedicated to movements, one dedicated to cases, another one for assembly.
The integrated manufacture allows you to do many special projects very quickly as I understand.
People don't know we do a lot of special editions that are not sold to the public, which meets demand from companies or clubs, like Chelsea. This year Sevilla wanted 30 watches with their logo. This corporate business is six, seven percent of our total business.
And I would say we're probably the only brand that goes that far with a special edition. Not just doing engraving on the back, but also putting the logo on the dial and box – and we can do it very quickly. Because when someone is this season's champion, they don't want the watch nine months later, they want the watch in six weeks. And we're able to do that thanks to the manufacture.
I understand from people in the industry that you are unusual amongst watch CEOs because your background is both product development and also manufacturing and production, probably one of the reasons you've built a successful manufacture. Can you tell us a little bit about that?
I think I am a product guy; my passion is really the product development. When I started in the industry in 1988, my first job was product manager at Bulgari watches; at that time the company was 10 people. After that I met Jean-Claude Biver at Blancpain – that was the most important encounter in my life. And there, once again, I was product manager, and quickly became the marketing and sales director covering product development.
And though I'm not an engineer, with my years in the business, I can read technical drawings. My training has been working every day, so I've been training 30 years in the watch industry. I can say, without being arrogant, that I'm a specialist in the field.
Sometimes I even have to teach young engineers about the details. In watches you always need equilibrium in details, like the length of the hands, or thickness of a dial. Even for the setting of diamonds, you need to have the right balance between the size of the stone and its value.
Since you have such a long experience in the watch business, what is your favourite creation?
I've been part of creating the Big Bang: Jean-Claude Biver, maybe one designer, and myself were the trio that created the Big Bang. I'm proud of the watch because it revolutionised not just Hublot, but the whole watch industry, because we came up with something that was very innovative and different from the case-construction point of view.
The sandwich case.
Exactly, the sandwich. Nobody had done it before. The sandwich allows you a diversity in creativity, which is incredible even today.
And besides the Big Bang, the Big Bang All Black [of 2006] because the All Black concept was an extreme to show that the watch is not important to tell the time, but more what it represents. Other brands have followed us with the All Black concept; I think every brand today as a black watch.
Earlier you mentioned the sandwich construction, but on the new Big Bang it's changed, because it's now metal in between, without the contrast of materials. Is there a reason for that?
Because when you have it on an integrated bracelet, it's a mono-material watch. If we put the black [carbon composite in-between the metal sandwich], it will be disturbing from an aesthetic point of view.
This year, you introduced the Cruz-Diez watch, and over the years you have done collaborations with other artists, Orlinski, Britto, and also tattoo artists like Sang Bleu. What lies behind this?
In the watch industry today, we must sell art, because at the end it's a piece of art as a mechanical watch. But from our point of view, we can be inspired by other arts. So the watch becomes a piece of art inspired by a sculpture or tattoo.
To do that, we have to be able to transpose art onto a watch. A painting is more challenging because it is usually done in enamel, and there are other brands that do that very well. But culture or architecture could be new ways of making a watch.
I see the incredible commercial success that we have with these watches, so we know consumers want a nice watch, of course, but also art.
In recent years, Hublot has been successful in a specific segment that also includes brands like Richard Mille and Audemars Piguet. Sports-technical watch are the big thing. What do you think is the next trend?
We see today that the watches with a strong identity are the successful models. When you see a Richard Mille, you can recognise it immediately; AP and Rolex as well. And the Big Bang. I think the desire for a strong designs will remain, but I think we can even go further.
We believe a lot in the mechanics, that the movement is part of the design of the watch. It's not just a dial, but where you see the mechanics. We aim to use the mechanics as the design of the face, and we have done it with the Meca-10 for instance.
And will you be doing that for your entry-level watches, like the Classic Fusion?
Yes. I'm going to work on a watch where you have an open dial so you can see the movement. But as soon as you push the limits of the movement, it can cost a lot of money. So we can still try to do things even at the entry-level that will not be exactly the same, but similar.
You mentioned building a new factory just for movements, does that mean more and more Hublot watches will use your own movements?
Absolutely. Today, more or less 30% of our watches use a manufacture movement. And we want to go to 70% or 75%. But as you know, it takes some years to do it. We built the first manufacture in 2009, the second in 2015, the third is maybe 2023.
And you also mentioned that the new buildings will be just for making cases?
Cases with hard materials – ceramics, sapphire, and carbon fibre – we want to do in-house. For gold and titanium cases, we have good suppliers that make them.
Ceramic, carbon fibre, sapphire – Hublot has been at the forefront new materials and making them popular. What's the next big thing in materials?
This is not easy, because to discover a new material is one thing, but to industrialise it is another. When you work with hard materials, the same manufacturing processes or machines is not the same as with metals. So it takes so much time and work, especially to develop specific machines for those materials.
We do fundamental research for a lot of metals and ceramics. There are many different material projects we are working on, but one is about lightness but also scratch-proof, because we believe it's a great advantage when you can wear a watch for five to ten years and it looks the same.
In the past, one of the drawbacks of ceramic is that the colours are not really bright or vivid, but you managed to make really red ceramic. What's the secret?
That's a big secret. I know you know that even big brands are trying to do vivid red ceramic, right?
So I can only say to make red, you must have pigments, ceramic, and 2000 degrees in the oven. It's an equilibrium of pressure and temperature. We cannot say more because it's a process that has taken three to four years to perfect, and even today we cannot produce many pieces. We make about 300 to 500 watches a year in red ceramic. I would like to do 1,000, but it's not still possible because the process is super-complicated.
In other words, it was three, four years of trial and error to find the equilibrium.
Exactly. To reach Bordeaux or burgundy is easy. But to have a vivid, Ferrari red is a different story. I would say the red was probably is the most difficult, but of course there's vivid yellow, orange, and green.
Any hints for what's coming later in the year?
This year is 40 years of Hublot. We're a young brand, but 40 years is something. We will develop "the art of fusion" idea; even though you know we have a manufacture, for some consumers we still have to talk about the substance behind the brand.
---
Back to top.
---
You may also enjoy these.