Atelier de Chronométrie Introduces the AdC #8 Split-Seconds Chronograph
Brilliant, brilliant quality.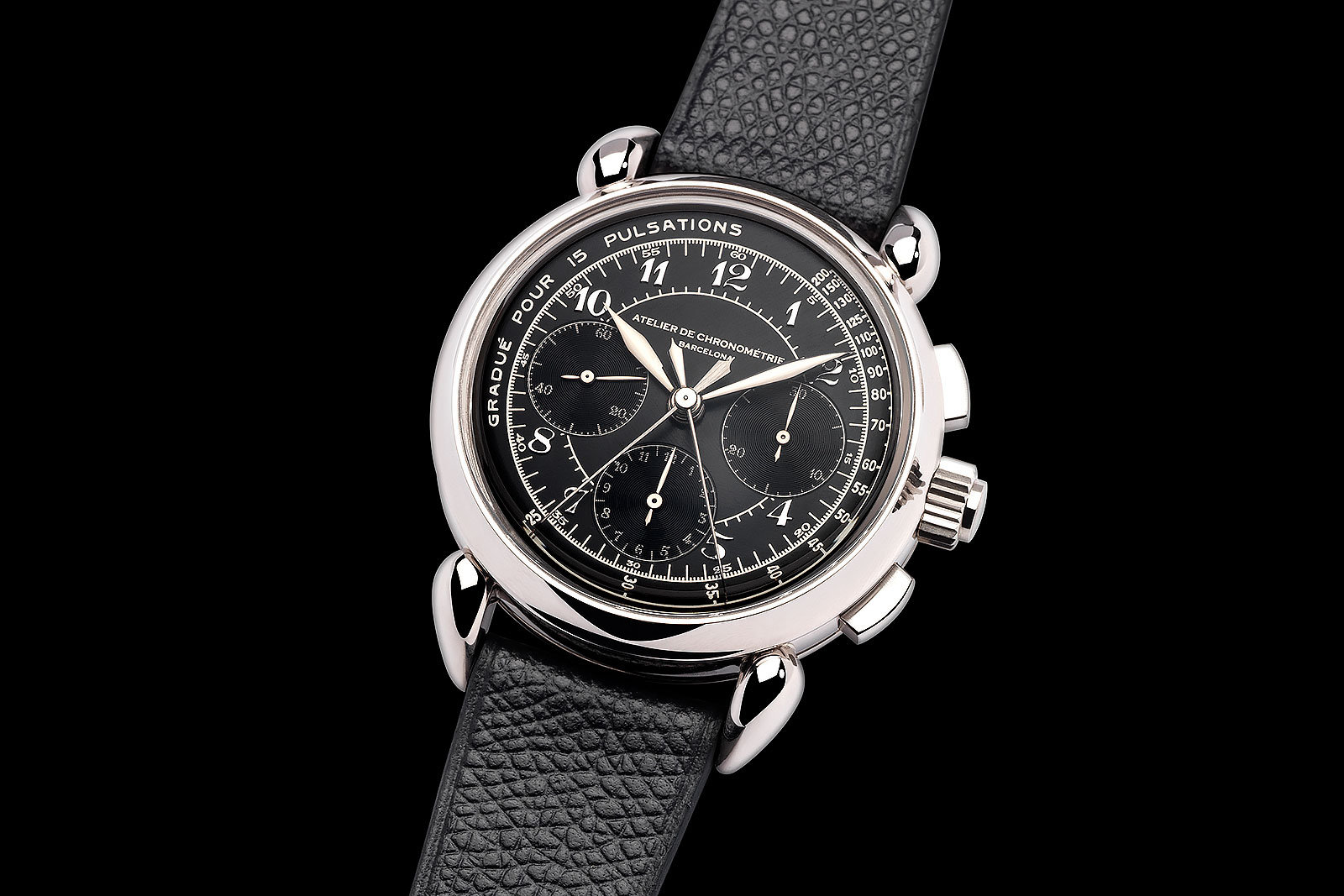 Barcelona-based Atelier de Chronométrie made a name for itself with its beautifully crafted watches that capture the grace of 1940s timepieces. But all of its work so far has centred on time-only watches, all powered by heavily decorated vintage Omega movements. But now the AdC #8 Split-Seconds Chronograph takes things to a whole new level.
Retaining the elegant feel of the brand's earlier creations, the AdC #8 is powered by a reworked movement that started out as a Venus 185 but completely reworked by Atelier de Chronométrie, with a substantial number of parts made from scratch. Commissioned by an American collector, the AdC #8 is largely hand made, with everything hand finished to a superlative, artisanal standard, which is why it took took two years to complete.
Initial thoughts
I first found out about this watch late last year, and it sounded promising given Atelier de Chronométrie's track record in design and movement finishing. Though I am going by photos, the finished product definitely lives up to expectations, and then some. Everything about it is just done extremely well, and while it costs a lot of money, the AdC #8 is compellingly and reasonably priced as such things go.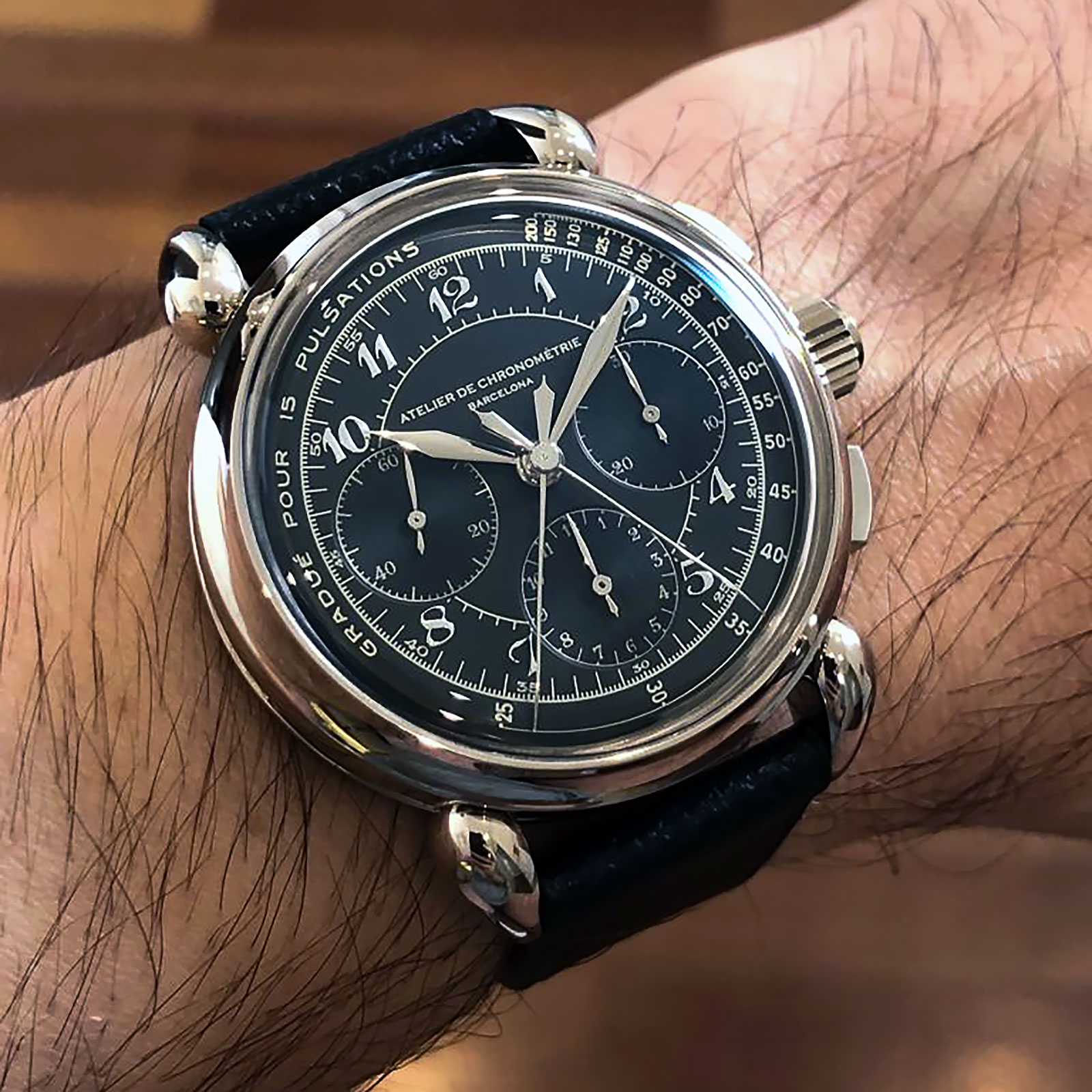 Having closely examined Atelier de Chronométrie's earlier watches, the AdC #8 will undoubtedly have the same feel – visually similar to a vintage watch but much more solid in the hand thanks to a more robust, modern case.
A little under 40 mm in diameter, the AdC #8 has the proportions of a vintage watch, though it is slightly larger than vintage chronographs with the same movement – those were usually 38 mm or so and slightly thinner – but manages to capture the same look, especially with the teardrop lugs and oblong chronograph pushers.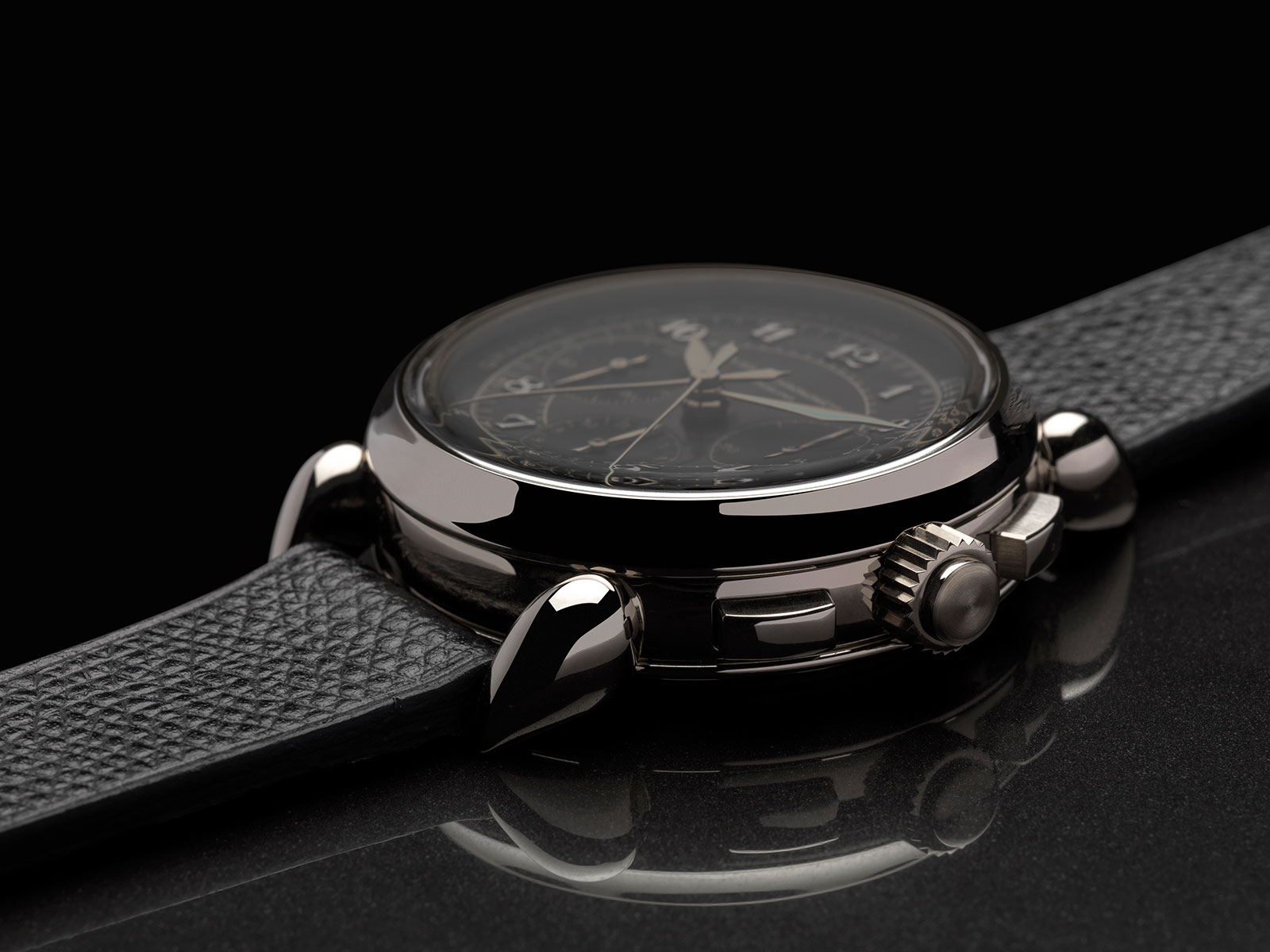 The same holds for the dial, which is likewise modelled on vintage chronographs and features a glossy, black "gilt" finish with Breguet numerals and leaf-shaped hands.
But as with Atelier de Chronométrie's time-only watches, the execution of the dial is done to such a high, artisanal standard that places it in the modern day. Certain elements on the dial reflect its elaborate, hand-made nature, most obviously the solid-gold, applied numerals and the heavy, solid-gold hands that have a domed profile.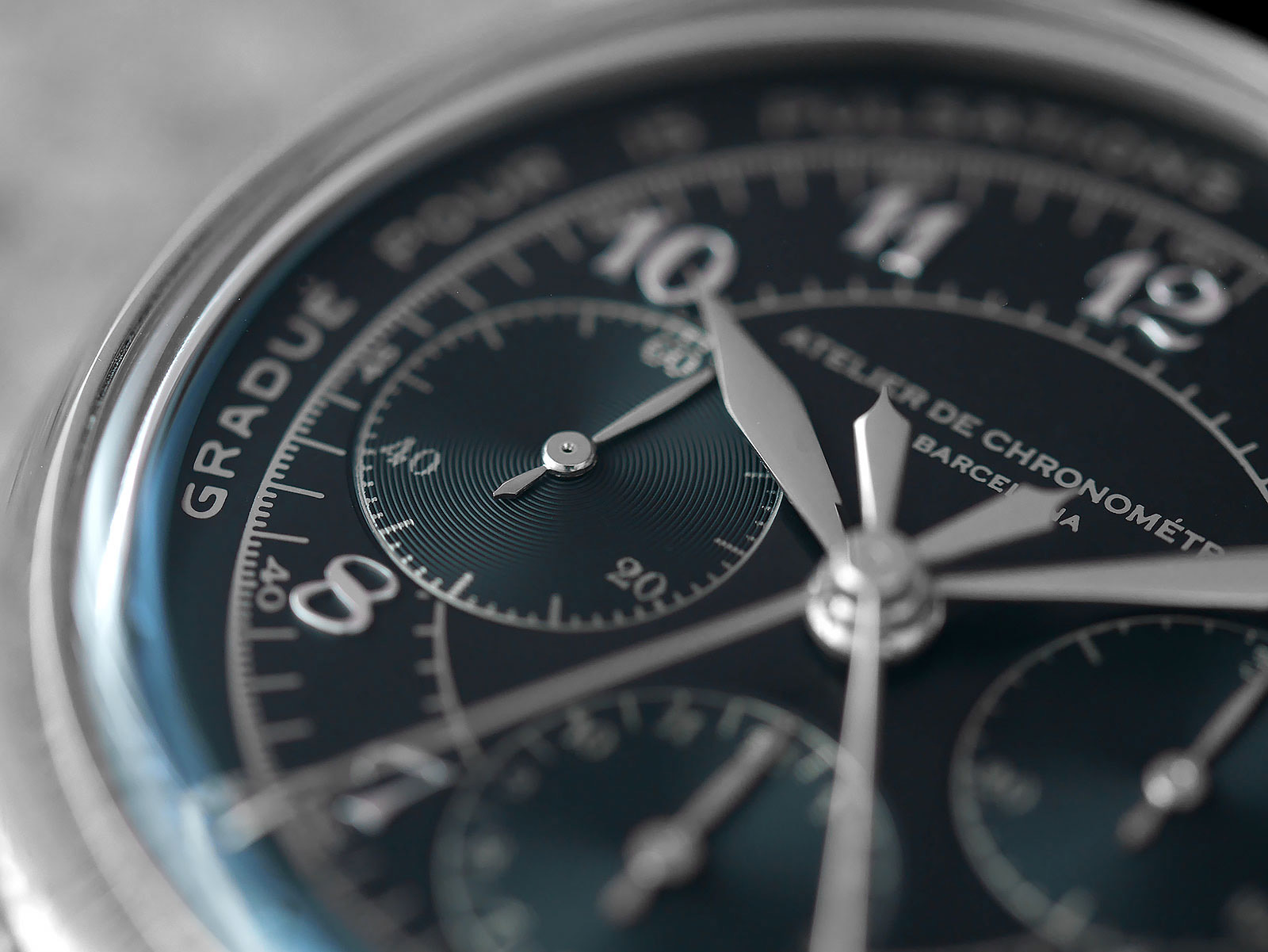 In vintage watches the Venus 185 is almost always plainly finished, as was the norm then for watches designed for professionals, presumably auto racers or pilots. Atelier de Chronométrie, on the other hand, has elevated the aesthetics and finish of the movement.
Atelier de Chronométrie already does exemplary decoration for its time-only movements, and this is basically more elaborate finishing on a greater number of components, right down to the black polished pallet lever cock. And many of the most crucial components were made from scratch, resulting in a look that is dramatically different from the stock Venus 185.
And then all of the parts, new and old, are decorated by hand to a degree comparable to the most prominent names in independent watchmaking, like Voutilainen for instance. But because Atelier de Chronométrie works with old-fashioned methods on a very small scale, making two or three watches a year, the result is slightly more artisanal than most of the competition.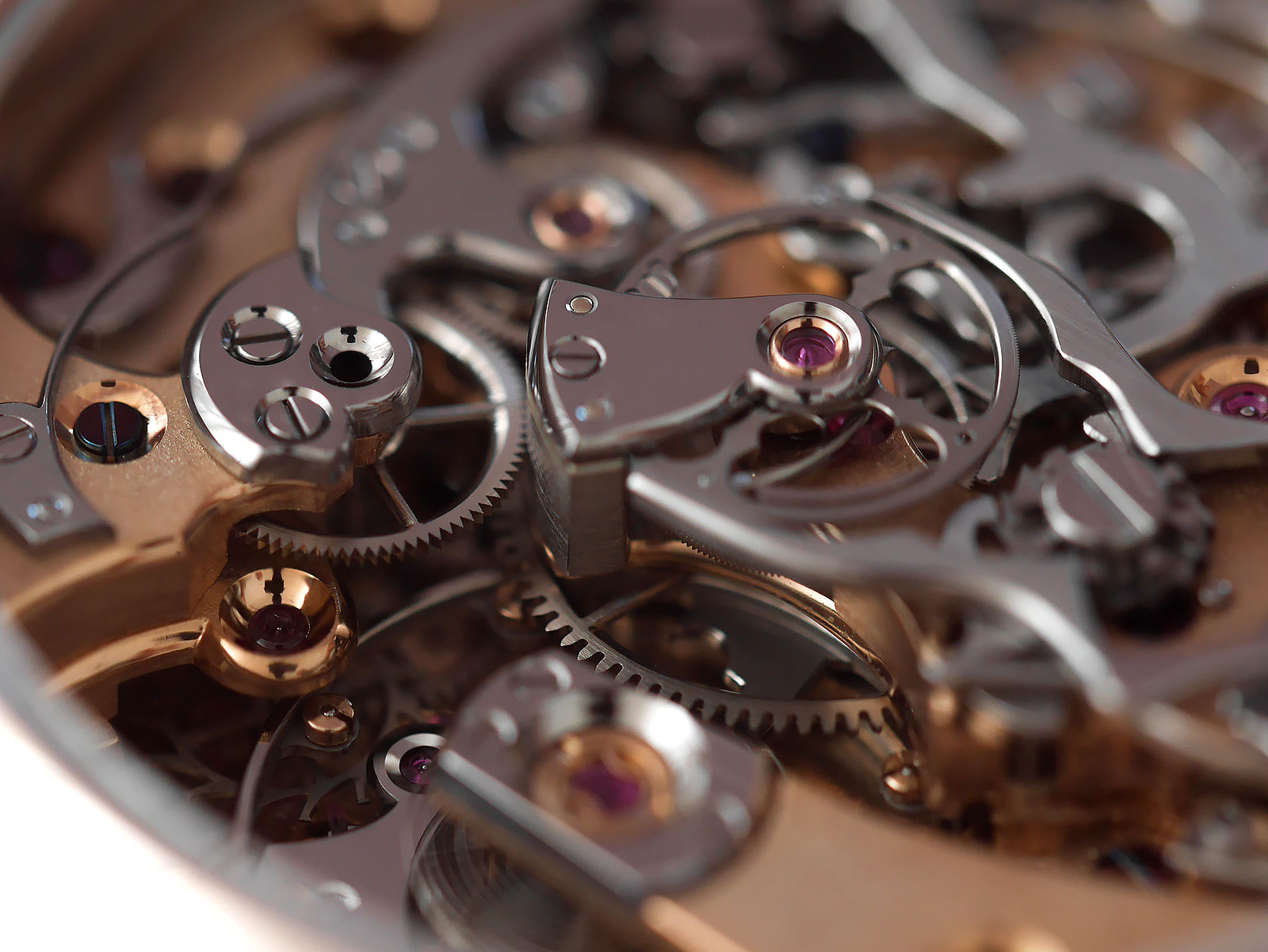 Depending on your perspective, the origins of the movement might be a plus or a minus. The Venus 185 a well-regarded calibre from the mid 20th century golden age of Swiss watchmaking, but it also doesn't have the novelty or originality of a new construction.
I like the movement, especially when seen in relation to the price, which is about US$95,000. That's about half the retail price of a high-end, split-seconds chronograph with an in-house movement that's finished to a similar (but probably slightly lower) standard, making the AdC #8 a value buy in relative terms.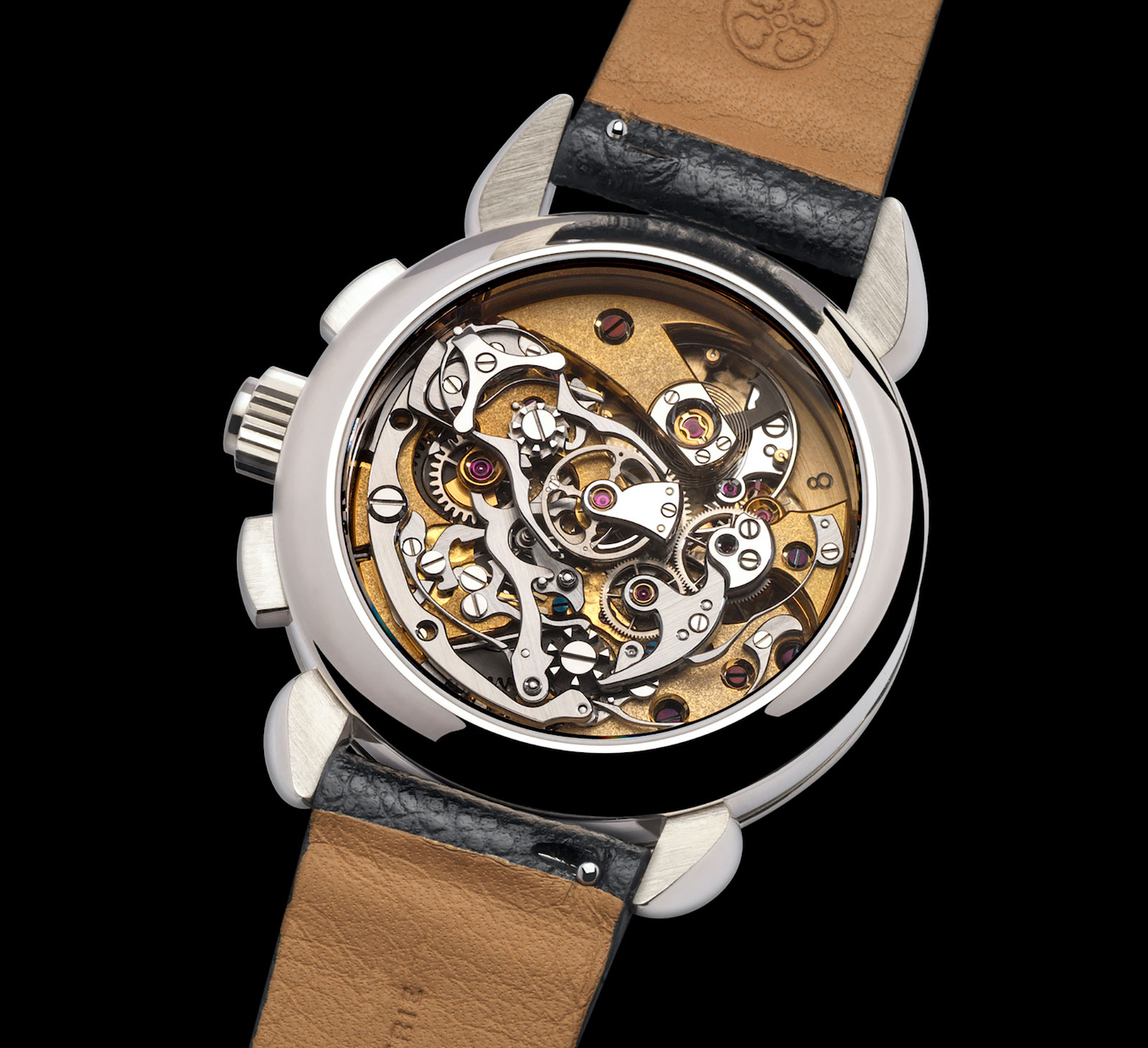 Vintage style
Atelier de Chronométrie is a four-person outfit, made up of vintage watch dealer Santi Martinez, his wife Montse Gimeno, as well as watchmakers  Moebius Rassmann and Eduard Mercade, hence its ability to successfully combine high-end watchmaking and vintage-inspired design and techniques – with a great deal of attention to detail.
Take the case for instance. Made the old-fashioned way, and enhanced with soldered, generously-sized teardrop lugs, the 39.8 mm case is vintage style, but smartly designed to camouflage the 15 mm height. It combines a narrow case band combined with a high, concave bezel and domed back. Another smart detail is the flat split-seconds pusher in the crown that avoids the bulbous look of many co-axial split-seconds buttons.
And it is made of 18k grey gold, essentially white gold with a high palladium content, giving it a naturally grey colour. In contrast, the typical white gold used for watches has a faint yellow hue, which is why it is usually plated in rhodium, giving it a bright, silvery colour similar to platinum.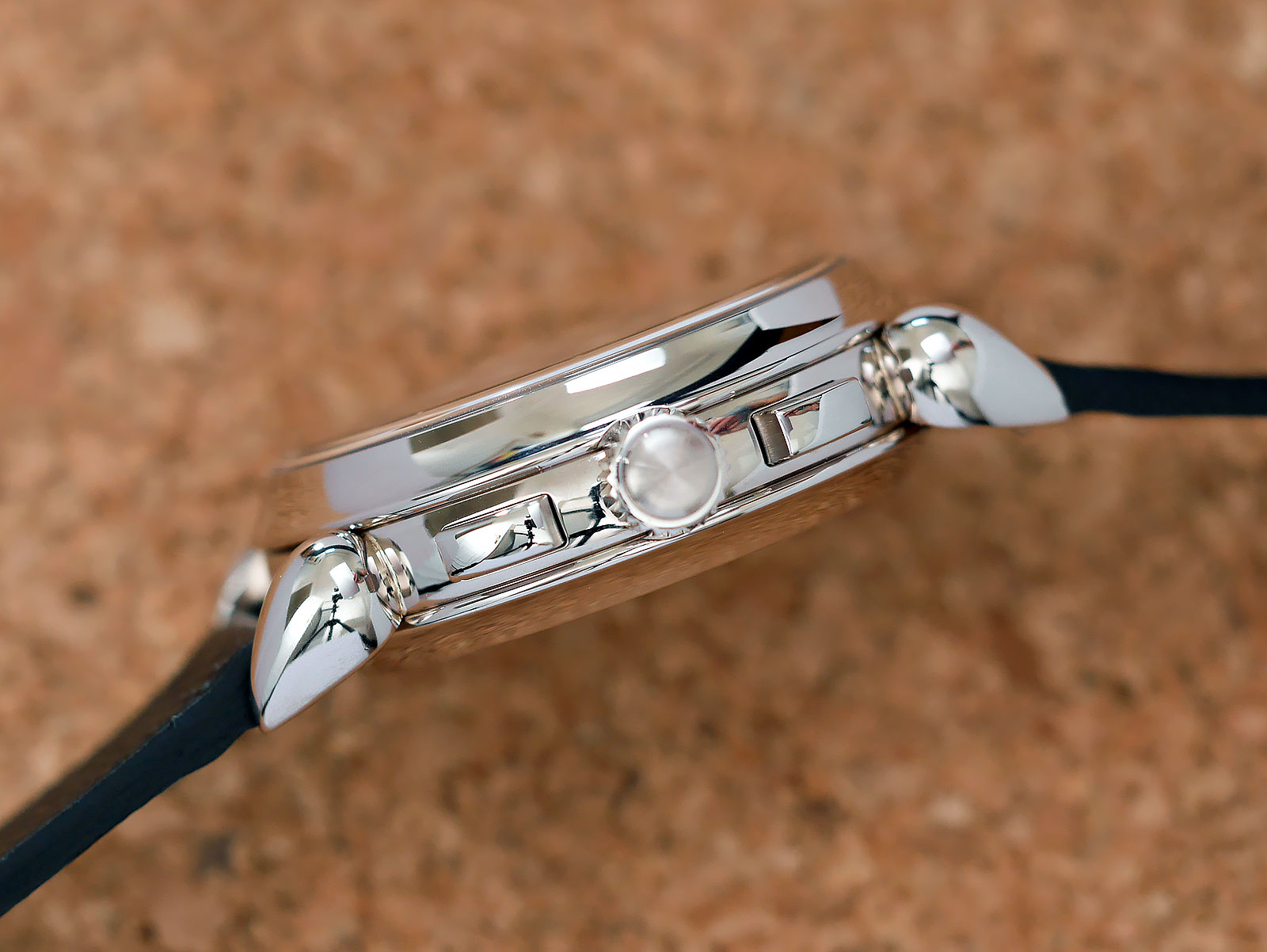 The dial is equally vintage in style, but again upgraded with modern, luxe elements. It's rendered in a glossy black finish with metallic, slightly-shiny "gilt" markings, just as on a vintage watch. Even the serif typography used for the numerals – notice the "open" sixes – is properly vintage in style.
But the numerals are applied, a feature relatively uncommon on vintage-watch dials, while the hands are hefty and made of 18k grey gold like the case. They are filed and polished by hand, resulting in a lustrous, rounded surface possible only with hand-made hands.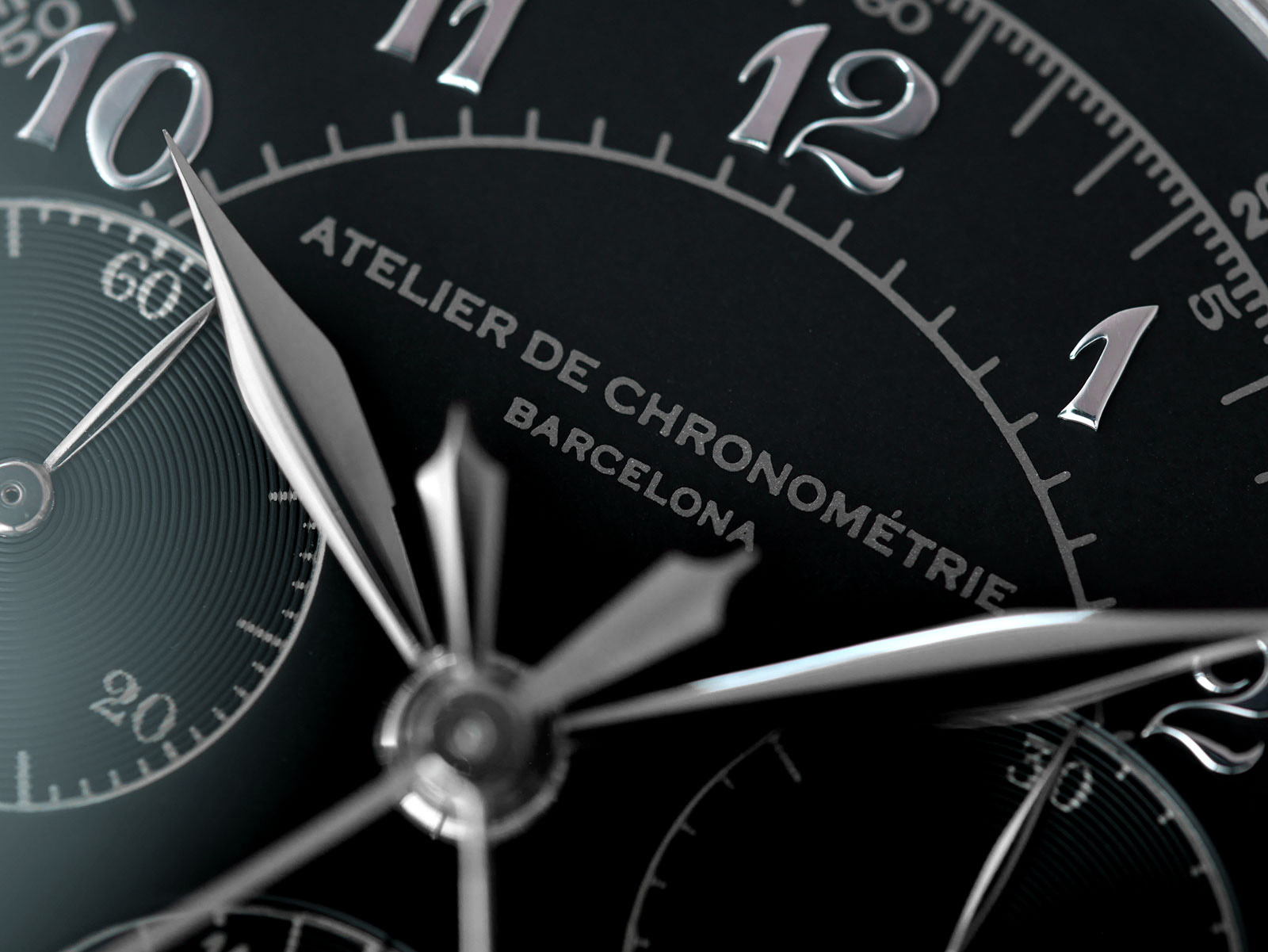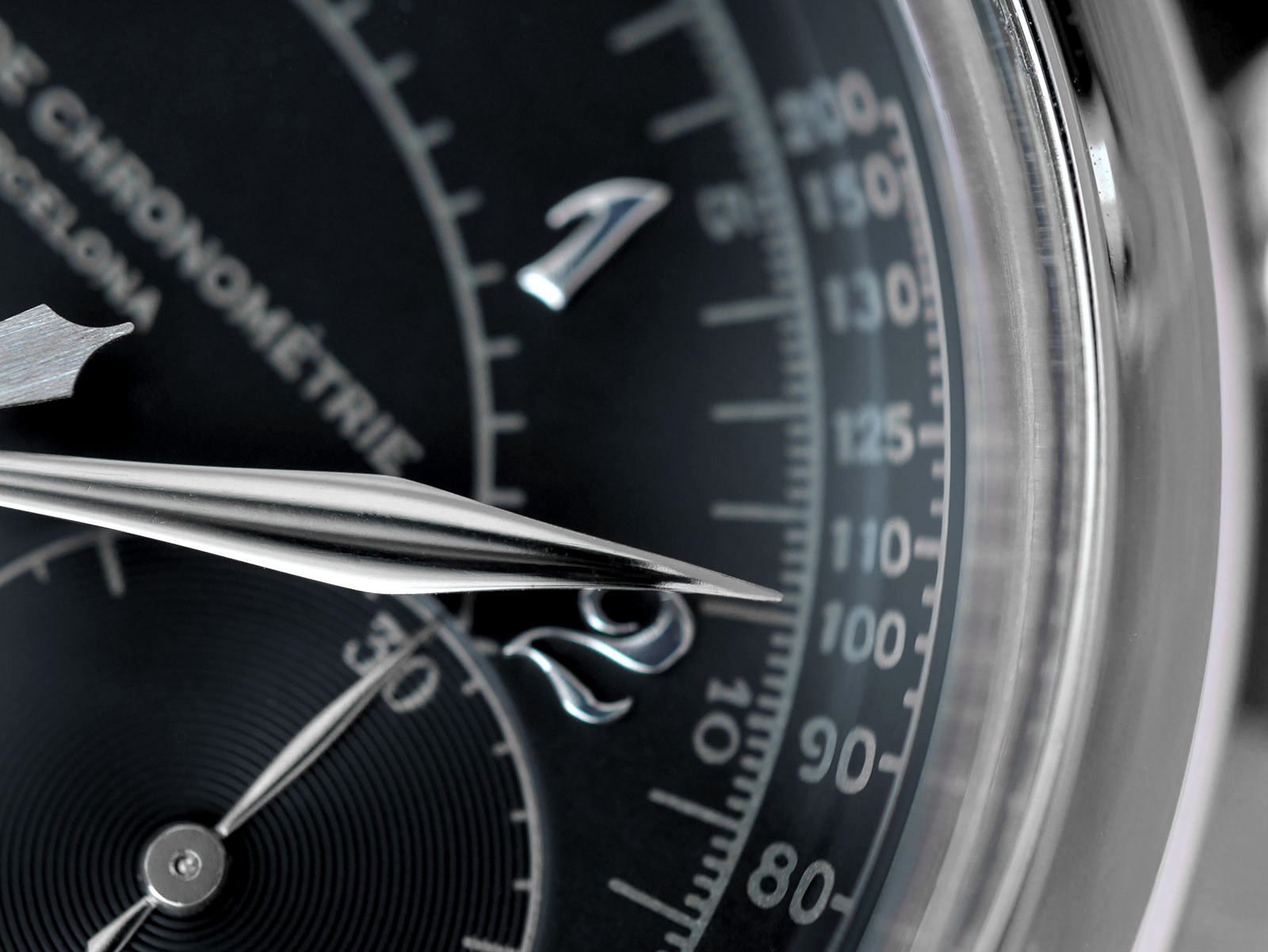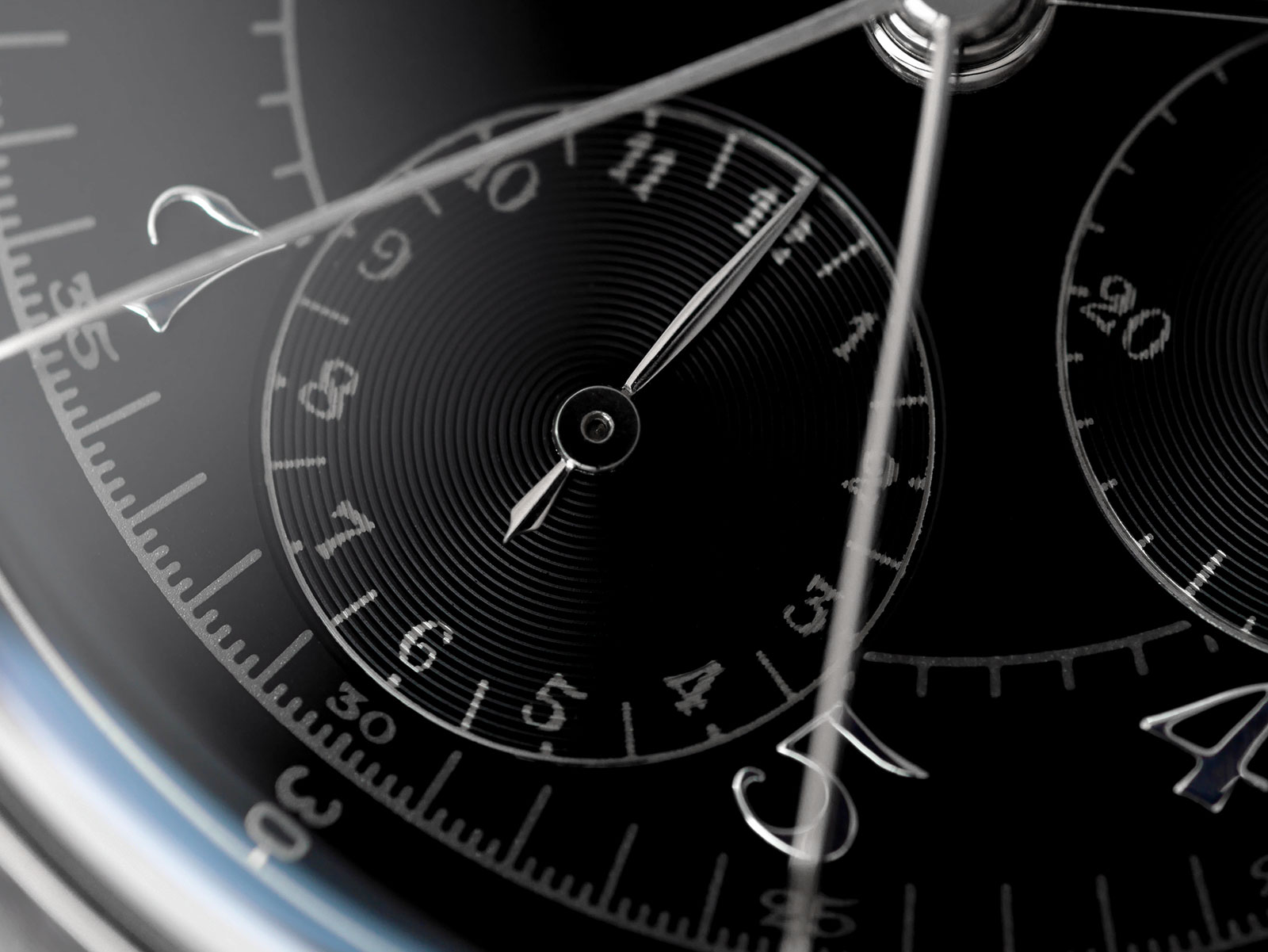 The movement is based on the Venus 185, a movement that was produced from the 1940s to the late 1960s. It was a top-of-the-line movement often found in functional watches, most famously in the Breitling Duograph, but also used by lesser known brands like Telda and Certina. Such vintage watches had essentially no movement decoration; the parts were finished but not decoratively. Even the comparable Valjoux 55 in the Rolex ref. 4113 – probably the most valuable vintage split-seconds wristwatch ever – had no decoration to speak of.
Atelier de Chronométrie has gone to the other extreme, giving the Venus 185 a makeover that puts it amongst the very best modern movements. In fact, the finishing is more elaborate than other modern-day watches with the same movement, which were made by Parmigiani, Ulysse Nardin, and Panerai amongst others.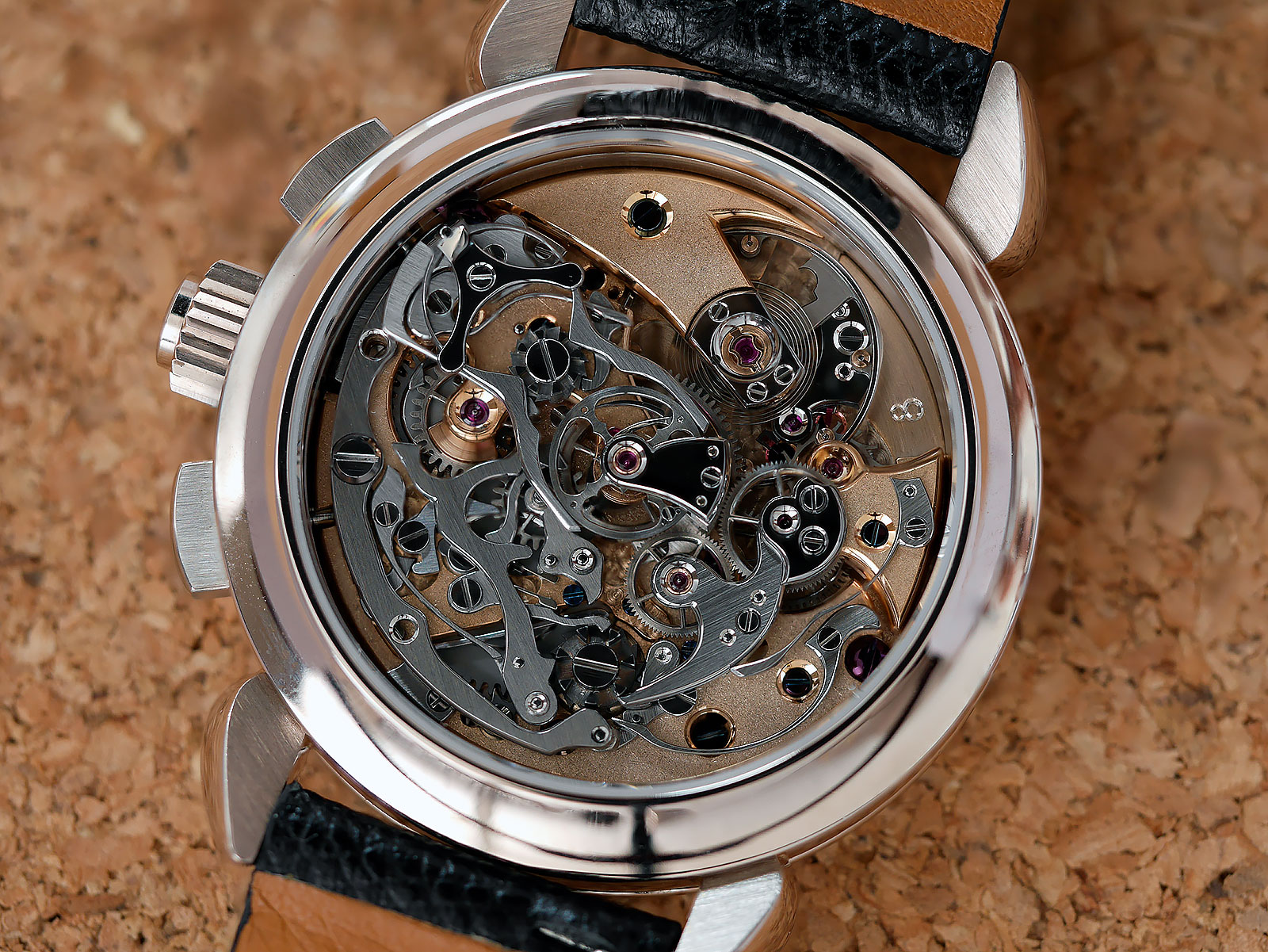 Some 50 components of the movement – out of 280 total – were produced by Atelier de Chronométrie by hand and without a CNC machine. The newly-fabricated parts improve upon the original components in shape, function, and material, and include the free-sprung balance wheel, balance cock, and split-seconds wheel bridge. More unusual is the split-seconds wheel in the centre of the movement that is made of titanium, with spoke shaped like the Atelier de Chronométrie logo.
The result is a distinctive look that continues the style found in the brand's earlier watches. The balance cock, for instance, has sharply-angled outline with a black-polished steel cap on top. And the balance wheel is a proprietary design with aggressively shaped spoke and six rose-gold regulating masses.
But Atelier de Chronométrie has gone even further here than with its time-only movements. The pallet lever cock is black polished, as are the bridges for the split-seconds wheel and clutch.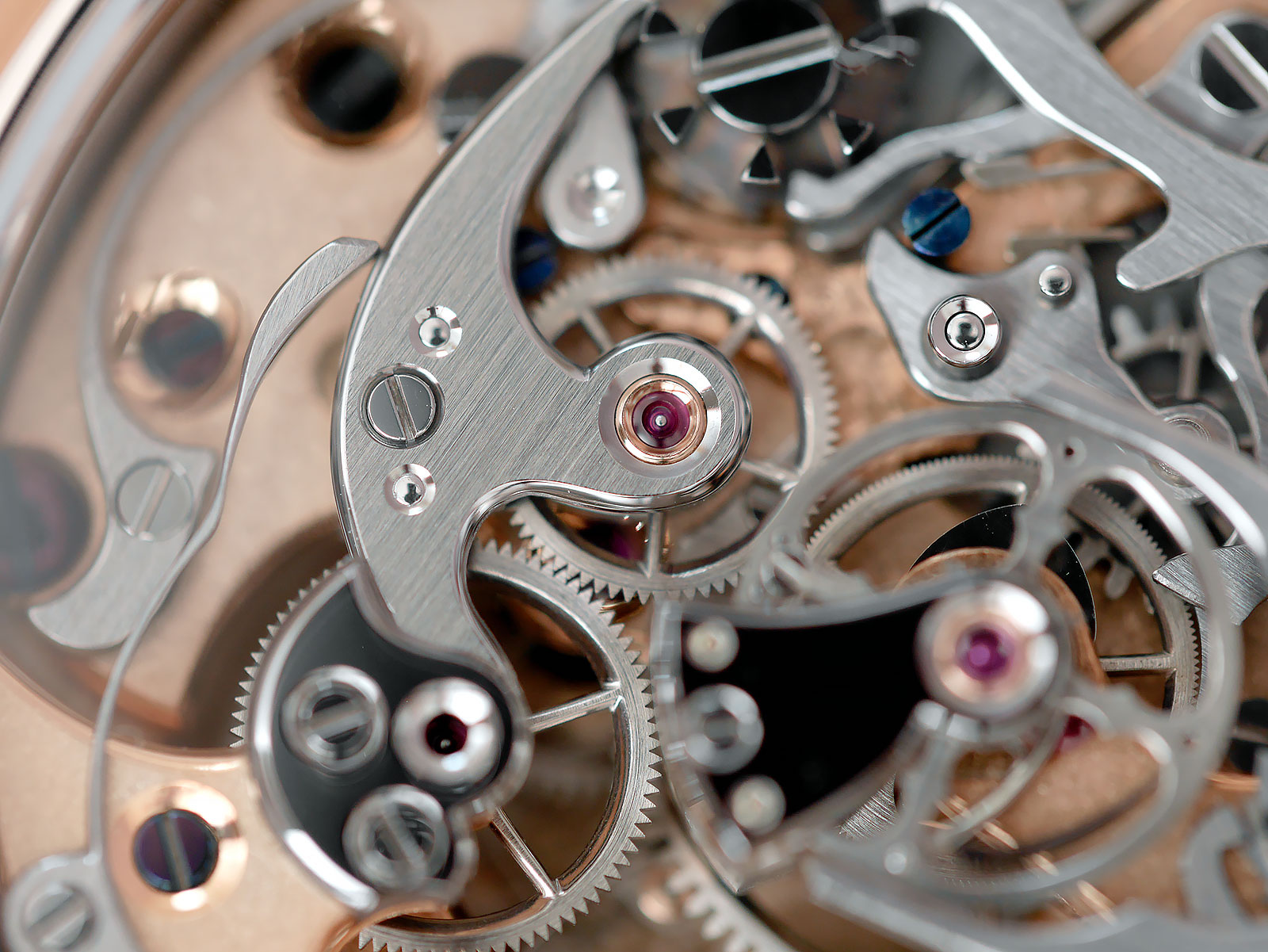 The AdC #8 is a one-off creation, but Atelier de Chronométrie can do similar work starting from €85,000, or about US$95,000, for a split-seconds chronograph in a gold case – an eminently fair ask for the quality of work.
---
Key Facts and Price
Atelier de Chronométrie AdC #8
Diameter: 39.8 mm
Height: 15 mm
Material: 18k grey gold
Crystal: Sapphire
Water resistance: 30 m
Movement: Venus 185 base
Functions: Hours, minutes, seconds, and split-seconds chronograph
Winding: Hand-wind
Frequency: 18,000 beats per hour (2.5 Hz)
Power reserve: 36 hours
Strap: Leather with grey gold buckle
Limited edition: Unique piece
Availability: Direct from Atelier de Chronométrie
Price: Starting from €85,000 for split-seconds chronograph, and from €70,000 for a two-register chronograph
For more, visit Atelierdechronometrie.com.
---
Back to top.
---
You may also enjoy these.