The Rise and Fall of Asprey of London (and a Personalised F.P. Journe Wristwatch)
The legendary retailer's long decline.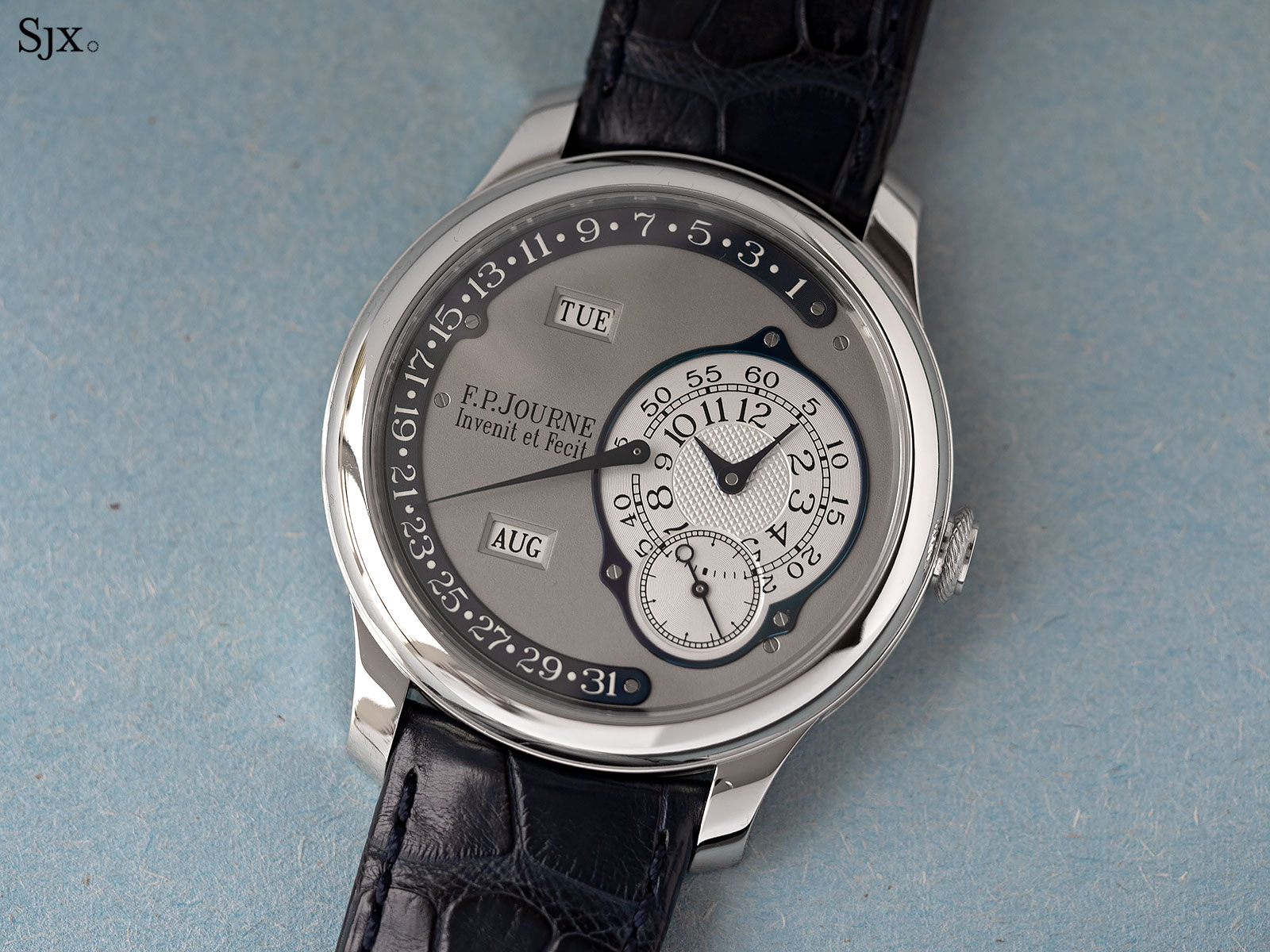 An F.P. Journe Octa Calendrier caught my eye at Phillips' upcoming Geneva auction, not because of the watch itself, but because of the name engraved on the movement: "John R. Asprey".
Now 82, John Rolls Asprey ran his family's luxury emporium in its heyday, when it was a purveyor of watches, jewels, silverware, fine bookbinding and hunting accessories, with the Sultans of Brunei and Oman as its top clients.
Unusually, Asprey was a prominent name in two diverse segments of watchmaking – what are now valuable vintage watches, think "Khanjar" Rolex watches, as well as modern-day independent watchmaking. How it came to be is the remarkable story of the rise and decline of a grand name in British luxury retail.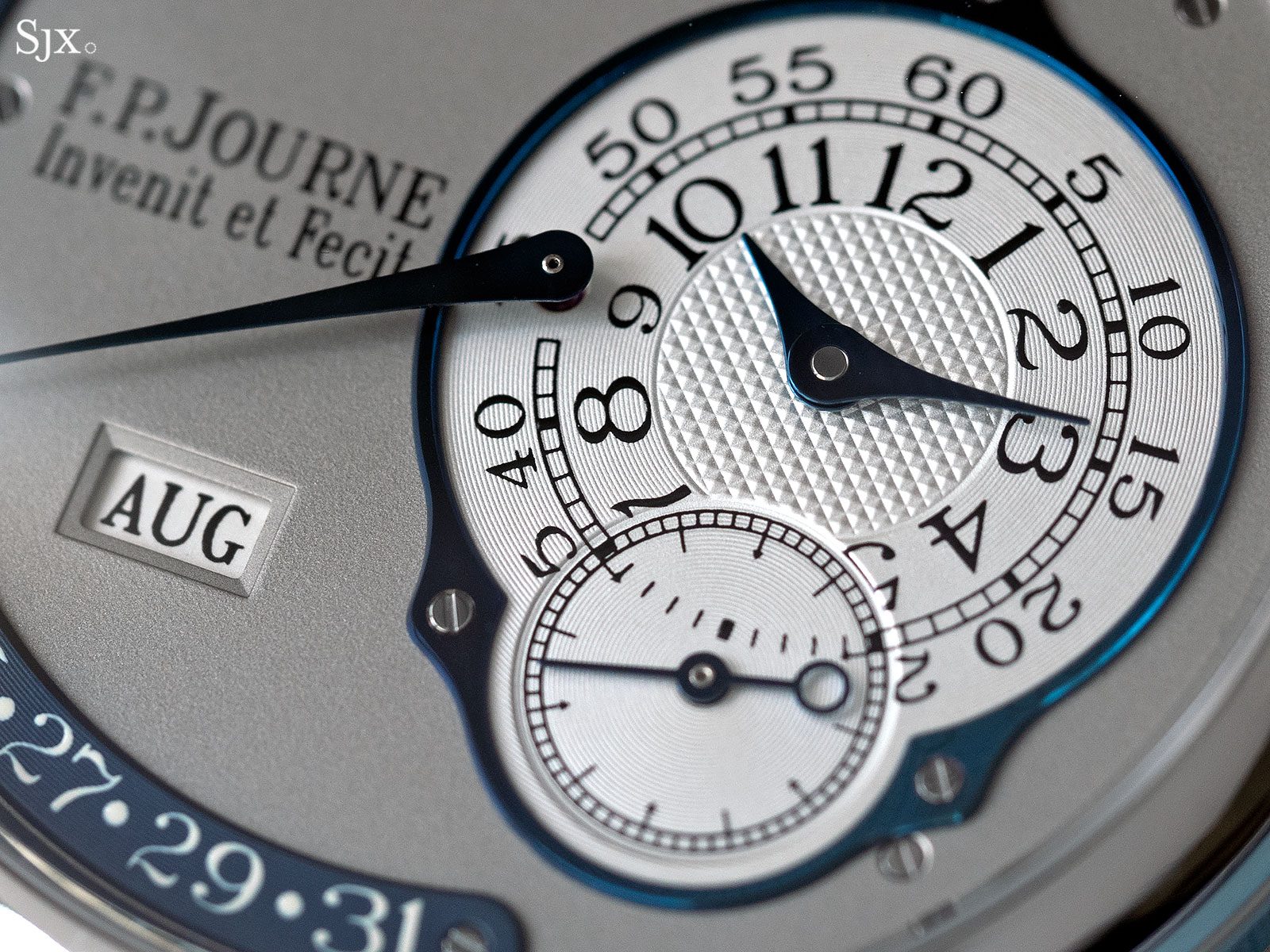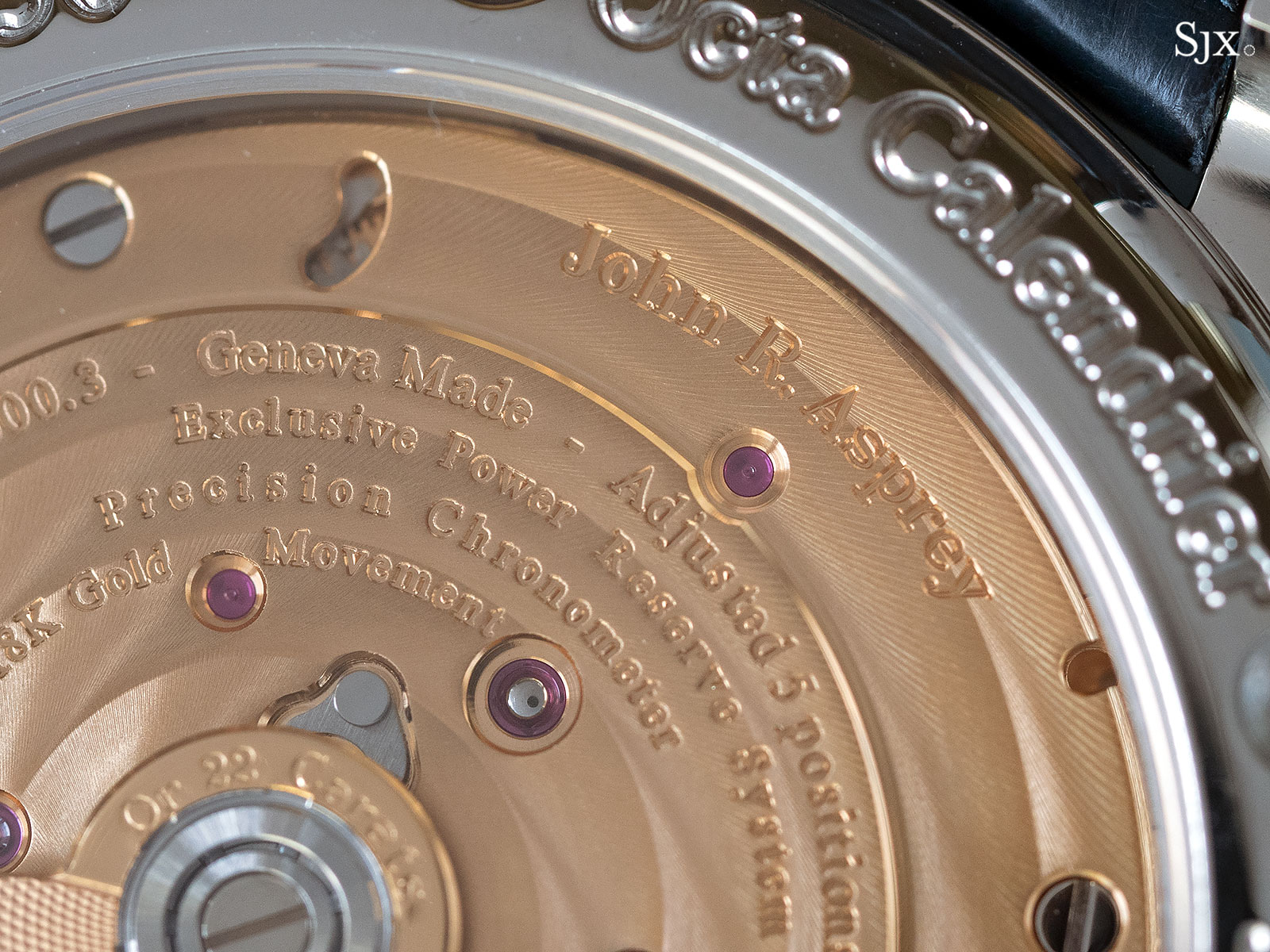 A wondrous emporium
Long before luxury brand names had coalesced into conglomerates like LVMH and Richemont, they were independent, family-owned enterprises that were small but globally known – at least by the right clientele. Amongst them were names that are still famous today, including Cartier, Louis Vuitton, and Tiffany & Co., but also one that is less well known now, Asprey of London.
Founded in 1781 and having opened in 1847 at 167 New Bond Street – still its premises today, albeit leased – Asprey was once London's leading luxury merchant. In some ways, it was the ultimate gift shop, where one could buy all manner of exotic and exquisite goods from all over the world, from books to watches to sceptres to crystal. Many of the elaborate objects in silver and gold were crafted in firm's own workshops, located just above its retail floor.
Asprey's customers included several generations of the British royal family, Indian maharajahs, and even one of the Beatles. In fact, Asprey once held the Royal Warrant for every British monarch since Queen Victoria, though it now only holds the Royal Warrant for the Prince of Wales.
It was run by family members since the beginning, and so it was in the 1970s, when the younger generation of Aspreys, namely the cousins John and Maurice, came on board. The pair helped turn the company into a go-to destination for the rich, while still retaining its old world, upscale charm. Asprey became a favourite of the Arab visitors who began to visit London in the 1970s to spend their newfound petrodollars.
Tall and urbane, John Asprey was adept at cultivating clients from the Middle East, travelling to the region regularly. By the mid 1970s Asprey had expanded and opened concessions in Japan, Oman, Abu Dhabi, Qatar, Kuwait and Bahrain. And it was then that Asprey became the choice supplier of watches to Sultan Qaboos of Oman, who had only taken the throne in 1970 after overthrowing his father.
One of the world's legendary watch collectors, the Sultan not only built his own vast trove of watches, but he also favoured watches as gifts. Such watches usually bear the Omani national emblem of a khanjar, a traditional Omani dagger with a hooked blade, over two crossed swords, on the dial.
Though many makes of watches bear the khanjar emblem, ranging Patek Philippe to IWC and even Baume & Mercier, most famous are the Rolex sports watches. Many were gifted to the British military personnel who helped the Sultan take power, put down the Dhofar Rebellion, and then modernise the country's military. For years, Asprey was the supplier of such watches to the royal palace of Oman.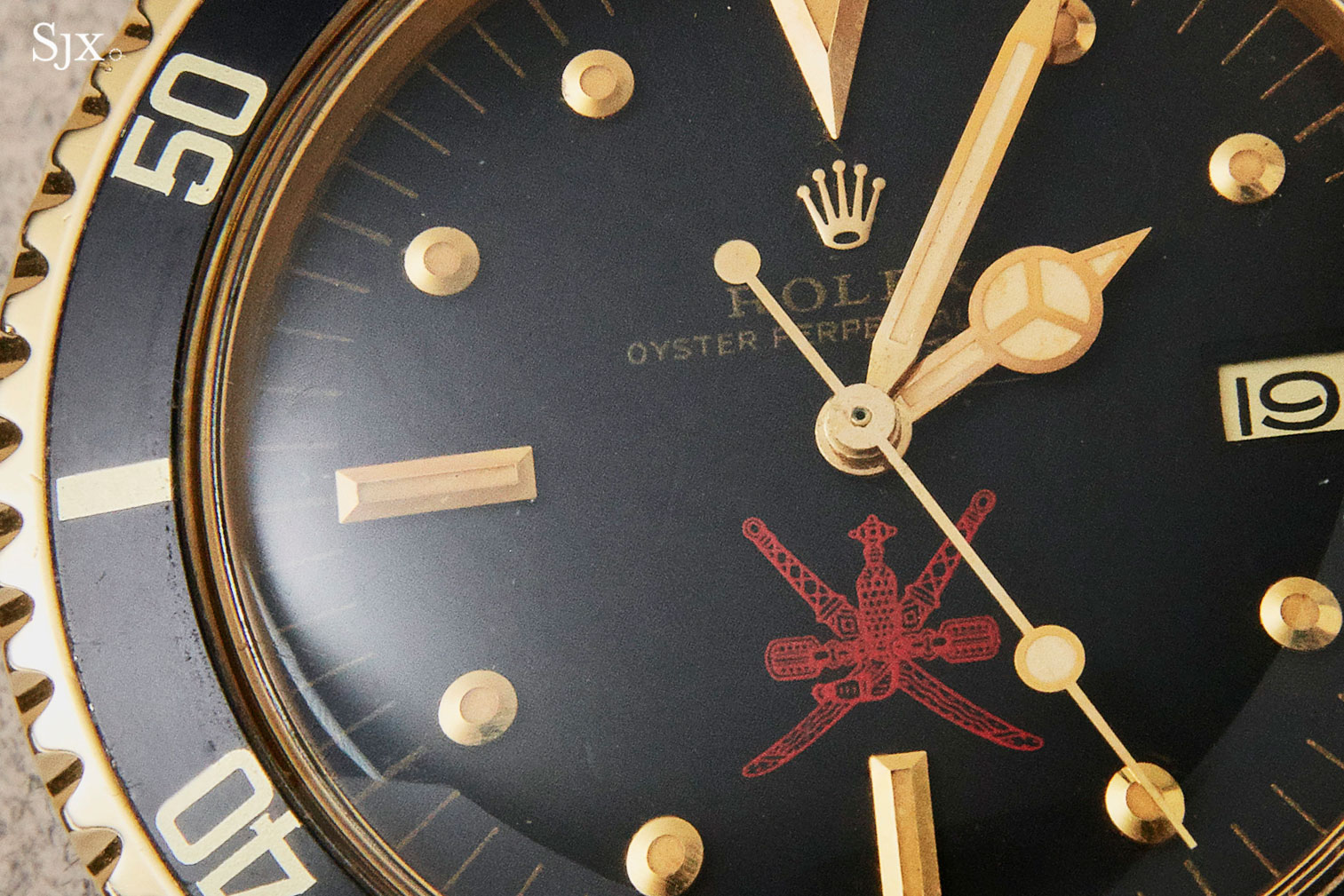 Bankrolling the independents
But John Asprey himself was also an early and enthusiastic supporter of emerging independent watchmakers. In 1987, Mr Asprey commissioned a young Francois-Paul Journe – who had set up his own workshop in Paris just two years earlier – to build the first of three Sympathique clocks, all of which were panelled in different semiprecious stone and set with diamonds.
Inspired by Abraham-Louis Breguet's originals, the Sympathique clock winds and sets a pocket watch that is set into a cradle before the owner goes to bed each night, leaving the watch ready to be carried the next day. The clocks were reputedly destined for the Sultan of Oman, who, as it happens, also owns an original Sympathique, one owned by royalty no less. And it was through Mr Asprey that Mr Journe became acquainted with the Sultan and his collection, eventually resulting in further royal commissions for custom-made timepieces.
And in the early 1990s, Mr Asprey ordered 24 tourbillon wristwatches from Daniel Roth, soon to become a star independent watchmaker of the decade. The watches were designed in Mr Roth's trademark style with a double-ellipse case, but borne the Asprey name on the dial. It was a major gesture of support for a watchmaker who had only struck out on his own in 1989, and something Mr Roth still remembers with gratitude three decades later.
Empire building
For some two centuries, the Asprey family retained control over the company, though ownership was eventually split between various branches of the family. By 1980 things came to a head when one branch of the family, led by Maurice Asprey and his father Phillip, sold their one-third stake in the business to Dunhill-Logida, a consortium backed by Alfred Dunhill, and businessman Mahdi Al Tajir, then the United Arab Emirates' ambassador to the United Kingdom.
Dunhill was then owned by Rothmans, the British tobacco giant controlled by South African entrepreneur Anton Rupert via his holding company Rembrandt. In the 1970s, Rupert began to transform his tobacco holdings into a luxury goods empire. Before the bid for Asprey, Rupert had consolidated the various arms of Cartier Monde, forming the base for what is now Richemont. Asprey would have fit neatly into his nascent luxury goods empire; in 1984 Rupert also attempted to buy Tiffany & Co.
But one faction of the family, led by John Asprey, was opposed to selling out. They managed to retain control, with help from a group of investors that included the now defunct British conglomerate Sears. Mr Asprey consolidated his control of Asprey, eventually owning almost half the equity, and listed the company in 1982.
In 1990, Mr Asprey appointed the flamboyant, Palestinian-born Naim Attallah as chief executive, and he took Asprey on a turbocharged expansion spree. While some of the acquisitions were niche and esoteric – an antique clock dealer Ronald A. Lee, Parisian jeweller Rene Boivin, and dressmaker Tomasz Starzewski – most of the big ones were mass market watch and jewellery chains, including Watches of Switzerland and Mappin & Webb, and Swiss watch retailer Les Ambassadeurs.
Asprey's sales grew from £29m in 1985 to a peak of £188m in 1994. It was said at the time that the firm's top four clients accounted for 80% of sales – and the top client alone was half of turnover.
And empire's end
But Mr Attallah's growth strategy of expanding into the mid-market luxury segment ran headlong into a recession. By early 1995, Asprey was heavily in debt and its share price was down 75% from its 1994 high. Mr Attallah was forced to step down in May 1995, and by the end of the year, the company had been sold to Prince Jefri Bolkiah of Brunei for £243m, twice the market capitalisation at the time, but still below its peak in 1990. Half of the proceeds went to the Asprey family, who sold most of their stake.
Then the country's finance minister and favourite brother of the Sultan of Brunei, Prince Jefri was reputedly Asprey's best customer, the top client. But not long after came the Asian financial crisis, which forced the Prince to restructure and then liquidate his many assets.
At the same time, Asprey was haemorrhaging money. In 1999, its turnover was £49m – and its losses just over £100m.
Already having sold most of its subsidiaries, Asprey was finally merged with Garrard, and the resulting Asprey & Garrard (A&G) sold in 2000 to Silas Chou and Lawrence Stroll, who made their billions from their ownership and subsequent sale of Tommy Hilfiger. Having paid £100m for A&G, the duo recruited former senior Louis Vuitton executive Gianluca Brozzetti to run the company.
He proceeded to embark on an expansion spree (again), aiming to grow the brand into a global luxury house to rival Hermes and Louis Vuitton. Asprey drastically expanded its offerings, eventually stocking some 5,000 different products. Earlier in his career, Mr Brozzetti had helped start up Bulgari's perfume and cosmetics division, so it was unsurprising that Asprey eventually came to sell aftershave and bath soap, all packaged in the firm's signature purple.
At the same time, the company spent a fortune on real estate, including US$100m just to renovate its flagship in London – which was redesigned by Norman Foster and lost its trademark black and gold facade – and build a new one in New York's Trump Tower.
In 2002, perhaps to pare their losses, Chou and Stroll sold a 40% chunk to Edgar Bronfman Jr., best known for losing much of his family's Seagram liquor fortune by buying entertainment conglomerate Vivendi. At the same time, a smaller stake went to the Saudi Ojjeh family of the TAG Group, once the owners of TAG Heuer.
By 2005, A&G was circling the drain. In early 2006, its owners handed over the company to its main creditor, HSBC, wiping out their investment, estimated to be US$500m. The bank then split A&G, selling Garrard to investor Ron Burkle, and Asprey to a pair of American private equity firms, which have been attempting to restore Asprey's former glory since, with little success. In 2018, Asprey's revenue was just £20m – less than what it was in 1985 – on which it reported a loss of £16m.
Today Asprey still occupies 167 New Bond Street, but the property is now owned by Hermes, having long been sold sometime during the company's 20-year downward spiral. The store still sells a diversity of luxury items – and is also a Rolex retailer, probably its lifeline – but lacks the finesse of before. Its own brand of watches, for instance, are essentially rebadged Bovet timepieces. But inside, towards the back, up a small staircase, is a poignant reminder of Asprey's 1990s heyday – an impossibly baroque, gargantuan clock almost as tall as a man and made of semiprecious stone that was once destined for a palace far away.
And just down the street from Asprey is William & Son, established in 1999 by Mr Asprey's son William. Now situated on Bruton Street, opposite the Hermes boutique, the store originally opened at another location in September 2000 as "William R. Asprey Esq." but was forced to change its name in the wake of a lawsuit filed by Asprey. William & Son naturally retails several independent watchmakers, including F.P. Journe.
The Asprey F.P. Journe
In 2009, William & Son marked its 10th anniversary, and F.P. Journe helped mark the occasion by producing a special Octa Calendrier with a dial identical to the watch pictured, but with a rotor engraved with the William & Son anniversary notation. Evidently, Mr Asprey received a near identical watch that year.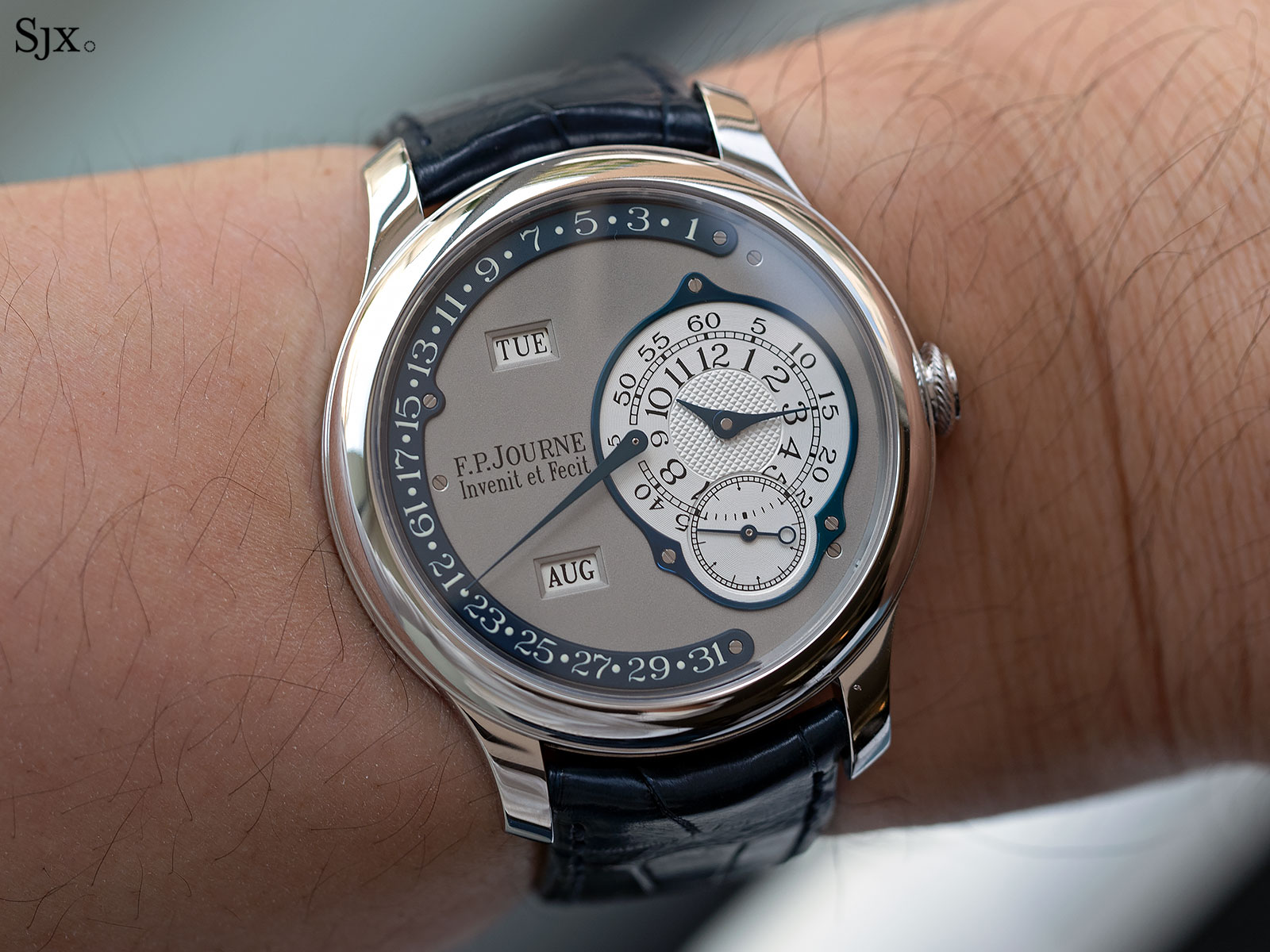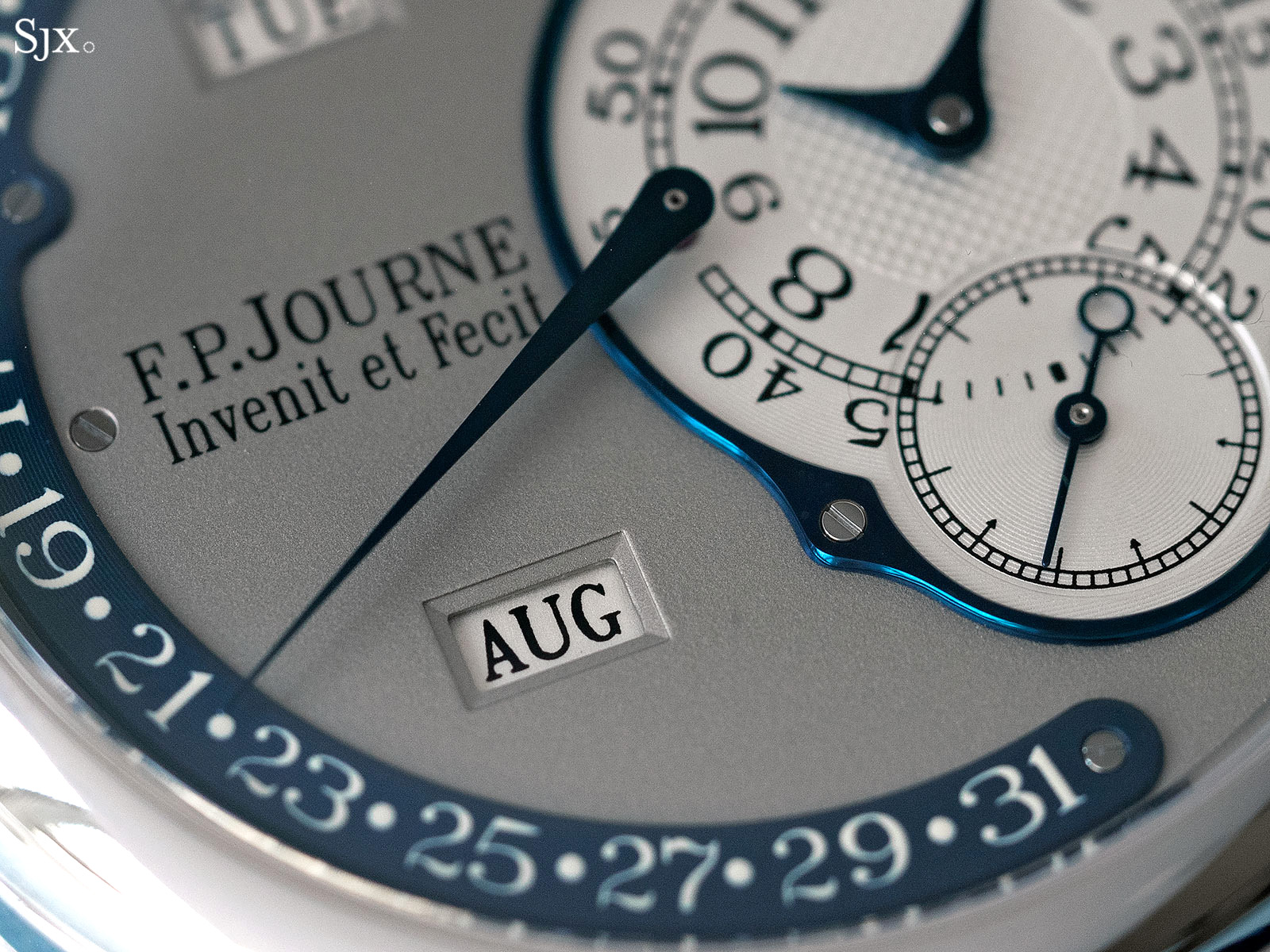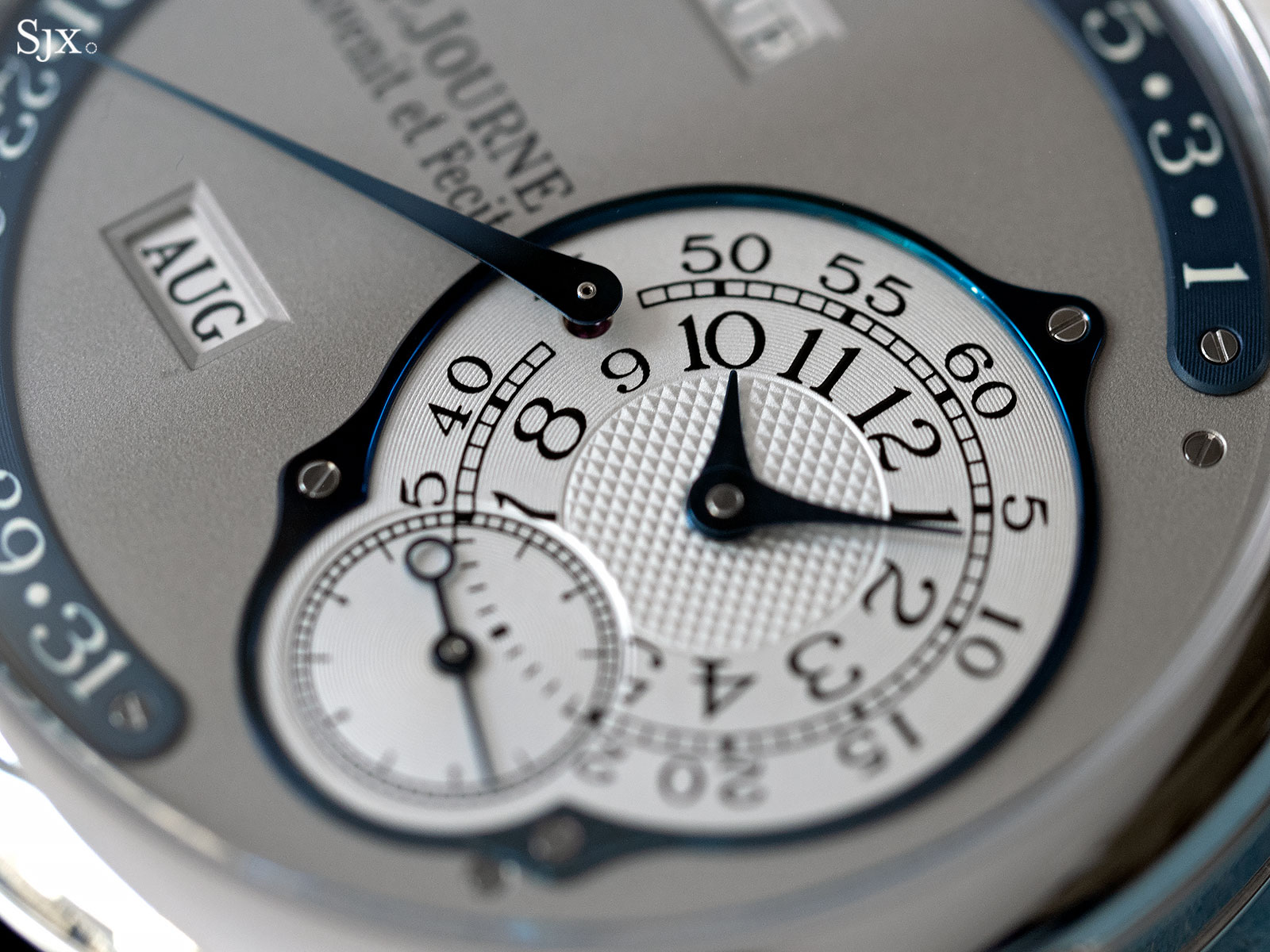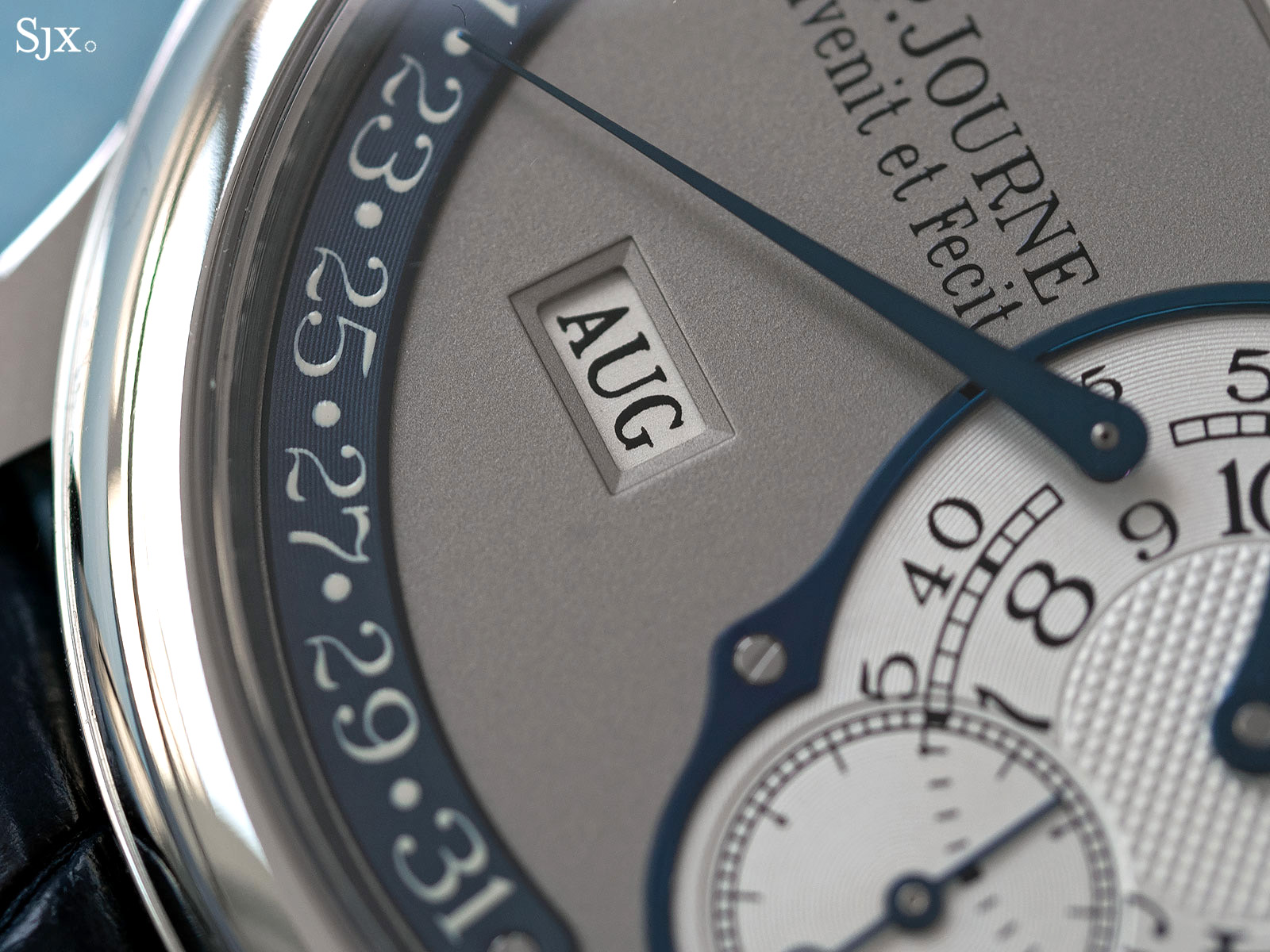 Mr Asprey's Calendrier is marked "John R. Asprey" on the barrel bridge, but the movement is otherwise identical to the standard version. While the watch has been worn, it was not worn very much, and remains in excellent shape. It is also accompanied by the original certificate stating it was made for Mr Asprey for the 10th anniversary of William & Son.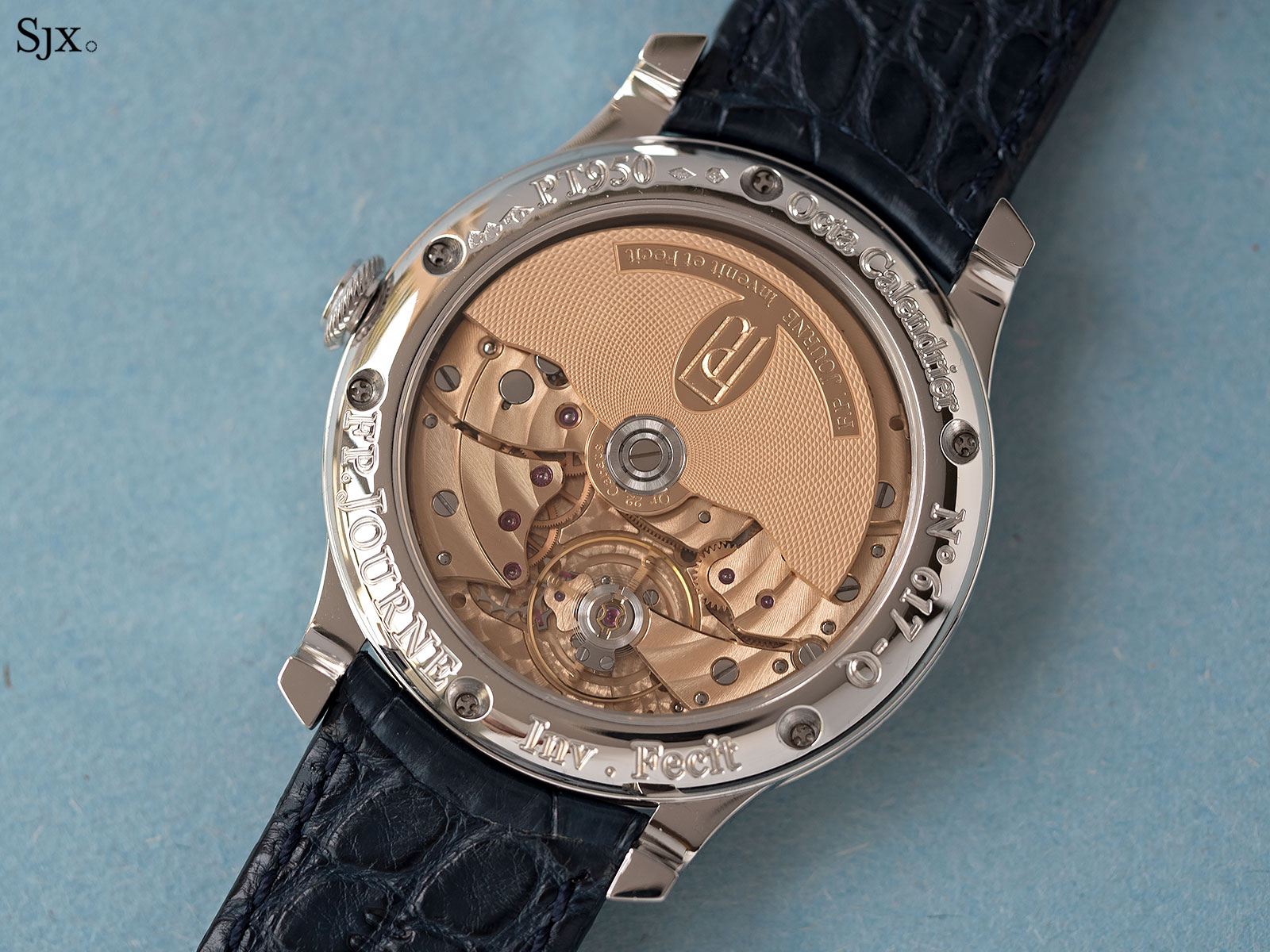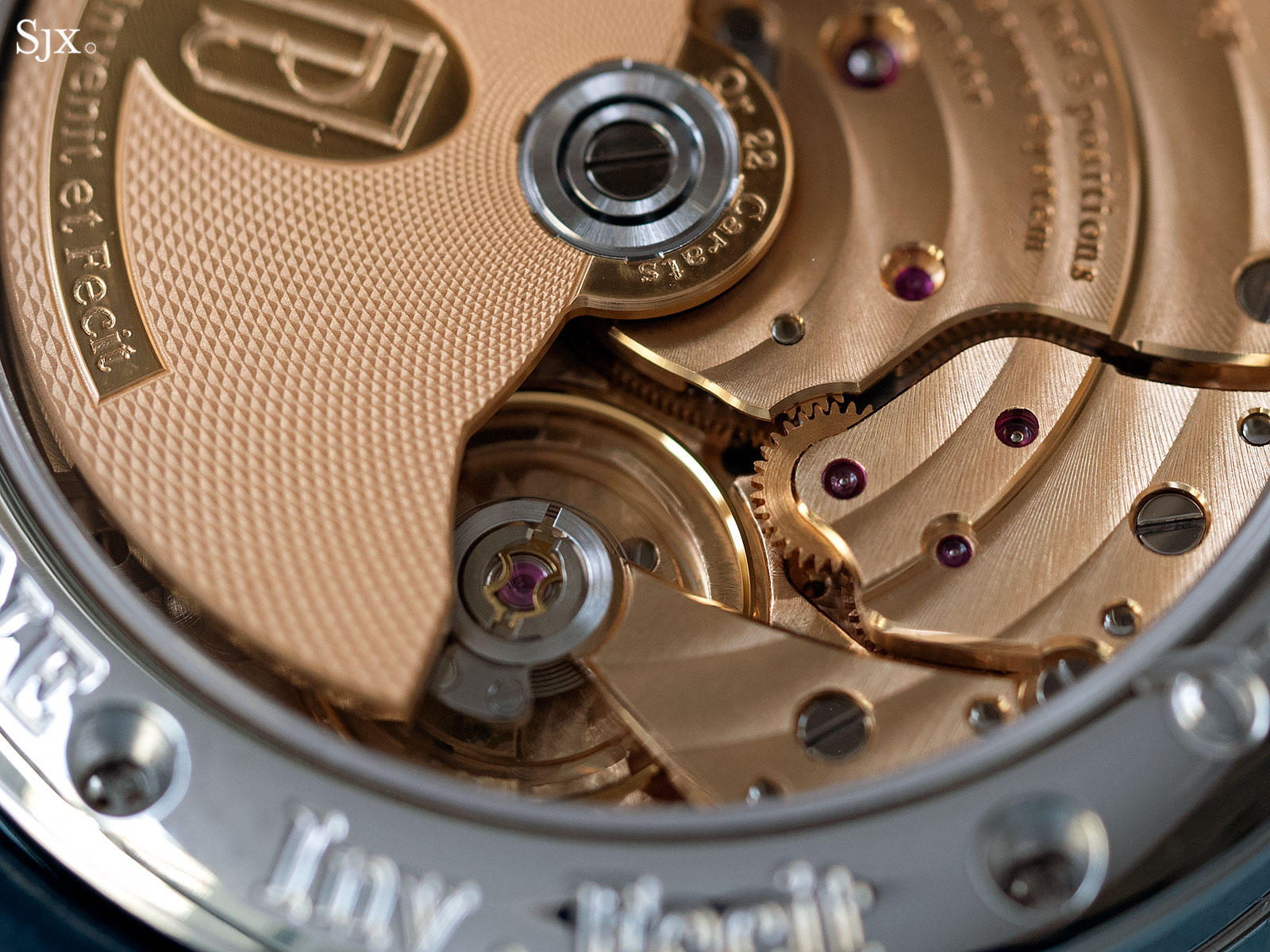 The Octa Calendrier is lot 7 in the Double Signed happening on November 9, 2019 in Geneva. The rest of the catalogue can be seen on Phillips.com.
---
Correction November 3, 2019: William & Son is currently located opposite Hermes, but is on Bruton Street, and not Mount Street, which was its former location.
Back to top.
---
You may also enjoy these.