H. Moser & Cie. Introduces the Endeavour Perpetual Moon Concept Aventurine
Cosmic moon.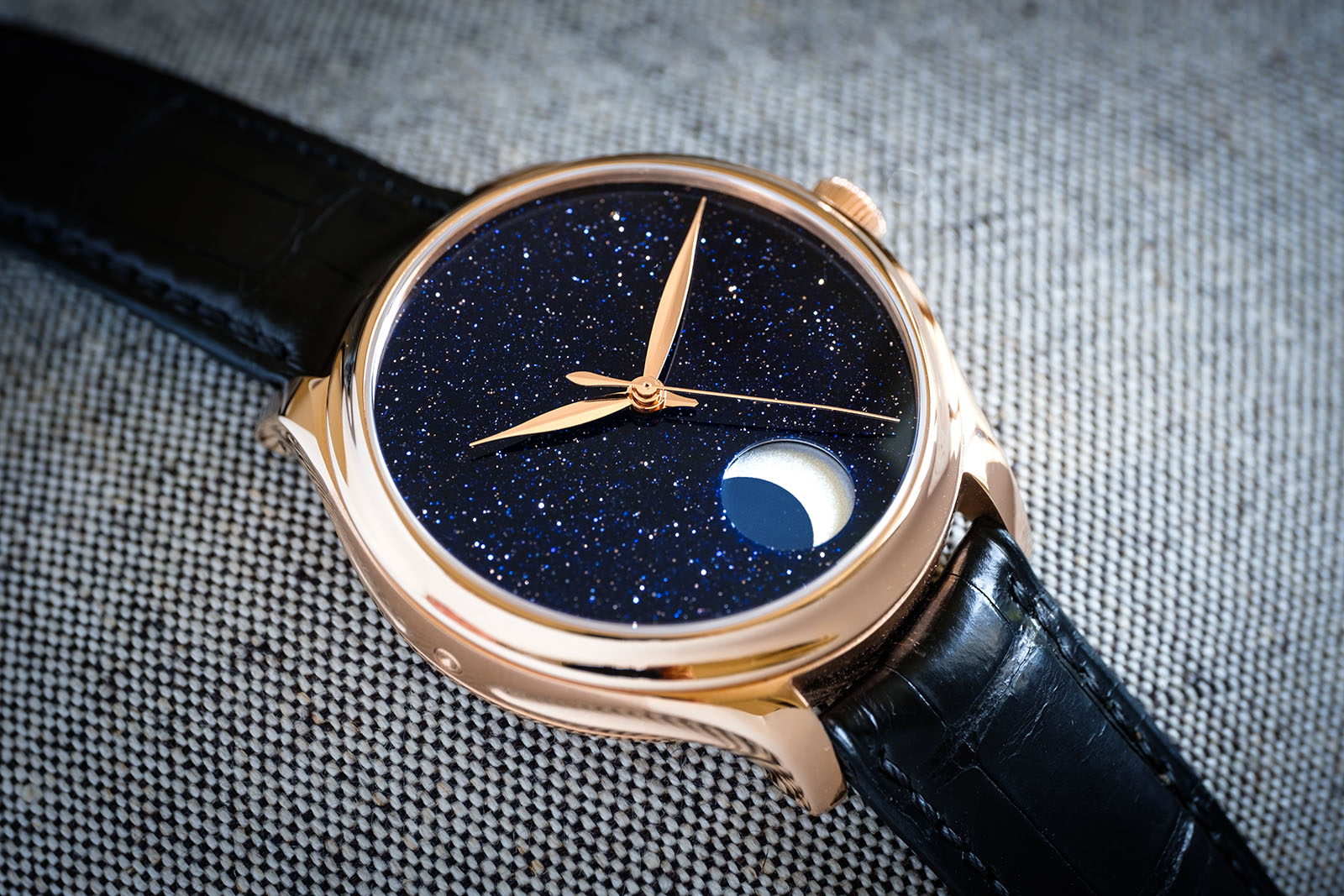 Introduced almost a decade ago in 2010, the H. Moser & Cie. Perpetual Moon is among the most accurate moon phase watches on the market, deviating by a day after 1027.3 years. A complex mathematical feat, the moon phase mechanism was originally conceived by none other than independent watchmaker Andreas Strehler, who himself holds the record for the most precise moon phase display in the world – accurate to a day in 2.045 million years.
Having unveiled the watch with a blacker-than-black Vantablack dial a year ago, H. Moser & Cie. has now introduced the Endeavour Perpetual Moon Concept Aventurine that has a sparkly aventurine glass dial evoking a night sky.
Full of stars
Like many of Moser's watches, the case of the Endeavour Perpetual Moon Concept is relatively large at 42mm wide and 13.1mm high due to the movement inside. It is available in both a red gold or a stainless-steel case that are characterised by a generously sloping bezel and brushed case band punctuated with polished concave flanks.
The dial is made of aventurine glass, also known as goldstone, a man-made material produced by mixing fine metal particles into blue glass. Aventurine glass is often used in watchmaking, specifically for moon phases and calendar displays, for its striking, iridescent reflections that create the impression of a starry sky.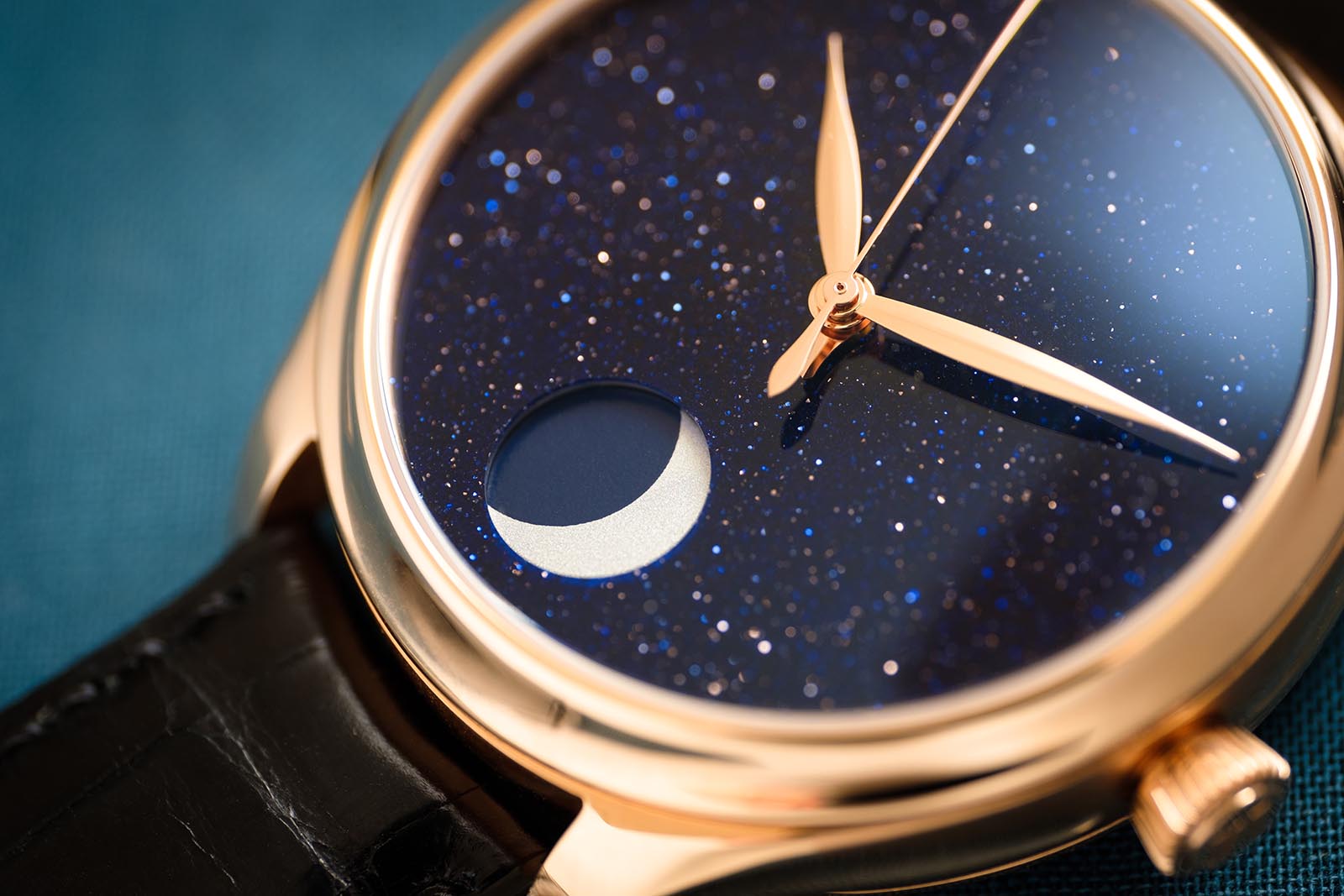 According to legend, aventurine glass was discovered by accident on the Venetian island of Murano in the 16th century when copper filings fell into a vat of molten glass. The material gets its name from per avventura, Italian for "by chance".
But the glass is not to be confused with the natural stone known as aventurine, a variety of quartz that is typically green in colour with mica inclusions.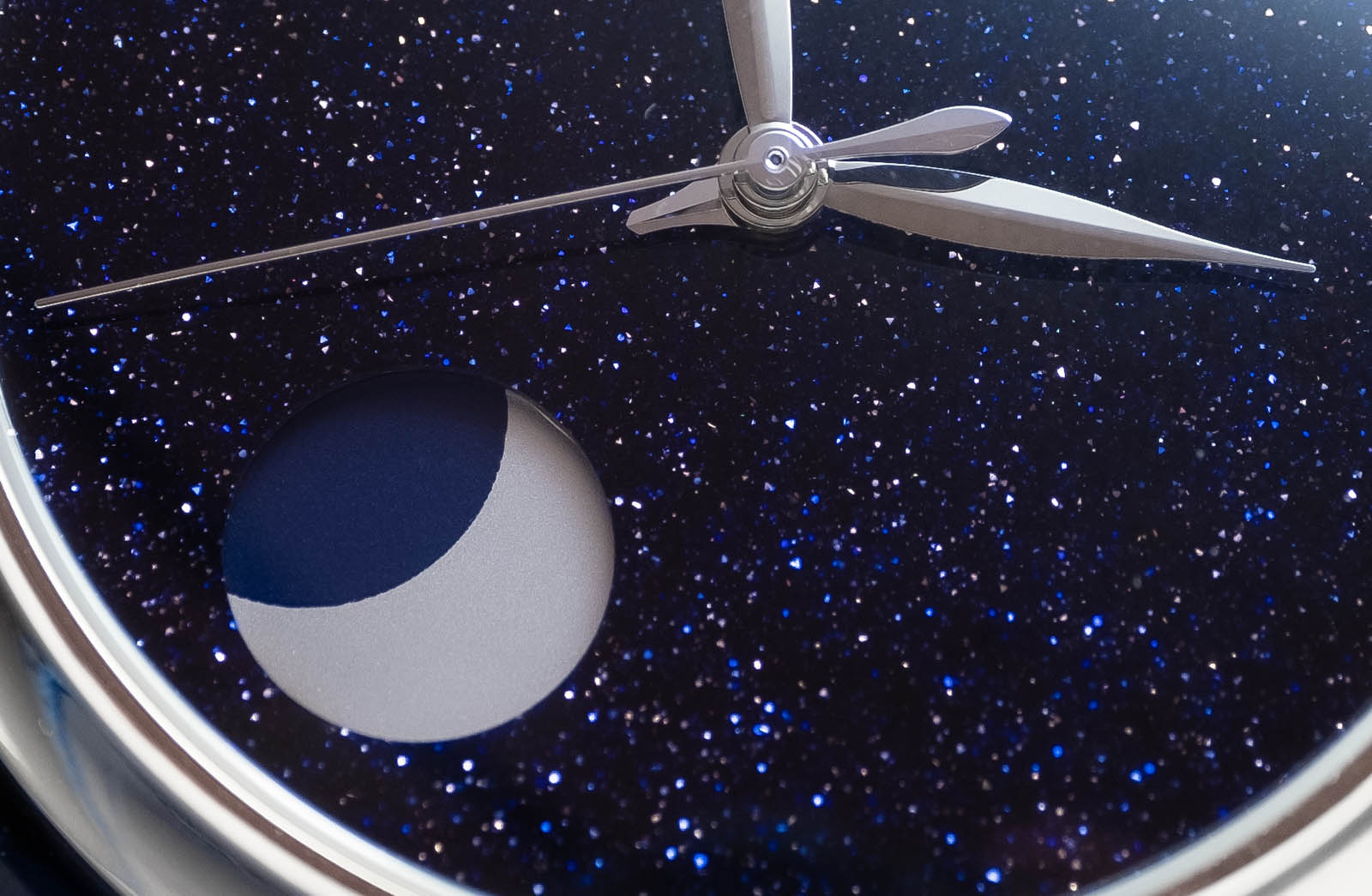 As is customary of Moser's Concept line of watches, the watch is wonderfully minimalist, with no logo, no markers and not much else except an oversized moon phase display against a deep blue glittering expanse.
The minimalist design also extends to the moon phase itself that is displayed in a circular window. The size of the moon is rather interesting and unusual. It is accomplished with the use of a central, large diameter disc with four identical moons, instead of a smaller disc with two moons, which would then get in the way of the central pinion.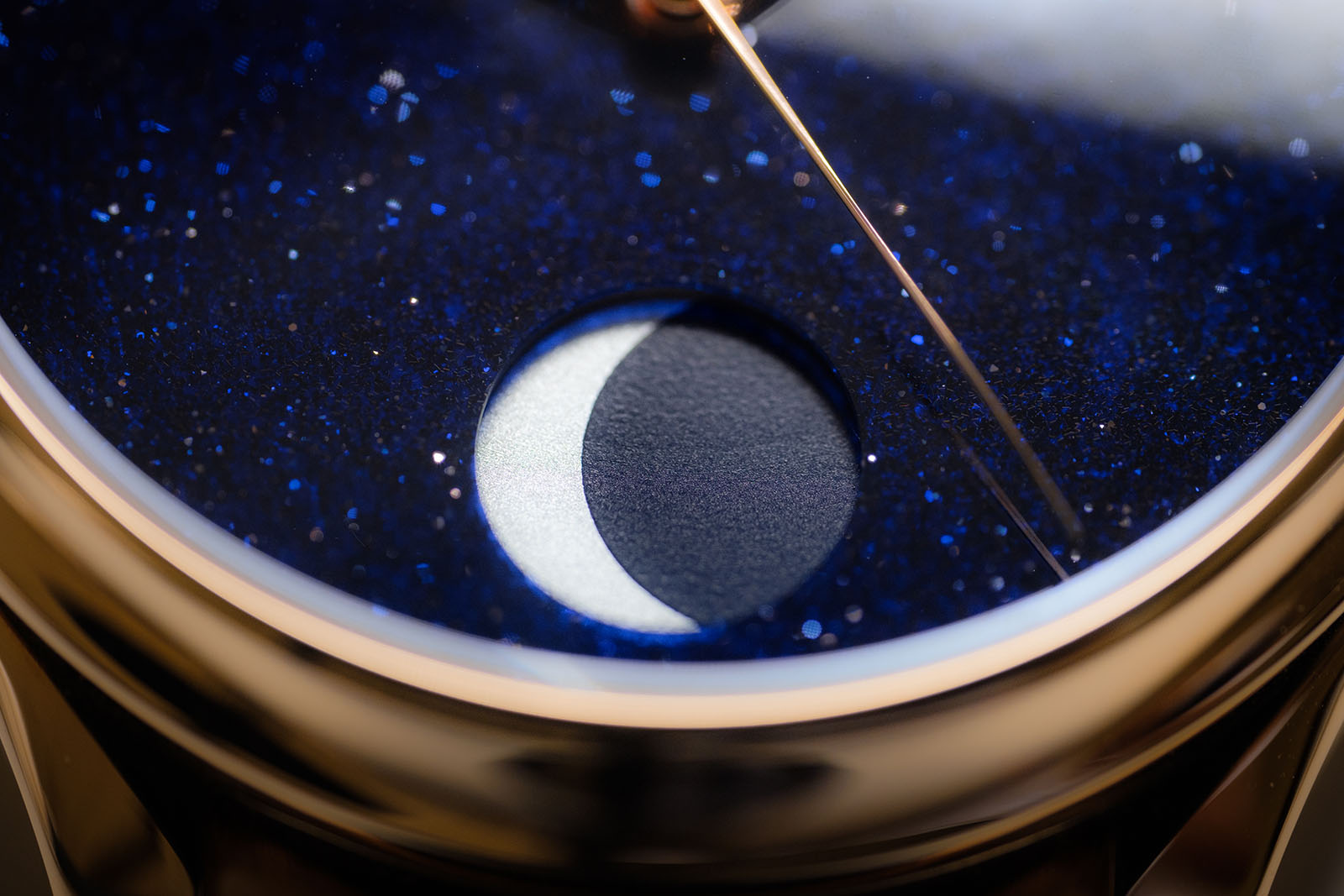 Apart from the central hour, minutes and seconds hands, a short central hand serves as a day and night indicator, making one revolution every 24-hours with the right half of the dial indicating midnight to midday and the left side of the dial for midday to midnight.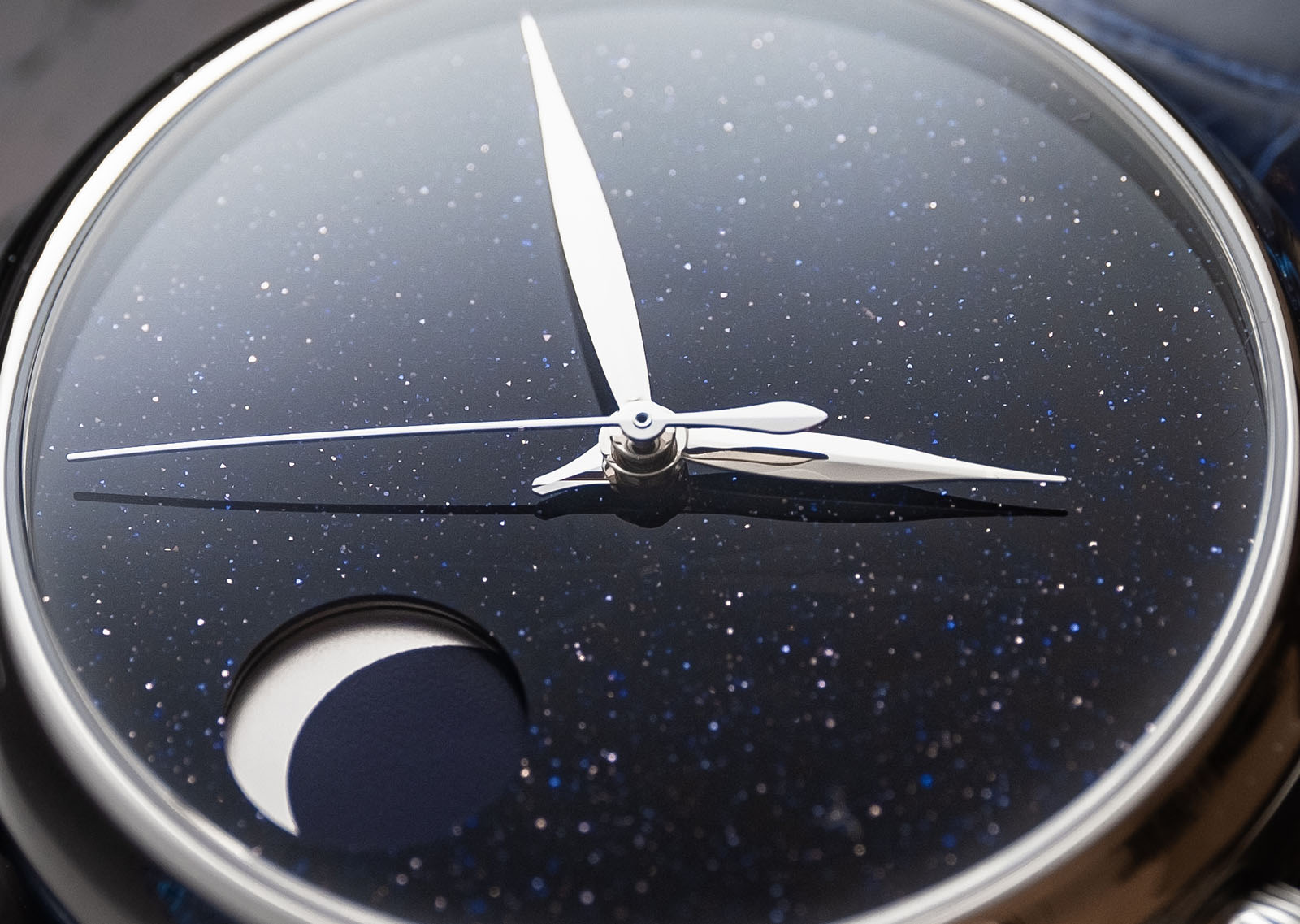 Enhanced astronomical accuracy
Powering the watch is the self-winding HMC 801 with a moon phase display that was originally developed by Mr Strehler, who also designed Moser's landmark perpetual calendar.
While the standard moon phase display relies on a 135-tooth driving wheel to achieve an accuracy of a day in 122.5 years, Moser uses a more precise gear ratio that matches the lunar cycle more closely, enabling an accuracy of a day in 1027.3 years. The moon phase is adjusted via a pusher on the side of the case.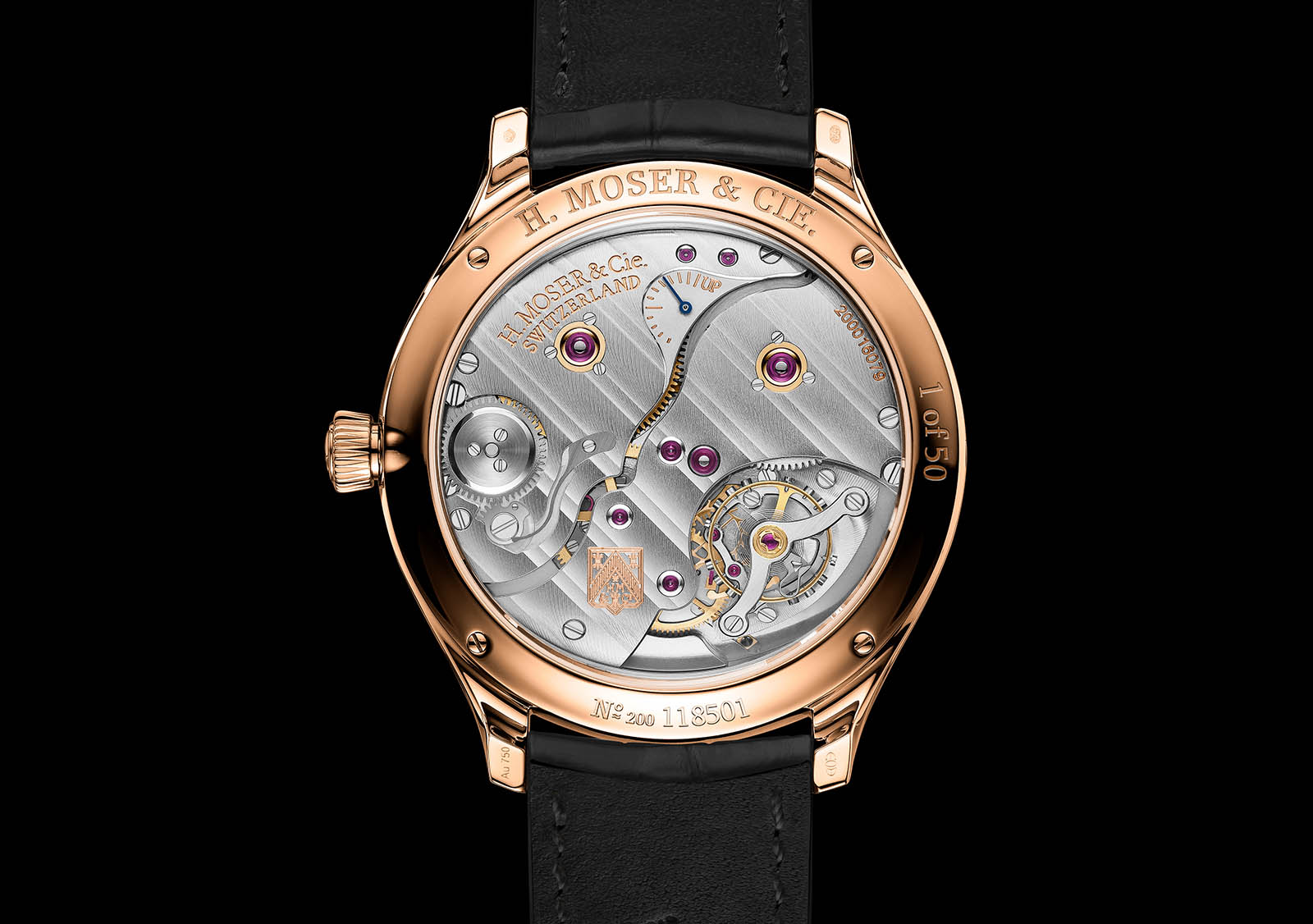 Equipped with double barrels, the movement has a seven-day power reserve that is indicated on a scale on the barrel bridge.
And like Moser's other top of the line movements, the HMC 801 is equipped with an interchangeable escapement that can be swapped out for a freshly regulated module during servicing for a faster turnaround. Though it is modular, the escapement has a pallet fork and escape wheel made of solid gold.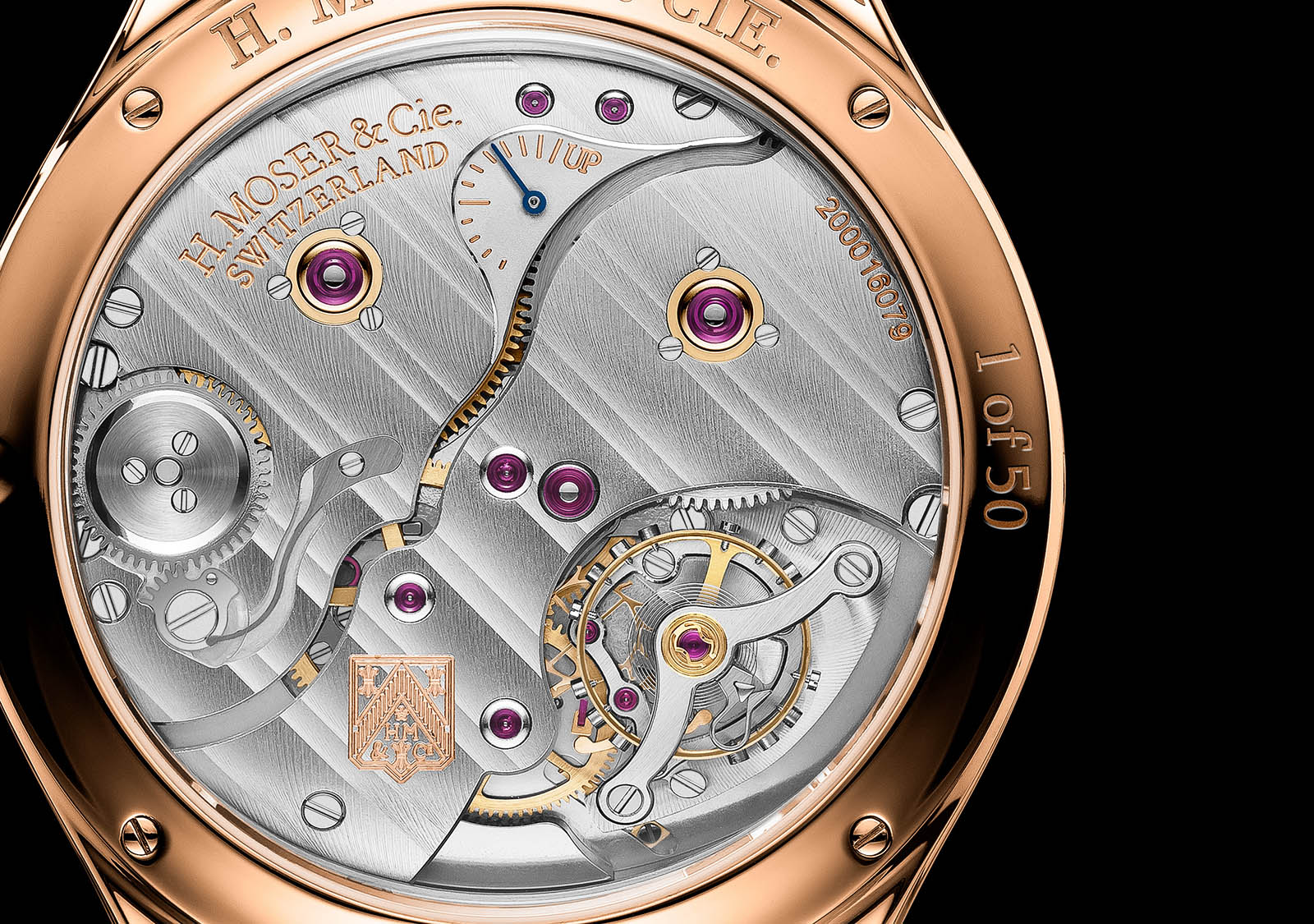 It is accompanied by a traditional screwed balance, with timing screws on the circumference, held in place by a mustache-shaped balance bridge. And lastly, it is equipped with an in-house hairspring, with a Breguet overcoil.
---
Key facts and price
Endeavour Perpetual Moon Concept Aventurine
Reference 1801-0402 (5N red gold)
Reference 1801-1201 (stainless steel)
Diameter: 42mm
Height: 13.1mm
Material: Red gold or stainless steel
Movement: HMC 801
Functions: Hours, minutes and seconds; moon phase; power reserve indicator
Winding: Hand-wound
Frequency: 18,000bph, or 2.5Hz
Power reserve: 7 days
Strap: Alligator with pin buckle
Limited edition: 50 pieces each
Price: 39,900 Swiss francs, or 60,700 Singapore dollars
For more information, visit h-moser.com.
---
Back to top.
---
You may also enjoy these.