Interview: Patrick Pruniaux, CEO of Ulysse Nardin
From Silicon Valley to the Vallee de Joux.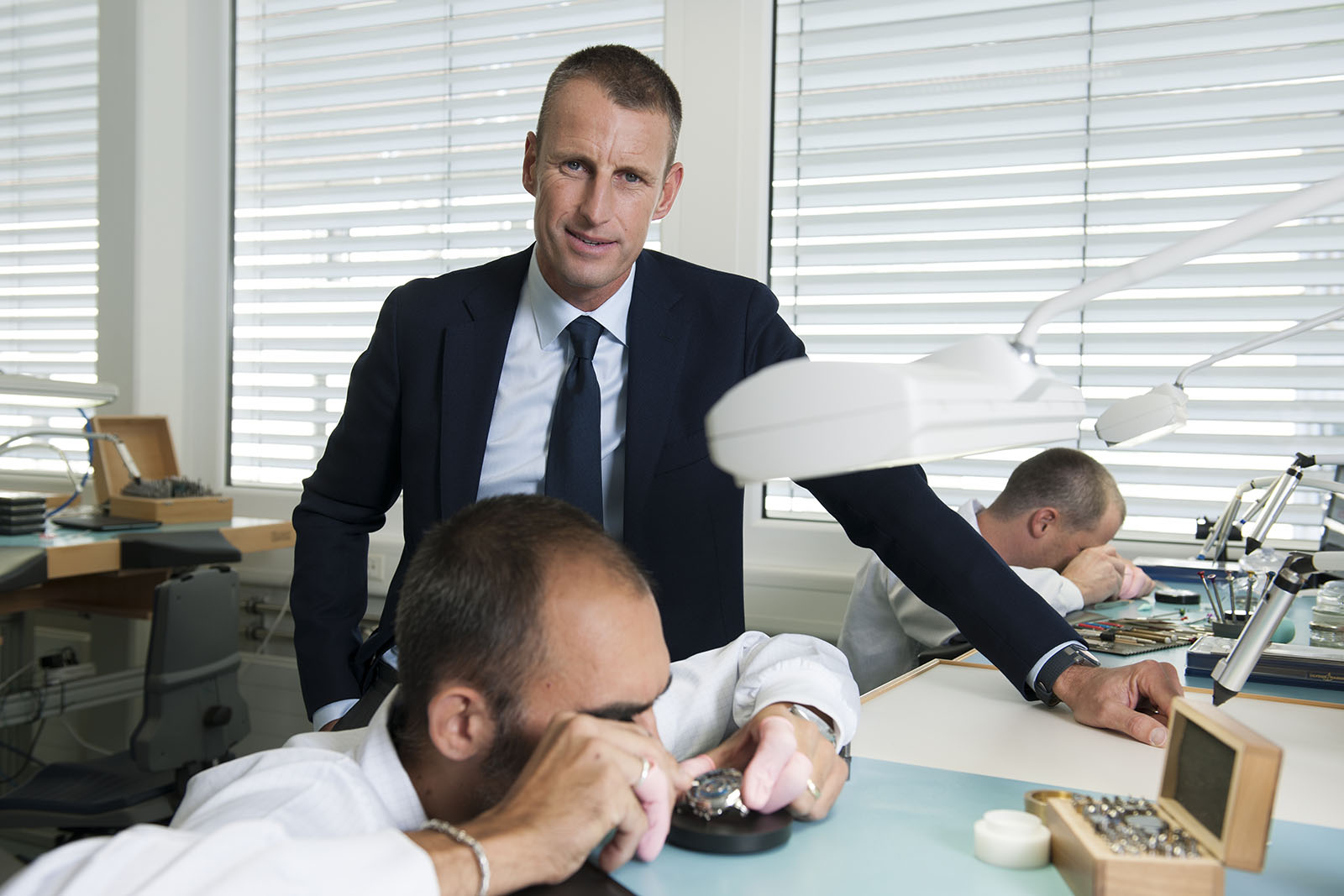 Over the past five years, a new generation of bosses has taken over the watch world. Many share common traits that distinguish them from the preceding generation of chieftains: a charming informality and a nose for courting the next generation of consumers – millennial and otherwise.
Patrick Pruniaux is a leading member of his class, who was tapped to run Ulysse Nardin in August 2017. A year later, he was elevated to run Kering's watch division, which meant taking on leadership of Girard-Perregaux as well.
Mr Pruniaux has done a remarkable job of revitalising Ulysse Nardin – not just with fresh marketing, but more crucially with new watches that make sense. He's streamlined the range of offerings and introduced more accessible watches, with much of his efforts focused on arguably the most important Ulysse Nardin watch of the modern era – the Freak.
His strategy for the Freak is notable for being all-encompassing, ranging from aggressively affordable pricing with the Freak X, while pushing hard at the boundaries of material science and engineering, culminating in the Freak NeXt.
Mr Pruniaux took a surprisingly roundabout way to arrive at one of the top jobs in watchmaking. He started in drinks and spirits at Diageo and then Moët-Hennessey. He then entered the watch business with TAG Heuer, where he rose to lead retail and sales.
But the most instructive phase of his watchmaking career, ironically, was at Apple. The computer maker recruited Mr Pruniaux from TAG Heuer to join the team that launched the Apple Watch. That was followed by two years as the market head for Apple in the United Kingdom and Ireland.
On his recent visit to Singapore to launch the Freak X, I sat down with Mr Pruniaux to discuss how Apple shaped his views on after-sales service, the evolving consumer of today, the Freak in its myriad forms, and the future of silicon.
The interview has been edited for clarity and length.
---
How did your experience at Apple changed your perspective of the luxury watch business?
It made me more aware of the benchmark, not just in terms of product, but in terms of service and consumer experience.
The benchmark shouldn't be the watch industry. It's a very interesting industry but it is not enough. There are a lot of things happening in the rest of the world, in other companies, in other industries. It made me question how I can deliver a better consumer experience.
For instance, think about after-sales service at Apple: they sell millions and millions of units and yet after-sales service is being pushed to make sure everything works well, everything is done to ensure you get a good consumer experience, so that you stick to the Apple world. It's fantastic.
In the watch industry, you buy a watch at a certain price, and for a fraction of the price, say 10%, you can get an Apple product. If a problem arises with the Apple product you bought, they would probably come up with a solution within a couple of days, if not the same day.
The same can't be said about our industry. You have to accept that sometimes you send a watch that costs a fortune and wait half a year to get it back. Is that normal? I'm not quite sure.
But having said that, I was very fortunate when I joined Ulysse Nardin and discovered an after-sales service department that was top notch. It is superior in the industry, but still, is it good enough?
Probably not, because the benchmark is not our industry. So these are the things that have influenced my perspective, along with other things related to product – the simplicity, the style of retail, the genuineness.
Before Apple, you were with TAG Heuer until 2014. How do you think the consumer has evolved since your last spell in the watch industry?
The consumer is changing in many ways. There is a growing level of education and appreciation. And with that comes a higher demand for genuineness and fair pricing. And our prices are super fair. It's not about discounting, it's about offering good value. Also, over the last 10 years there are very few brands that have managed to bring more people to buy watches.
There are three rather polarising groups of consumers today. The first group is the watch collectors – people who are excited about the movement. The second is investors – people who have an interest in value, including resale value – that has been a growing concern [for many buyers]. The third group are people who want to get excited about the product.
I think we sometimes get misled by the first two groups. Whenever I talk to the first group, I'm not worried. The second one tends to have a narrower focus; they tend to focus on just a handful of brands, and I see them more as investors than real watch lovers.
The idea of being able to pass down a high value watch to the next generation is good but sometimes it takes away the pleasure of buying a watch. A watch has to be worn, understood and enjoyed, and you look back on it with memories. It's about that excitement, and it's important we keep that excitement.
And then there's the third group, who for the most part, have grown up without watches. I think there are very few brands that actually bother talking to the third group. If you're a 30-year-old guy today, and you're spending $700 on a pair of sneakers, it is absolutely fine to spend $10,000 on a watch if we give you a good reason to. And this is what I try to do at Ulysse Nardin.
The Freak is an iconic watch, yet it isn't an obvious watch to use as a base to reach a wider audience. Why did you choose to develop the line?
I've been talking to several watch collectors in Singapore in particular, including Michael Tay [of The Hour Glass] and SJX, and it is the watch everyone talks about. Anyone who loves watchmaking would know Ulysse Nardin very well because of the Freak. It stood out very clearly for me.
However, it is still a teenager as a product and extremely underrated. Even though it is less than 20 years old, the Freak carries a lot of the brand's DNA and values, in terms of innovation and also how it is a mix of design and an amazing movement.
With the Freak X, we have made the mechanics of the Freak accessible to a wider audience, while the Freak NeXt gives you a glimpse of the future.
I think you've done a fantastic job. Are you familiar with the Zenith Defy Lab?
Yes, it is an interesting watch. It is quite different as the silicon layer in the Defy uses the whole space, replacing the balance, hairspring and escapement. Our intention was only the oscillator as we wanted to work with a traditional escapement.
It's a long-term project and Stéphane [von Gunten], who is the head of innovation, has always had a strong interest in silicium components. And he also enjoys working with blades; working with the different layers is very interesting to him.
He is now working on some other innovation along that line. I could almost say Ulysse Nardin could be the master of blades. It sounds like a marketing claim now, but you'll see more of that very soon.
Is it a goal to implement this oscillator in regular movements?
Well, it's a little bit like Formula 1 – you make Formula 1 cars and then you sometimes use the technology for regular cars afterwards. Maybe not four to five layers [of silicon]; maybe we can have less layers.
Is it feasible to use just one layer? Will the amplitude be too low?
I think the amplitude might be a little too low; so maybe two layers. But the fact that there is no pivot and no friction makes it a very interesting idea.
We also used the Grinder [automatic winding] on the back [of the Freak NeXt]. The Grinder mechanism was first used in the Innovision 2, so there are a couple of innovations that could be used on more regular movements in the future.
What makes [such innovations] interesting for a brand like Ulysse Nardin is we make high horology pieces, but we also make more volume pieces like the Freak X.
Will the Freak NeXt be refined and put into regular production?
It was a concept we showed in Geneva and we decided to only do a limited edition of 12 pieces – that's it. Most of them are already sold.
I'll tell you a funny story. When we designed it, it was obvious we wanted to use the Freak case because we love it. And more importantly, we thought let's have some fun with the colours – let's go with white.
We didn't do a marketing survey to know if white was right. We just thought white was cool. It's a concept, and we do what we want with a concept watch. But people loved it.
Is it the Apple influence?
Ah! I didn't think of that! But no, I can tell you – and that's what I like about the company – I approved the product, but I didn't have any influence on the colour. The guys in the product development team just had some fun with white. They presented it to me, and I said fine, let's go with white.
The Freak NeXt was the next step after the Innovision 2 concept watch from 2017. Did you end up selling the Innovision?
Yes, for over a million [francs] because there were 10 patents in it. Everyone still asks about that watch.
We sold it just after I arrived in the company. My predecessor sold it and immediately we had four or five more requests for that watch. We didn't do it again because it is a one-off.
Silicon escapement parts are widely used at this point in time, often made collaboration with CSEM, but silicon compliant mechanisms are still in their infancy. But the potential is massive as demonstrated by watches like the Freak NeXt.  Do you think they could be the future?
Yes, for sure. At Girard-Perregaux, we are also developing the constant force escapement even further. You'll see it very soon. Their potential is huge and it's fantastic. I'm sure you're aware we also own Sigatec.
Does Sigatec plan to start supplying silicon hairsprings when CSEM's patent expires?
There is no reason why that shouldn't be the case. The innovation capacity they have is absolutely amazing!
---
Back to top.
---
You may also enjoy these.