Hands-On: Rolex Daytona Orange Sapphires Ref. 116578SACO
Bring on the bling.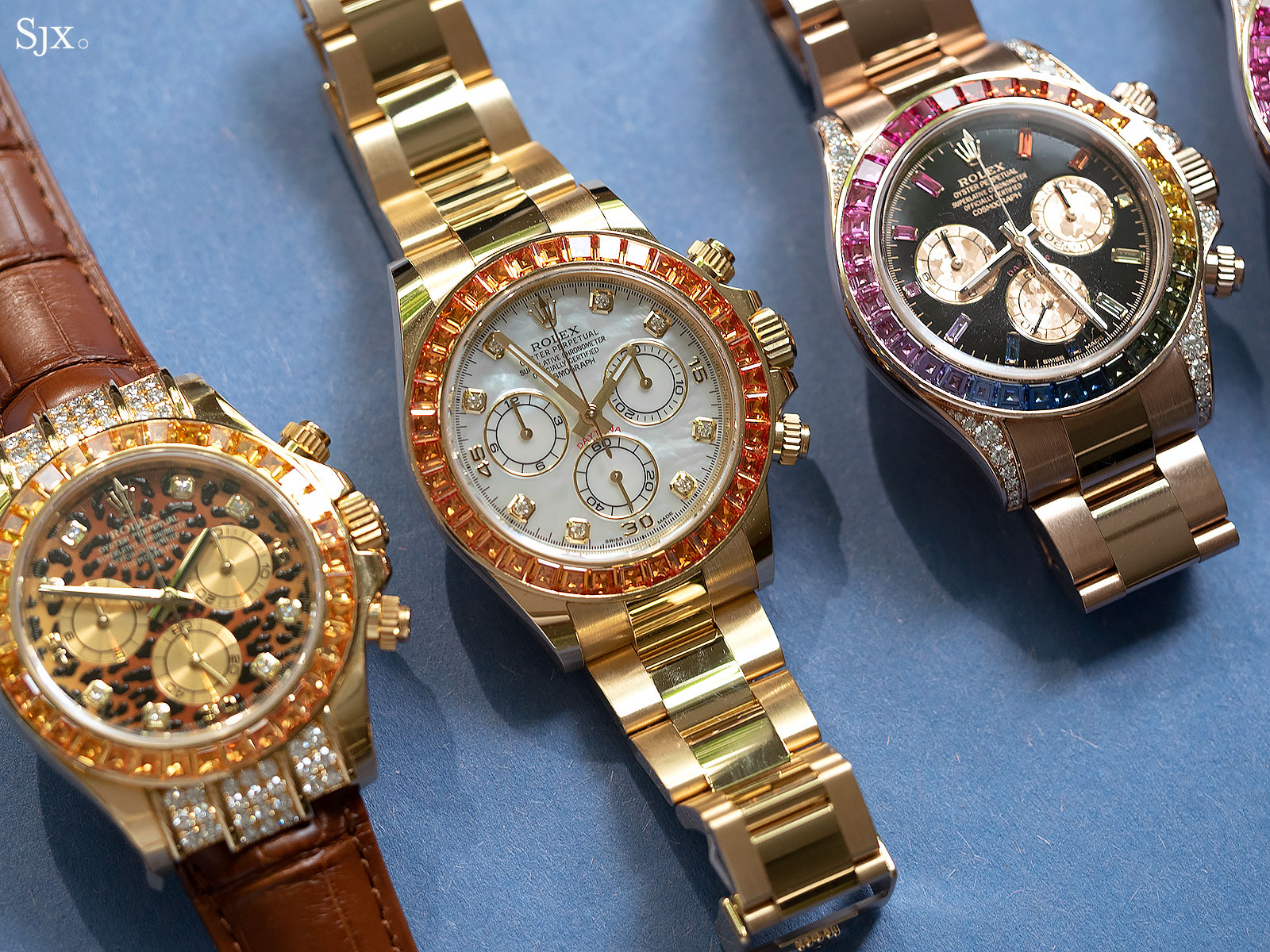 Those unfamiliar with the world of ultra-bling Rolex watches must wonder – who are they catered to?
Dictators? Drug dealers? Nightclub owners? Instagram influencers?
But the answer is actually something more common. All of us inevitably know someone like this: the middle-aged man usually in athletic wear by Louis Vuitton and Gucci, and whose idea of formal wear is an embroidered velvet suit from Dolce & Gabbana that resembles curtains from a chateau.
He'll probably drive a super car that is "stickered", either the whole car wrapped in a matte, metallic finish, or worse, "stickered" with flames and stripes on the sides. Then this gentleman will probably be wearing a watch like this. And if he isn't, he will really want one.
It's easy to poke fun but the nattily dressed gent is enjoying himself and who can fault that? And so it is with this watch, which has certain, look-at-me appeal that is just calling out to be enjoyed. This is the new and uncommon Daytona ref. 116578SACO with an orange sapphire-set bezel, courtesy of the infamous collector known as "Santa Laura", who is in a constant state of enjoyment.
Each year Rolex unveils a handful of bejewelled watches that are shown to the press and public at Baselworld – last year's was the Daytona "rainbow" and this year had the Day-Date "rainbow" – while also releasing a smaller number of gem-set models on the quiet, which are usually only shown to retailers.
This year's hush-hush launches included the GMT-Master II "SARU" in Everose gold, but also two watches that are not for the faint hearted: the one pictured here, the Cosmograph Daytona ref. 116578SACO with orange sapphires on the bezel and a mother of pearl dial, as well as the Daytona ref. 116588SACO, which has a black lacquered dial, orange sapphire-set bezel, and a black Oysterflex strap.
Return of the leopard
Featuring the same orange sapphire bezel, the new Daytona brings to mind the notorious Daytona "leopard" (ref. 116598 SACO) that was launched in 2004, a period when the designers at Rolex were enjoying a particularly hedonistic run.
In production for about a decade, the "leopard" was, love it or hate it, one of the most recognisable Daytonas of the modern era. Interestingly, the new "SACO" isn't the only watch launched in 2019 that channels the departed "leopard", the Daytona (ref. 116588 TBR) features a black lacquered dial that resembles tiger stripes.
While the new Daytona "SACO" is over the top, it isn't quite as nuts as the "leopard". The new Daytona is set with 36 baguette-cut orange sapphires on the bezel – three dozen is the standard number for current, baguette-set Daytona bezels – combined with a white mother of pearl dial featuring eight brilliant-cut diamond markers.
The brilliance of the orange sapphires no doubt vary across individual watches, just as it was for the "leopard", but this particular example here is vivid, rich orange.
The mother of pearl dial is white, lustrous and restrained, and it is overwhelmed by the bezel, which is probably the point.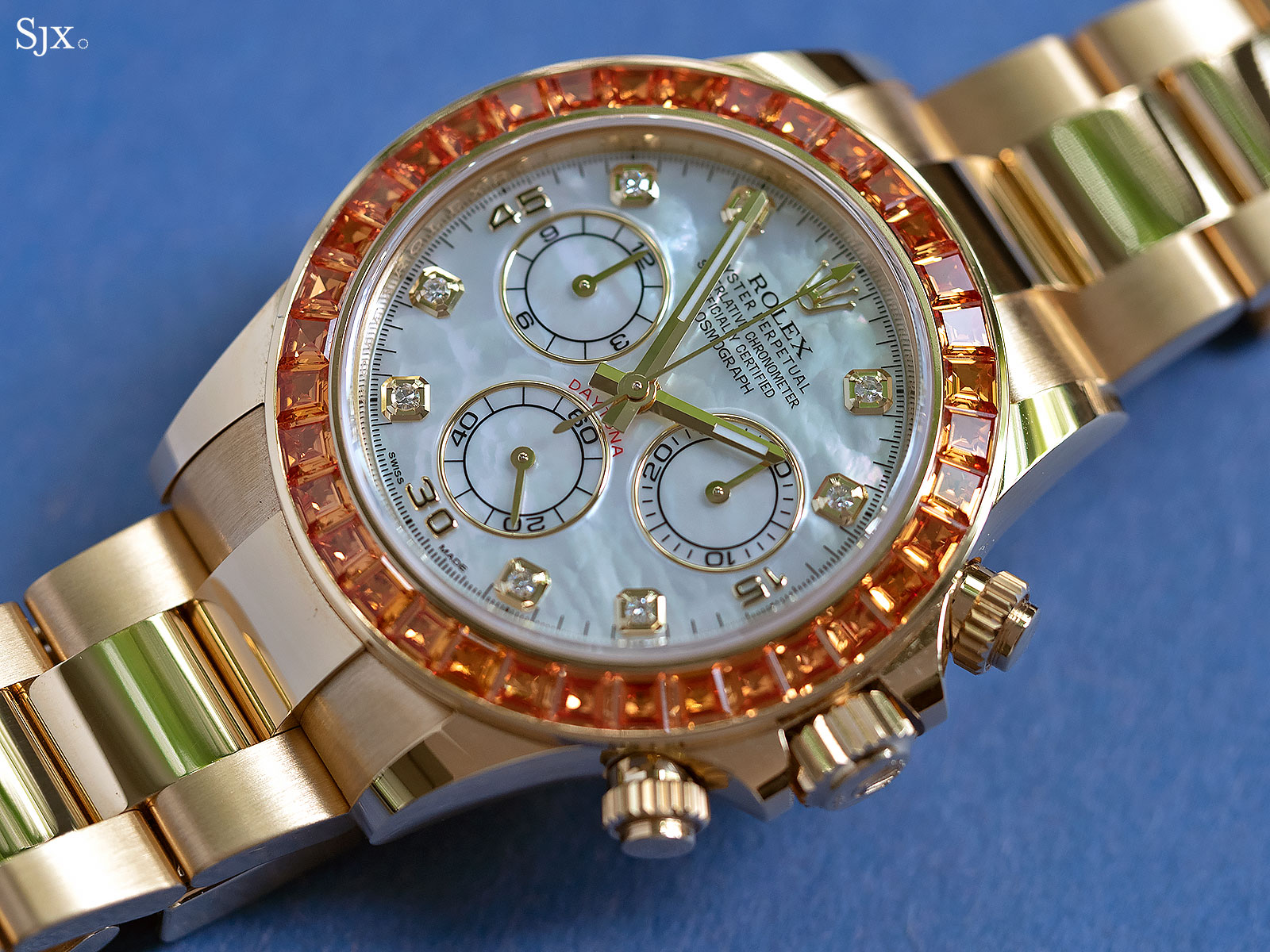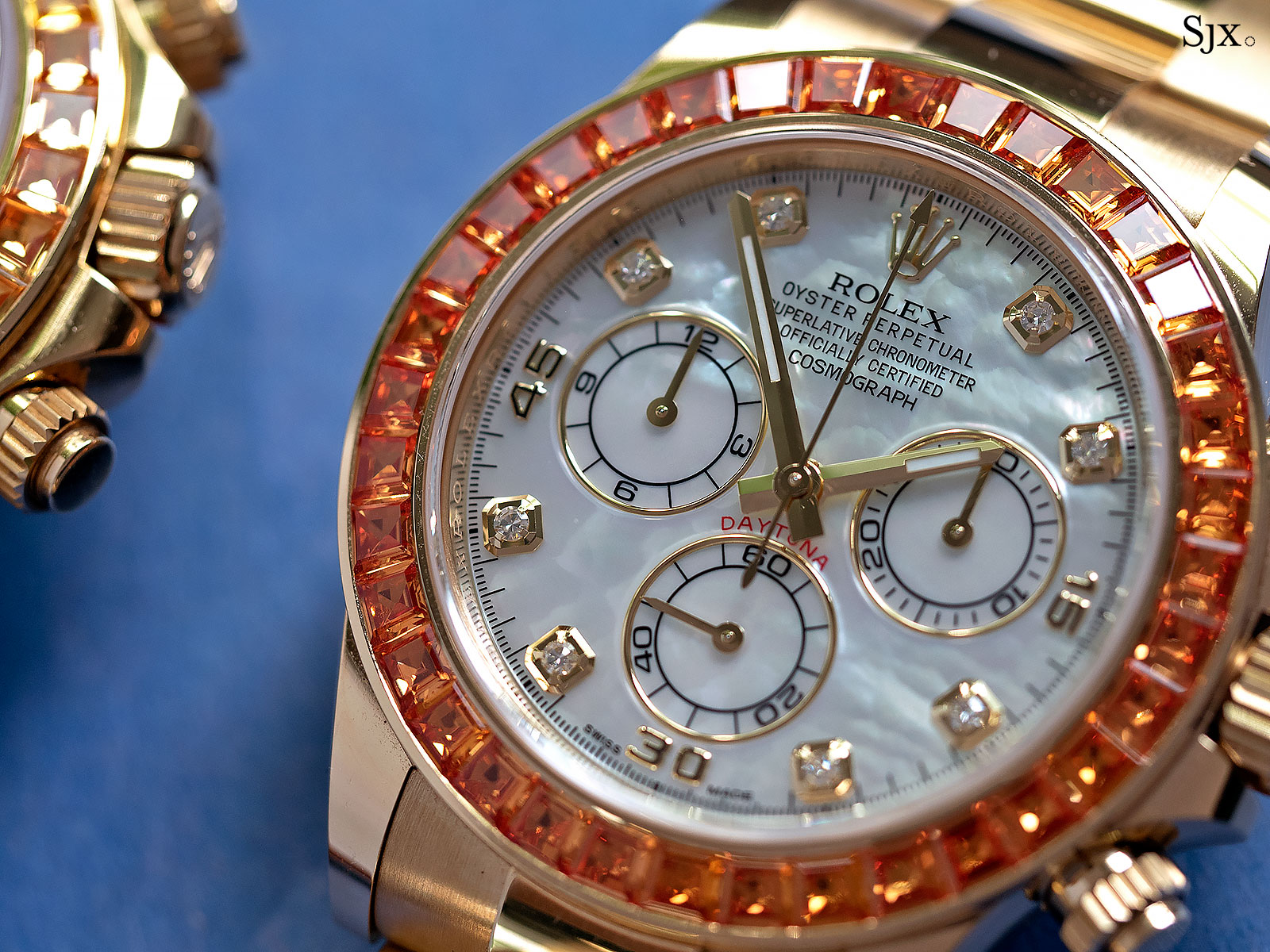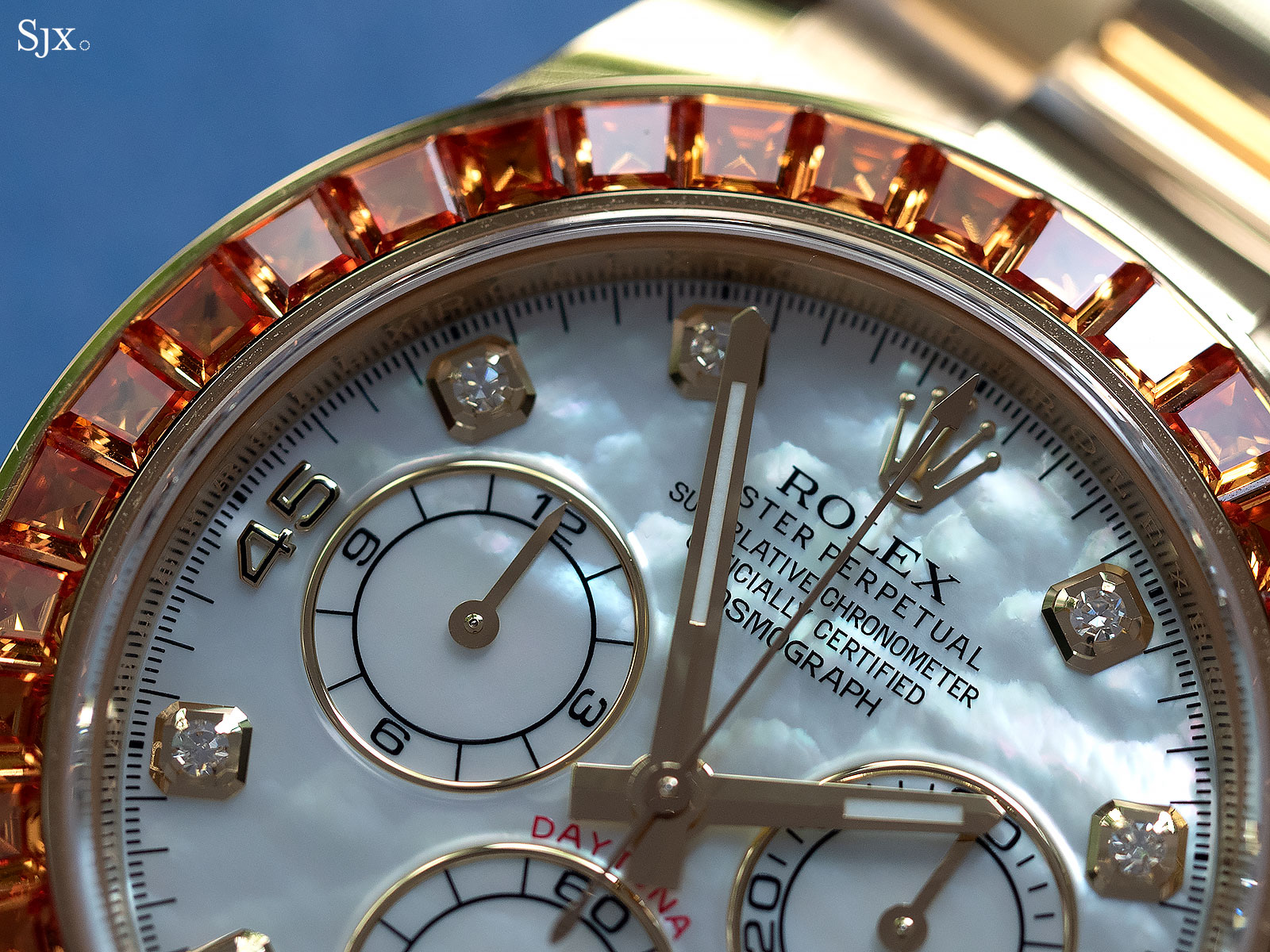 Orange sapphires and mother of pearl are an odd combination on paper, but in the metal it is impressive as a jewelled object. It is ostentatious, but like any modern Rolex it feels impeccably made, and up close it is actually impeccably made. The seamless gemstone setting is especially beautiful.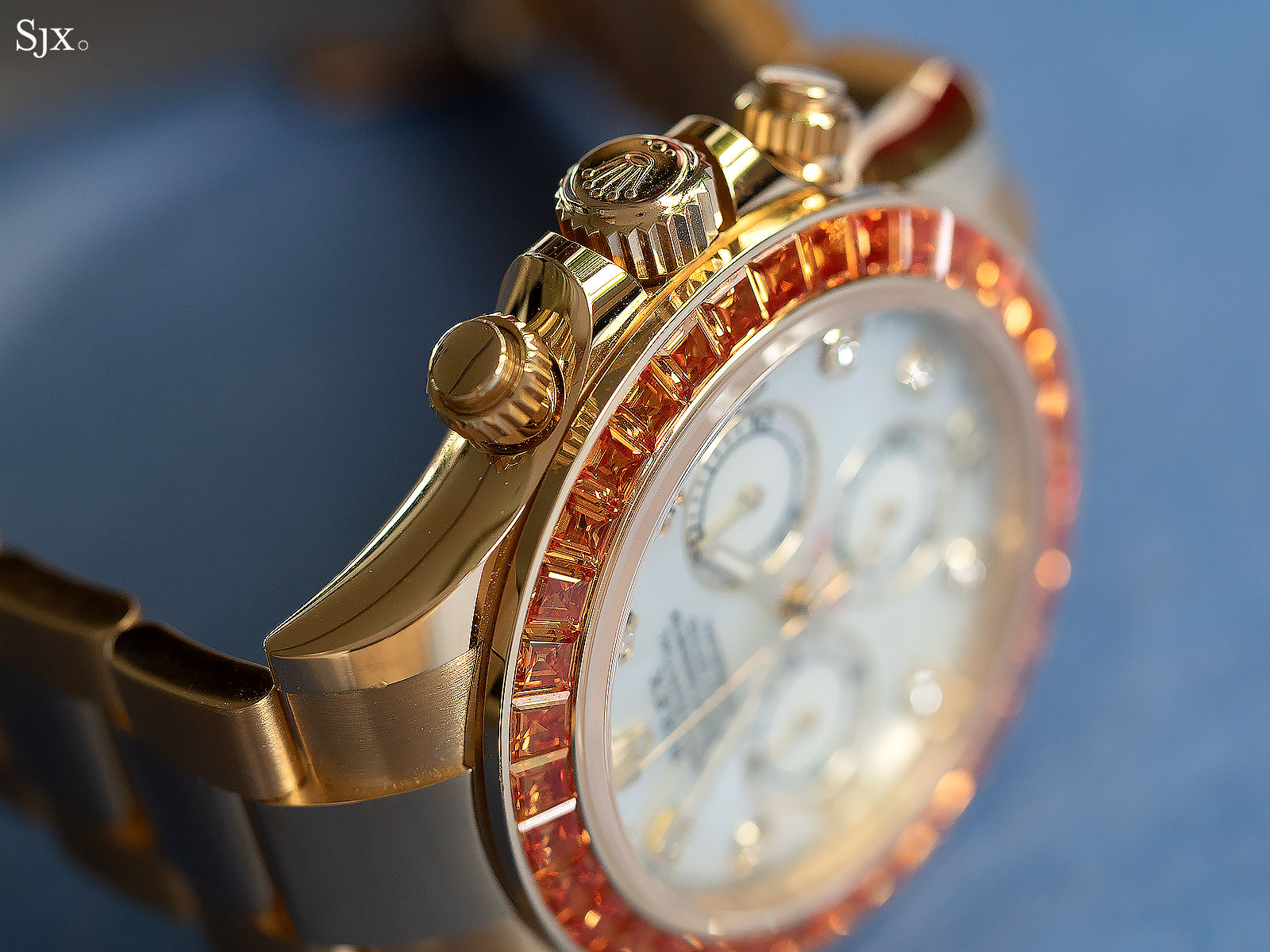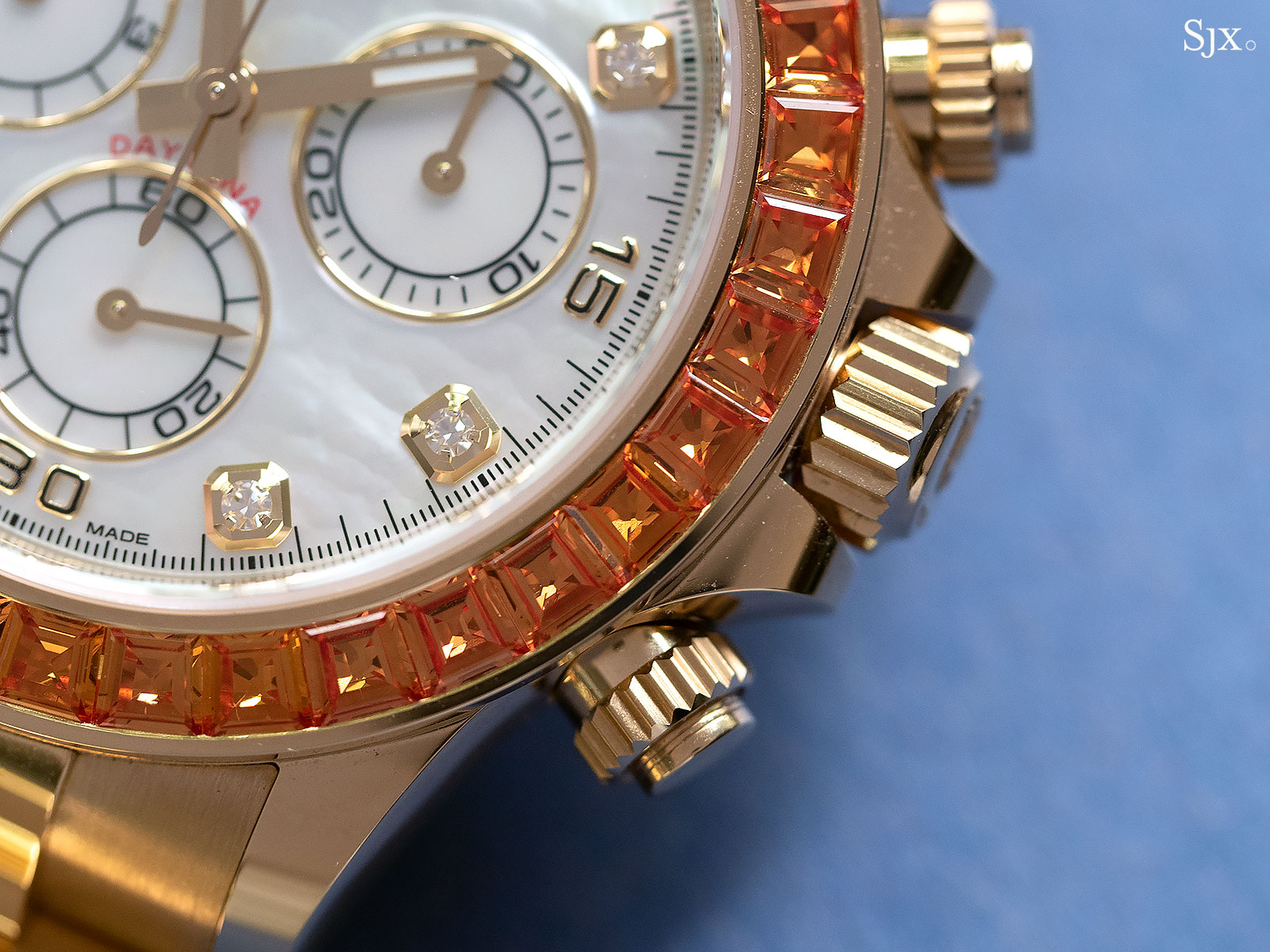 Concluding thoughts
A watch like this tells you, no, it actually shouts at the top of its voice, that watches can be finely, or even perfectly, manufactured – a perfect mechanical timekeeper in fact – while still managing to have a bit of fun. And it is arguably only Rolex, amongst all the realms of watchmaking, that can accomplish this.
Under the bling, this is a standard Daytona with a 40mm Oyster case and the cal. 4130 inside. So it wears like a Daytona, which is to say compact, solid and functional; it probably keeps spot-on time.
So I suppose if you have money, like watches, and don't take yourself too seriously, this is a great watch as a daily "beater".
Key facts
Diameter:40mm
Material: 18k yellow gold
Water-resistance: 100m
Movement: Automatic ca. 4130
Frequency: 28,800bph (4Hz)
Power reserve: 72 hours
Strap: 18 yellow gold Oyster bracelet
Price and availability
The Cosmograph Daytona with orange sapphires on bracelet (ref. 116578SACO) is priced at €79,000, while the Daytona on Oysterflex (ref. 116588SACO) is €63,500; prices are before taxes.
Both are current, but limited, production, and occasionally available at Rolex retailers and boutiques.
---
Back to top.
---
You may also enjoy these.