Hands-On: Monsieur de Chanel Pocket Watch
An incredible object.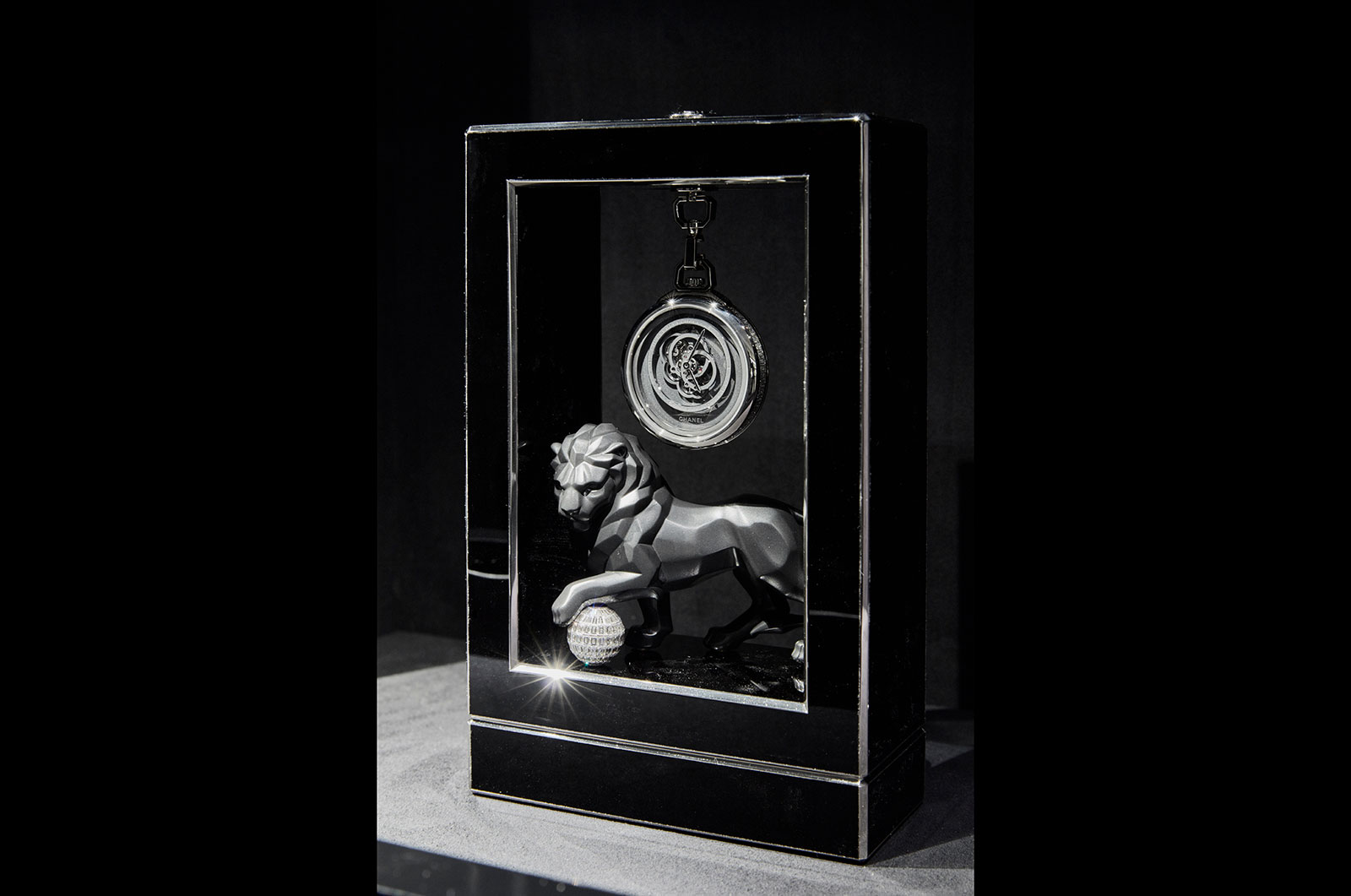 Every year Chanel debuts a handful of timekeeping objects that are sleekly monochromatic yet lavishly constructed of precious materials like gold and rock crystal. They are beautiful, expensive, and the sort of object that would look at home in a US$100m penthouse. And because there are enough such penthouses to go around, these objets d'art inevitably find owners every year.
Last year's collection of objects included the Monsieur de Chanel Chronosphere, a clock within a glass globe supported by blackened-bronze lions, which was a five-piece limited edition. But the collection also included the one of a kind Monsieur de Chanel Pocket Watch suspended in a jewelled stand, an object that is simultaneously discreet and extravagant.
Although the pocket watch and its stand retail for almost US$800,000, it is discreet to a fault.  All of the materials within are precious, but the entire object is almost monochromatic.
The pocket watch can be removed and carried, but is more likely to function as the ultimate desk clock.
Standing about 25cm, or 10in, high, the stand is polished 18k white gold and panelled in glossy obsidian, a black, volcanic rock. And while it does not look the part, the sculpted lion is also 18k gold, but coated entirely in smooth, black Hyceram, a composite of ceramic and polymer.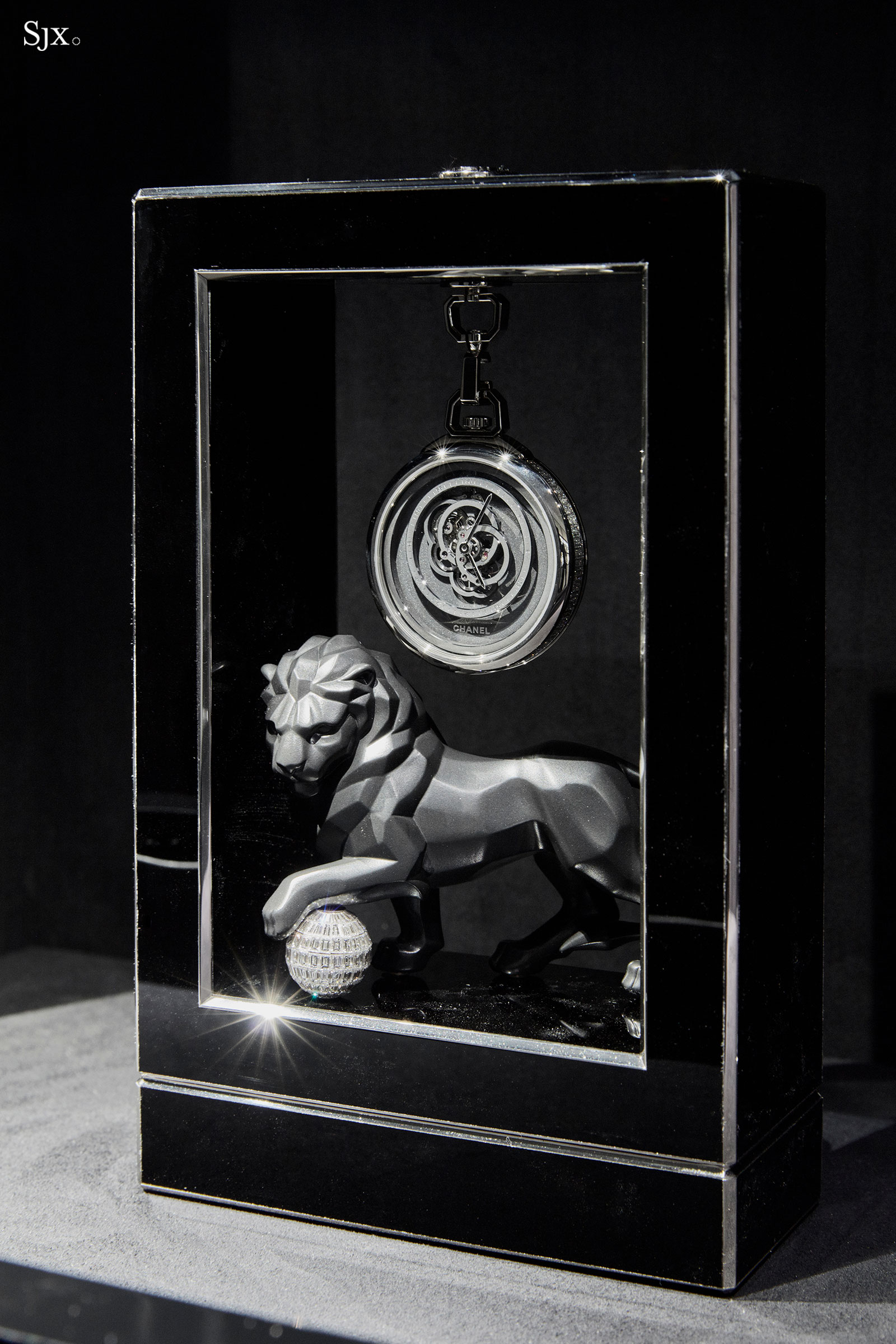 The diamonds within the stand are substantial, but subtle – the lion's paw rests on a 18k gold sphere covered in baguette diamonds.
The big cat is one of the emblems of Chanel, having been the Zodiac sign of its founder Coco Chanel. Other symbols associated with the brand are repeated throughout the watch and stand, including the octagonal links of the watch chain that are shaped like the cap on the Chanel No. 9 perfume bottle.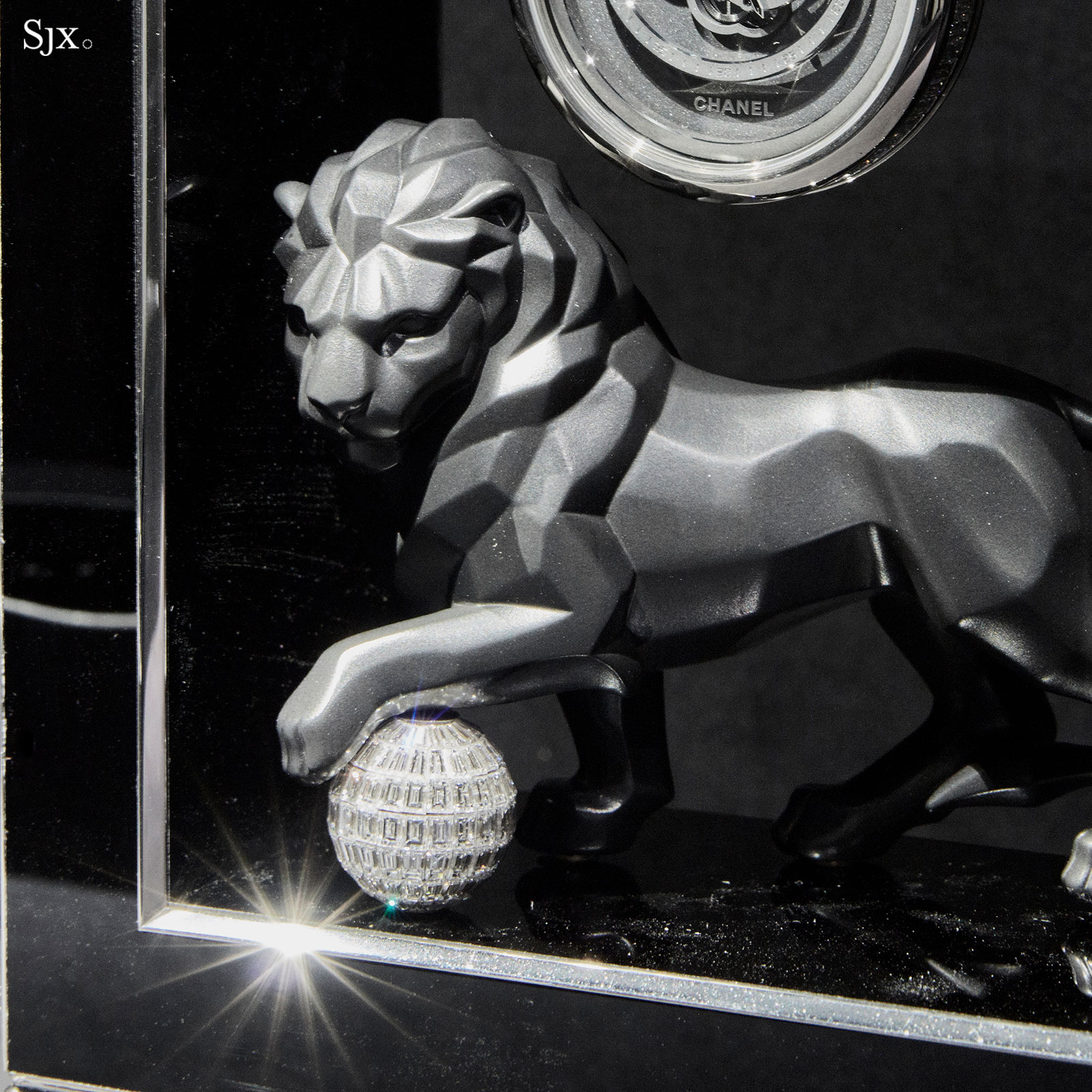 The watch itself can be carried if one is so inclined; it is hefty but not overweight. But it looks best hanging in the stand.
The watch case is 18k white gold, and set with 57 baguette-cut diamonds on its band totalling 7.12 carats. That's a substantial amount of diamonds – in comparison, the average wristwatch bezel accommodates about 2.5 carats of gemstones. But being only set on the case band, the gemstones aren't obvious from the front, giving the watch a surprisingly low-key appearance.
And inside is the Caliber 2.2, a skeletonised, hand-wound movement developed with the aid of Romain Gauthier, an independent watchmaker in which Chanel owns a minority stake. Besides aiding with movement design, Romain Gauthier is also responsible for producing components like the gears and balance wheels for Chanel's top of the line, in-house movements.
As it is with Chanel's other in-house movements – the Caliber 1 being the most complicated – the Caliber 2.2 has its bridges open-worked to form repeating circles, while the bridges are frosted and coated with amorphous diamond-like carbon (ADLC), giving them a sparkly, dark grey finish.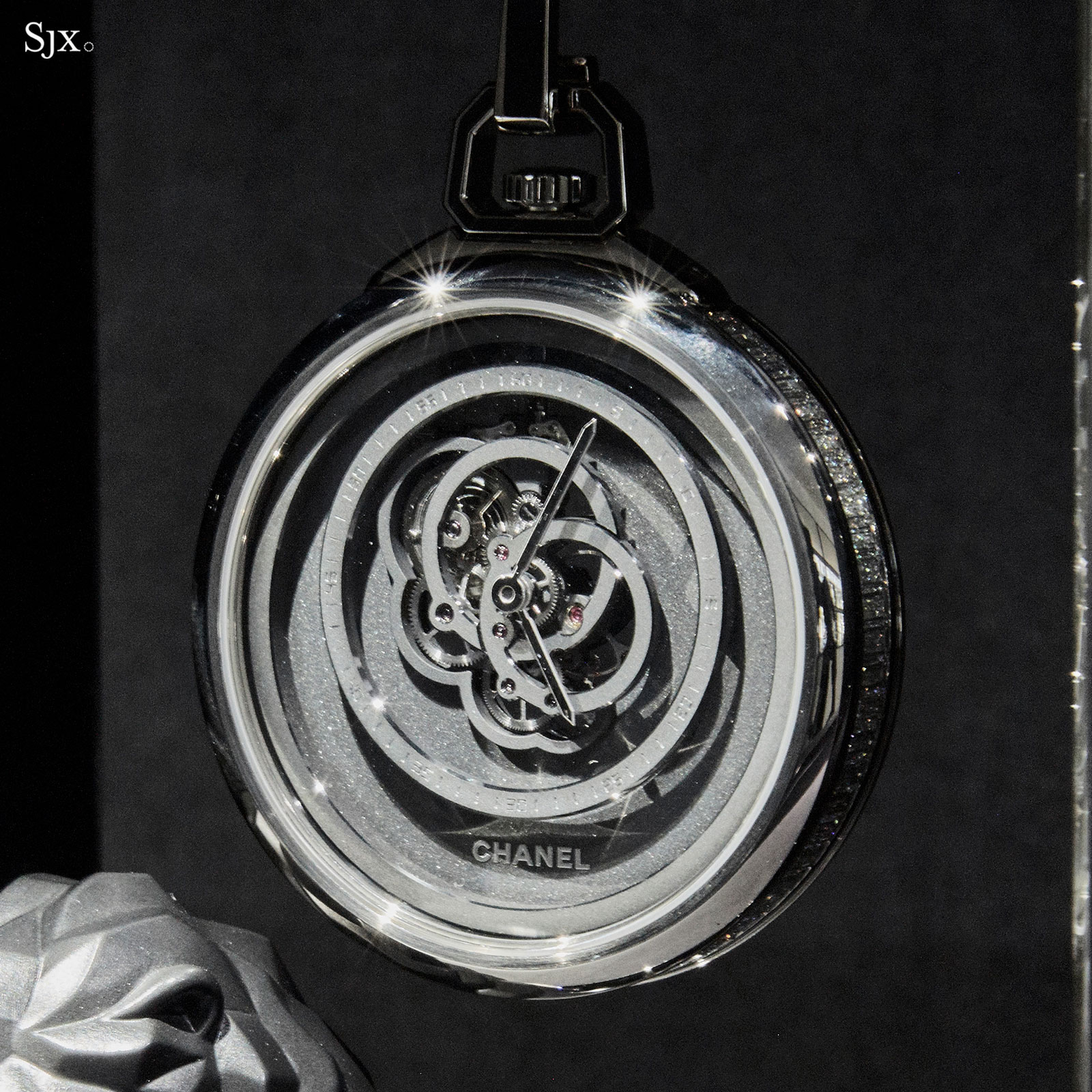 Notably, the movement is derived from the Caliber 2, which is found inside the Première Camélia Skeleton wristwatch for ladies. Designed with a more masculine aesthetic, the new variant of the movement found inside the pocket watch might signal a time-only wristwatch for men in the future.
Concluding thoughts
The pocket watch is unquestionably gorgeous, and it is impressive both visually and tangibly.
It also costs a bit less than US$800,000. Is it worth that much? Probably not, but how else can you decorate a nine-figure apartment?
Key facts

Material: 18k white gold watch case set with 57 diamonds, stand in 18k white gold and obsidian, lion in 18k white gold coated in Hyceram
Movement: Hand-wound Caliber 2.2
Frequency: 28,800bph, or 4Hz
Power reserve: 48 hours
Strap: 18k white gold chain coated in Hyceram
Price and availability
The Monsieur de Chanel pocket watch is a one of a kind creation, priced at €690,000 including 19% VAT. That's equivalent to US$773,000.
---
Back to top.
---
You may also enjoy these.