Introducing the Undone Peanuts Chronograph with Snoopy & Friends
The meca-quartz 'One World'.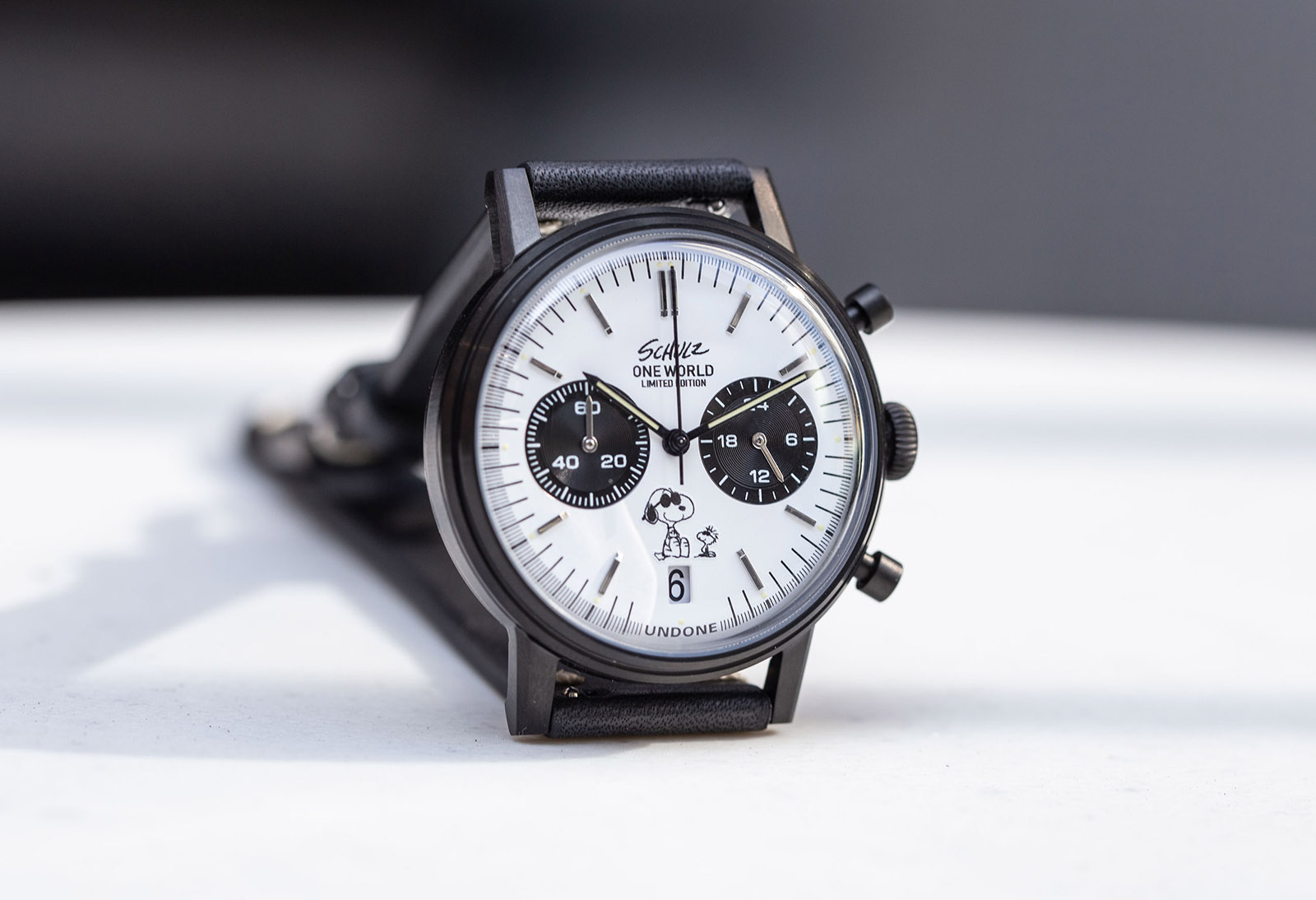 Hong Kong-based Undone Watches is best known for its affordable, retro-style chronographs, which have just gotten an injection of pop culture with the One World collection featuring Charles M. Shultz's beloved Peanuts characters, from Charlie Brown to Snoopy.
Undone was founded four years ago by Michael Young, who is better known for his watch restoration workshop Classic Watch Repair. Using components sourced in Hong Kong and China, as well as Seiko "meca-quartz" movements (explained further down), Undone keeps its watches well below US$500.
The Urban One World collection sticks to the same formula, being made up of six watches, including a limited edition and a customisable model.
The collection is based on two basic case types – 41.5mm with a tachymeter bezel or 40mm with a stepped bezel. Both versions have the same case band, with the difference being the diameter of the bezel.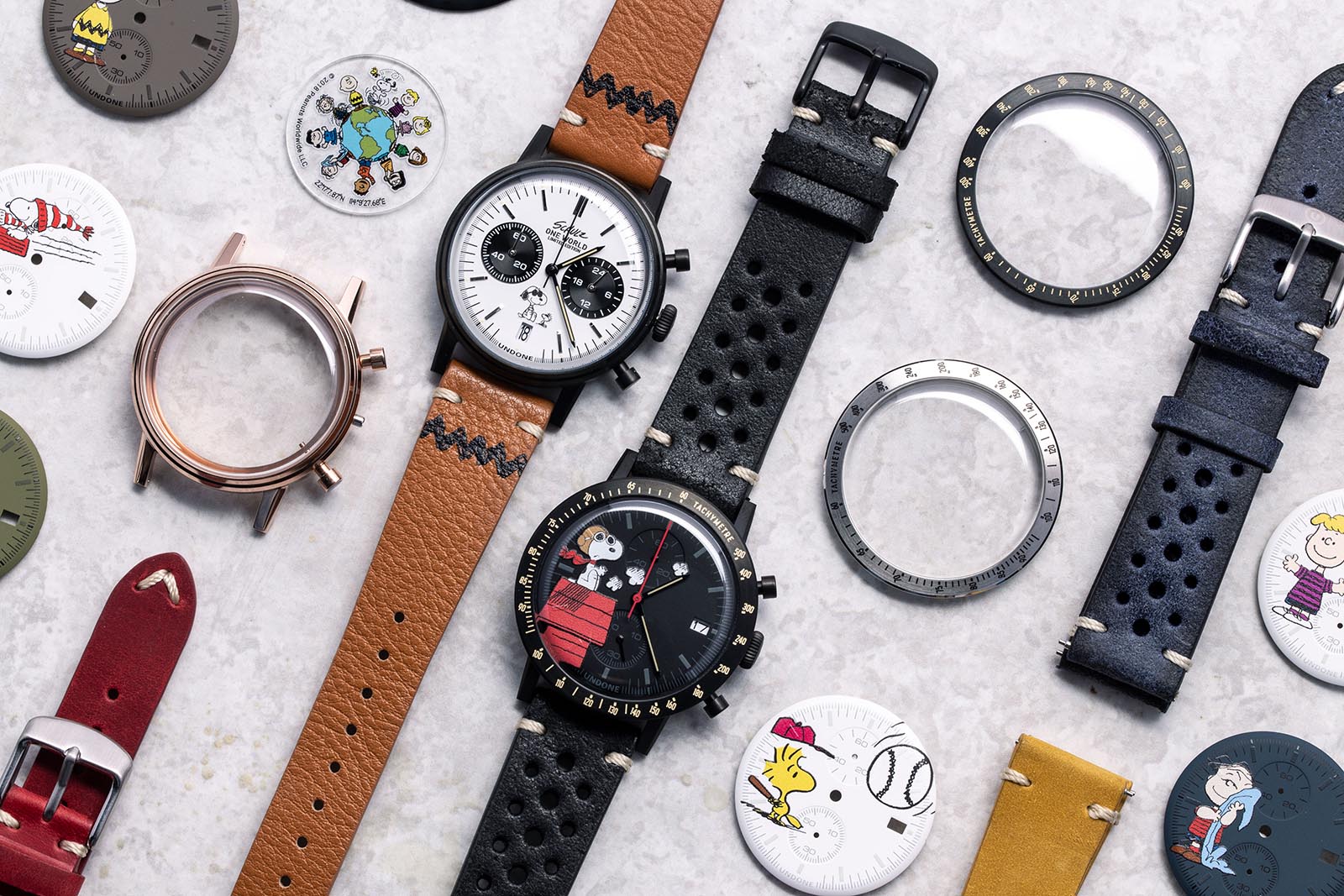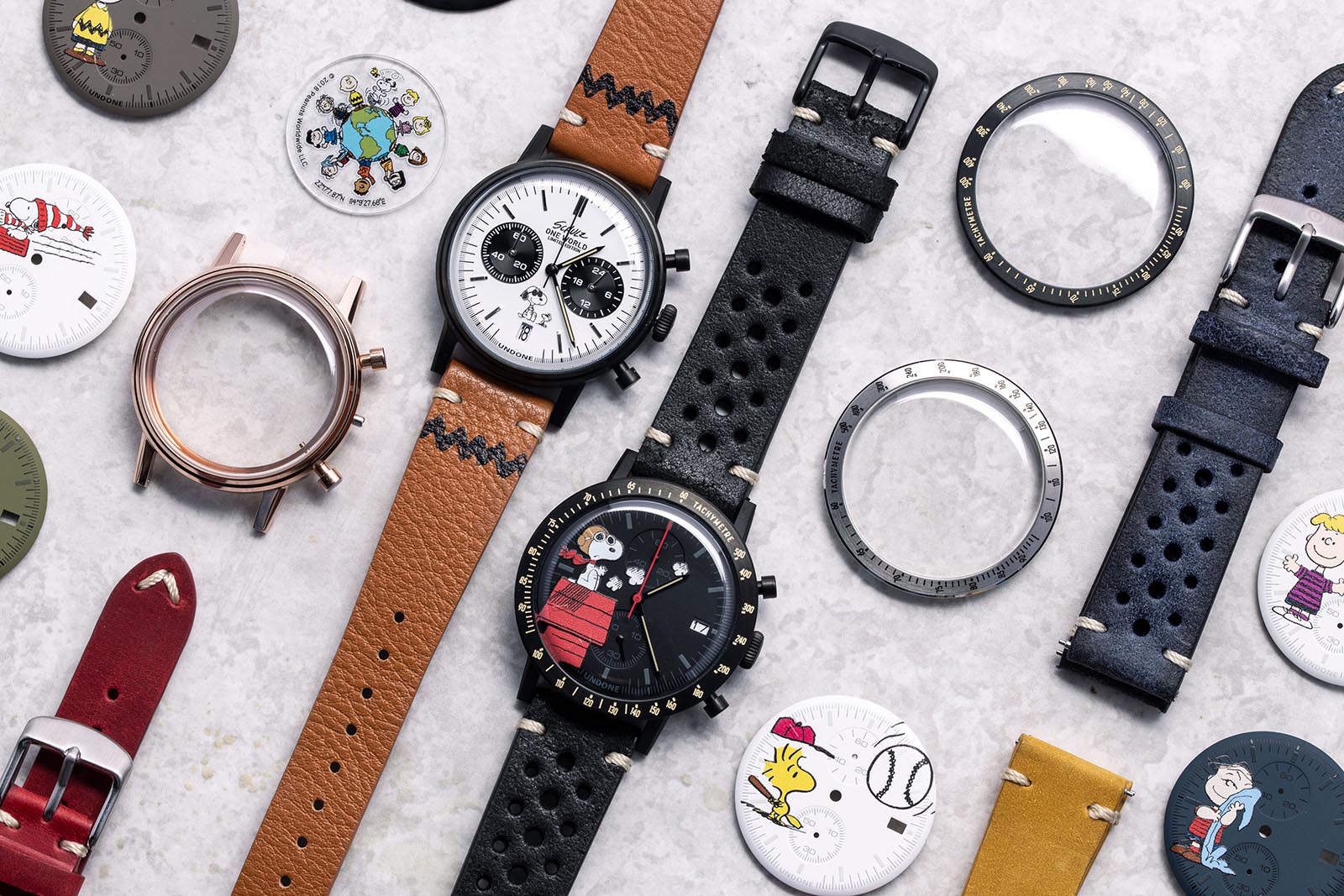 The first four models, with each pair named after Hong Kong and Macau respectively, have tone on tone dials with the Peanuts motifs depicted in bold lines. They all feature a Peanuts character at nine o'clock, save for the black-coated Hong Kong edition that has Charlie Brown's trademark zigzag t-shirt pattern across the orange dial.
---
The customisable model offers a choice of options for the case, dial, hands and strap, as well as initials or a Peanuts character printed on the dial, resulting in a mind boggling number of possible iterations.
The characters available for the dial is all encompassing, from Charlie Brown's archenemy Lucy van Pelt and her brother Linus, to piano-playing Schroeder, to Woodstock.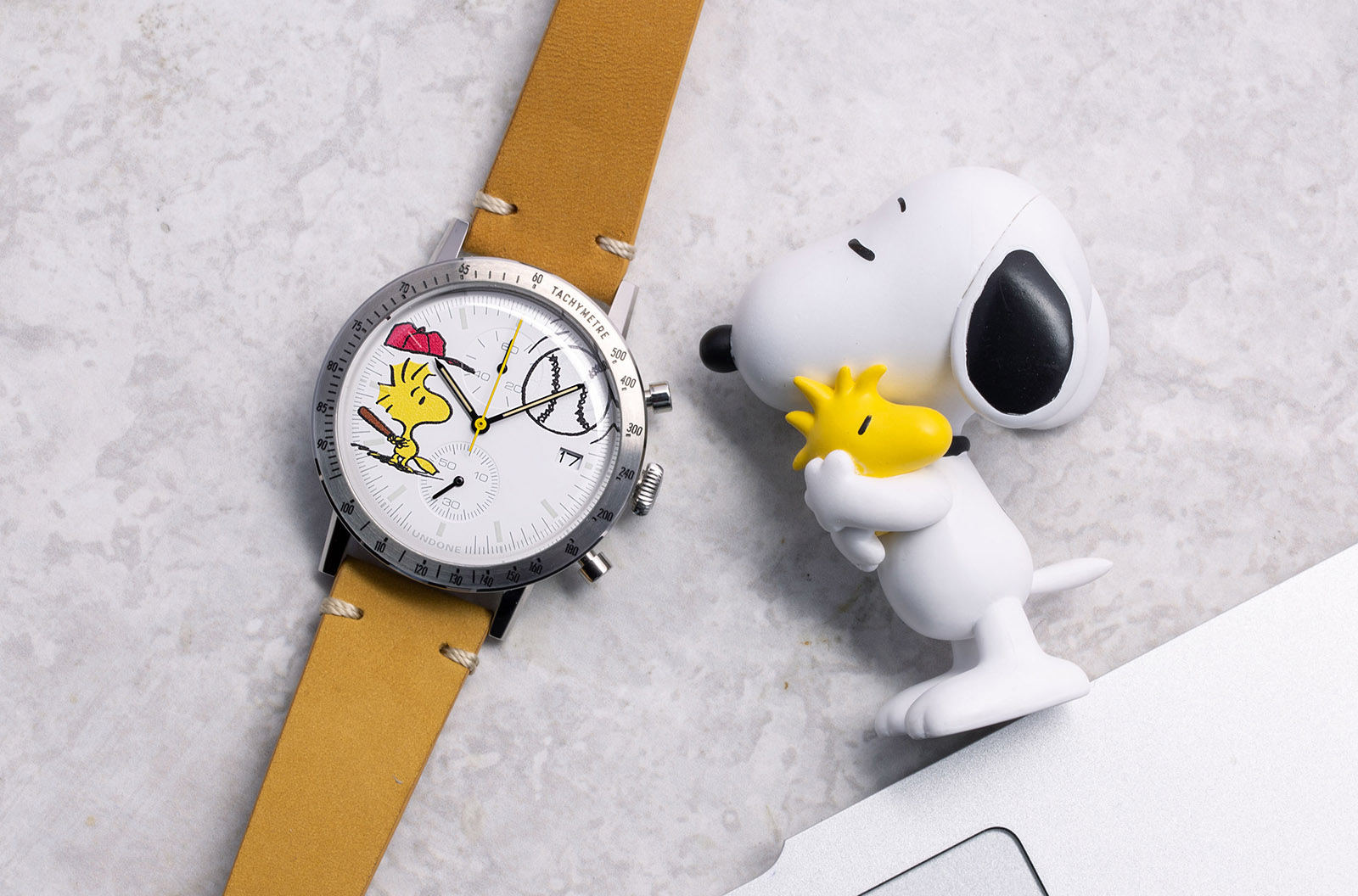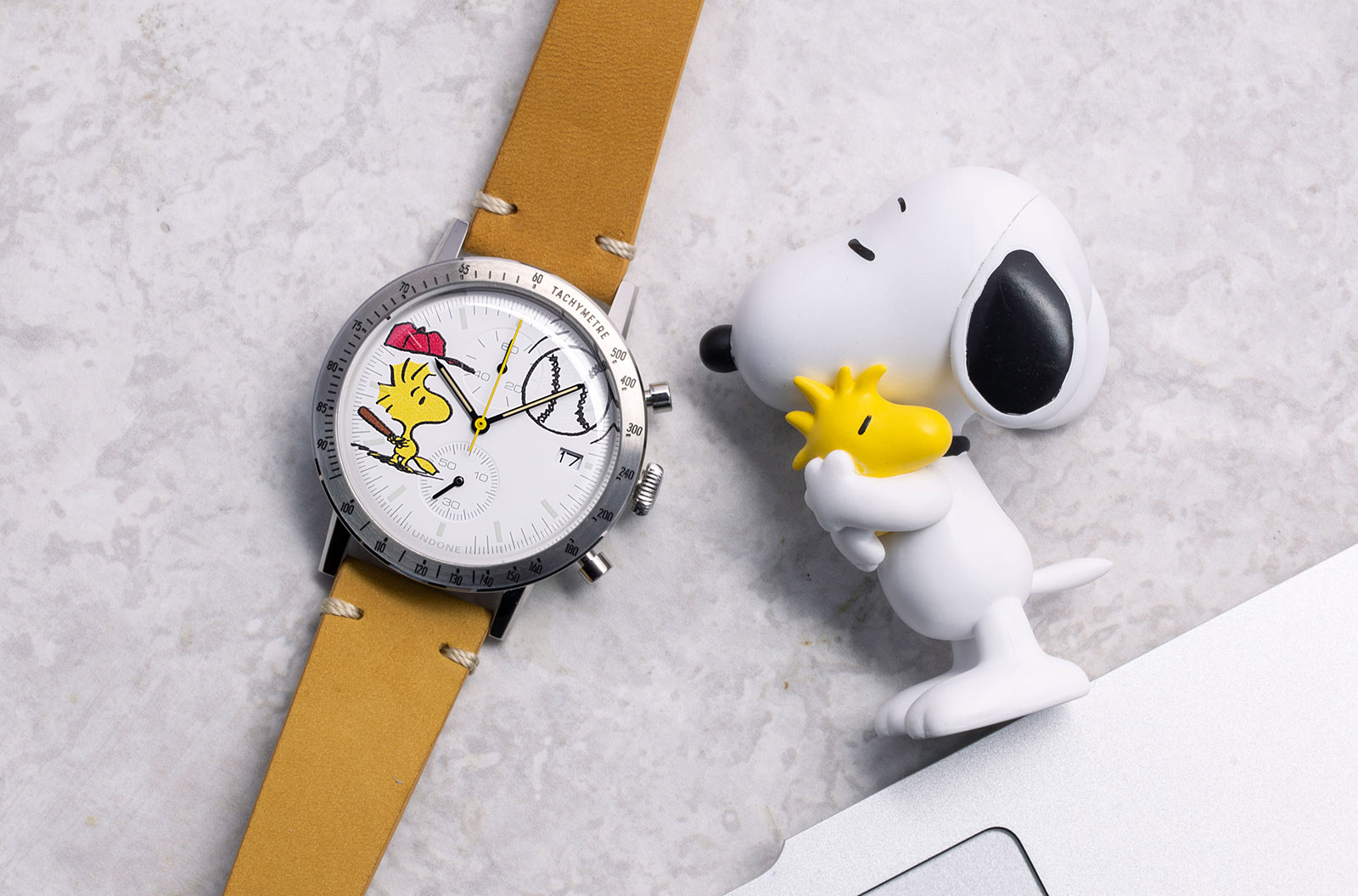 Inside all five models is the Seiko VK61, a "meca-quartz" movement that is essentially a hybrid of mechanical and quartz. The movement has a quartz crystal regulator powered by a battery just like an ordinary quartz watch, but with the chronograph mechanism being a traditional mechanical sort with a levers, hammer and heart-cam reset mechanism. As a result, its tactile feel is not unlike a traditional mechanical chronograph.
The movement is partially visible below a sapphire back printed with all of the Peanuts crew.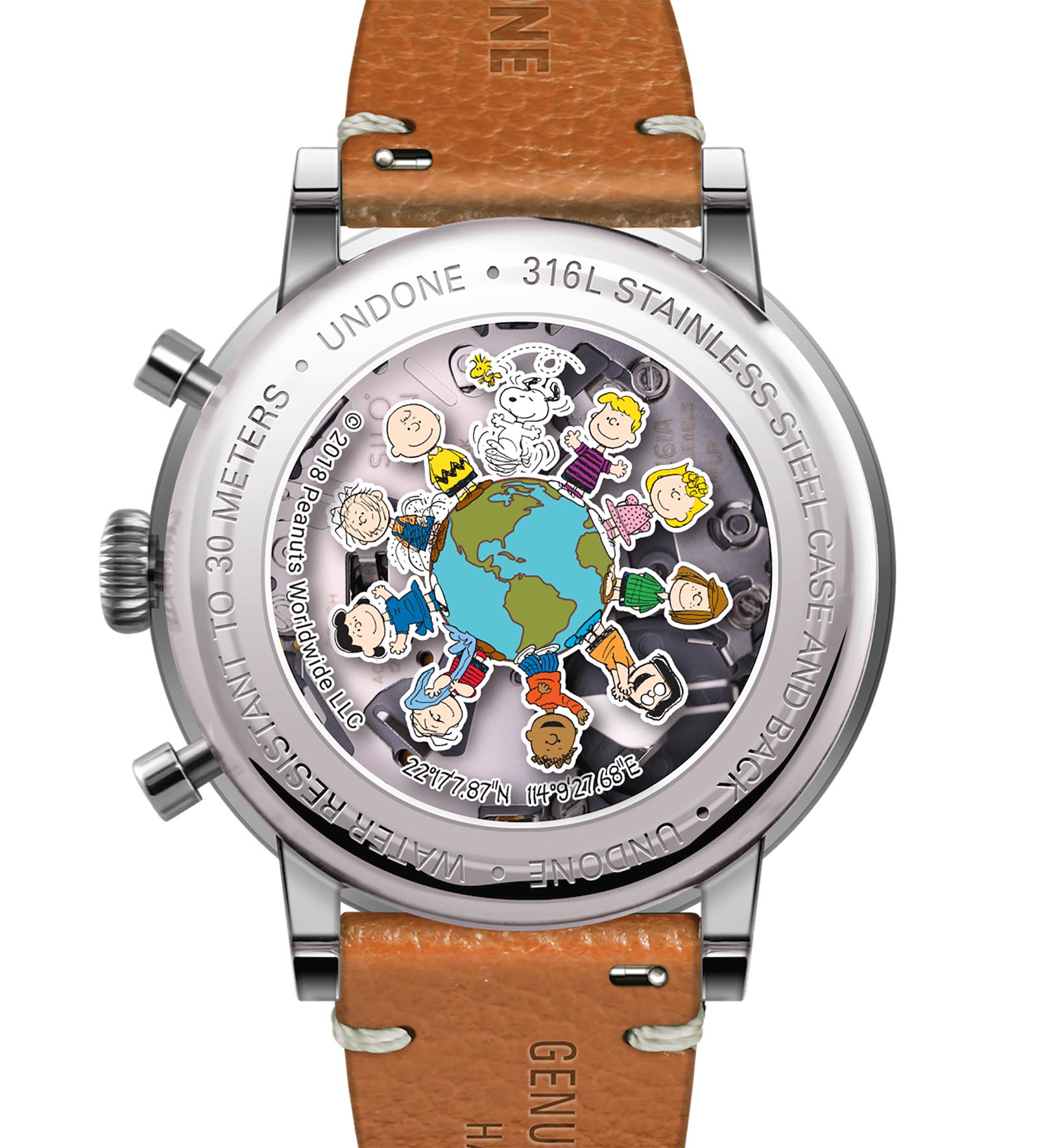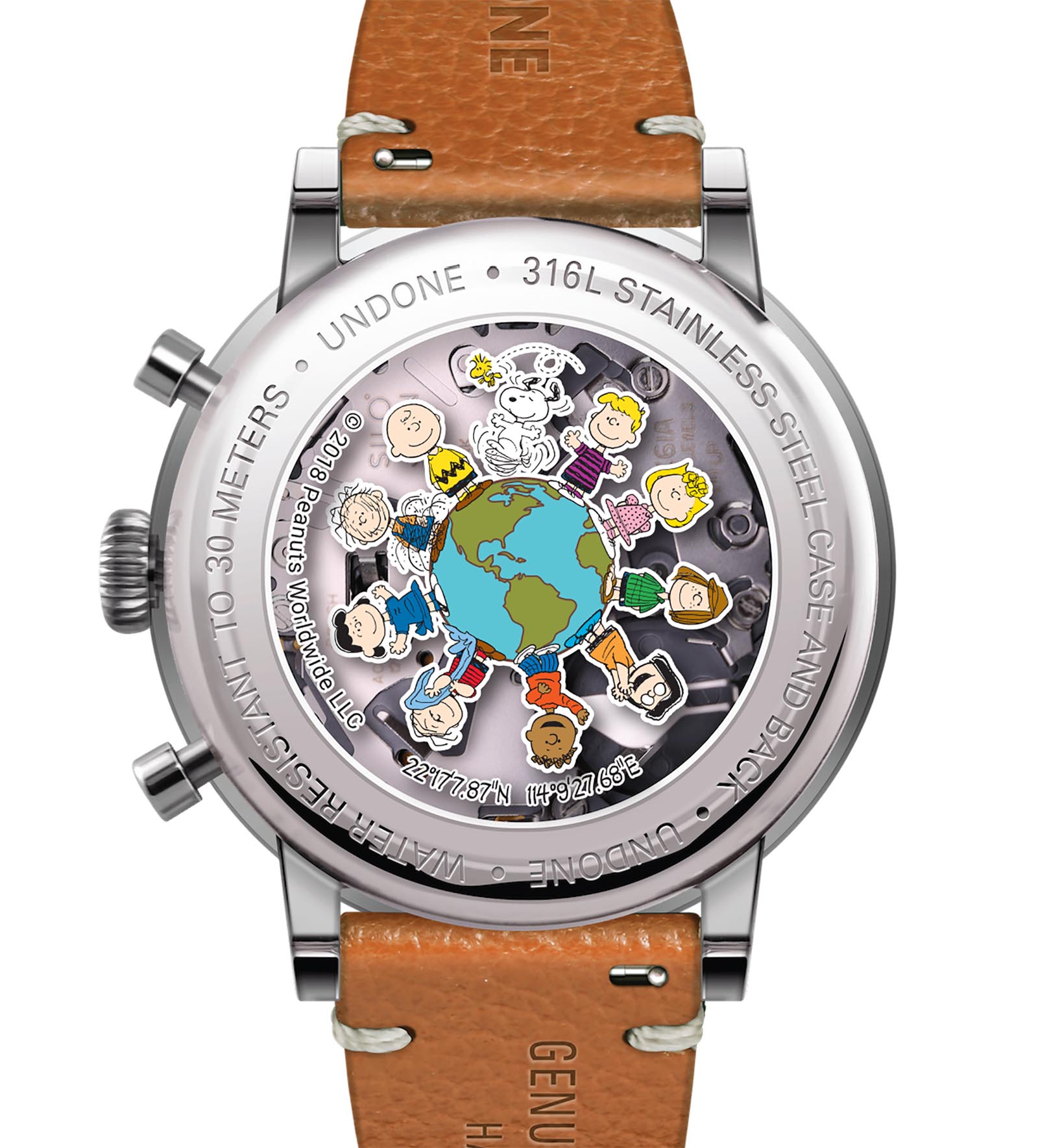 ---
The final model in the collection is a 150-piece limited edition with a black-coated, 40mm case, stepped bezel and "panda" dial. It bears Charles Schulz's signature at 12 o'clock, the only model in the line to have this flourish.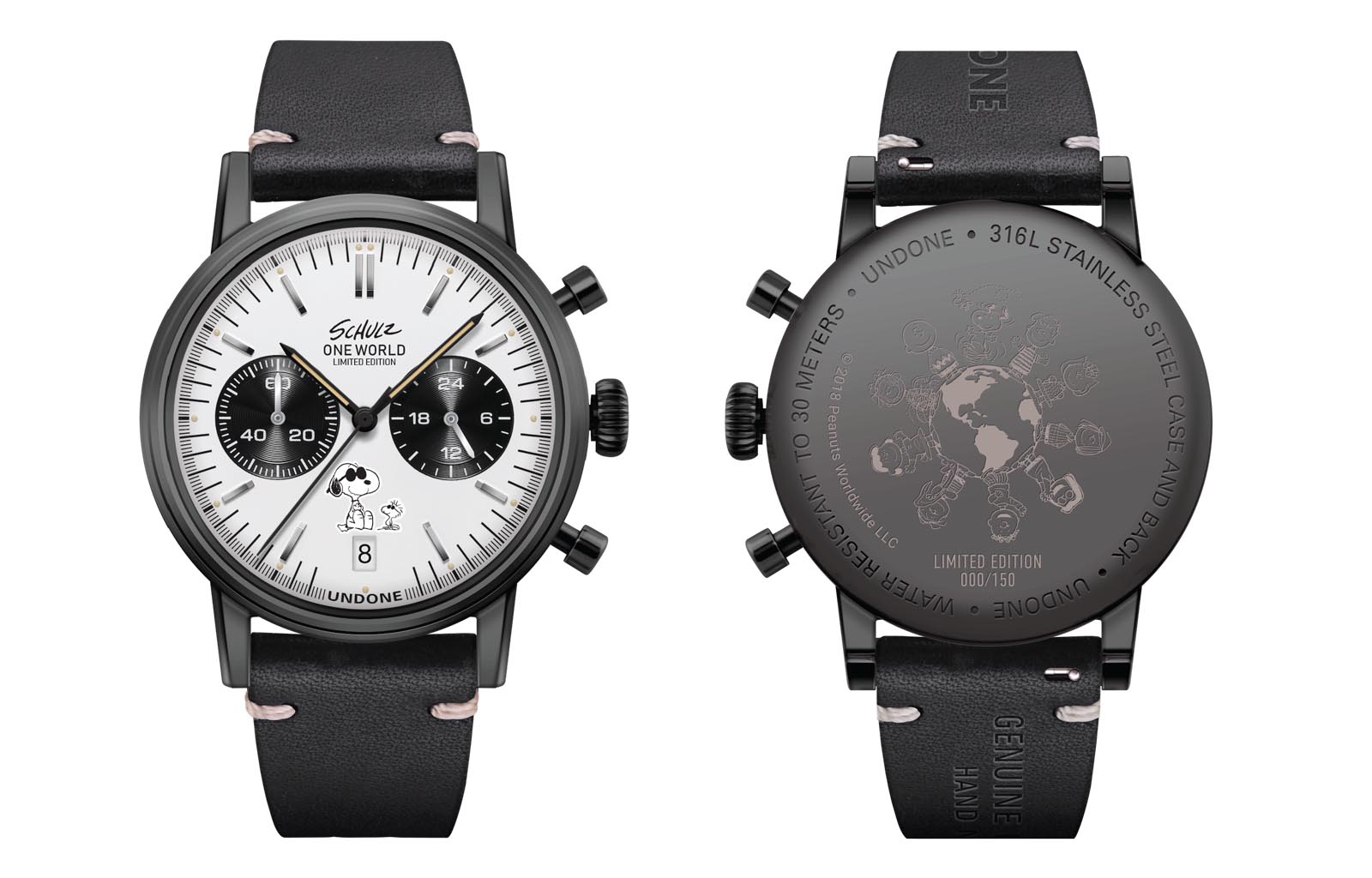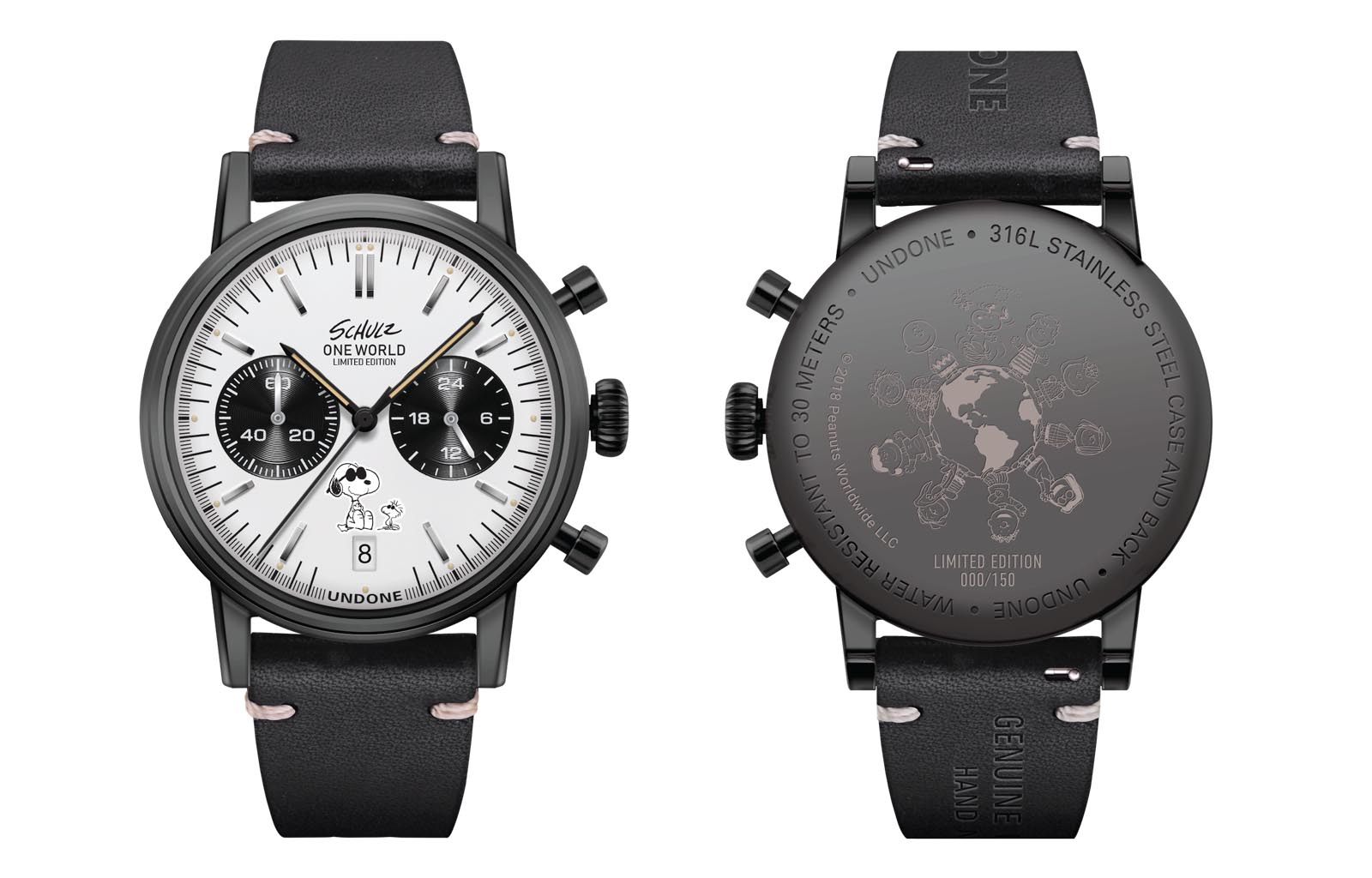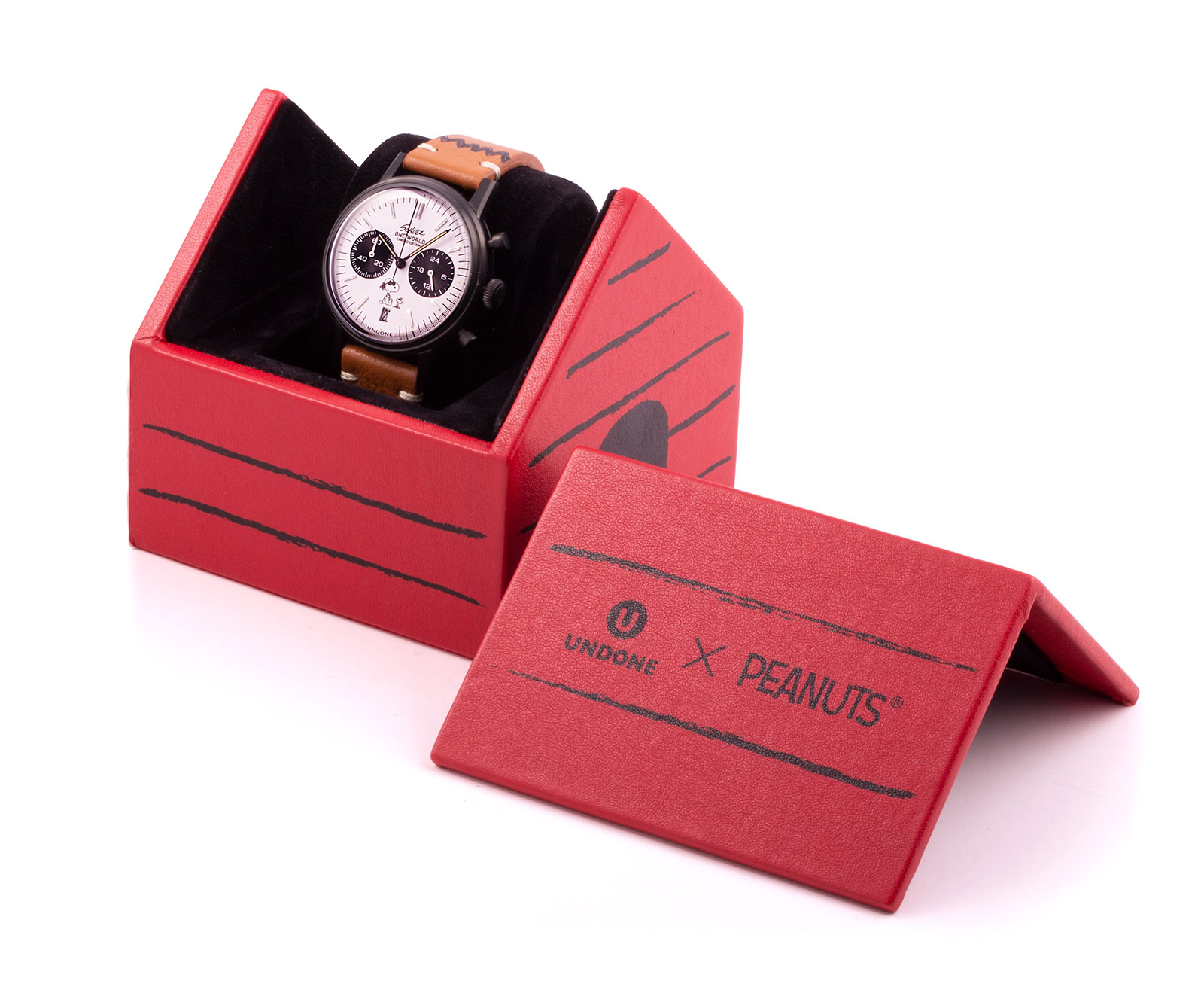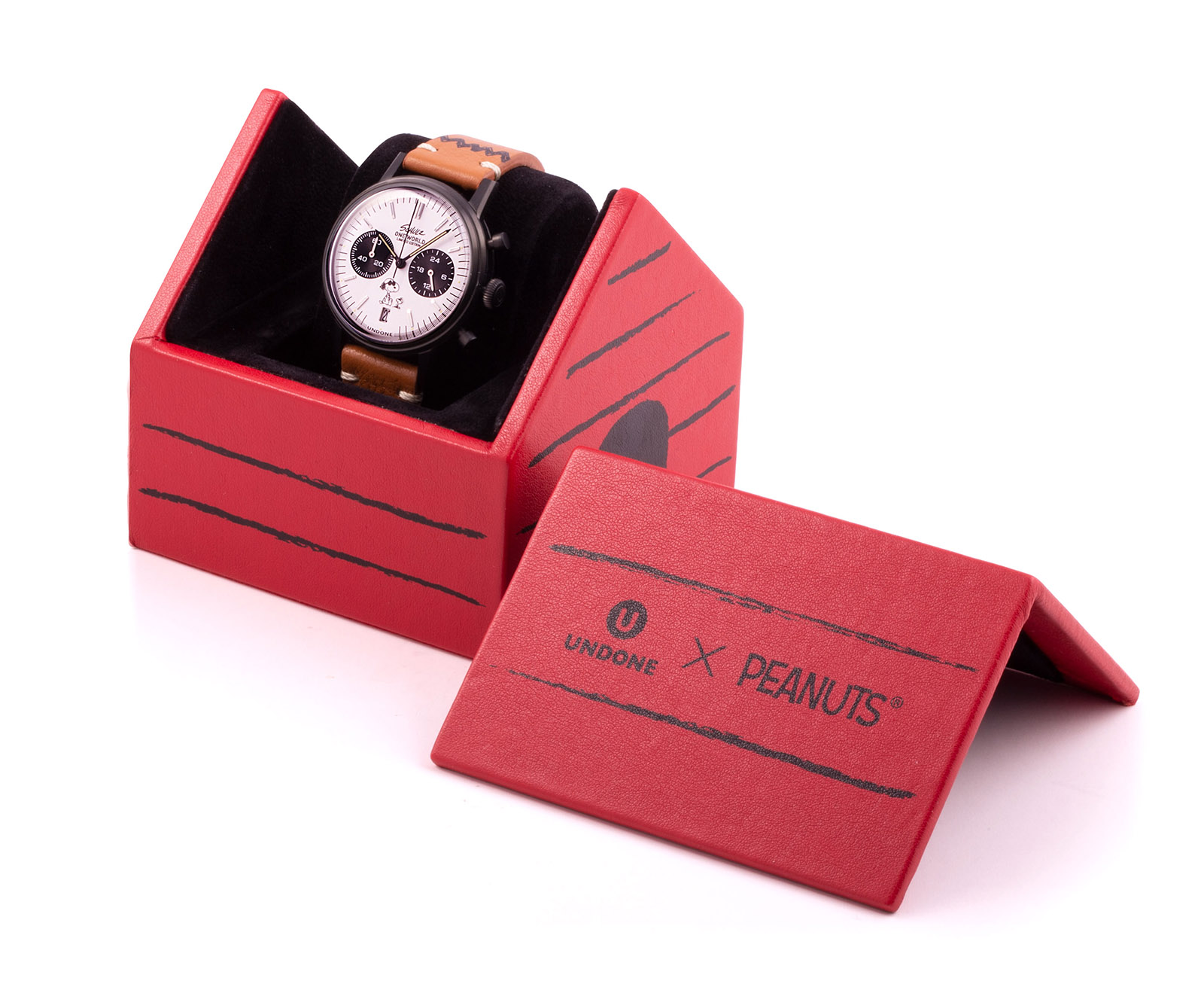 It's powered by another Seiko meca-quartz movement, the "bi-compax" VK64, which is hidden behind a solid caseback.
Price and Availability
The Peanuts Urban 'One World' Chronographs start at US$330 for the Hong Kong or Macau editions, while the customisable version is US$360. The Charles Schulz limited edition is US$450. They are available direct from Undone.
---
Back to top.
---
You may also enjoy these.

Affordable fired enamel in midnight blue - plus a regular production model for Japan.

A classic, mid-20th century military pilot's stopwatch remade for a modest price.

Seiko has teamed up with Japanese fashion label nano universe to create a series of all-black watches inspired by military timepieces.