Introducing the Clockwright KL1, a Monumental Wall Clock in Exotic Wood
Featuring a single-pivot grasshopper escapement.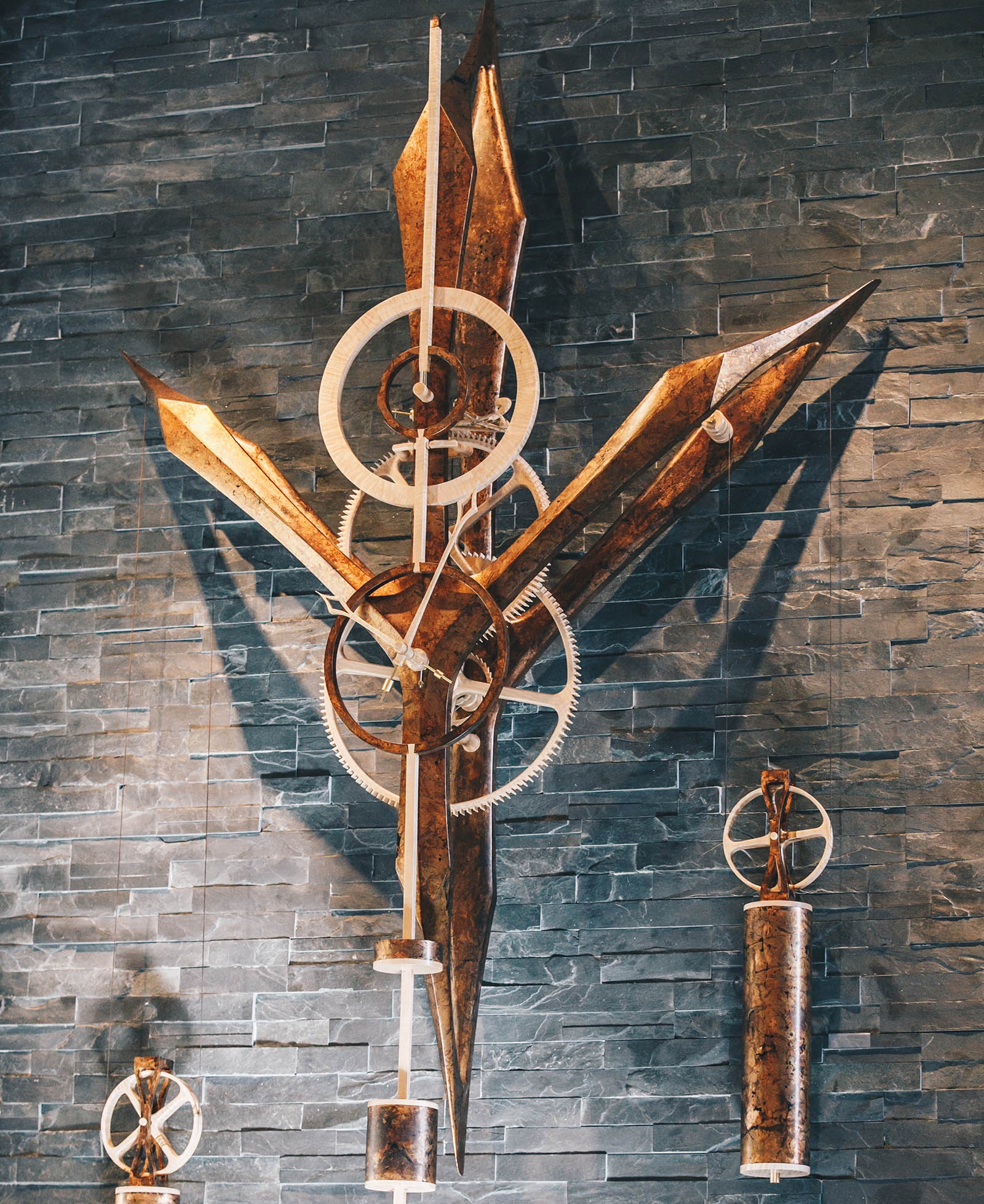 Self-taught clockmaker Rick Hale has just completed the extraordinary KL1, a massive, wall-mounted clock that's 5ft tall and 3ft wide and incorporates his first single-pivot grasshopper escapement.
A bespoke commission by a client, the KL1 has all of its moving parts like rollers and bushings made of lignum vitae, a hard, dense and self-lubricating wood. The massive frame is carved from jointed hard maple and finished with a copper leaf patina.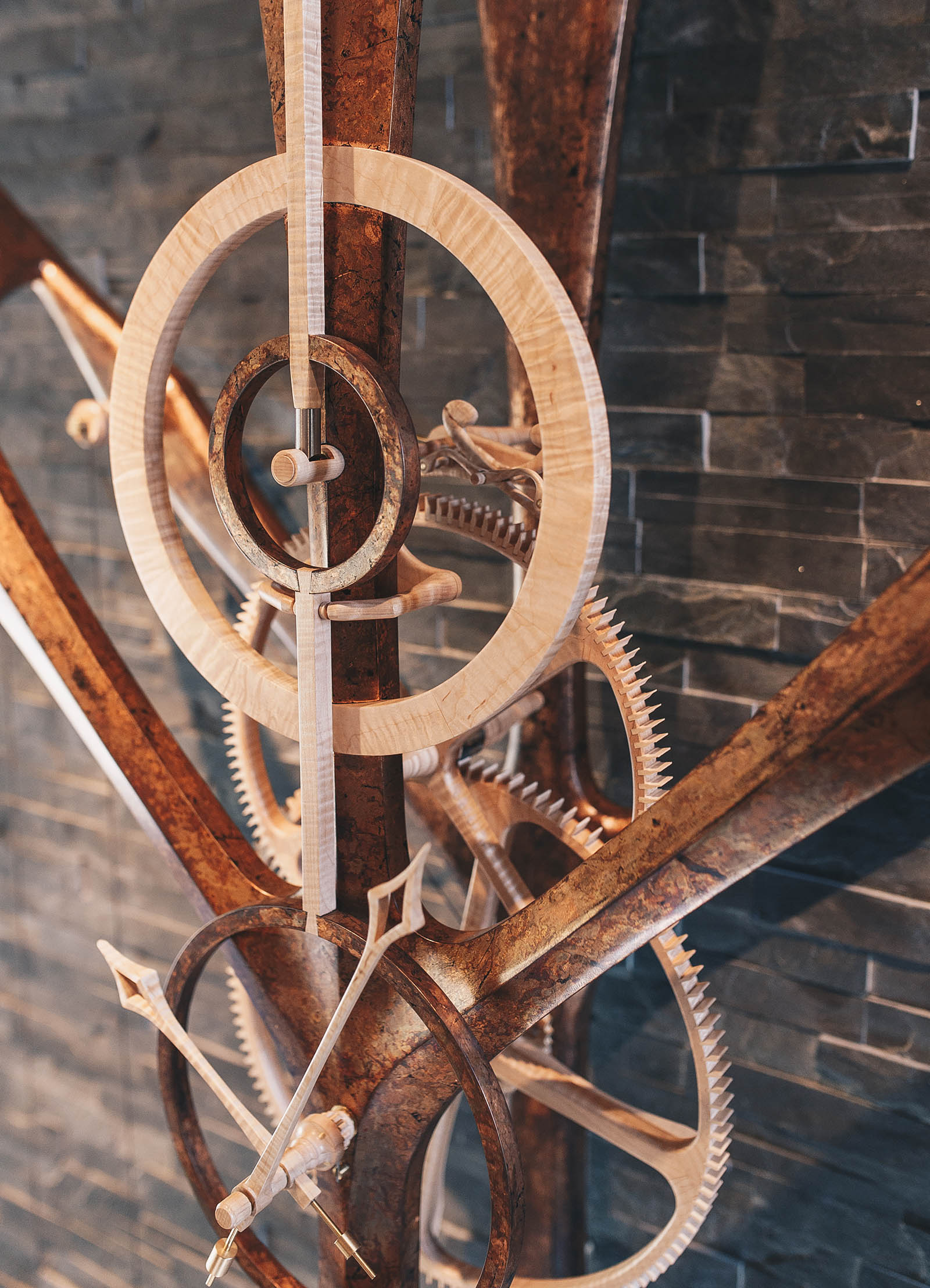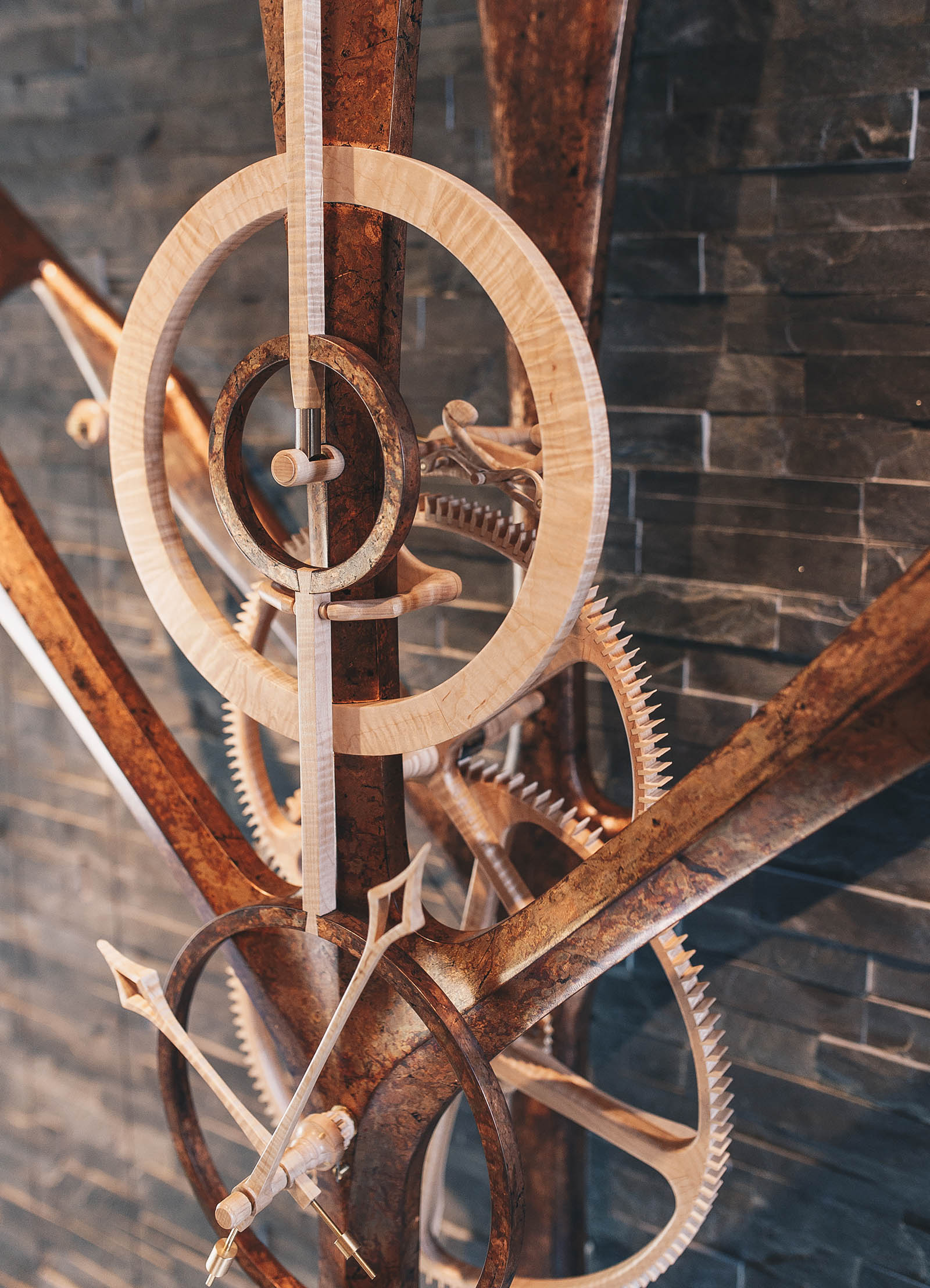 Based in Kalamazoo, Michigan, Mr Hale takes inspiration from the work of John Harrison, the 18th century British clockmaker who perfected the invention of the marine chronometer, thus revolutionising maritime navigation. Notably, Harrison also used lignum vitae for the moving parts of his clocks.
Another of Harrison's innovations that left a mark in history was the grasshopper escapement, which he developed from the conventional anchor escapement and implemented it in his first three marine timekeepers.
Getting its name from the motion of the pallets, which resemble the legs of a grasshopper, the escapement generates low enough friction that most of it could be made from wood while working without lubrication.
Mr Hale's single-pivot grasshopper escapement is based on Harrison's original, but unfortunately unclear, drawing. A large version of the plan was provided to him by Mr. Peter Hastings, a British horologist who's written several papers on the escapement.
Unlike a twin-pivot grasshopper escapement used in Rick's previous work, a single pivot escapement permits independent, free rotation of the pallets and composers about a common, single pivot pin. To ensure that the captivating motion of the escapement can be observed, it is suspended between two narrow bridges of carved maple, leaving it visible from the front and sides. See the escapement in action here:
These pallets and composers are hand-carved from quilted maple. But, interestingly, each pallet is crafted from two pieces of wood so as to ensure that the direction of the woodgrain is optimised for structural strength. They are then riveted together before the final shaping.
Historically, conventional grasshopper escapements are susceptible to tripping, whereby the pallets are completely detached from the escape wheel, and in more severe cases, a "runaway" escapement, the high-speed free wheeling of an escape wheel. To prevent this, the nib of the exit pallet was lengthened so that it would never miss the tooth of a speeding wheel. Mr Hale tested this construction at "runaway" speed, and both the teeth and pallets proved strong enough to absorb the impact.
The pendulum assembly can be poised by sliding the quilted maple and brass weight at the upper left along its pin to ensure even weight distribution.
Mr Hale designed his own maintaining power, from which long hardwood springs extend to several pins at the back of the centre wheel. The gears of this piece are also based on a distinct type of gearing developed by Harrison known as the chordal pitch.
In addition, the KL1 incorporates a smaller version of the daisy wheel motion work used in his previous clocks, which offers greater efficiency. The daisy wheel is an 18th century invention that consists of 11 "petals" and achieves a 12:1 reduction.
Rick is currently working on his most complex piece yet, the L1 which incorporates a grasshopper escapement, a remontoire, and a lunar complication – all in his signature hardwood construction.
Price and Availability
All custom clocks, such as the KL1, start at US$30,000, while the stock L1 starts at US$25,600.
---
Back to top.
---
You may also enjoy these.

A self-taught clockmaker using 18th century techniques to craft large, mechanical clocks.

Miki Eleta is one of the few members of the AHCI who is a clock-, rather than watch-maker. He specialises in highly complex clocks though up till 2001, Eleta only created kinetic sculptures, until challenged by a client to create a clock.