A Visit to the Biggest Watch Fair in Asia
High-end, low-end, B2B, B2C - it all happens at the Hong Kong Watch & Clock Fair.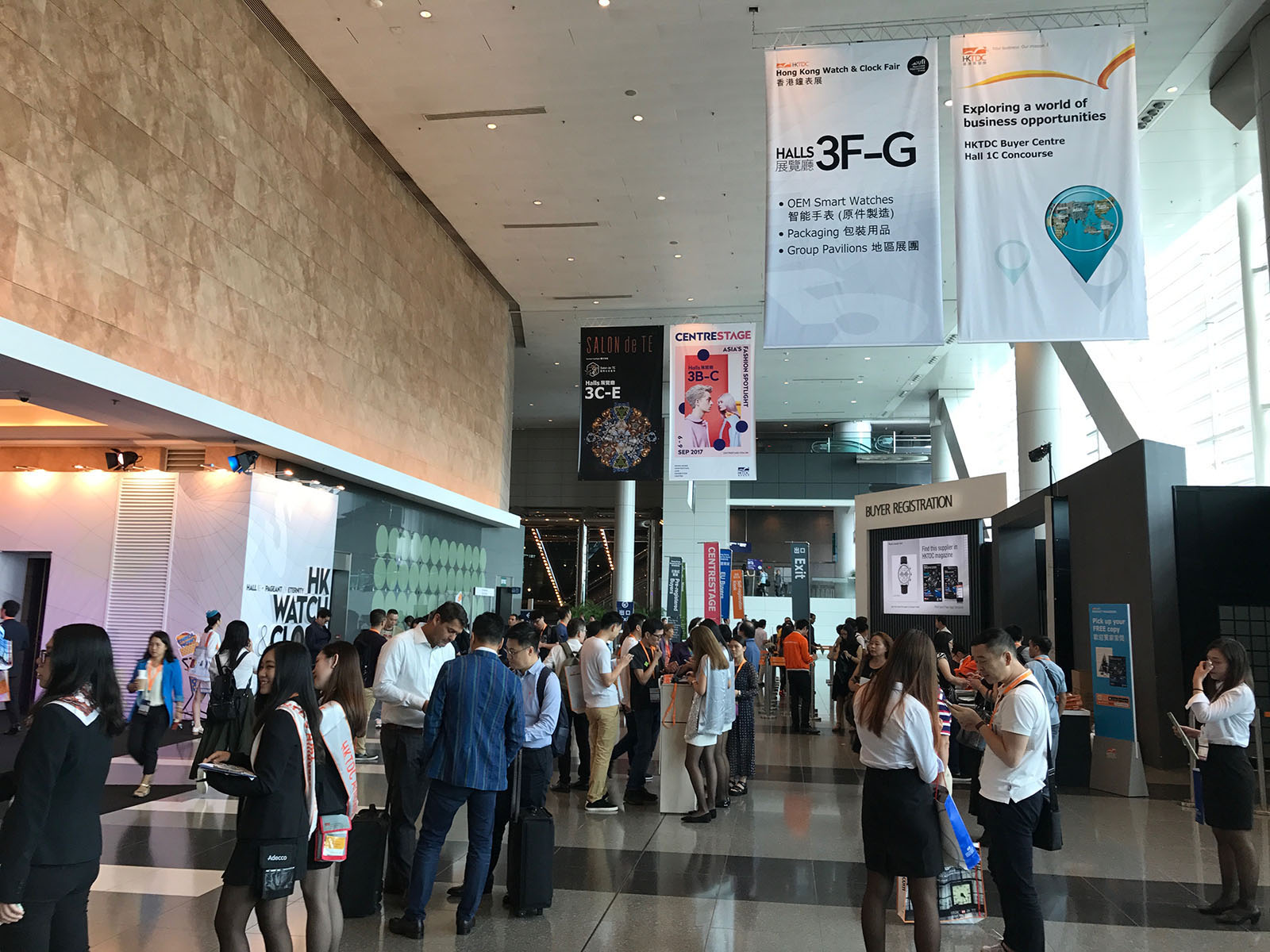 Since its founding in 1982, the Hong Kong Watch & Clock Fair (HKWCF) has become the leading trade show in Asia and the second largest in the world after Baselworld. Its prime position is no surprise since Hong Kong is the largest importer of Swiss watches by a large margin. The size and scope of the fair makes it an enlightening microcosm of what is happening in the global, and not just Swiss, watch business.
The 2017 HKWCF took place in first week of September at the Hong Kong Convention and Exhibition Centre, a large complex by the sea that's a favourite setting for films (it was destroyed in 2014's Transformers). Over 800 exhibitors and 20,000 buyers took part, a surprising jump from last year's figures despite the slowdown in luxury watch demand globally, and perhaps proof that the market for low-cost parts and supplies is robust.
Despite the luxury watch industry facing its worst slowdown since the quartz crisis, the fair demonstrated that Chinese watchmakers are adopting an approach to the business that's a polar opposite of what their Swiss peers are doing.
After decades of expanding production volumes with a focus on low-end timepieces, Chinese watchmakers now find themselves stuck in an unglamorous segment of the market, unable to capture the increasingly affluent Chinese consumer who demands more than just basic, practical watches.
Moreover, unlike European luxury watch brands that are mostly privately owned by listed conglomerates, large Chinese watch brands are state-owned enterprises. Under the new reform initiatives by the government in Beijing, Chinese watchmakers are under increasing pressure to be more independent and competitive.
Consequently, big names such as Seagull and Shanghai Watch Co. are aggressively rolling out new flagship complications at a time when their Swiss counterparts are producing simpler and more affordable watches. Though Chinese watchmakers have some ways to go before catching up with their Swiss rivals in terms of brand image, aesthetics and quality, the gap is shrinking.
---
Staying true to its roots as a business-to-business trade fair, the exhibitors at the HKWCF consisted of mainly OEM watch manufacturers and component suppliers from Asia as well as the rest of the world, including Switzerland – illustrating the global nature of what is widely seen as a Swiss business.
Many of the same exhibitors, including movement makers Miyota and Ronda, as well as tool maker Bergeon, were also present at the China Watch & Clock Fair (CWCF) that took place in June across the border in Shenzhen.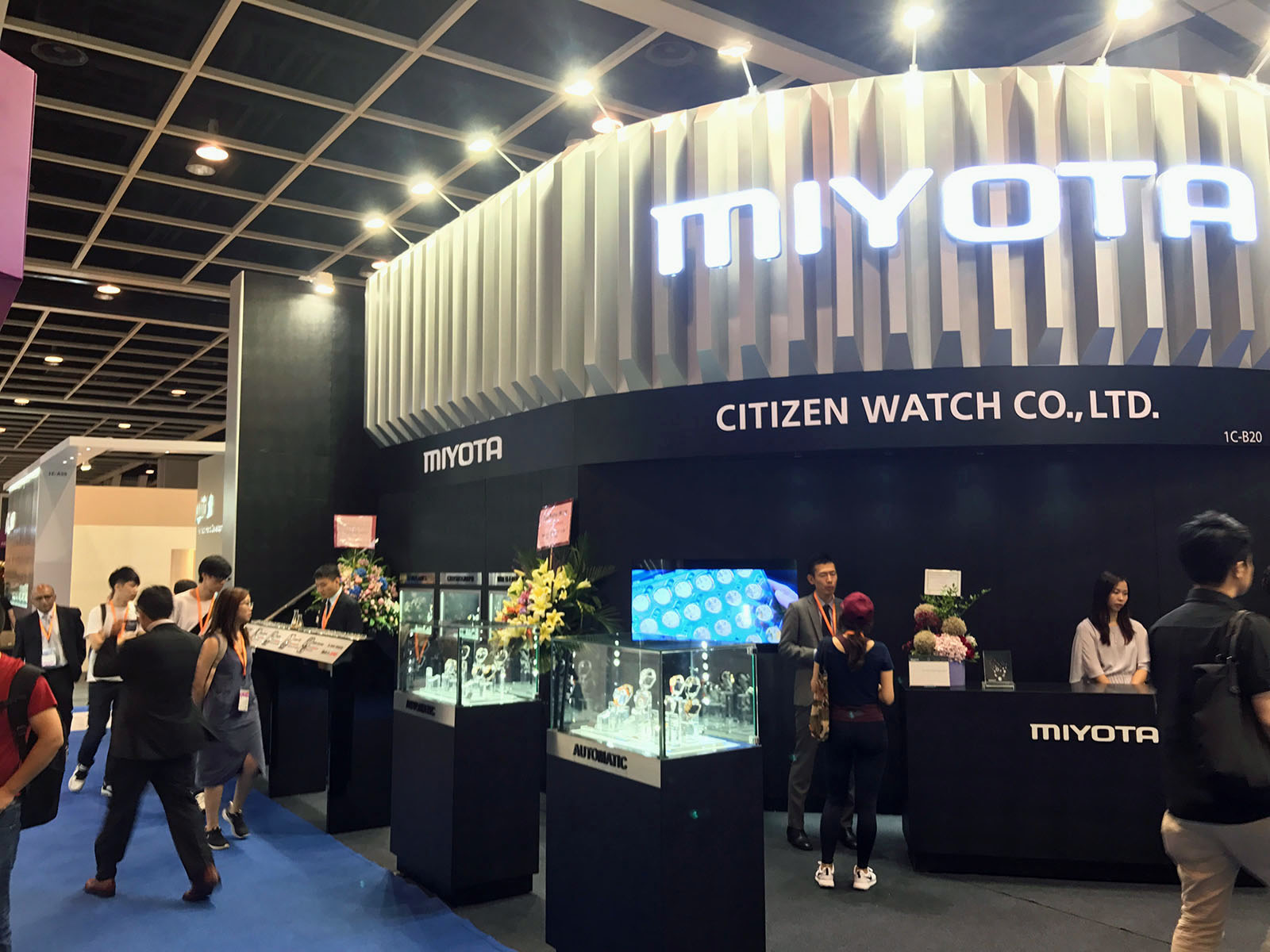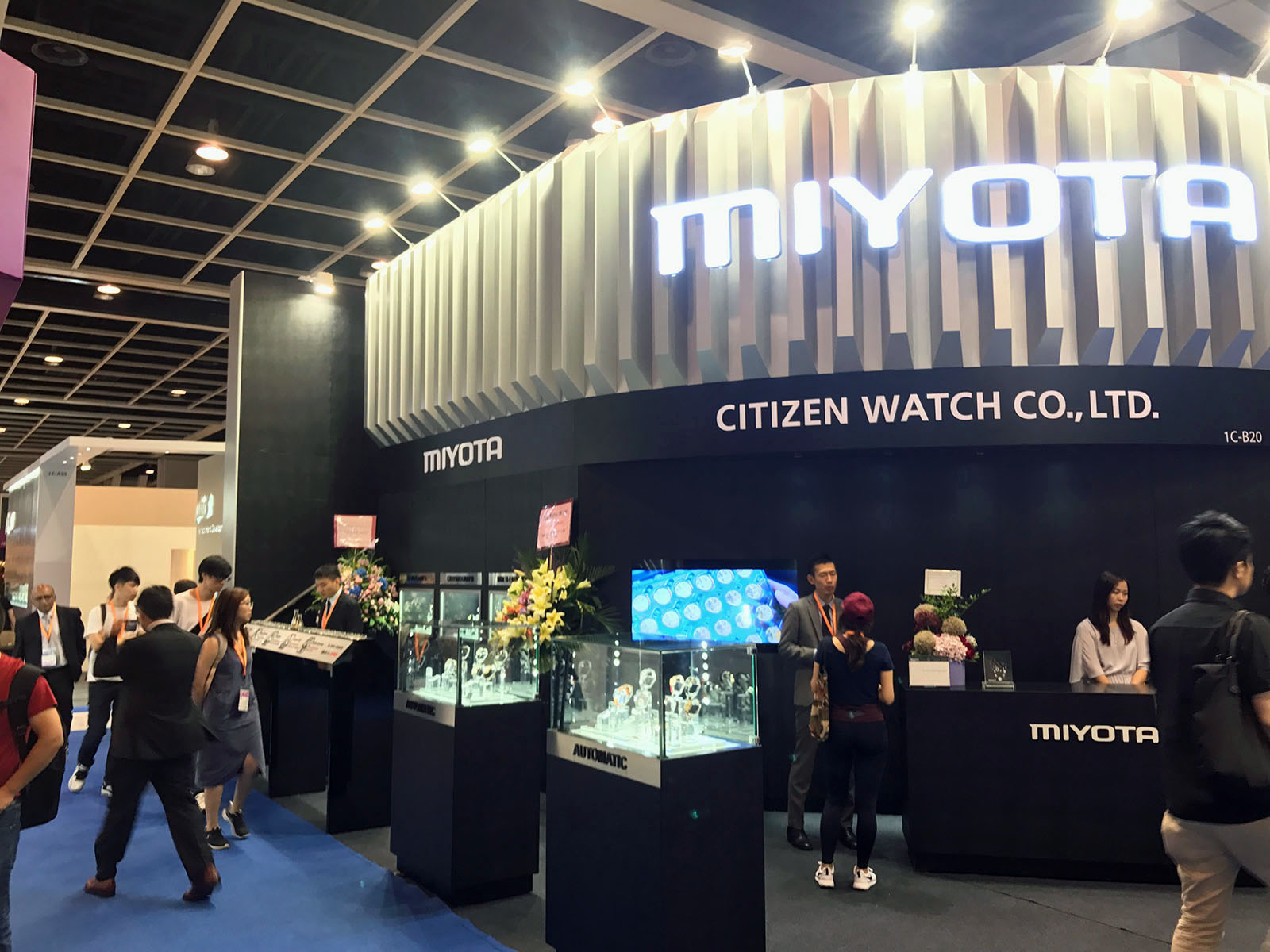 But as with the CWCF, the organisers of the HKWCF have attempted to evolve from an industry trade show to a more inclusive exhibition that also caters to consumers. Consequently, large portions of the exhibition halls were dedicated to finishes watches ready for sale.
The highlight of the consumer-friendly section was the World Brand Piazza by Hong Kong watch retailer, Prince Jewellery & Watch. Featuring 13 brands, the lavishly decorated booth showcased some of the flashiest watches in the world, including the shamelessly named Billionaire watch.
Unveiled in 2015, the Billionaire is a creation of Jacob & Co., the New York based jeweller that's a favourite of athletes and musicians. It's one of the world's most expensive watches, boasting a price tag of US$18 million.
Entirely clad in 260 carats of emerald-cut diamonds, the watch is a quintessential display of gem-setting skill. The diamonds had to be matched and cut for a consistent tapering from end to end, from the 3-carat diamonds on the first row down to the 0.5-carats diamonds at the clasp.
---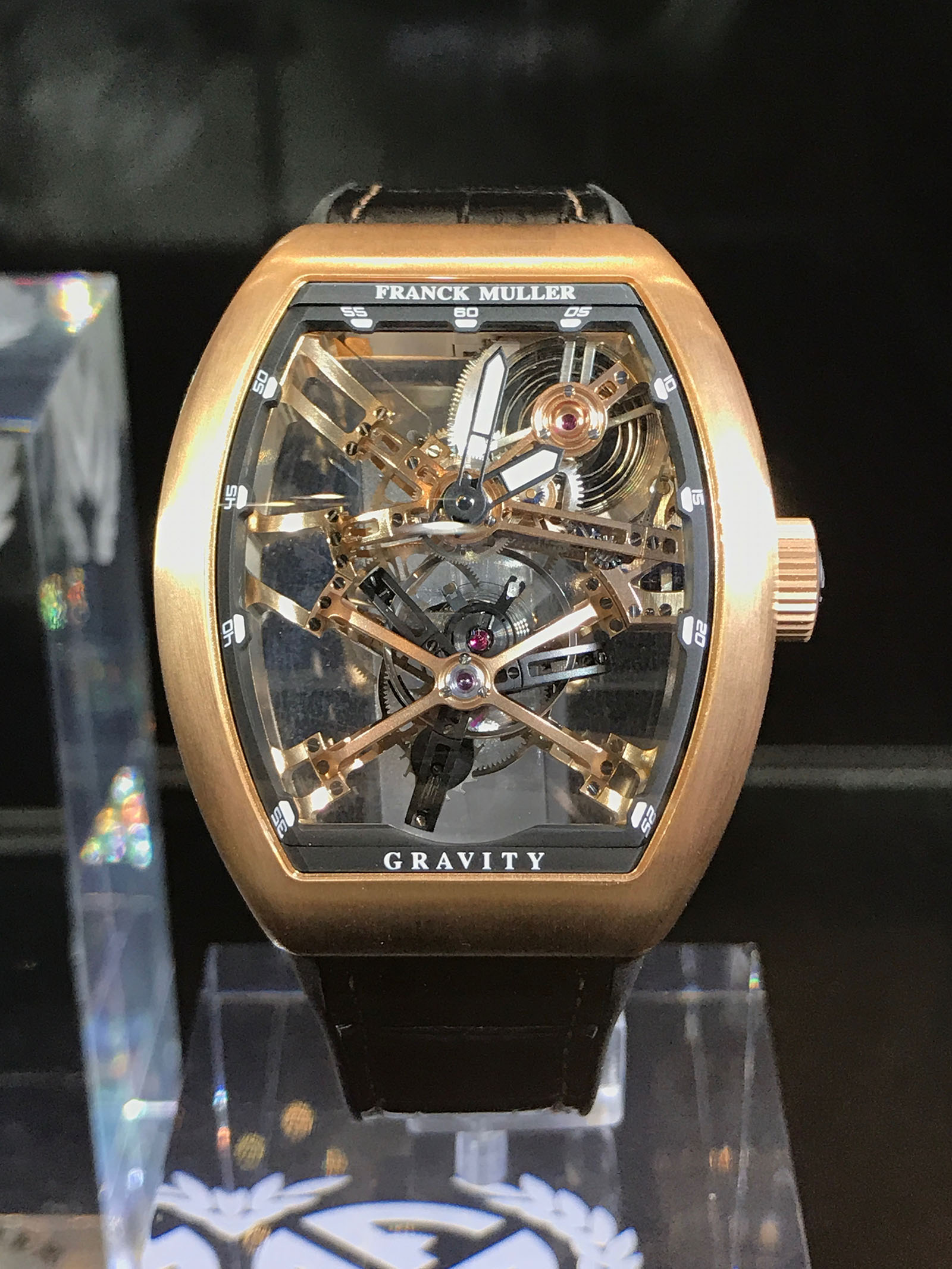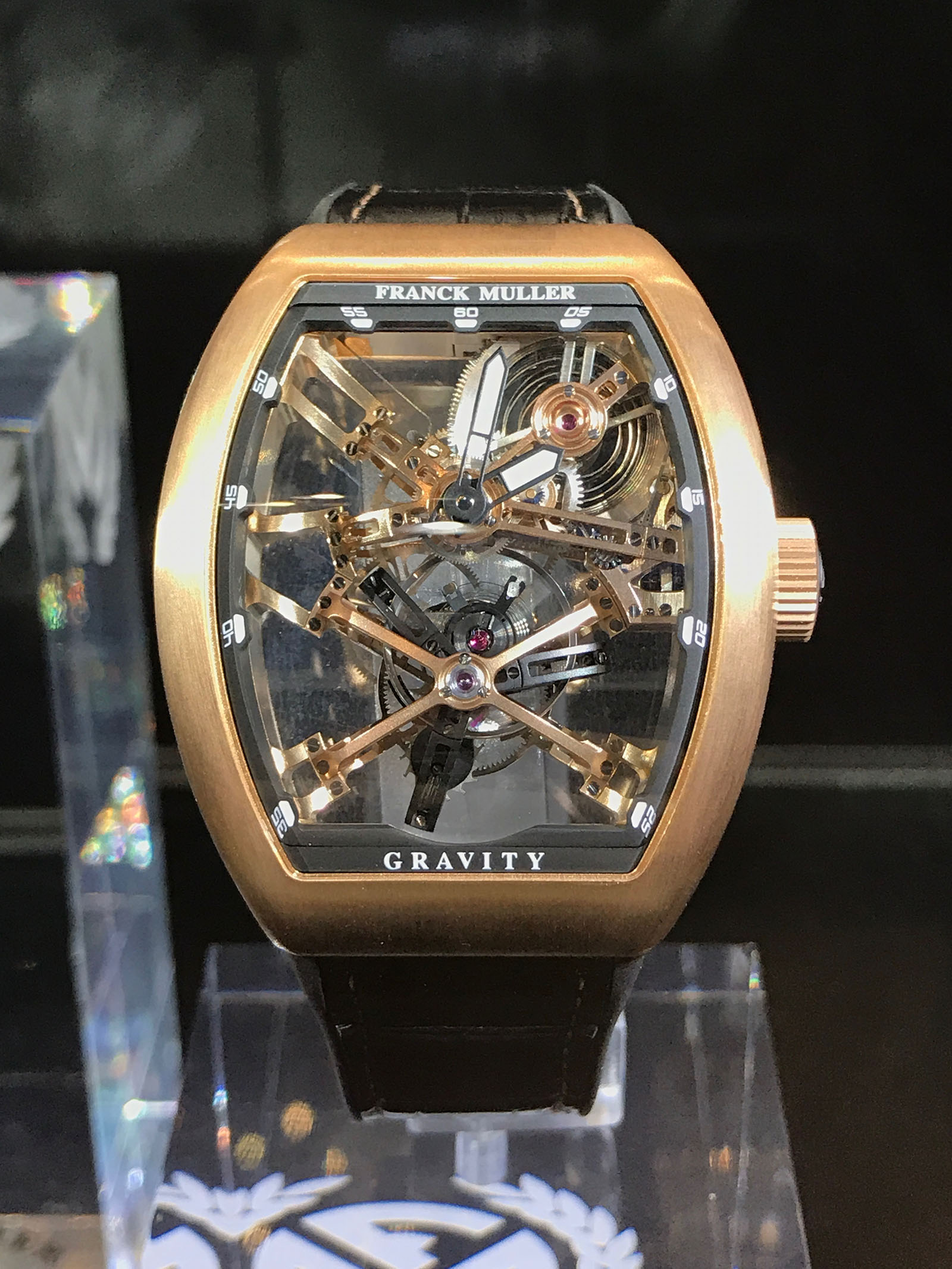 Another highlight was the Franck Muller Vanguard Gravity Skeleton that made its debut in 2016. Equipped with a movement unveiled in 2014, the Vanguard Gravity features a tourbillon with a cage spanning 21.2mm that contains an off-centere balance wheel. This year's model takes it a step further with a skeletonised movement to reveal the mechanics beneath. To ensure a coherent design language, the movement bridges were redesigned in the same industrial chic style found on the tourbillon cage.
---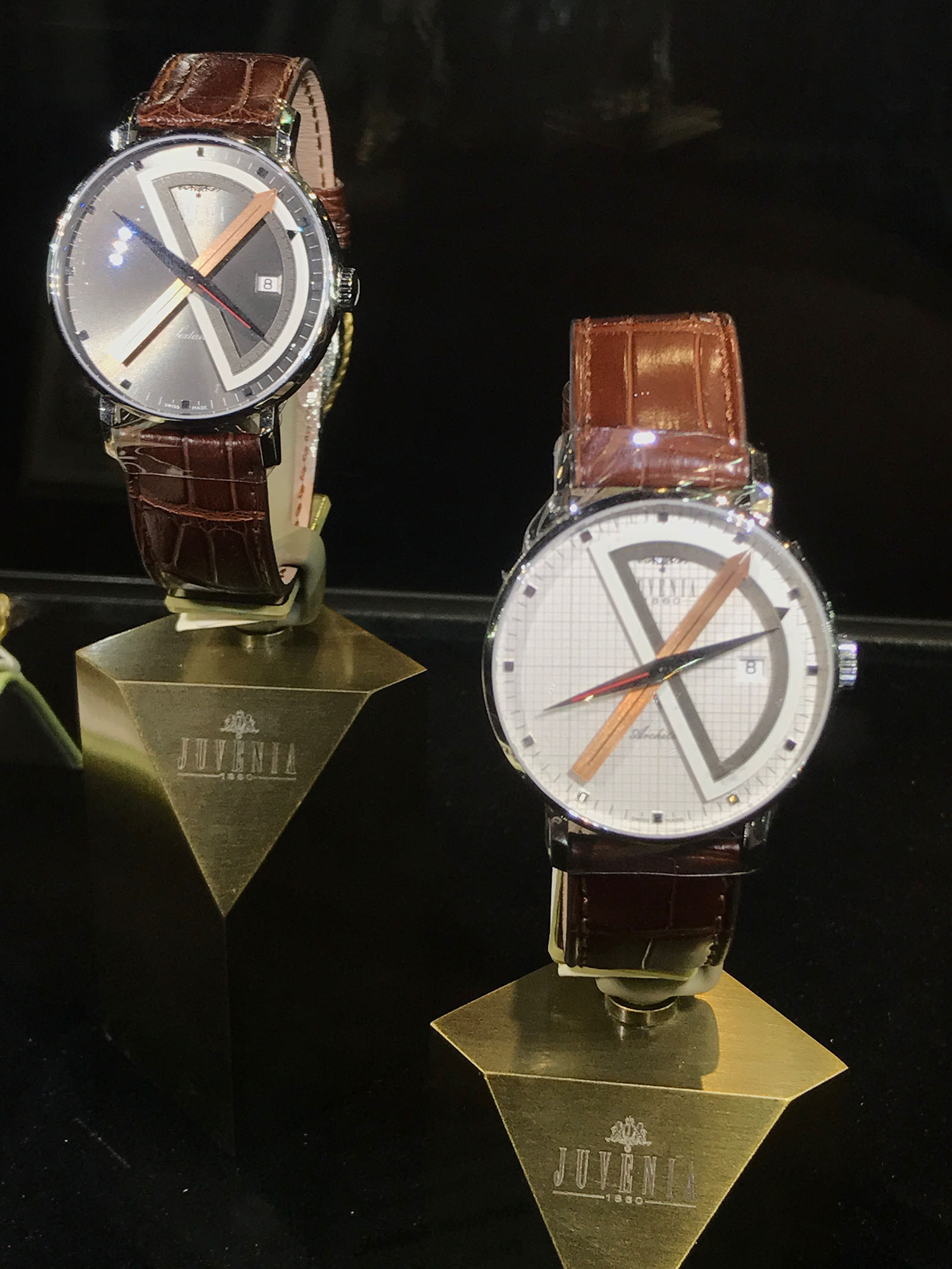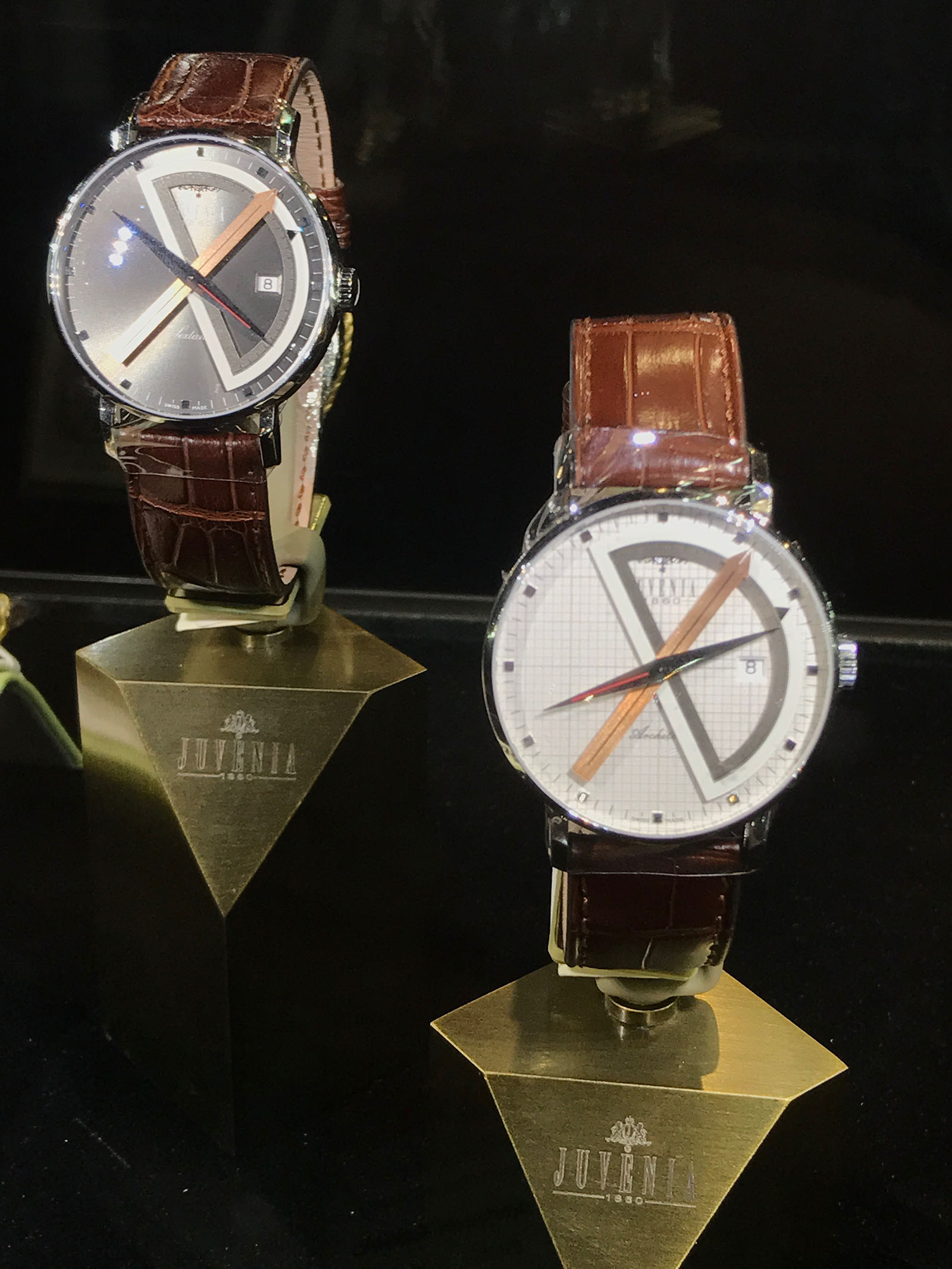 One of the less known brand on show was Juvenia, a Swiss name now sold mostly in China and Hong Kong. It showcased the unusual "Protractor" watch that displays time with an hour hand shaped like the eponymous mathematical instrument, while the minute hand takes the form of a ruler and the seconds hand resembles a compass needle, all of which are set against a dial covered in graph paper print.
The deceptively fresh design, however, has in fact been around since the 1940s, making this a vintage remake that looks unusually novel. The latest iteration of this quirky, mathematically-themed watch is the Juvenia Sextant III that was bumped up in size — from 35mm to 40mm — to better suit modern tastes. The watch, with a stainless steel case, is priced at US$4,668.
---
Besides Swiss names, the fair was also a stage for some of the newest creations by Chinese watch companies such as Seagull and Shanghai Watch Co.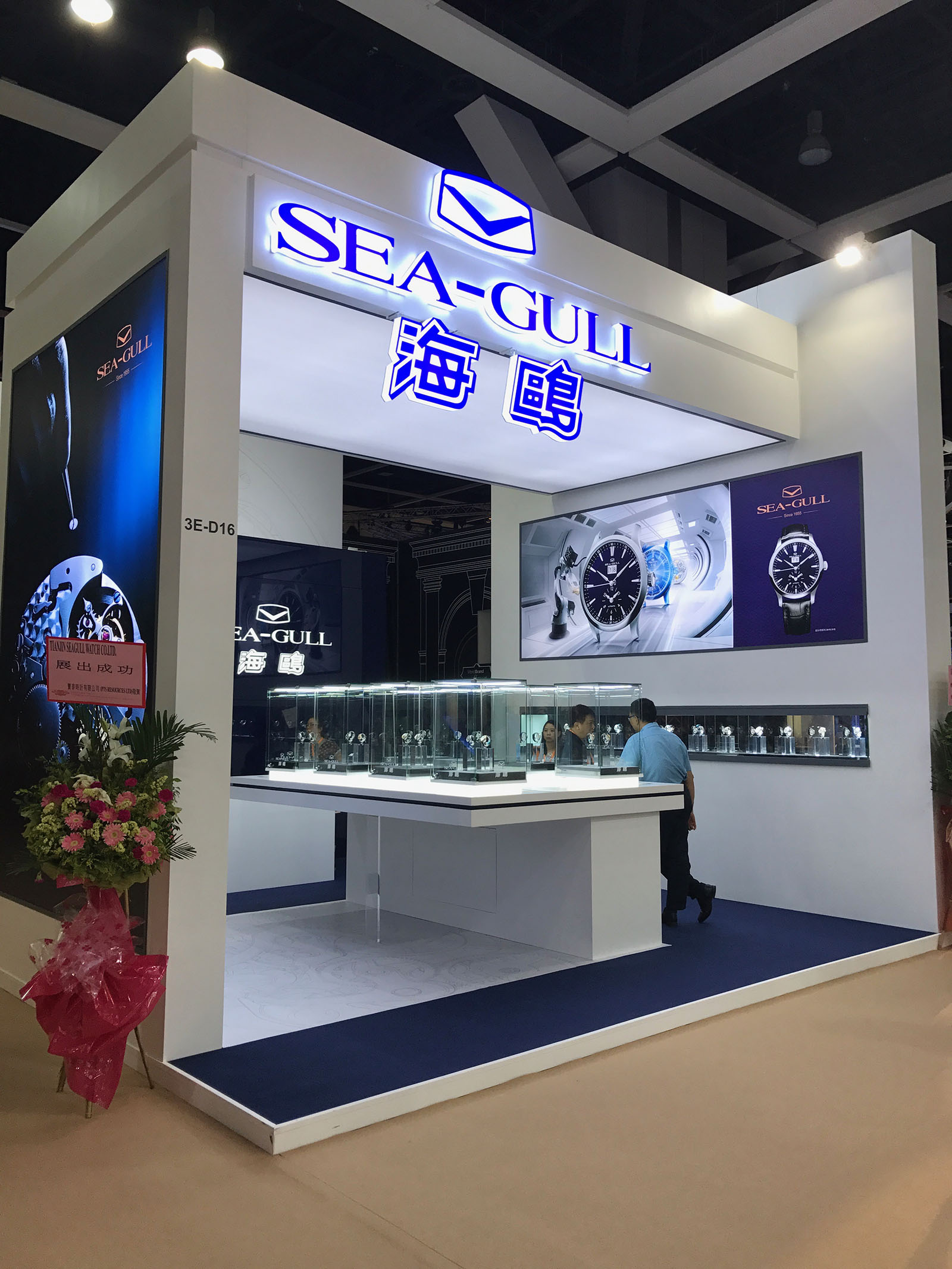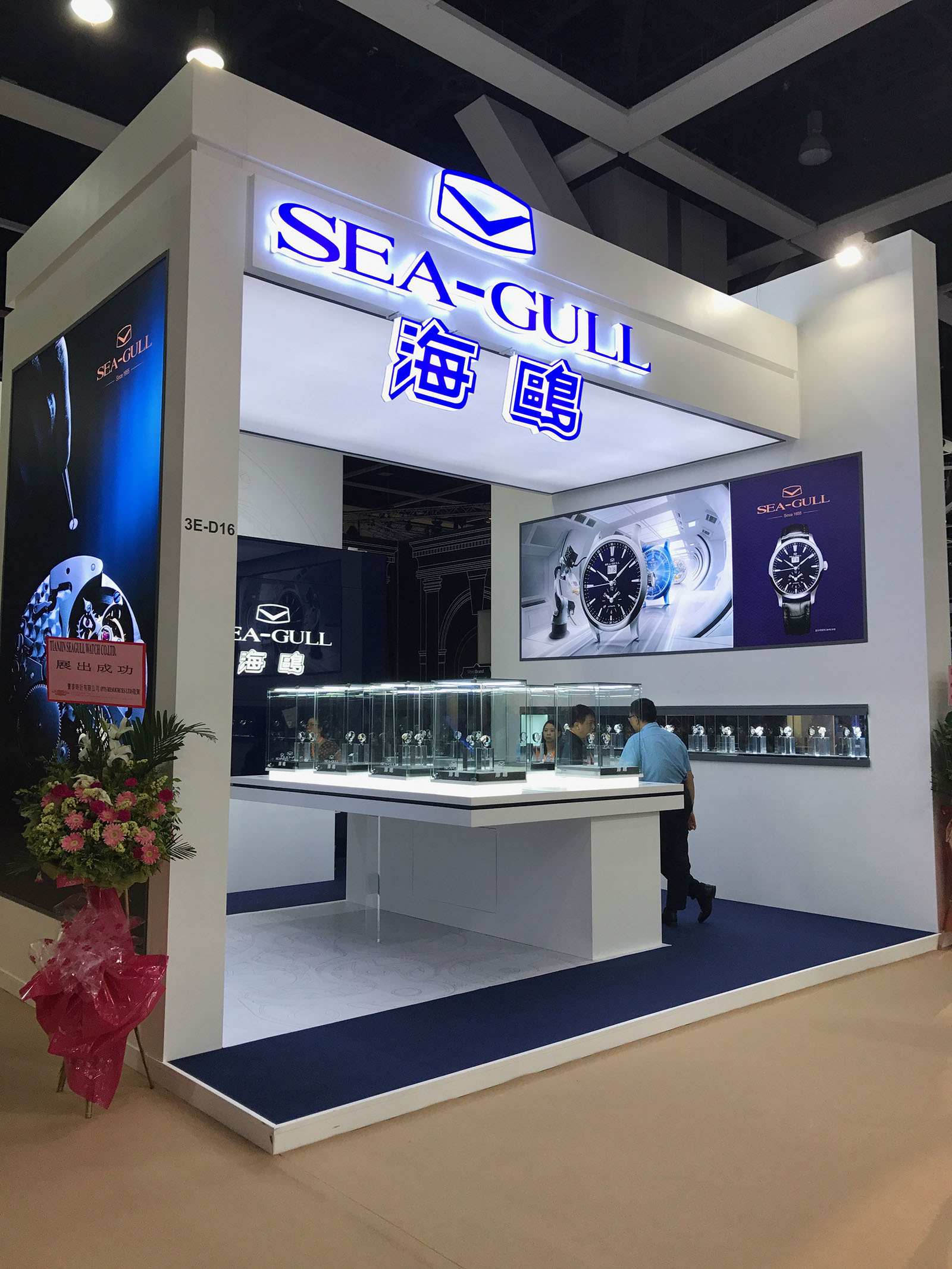 Best known for supplying movements to "micro" brands making low-cost watches, Seagull had the new ST8160 inclined tourbillon movement on show. The tourbillon is inclined at a 20° angle, which improves accuracy by better compensating for the various positions that the wristwatch takes while on the wrist.
There were two derivative prototypes of the movement on display, one that was skeletonised and another with a clear sapphire crystal base plate. Details of these models have yet to be released, but they will be priced higher than the base model tourbillon that is currently priced at US$7,299.
---
To celebrate its 60th anniversary this year, Shanghai Watch Co. released its most technically advanced watch to date, the Transcend tourbillon, which features a double-axis, spherical tourbillon.
The balance is held by a web of elliptical bridges that form a pair of spherical cages, which make a full revolution every minute. The visual impact of the tourbillon is further amplified by a large sapphire hemisphere over it. With diamond indices on its dial, the watch has a 41mm rose gold case and retails for US$45,776.
Other creations from Shanghai Watch Co. featured what is usually known as metiers d'art in Swiss watchmaking, including dials decorated with peacock feather marquetry and silk embroidery.
---
Despite being one of the largest markets for watches, there is a surprising dearth of high-end brands from Hong Kong. The only one is Memorigin, which specialises in tourbillon watches.
Memorigin launched the second generation of its Stellar tourbillon at HKWCF. The 43mm two-piece steel case features a domed sapphire aperture at three o'clock that provides an unimpeded view of the tourbillon regulator.
Other functions include a three-dimensional rotating globe for the second time zone and a Chinese planetarium at 12 o'clock. All the displays are visually linked by a square, 18k gold bridge. The boldly designed timepiece is powered by Memorigin's in-house AT 1118 automatic tourbillon movement and is priced at US$6,369.
---
Back to top.
---
You may also enjoy these.