Interview: Walter von Känel, President of Longines
Having joined Longines before the quartz crisis, its chief Walter von Känel has enjoyed a truly epic career in Swiss watchmaking. We had a candid and compelling chat with Mr von Känel.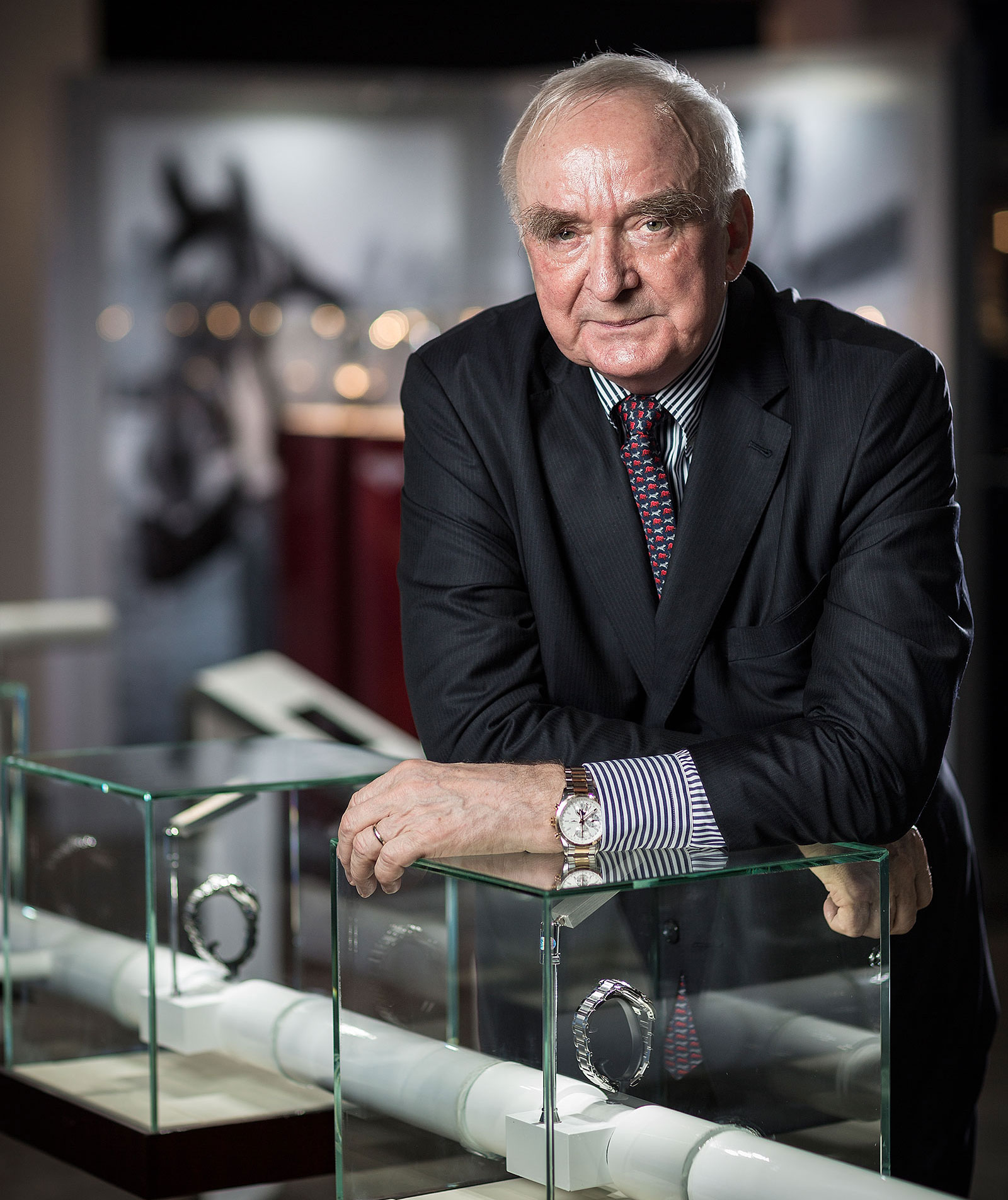 Walter von Känel has had an unparalleled career in the Swiss watch industry. Now 75 years old, he started at Longines as a sales executive in 1969, the same year Neil Armstrong stepped onto the moon. In 1988 he was appointed President, a post he has held since then.
In the 28 years since Mr von Känel has grown Longines into a behemoth that's fifth largest Swiss watchmaker by revenue, but still managing to appeal to watch aficionados with the affordably priced Heritage remakes.
Your correspondent has interviewed scores of industry executives, but few have been as compelling as Walter von Känel, who will mark his 50th year at Longines in 2019. This is an edited transcript of an interview conducted at Baselworld 2016.
---
SJX: You are one of the few industry leaders today who were already in the business before quartz watches were invented. What was Longines like before the quartz crisis and how did it survive?
WVK: [The period just before the quartz crisis] was the end of the family-owned structure… with General Watch Co. and then from 1984 onwards SMH [Société de Microélectronique et d'Horlogerie]  and Swatch Group.
At that time in almost all factories the technicians [engineers and watchmakers] were the king, so the mindset was, "We produce what we want and you [salespeople] sell what we produce."
We had to change that mentality, "You produce what we want and what we can sell."
Quite early on [Longines] started with battery-powered watches… we had LCD, some LED, some combo watches. We had first, second, third generations, this was called Dynatron, [produced with] a license from Bulova Accutron.
And then when we came to quartz watches we were very lucky [to have a headstart]. In 1969, almost at the same time as Seiko, we launched our first quartz, a very complicated movement. This was the superstar, "Ultra Quartz", and very quickly we told [the engineers] to give us three-hands with calendar movements, and then we had the VHP movement [with thermocompensation and short for "Very High Precision"].
In the [quartz] revolution we didn't suffer so much; it was 100 percent mechanical before [the quartz crisis] to maybe 80 to 85 percent quartz, and today we are back to 80 to 85 percent mechanical again. In the so-called revolution of technology [because we] convinced our colleagues to be flexible [and] to have our own quartz movements, we did not suffer from this shift of technology.
SJX: Since we are talking about history, amongst watch enthusiast the favorite is the Heritage line, historical remakes of divers, chronographs. How do you decide which vintage Longines to remake since you have thousands of them in the archive?
WVK: Every year, the product team [proposes] and I make a selection. We are lucky to have a heritage. Not a fake heritage, but a real heritage; in this business you cheat once and [consumers] catch you, especially [those] who are collectors. We have a huge, complete museum with tremendous documentation, and also a very efficient heritage [department]. We have a nice backup in our museum of our historical documentation.
We started [the Heritage line] in 1987, 60 years after Lindbergh crossed the Atlantic. This 1987 Lindbergh [Hour Angle] watch was the first Heritage piece and we still have it [in the collection].
SJX: The small 36mm one right?
WVK: Exactly. It's nice to hear that you remember it was 36mm. Today we have [a remake of] the original one.
SJX: That's the big one?
WVK: 47.5mm. And then later we launched 1954 Conquest, the 1957 Flagship.
SJX: You have fantastic memory.
WVK: Well, that's why we have computers.
There are some [Heritage watches] we have to keep even if the sales are lousy because they are a part of our history.
You learn to be very reasonable with the [production] quantities because [the Heritage] is a collectors' item. We like to do [such watches], it is a small part of our business, a very small part… [but they are also] talking pieces for the PR.
SJX: I think your museum and archives do a very good job, sometimes I email them for historical data and they respond very, very fast.
WVK: Thank you, it took me eight years [to build the department]. At a certain moment, I said, "Okay, one day we will go into the auction business, so we are going to need tremendous documentation".
We put all the stuff on computers now, except for some local production. Because in this industry, not just Longines, especially for [watches exported to] the United States, we sold millions of movements assembled in the [United] States with locally made cases.
SJX: Wittnauer?
WVK: Longines. Longines-Wittnauer. In Italy there was big local production for gold [watches]; Spain, UK, and even Korea, because in the beginning when Samsung was my agent we couldn't sell complete watches. We had to do assembly over there.
[For locally cased watches, some collectors] are like NSA, KGB, Stasi, often they know everything about the models. I once made a mistake: we had bad luck because the guy [whose watch we evaluated as] not original, one month later he came to my office [and told me], "Sir you don't know your company, I want to prove to you it's an original."
[When] in doubt we don't give a certificate. [The museum] is very efficient; I am pleased and proud of this team.
SJX: I also think that collectors appreciate that you don't charge for the certificate.
WVK: We will not charge, not under my leadership. Period. It's PR, goodwill.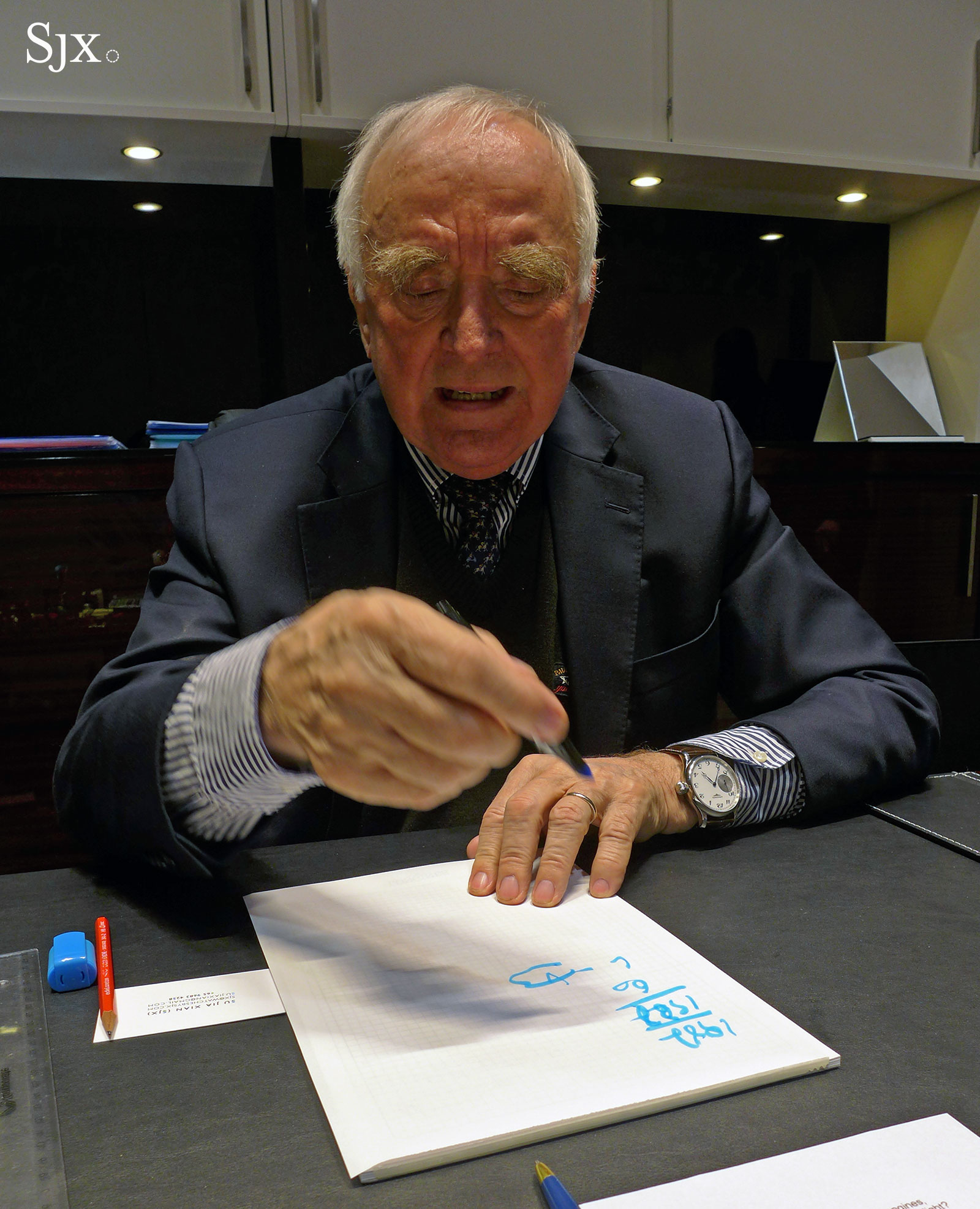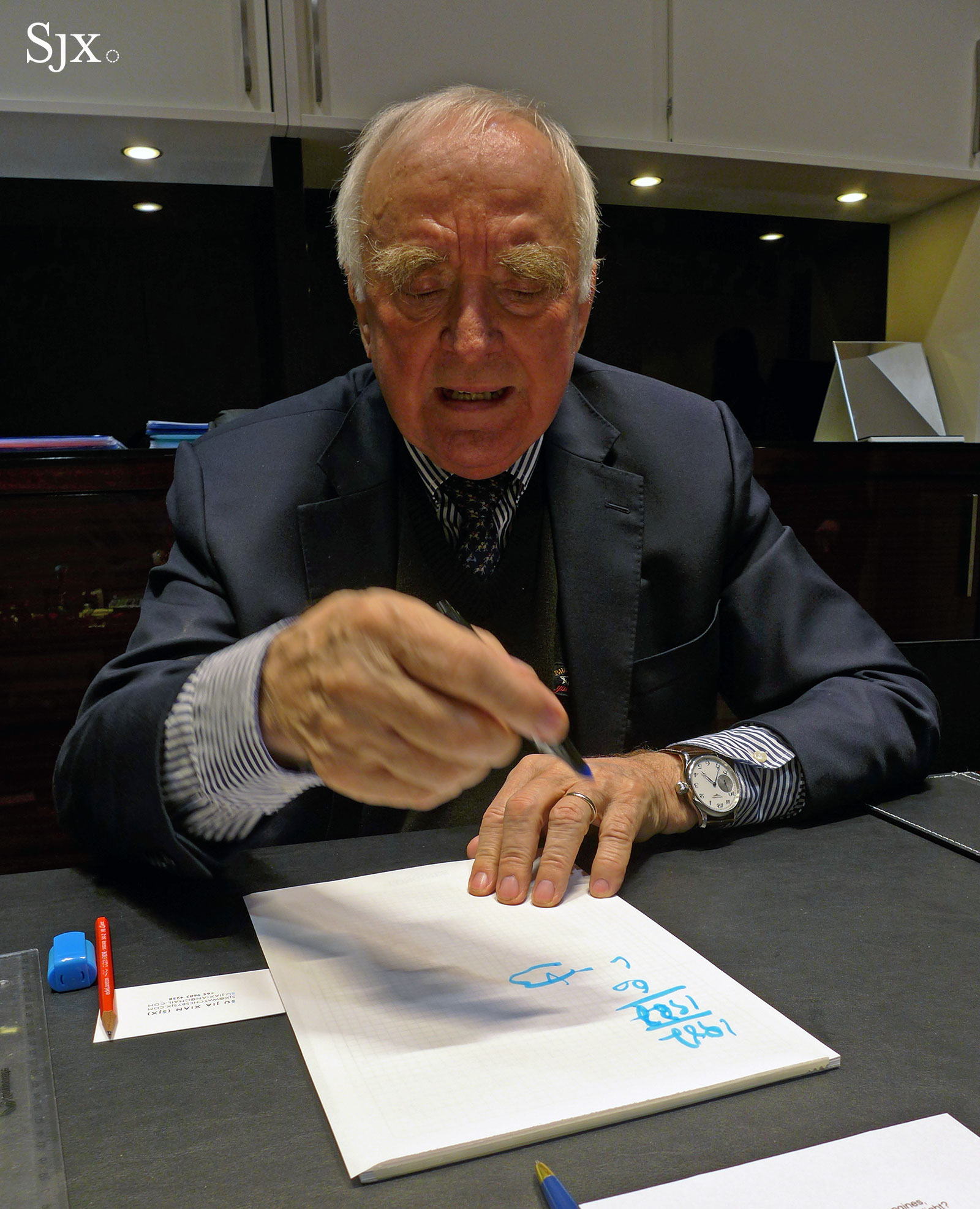 SJX: So talking history and vintage watches, the old Longines movements like the 30CH, 13ZN that collectors love – since you remake old watches, would you remake old movements?
WVK: No.
SJX: So it will be a modern…
WVK: Now 100 percent of my movements are ETA, but I have exclusive movements [made only for Longines]. I don't advertise [that fact]. Yet. [These calibres] belong to us. Totally. We use up to date technology and up to date movements in every sense.
I will not [remake a vintage movement]; it is too expensive. How many pieces will I do? It is a couple of million [Swiss francs of investment]. We do have a few old movements [still in production]. We have built Heritage after-sales service, we can repair almost everything.
SJX: Tell us about the date window on Heritage reissue watches.
WVK: For the "Conquest" [pointing to one on a lady's wrist], usually we put in a calendar [function], but for the 60th anniversary [model in gold], I respected the original – the real original spirit – so no calendar function. But [clients] don't like not having the calendar. But we did it [without the calendar anyway]. Then I had huge complaints from the [salespeople]. So they [arm-]twisted me.
SJX: While the historical remakes are a collector favourite, Longines is a very big company. How do you balance being a premium product while selling many watches?
WVK: First of all you need volume. We sell 1.4 million watches with 1.5 billion [Swiss franc] turnover. You need volume [for] strength, and profits. And there is one more factor, the pricing is very important.
Your category of journalist and experts [love the Heritage], but we have to respect that Heritage is three percent [of sales]. It's pleasure, history, PR, they are talking pieces.
The "Elegance" collection is 51 percent [and so on with the other collections]. You need [watches like these], you need volume. You have to focus somewhere.
SJX: So making all of the more popular watches allows you to sell the Heritage at a reasonable price?
WVK: It is a reasonable price, but it's not a question of price [for such a quantity]. I have to accept Longines' territory is around SFr3,000, which is around 51% [of turnover].
SJX: And you will stick to that?
WVK: That's is why we are so successful. We have steel watches, diamonds, gold cap, but [the SFr3000 price bracket] is the name of the game. You can't be everywhere.
SJX: You are wearing a Heritage as well?
WVK: I said a few weeks ago to my staff in charge of this collection, "Give me [one with] a strap that is more flexible." Yesterday they came [with this]. I like it. Hand winding, it's a pocket [watch] movement.
SJX: Do you have any plans to create limited edition to mark your 50 years into the company?
WVK: First of all, I am not sure I will last 50 years. I will not [make such an edition], because I am against the cult of personality. You have to work for the company. We sell Longines watches, we don't sell von Kanel watches.
SJX: Thank you so much.
WVK: I'm glad you remember the 1987 Lindbergh, you respect the spirit of the watches.
---
This article was prepared with the assistance of Jason Park.
Back to top.
---
You may also enjoy these.