Introducing the RGM 151 Corps of Engineers, 38.5mm with a Fired Enamel Dial
Modelled on the look of First World War pocket watches, the RGM 151 Corps of Engineers features a vitreous enamel dial and oddly, an Omega automatic movement. You'll find specs and pricing below.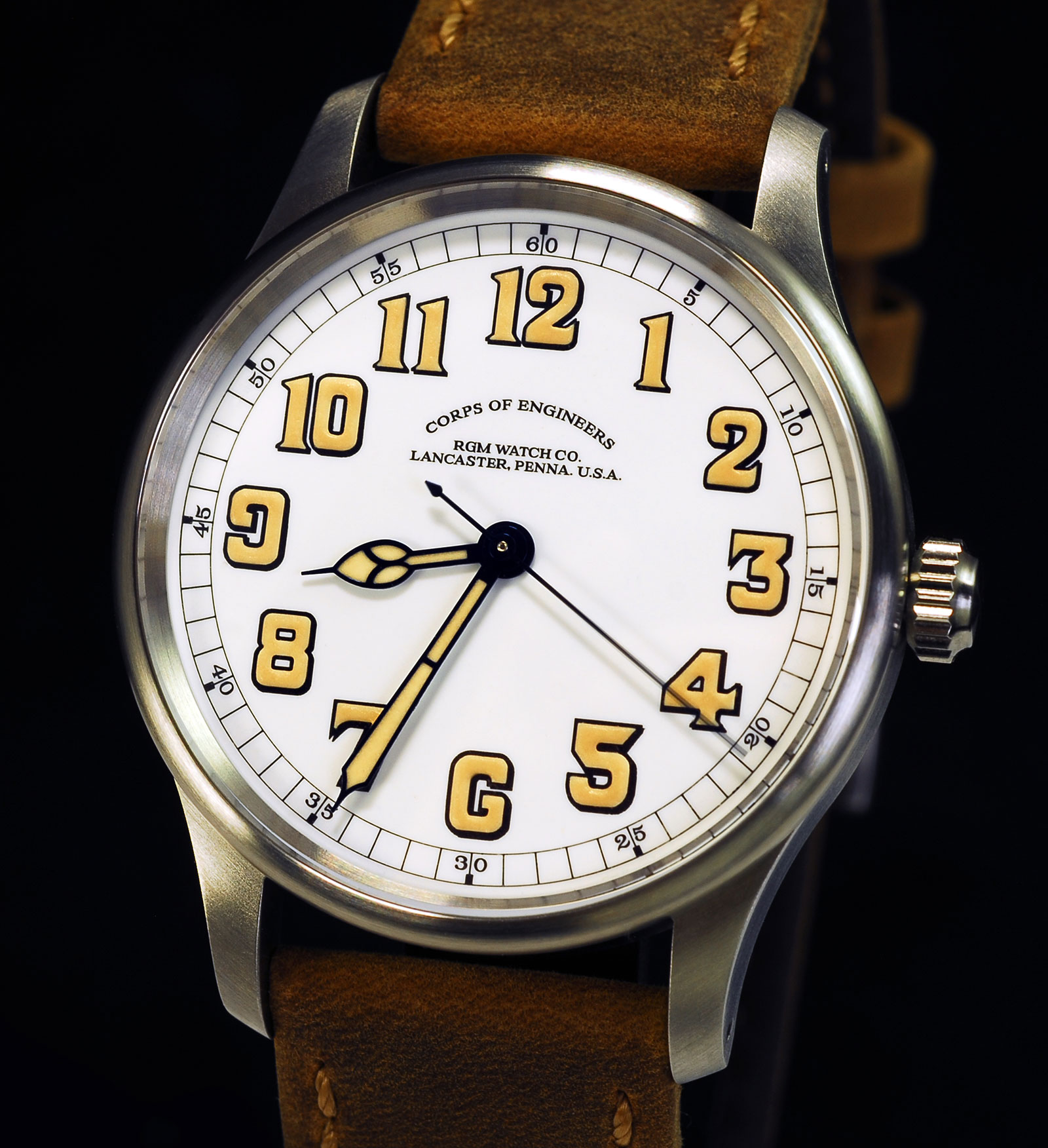 The RGM 151 Corps of Engineers is a smaller brother to the 801 Corps of Engineers that made its debut last year. Both share the same inspiration – pocket watches issued by the U.S. Army Corps of Engineers during the First World War – and hence the same look (that is familiar from the recent Longines RailRoad). The 151-COE is fitted with a white dial finished with vitreous enamel, essentially glass melted in an oven to form a glossy hence the term "grand feu enamel", hard finish, just like the WWI originals.
When the United States entered WWI, the U.S. Army Corps of Engineers dispatched nine regiments of railroad engineers as part of the American Expeditionary Forces that sailed for Europe in 1917. Sent to build roads, railways and bridges, the combat engineers were issued with American-made Hamilton railroad pocket watches, the same sort used by civilian railway engineers back home. Soon, in an effort to reduce transatlantic shipping, these were replaced by Swiss watches made by Ulysse Nardin and Zenith, while chronograph watches were made by Vacheron Constantin. Roland G. Murphy, whose initials form his company's name, once worked for Hamilton.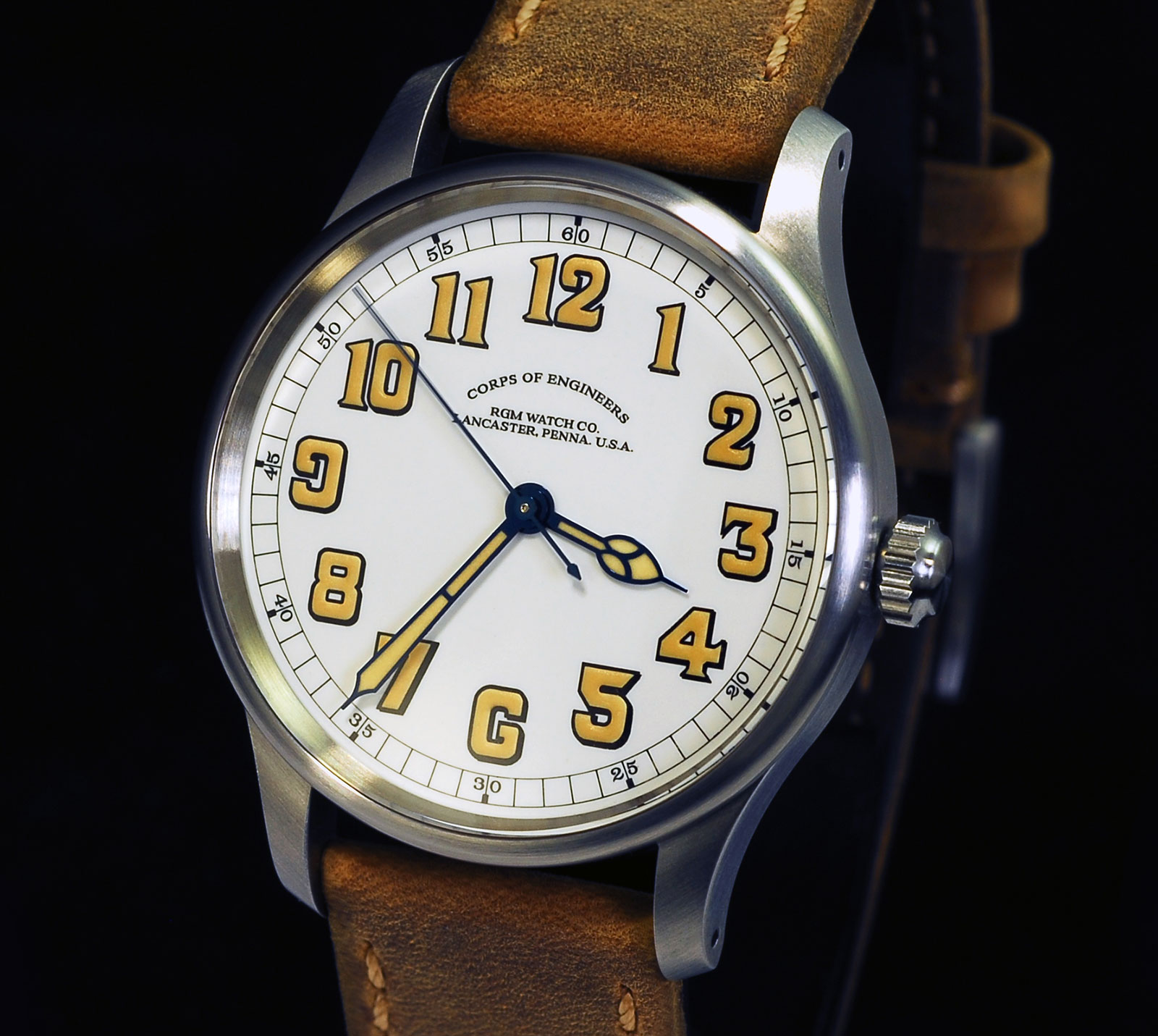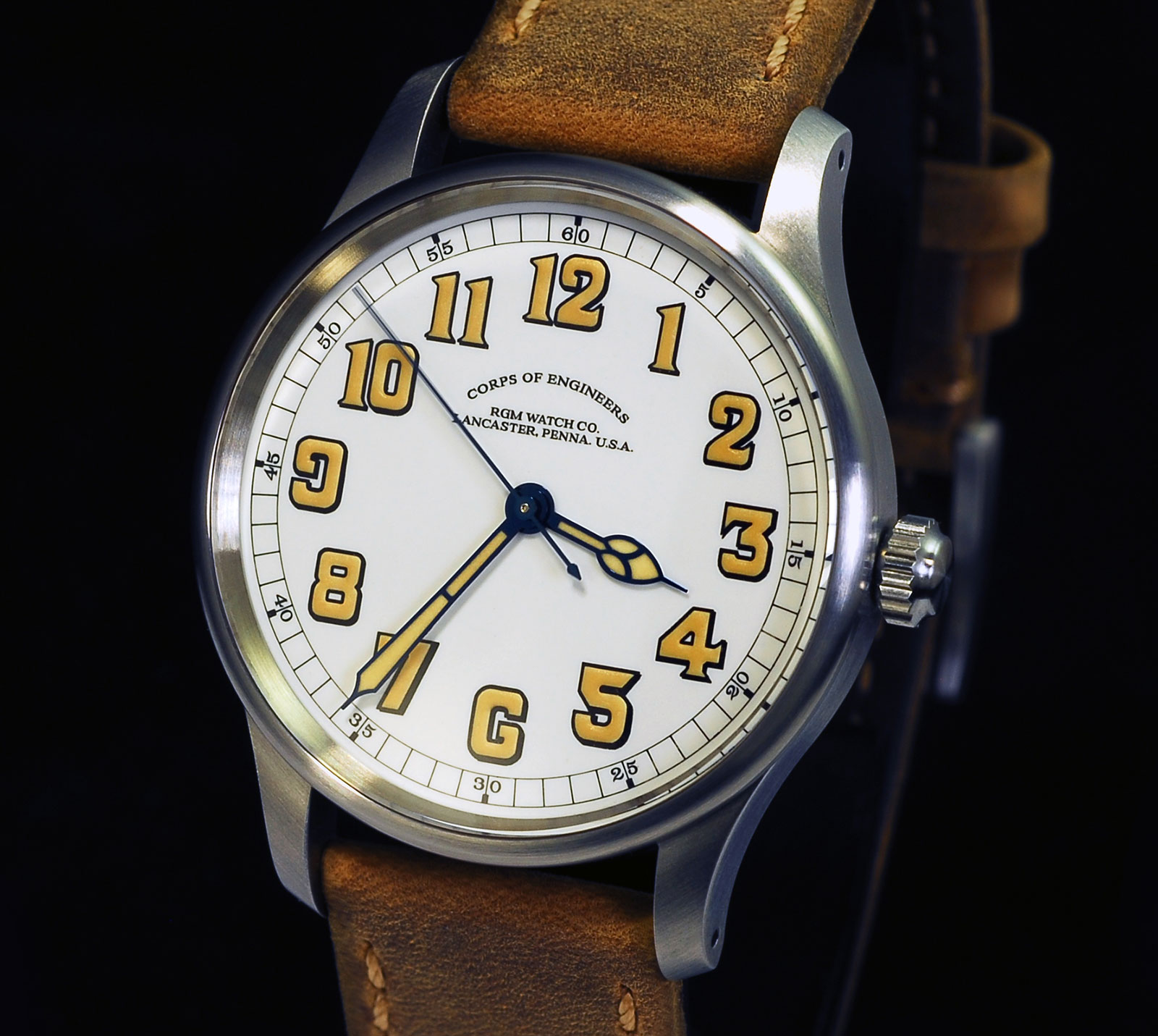 The RGM 151-COE is modelled on these WWI combat engineers' timepieces, though it more closely resembles the Swiss variants rather than the earlier Hamilton watches. Large Arabic numerals in mustard Super-Luminova mimic the look of aged radium found on the vintage originals, while the cathedral hands are in blued steel.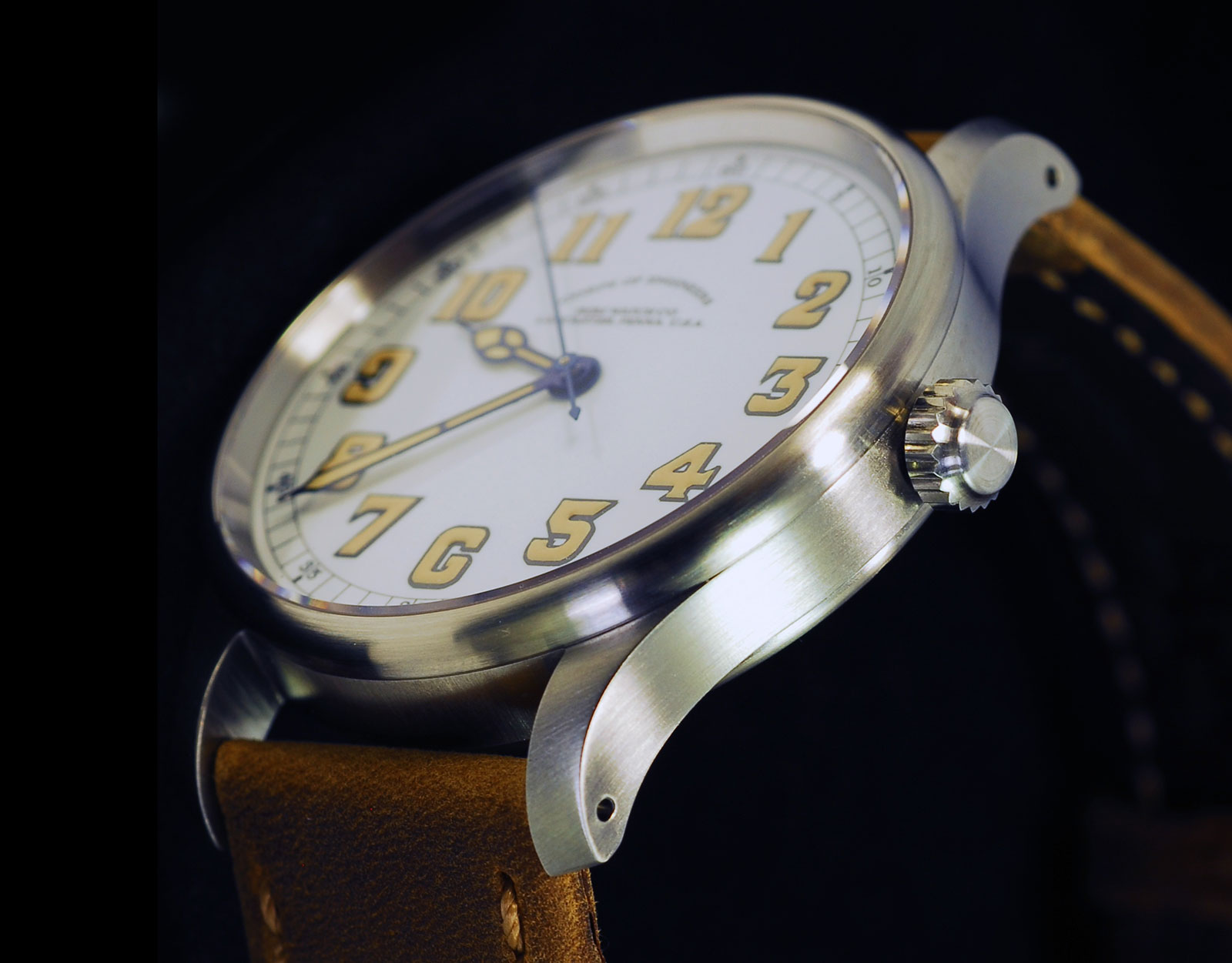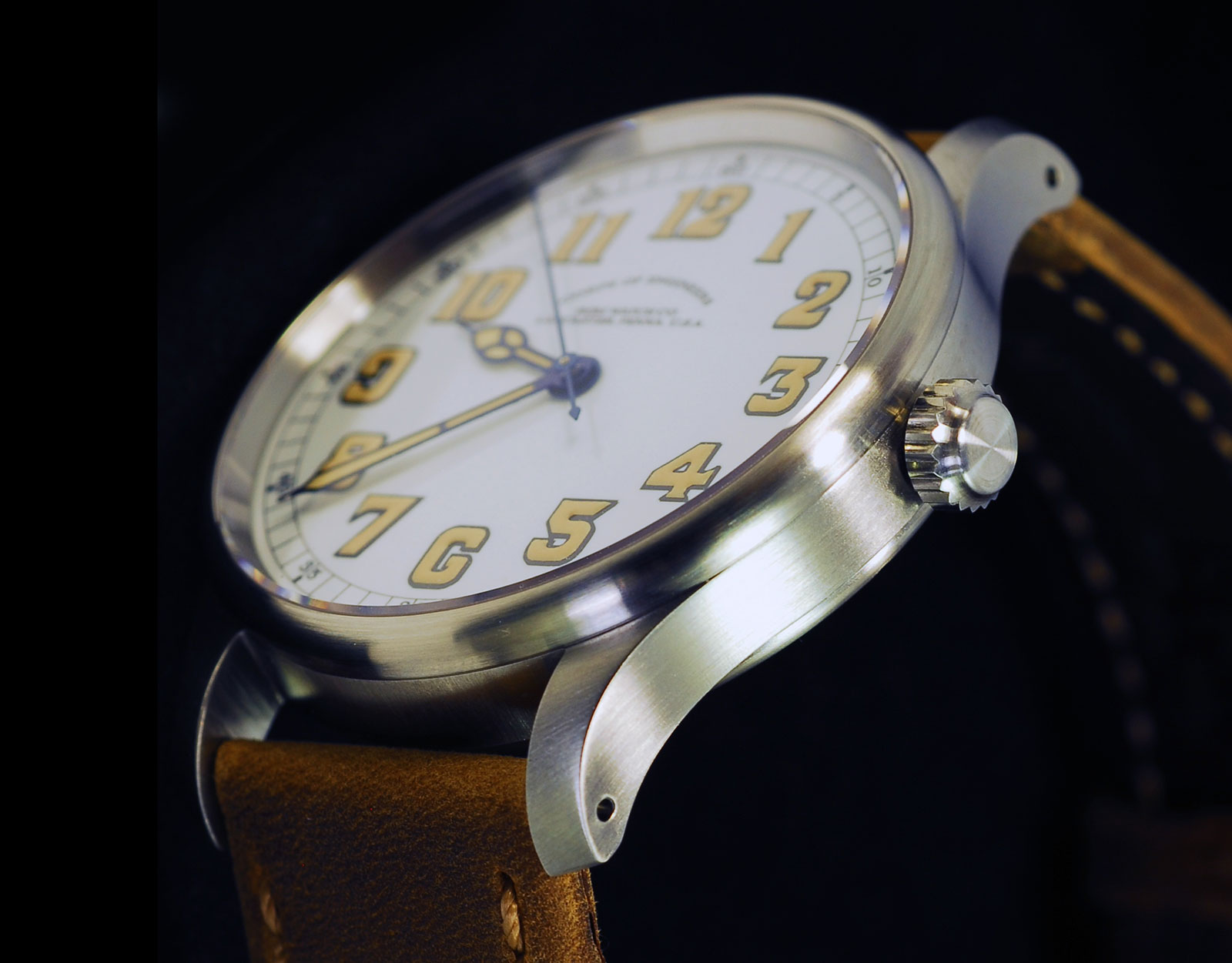 While the first RGM Corps of Engineers was 42 mm in diameter, the new 151-COE is a more modest 38.5 mm, with a brushed finished on all surfaces; the case metal is offered in either titanium or stainless steel. Curiously, the 151-COE is equipped with an Omega 1120 movement, to which RGM has installed a 14k gold rotor. In the photo below the Omega logo and "1120" are faintly visible just above the balance wheel. A self-winding calibre that's based on the ETA 2892, the 1120 has been improved and decorated for Omega. The reasons for the Omega movement are a mystery; perhaps an Omega parts retailer was suffering an overstock of the 1120.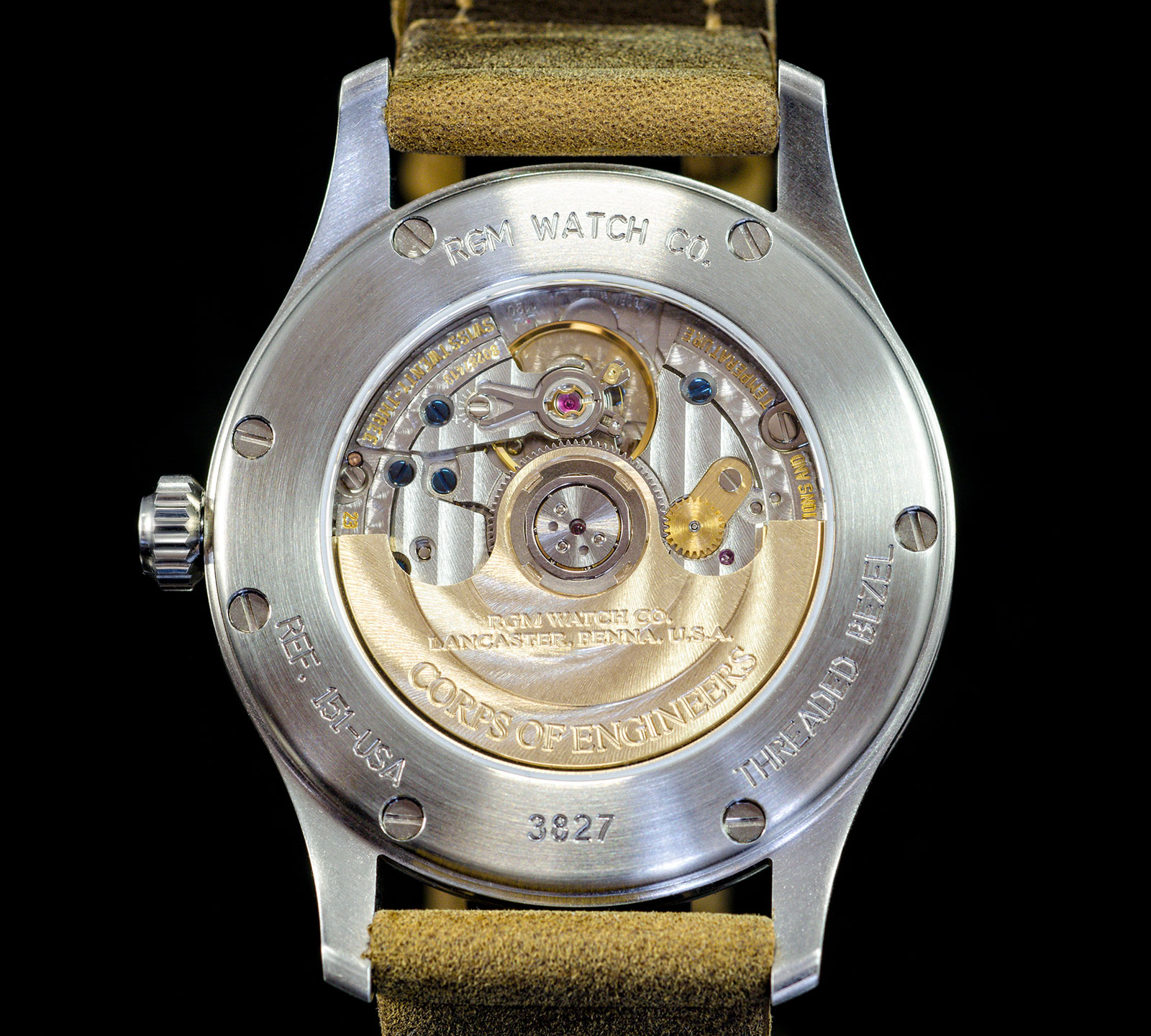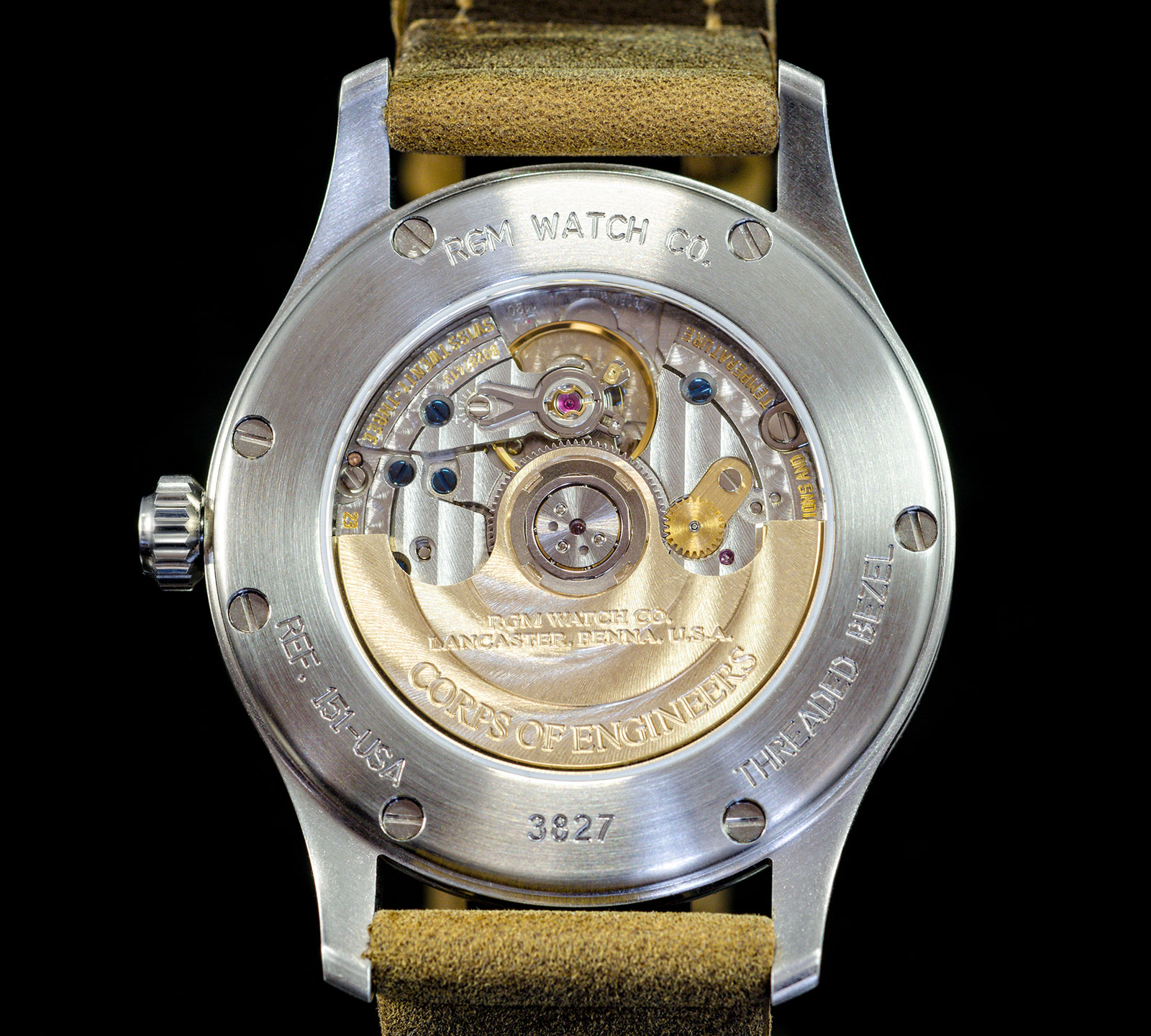 The 151-COE is priced at US$6,950 in stainless steel, and US$7,950 in titanium.
Back to top.
---
You may also enjoy these.