Up Close with the Patek Philippe Grand Complication Ref. 5951P-013
The most complicated, integrated chronograph made by Patek Philippe, the ref. 5951P is compact but offers much to admire. We go up close with it, complete with detailed photographs of the movement.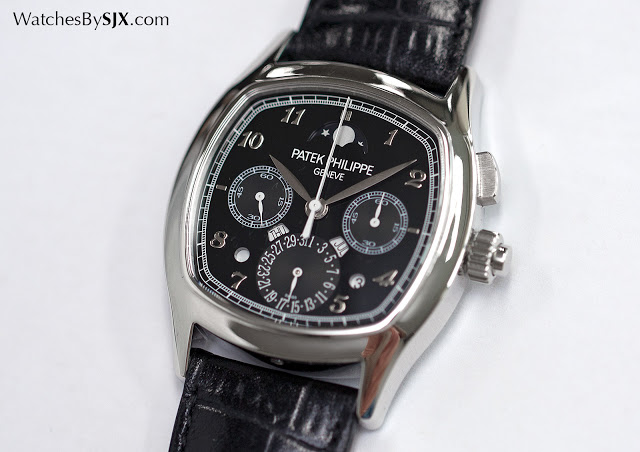 First unveiled in 2010 with a funky, and arguably ill-suited, red and black dial, the ref. 5951P subsequently evolved into a more pleasing version with Breguet numerals. Featuring the Geneva watchmaker's top of the line chronograph movement topped with a perpetual calendar module, the ref. 5951P is a example of what Patek Philippe does best – traditional, high-end watchmaking.
Measuring just 37 mm in diameter, the ref. 5951P is a small watch by modern standards; its size is limited by the small movement. But because of the case material as well as its thickness, the ref. 5951P feels dense and hefty, not usually a quality associated with Patek Philippe watches. With a cushion-shaped case and Breguet numerals, the overall look look is derived from vintage chronographs of the 1930s (Patek Philippe has a remarkable rich archive of chronographs), but the style of the dial is modern. The position of the day and month windows, along with the leap year and day and night apertures, are thoroughly modern elements.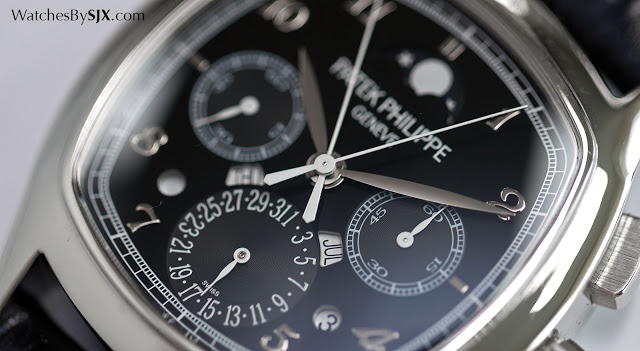 The black is a disc of solid gold, lacquered a glossy black and then topped with applied Breguet numerals in white gold. It's finely made, and relatively legible for such a complex dial. But as with many chronographs, the main attraction is the reverse. The calibre CHR 27-525 PS Q is just wonderful to look at. Without the perpetual calendar mechanism (as found in the refs. 7059, 5959 and 5950), the CHR 27 is the thinnest split-seconds chronograph movement made today.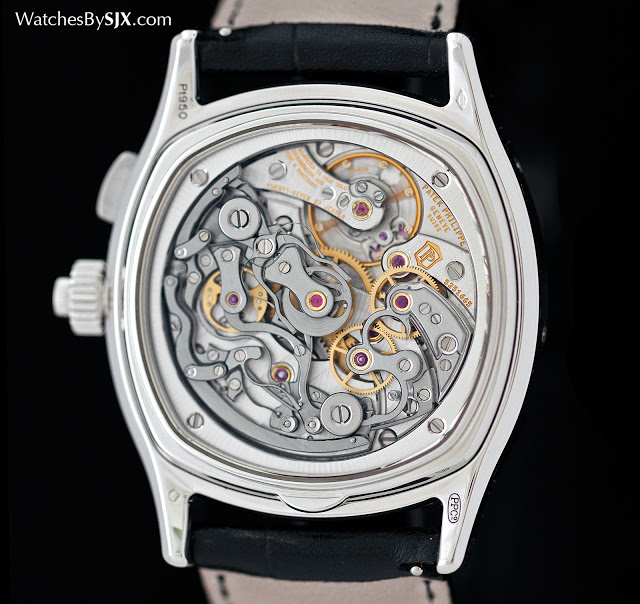 With the perpetual calendar on top it still remains slim, at just 7.3 mm high. But that is relatively high, compared to the 37 mm case diameter, giving it the solidity alluded to earlier. The details of the movement are outstanding, with a masterful level of decoration found on all its components. Especially beautiful are the remarkably slim steel springs of the split-seconds mechanism, as well as the elegantly formed, "S" shaped clutch lever.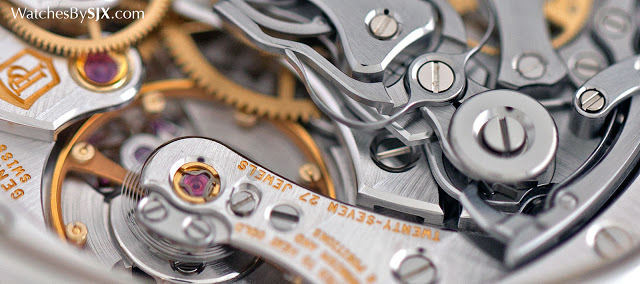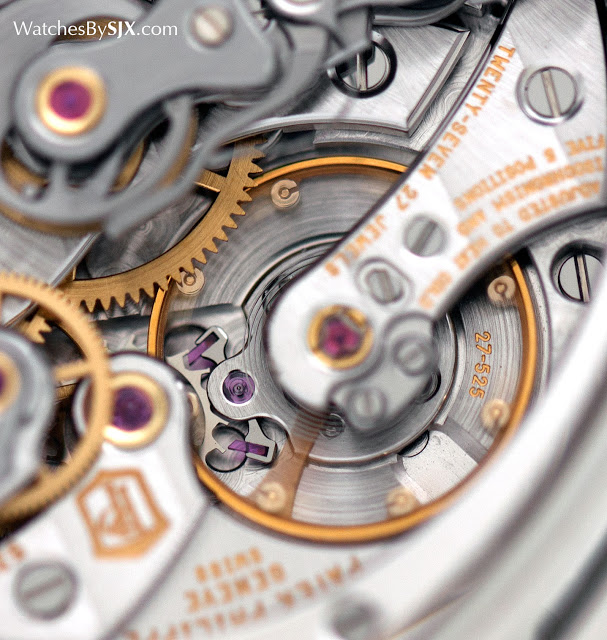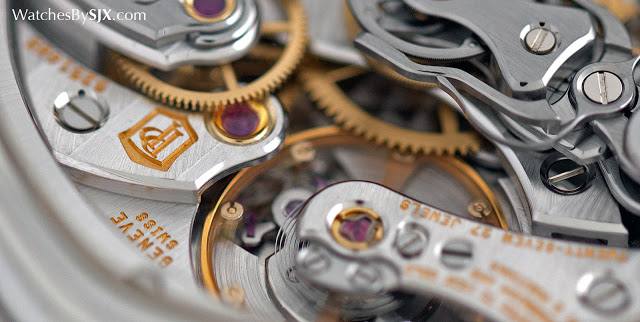 For more close-ups of the movement, check out our in-depth look at the ref. 7059R split-seconds chronograph, which is equipped with the same base movement.
Pricing
The ref. 5951P is priced at SFr500,000.
Back to top.
---
You may also enjoy these.