Chopard Revives Ferdinand Berthoud, Introduces Tourbillon with Chain and Fusée (with Pricing)
A tourbillon with a chain and fusée constant force transmission, the FB 1 Chronometer is the first wristwatch from Ferdinand Berthoud, a grand old name in watchmaking that has been resurrected by Chopard.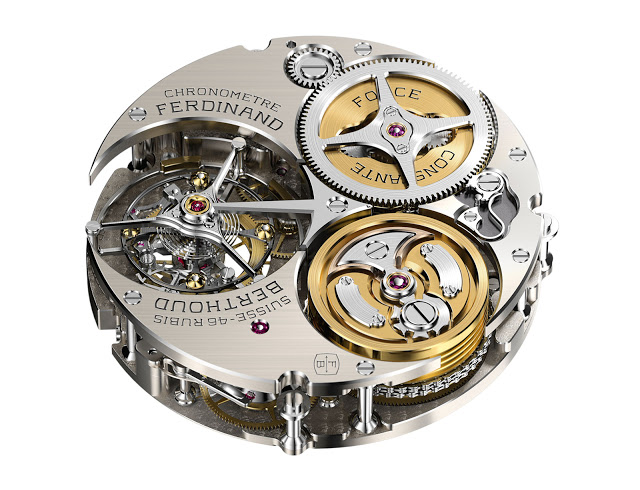 A long dormant name in watchmaking, Ferdinand Berthoud is now back in business, thanks to Chopard. Conceived as a specialist manufacturer of top of the line complications, Ferdinand Berthoud makes it debut with the FB 1 Chronometer, a wristwatch powered by a newly developed movement featuring a tourbillon regulator as well as a chain and fusee constant force mechanism.
An 18th century name revived
Ferdinand Berthoud was born in 1727 in the Swiss town of Neuchâtel, but like all other eminent watchmakers of the era, moved to Paris to practice his trade. A peer of Abraham-Louis Breguet, Berthoud was clockmaker to both the French Navy and King of France. Like his great rival Pierre Le Roy (who also lends his name to a resurrected company), Berthoud is best known for his marine chronometers, which serve as inspiration for the FB 1 Chronometer wristwatch.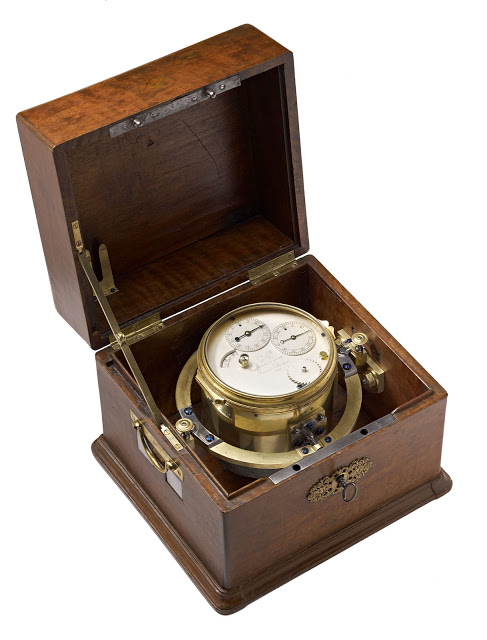 Ferdinand Berthoud marine chronometer no. 6, c. 1777
The FB 1 Chronometer is the first watch from the recently resurrected name, one that is completely separate from its parent, Chopard. So the new is entirely new, though it is manufactured in Chopard's factory in Fleurier, the very same facility that produces many of the wonderfully conceived and finished Chopard L.U.C movements. Both L.U.C and Berthoud are overseen by Karl-Friedrich Scheufele, scion of the family that owns Chopard.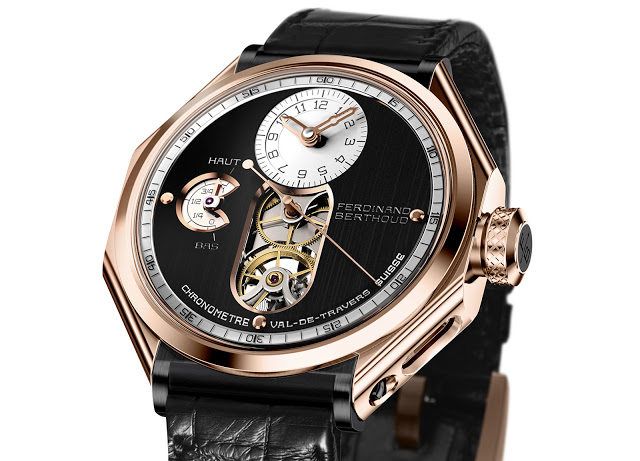 The FB 1 Chronometer
Given the provenance, the movement is unsurprisingly impressive. It has a tourbillon as well as a chain and fusee, features that are found in other movements, like in the original Lange Tourbillon Pour le Mérite. But what makes the FB 1 different lie in the details of the movement construction. To start with it's constructed like an old marine chronometer movement, albeit using modern materials. German silver bridges form the top and bottom plates, keeping all the gears in place. The bridges are held together by titanium pillars pillars.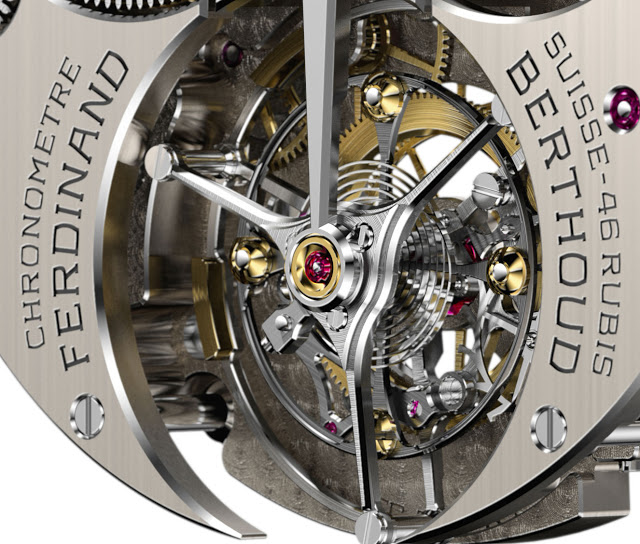 The titanium pillars in between the plates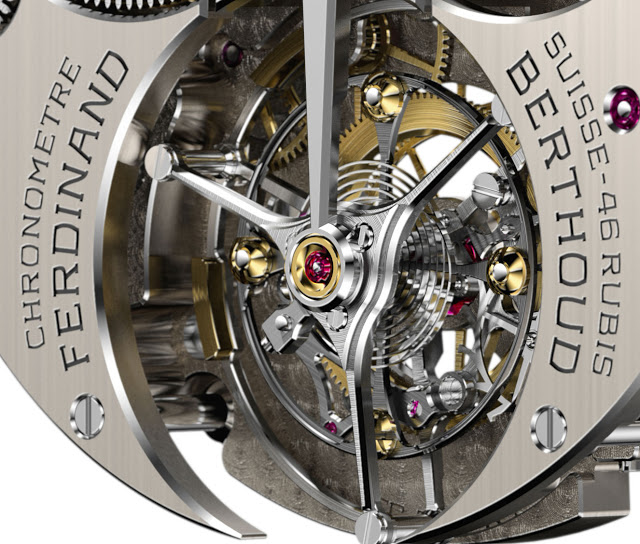 The one-minute tourbillon
Because the movement is constructed in this manner, some of its components are floating, that is anchored only on one side, instead of both as is convention. The suspending fusee, visible on the back of the movement, is one such floating part.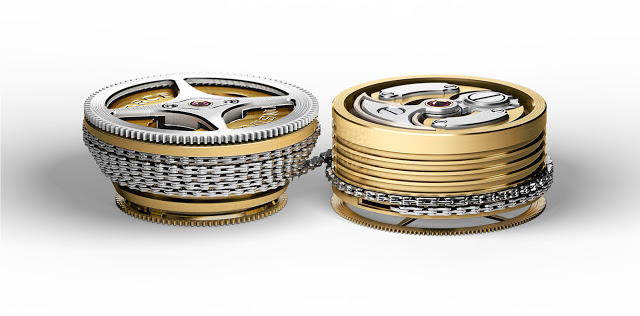 The chain and fusee
In the spirit of marine chronometers, the FB 1 is COSC certified, but more importantly, it has a directly driven centre seconds. That means the seconds hand is connected directly to the gear train, instead of being driven via intermediate gears as is common in centre seconds watches.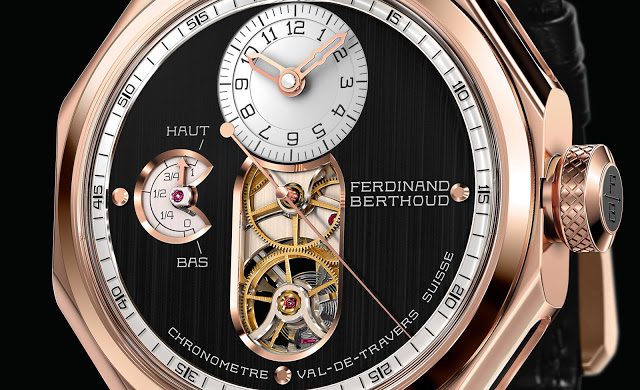 Power reserve display at nine o'clock with the time at 12 o'clock
The FB 1 Chronometer case is octagonal, being vaguely based on similarly shaped marine chronometers of old. It's 44mm in diameter and 13mm thick. Four sides of the case have sapphire portholes, offering a view of many details inside the movement, made possible by the pillar construction.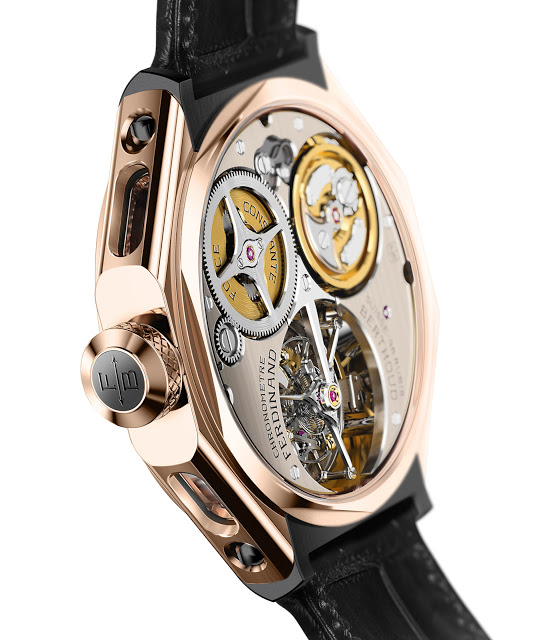 Two versions of the FB 1 Chronometer are available, both with cases comprised of two materials. The first is in white gold with titanium lugs, while the second is in rose gold with black ceramic lugs. Both are limited to 50 pieces.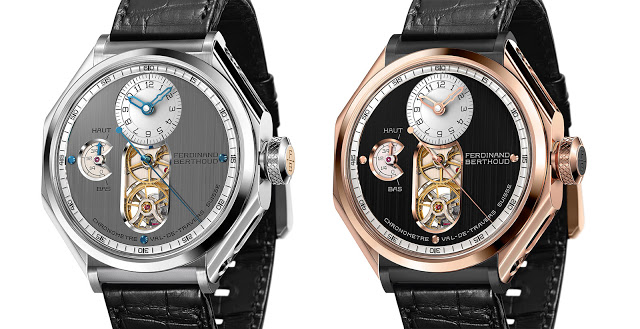 The Ferdinand Berthoud FB 1 Chronometer is priced at SFr220,000 before taxes, equivalent to US$225,000.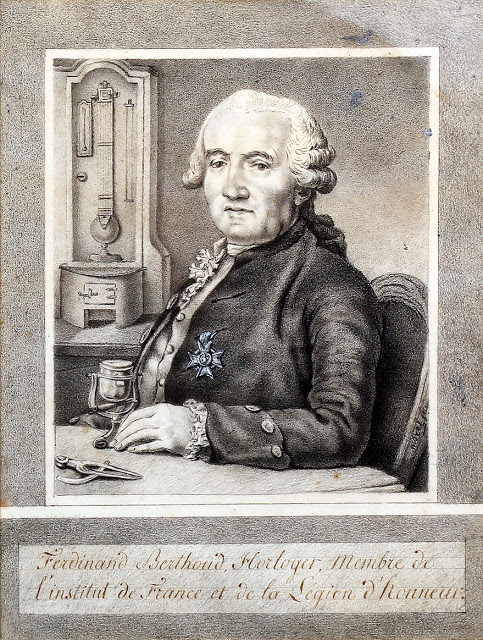 Ferdinand Berthoud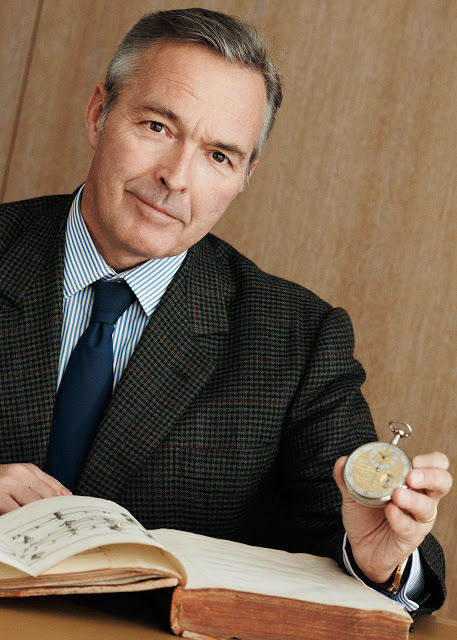 Karl-Friedrich Scheufele
Back to top.
---
You may also enjoy these.

The Greubel Forsey Tourbillon 24 Secondes Contemporain is now available with a base plate and bridges in frosted titanium in its natural colour, giving it a restrained tone while retaining the characteristic Greubel Forsey details.

A famous name in 18th century watchmaking has been resurrected in grand style with the impressive Ferdinand Berthoud FB 1 Chronometer featuring a tourbillon regulator as well as chain and fusee.