Speake-Marin Unveils The Jumping Hours, A One-Of-A-Kind Quadruple Jump Hour (With Specs And Price)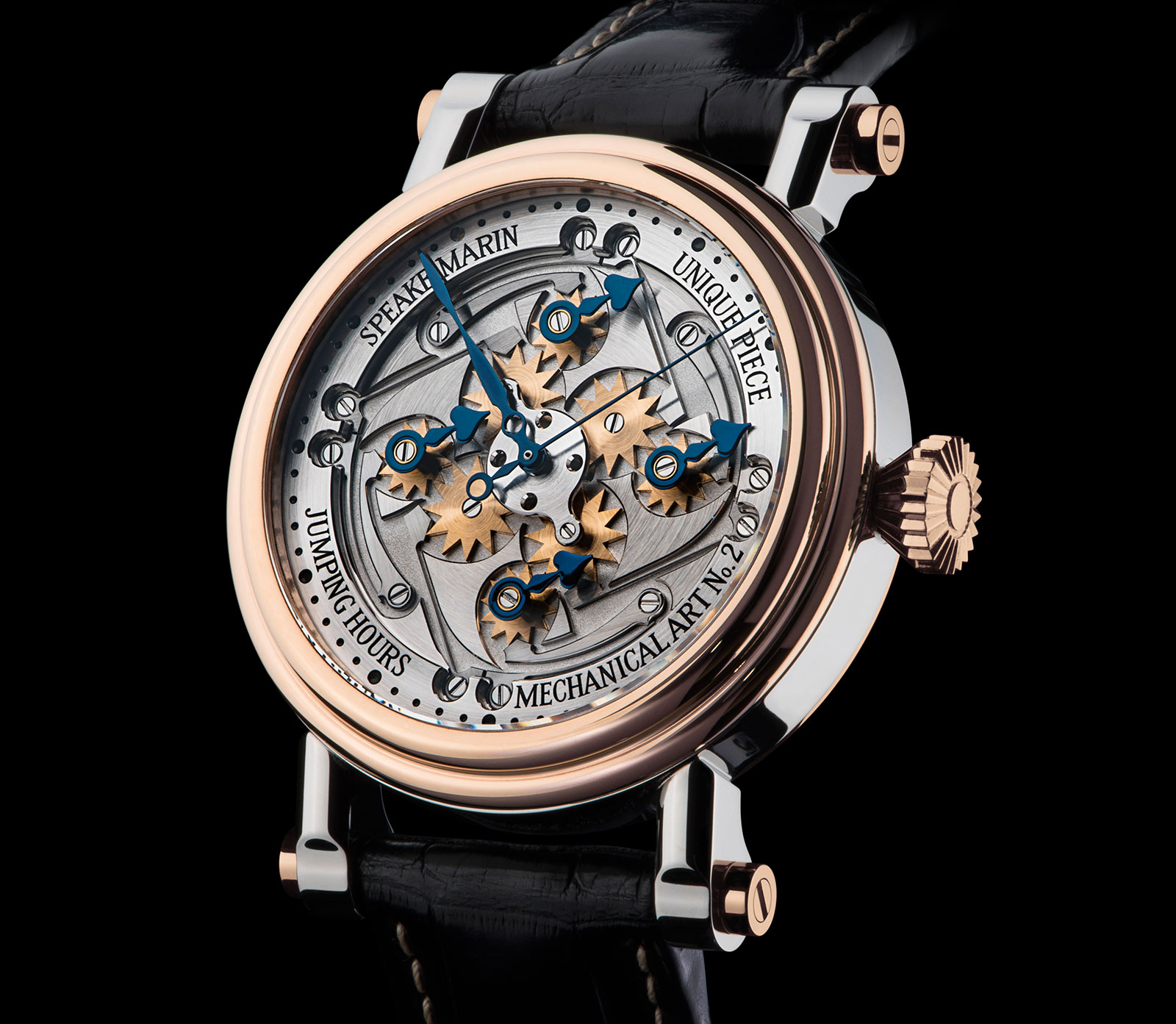 A unique timepiece, the Speake-Marin Jumping Hours features four hour hands jumping sequentially, with the stars, levers and springs of the mechanism forming the dial.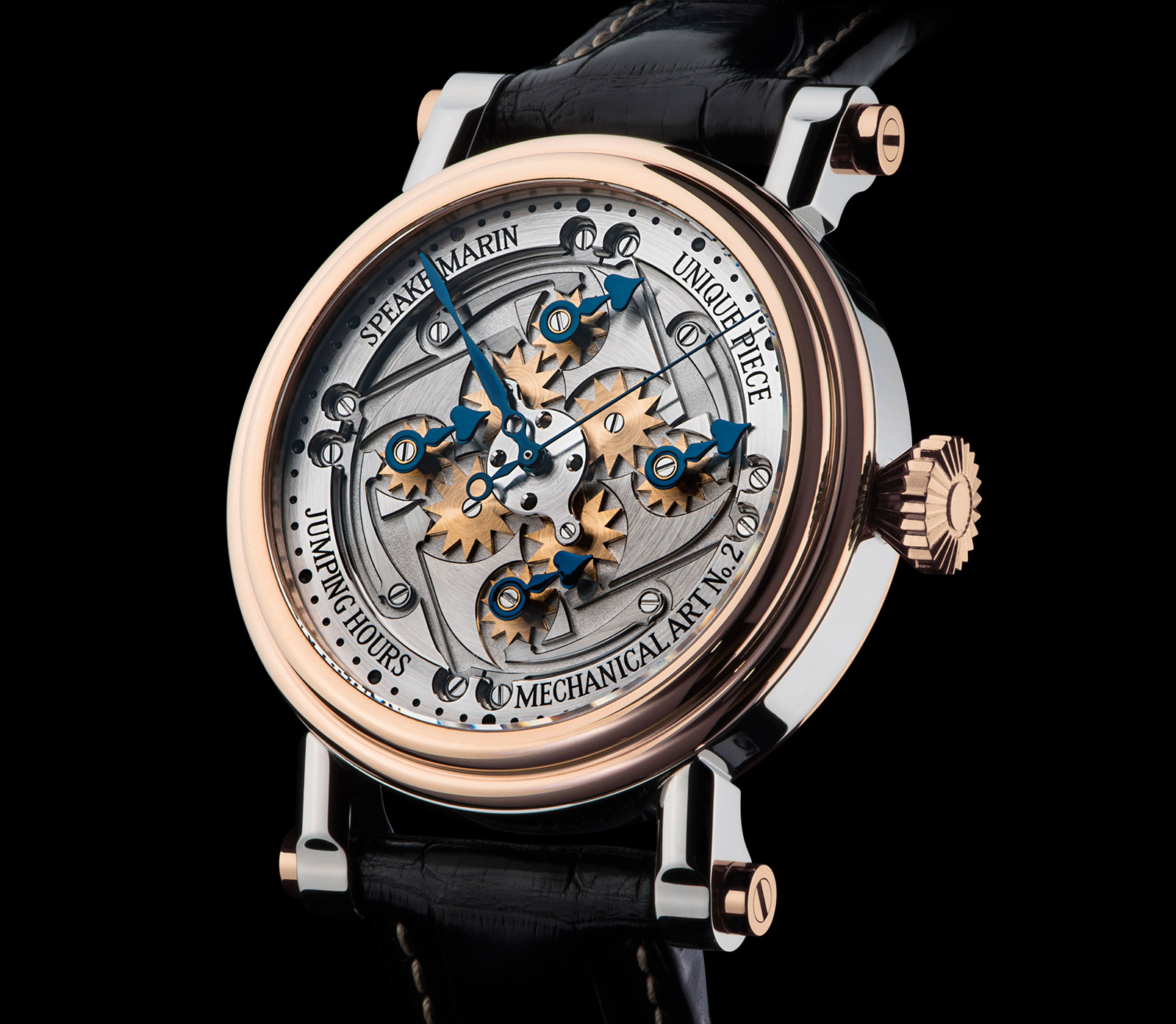 Equipped with an intriguing jumping hour mechanism, the Speake-Marin Jumping Hours is a one-off creation that takes the classic jump hour mechanism and multiplies it by four. All of the hour hands located in of the dial quadrants jump at the respective quarter hour, one after another. This is the second timepiece from Speake-Marin – now fronted by former James Bond Pierce Brosnan – with a novel, multi-hand time display first used in the Triad. When the minute hand reaches noon the hour hand at 12 o'clock jumps, followed by the hour hand at three o'clock when the minute hand passes the 15 minute mark. This continues until the central minute hand reaches 12 o'clock again, and the cycle starts anew. As each hour hand jumps, a tiny window adjacent to the minute hand axis turns red, indicating the respective hour has jumped.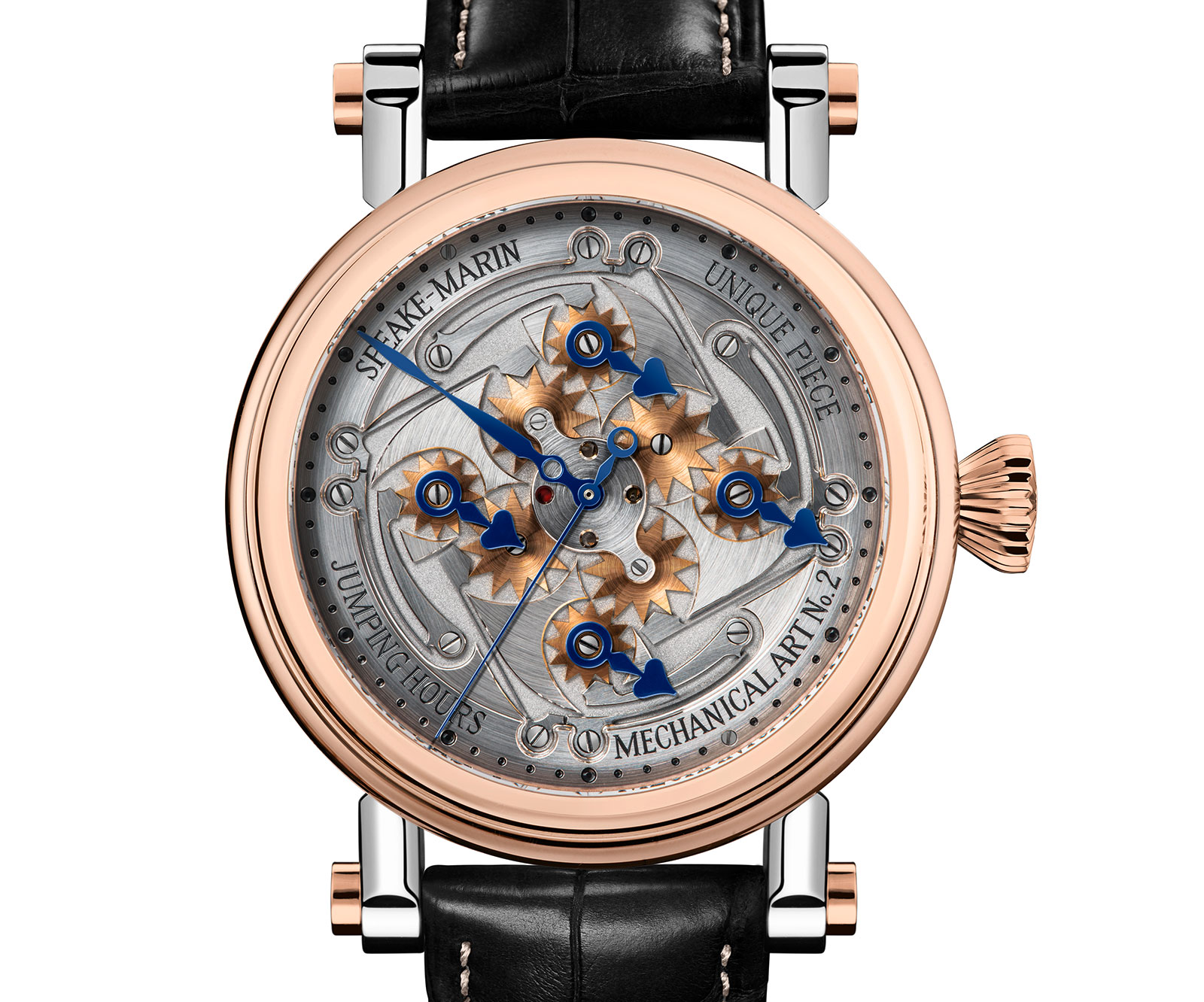 Instead of the dial the complex quadruple jumping mechanism is completely exposed, showing off the fine hand-finishing of the gears and springs that drive the jumping hours.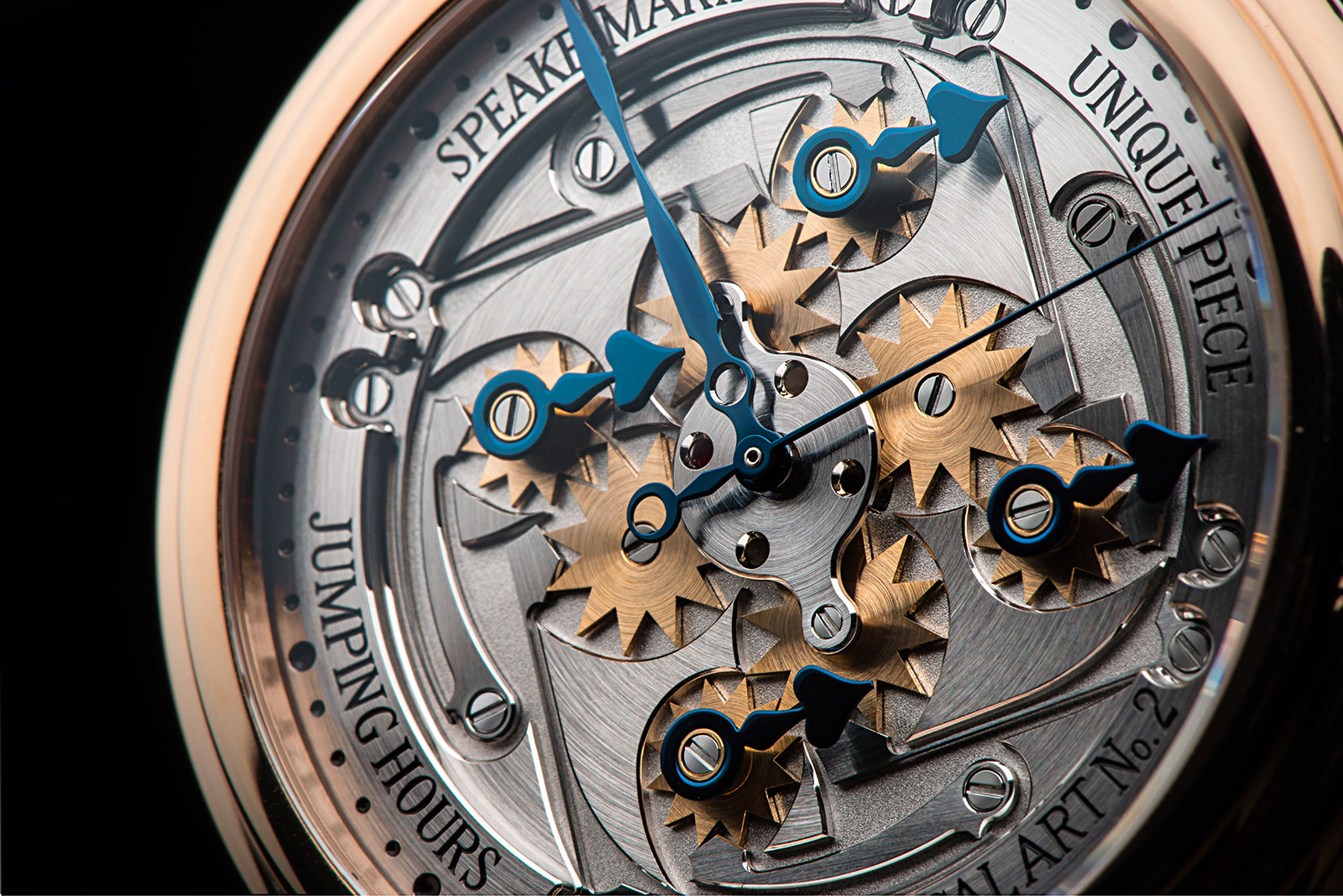 The Jumping Hour mechanism is built on the Speake-Marin Eros movement, a self-winding calibre based on a Technotime movement with a five day power reserve. Shaped in Speake-Marin's topping tool logo, the mystery rotor is blued steel, and gets its name from the fact that there appears to be no winding weight attached to the rotor. This is the same movement that equips most of Speake-Marin's watches, including the single-handed Veshelda.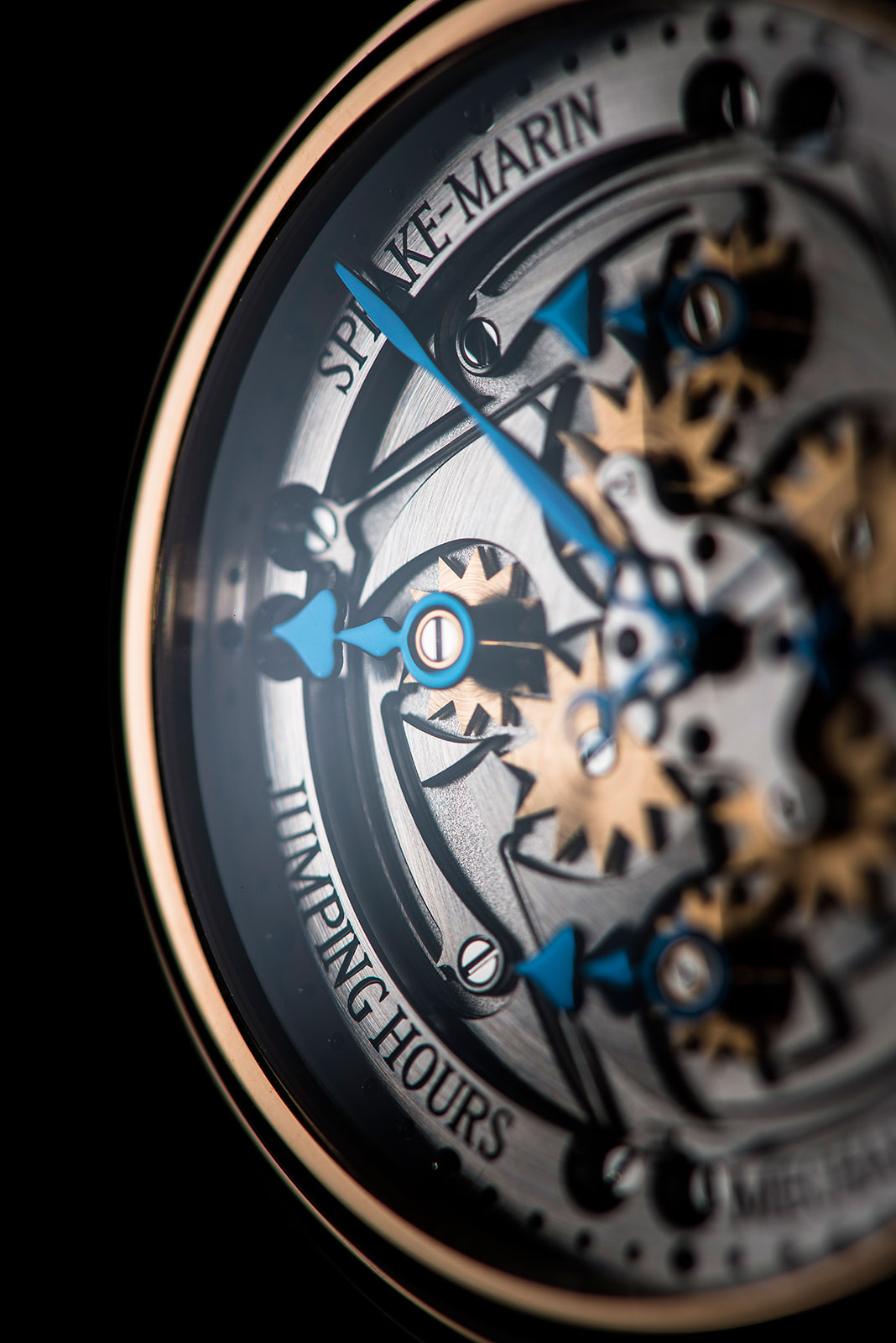 Made of steel with red gold accents, the case is 42 mm in diameter and in Speake-Marin's signature Piccadilly style, with straight lugs and an onion-shaped crown. The Speake-Marin Jumping Hours is priced at 120,000 Swiss francs before taxes.
Back to top.
---
You may also enjoy these.