Happy 90th Birthday To Walter Lange
Walter Lange, great-grandson of Ferdinand Adolph Lange, celebrates his 90th birthday this year, exactly 20 years after the family firm he helped revived has become the flag bearer for German high horology.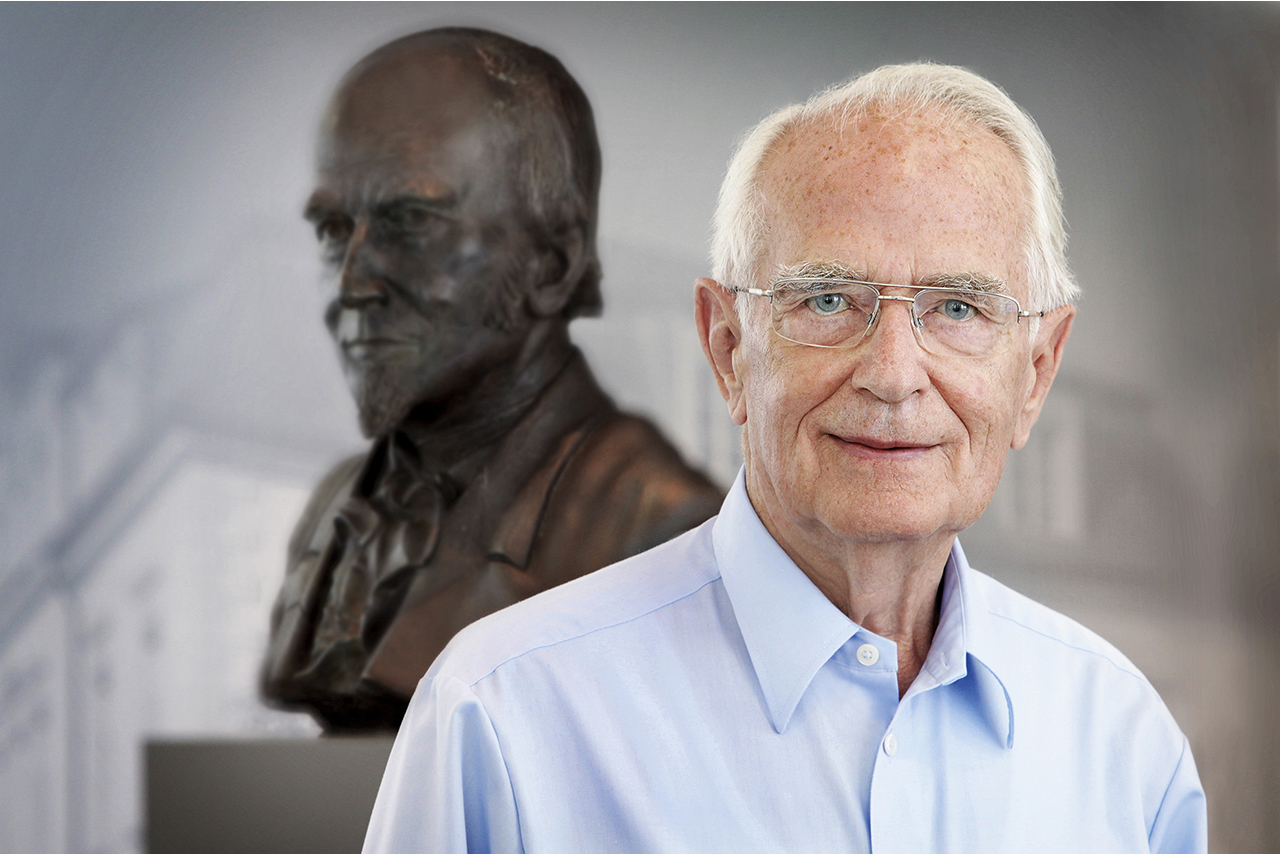 29 July is Walter Lange's 90th birthday, and an eventful 90 years it has been. He survived the Second World War, lost the family business to the Soviets, and then reestablished it in grand style with the fall of the Berlin Wall. Though he no longer has ownership in the firm, Walter Lange is the spiritual father of the brand as it is today and still attends company events.
Lange Uhren released an interview with Walter Lange for his upcoming birthday, excerpts of which are reproduced here. He talks about his past, his passions, as well as about Lange, its products, people and the late Günter Blümlein.
---
You were born into a family of watchmakers. When was your first encounter with timepieces?
Today, children play with remote-controlled cars or computers. When I was young, I had a watch kit. I can't remember how old I was, but I assembled a watch with the pieces. As a child, I spent a lot of time in the manufactory; that had a big impact from the very beginning.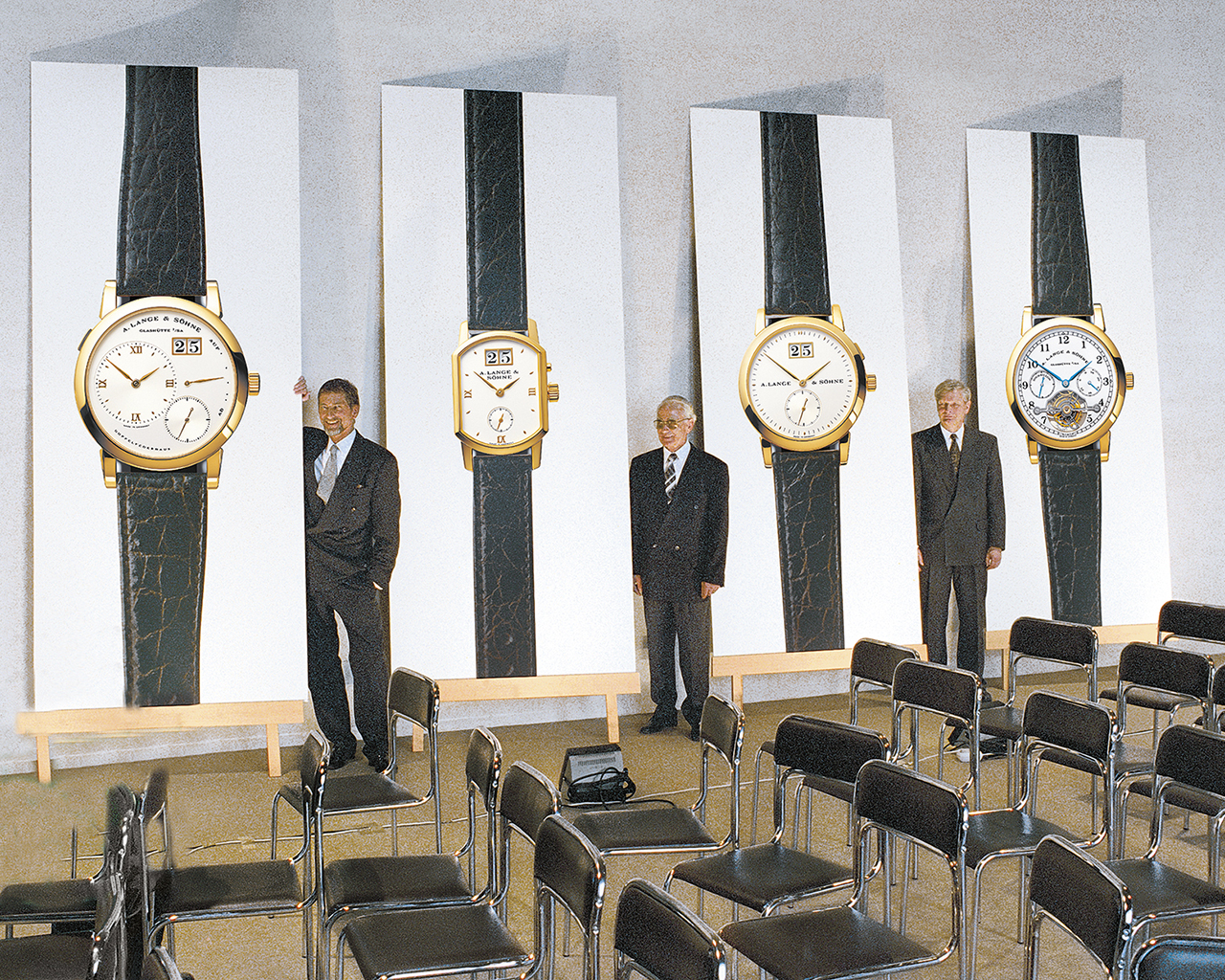 Günter Blümlein, Walter Lange and Hartmut Knothe in the now famous photo from Lange's inaugural press conference in 1994
Do you remember your first watch?
Yes, it was a Cyma wristwatch. It wasn't until my confirmation that I received a Lange watch. It was an OLIW. The abbreviation stands for "Original Lange Internationales Werk". Launched in the 1920s, it was the more affordable line of A. Lange & Söhne.
 How many watches do you own personally and which one is your favourite?
It's a manageable number. Being a watchmaker, I have a weakness for technical complications. That's why I like to wear the TOURBILLON "Pour le Mérite" from the first collection, also because this watch is a reminder of the revival of the A. Lange & Söhne brand.
Which other watch brands do you admire?
I love the pendulum clocks made by Erwin Sattler in Munich. I once had a set of parts for such a clock and assembled it myself. That was a real joy. The clock is still on the wall in my house.
On the last day of the war, you witnessed the bombardment of the manufactory.
Yes, it was a terrible event. I had returned home via the Baltic Sea and ended up in a field hospital near Glashütte where my leg injury was treated. It was a fortunate circumstance, a stroke of luck if you will. My father secured a leave of absence for me, issued for the period from 7 to 15 May 1945. I was incredibly happy to finally be with my family again. But on 8 May, in the morning, the bomb alarm went off and our main production building was destroyed in a bombing raid.
The watchmaking companies in Glashütte were expropriated after the war. How did you experience that period?
At that time, my father Rudolf and his two brothers Otto and Gerhard ran the manufactory. Of course, we tried to keep working and rebuild the production facility. I had extensive discussions with my father and uncle Otto regarding the future of the company. We began to develop the calibre 28 for a wristwatch, but before it went into series production, the company was expropriated – in April 1948. My father and his brothers were no longer allowed to set foot in the manufactory. I was asked to join the union, but refused. Subsequently, I avoided forced labour in a uranium mine by fleeing from my hometown one night in November 1948.
After its expropriation in 1948, the company became a publicly-owned operation and was merged with other watchmaking businesses in Glashütte in 1951. The A. Lange & Söhne brand was no longer used. You went to Pforzheim. How did you experience the situation from afar?
With great concern. I was worried mainly about my father, who was devastated by the expropriation. He came to live with us in Pforzheim, but he could not cope with the loss of the manufactory and his home. He passed away less than a year later. We all assumed that the family business had been lost forever, and we were heartbroken.
You had the courage to restart the business in Glashütte on 7 December 1990. Was that difficult?
It was a risk, but the only way for me to go. When the Berlin Wall fell, I had already retired. But I simply couldn't pass up the opportunity to revive the heritage of my ancestors. The 7th of December 1990 was among the greatest days of my life. I reregistered the brand using the borrowed address of a former classmate at our primary school in Glashütte. We had to start completely from scratch.
Who was your most important confidant?
My partner Günter Blümlein. Without him, the revival would certainly have been impossible. Blümlein was a man of deeds and a visionary. His thinking was long-term. He was an excellent strategist and had a knack for watch design and effective marketing.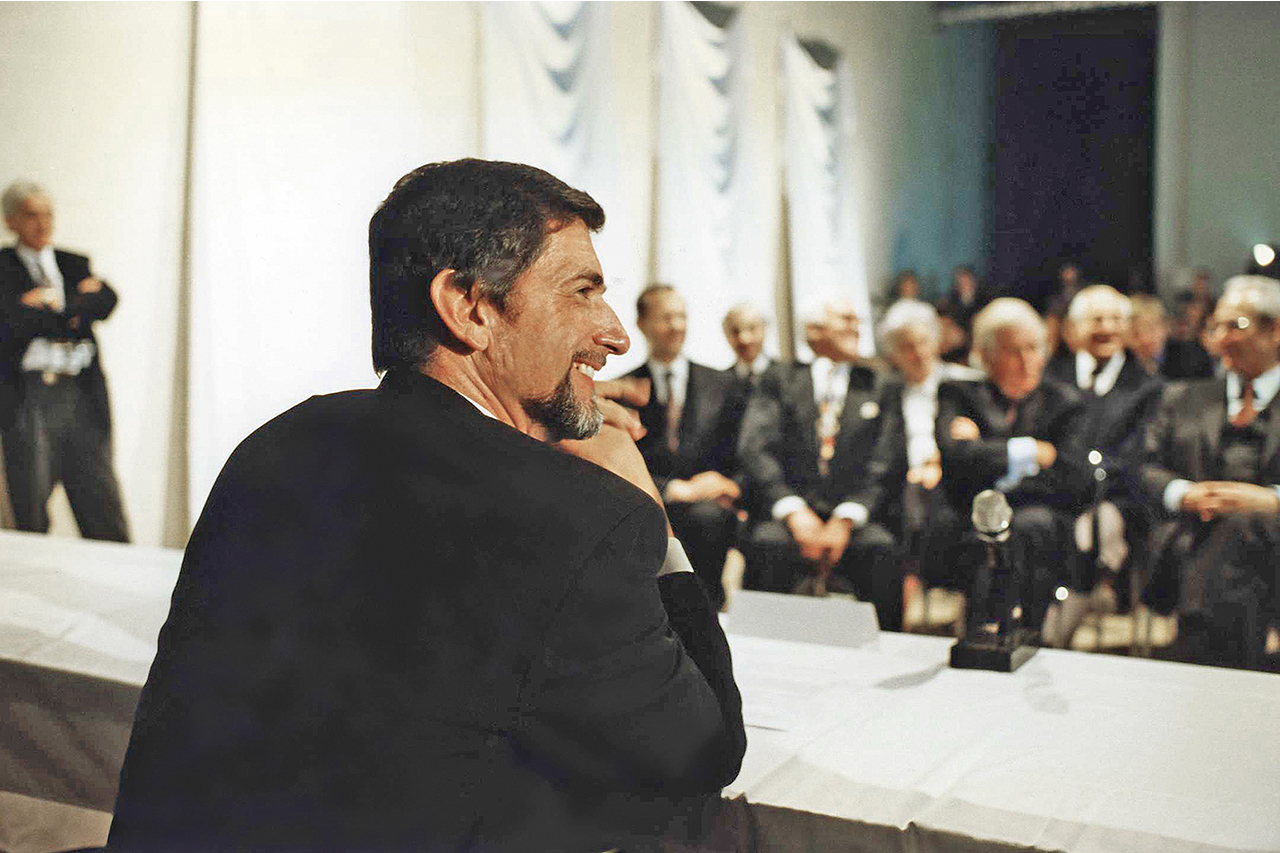 Günter Blümlein
How close were you?
Günter Blümlein and I spent a lot of time together after the reunification of Germany. We often sat together over a glass of red wine at the Ladenmühle, a small hotel near Glashütte. He always wanted me to tell him about the old days, about my ancestors' pocket watch manufactory. Those were wonderful evenings that I fondly remember. Later, we regretted the fact that we didn't tape our conversations with a dictating machine. The days prior to the presentation of our first collection in October 1994 were particularly exciting. At that time, Blümlein and I shared an office. We sat in front of our typewriters and together, we discussed the content of our speeches for the first press conference. It is tragic that Blümlein passed away at such a young age.
Can you summarise your vision for the renaissance?
From the outset, we wanted to develop watches that were sleek and classic in appearance but very modern at the same time.
And what delights you most?
The results that have been attained from such modest beginnings. Lange didn't remain the only company in Glashütte. In the meantime, Glashütte has become the centre of the German watch industry again. Over 1300 people have found jobs here and transformed the region into a "flourishing landscape". Of course, I'm pleased with the role that A. Lange & Söhne has played in this process. As was the case during my great-grandfather's era, Lange is the region's driving force. I believe most people see it like that.
What are the characteristics of a typical Lange watch?
Günter Blümlein once said that a Lange watch is a fusion of the arts, consisting of a proud legacy, the passion of our staff for fine timepieces, the style of the company, a responsibility for its traditions, and finally the unique technology and artisanship to which we are committed. I can only agree.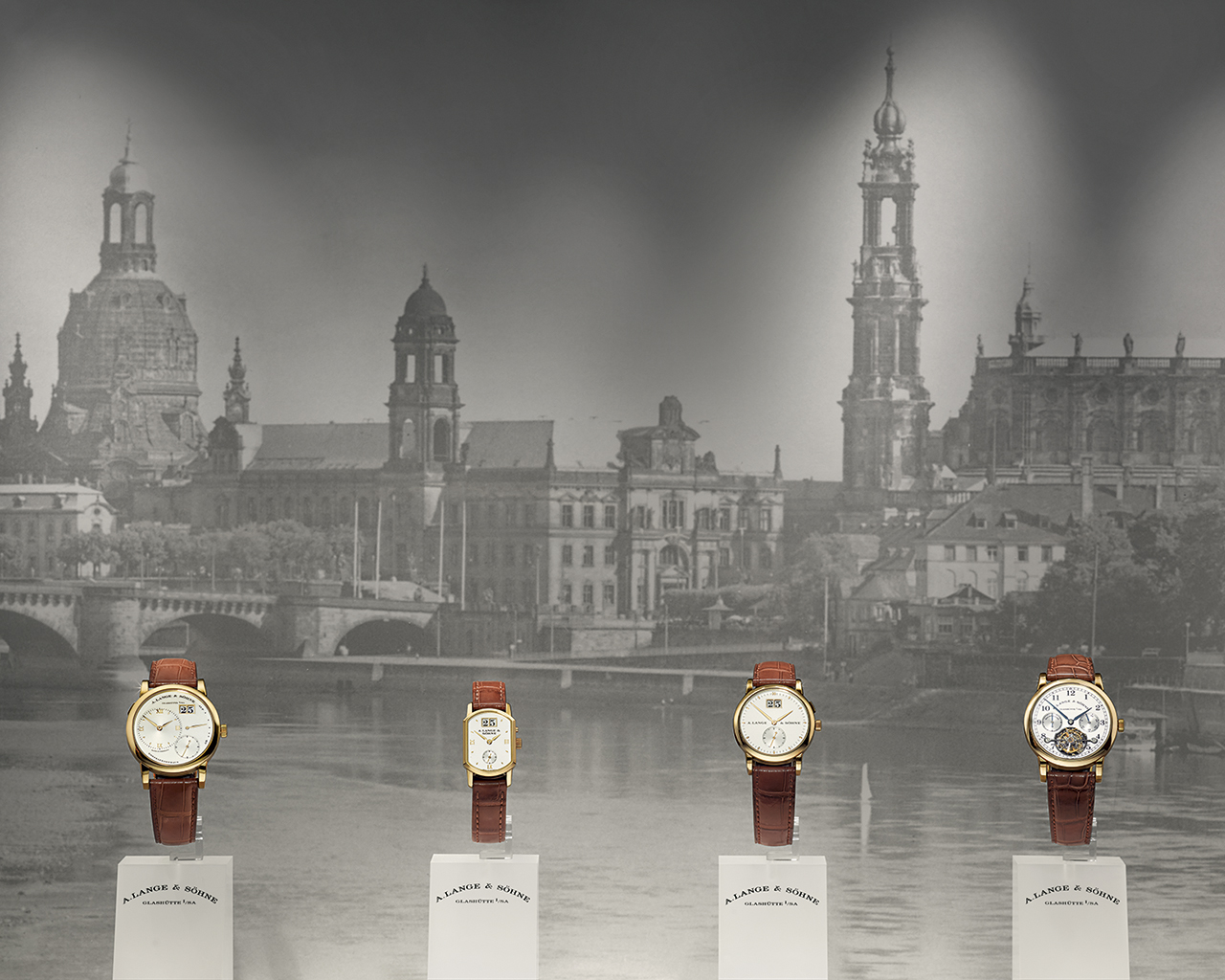 The first four Lange watches presented in 1994
What's your vision for the future of the company?
I am no longer involved in the daily business. But I still attend important events. As long as our watchmakers strive to craft the world's best watches, the brand will be heading in the right direction. We cannot lower our in-house standards: quality is what makes Lange. It must stay that way.
 What else, apart from timepieces, arouses your enthusiasm?
I have a fondness for vintage cars. I vividly remember my rear-engined Fiat 600. My wife and I drove up the Brenner pass with it. I honked the horn all the way up because I had to keep the accelerator pressed. People along the road jumped aside to make way for us. Or my Horex 350 motorcycle with the wonderful sound. My wife would sit in the sidecar. We had wonderful day trips with it. Two years ago, I drove my Mercedes convertible to the Concorso d'Eleganza on Lake Como. Its three-litre engine hummed, it was bliss. My heart beat faster when I arrived in Como and saw so many incredible classic cars in one place!
What is your personal wish for your 90th birthday? Which dreams would you like to see come true?
Good health is my only wish. Otherwise, I'm happy in every respect.
---
Back to top.
---