Introducing the Eone Bradley, a Tactile Way to Tell the Time
Launched last year on Kickstarter, the Eone Bradley is a watch that allows the user to tell the time through touch, intended primarily for the blind. Affordable and attractive, most Bradleys sold so far are to sighted people.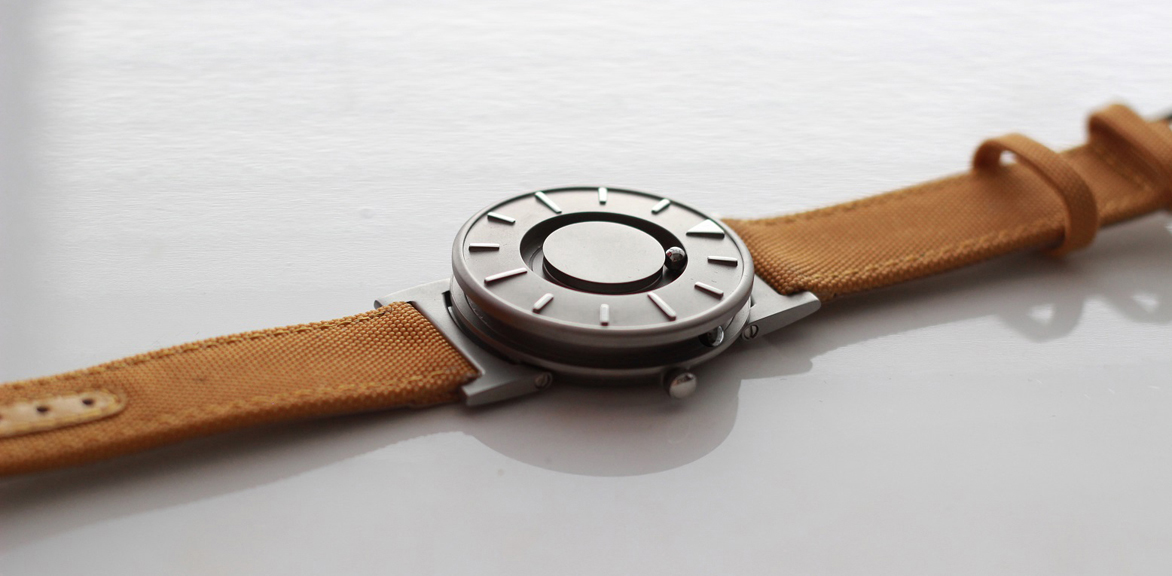 The Bradley is a titanium wristwatch designed for telling the time through touch, while looking like a conventional wristwatch. It allows the visually impaired to tell the time, yet is attractive enough that most of the sales so far have been to sighted individuals, with only 1-2% of watches sold going to the blind. This is the accessible, modern equivalent of the montre à tact, the so-called tactful pocket watches made by the likes of Breguet for telling the time inconspicuously. Unlike other watches for the visually impaired that speak the time, the Bradley is discreet.
It works on a simple concept: two ball bearings, one on the front for the minutes, and around on the circumference of the case for the hours, indicate the time. Touching the ball bearings quickly reveals the time, making it useful not just for the blind but also the sighted who need to know the time in a unobtrusive manner.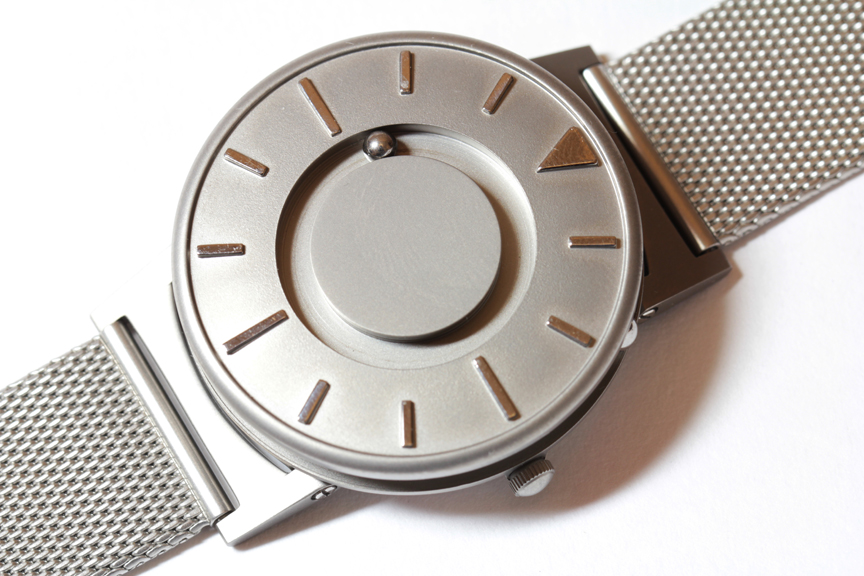 Raised indices on the front – there is no crystal over the dial – mark out the hours. 12 o'clock is a triangular marker, while the quarters are elongated to distinguish them from the other indices.
Made of titanium, the Bradley is 40 mm in diameter, with a quartz Ronda movement inside. The movement drives the ball bearings via magnets, with the time set via the crown. Because the ball bearings are magnetic, even if they are thrown out of alignment, they jump back into position with a few shakes of the watch.
Eone – "designed for everyone" – launched the Bradley on crowdfunding site Kickstarter in mid-2013 with a goal of raising US$40,000, but has since raised just under US$600,000. 4500 watches have been sold so far, with about 3900 having been shipped.
Eone founder Hyungsoo Kim conceived the Bradley while at the Massachusetts Institute of Technology, where Kim had a blind classmate who had difficulty telling the time. Kim named the watch after Brad Snyder, who lost his sight while serving as a bomb disposal officer in Afghanistan. Snyder, a swimmer won two gold medals at the 2012 Paralympics, provided input in the early stages of the Bradley's development.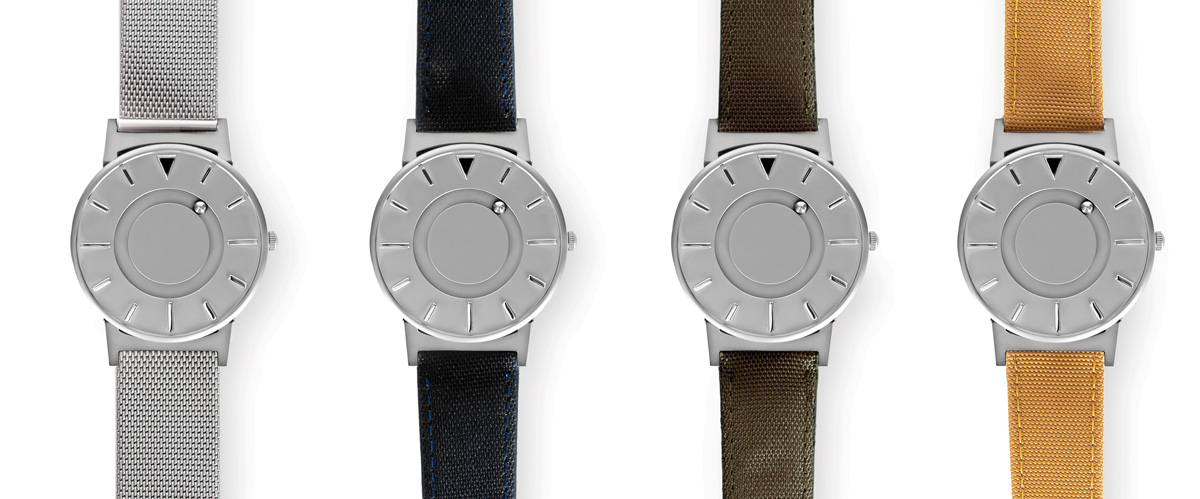 Available on a leather strap in various colours, or a steel mesh bracelet, the Bradley is available for US$195 from Eone's online store, with delivery in June 2014. According to Eone, there are no plans yet for a Bradley powered by a mechanical movement.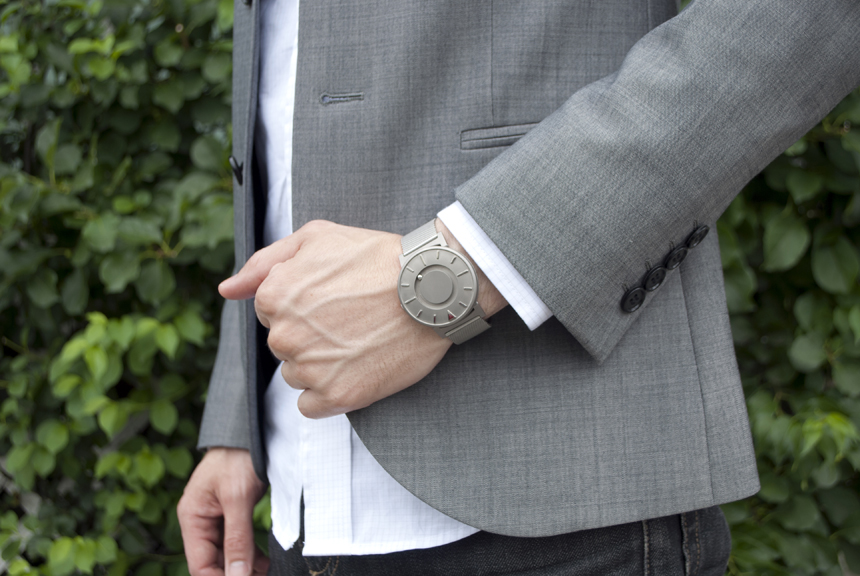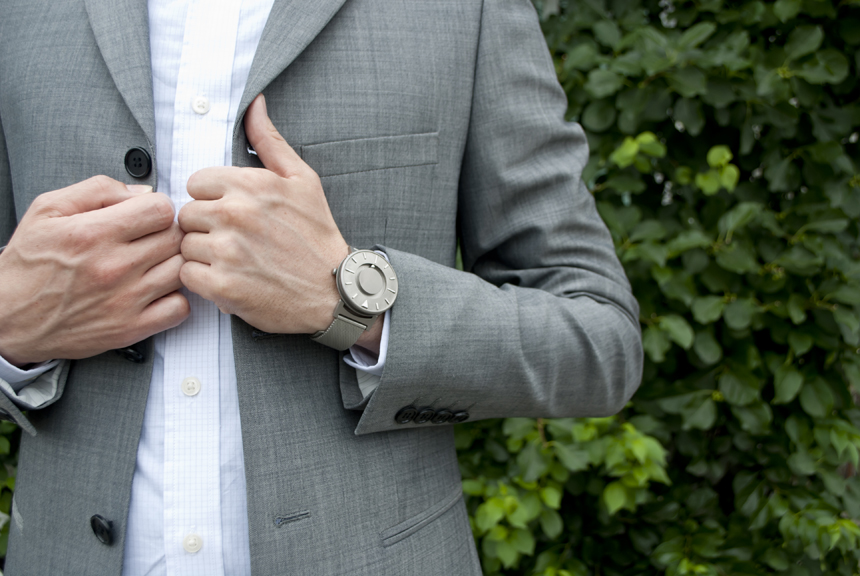 Back to top.
---
You may also enjoy these.

Having just made its debut on the Apple App Store, Luxglove is an online marketplace for pre-owned or vintage items, primarily watches, focused on South-East Asia.