PROFILE: Meet Prasart Vidhayapat, the man with 1000 watches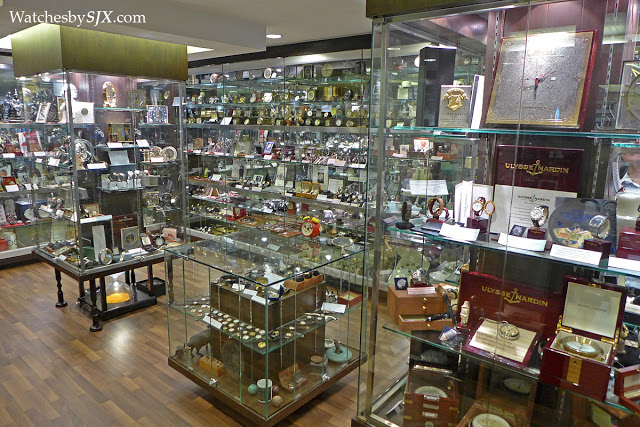 Prasart Vidhayapat has been collecting watches, and many other things, for 30 years. He now has about 1000 watches, and more than 1000 clocks. Most of these are on show in his office, which doubles as a watch gallery. We visited him and his treasure trove, and this is what we found.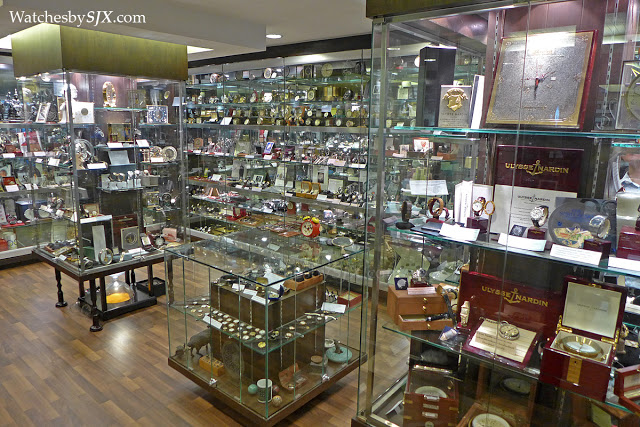 His business card reads "The owner of private watch gallery" in addition to his corporate title. Prasart Vidhayapat, an entrepreneur who founded and runs a stationery supplier, works in an office surrounded – literally surrounded, wall to wall – by watches and clocks. In his 30 years of collecting Mr Vidhayapat has accumulated about 1000 watches, and well over 1000 clocks.  Based in Bangkok, Thailand, Mr Vidhayapat began his collection with this Seiko Sea Lion M88 some thirty years ago. Unable to afford the watch outright, he paid for it in instalments over four months. Its value, and original cost, pale in comparison to his other timepieces, but this Sea Lion is an important part of the collection.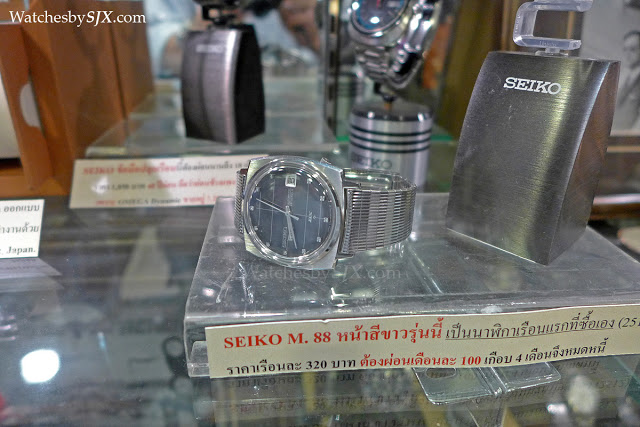 Seiko Sea Lion M88
Now in his early sixties, Mr Vidhayapat's enormous collection is mostly stored in his office  protected by four different alarm systems so if an alarm is triggered four security companies will respond. Naturally he has a good number of watches stored elsewhere, both at home and in a bank vault.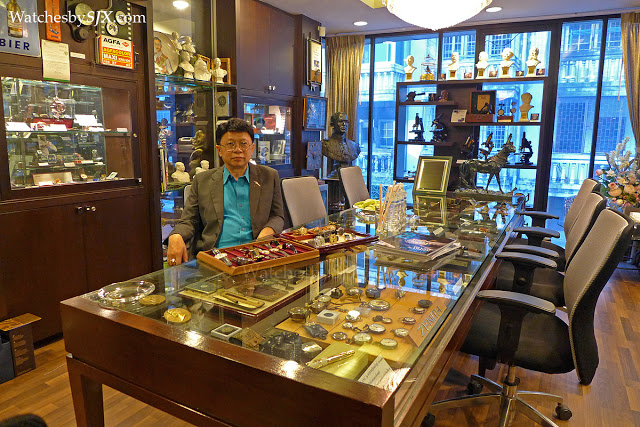 Prasart Vidhayapat…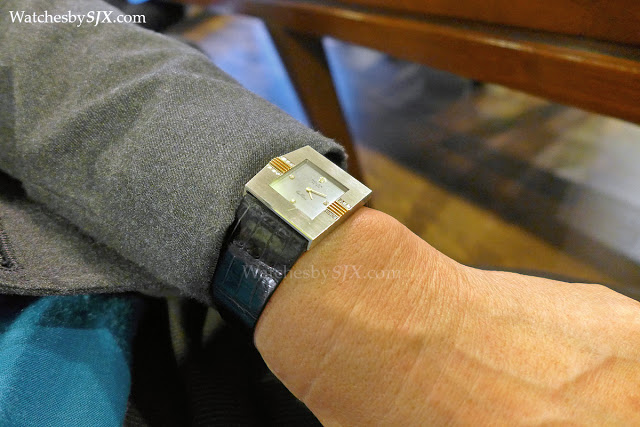 With the Rolex King Midas on his wrist
Mr Vidhayapat works at a desk surrounded by watches and clocks, with yet more in the adjacent room which is the main display gallery. It would seem like a seriously distracting environment to try to accomplish anything.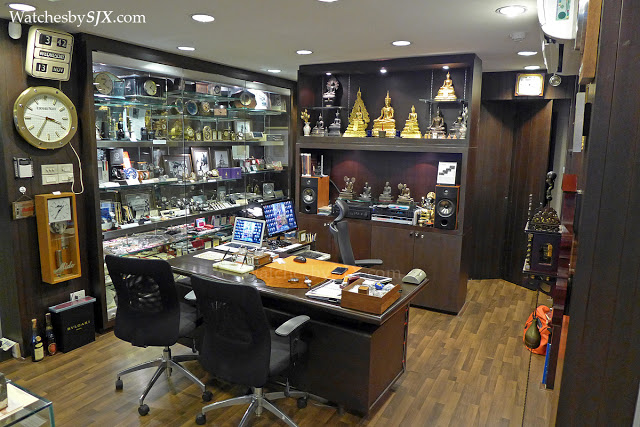 Mr Vidhayapat's desk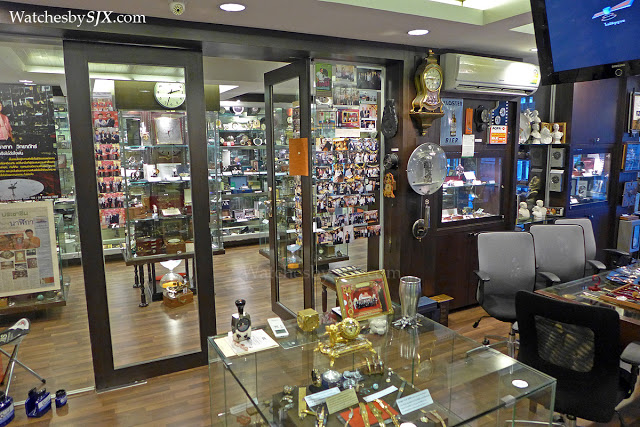 The watch gallery is beyond the glass doors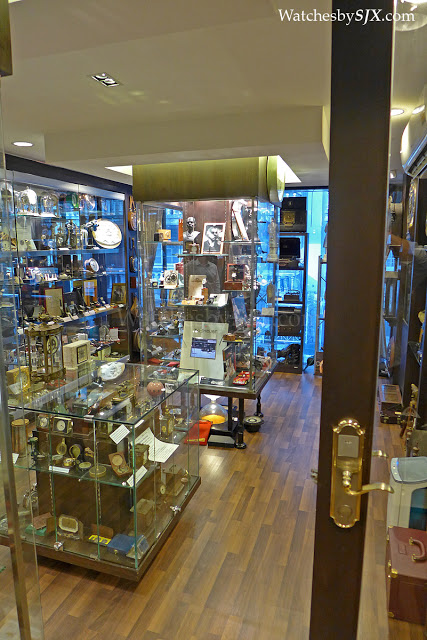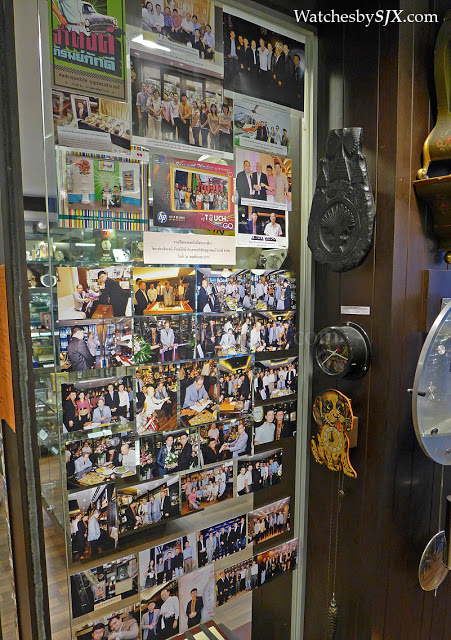 Various Thai collectors have visited the collection over the years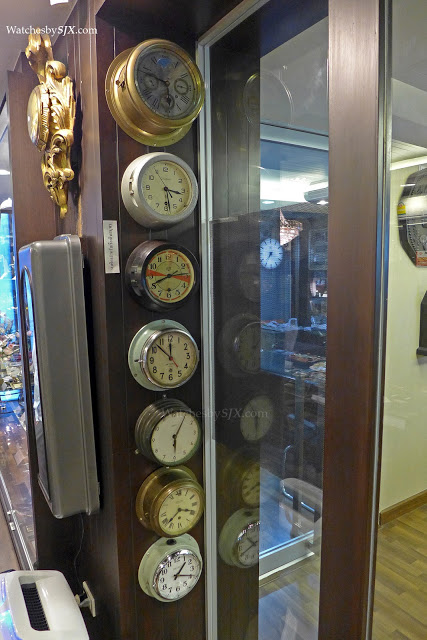 Ship clocks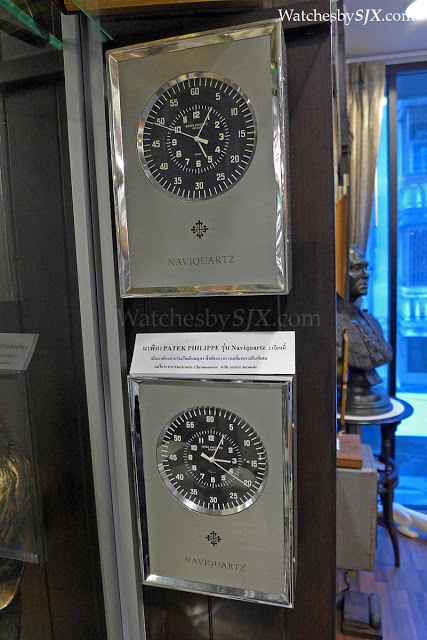 Patek Philippe Naviquartz chronometers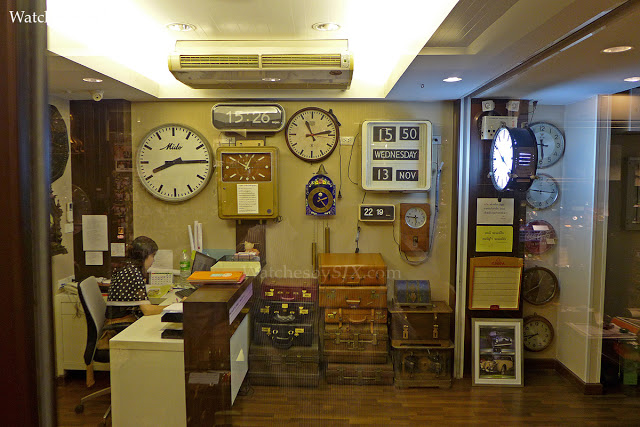 The reception area of his office, where some of his clocks and vintage luggage is displayed; the large lighted clock at right is a decommissioned Deutsche Bundesbahn (German railways) clock
Nearly every wall of his office and the adjoining room is a glass display case. The watches on show are mostly arranged by brand, though some displays are centred around a theme, like coin watches for instance.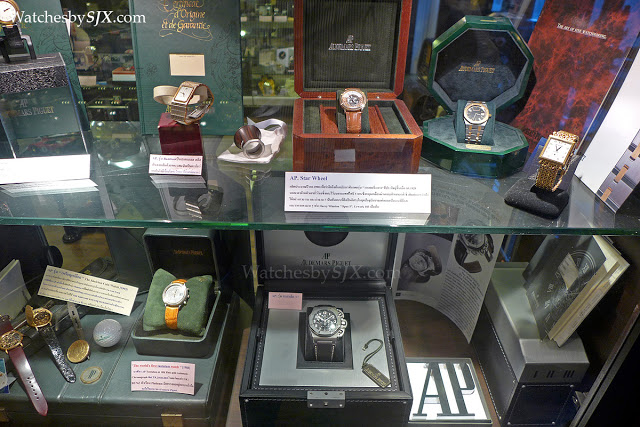 The Audemars Piguet display which includes a Star Wheel (centre top) and an early Huitieme tantalum chronograph (bottom left)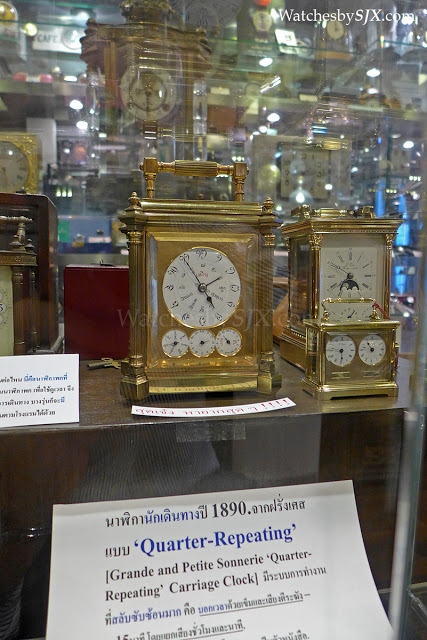 A display of carriage clocks
But the watches are not just on display, they are everywhere. Like any accomplished watch collector, Mr Vidhayapat also has watches stashed in boxes, pouches and drawers around the office.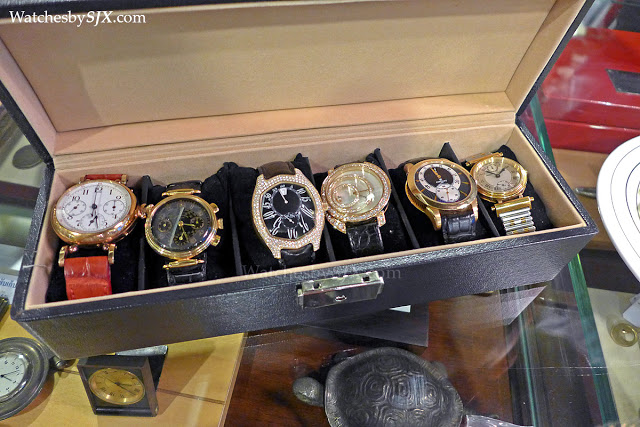 A watch box with an assortment of timepieces…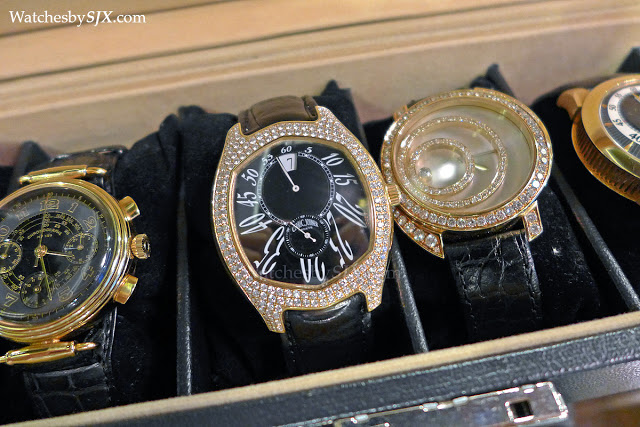 Including an uncommon Cedric Johner Abyss jump hour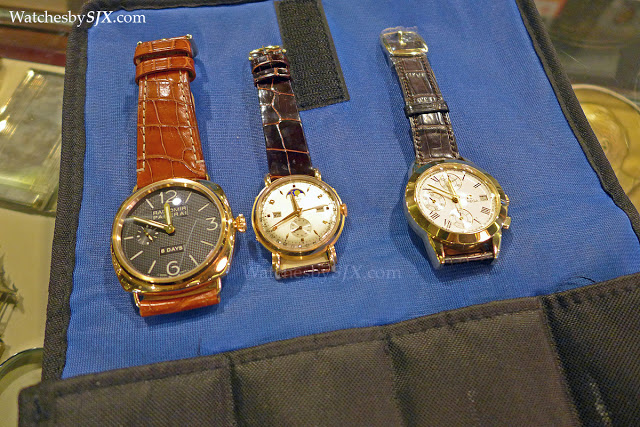 And a nylon pouch containing a trio, including a Panerai PAM197 8 Days (left) and a Omega Louis Brandt chronograph (right), part of Omega's unsuccessful attempt at high horology in the nineties
What really distinguishes the collection though, aside from the sheer volume, are two things. The first is its incredible, extraordinary and almost unbelievable diversity in terms of both brand and chronology. To call the collection eclectic, multifaceted, extensive and wide-ranging, all at once, would be an understatement. Mr Vidhayapat collects everything – everything. His wristwatches range from vintage pocket-to-wristwatch conversions to Grand Seiko to Lange. . The timepieces in the collection span all extremes of the horological spectrum, ranging from the Audemars Piguet Offshore Terminator 3 at one end to the Patek Philippe Calatrava ref. 2526 at the other.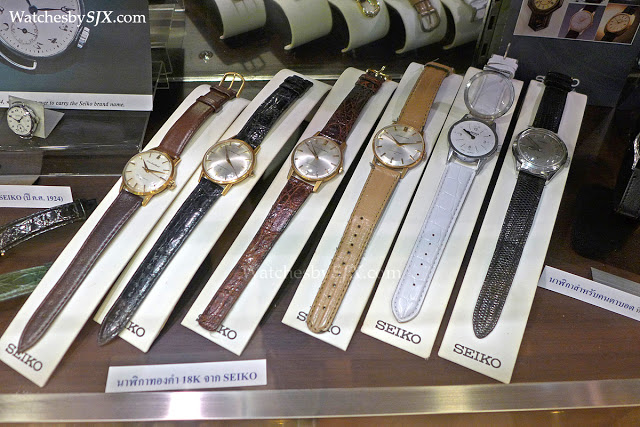 Vintage Seiko including Grand Seiko and a watch for the blind (second from right)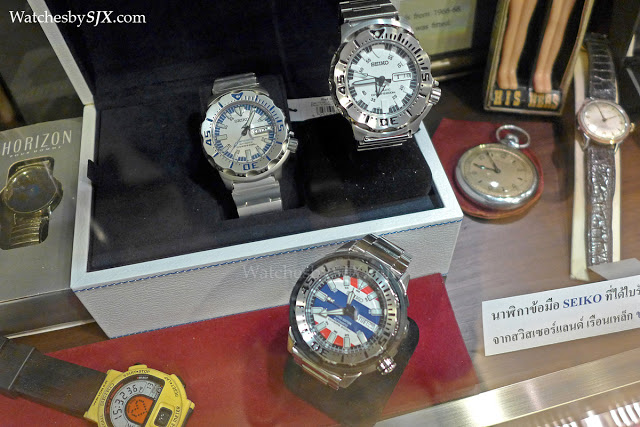 Limited Edition Seiko watches made for Thailand including the Snow Monster (centre)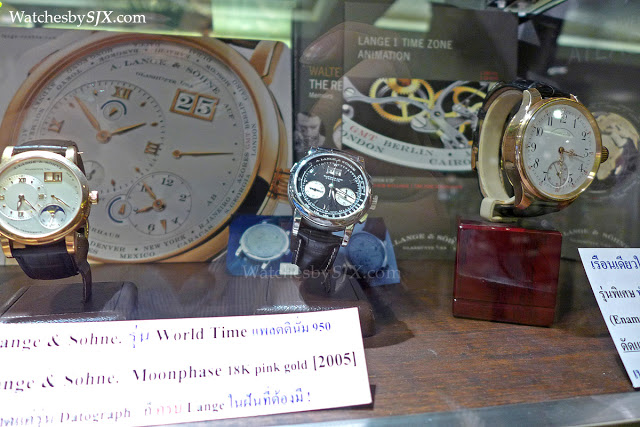 Lange 1 Moon Phase (left) and Datograph; he also has a Lange 1 World Time which is being serviced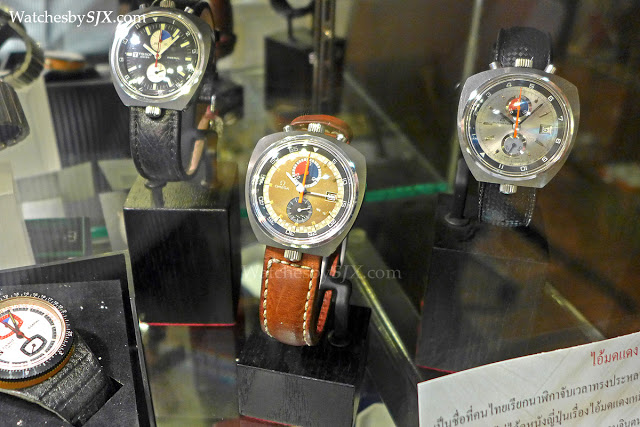 Omega Bullhead (centre), along with Tissot and Bucherer Bullhead chronographs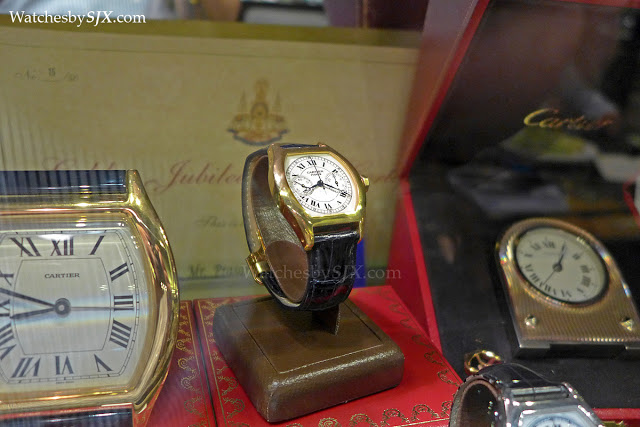 Cartier Tortue Monopusher chronograph, just one of two he owns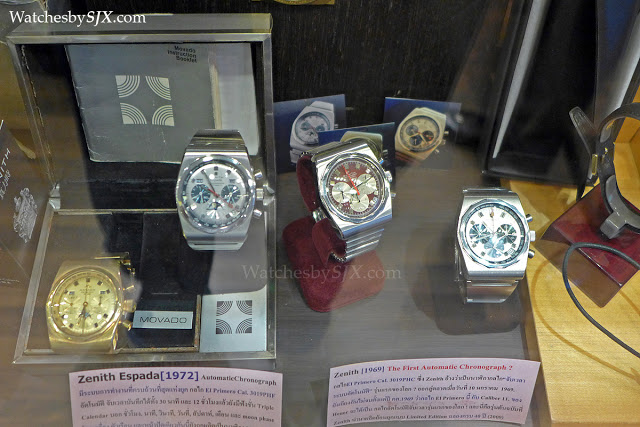 Zenith and Movado El Primero Espada wristwatches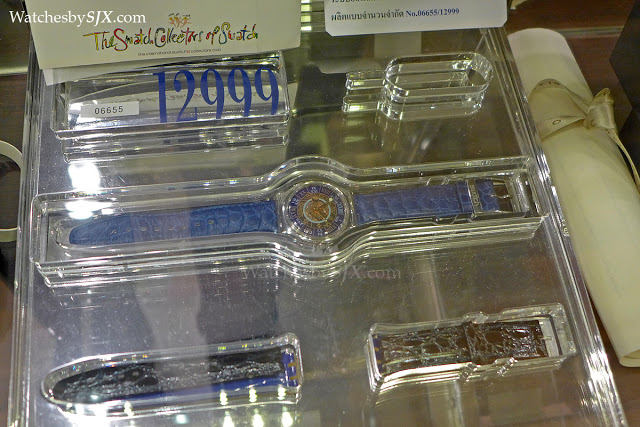 Swatch Tresor Magique with a 950 platinum case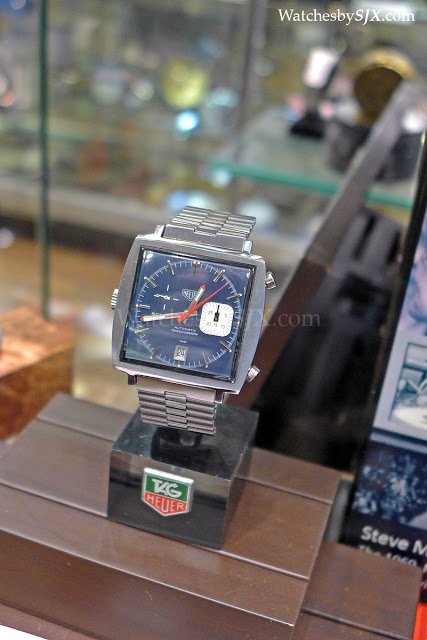 Heuer Monaco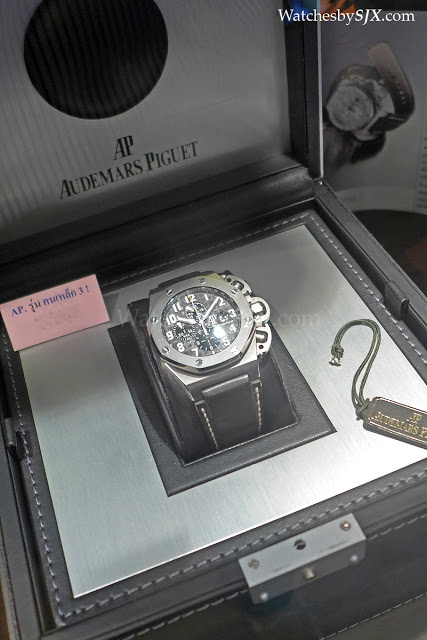 AP Offshore T3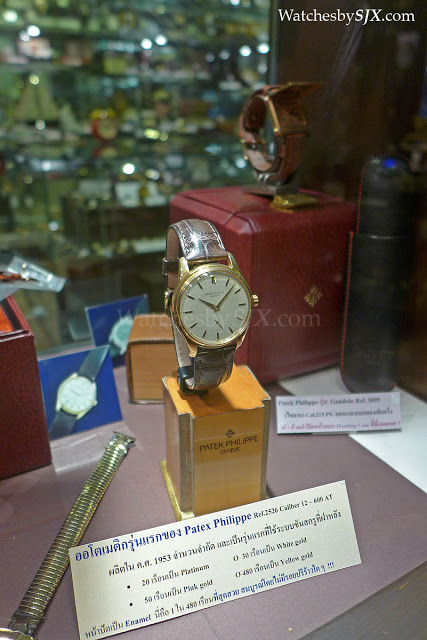 Patek Philippe Calatrava ref. 2526 in yellow gold
Though his collection contains a little bit of everything, Mr Vidhayapat knows what he likes in watches. His favourite brands are Omega, Jaeger-LeCoultre, Longines and Heuer (and he emphasises only Heuer, sans TAG).  He also likes the early twentieth century wristwatches that were the immediate descendants of pocket watches; favouring wristwatches with wire lugs, counting over 100 of them in his collection, as well as wristwatches with hunter cases. The second detail that jumps out at you is how well curated the collection is. Every watch on display has a placard describing it, with model information, and often including a description and even a bit of background or history of the timepiece. Most of the timepieces on show are carefully described, even the little known watches, like this Mercedes-Benz wristwatch from the sixties made by Guyot & Cie.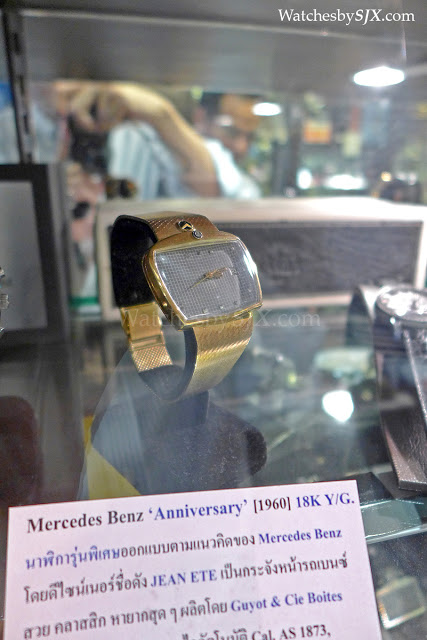 Mercedes Benz wristwatch in 18k yellow gold containing the A. Schild 1873 movement
Some displays even have paraphernalia and props related to the timepiece, like this Corum Rolls Royce watch which includes a Rolls Royce clock, flask and scale model. The attention lavished on creating each display is phenomenal, and given the size of the attention, a never ending task. And that attention to detail is not just for the display cases. Mr Vidhayapat has records detailing each and every of his timepieces, complete with a small photo, filed away.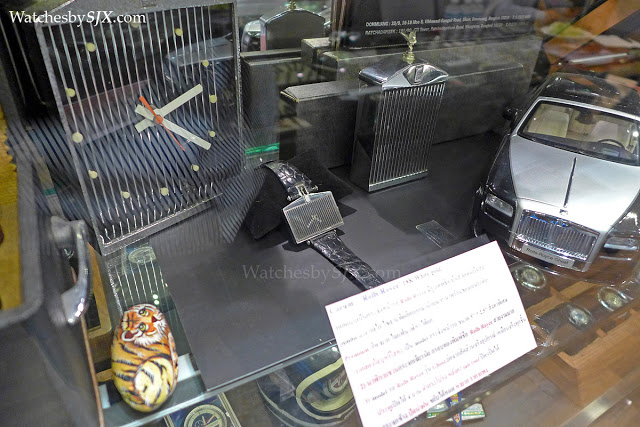 In fact Mr Vidhayapat is so enamoured by the hobby that he commissioned resin busts of his favourite historical figures in watchmaking, namely the founders of Heuer, Patek Philippe, Omega, Rolex and LeCoultre. And he did not just commission a handful, but over 60 examples of each bust, some of which he has donated to charities to be sold at fundraisers.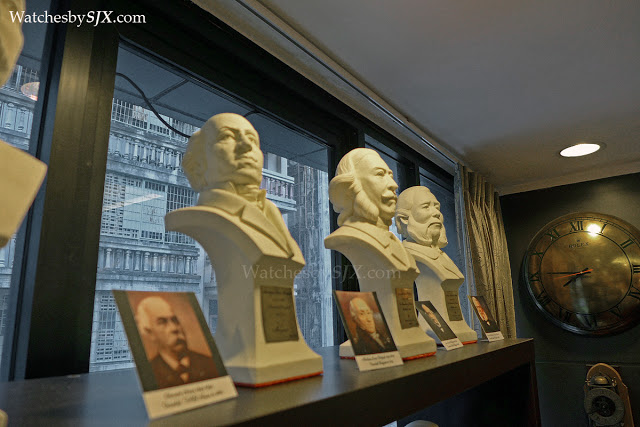 If it is not already obvious, Mr Vidhayapat has an uncommon tenacity as a collector. He cites the example of this fifties Universal Geneve wristwatch, which was worth only about THB30,000 two decades ago, or about US$900.  Mr Vidhayapat wanted to buy it back then, but the owner steadfastly refused to sell. So lay Mr Vidhayapat in wait, biding his time. 10 years later he finally acquired the watch – and had to pay THB170,000, or nearly six times as much.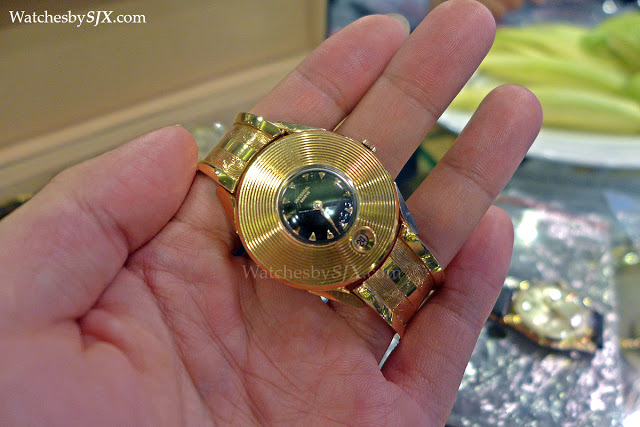 Mr Vidhayapat is still growing the collection, naturally. From time to time he sells watches from his collection, but only if he has acquired a better specimen of the same model.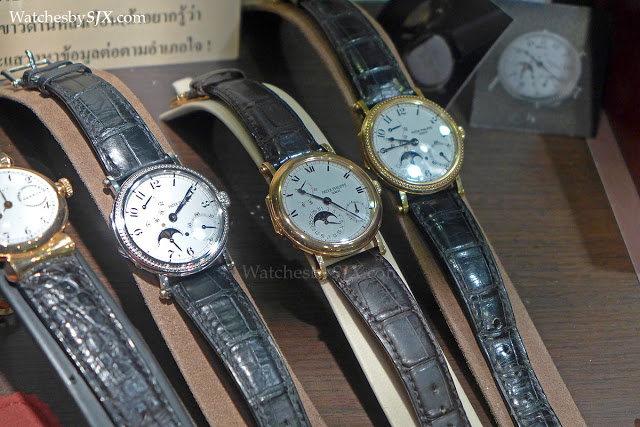 A pair of Patek refs. 5015 and a ref. 5054 in the middle; Mr Vidhayapat has additional 5015s stored elsewhere
But if Mr Vidhayapat really likes a particular timepiece, he has the urge to acquire several of them. The result is multiple examples of various watches, ranging from vintage Jaeger-LeCoultre triple calendars to the Patek Philippe ref. 5015.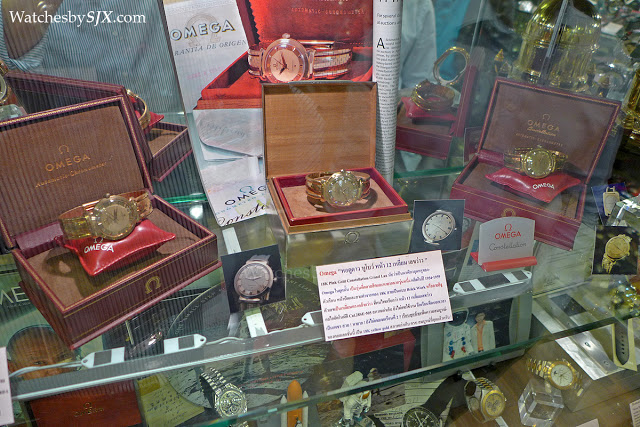 The trio of Omega Constellation Grand Luxe
Similarly, being one of his favourites, the Omega Constellation pie pan can be found in multiple guises in his collection, including three specimens of the rare Constellation Grand Luxe with its distinctive gold bracelet.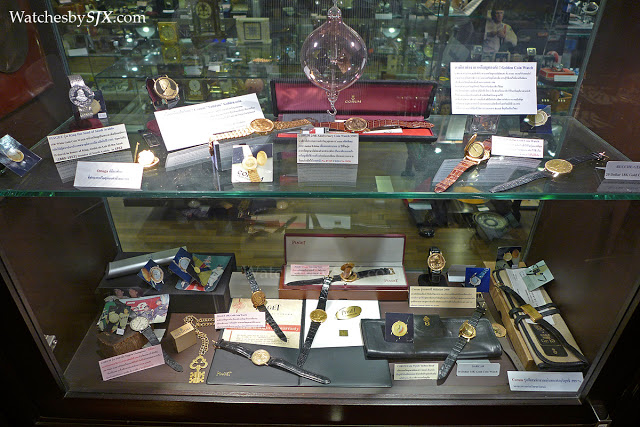 A selection of coin watches
He has a strong inclination towards ultra-thin coin watches and has several dozen such timepieces from various brands, including Piaget, Corum and Audemars Piguet. When asked to bring out a handful of favourite timepieces, it was clearly a challenge. Mr Vidhayapat returned with two trays of watches, the bare minimum he could manage. His selections are as varied as the collection as a whole.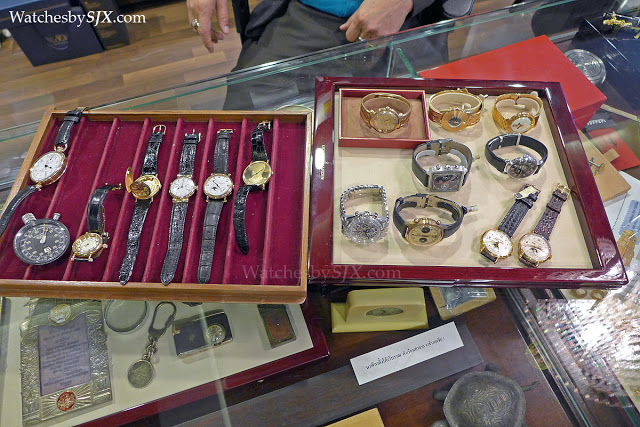 One of his favourites is a unique Corum coin watch made using a gold coin bearing Saddam Hussein's visage, of which only one was ever made.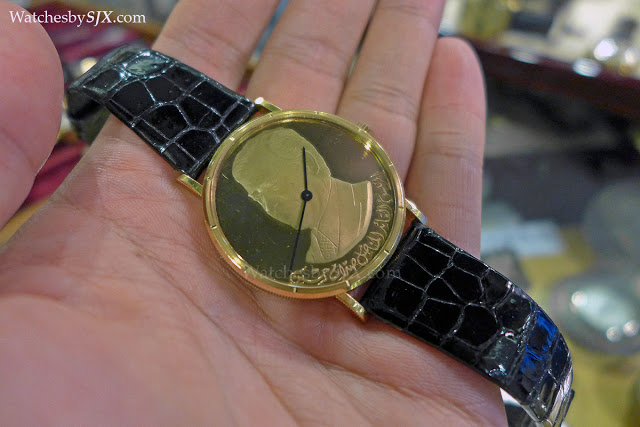 Another of his favourite timepieces is from the same genre, an Audemars Piguet ultra-thin coin watch which flips open to reveal the skeletonised cal. 2003.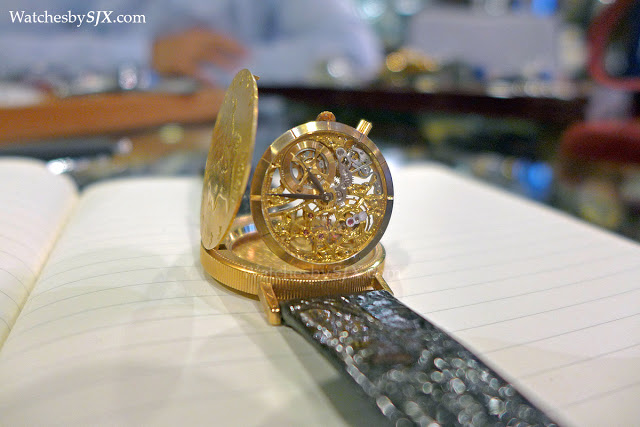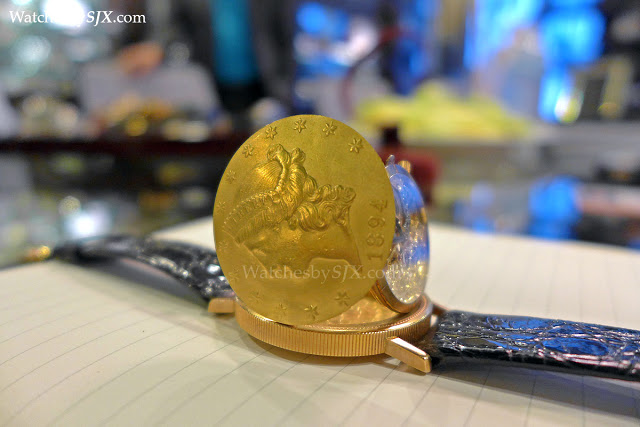 Amongst his other favourites are vintage Jaeger-LeCoultre triple calendars, the Omega Constellation Grand Luxe with a diamond dial, Heuer's Monaco and the Patek ref. 5054.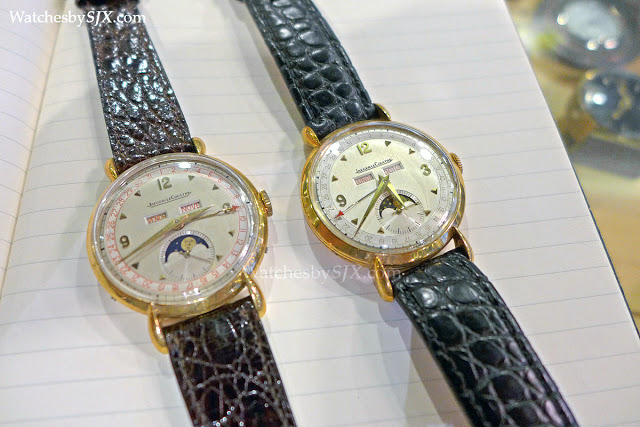 JLC triple calendars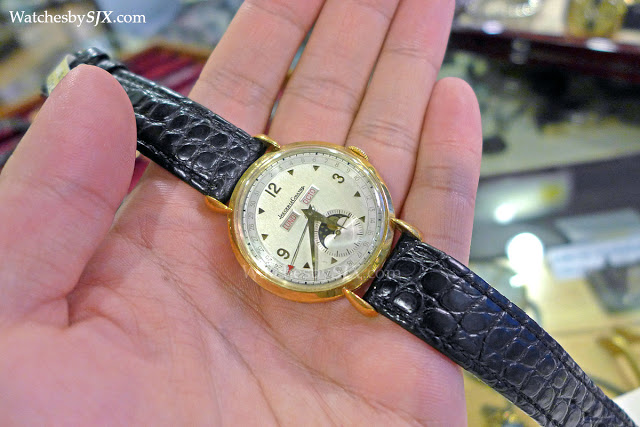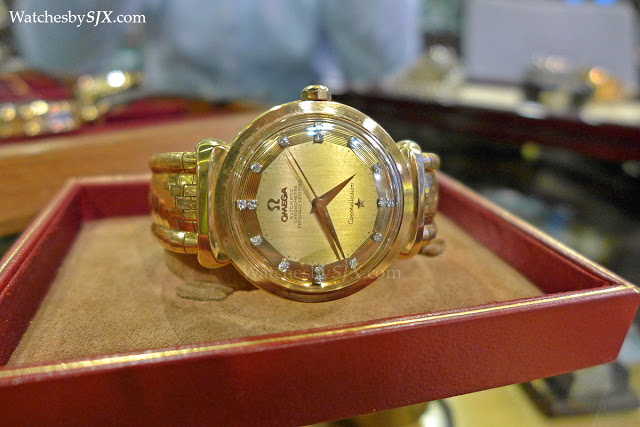 A rare Omega Constellation Grand Luxe with a diamond dial…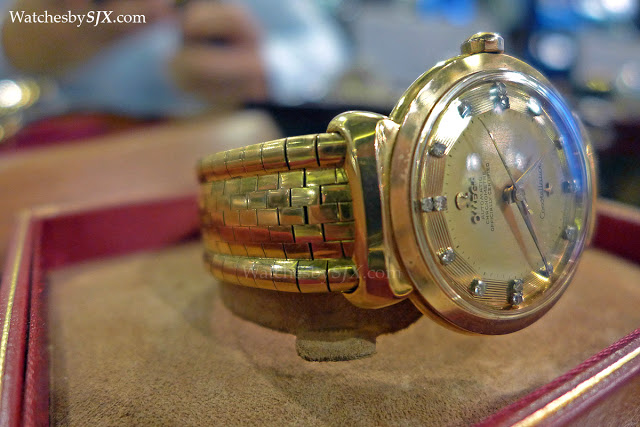 And its brick bracelet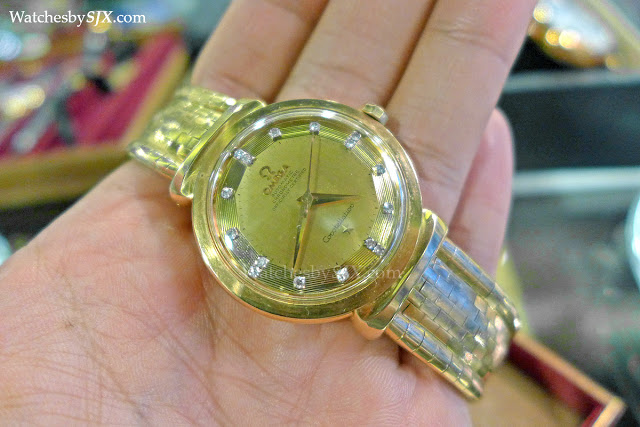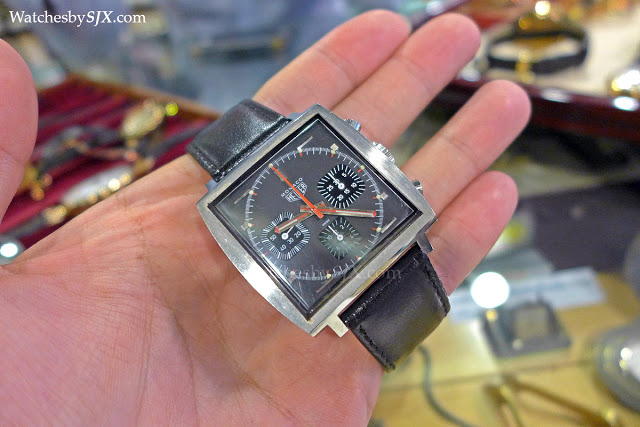 Heuer Monaco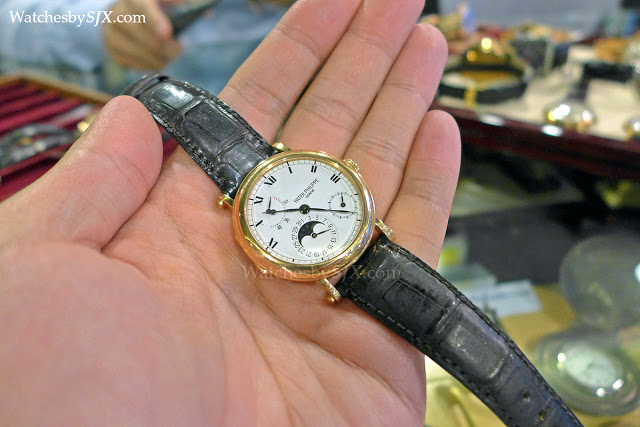 Patek Philippe ref. 5054
Another watch he is particularly fond of is an Omega Speedmaster Moon Watch skeleton in platinum on a platinum bracelet, and set with baguette diamonds. Only five were made.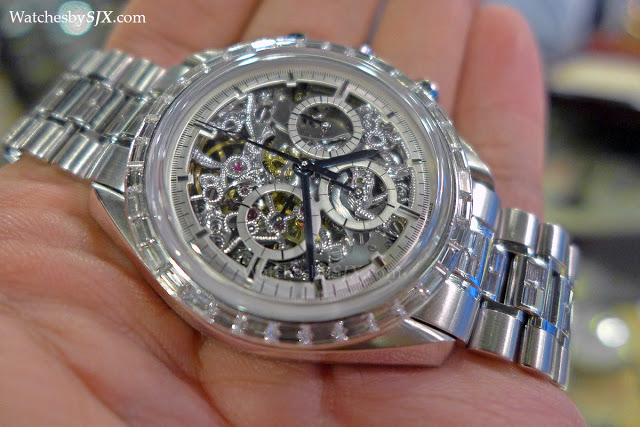 And what about servicing, one might ask? Mr Vidhayapat only gets a watch overhauled if he is wearing it and it stops keeping time, or if he wears a watch especially frequently. But it is not just about watches and clocks. Mr Vidhayapat also collects all manner of antiques, including pens, scientific instruments, militaria and even the ceramic toothpaste jars, similar to the ones recovered from the RMS Titanic. All of these objects accompany the watches on display.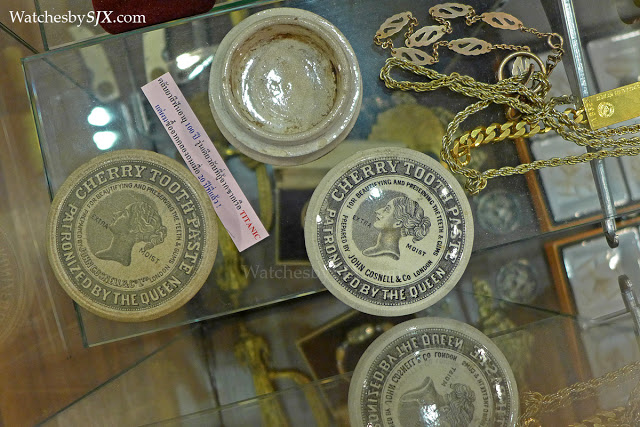 Cherry toothpaste jars like those used on the Titanic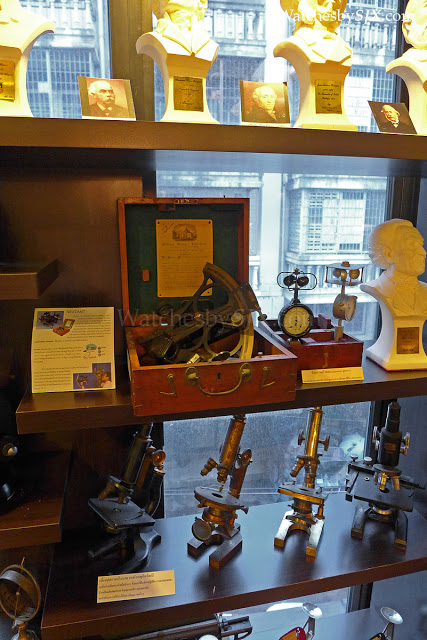 A sextant on the upper shelf and a line of microscopes on the shelf below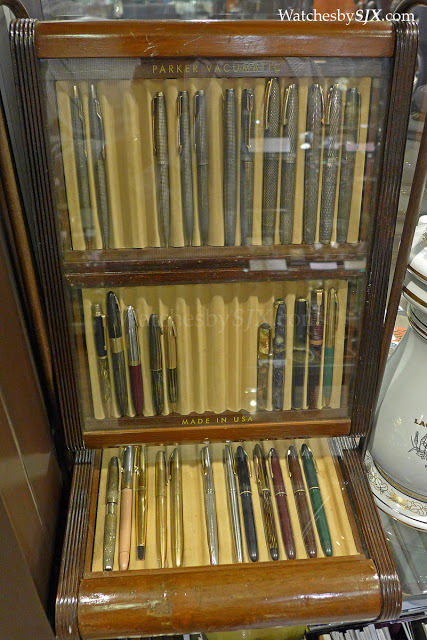 And for those wondering if the collection is still growing, the answer is a firm yes. Mr Vidhayapat continues to acquire watches from retailers, secondary market dealers as well as at auction. And often people with watches to sell contact him directly, since he is fairly well known in Thailand. Many thanks to Dr Chettha Songthaveepol of QP Magazine Thai Edition for arranging the visit to this extraordinary collection. More photos follow below. – SJX Follow us on Facebook, Instagram and Twitter for updates and news.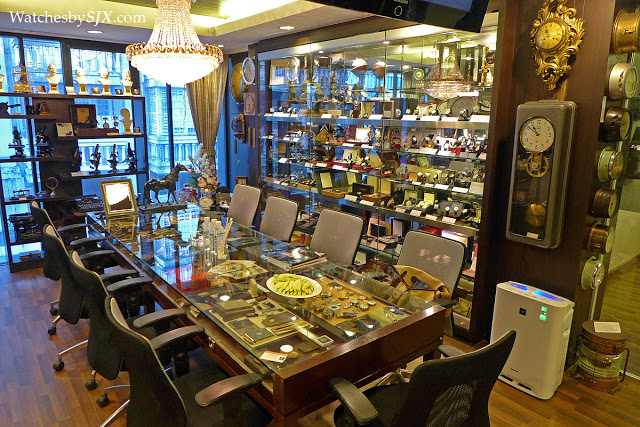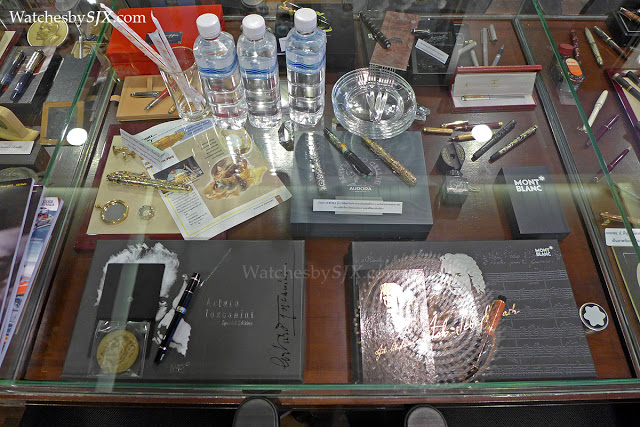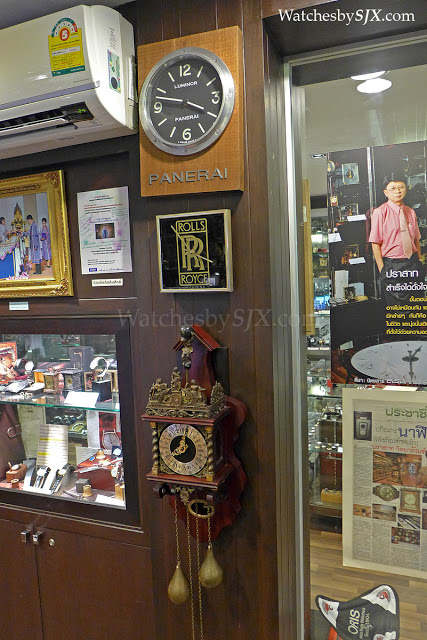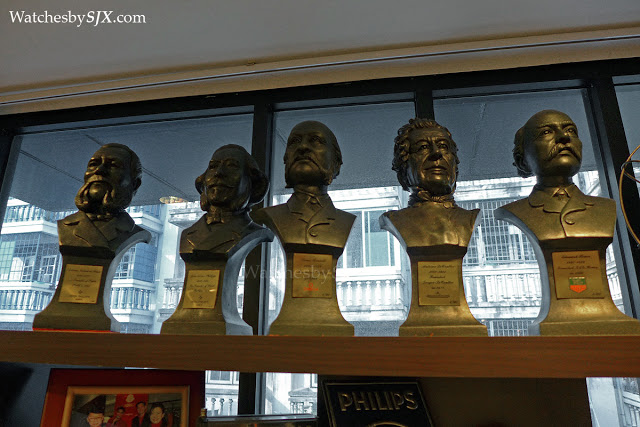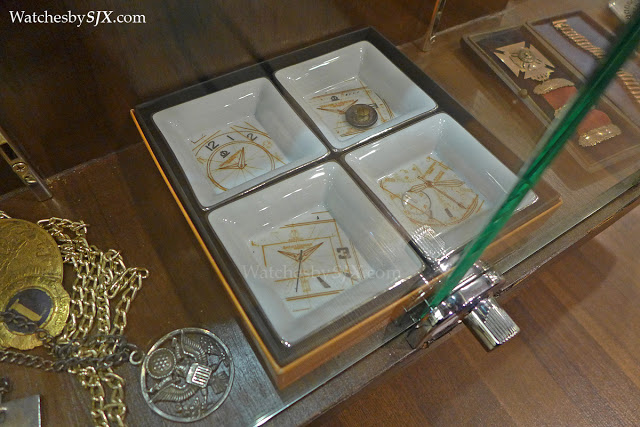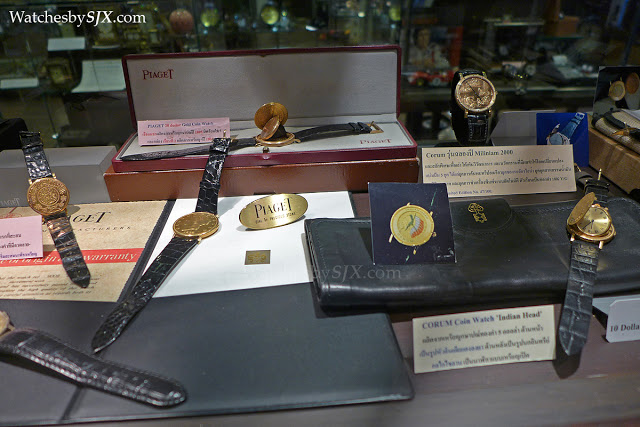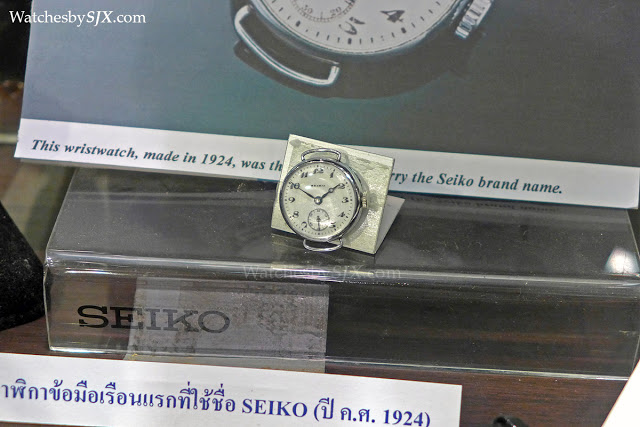 An example of the earliest Seiko-branded wristwatch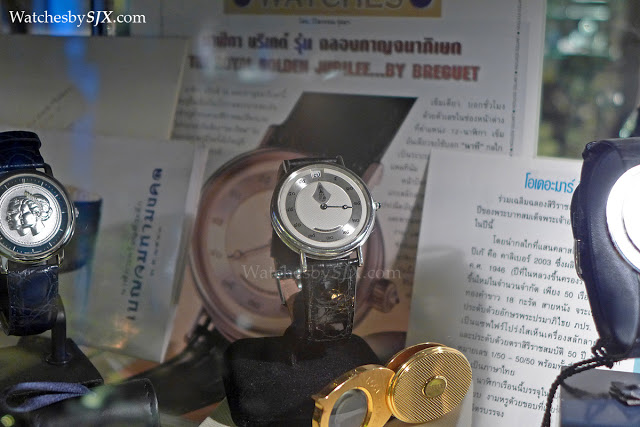 A limited edition Breguet jump hour made for the Thai market with the crest of the Thai King on the dial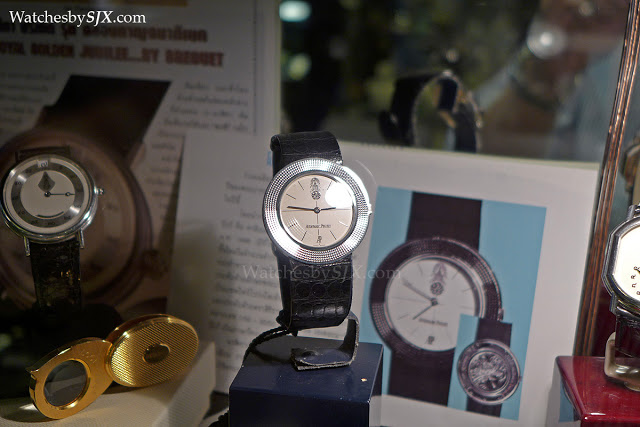 An ultra-thin Audemars Piguet also for Thailand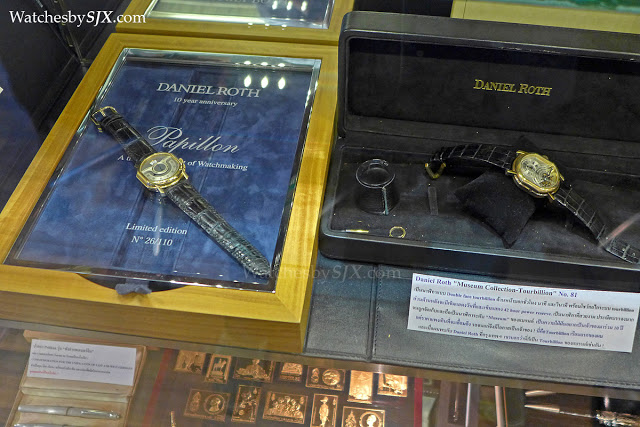 Early Daniel Roth wristwatches, the Papillon (left) and tourbillon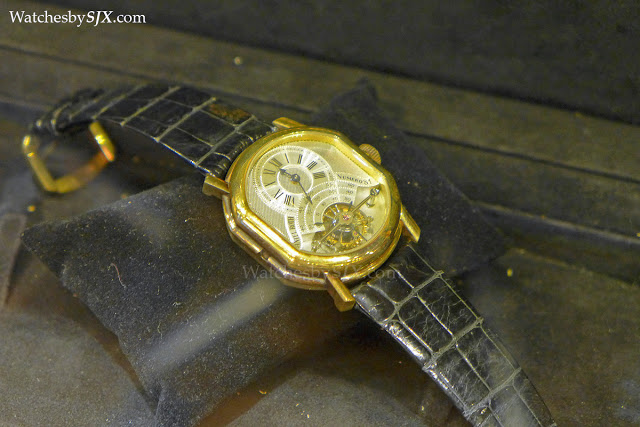 Daniel Roth tourbillon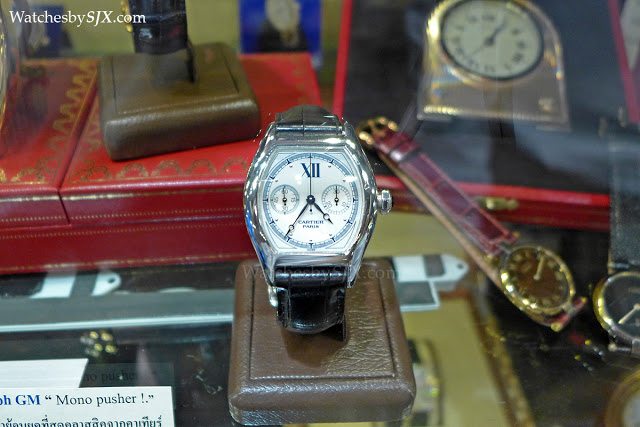 The second Cartier Tortue monopusher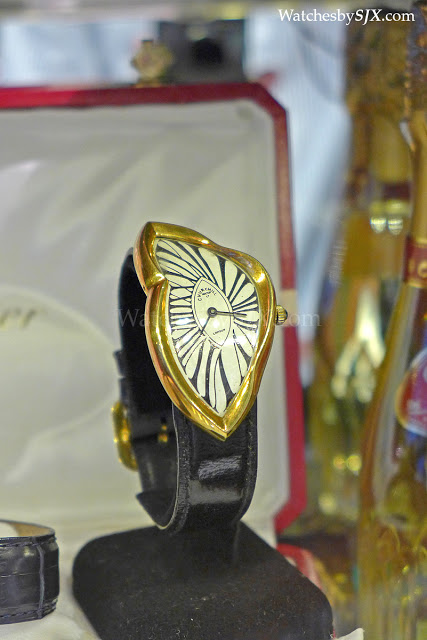 The Churchill Crash, made by a British firm in the seventies and modelled on the Cartier Crash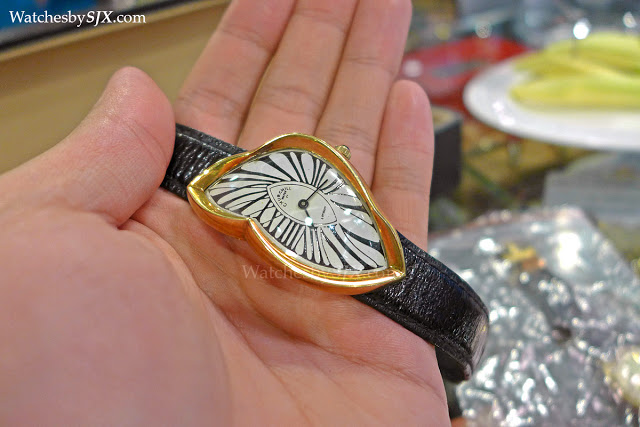 This is larger than the Cartier original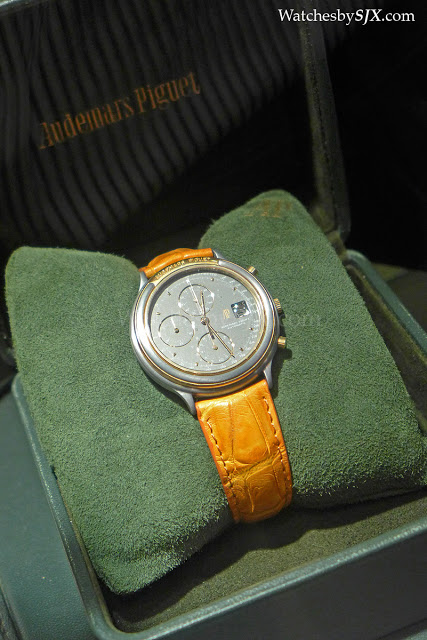 The AP Huitieme in tantalum from the late eighties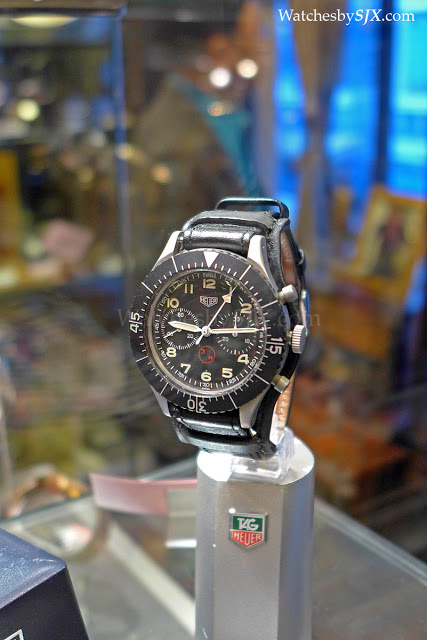 Heuer 1550SG Bundeswehr chronograph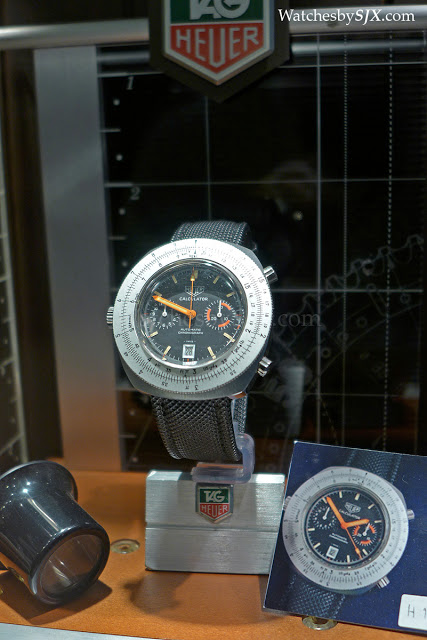 Heuer Calculator Chronograph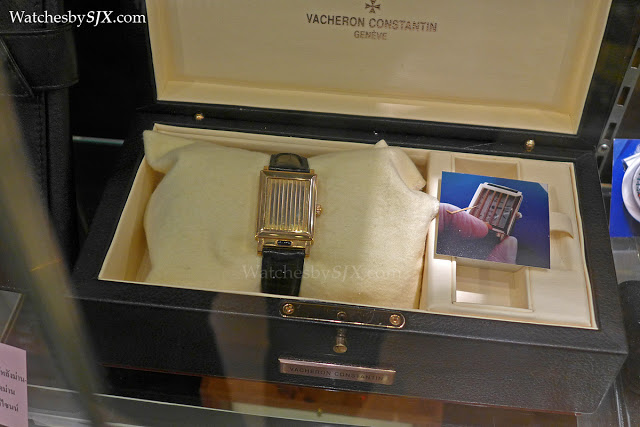 Vacheron Constantin Jalousie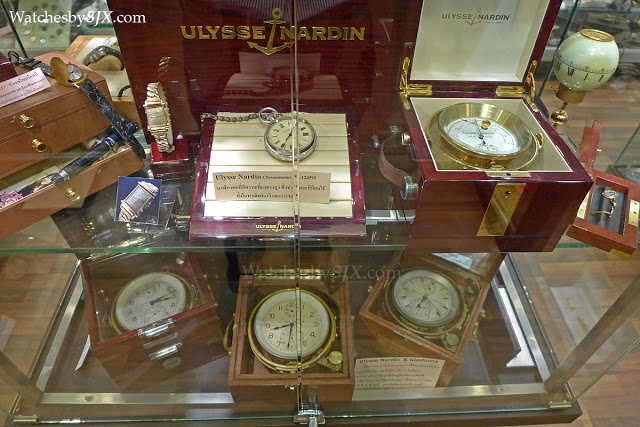 Assorted marine chronometers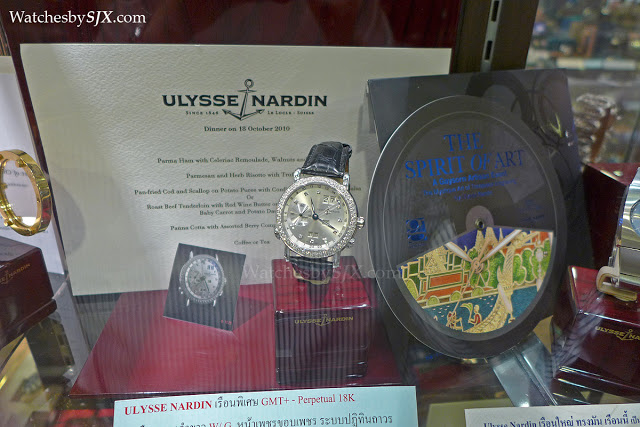 Ulysse Nardin Perpetual Ludwig GMT +/-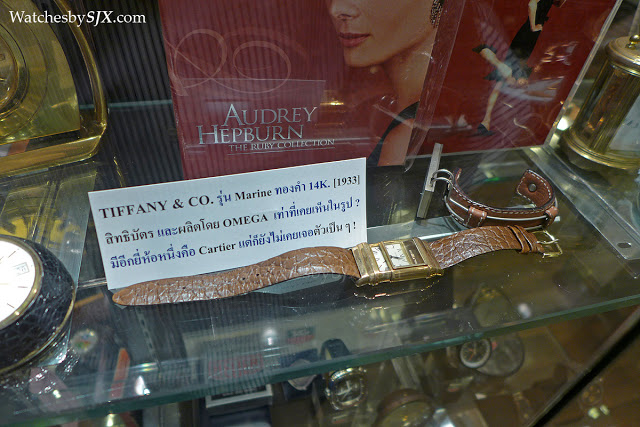 An early double-cased waterproof watch from Omega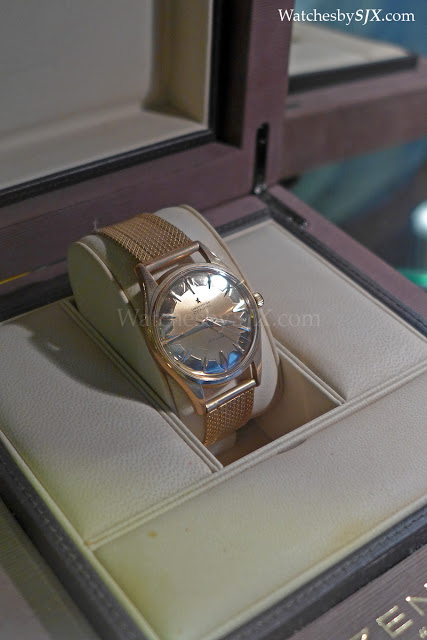 Zenith chronometer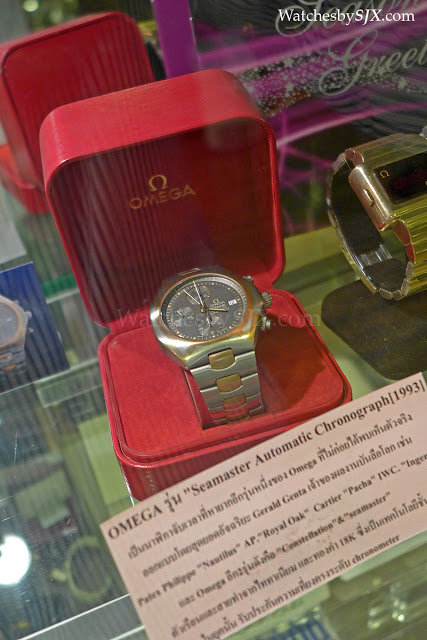 Omega Seamaster Titane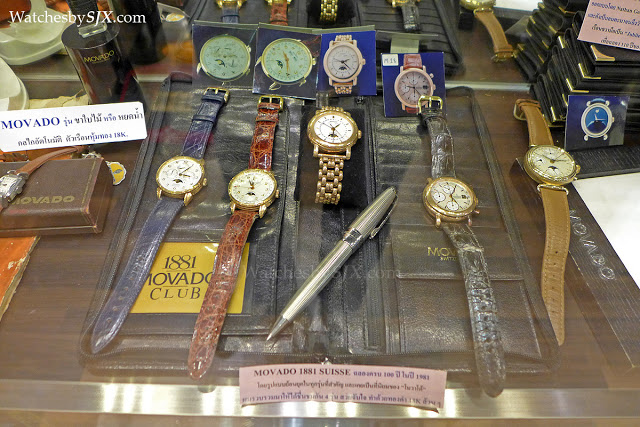 A selection of Movados from the eighties and nineties when the firm was doing more interesting things than it is now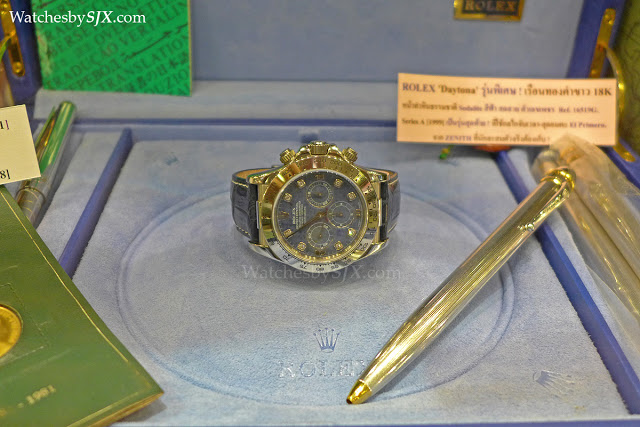 A white gold Daytona with a sodalite dial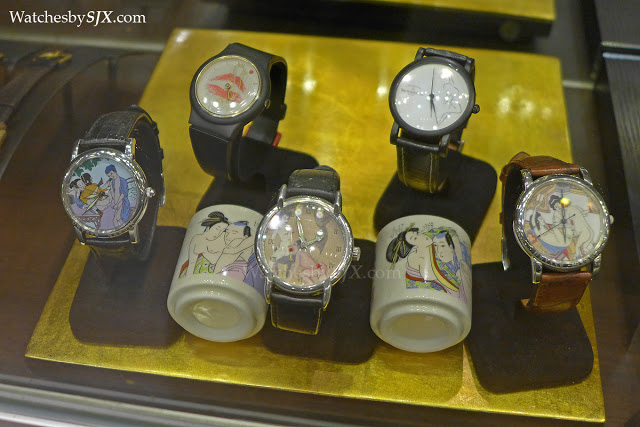 Novelty watches with erotic motifs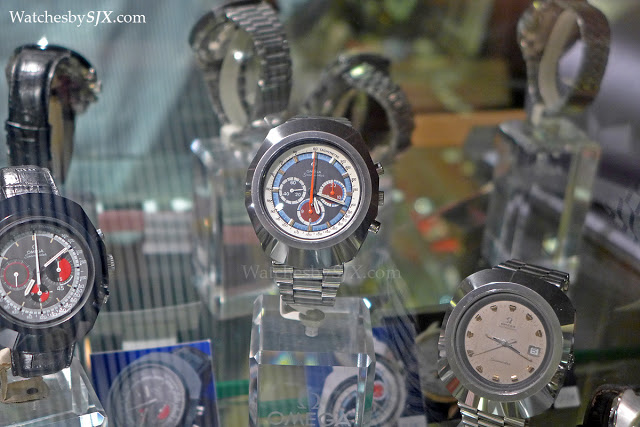 Omega Seamaster chronograph "Anakin Skywalker" with the "Darth Vader" the left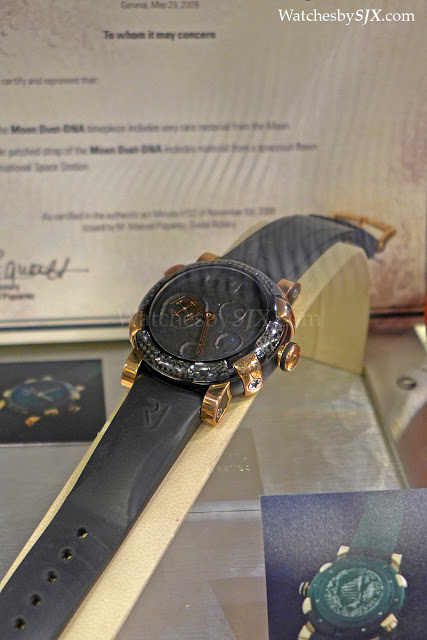 Yes, even the Romain Jerome Moon-DNA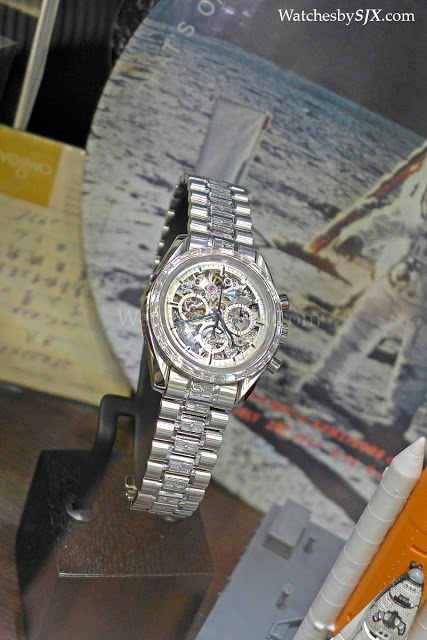 Omega Speedmaster skeleton in platinum with diamonds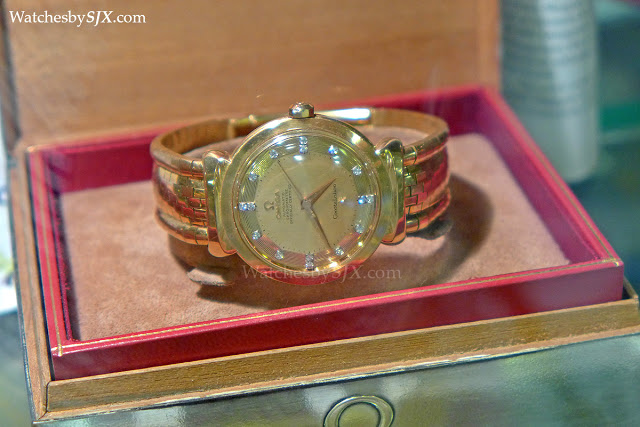 Omega Constellation Grand Luxe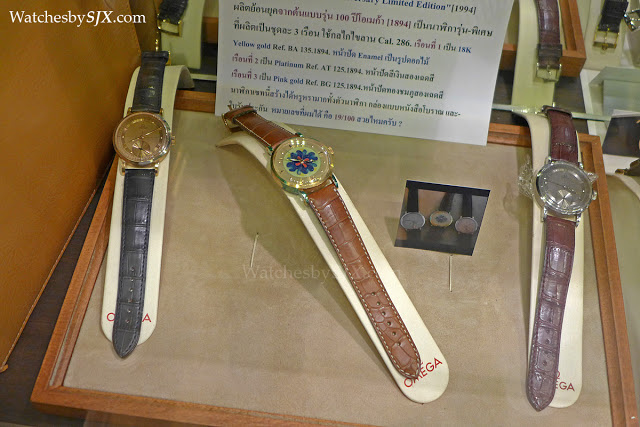 Omega Centenary limited edition set of three chronometers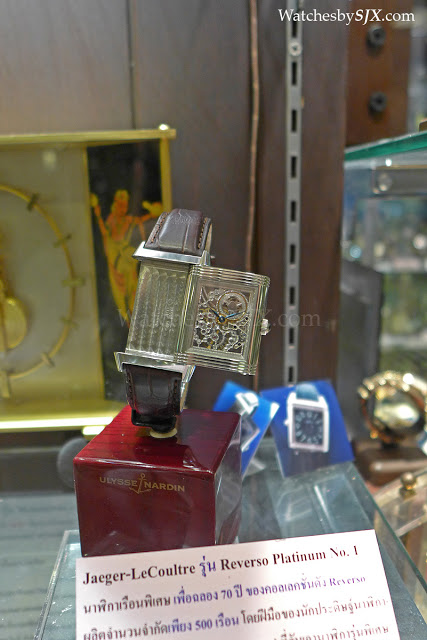 Jaeger-LeCoultre Reverso Platinum No. 1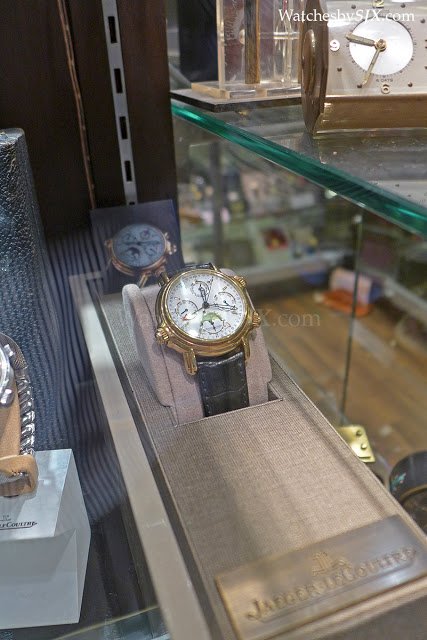 Jaeger-LeCoultre Grand Reveil, alarm with perpetual calendar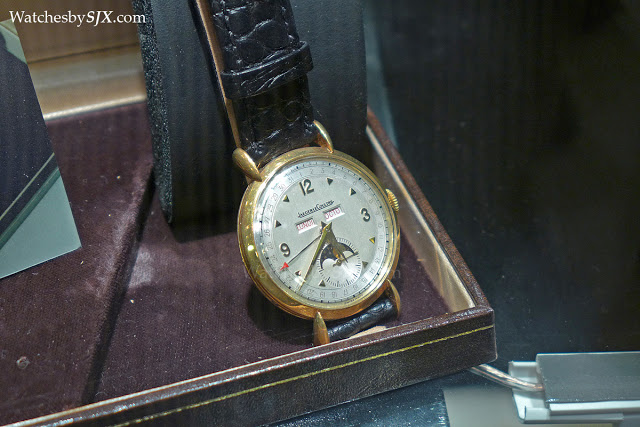 Jaeger-LeCoultre triple calendar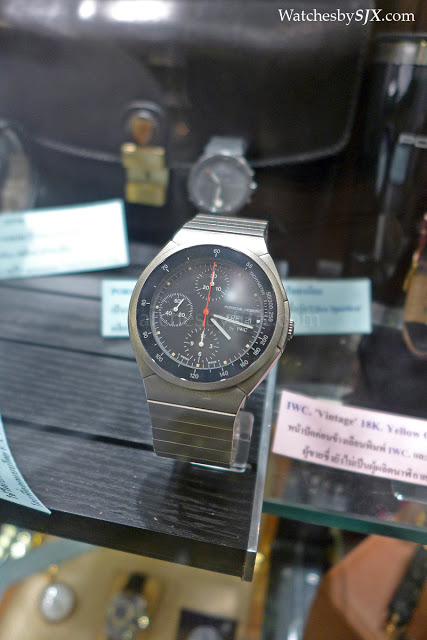 IWC Porsche Design chronograph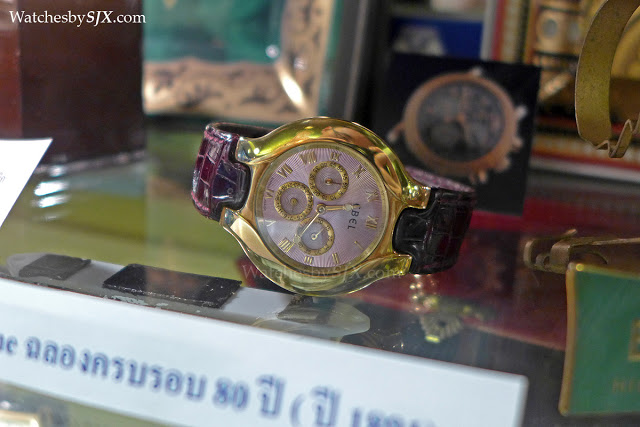 Ebel Lichine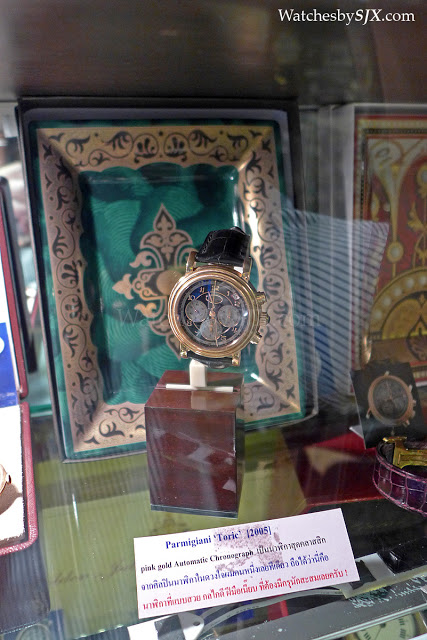 Parmigiani Toric chronograph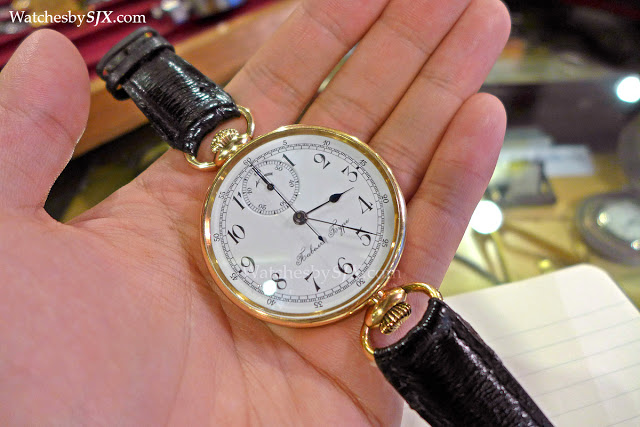 An early wristwatch chronograph
Back to top.
---
You may also enjoy these.